Lavenders are delicate flowering plants that you can easily recognize by their beautiful light purple shade and bush-like appearance. They are also quite known for their unique fragrance, which can easily relax your senses. It is a scent that can put an instant soft smile on your face.
People have been using it for centuries due to its calming effect. But what you probably didn't know is that the Lavandula has 47 species, each characterized by some special feature. They are all similar in their scent notes but have lots of visible differences that make them unique.
Today, I will take you on an aromatic trip down the path of French lavender vs Spanish lavender. You'll get to learn more about these two Lavandula types and what makes them so special. Let's begin!
A little bit of history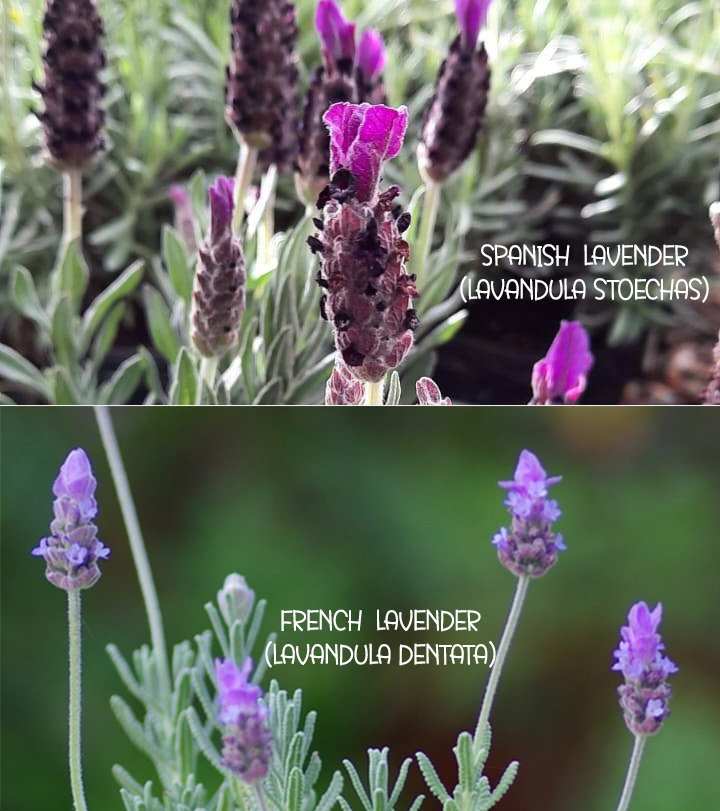 Before I start getting more into the division of these two lavender types, let me give you a brief historical context.
So, many still confuse between the Spanish and French species, and this is because what is today known as Spanish lavender (Lavandula Stoechas) has been referred to as French in the past. Nowadays, the reference to the French species isn't Lavandula Stoechas, but Lavandula Dentata.
If we put this misconception about their names aside, you'll see that both of them have stunning bright purple colors and wonderful aromas. They are both evergreen herbs with a bushy appearance and are very popular as home or garden plants.
Now, let's find out more about each of them separately. I'll start with the Spanish type;
Spanish Lavender (Lavandula Stoechas)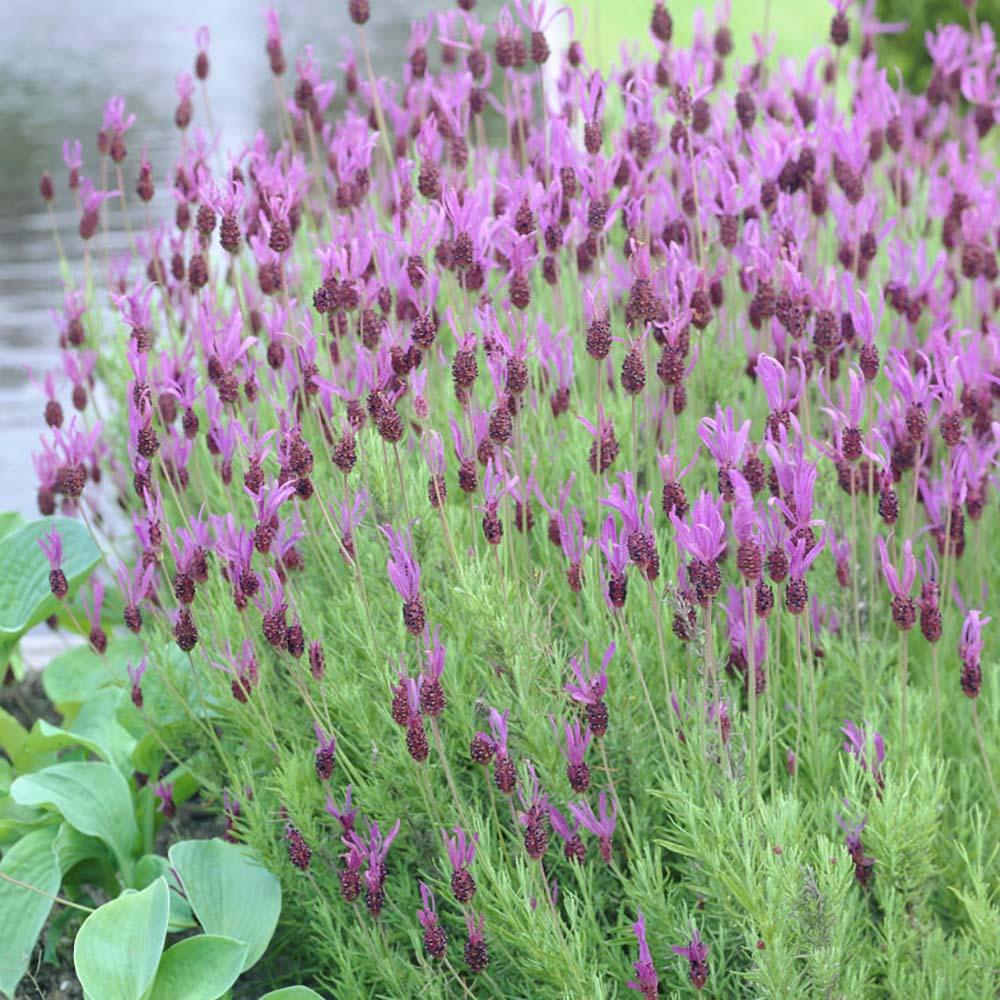 The Spanish type, also known as the Lavandula Stoechas, is a plant that belongs to the Lamiaceae plant family. It has narrow leaves and pinkish-violet flowers that form pineapple-shaped blooms. This plant grows in the form of a scented shrub that prefers a rocky or sandy coastline landscape.
The reason why people wrongly called it French Lavandula is because they believed it grew on the French coast. However, the Spanish variety is native to the Mediterranean.
It is believed that the ancient Romans were the ones who named it, referring to the plant as Stochades. This is a term Romans used to call the island of Hyeres. And it was this very island where the Spanish species commonly grew!
Because of its calming and incredibly pleasing scent, you won't be surprised that Romans used to add it to their baths. I think they enjoyed the incredibly relaxing atmosphere it helped them create.
French lavender (Lavandula Dentata)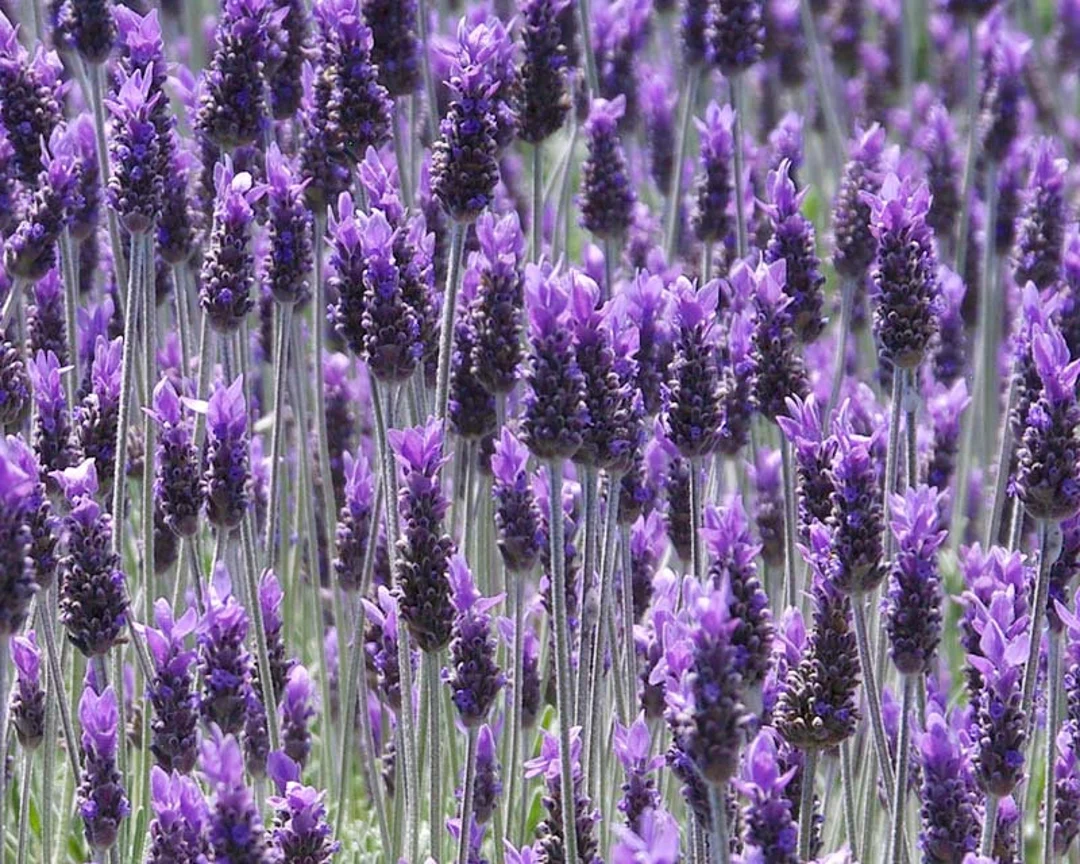 As I already said, the French species today is known as Lavandula Dentata- another member of the Lamiaceae botanical family. To make things a bit more confusing, French lavender is native to – Spain! It has narrow grayish-green leaves and a dented look to the light purple blooms.
What will help you easily set it apart from the Spanish type is the environment in which it grows. Namely, the French type doesn't like the rocky coastline and prefers to grow in limestone. It is native and well-known along the Spanish islands, including the ones off the coast of Africa, such as the Canary Islands.
Another thing that will make you easily tell between the two versions is the scent. Interestingly enough, the French type isn't as fragrant as the Spanish one, although you can't say that it doesn't smell at all.
Spanish lavender vs French lavender – the main differences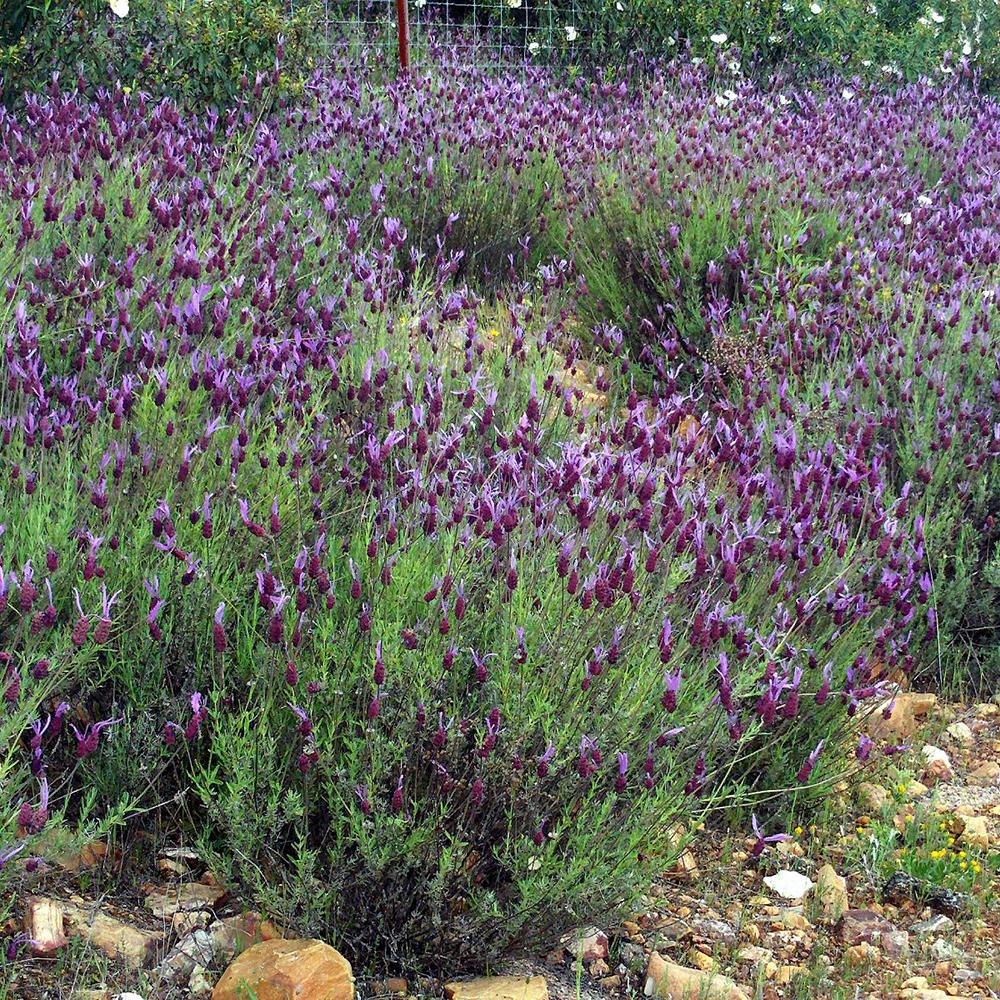 If you have an eye for details, then you'll easily spot the main differences between the two types. Bonus hint – it's all in the leaves!
Spanish Lavandula has straight leaves, while the French one has leaves with toothed edges. But it isn't the only difference that sets them apart.
Some of the others include their climate tolerance, the difference in their size, the season they bloom, and the color of their flowers. Here are all of the distinctions described:
Size
One of the main differences you will notice between Spanish lavender vs French lavender is their size. The Spanish Lavandula grows particularly tall and can grow between 12 and 18 inches in height. Speaking of the width, this plant can span between 18 and 24 inches.
On the other hand, the French type is even bigger and bushier. The way this plant grows, it can easily reach a height of about 3 feet and a width of 5 feet. I bet you already imagine how different they appear, right?
Leaves
The second striking difference that can help you tell between the two is the shape of the leaves. Although I previously touched upon this subject a bit, I'm now here to tell you everything about it in detail.
First of all, both flower types are evergreen, which means that their leaves stay green all through the year. The Spanish Lavandula, however, has straight and narrow leaves that are about an inch long. The French one, though, has narrow leaves with toothed edges, making them easy to spot.
This is probably the most apparent difference between these two very similar types.
Flowers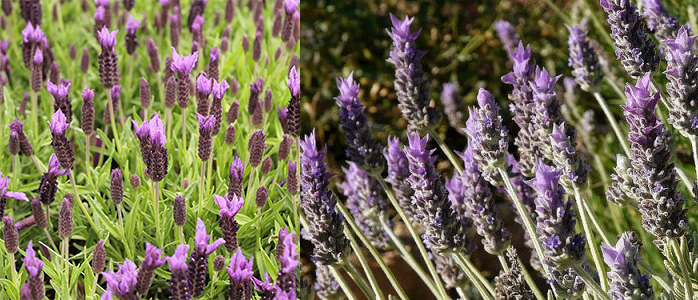 The most beautiful part of both these plants is their flowers. Once they are in full bloom, you get to admire how magical they look. And the good news is, I can help you spot the difference between the two!
The blooms of Spanish species are placed on top of a leafless stem. They seem quite dense, and they stand in an upright position with the flowerhead topped with many small petals. You can find them blooming in early summer (or spring), and the color of the flowers can vary from bright pink to purple.
The French lavender blooms later in the year, mid to late summer, and it has gorgeous deep purple flowers. You can easily spot them on the short and narrow spikes.
The stems they grow on are leafless, just like the ones of the Spanish species. As your look travels to the top of the stem, you'll first notice smaller flowers with miniature petals, which increase in size as they reach the top. 
Cold tolerance
The last thing that will help you tell between the two types is their climate tolerance. Being Mediterranean plants, they thrive best in warm and humid environments. But as soon as winter comes, they start to have different (and specific) requirements.
For example, French Lavandula should be protected from wet weather during the winter so that it can survive.
On the other hand, the Spanish one is more specific when it comes to weather changes. It may thrive during the summer, but any cold weather will make it wither away instantly. If you are keeping one in a pot at home, then I recommend you take it inside until spring arrives.
Planting, growing, and uses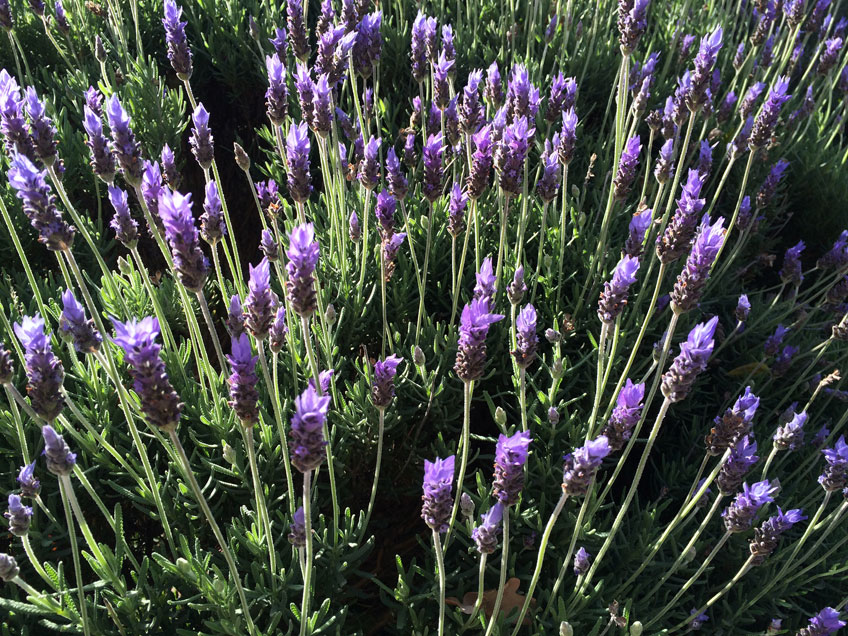 Lavender can be used as a powerful aromatherapy tool. I'm sure you already thought about this, given this flower's scent, but did you know that it also has some positive benefits on your well-being, as well? This is one of the main reasons why people plant this wonderful herb in their gardens.
All Lavandula varieties derive from the Mediterranean region, making them common to that area. However, as generations passed, people started to cultivate this plant in other places so they can use it to calm down the mind and body.
Its essential oil has become the most popular and versatile oil used in aromatherapy. People use it to treat allergies, insomnia, eczema, nausea, anxiety, fungal infections, depression, menstrual cramps, and more.
Luckily, this is not the only use of it- you can also include it as a herb in your cooking. Moreover, you can also incorporate it into your handmade soap or make a delightful tea. At the end of the day, you can even throw some sprigs into your favorite cocktail to give it an unexpected twist!
This is why I encourage people to plant Lavandula herbs in their gardens. Even if you use them for decoration only, the amazing scent they carry makes them worth it.
Once the cold weather passes, you can plant them so they can thrive during the summer. For those of you who aren't experts in gardening, I advise you to get a plant in a pot instead of growing one out of seeds. 
And if you can't decide between Spanish lavender vs French lavender, go for the option that feels like a better fit!
Now that you know the differences, you can easily figure out which one should be a part of your home. This can also depend on the amount of space you have in your garden or whether you enjoy a stronger or milder scent. 
Either way, whichever lavender variety you want to enjoy, you won't regret it. They are both relatively easy to care for and don't have specific watering requirements. Just keep their bushes tidy and always encourage new growth.
Did you find this blog entertaining? If yes, don't forget to discover the rest of my blog, as many other topics are waiting for you.