This crushed stone vs. gravel discussion will help you know the critical differences between gravel, including pea gravel, and crushed rocks.
We will begin by telling you about each of these two rocks, i.e., how they are formed, their appearance, etc. Then we will go to comparison, types and talk about their prices and uses.
Note: Please note that there are scenarios where gravel means crushed stones, especially when they are small, i.e., less than 2-inches.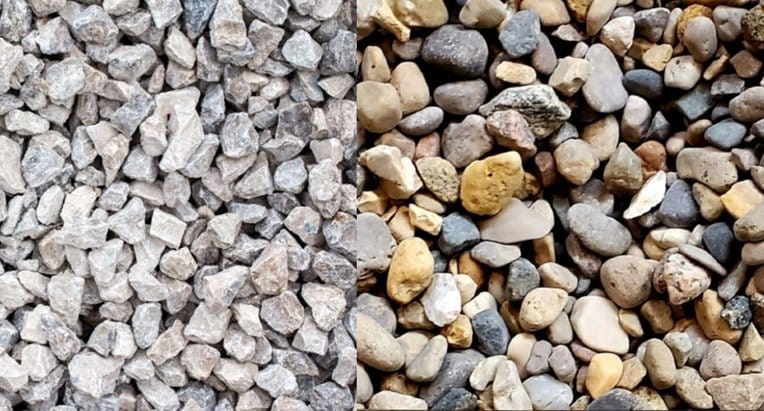 a). What is gravel?
Gravel is loose stone fragments naturally formed via weathering and erosion of larger rocks over a long period. These fragmented are often carried by water and deposited at river, lake, sea, or ocean bed where you have to dig or dredge them out.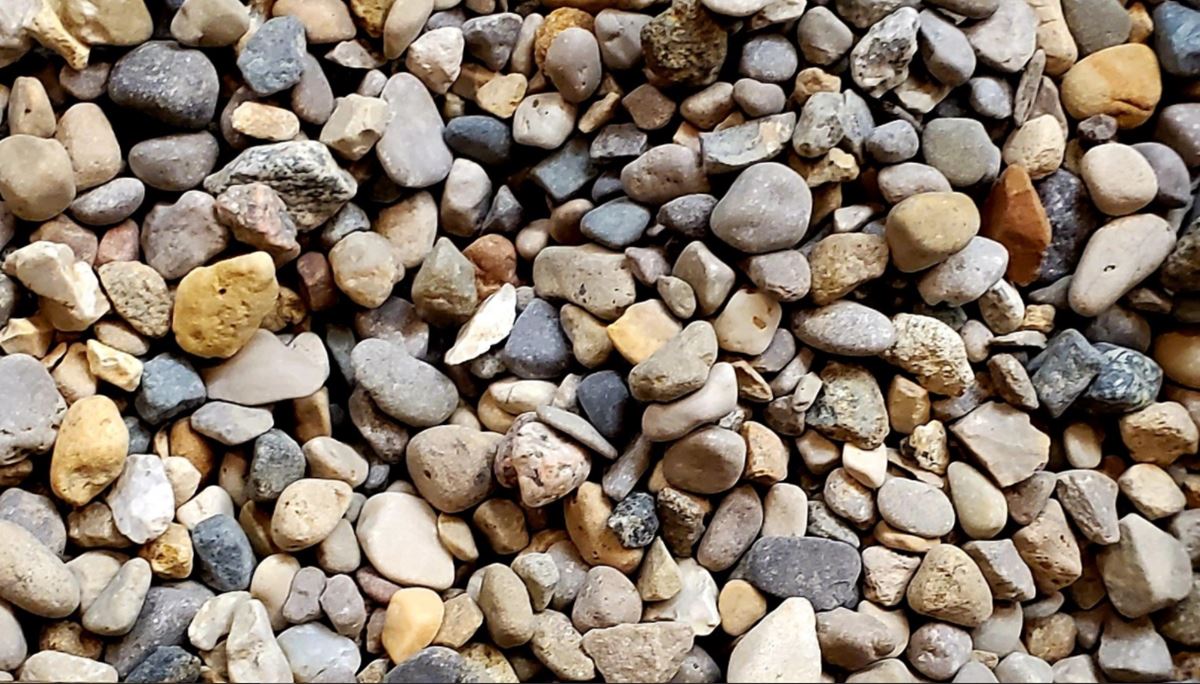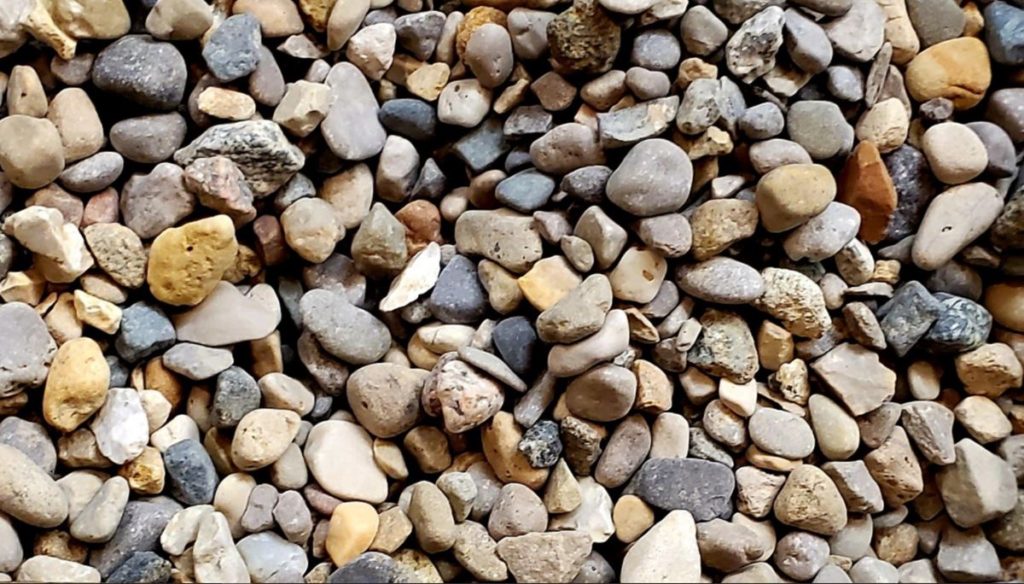 Gravel has a smooth surface, and a round-like shape (if found in river, ocean, or river lake beds), and vendors grade the according to their particle sizes and sell it in its natural state.
Usually, gravel sizes range from granule (2m to 4 mm or .079-157 inches) to pebbles (4mm to 64 mm or 0.2-2.5 inches) according to the Udden-Wentworth scale.
On the other hand, the ISO 14688 grades gravel into fine (2mm but equal or than 6.3mm, medium (larger than 6.3mm but less or equal than 20mm), and course (particle size exceeds 20mm but is equal or less than 63mm)
b). What crushed stones?
Like gravel, crushed stones are an aggregate of loose, fragmented rocks. However, unlike gravel, they are man-made/a quarry products.
Usually, manufacturers mine large stones or rocks and transport/feed them to a crushing station with primary (breaks large rocks into smaller pieces) and secondary and tertiary crushers (further defragment the rocks to desired sizes).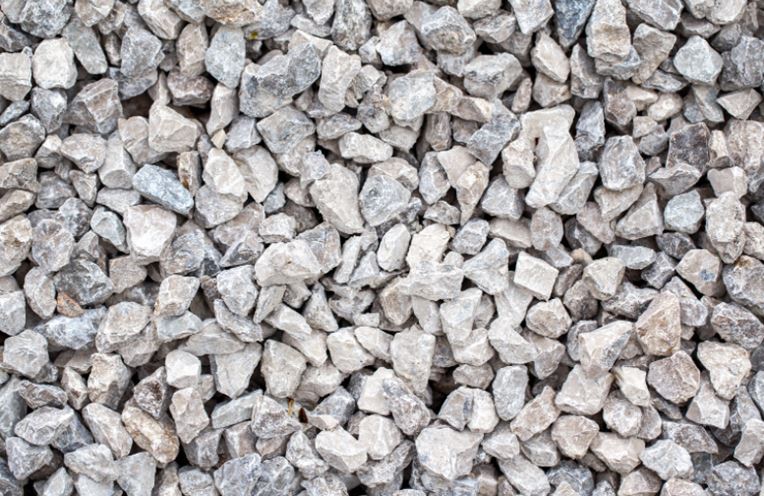 Typical primary crushers are jaw and gyratory, while secondary/tertiary crushers include cone, impact (hammer), and roll crushers.
Therefore, you expect them to have angular, sharp, and jagged edges. Manufacturers use different rocks to make them.
Commonly used stones are limestone, granite, dolomite, and trap rock (basalt, gabbro, peridotite, and diabase). However, you will find crushed sandstone, slate, dolomite, marble, quartz, etc.
Finally, like gravel, they are categorized into different grades depending on their size, and each of these sizes has unique uses.
Is gravel the same as crushed stones?
Yes and No. From the above discussion, these two are similar products and have some similar uses. Their only difference is appearance and how they form.
However, it is worth noting that in the US, gravel and crushed stones mean any rock less than two inches in size but is coarser than sand (0.0625 o 2 millimeters).
Therefore, although different in how they are made, there are instances when these two terms mean the same thing
Crushed stone vs. gravel comparison
Before we look at the uses of gravel and crushed stone, let us make a short comparison to help clarify everything further.
| | | |
| --- | --- | --- |
| Feature | Gravel | Crushed stones |
| Formation | They form via natural weathering and erosion over a long time. | Manufactured, i.e., broken down using crusher |
| Appearance | Round with a smooth surface if they are inside a waterbody bed. | Angular shaped with jagged edges due to the crushing action |
| Packing | Don't pack and loosely roll around due to the round shape and smooth edges. | Their angular and jagged d edges allow them to pack well and minimally move. |
| Typical sizes | Sizes vary from granule (coarser than sand) to pea-size to pebbles to river rock with some categorization has cobblestones and boulders. | Sizes vary from screenings (less than a ¼ an inch to riprap whose sizes are grade 1 (12 ″-18″) and grade 2 (18 ″-24″). |
| Colors | Vary depending on the constituent rock that weathered. Some gravel colors include yellow, white, black, blue, beige, blue, gray, and beige. | They vary according to the color of the parent rock, i.e., brown, black, gold, copper, blue, yellow, greenish, etc. |
| Key uses | Decorative and landscaping | Building and construction |
Crushed stone vs. pea gravel
The difference between crushed stone and pea gravel is the same as gravel and crushed stones. Pea gravel is about ¾ inches in size, while crushed stones are anything from screenings to 2-inch rocks.
Uses
There are numerous uses of crushed stones and gravel. The specific application depends on the gravel size or grade. There are sizes for large projects, lining waterbodies, making pavers, and so on.
Let us see each of these uses.
a). Crushed stone uses
Crushed stones' most popular use is building and construction. The angular shapes allow them to pack, roll or move into space, locking each other, creating a stable surface. Some of the common uses of crushed rocks include the following:
Construction including in pour concrete, pre-mix concrete, asphalt projects
Driveways, roads, patio, parking lot, and paver subbase (without a binder)
Driveway topdressing (smaller ones) gives a stable surface due to their angular shapes.
Foundations
Retaining wall base
Pipe bedding
Drainage systems
Construction fill
Concrete pavers, slabs, and blocks
Retaining walls
Railroad track ballast beds
Landscape beds or use them to decorate around driveways, walkways, pathways, trees, and so on.
Shoreline riprap
Since they are rough, have angular shape and jagged edges, don't use them on dog runs or walkways.
Also, don't use stone dust on projects that require drainage since it will compact and become hard when wet, something that will not allow drainage to occur.
b). gravel uses
The smooth surface and aesthetic appeal make gravel popular in decorative and landscape use in residential, commercial, and DIY projects. Also, it has other applications similar to crushed rocks.
Here are the common gravel uses:
Dressing driveways, walkways, dog-runs, biking paths, playgrounds, pathways, patios, and other places with high traffic since gravel has a smooth surface and is almost round (no angular shapes and jagged edges).
Driveways and patio bases
Landscaping
Garden beds, including your flower beds, especially river rocks. However, ensure you lay a landscaping fabric to prevent plant growth.
Drainage systems
Flowerpot drainage
Pipe bedding
Building and construction, i.e., it is part of aggregate used in making concrete and asphalt concrete
If you use gravel on your driveway, walkways, or pathways, ensure you properly edge them as they tend to move.
Types of gravel and crushed stones
Various gravel and crushed stone types are often named according to their appearance (characteristics) or sizes. Common ones include the following:
| | | |
| --- | --- | --- |
| Name/size | Characteristics | Uses |
| Pea gravel | Made from naturally weathered rock and measures about ⅜ of an inch | Dressing walkaways, dog runs, patios, and other high-traffic areas. Also, you can use it for fish tanks, pipe bedding, or drainage projects. |
| Quarry process or crusher run | The quarry process has various stones, about a ¾ inch, and stone dust. However, the stone dust is of a higher percentage. It may have different rocks, including granite, limestone, trap rock, etc. | You can use it on pathways, driveways, bike paths, or pathways. Also, it is a good base for driveways, landscaping projects, patio, and so on or a fill material/replace unstable soils. |
| Crushed stone #57 | It has about ¾ inch stones, usually ½-1 inch in size. | Concrete mixes, driveways, landscaping, drainage control, top layer for driveways, walkways or pathways, lining underground cables, and a subbase for roads, railroad ballast, sidewalks, and so on |
| Crushed stone #411 | Similar to #57 but has stone dust or screenings | Driveways or parking lots top layer, wall and paver base, compactible fill |
| River stones | Products of natural weathering measure about 1 to 2 inches. | Lining pond/creek edges, driveways, or walkways. Other uses are mulching, drainage and erosion control, landscaping, and so on. |
| Jersey Shore Gravel | Yellowish small stone aggregate with gold, tan, brown, and white that looks like beach sand. They are about ¾ inch in diameter. | Driveways, mulching, or any other application where you will use pea gravel such as paths, play areas, beach, gardening, and so on |
Crushed rocks vs. gravel prices/costs
When it comes to gravel and crushed stones prices, factors that determine how much you will pay for them include production (cost of crushing or harvesting) and transportation.
Additionally, the pricing may grade, or size tends to vary, i.e., the price of gravel screening, pea gravel, river rocks may be the same.
For instance, pea gravel costs $15 to $75 per cubic yard ($10 to $50 per ton), while clean crushed stone may cost $30 to $50 per cubic yard ($20 to $35 per ton). Of course, this isn't the same price for crushed marble or quartz.
Furthermore, the prices will vary from one location to another, and the rare colors tend to cost more than those that are widely available.
However, gravel is slightly cheaper than crushed rocks due to higher labor requirements. Typical prices are as follows