Dieffenbachia yellow leaves often indicate overwatering, underwatering, low humidity, too much or too light, extreme temperatures, nutritional deficiencies, and aging. Less likely causes include pests, diseases, plant shock after repotting or transplanting, overfeeding, water quality, or your plant is rootbound.
Learn more on each of the causes of Dieffenbachia leaves turning yellow, i.e., why or how they cause the yellowing and get fixes or what to do.
Lastly, please note that the reason for dumb cane yellow leaves applies to all species and cultivars, including Dieffenbachia amoena, Compacta, maculata Camille, Seguine, Carina Exotica, Sparkles, or any other you have.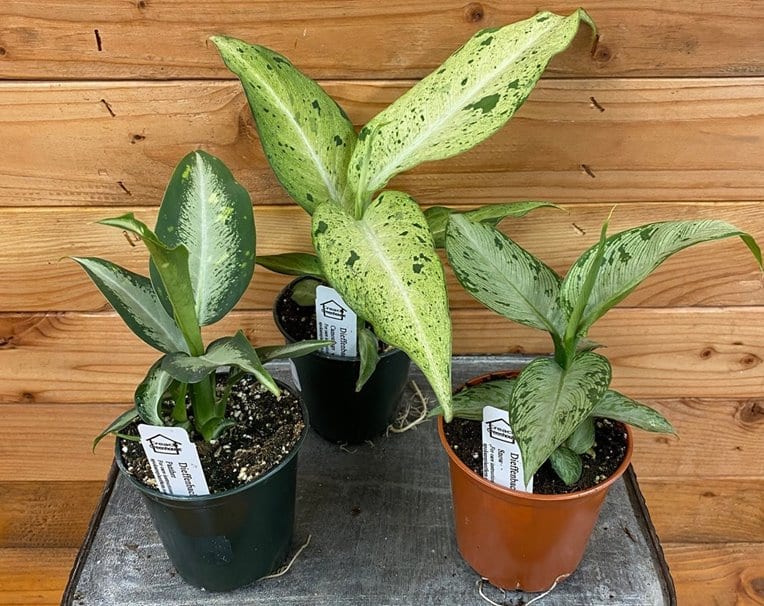 Leaf yellowing or aurea variegation?
Dieffenbachia (dumb cane, leopard lily, or mother-in-law's tongue) are charming houseplants. The lush-greenish, bluish-green, or chartreuse-golden leaves with yellowish, white, or cream markings and spots make them sought-after plants.
These aroids (Araceae or arum family that has also Alocasia, Monstera, Peace lilies, Rhaphidophora, etc) may have leaf discoloration, especially yellowing, browning, and rarely blackening.
We will be talking about the yellowing problem due to care and growing conditions and not Dieffenbachia species or cultivars with yellowish markings like Seguine, Camille, Reflector, Rebecca Tropical snow, Puerto Rico Variegated' amoena, Aurora
Why the yellowing?
Plant leaves turn yellow if chlorophyll degrades or cannot make enough, a phenomenon called chlorosis. Things that may damage or affect chlorophyll synthesis are light, temperature, water, nutrients, aging, parasites, diseases, and rarely water quality.
Causes of Dieffenbachia yellow leaves and fixes
You know essentially why dumb cane leaves turn yellow. It is time to look at the possible reasons and fixes or solutions.
1. Overwatering
The first most likely cause of Dieffenbachia yellow lower leaves is overwatering. Begin by looking at the potting mix to see if it is wet even after not watering for a couple of days. Also, check to see if the potting mix is moldy or has a foul smell, the stem base is mushy, or the plant is wilting, and watering doesn't improve things.
Overwatering is to blame if the above check out right with other signs like brown splotches or spots, including those with a yellow halo.
Overwatering cuts oxygen from roots, yet they need it to work well. So, they cannot absorb water or nutrients, which causes yellowing that will affect lower leaves first. If ignored, it overwatering will cause root rot that will kill your plant.
Fix
Hold the watering, amend (or change) potting mix if compacted or doesn't drain well. Use an aroid mix (see Etsy.com).
and provide optimum temperature, humidity, and bright light. Also, ensure that your pot has drainage holes, sufficient ventilation, and discard water in the cachepot or saucer. But don't squeeze the soil to get rid of excess water. It will damage roots.
Next, you should start watering after the top 1-2 inches of your potting mix dries. Don't follow a schedule as water needs vary with season, conditions, pot type, plant size, etc.
Last but not least, as you check if there is a sign of root rot, repot your plant, cutting off the decayed sections.
2. Underwatering
If you neglect or underwater your Dieffenbachia, it may make leaves turn yellow. Start by checking if the soil is dry and pulled from the pot. However, the first signs will be leaves curling and your plant drooping or wilting. Afterward, you will also notice crispy, brown tips and edges (leaf scorch) and yellowing.
If it goes on for long, your plant will grow slowly, start losing leaves, wither and die if you don't fix things.
Dumb cane leaves turn yellow when underwatered because this plant cannot absorb nutrients. Remember, they need water to do so. And minerals are essential in chlorophyll formation. Also, without water, chlorophyll will degrade faster in leaves.
Fix
Insert your finger into the potting mix or use your soil moisture meter (we use XLUX) to test your potting mix. If it feels dry up to the first knuckle or your soil moisture sensor reading is in the dry zone, then overwatering may be the issue. 
Start by thoroughly watering your plant. Afterward, investigate if your potting mix dries fast or the pot is too small. Amend potting mix by having one with a considerable amount of coco coir or peat moss if it dries so fast.
If you often forget watering, get an estimate of how long it takes to the next session and set a reminder. But when the time reaches, feel the soil first.
Last but not least, you can go for a self-watering pot. Such have a reservoir that you will fill, and your potting mix will be wicking slowly.
3. Too little light
Is your plant growing in a dark room where it doesn't get bright light? If yes, then the smaller, paler, or yellowish leaves and a leggy plant is a sign it is not getting enough light.
Light is essential for chlorophyll formation (the green pigment). Also, it helps in food manufacture. When not enough, yellowing of leaves may occur.
Fix
Move your plant to a place where it can receive bright, indirect light for at least 12 hours a day. But don't be tempted to put it on the direct sun as it will cause sunburn.
If your apartment is such that you cannot get enough light, go for grow lights. Remember dumb cane plants need 10,000 to 20.000 lux (1,000-2,000 foot-candle) of light. So, buy a grow light in this range.
We use Relassy 15000Lux Sunlike Full Spectrum Grow Lamp and we can confirm that it is indeed a good brand. It has a long lifespan of up to 50,000 hours and a gooseneck clampable stand.
Lastly, a sure way to know your plant gets enough light is buying an illuminance meter. Dr. meter LX1330B Digital Illuminance Light Meter is our favorite brand. Its battery lasts long, and it is very accurate.
4. Nutritional deficiency
A deficiency of some nutrients may cause Dieffenbachia chlorosis, especially in-between veins. But it will only happen if you don't feed your plants or use unbalanced and poor quality fertilizers.
These nutrients may form part of chlorophyll, are involved in the synthesis, or act as enzyme activators. Some also are components like protein that holds chlorophyll molecules inside chloroplasts. A good example is a sulfur.
Iron is what notoriously causes interveinal chlorosis that will first affect younger leaves. Similarly, a lack of manganese and sulfur will cause yellowing that affects upper, younger leaves.
On the other hand, deficiency of nitrogen, magnesium, or zinc will cause yellow, affecting inner and lower leaves first. Some like nitrogen will cause yellowing that starts from the margin and moves inward to the leaf center.
Fix
Ensure your potting mix is rich in organic matter. We usually add some compost or worm castings like Worm Castings Organic Fertilizer, Wiggle Worm Soil Builder.
Then, feed your dumb cane plants once a month with an all-purpose, balanced such as NPK 20-20-20 or 10-10-10 liquid houseplant fertilizer at half recommended strength during growing months.
I recommend Jacks's Classic 20-20-20 All Purpose Fertilizer since it is balanced and has boron, manganese, iron, zinc, copper, and molybdenum. It will fix the issue quickly. Mix a ½ a teaspoon in a gallon of water and feed your plant bi-weekly.
For those who want a slow-release formula, I recommend Miracle-Gro Indoor Plant Food Spikes with NPK 6-12-6. Why? Because it has boron, sulfur, manganese, copper, magnesium and boron. Start applying in early spring and follow manufacturer recommendations.
5. Extreme temperature
Temperature plays a role in the synthesis of chlorophyll. But either too low, including cold drafts, or too high will negatively affect this process. Consequently, leaves may turn yellow.
An extremely high temperature will denature some proteins that bind chlorophyll, causing degradation. Signs are similar to those of an underwatered plant, including leaf scorch, curling, drooping, etc.
On the other hand, cold drafts and low temperatures will slow down chlorophyll biosynthesis. If the temperature is too low, frost damage may also occur. Besides yellowing, other signs include brown splotches or leaves turning brown overnight, leaf scorch, etc.
Fix
The ideal Dieffenbachia temperature range is 60 to 80 °F (15-27°C). Try to keep it. During hot summers or heat waves, take them to a cooler place. Also, avoid placing them near room heating vents, radiators, furnaces, fireplaces, or appliances that may emit heat.
On the other hand, close windows and move plants away from open doorways during cold winters. Also, never place your plant near an air conditioning vent.
6. Too much light
Yes, light helps plants make food. But if too much, it may damage chlorophyll, resulting in bleached, washed out, paler, or yellowish leaves. More common signs are leaves curling, having crispy brown tips or edges, or your plant drooping,
Fix
Don't put your plant in direct sunlight, whether indoors or outdoors. Instead, place it under a shade or away from the window where no hot sun reaches it. Depending on your plant's window, play around with the placement distance until it is where the hot day or afternoon sun doesn't directly hit it.
7. Pests
If your plant has yellow spots, it may be sap-sucking pests like aphids, mealybugs, scale, thrips, and spider mites. They will appear as tiny bumps or dots that may be stationary, move or fly.
Their body shape, color, and appearance will vary depending on the bug present. For instance, some have wings. Others have waxy bodies.
Check for any of these bugs on the lower leaf surface or other hidden parts of the plant. Also, look for their signs. Again, they vary but may include honeydew, sooty mold, spots (yellow, brown, black, or whitish), silvery stippling, webbing, holes, etc. But in heavy infestation, leaves will look distorted, curly, yellow, or even fall.
Fix
Always inspect your plant for these pests and their symptoms, especially when receiving new plants. Use insecticidal soaps, horticultural oil, or neem oil if you notice any.
With just Bonide Ready to Use Neem Oil, you can mange most of these pests with easy.
8. Diseases
Like pests, fungal or bacterial leaf spots, rusts or blights may cause yellow or brown spots with a yellow halo. But in the case of those that cause root rot, leaves can turn yellow.
For instance, the University of Florida, IFAS notes that Phytophthora stem rot and leaf spot in Dieffenbachia may cause "stem rot usually begins at the soil line where the stem becomes soft and watery, and lower leaves turn yellow."
Besides yellow leaves, other signs of root rot are wilting and drooping, brown tips and margins, moldy potting mix, stunted growth, and a mushy stem base. Also, leaves may fall off, your plant will grow slowly, and may suddenly collapse.
Fix
Proper sanitation and watering your plants well are vital in preventing these diseases. Also, always isolate and insect new plants.
As of now, there are no effective bactericides against leaf spots. So, you need to discard infected plants if it's severe safely. Otherwise, you isolate and prune the affected part. But using bactericides containing copper compounds may help prevent spread.
For fungal infections, you can use fungicides while if its root rot, repot your plant, removing decayed root sections. When repotting to a new potting mix, dip the roots in a fungicide to prevent reinfection.
9. Low humidity
If low humidity causes excessive water loss beyond what roots can replace, some yellowing may occur together with leaf curling and scorch (brown tips and edges). Also, your plant may droop and have increased water needs.
Fix
To confirm your humidity is low, you need a hygrometer. ThermoPro Digital Hygrometer is about $7, and it will measure temperature and humidity. These plants need high humidity, with the ideal being 60% or more.
If indeed your humidity is low, here is what to do:
Mist your plant
Have a pebble tray
Group your plants to create a microclimate
Move plants to humid rooms like kitchens or bathrooms if well lit.
Buy a humidifier. It's the surest way. You don't have to spend a fortune. Pure Enrichment® MistAire™ comes with a 1.5-liter water tank that can run for over 25 hours with one refill. Also, it has an auto shut in case water is depleted and a 360-degree rotating nozzle.
10. Aging
Dumb cane senescence or aging process is another reason why few, older lower leaves may turn yellow. This genetically programmed process results in the degradation of chlorophyll and other pigments. So, leaves may turn yellow and brown before dying and falling.
Fix
Dieffenbachia leaves turning yellow due to aging is normal, and you can do nothing to prevent it. Just as we age, plants do too.
Less likely dumb cane yellow leaves
The above are the most likely causes of Dieffenbachia yellow leaves, especially the first five. But there are other factors you must consider too that include:
Plant shock after repotting or transplant: Dumb cane leaves turning yellow, brown tips and edges, curling, drooping, defoliation, etc., may occur due if you recently transplanted or relocated your plant. It's a sign of shock, and your plant is still adjusting. Provide optimum conditions and minimize root damage when repotting.
Rootbound: If they outgrow their pot, these aroids will not get enough nutrients or water, and leaves may turn yellow. Check if roots grow from drainage holes or spiral around the planter, forming a hard mass. If your dumb cane is rootbound, repot your plant to a pot 2-3 inches wider in diameter.
Overfeeding: While it is likely to cause leaf scorch, accumulation of salts may make it hard for plants to absorb water or nutrients. Also, the fertilizers may burn roots. Both these two may result in the yellowing of leaves. Leach the soil or repot your plant.
Water quality: It is not a common cause but a possible one. If your water is high in fluoride, chlorine, or salts, it may be a reason for the yellowing of leaves. A case to mention is chlorine which causes yellowing of margins as it accumulates. Use filtered or rainwater. Also, you can let tap water stand overnight in an open container. It will help dissipate some chlorine.
Caring for Dieffenbachia leaves turning yellow
Besides applying the fixes we gave you, you also need to prune the yellow leaves as they will not revert to green again. So, you can as well prune them.
If the leaves have only yellow margins, use a sharp, sterilized scissor to cut around the yellow area. You don't have to remove the whole leaf.
On the other hand, if the yellowing has affected the entire leaf or is from diseases, we strongly recommend that you chop it off as close to the stem as possible. Don't forget to use a sterilized pruning knife or scissors.