Named after Bernardo Paz, Instituto Inhotim's founder, Philodendron bernardopazii is a charming plant with arrow-shaped to oval arrow-shaped dark green leaves. This climbing, evergreen plant is endemic to Santa Leopoldina.
Learn more on P. bernardopazii appearance (leaves, stems, and flowers), growing habits, and care needs. We will look at growing conditions (light, humidity, and temperature), best potting mix, feeding, etc.
Lastly, if you love this easy to care for and air purifying aroid, you can buy it at Etsy.com or eBay. Facebook and Instagram are the other places you won't miss this rare plant.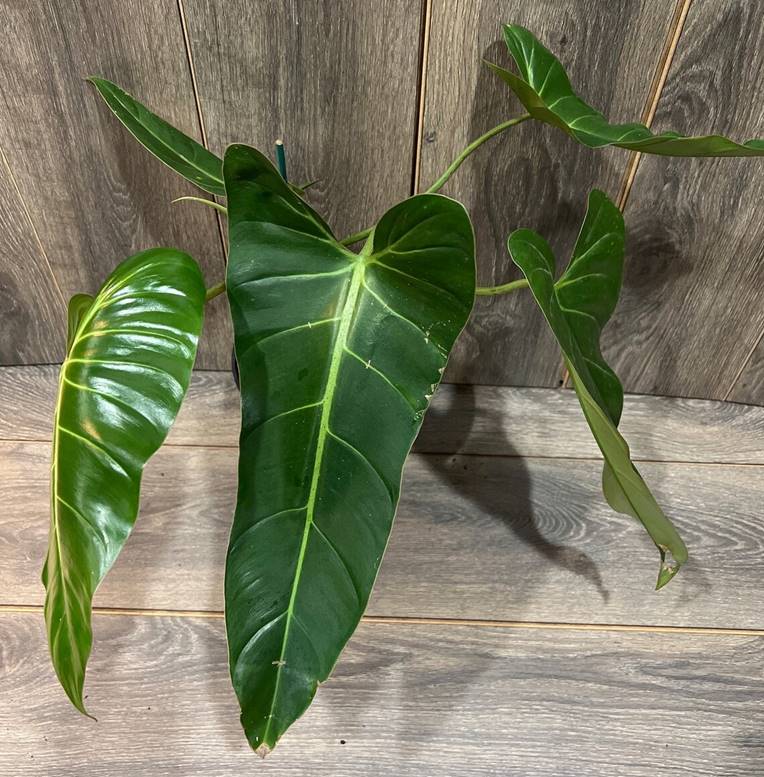 Quick overview
Scientific name: Philodendron bernardopazii
Common name: Philodendron Santa Leopoldina
Family: Araceae (arum family or aroids)
Native habitat: Brazil
Toxicity: Toxic to dogs, cats, other pets, and humans. Why? It has insoluble calcium oxalates. These sharp, needle-like will cause severe oral irritation and a burning sensation when chewed. Also, patients will have a red and swollen mouth, tongue, or lips and swallowing difficulties. More signs are drooling, loss of appetite, etcetera.
Care level: Low maintenance or easy
Did you know that Philodendron bernardopazii has been traded as Philodendron "Santa Leopoldina" in the ornamental world? Please note that the name P. spiritussancti also uses the common name Philodendron Santa Leopoldina because of where botanists collected them. So don't confuse these two species.
Last but not least, it bears some resemblance with P. tenuispadix, P. atabapoense, and P. billietiae. But of course, there are easy-to-notice differences. We don't think you will have trouble separating these plants.
Description and appearance
What does this plant look like? What are its growing habits? Does it creep or climb? If any of these are questions you have, we got you covered.
1. Growing habits
Philodendron bernardopazii is a climbing hemiepiphyte endemic to Santa Leopoldina village jungles in Espírito Santo state in Brazil. A hemiepiphyte is a plant with both terrestrial and epiphyte (growing on host plants) growth phases.
This evergreen climber grows on moderately tall tree trunks, receiving filtered. But in its native habitat, it is scarce or threatened, i.e., not easy to spot. In the ornamental trade market, what you see is mostly what Roberto Burle Marx cultivated.
2. Growth rate and size
P. bernardopazii has a relatively fast growth rate. Also, it can grow up to 12 feet or even more in the wild. But at home, it may reach 5 to 8 feet. And to grow this tall, you must give it a place to climb – a totem, moss pole, trellis, or tree.
3. Leaves
Philodendron bernardopazii has arrow-shaped to oval-arrow-shaped (sagittate to ovate-sagittate) dark glossy green leaves with paler veins. The lower side is paler, semi-glossy, and may have pinkish veins.
Mature leaves measure about 16 to 29 inches long by 6 to 15 inches broad and have 7 to 10 lateral veins.
This lovely plant has a green petiole with a reddish tint more evident towards the upper side. Also, these petioles have whitish striate (ridges) and have dark sap glands. They measure about 23-32 inches.
4. Stems
The climbing stems are green to ochre, sometimes with a reddish tinge with relatively short internodes (less than 3 inches) and aerial roots growing at nodes.
These stems have red-tinged cataphylls with minute white lineate and tiny scales at the petiole base. These scales are often referred to as intravaginal squamules persist. But they are easy to remove.
5. Flowers
Mature Philodendron bernardopazii produce inflorescence flowers with a spathe (bract) and spadix (bears tiny flowers). Many people assume the bract is the actual flower. It is not.
The spathe has a slight constriction between the upper blade and lower tube and is greenish to ivory white on the outer side with dark red dots. Inside it is cream white on the blade, and the lower part (tube) has a crimson or reddish tinge.
On the other hand, the spadix has greenish female flowers (inside the tube at the bottom) and a middle male sterile and upper male fertile, both cream whitish.
Philodendron bernardopazii narrow form, superbum, etc.
These are nothing but clones of P. bernardopazii that show some variability from the original plant. These clones include the superbum (initially Santa Leopoldina) and the narrow form (with narrower leaves).
There is a possibility some of the clones may eventually be species. For instance, Dr. Eduardo Gonçalves is currently working on Philodendron superbum, but the studies are inconclusive up to now. So, it is correct to assume that these are just clones.
Philodendron bernardopazii care
Philodendron bernardopazii grows in a warm, humid area with bright indirect light. Grow it in a well-draining, aerated potting mix high in organic matter and water it when the top few inches of the soil feel dry.
Feed it once a month with a balanced liquid fertilizer and prune it when necessary. Please don't forget to repot it after 2-3 years, or if rootbound or give it a climbing totem, trellis, or moss pole.
Here is more on P. bernardopazii care:
USDA hardiness zone: 10-12, not frost hardy, cannot withstand freezing temperatures for long.
Temperature: 65 to 85 degrees Fahrenheit (18-29°C). Avoid temperatures below 55°F (12.8°C), and cold drafts, and don't place them near heat sources or vents.
Humidity: Average to above-average, i.e., 50% or more. If your humidity is low, mist your plants, have a pebble tray, move them to humid areas, or buy a humidifier like AquaOasis™ Cool Mist Humidifier, Amazon's best seller.
Light needs: They grow best in bright, indirect light but can tolerate medium, indirect light. Avoid too little light or direct sun (cause leaf scorch).
Soil: The best potting mix for P. bernardopazii should be well-drained, aerated, and rich in organic matter. Etsy.com has the best aroid mixes. But you can make yours at home. Add perlite, peat moss, compost, and bark chips to your standard potting mix.
Watering: thoroughly water when the potting mix's top 2-3 inches (or up to your first finger knuckle) feels dry. And if you have a soil moisture meter, (buy XLUX if you don't have one) water this plant when reading is in the dry zone. Don't forget to discard any water that collects on the cachepot.
Fertilizer: Feed monthly with a balanced, liquid houseplant fertilizer at half recommended strengths during the growing season only. A brand such as Miracle-Gro Indoor Plant Food (Liquid) will work well. Or you can buy Bonide 10-10-10.
Pruning: Pruning involves the removal of dead, damaged, or diseased leaves. Also, clean leaves when dirty or dusty, and during growing months, you can cut back stems to control size. Please, use sterilized gardening scissors.
Repotting: Repotting is after every 2-3 years or if rootbound. Use a pot 2-3 inches wider in diameter.
Staking: This plant is a climber. So, provide and train your plant on a moss pole, trellis, totem, or any other climbing surface. It will reward you with larger leaves.
Propagation
Philodendron bernardopazii propagation is mainly by stem cutting soil or water. But you are free to use air layering. Seeds are hard to find.
To propagate this plant, you need a stem cutting with a node, i.e., the knobby part with aerial roots and where leaves attach. You cannot use leaves with petiole, stems without a node, or using aerial roots.
The best time to propagate your plant is in spring. But early summer is still ok.
Lastly, the steps to follow are similar to how you propagate any other climbing Philodendron. See P. micans for more insight.
Problems and issues
Some of the issues you may face as you grow this lovely plant include the following:
Pests - Your plant may have mealybugs, aphids, thrips, spider mites, or scale insects, but they are uncommon indoors. Use insecticidal soaps, horticultural oil sprays, or neem oil to manage pests.
Diseases – Like pests, diseases are rare if you practice proper sanitation and always isolate new plants. Nonetheless, these plants can have fungal and bacterial leaf spots or blights.
Root rot: Root rot is a more prevalent problem, mainly if you use heavy, compacted soil or overwater your plant. To salvage your plant, repot it immediately and while doing so, trim any decayed parts of the roots with sterilized gardening scissors.
Leaves are turning yellow: Overwatering is the most common reason. However, it may be too much or too little light, cold drafts, low humidity, heat stress, and underwatering. In rare instances, nutritional deficiency may cause the yellowing of leaves.
Leaves browning: Leaf scorch (brown margins and interveinal) happens due to underwatering, too much light, heat stress, low humidity, and sometimes fertilizer burns. If you see only brown spots, check if your plant has diseases or pests, and brown splotches may indicate that you are overwatering your plant. Cold drafts can also cause sudden leaf browning.
Leaves drooping and wilting: It happens when cells don't have enough water to keep them rigid. Most likely reasons are underwatering, low humidity, too much light, or heat stress. But overwatering, root rot, pests, diseases, repotting shock, fertilizer burns, or anything that increases moisture loss from leaves or makes roots not absorb water may be a cause.
Leaves are curling: It is a response to prevent moisture loss or protect leaves. Reasons are similar to those that cause drooping or wilting.
Where to buy Philodendron bernardopazii
The best place to buy P. bernardopazii is Etsy.com. It has a dozen of sellers who offer incredible rates. People in the US, Canada, the UK, Australia, etc., won't miss a vendor in their country or are willing to ship.
Besides Etsy.com, eBay is an excellent alternative. It, too, has vendors worldwide. Also, try Facebook, Instagram, Gabriella Plants, Canopy Plant Co., Robs Rare Plants, Phylla.US, Plantvine, and Exotic Tropicals.
Lastly, if you still haven't found a vendor, search for Philodendron bernardopazii for sale on search engines to see more vendors.
Frequently asked questions (FAQs)
Is Philodendron bernardopazii rare?
Yes. P. bernardopazii is a rare plant that only a few people and websites have on sale. We doubt if you will get it at your local tropical plant store, and large horticultural growers or big box stores don't have it.  
What is the Philodendron bernardopazii price?
Philodendron bernardopazii prices range from $50 to $200 depending on where you buy and the size. In some places, it sells for more than $200.