Philodendron billietiae is a rare, eye-catching climbing houseplant native to French Guiana, Brazil, and Guyana. It has lovely, elongated arrow-shaped dark green leaves with bright orange petioles.
Discover more on P. billietiae care (best soil, humidity, temperature, light, watering, feeding, etc.), propagation, and appearance (leaves, stems, and flowers).
That is not all. There is something on Philodendron billietiae variegated form, Philodendron billietiae x atabapoense, and how it differs from Philodendron atabapoense. Also, we will tell you about prices and where to buy this houseplant. To give you a heads-up, Etsy.com has the most extensive inventory and offers the best prices.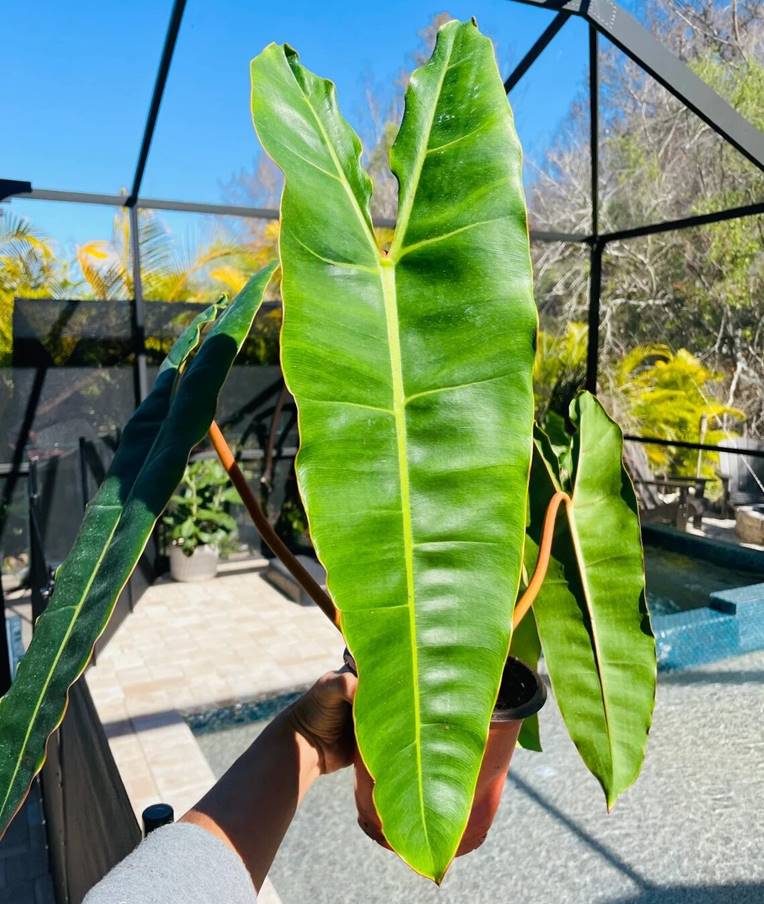 Quick overview
Scientific name: Philodendron billietiae
Family: Araceae (arum family of aroids)
Native habitat: French Guiana, Guyana, and Brazil
Toxicity: All plant parts are toxic or poisonous to pets (dogs, cats, etc.) and humans. They contain insoluble calcium oxalates.
Care level: Easy or low maintenance
Dr. Thomas Croat named this aroid after Frieda Billiet, who discovered it in 1981. Frieda Billiet and her husband Bernard Jadin collected many other specimens in French Guiana.
Description and appearance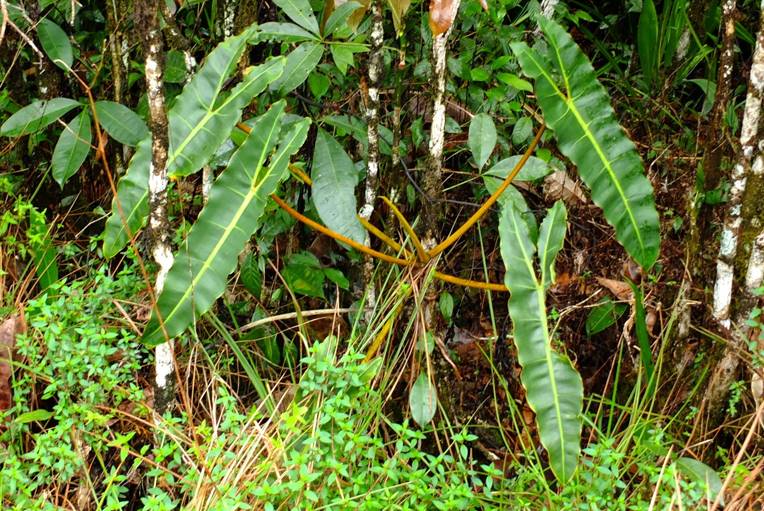 1. Growing habits
Philodendron billietiae is an evergreen, appressed climbing hemiepiphyte. Hemiepiphytes grow on the ground, then to a tree or start from a tree but grow roots that reach the soil.
It is native to French Guiana, Guyana, and Brazil (Pará state). In these habitats, it grows on tropical rainforests at altitudes of300 to 1300 feet (100-400m) above sea level. You will find it climbing tree trunks or on rocks, while the juvenile plants will be climbing on fallen logs.
Lastly, it is worthwhile mentioning that billietiae prefers brighter, open areas with little dappled light, including river banks, and not dark shaded areas.
2. Size and growth rate
Philodendron billietiae is a moderately fast-growing aroid that may reach 12 feet or more in the natural habitat. But at home, it will be smaller, 4 to 6 feet high, and you need to provide it with a climbing place.
3. Leaves
Philodendron billietiae has adorable pendent dark green leaves clustered towards the top of the stem. They have firm, 10-22 inches long, erect, broadly spreading bright orange petiole that may also be olive green, greenish-yellow, golden-yellow, or pale yellowish-orange.
These petioles are widely grooved and sheathed towards the base, obtusely flattened towards the apex, and then slightly angular at the peak. Also, they are somewhat roughly purplish lineate (marked with longitudinal lines).
Mature Philodendron billietiae has elongated arrow-shaped (narrowly triangular to narrowly oval-triangular to oblong triangular), moderately leathery dark green leaves with a pale underside.
These large leaves, 12-34 long and 3-8 inches broad, are 2.7-4 times longer than wide. Also, they have a slightly undulating margin that is reddish or translucent.
Their midrib is paler with purplish dots but may occasionally be orange-yellowish on the upper surface, while the lower surface Is yellowish-red, yellowish-brown, or yellowish-green.
Furthermore, the widely spaced primary veins, 3-5 per side in number, are flat to weakly sunken and yellow-green on the upper side and purple to reddish beneath.
Lastly, younger leaves are often reddish. Also, these preadult leaves may look a bit different from mature ones.
4. Stems
Philodendron billietiae stems are light brown to yellow-brown with weakly irregular fissures and visible leaf scars. The internodes are broader than long, and the nodes have fewer purplish brown, stout roods with a fissured surface.
These aroids have quick-falling green to pale orange, occasionally orange or brown at the base cataphylls. These terete cataphylls with a sharply D-shaped apex are unribbed but may rarely be bluntly double-ribbed.
5. Flowers
Mature Philodendron billietiae will have 1-3 inflorescences per axil each. Each has a spathe (modified leaf bract) and spadix (bears flowers). The peduncle (flower stalk) is medium yellowish-green with purplish to green lineate. Also, it is ribbed and a bit flat on one side.
On the outside, the spathe is dark-green to yellow-green but paler towards the apex. The tube has pale purple-lineate and a paler outer margin but may occasionally have red spots, while the blade is dark purplish-lineate.
The inside of the spathe is whitish to greenish-white on the blade with slightly dark margins at its anthesis, while the tube is maroon to mauve. But at anthesis, it is dark maroon-purple.
What about the spadix? The bottom female portion is pale green, and the sterile male and fertile male sections are creamy white.
Variegated Philodendron billietiae
Most of the variegated Philodendron billietiae have dark green leaves with cream sectors, marbling, splotches, and rarely half-moon variegations. But some specimens may have mint (vibrant light green), yellowish, or aurea variegations.
This variegation is chimeral, i.e., it occurs due to a rare mutation of cells at the meristems. And, to be specific, a sectorial chimera. This mutation results in the affected area not producing chlorophyll or producing a lesser amount.
And as with any other chimeral variegations such as what we see in several Monstera species, some Rhaphidophora like R. Tetrasperma and many other houseplants are unstable and unpredictable. So, it means that your plant may revert to green.
Here are images of some of the most stunning Philodendron billietiae variegata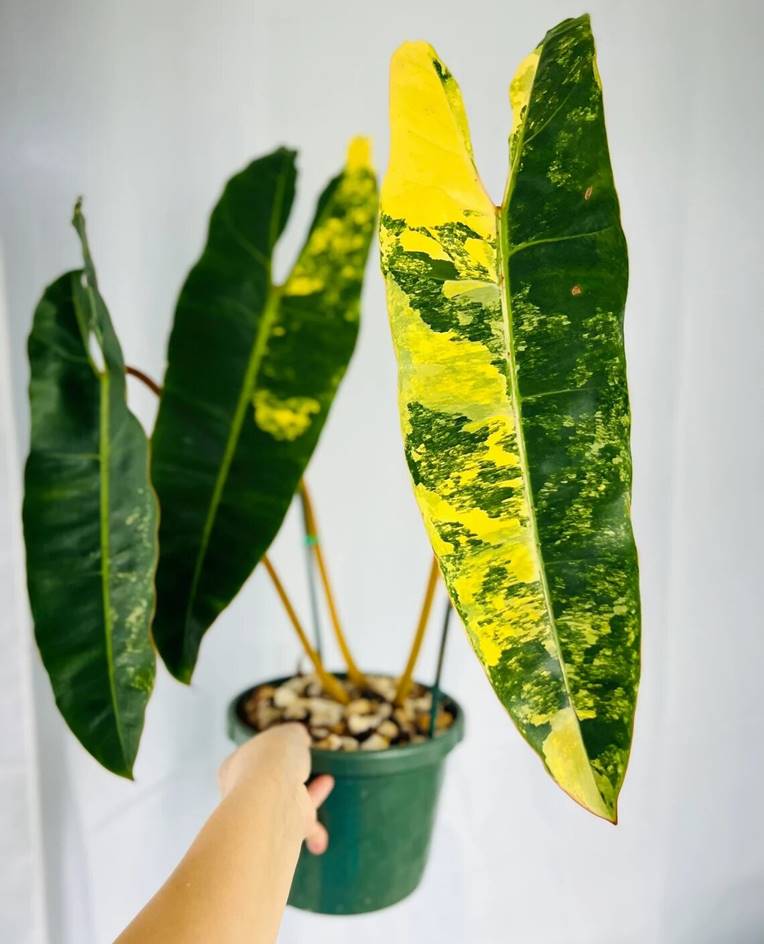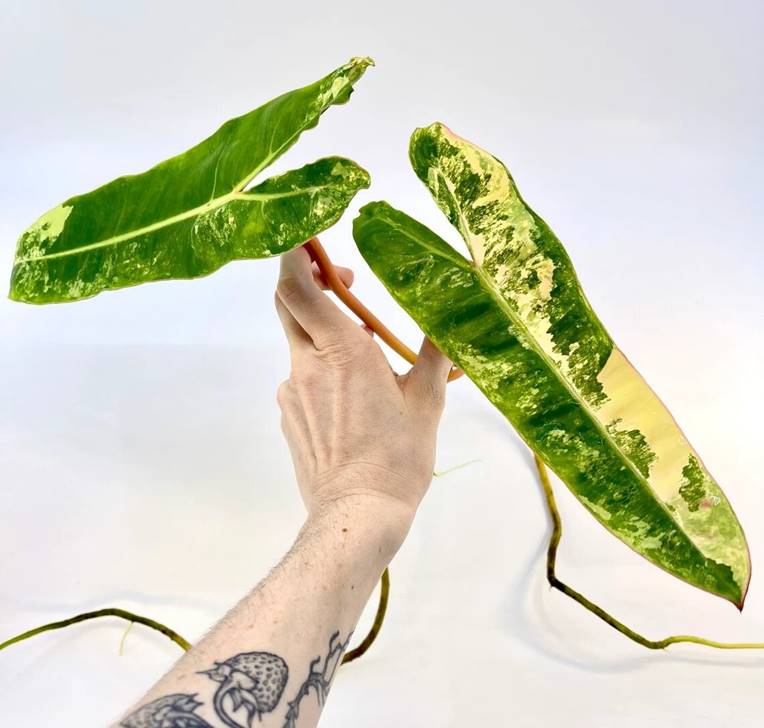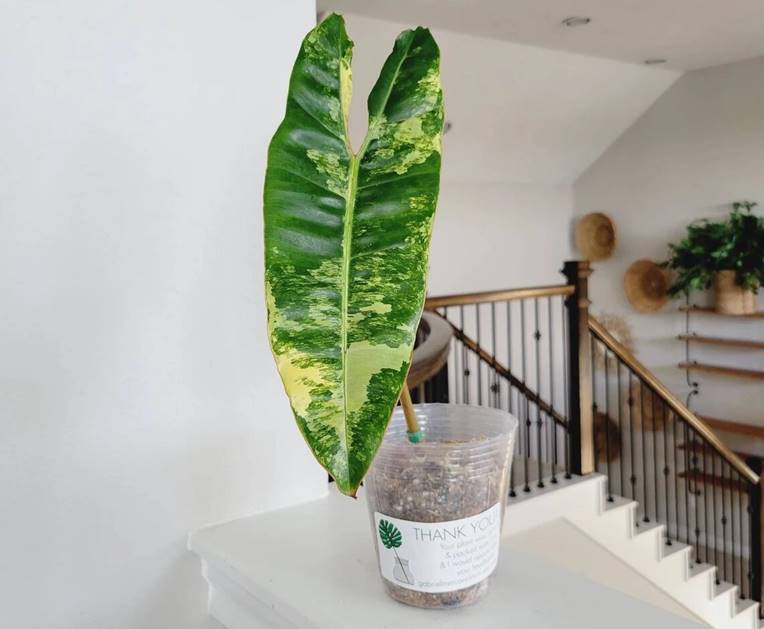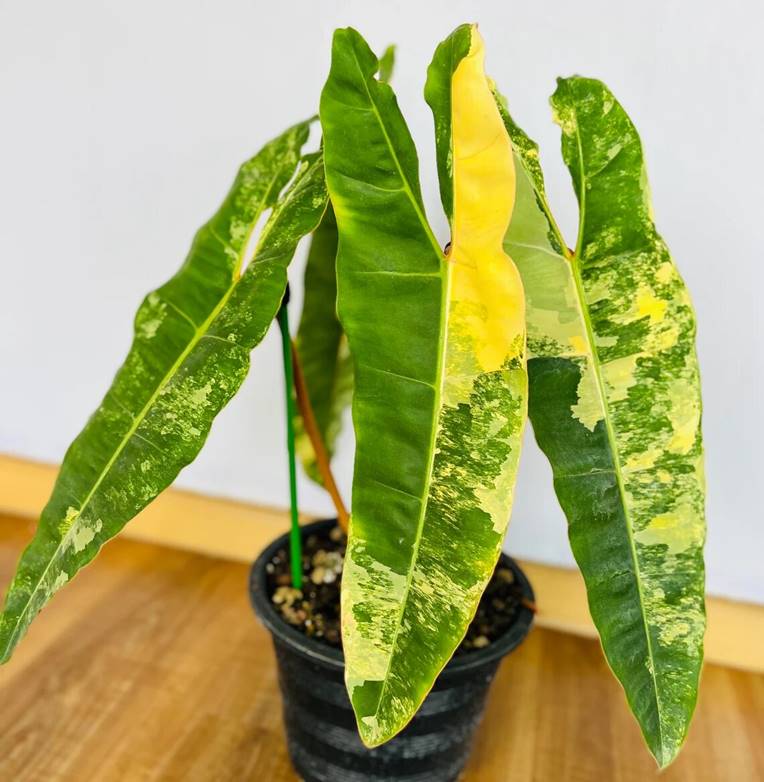 We know you have questions concerning these lovely plants. We thought it best we attempt to answer a few common ones.
1. What is the variegated Philodendron billietiae price?
The price of variegated Philodendron billietiae ranges from $2500 to $10,000. Plant size, where you buy it, level of variegation, and other factors influence prices. Try Etsy.com as it has the most vendors and best prices if you want to make a saving.
2. Does Philodendron billietiae variegated need special care?
Yes, but only light and humidity requirements. The rest of the care needs are similar to those of a non-variegated billietiae we will see later.
Since they have lesser chlorophyll, you need to provide strictly bright, indirect light. Otherwise, these plants will grow slowly. Also, they may revert to green if they don't get enough light. But ensure you don't put them in direct sun.
On the other hand, the variegated sectors are vulnerable to low humidity and will have brown tips, margins, or patches sooner. Therefore, we recommend keeping humidity at 60% or more.
3. Will may Philodendron billietiae revert
Yes. Since the mutation responsible for variegation is unstable and unpredictable, your plant may revert to green. Reasons for this include a survival tactic (to synthesize more food), to adapt to the environment, or another cell mutation.
But this shouldn't be a reason not to buy these lovely plants. You can prevent it by providing ideal growing conditions. Also, prune the plant before the node without variegations.
Philodendron atabapoense vs. billietiae
It is true indeed that these two plants look alike. But you shouldn't have difficulties identifying them if you know where to look.
Philodendron atabapoense leaves have maroon or burgundy underside, pale yellowish pink margin, and the paler midrib is not so conspicuous.
On the other hand, P. billietiae leaves are pale green on the underside and have a reddish or translucent margin. Also, their midrib is conspicuously paler, and the surface may look ruffled. The other difference is that P. billietiae leaves are pendent and clustered towards the top of their stems.
That is not all. P. atabapoense has green petiole with burgundy spots. But towards the apex, they have a pinkish-wine tinge and are rough. P. billietiae, on the contrary, has bright orange petiole (sometimes golden yellow, yellowish-orange, or olive green) that are widely grooved and have rough purplish lineate.
Philodendron billietiae x atabapoense
Philodendron billietiae X atabapoense is a hybrid. Its creator is unknown doesn't have an official name. Some vendors label it Philodendron Billietiae Black because of the darker leaves. https://tidd.ly/3Loyk37
Leaves resemble P. billietiae. But their underside is maroon. Also, its midrib is paler, petiole red-tinged to the apex, and margins slightly undulate.
How much does it cost? It's about $140 and $200 and Etsy, making it slightly more expensive than either parent, except for the variegated ones.
Philodendron billietiae care
Philodendron billietiae needs a warm (65-85°F), humid (50% relative humidity or more) area with bright indirect light. The soil should be well-drained, airy, and high in organic matter.
Water it when the top few inches feel dry and feed it monthly with a balanced liquid houseplant fertilizer. Don't forget to prune it, repot after 2-3 years and give it climbing support.
Here are Philodendron billietiae care needs and growth requirements.
1. USDA hardiness zone
P. billietiae USDA hardiness zone is 10-11 or 9B that doesn't experience frost. These plants are not frost-hardy. Only people in these zones can grow it outdoor all year.
2. Temperature
Maintain a temperature range of 65 to 85 degrees Fahrenheit (18-29°C). Lower temperatures will slow growth and don't let them go below 55°F (12.8°C).
Also, avoid sudden temperature spikes or dips, cold drafts, or near heat sources, including near room heating and air conditioning vents
3. Humidity
As a tropical rainforest plant, you should know that P. billietiae loves humid places. So, maintain average to above-average humidity, 50% or more.
Low humidity will cause leaf scorch and curling. Also, your plant may droop, have yellow leaves, etc. So, if your average household humidity is too low, you can raise it by the following means:
4. Light needs
They grow best in bright, indirect light. It grows in a more open area, receiving a little more light even in nature than other Philodendrons.
People in poorly lit houses need 10,000 to 20,000 lux (1000-2000 footcandles) grow lights. Otherwise, your plant will grow slowly, be leggy, and have smaller yellow leaves.
Briignite LED Grow Light Bulb is an excellent pick if you require a grow light. It has a full-spectrum pleasant light and a long lifespan (50,000 hours). Also, it doesn't consume much power and is the best seller on Amazon. 
Besides having a grow light, you need an illuminance meter to confirm that the light you are providing your plant is enough. Here, you can trust Dr. meter LX1330B Digital Illuminance Light Meter.
On the other hand, direct sun will cause sunburn. So, choose a spot where sunlight doesn't reach, especially during the hot midday and afternoon sun.
5. Philodendron billietiae soil
The best Philodendron billietiae soil should be airy, well-drained, and high in organic matter. A slightly acid to neutral (pH of 6.1-7.3 is perfect).
These plants are not fussy and can grow even in sphagnum moss alone. An easy way is to buy an aroid mix. See Etsy.com.
Alternatively, add perlite, coco coir (or peat moss), bark chips, and compost (or worm casting) to your potting mix. Exact ratios don't matter. Just ensure it is airy, drains, and rich in organic matter. Also, it should hold moisture but not be soggy.
6. Watering
Water your P. billietiae when the potting mix's top 2-3 inches feel dry. Don't follow a watering schedule as water needs vary with conditions and other factors. Instead, test the soil. If it feels dry up to the first knuckle of your finger, it's time to water it.
Alternatively, you can buy a XLUX Soil Moisture Meter and water when it reads three or less (in the dry or red zone).
Lastly, when watering, slowly saturate the potting mix until water comes out of drainage holes. And if you have a saucer, pour any that collects after 20 minutes.
7. Fertilizer
Feed these aroids once a month during the growing season with a balanced, liquid houseplant fertilizer at half the strength the manufacturer recommends.
We have had a good experience with Bonide Liquid Plant Food 10-10-10. Mix ⅛ a teaspoon per quart of water and feed once or twice a month. 
If you prefer a slow-release formula, Jobe's® Houseplant Food Spikes is good. You only need to apply once in two months. Start feeding in early spring and follow what the manufacturer recommends.
8. Pruning and grooming
They don't need much pruning except removing damaged, dead or diseased leaves with sterilized gardening shears. Also, wipe leaves when they are dusty or dirty.
Also, you can trim back some stems to control your plant's growth, size, or shape in early spring.
9. Repotting
Repotting is after 2-3 years or when rootbound (roots spiraling inside the pot and growing through drainage holes). Select a pot 2-3 inches wider in diameter than the current one.
10. Staking or support
This appressed climbing plant requires a totem, moss pole, trellis, or stake to climb. Use twist ties, soft strings, or Velcro tie to mount your plant.
Philodendron billietiae propagation
The best way to propagate Philodendron billietiae is by stem cutting in water or soil. But you can also use air layering or seeds (hard-to-find).
Your stem cutting must have at least a node, i.e., the knobby part where leaves attach or aerial roots grow.
That is not all. You can propagate at any time, but spring or early summer works best. Why? Your cutting will have enough time to establish itself before the non-growing months.
We will be looking at propagation in soil. But we will also briefly talk about water propagation and air layering.
1. Soil propagation
Rooting occurs faster. Also, your plant will get nutrients from the soil and suffer less shock when you transplant it. But it's a bit messy.
Let us now look at how to propagate Philodendron billietiae in soil.
i. What you need
Nursery pot
Potting mix or sphagnum moss
Gardening scissors
Rooting hormone like HydroDynamics Clonex Rooting Gel.
70-90% rubbing alcohol for sterilizing your gardening scissor.
A transparent plastic bag. It will help lock humidity if yours fluctuates or is low.
ii. Steps to follow
Put your potting mix into the nursery pot. If you opt to use sphagnum moss, first soak it for 15-20 minutes and then thoroughly wring it. But after planting your cutting, don't water it again. Instead, mist it when it starts to dry.
Select a healthy stem with at least two nodes and cut it below the lower node at about ¼ an inch away from the node with your sterilized gardening scissors. If it has more than two leaves, remove the lower leaves.
Apply your rooting hormone on the cut end. Not mandatory, but it will speed rooting and prevent roots.
Poke a hole into your potting mix and plant your stem cutting, covering at least a node. Then press some soil on the cutting to ensure it remains upright.
Thoroughly water your cutting and cover it with your plastic bag, leaving a small breathing opening. But ensure it doesn't touch the leaves. A chopstick or small totem should help you.
Place your plant in a warm area with bright, indirect light.
Routinely remove the plastic bag to let your plant breathe for a few hours. And if the potting mix starts to dry, mist it.
By the end of the 4th to 6th week, your plant will have rooted, put on new growth. You can transplant it. But the exact duration depends on growing conditions.
3. Water propagation
If you want to see your plant root, go for water propagation. The process is also straightforward.
After applying a rooting hormone, dip the cutting into a jar with water, ensuring at least a node is inside the water. But don't immerse leaves. Afterward, change the water when the level goes down or after 3-4 days.
Lastly, once the roots are long enough, at least two inches long, you can plant the cutting in its growing pot.
4. Air layering
It is a simple propagation method that involves wrapping moist sphagnum around a node of the targeted stem while still attached to the mother plant. Afterward, keep the sphagnum moss moist. But ensure air can circulate through the moss, i.e., poke holes if you use an airtight plastic bag.
After some time, the node with sphagnum moss will root. And once long enough, you can cut the stem from the mother plant and plant it in your potting mix.
Problems
This plant is undoubtedly easy to care for and isn't prone to many issues. But you may have a few problems. Let us look at the common ones.
Pests: Aphids, thrips, mealybugs, scale insects, or mites may attack your plant. But they are uncommon indoors. Use insecticidal soaps, neem oil, or horticultural spray oils to manage these bugs.
Diseases: If you isolate new plants and practice proper sanitation, these plants are unlikely to get any fungal or bacterial leaf spots or blights that affect the Philodendron plant species.
Root rot: It's one of the most common issues for people who overwater their plants or have a poorly draining potting mix. Rotten roots will be mushy and black or brown. Repot your plant, removing any decayed bits with sterilized gardening scissors.
Leaves are turning yellow: The first suspect is overwatering. Others are underwatering, too much or little light, cold drafts, and heat stress. Rarely will nutritional deficiencies be a reason.
Brown tips and edges: It's a sign of leaf scorch. Common reasons include underwatering, low humidity, heat stress, and too much light. Nonetheless, it may be too much fertilizer or transplant shock.
Brown spots and splotches: Browns spots are often signs of pests and diseases. But if you notice brown splotches, they may be due to overwatering.
Leaves curling: Occurs to reduce moisture loss or as a mechanism to protect the leaf. Most likely reasons are underwatering, low humidity, too much light, or heat stress. But any other reason that results in more moisture loss from leaves or roots not absorbing water is a potential cause.
Drooping and wilting: This signifies cells don't have water to remain rigid. Causes are similar to those of leaves curling.
Where to buy Philodendron billietiae
Are you looking for Philodendron billietiae on sale? Etsy.com should be your first place. This marketplace has sellers from the US, Canada, the UK, Australia, and other locations worldwide. Also, their prices are unbeatable.
Besides Etsy, try eBay.com. They, too, have vendors from across the world. But their listing isn't as expansive as what Etsy.com has.
The other places to search for this plant are Facebook and Instagram. These social media platforms have many vendors from around the world. You won't fail to get someone near or ship to your location.
Additional vendors who sell this adorable plant include NSE TROPICALS (Fort Lauderdale, FL), Canopy Plant Co. (New Orleans, LA), Plant Circle (Germany), and Plants Without Borders (Nevada). Also, try Gabriella Plants (Oviedo, FL), Tropics at Home (Sweden), Peace Love and Happiness Club (Seattle, WA), and Jordan's Jungle (Pawtucket, RI).
Lastly, if you haven't been lucky enough to get this plant, google 'Philodendron billietiae for sale.' We bet you will have many vendors near you.
Frequently asked questions (FAQs)
Is Philodendron billietiae rare?
Yes. Philodendron billietiae is a much sought-after, rare, or hard-to-find houseplant. We haven't seen any big box stores or large horticultural growers that sell it. Also, we doubt if you will find it at your local tropical houseplant stores.
What is the price of Philodendron billietiae?
Philodendron billietiae price ranges from $80 to $200, with some people selling smaller plants or unrooted cuttings for as little as $50. But if you want the rare variegated Philodendron billietiae, prices range from $2,700 to $10,000.
Is there a dwarf Philodendron Billietiae form?
Yes. It seems. We have seen a few vendors selling this plant on Facebook, Instagram, and other websites. It is a rare miniature form. We cannot yet comment much about this plant.