Philodendron 'Florida' is a Philodendron pedatum x P. squamiferum hybrid created by Robert McColley in his 1950s breeding programs. It has large, multi-lobed dark green resembling P. pedatum and a dark-reddish petiole with wart-like bumps.
This lovely plant is easy to care for and grow. Just ensure it has a warm place with bright, indirect light, and its well-draining potting mix is moist. It doesn't have any specific problems.
What does Philodendron Florida look like, and is it a slow or faster grower? How does it differ from Florida Beauty and Florida Ghost? Is this plant variegated or not? We bet you got a dozen of questions.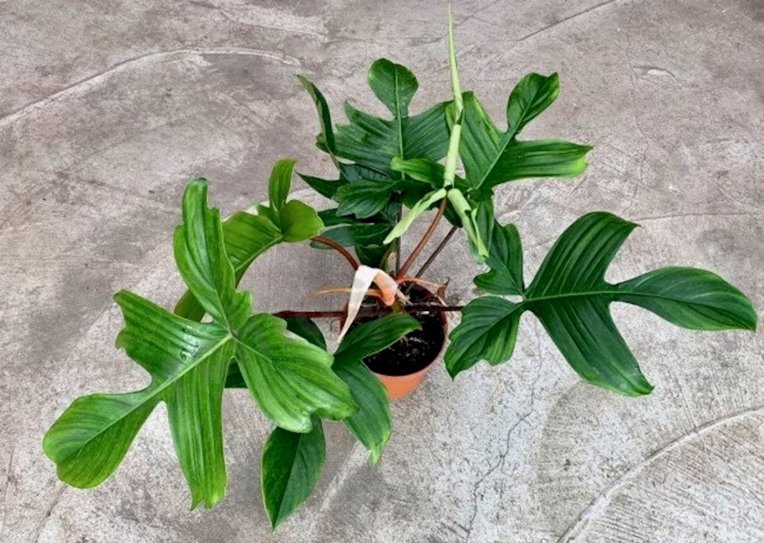 Quick overview
Scientific name: Philodendron 'Florida' (Philodendron pedatum x P. squamiferum)
Common names: Philodendron Florida Green or Beauty Green
Family: Araceae
Toxicity: This plant is toxic or harmful to dogs, cats, and humans since its sap has insoluble calcium oxalates. If you chew it, it will cause a severe burning sensation and irritation. Also, lips, mouth, or tongue will swell, turn red, and patients will find it difficult to swallow. More signs are drooling, loss of appetite, etc.
Care level: Low maintenance or easy
The true origin of Philodendron Florida is uncertain. But many botanists believe it is a likely hybrid of Philodendron pedatum x P. squamiferum created by Robert McColley in 1956.
Since there is has variegated and the Ghost cultivar, most people often refer to it as Philodendron Florida beauty green or green. Sometimes vendors label it as standard green.
Description and identification
Like its parents, this hybrid is a climbing hemiepiphyte. A hemiepiphyte is a plant with both epiphytic (grows on host plants) and terrestrial (ground) growth Phases. However, unlike its parents, it shows a bit of semi self-heading growth behaviors but will still need a climbing place.
Philodendron Florida has a fast growth rate and grows more aggressively and faster than both parents. And as with most Philodendron plants, it morphs, i.e., the baby or juvenile plants look different from mature ones.
Baby plants will have elongated oval leaves that will start having lobes as it grows into juvenile and subadult stages.
Mature Philodendron Florida plants will have multi-lobed dark green leaves with some further lobbed and dark reddish petiole with warty growths or bumps. However, the petioles may be greenish and do have extrafloral nectaries.
Philodendron Florida Red Stem and Rudolph
The unique feature of the Florida Red Stem and Rudolph lies in the reddish or bright reddish petioles. Not much information is available. So, we prefer not to speculate.
Philodendron Florida Bronze
Philodendron Florida Bronze a.k.a. Spanish Guitar, is a Philodendron Black Cardinal x P. Florida cultivar. It has dark reddish petiole and elongated arrowhead-shaped leaves, which appear bronze (sometimes orange) as they emerge. But bronze color slowly fades as the leaf hardens and becomes black.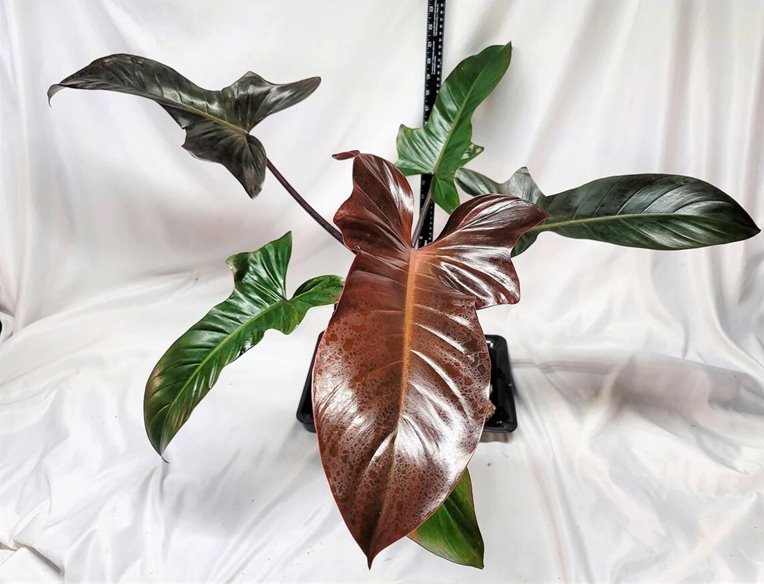 Some sources note that this hybrid is between Philodendron Black Cardinal and P. bipennifolium.
Florida Bronze care needs are similar to what we will look at later.
The price of Florida Bronze ranges from $90 to $500, depending on the size and where you buy it. Unrooted cuttings will cost you about $90, while larger, established plants will cost more.
Lastly, since it's a rare plant, you will not easily find this adorable plant. Besides Etsy, eBay, Facebook, and Instagram, other places to buy and prices are as follows:
Plant Corner NYC (New York, NY) - $140.00
Leafy Interiors Cleveland, OH) - $95.00
Plant Babe (Charleston, SC) - $187.00
NSE Tropicals (Plantation, FL) - $175.00
Groovy Plants Ranch (Marengo, OH) - $ 150.00
Alpine Tropical Plants (Bangkok, Thailand) US$55.00
BOTGarden (Hoa, Vietnam) - $98.00
Philodendron Florida vs. Florida Beauty
Philodendron Florida Beauty is a variegated cultivar of Philodendron Florida whose dark green leaves have whitish, cream, yellowish, pale, or lime-green splotches, streaks, marbling, or sectors. Some plants may be half-moon variegation, and you will find names like Alba, Aurea, etc., to tell you more about the exact coloration.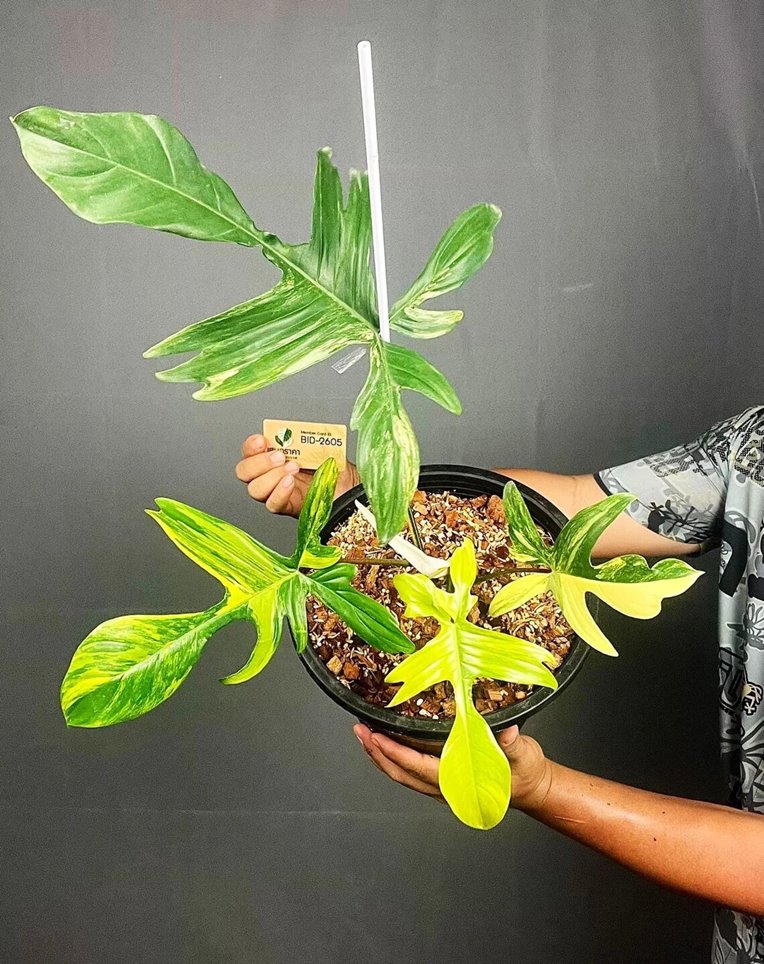 P. Florida vs. Florida Ghost
Philodendron Florida beauty is another Philodendron Florida cultivar whose leaves transition from whitish, pale, or mint-green to various light green or yellow-green hues as they harden before turning green or dark green.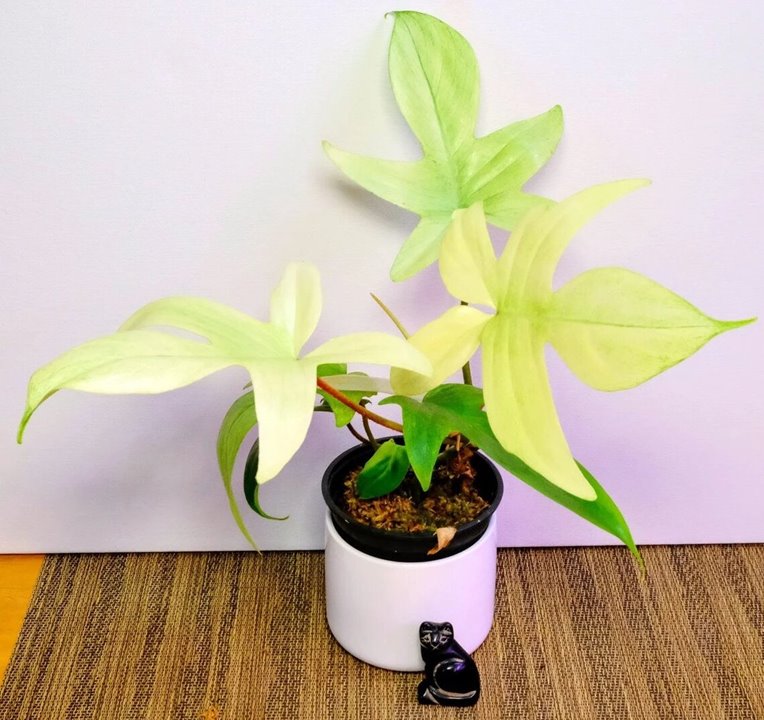 Florida vs. pedatum
It is a fact that Philodendron Florida leaves look much more like P. pedatum than the other parents. Some people may have trouble separating or telling the difference between these two.
However, consider the petiole to distinguish between the two. Florida has reddish warty-like growths or bumps that P. pedatum doesn't have, and the petiole is medium to dark green but may have a reddish tinge.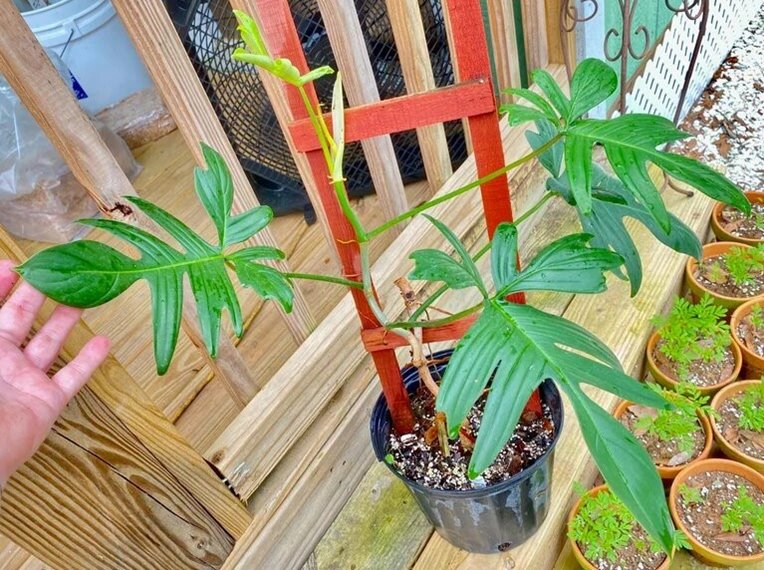 Compacta
Philodendron Florida Compacta is a slow-growing, miniature, dwarf hybrid or type of Philodendron Florida. Not much information is available regarding this plant.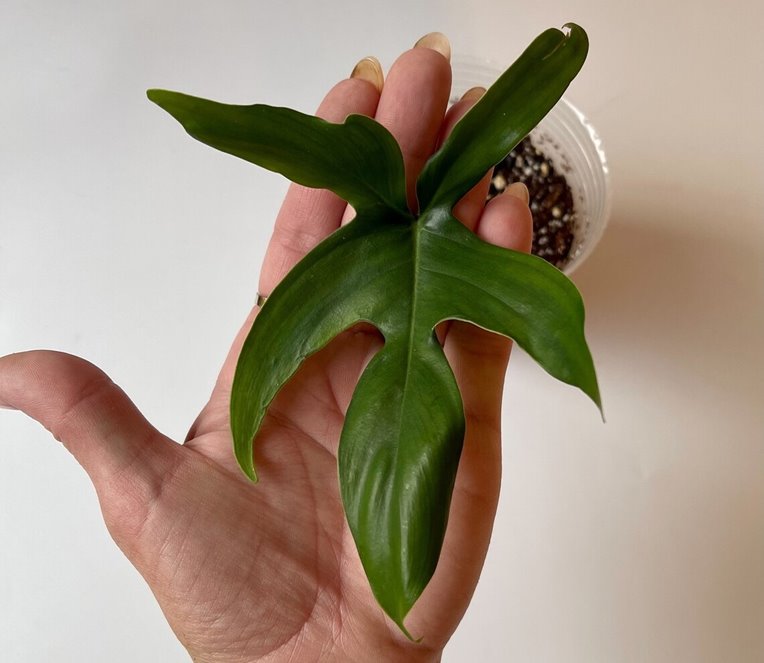 Philodendron Florida Care
Philodendron Florida requires a warm and humid place with bright indirect light. Its potting mix should be chunky, well-draining, and rich in organic matter, and you should water it when the top few inches feel dry.
Here is more on how to care for this plant:
USDA hardiness zone – 10-12, not frost hardy
Temperature: 65-85°F(18-29°C). Avoid temperatures below 50°F, sudden changes, cold drafts, or places near heat or cold sources and vents.
Humidity: Loves high humidity but can tolerate medium, 40%-50%. If yours is low, mist plants, move your plant to humid rooms, or have a pebble tray. Other ways are grouping plants and having a humidifier like AquaOasis™ Cool Mist Humidifier.
Light needs: Bright, indirect light but can still grow in medium levels. Also, a little morning sun is ok. But avoid the direct hot sun, and if yours is too little, buy grow lights.
Best soil mix: It should be well-drained, aerated, and high in organic matter. Buy an aroid mix from places like Etsy.com or make yours.
Watering: Thoroughly water this plant when the top few inches or up to a knuckle feels dry. But if you have a soil moisture meter, water when the reading in the dry zone. XLUX Soil Moisture Meter is an excellent pick.
Feeding: Feed your plant monthly during the growing season with an all-purpose balanced, liquid houseplant fertilizer at half the recommended strength. ⅛ teaspoon of Bonide Liquid Plant Food 10-10-10 added to a quart of water is perfect for feeding your plant twice to once a month.
Pruning: Remove any dead, diseased, or damaged leaves using sterilized gardening shears, and in spring, you can cut back a bit of stem to maintain the size or shape you desire.
Repotting: Repotting is after 2-3 years or when rootbound using a pot 2-3 inches wider in diameter.
Moss pole or totem: Provide and train your plant on a moss pole, trellis, totem, or other climbing surfaces.
Philodendron Florida propagation
You can propagate Philodendron Florida via stem cutting in water or soil. To use this method, you need a stem cutting with at least a node, i.e., you cannot propagate this or any other Philodendron with aerial roots, leaf with petiole, or nodeless stem. The steps to follow are similar to propagating any other climbing Philodendron species.
The other way is air layering, which entails wrapping moist sphagnum moss around a selected node while the stem is still attached to the mother plant. Keep the sphagnum moist and ensure it remains aerated. After some time, roots will start growing.
Problems or issue
Issues this plant may have include leaf discoloration and curling. Also, your plant may droop, suffer from root rot, and have pests or diseases.
Here is a quick overview
| | |
| --- | --- |
| Issue | Comment |
| Pests | It may get pests like spider mites, mealybugs, aphids, scale insects, etc. Luckily, they are uncommon. Also, you can easily manage them using neem oil, insecticidal soaps, or horticultural oil sprays. |
| Diseases | This plant may get bacterial or fungal leaf spots and blights that affect the Philodendron species. But they are uncommon if you isolate new plants and maintain proper sanitation. |
| Root rot | People who overwater this plant or use heavy and poorly draining potting mix may have this issue. Roots will be mushy and black or brown. Repot the plant, and while doing so, cut off the decayed parts to manage the problem. |
| Leaves turning yellow | The most likely reason is overwatering. But it may be too much or too little light, heat stress, underwatering, cold drafts, root rot, etc. |
| Leaves browning | If you see brown tips and edges, it is likely a sign of underwatering, low humidity, too much light, heat stress, and fertilizer burns. But if it's brown spots, it may be pests or diseases, while brown splotches indicate overwatering. |
| Drooping and wilting | It happens when this plant's cells don't have enough moisture. Causes include underwatering, too much light, low humidity, heat stress, or anything that causes rapid moisture loss or roots unable to absorb water like root rot and fertilizer burns. |
| Leaves curling | It is a response to minimize water loss or protect the plant. Reasons are similar to those that make this plant droop or wilt. |
Where to buy Philodendron Florida
If you are looking for Philodendron Florida on sale, start with Etsy.com, eBay, Instagram, and Facebook. These online marketplaces and social media platforms have sellers from around the globe, including the US, the UK, Canada, Australia, NZ, Singapore, etc.
Besides the above, more places to buy it prices include the following:
North America (the USA and Canada)
Amazon.com - $85.99 (by California Tropicals)
Planterina (central Florida, FL) - $65
Hirt's (Medina, Ohio) -$39.99
Gabriella Plants (Oviedo, Florida) - $29.99
Plant Salon (Chicago, IL) - $80.0
Urban Sprouts (Renton, WA) - $64.99
Plant Proper (Redlands, FL)- $20.00
Plant Gather (Richmond, BC, Canada) - CAD 40.00
The UK and Europe
Indoor Plants (East Sussex, UK) - £84.00
Plant Circle (Berlin, Germany) - 5,14 € – 19,63 €
Green Bubble (Naaldwijk, Netherlands) - €29,95
Happy Houseplants (Essex, UK) - £29.99
House Plant (UK)- £31.99
Australia
Verdant Dwellings (Dromana, VIC) - $15 (AUD)
Gardenworld (Springvale Rd, Braeside 3195) - $14.95
Burnings (Hawthorn East, Victoria) - $13.83
If you have not found it, try googling "Philodendron Florida for sale" to get more suggestions, including those near you.
Frequently asked questions (FAQs)
Is Philodendron Florida rare?
Yes. Philodendron Florida is rare, but not so much as many sellers now have it. Vendors like Planterina, Hirt's, and Amazon have it. However, you may not get it at your local tropical plant stores.
What is the price of Philodendron Florida?
Philodendron Florida's price ranges from $15 to $100 for a cutting to an established larger plant, with Australia having the lowest prices.