Philodendron Glad Hands, officially Philodendron pedatum 'Glad hands' is one of the Philodendron pedatum characterized by hand-like, multi-lobed green leaves. This adorable gem is easy to grow and purifies the air.
Its care needs (light, humidity, temperature, watering, soil, feeding, etc.) are similar to other climbing Philodendron species. So, we recommend you give it a place to climb.
Learn more on this plant, including a Philodendron Glad Hands vs. P. pedatum, whether there are a Philodendron Glad Hands variegated form, prices, and where to buy, including Etsy.com, eBay, etc.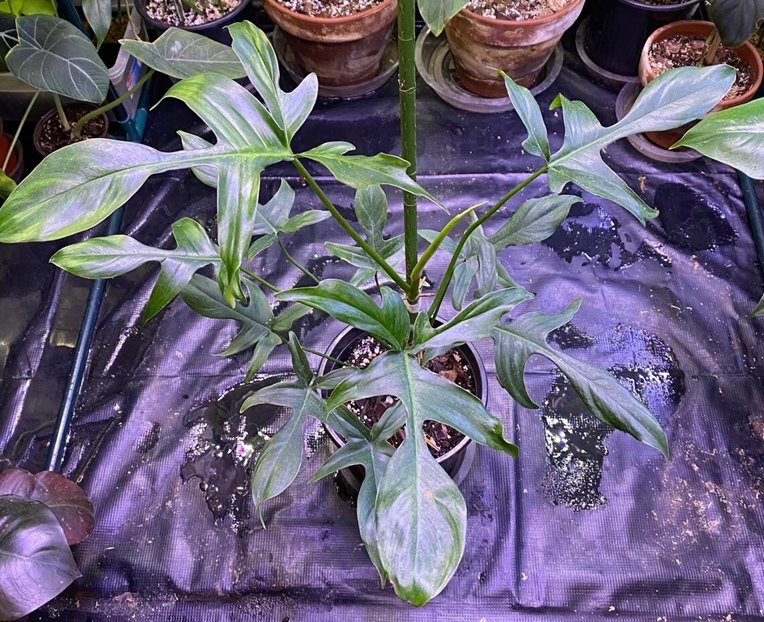 Quick overview
Name: Philodendron pedatum 'Glad Hands'
Common names: Philodendron Glad Hands or Quercifolium
Family: Araceae
Toxicity: All plant parts are toxic to cats, dogs, and humans. Why? Because they have insoluble calcium oxalates. So, if chewed, patients will have severe oral irritation and a burning sensation. Also, lips, tongue, or mouth will turn red and swell. More signs are swallowing difficulties, loss of appetite, drooling, etc.
Care level: Easy or low maintenance
Philodendron pedatum 'Glad Hands' is a cultivated form of Philodendron pedatum whose multi-lobes resemble hands, hence the name.
Description and appearance
This aroid has similar growth habits to Philodendron pedatum, i.e., it grows as an appressed climber. Also, it's a hemiepiphyte (that has a growth phase on trees (epiphytic) and ground (terrestrial).
What about the growth rate? It is a relatively fast-growing plant that can grow up to 4 to 8 feet or more inside your home if you give it a place to climb.
Mature Philodendron Glad Hands have medium to dark green, hand-like, multi-lobed leaves. But the lobes are narrower and further lobed, especially the base lobes. So, some people call it Philodendron pedatum narrow form.
However, juvenile plant leaves are different, i.e., a baby plant will have elongated oval leaves before morphogenesis to the adult form.
Lastly, the rest of the features, including petiole, stems, and flowers, look much or less like Philodendron pedatum.
Philodendron Glad Hands vs. pedatum
Since one is a cultivated form of the other, you expect these plants to resemble each other closely. So, it isn't easy to tell them apart, considering some people mislabel these two.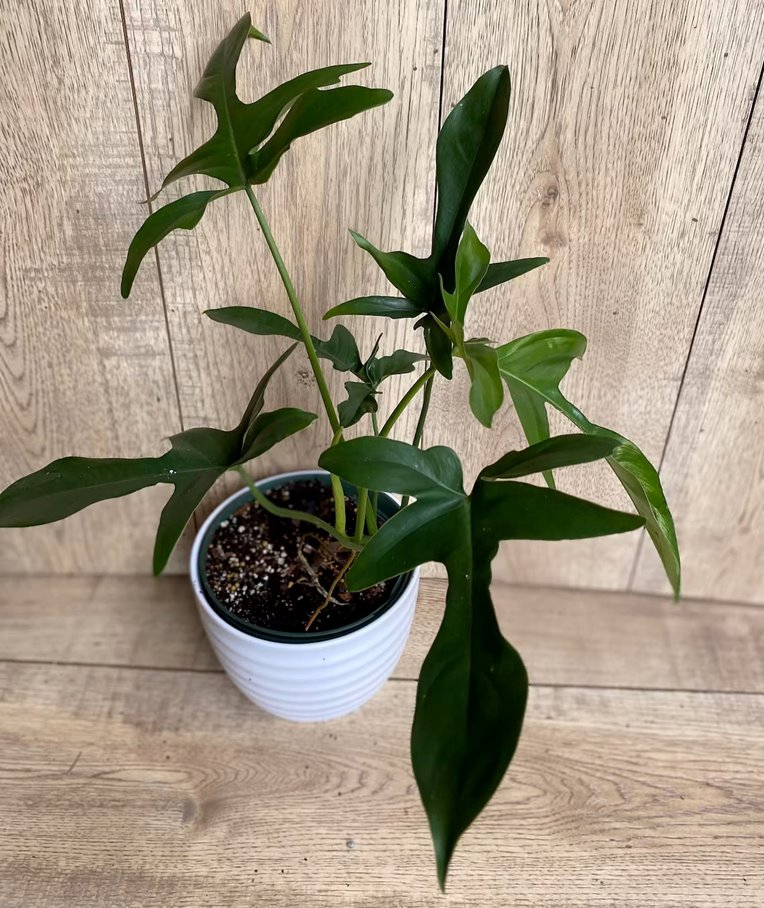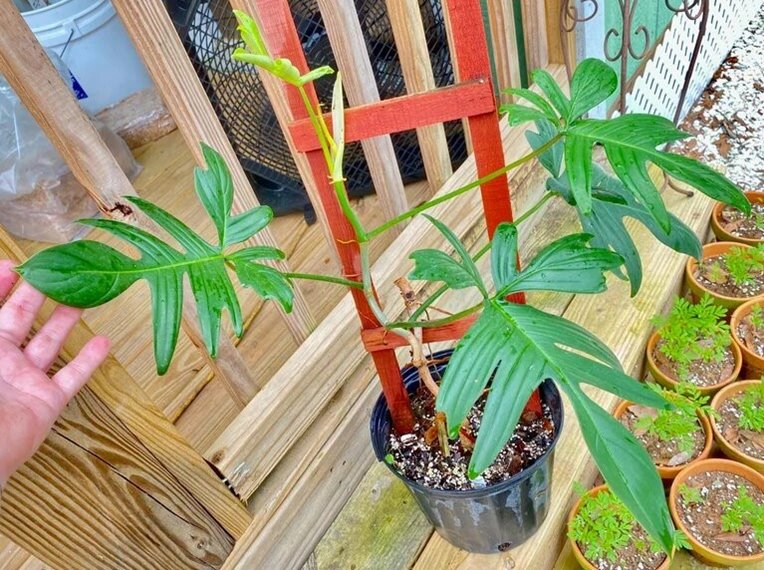 That said, you can still tell the two apart by considering leaves. P. Glad Hands has hand-like (five) lobed leaves with thinner and more elongated lobes. But some of the lobes, especially the posterior, are further lobed again.
On the other hand, Philodendron pedatum has multi-lobed leaves, usually more than five lobes with some further lobed again, including the middle and posterior lobes.
Philodendron Glad Hands variegated
While a variegated P. Glad Hands is possible, it must be rare and expensive, most likely not what some people have listed online.
Ben's Jungle had what they referred to as Philodendron Glad Hands variegated with yellowish streaks (looks like Philodendron Florida Beauty). Also, a while back, there was a listing at Etsy.com.
What baffles us is the low price, $150-$200 price tag. We expect a variegated form of this plant to be more expensive. Also, since we haven't seen the plants, we cannot say if they are genuine or not.
Philodendron Glad Hands care
Philodendron Glad Hands grows best in a warm (65 to 85°F), humid area with bright indirect light. Its potting mix should be airy, well-drained, and rich in organic matter, and water it when the top few inches of the potting mix feel dry. Don't forget it needs feeding, pruning, and staking.
Here are the care and growth requirements:
USDA hardiness zone: 10-12, not frost hardy.
Temperature: 65 to 85°F (18-29°C). Avoid temperatures below 55°F, cold drafts, and don't place it near heat sources.
Humidity: It loves high humidity, 60% or more but can still thrive at a medium level. Mist your plants, move them to humid rooms like the bathroom, have a pebble tray, or buy a humidifier, if your humidity is too low.
Light needs: It grows best in bright, indirect light but can tolerate medium. Avoid direct sunlight except for early morning on the east window.
Best soil mix: It needs a well-drained and aerated soil high in organic matter and slightly acidic to neutral. Buy an aroid mix (See Etsy.com) or make yours.
Watering: Thoroughly water this plant once the top 1-2 inches of the potting mix feel dry or when the reading on your XLUX Soil Moisture Meter is less than three.  
Feeding: Once a month, use a balanced, liquid houseplant fertilizer at half recommended strengths. We use Bonide Liquid Plant Food 10-10-10 once or twice a month.
Pruning: Cut any dead, damaged, or diseased leaves or parts with sterilized gardening shears, and in the growing months, you can cut a bit of the stem to control size or growth.
Repotting: Repotting is after 2-3 years or if rootbound. Use a pot 2-3 inches wider in diameter.
Staking: Give and train your plant on a moss pole, totem, trellis, etc.
Philodendron Glad Hands propagation
The best way to propagate Philodendron pedatum 'Glad hands' is by stem cutting in water or soil. But you can go for air layering, where you wrap moist sphagnum moss on a node to spur root growth.
If you opt for stem cutting, you need one with at least a node (the knobby part where leaves attach). The rest of the steps are similar to propagating any climbing Philodendron.
Problems and issues
This plant doesn't have any unique issues except those typical to any Philodendron species that include:
1. Pests and diseases
Pests like thrips, spider mites, aphids, mealybugs, and scale insects don't present a significant. Also, you can efficiently deal with these bugs using insecticidal soap, horticultural oil sprays, and neem oil.
Similarly, fungal and bacterial leaf spots and blights are uncommon if you isolate new plants and practice proper sanitation.
2. Root rot
It is a more prevalent problem if your potting mix doesn't drain or you are fond of overwatering your plants. Check if the roots are mushy and black or brown if you see any telltale signs. If positively identified, immediately repot your plant, cutting off any decayed bits with sterilized gardening shears.
3. Leaf yellowing or browning
Leaves turning yellow is a likely sign of overwatering. But other things like too much or too little light, underwatering, cold drafts, heat stress, etc., may be responsible.
If you see brown tips and edges, moisture doesn't reach these places. Causes include low humidity, underwatering, heat stress, too much light, transplant shock, and fertilizer burns.
On the other hand, Brown spots indicate pests or diseases, while splotches are due to overwatering.
Lastly, leaves browning suddenly, such as overnight, is a sign of cold drafts or cold damage.
4. Leaves curling and your plant drooping or wilting
Leaves curling is a response to prevent moisture loss or damage, while drooping indicates cells don't have enough water to keep them rigid.
The causes of these issues are similar. They include underwatering, too much direct sun, heat stress, low humidity, or anything that affects roots' water absorption or makes leaves lose more moisture.
Where to buy Philodendron Glad Hands
Are you looking for Philodendron Glad Hands? Begin your search at Etsy.com, eBay, Facebook, and Instagram. These marketplace and social media platforms have vendors globally. So, people in the UK, Canada, Australia, etc., shouldn't have trouble finding this rare houseplant.
Besides the above, try the following vendors. Most ship within their country, regionally, or internationally. Remember, picking a vendor closer to your location means cutting the shipping cost.
Alsip Home and Nursery (Frankfort, IL) -$54.99
Canopy Plant Co (New Orleans, LA) – $75.00
Brian's Botanicals (Shepherdsville, KY) $125.00
The Victorian Atlanta (Atlanta, GA) - $65.00
Jordan's Jungle (Pawtucket, RI) $99.99
Urban Sprouts (Renton, WA) - $124.99
Send Nodes Plant Shop (Bremerton WA) - $56.00
Retreat Botanicals (Snohomish, WA) - $94.95
Foliage Factory (Zimmern ob Rottweil, Germany)- €65.00
Oak.Bloomington (Bloomington, Indiana) - $58.00 - $125.00
Plant Circle (Berlin, Germany) - €19,63
Lastly, to get more locations, including those near you, google "Philodendron Glad hands for sale" and see what suggestions pop up.
Frequently Asked Questions (FAQs)
Is Philodendron Glad Hands rare?
Yes. Philodendron pedatum 'Glad hands' is a rare or hard-to-find houseplant. Don't expect to find it at your local stores, and none of the big box stores have it. Only a handful of vendors have it.
What is the price of Philodendron Glad Hands?
The Philodendron Glad Hands price ranges from $50 to $200 depending on the size and where you buy it. But if you want unrooted cuttings, they may cost you as little as $25, while rooted and larger plants go for at least $50 or more.