Philodendron gloriosum is an evergreen, perennial creeping flowering plant native to mainly Colombia.
Its lovely large, heart-shaped, velvety deep green leaves with prominent whitish veins and, at times, pinkish margin make it one of the most attractive houseplants ever. Also, it is easy to grow and makes an excellent knee-high ground cover in milder climates.
Learn more about Philodendron gloriosum plant, including its growing habits and appearance (leaves, stems, and flowers). We will also look at care (soil, light, watering, fertilizer, etc.), propagation, and problems.
Towards the end, there will be something on forms or types and hybrids, including Variegated Philodendron gloriosum, prices, and where to find it on sale, Etsy.com being the top place.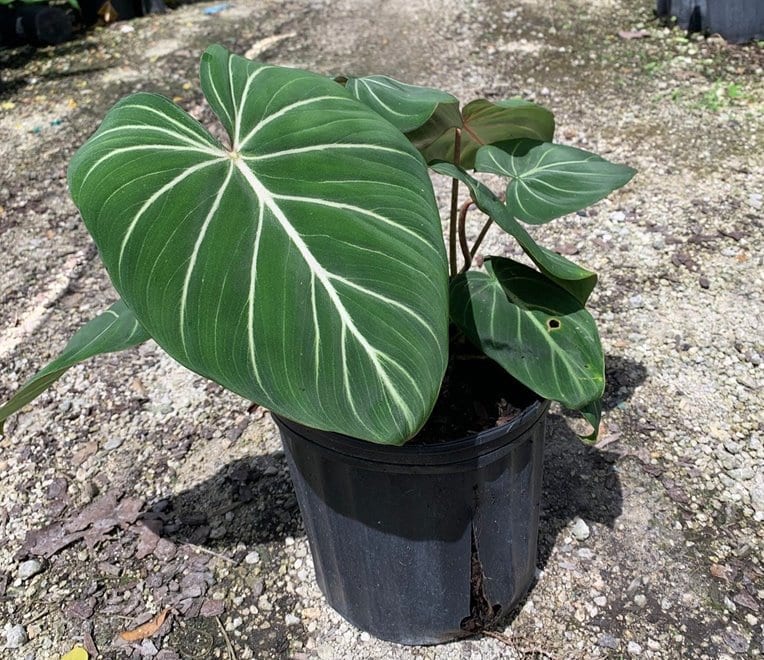 Overview
Philodendron gloriosum was first described by Édouard-François André in 1876. Its name gloriosum is Latin, which means glorious. As you know, Philodendron epithet. It comes from Philo, which means love and dendron tree to describe the growth behavior of most plants in this species, i.e., they love climbing the tree.
But, unlike the vast majority of Philodendron species, P. gloriosum isn't a climbing plant. Instead, it creeps on the ground, i.e., a terrestrial creeper.
Scientific name: Philodendron gloriosum
Tribe: Philodendreae
Family: Araceae (aroids or arum family)
Common names: Anthurium Gloriosum, Creeper Plant, Velvet Philodendron, Gloriosum Philodendron, Crawling Philodendron, Philo Gloriosum
Native habitat: Colombia
Toxicity: All plant parts are toxic to humans, dogs, cats, and other pets because of the sharp crystal-like insoluble calcium oxalates. When chewed, it causes severe oral irritation and a burning sensation. More signs include redness and swelling of lips, mouth, tongue, swallowing difficulties, appetite loss, severe drooling, etc.
Care level: Easy or low maintenance
Description and appearance
Before we look at care, propagation, problems, etc., it's a good idea to describe for you this plant, talking more about growing habits and appearance (leaves, stems, and flowers.
1. Growing habits
Philodendron gloriosum is an evergreen perennial terrestrial creeper like Philodendron luxurians and not a climber with most plants in the Philodendron genus. It is native to native to Colombia, where it grows in the Amazon jungles at 1,600 and 1,950 feet (500 and 600 m) elevation.
Besides Colombia, there are small clusters in Venezuela, Peru, Ecuador, western parts of Brazil, Mexico, and other parts of Central America. Also, it has been introduced in other places like Hawaii.
Human activity and other factors threaten this charming plant. Did you know the International Union for Conservation of Nature's Red List of Threatened Species lists it as vulnerable? Now you know.
Last but not least, the young plant is similar to Philodendron gloriosum mature form. But as leaves emerge, they may look a little different.
2. Philodendron gloriosum growth rate and size
Philodendron gloriosum has a slower growth rate compared to other philodendrons. A leaf may take up to 1-2 months from when it emerges to when it entirely unfurls.
In nature, it grows up to 3.2 (1m) feet high with large leaves up to 3 feet large (36 inches). But under cultivation (homes and greenhouses), it will hardly grow that large. So, expect leaves to be about 15 inches on the higher side.
3. Philodendron gloriosum leaves
P. gloriosum has erect or spreading large, up to 36 inches, heart-shaped, velvety deep green leaves with the midrib and primary lateral veins whitish (pale green or pinkish) and a paler underside. They grow in a simple alternating manner and their posterior lobes form an acute sinus.
In newly emerged plants, emerged leaves tend to look chartreuse in color, and their margin and prominent veins are pinkish. But the pink color fades with time as the leaves age, and you will have whitish or pale-yellow veins.
Lastly, their semi-terete petioles are green on the lower section, while their upper part is pinkish and has white striations. Even the prominent veins of the lamina have these striations. They are slightly longer than the lamina. But not by a considerable margin.
3. Stems
The repent creeping stems (flat on the ground with roots growing to form the nodes) have a moderately short internode 1.6-2.4 inches (4-6 cm) that are about 0.6-0.8 inches (1.5-2 cm) thick. They have purple cataphylls that lack keels but persist.
Philodendron gloriosum doesn't have rhizomes (grow underground or subterranean producing shoots). What you see grow horizontally, sometimes covered with drooping leaves, are stems and not rhizomes.
4. Philodendron gloriosum flowers
P. gloriosum inflorescence has a green peduncle with a reddish apex. The apex area has raised white striate (slight ridges).
Like other Philodendrons, the spathe has the upper blade, a constriction at the middle, and a tube on the lower side that houses the female part. The lower part is pale green, while the upper is intense pink on either side.
The narrowly ovoid tube has white striate while the blade is oblong and briefly acuminate.
On the other hand, the spadix has three sections, the club-shaped male (fertile and sterile) and a subcylindric female (surrounded by the tube).
Philodendron gloriosum care
Gloriosum makes a charming houseplant in temperate regions and a groundcover in a milder climate. It is easy to grow, and it can tolerate medium to lower light but needs a humid, warm place to thrive.
Here are the Philodendron gloriosum plant care needs, tips, and growth requirements.
1. USDA hardiness zone
Gloriosum USDA hardiness zone is 10B to 11. It isn't frost-hardy, and freezing temperatures will damage it. Only people in the above regions can grow it in a shady outdoor place all year.
2. Humidity
These plants from tropical Colombian jungles grow best in a warm, humid area. So, the ideal humidity for your Philo gloriosum is 60 to 80%, but they can tolerate lower humidity, 40-50%.
Low humidity and drier conditions make them vulnerable to spider mites. Also, when too low, leaves edges and tips will start turning brown or leaf scorch. Also, leaves may curl, wilt or droop, and your plant will need more water.
If you have low humidity mist in your plant, move it to humid rooms like bathrooms or kitchen if they have enough light or group your plants to create a microclimate.
But a sure way to control humidity is with a humidifier or using a pebble tray. I have tried LEVOIT Humidifiers Top Fill, 6 Liter, Cool Mist (good for large rooms ) and AquaOasis™ Cool Mist Humidifier and they are all good. They run quietly and have lots features you will love.
3. Temperature
The optimum temperature is 65 to 85 degrees Fahrenheit (18 to 29°C). This aroid doesn't love temperatures below 55 °F (12.8 °C). Also, avoid cold drafts or sudden temperature changes and don't place it next to cold or heat emitting sources like air conditioners, radiators, room heating vents, etc.
4. Philodendron gloriosum light
Provide your Philodendron gloriosum with bright, indirect light for about 12 hours a day if you want those larger leaves and faster growth. But it can tolerate medium to deep shade but will grow slowly and have smaller leaves.
Too little light may make your plant leggy, with smaller leaves. Also, they may turn yellow in extreme conditions. So, use grows lights if your apartment is dark. We use Relassy 15000Lux Sunlike Full Spectrum Grow Lamp.
Lastly, avoid direct sun as it will bleach the leaves and cause a sunburn. Indoors, place it at a distance from the window where it doesn't get direct sunlight. Outside, grow it under a shade or in a greenhouse.
5. Philodendron gloriosum soil
The best soil for Philodendron gloriosum should be light, well-drained, and high in organic matter. A pH of 6.0 to 7.5 is ok.
These aroids are fussy and can grow well in 100% sphagnum moss. You can buy an aroid mix (Etsy.com has plenty of great picks) or make it at home. Just ensure it has a good water holding capacity yet drains and is fertile. Here are typical soils to use.
Start with an orchid mix and add peat moss and perlite to improve drainage.
50% coco coir/peat moss, 20% orchid bark, 10% perlite, 10% worm castings, 10% activated charcoal
50% potting mix like Miracle-Gro Indoor Potting Mix, 20% perlite, 10% orchid bark, 10% compost, and 10% charcoal
Peat moss and coco coir help hold water without making it soggy, while orchid bark and perlite improve drainage and make it lighter to allow oxygen to reach roots. Compost or worm castings add organic matter while charcoal helps improve impurities
The exact ratio doesn't matter. Ensure it drains, holds moisture, and has organic matter. Avoid heavy or compactible soils.
6. Watering
They love moist soil. A soggy one will cut oxygen from roots causing root rot. But don't let it dry completely. Otherwise, leaves will start curling, drooping, having brown tips or edges, and your plant may wither.
We recommend you Philodendron gloriosum when the potting mix's top 1-2 inches feel dry, i.e., when the first knuckle deep dries.
Alternatively you can use a soil moisture meter like XLUX or Gouevn to know when to water your plant. It may be after 3-7 days in summer and spring and after two weeks in the non-growing season.
But please, test the soil since water needs vary with your specific conditions (light, temperature, and humidity), plant size, potting mix, pot size, or type.
Lastly, when watering it, slowly saturate the soil until water flows from drainage holes. Avoid shallow, frequent watering and discard any water that collects on the cachepot or saucer.
7. Fertilizers
Philodendrons are known to be heavy feeders because they grow fast. It helps ensure those lush, large green leaves and a healthy plant
But gloriosum doesn't grow fast. So, you need to fertilizer it moderately and only in growing months. So, feed your plant with an all-purpose, balanced, liquid houseplant fertilizer like 10-10-10 or 20-20-20 biweekly to once a month at half-strength.
Bonide Liquid Plant Food 10-10-10 is a good choice. Mix ⅛ of a teaspoon to a quart of water and use it to water your plant. Do this once a month.
Alternatively, you can go for slow-release fertilizers for houseplants. Start feeding in early spring and follow what the manufacturer recommends.
8. Pruning
They don't need much pruning. Use sterilized gardening shears to cut dead, diseased, or damaged leaves or parts. If the creeping stems grow very long and outside the pot, you can also cut them back. Do this in spring or summer.
9. Repotting
Repotting is after 2-3 years or when rootbound. Regularly check if any roots are growing from drainage holes or spiraling around the pot or planter to know if your plant is rootbound.
When repotting gloriosum, use a 2-3 inches wider pot with drainage holes. A rectangular planter will work best since they love creeping on the ground. It doesn't have to be very deep.
10. Support or stake
As a crawling species, i.e., grows horizontally, and because it hardly gets tall, i.e., doesn't go beyond 3 feet in cultivation, we don't see the need for support. So, you don't need that trellis, moss pole, or totem.
How to propagate Philodendron gloriosum
The best way to propagate Philodendron gloriosum is by stem cutting (what most people refer to as rhizomes), which usually crawls on top of the potting mix. It is relatively easy since these stems will have roots and work more like plant division. However, you should plant this cutting shallowly.
The best time to propagate is in spring or early summer to give your plant enough time to establish itself.
We find soil propagation the most straightforward and most convenient. But we have seen people opting for water propagation, and both will work.
What you need
Potting mix or growth medium. Use a potting mix similar to what you grow your plants on or sphagnum moss. If you opt for sphagnum moss, you need to soak it in water for 15-20 minutes, squeeze excess water and place it in your growing pot.
Sharp gardening scissors
Rooting hormone likeHydroDynamics Clonex Rooting Gel.
Nursery pot or planter
70-99% rubbing alcohol for sterilizing your gardening scissors.
Chopstick or a small totem
Gardening Velcro tape
How to plant Philodendron gloriosum in soil
Soil propagation takes shorter, and the cutting will nourish the potting mix. Also, if a transplant is necessary, your plant won't suffer from much shock. But it is messy, and you won't see roots growing.
Here is how to go about it:
Step 01: Take your stem cutting or rhizome
Identify a healthy, mature stem with at least a node or two, and cut just before the node with your sterilized gardening scissors.
If the stem you picked has roots growing to the ground, remove the soil around it before cutting. Afterward, gently dig around to ensure the cutting comes with these roots. They will make propagation much easier and faster.
Some people may choose to slide the whole plant from the pot, tapping it to remove some soil before taking a cutting. Then, they will replant the mother plant.
Step 02: Apply your rooting hormone
Take your rooting hormone and apply it around the node. It is optional but will ensure faster rooting and reduce the chances of rooting.
Step 03: Plant your Philodendron gloriosum cutting
This step is similar to what you do when repotting your plants. But in this case, you will not wholly bury the stem cutting since a new shoot will grow from the node. Instead, you will place it horizontally and partially cover it.
To do so, put some potting mix in your pot and plant your cutting. You will estimate the soil level to reach before planting the cutting based on the length and size of the roots. Next, place your plant horizontally add more soil until it partly covers the mode.
Since it has large leaves and you will not be burying the stem cutting deeply, install a small totem, the use your gardening Velcro tape take to attach the leaf to the totem. Once the plant roots well, you won't need the support stick.
Step 04: Water and take it to a warm, humid area with bright indirect light
Thoroughly water your potting mix until excess water flowers from the drainage holes. Then move it to a place with bright, indirect light. It should be humid, i.e., these plants thrive in high humidity, but the average household temperature is ok.
If your humidity is low, get a humidifier or use a pebble tray.
During the propagation period, ensure you keep the soil moist and water or mist the soil when it begins to dry.
What to expect
By the end of the 4th to 6th week, your plant will have grown a new shoot and rooted well. If large enough, you can transplant it or leave it in the same pot.
Growing problems or issues
As you grow your plant, you may incur some issues or problems. Here are the common ones and their causes or what to do.
1. Diseases and root rot
Diseases are rare if grown indoors. Nonetheless, they may occur if you don't maintain proper sanitation (wash hands before touching your plants or using sterilized gardening tools) or buy an infected plant.
Some of these diseases include bacterial leaf spots like Red-edge (Xanthomonas campestris pv. Dieffenbachiae), Pseudomonas cichorii, and those caused by Erwinia spp. Also, your plant may have fungal leaf spot diseases like Phytophthora or Dactylaria leaf spot.
Look for signs such as brown or black lesions, some water-soaked or having a yellow halo, others not. Isolate sick plants, cut damaged parts, and use a fungicide if fungal infections. A copper-containing bactericide may help prevent a bacterial disease.
That is not all. If overwatered, P. gloriosum may have root rot due to pathogens like Phytophthora ssp. Rhizoctonia spp., Pythium spp., or Sclerotium rolfsii. Some affect foliage too. Repot your plant by cutting off the decayed section with sterilized pruning shears. Then amend the potting mix if it doesn't drain and don't overwater your plants.
2. Pests
While uncommon too, your plant may end up with sap-sucking pests like spider mites, thrips, aphids, mealybugs, or scale insects. Even fungus gnats whose larvae attack roots may occur.
You will notice these bugs by their symptoms or presence. Most appear as bumps or dots that may move or not. Also, some have wings, others waxy bodies. Use a 10X magnifying glass to check the leaf underside or hidden parts.
Signs are specific to the bug. Look for any webbing, silvery stippling, honeydew, sooty mold, and black, brown, whitish, or yellow spots. Heavy infestation may cause leaf distortion, yellowing, or falling.
If you see any, isolate infected plants and hose them. Use neem oil like Bonide BND022- Ready to Use Neem Oil,, horticultural oil sprays, or insecticidal soaps for severe infestation.
Lastly, for fungus gnats, pour a mixture with one part of hydrogen peroxide and four parts of water (20% solution) to the root area.
3. Other common problems
Besides pests and diseases, Philodendron gloriosum may also have the following issues:
Philo gloriosum yellow leaves: Overwatering is the most common cause. Others are underwatering, low humidity, cold drafts, too much light, lack of nutrients, etc.
Brown tips, edges, spots, or brown leaves: Brown tips and edges are a most likely sign of low humidity. Other causes are much light (sunburn), underwatering, and heat stress. Brown spots indicate pests and diseases, while brown blotches signify overwatering. But if leaves turn brown overnight, it may be cold drafts.
Leaves drooping: Leaves drooping and wilting indicate that your plants lack water, making cells turgid or anything that causes water loss. Things like low humidity, repotting shock, heat stress, too much light, root rot, overwatering (cuts oxygen making roots unbale to absorb water), etc., may cause this problem.
Gloriosum leaves curling: It happens when your plant wants to prevent moisture loss or protect itself from too much sun. Causes are similar to those that cause drooping or wilting, and they include low humidity, underwatering, too much light, heat stress, etc.
Black spots: Black spots signify pests or disease, and if leaves turn black, it may be frost damage or overwatering (black splotches).
Philodendron gloriosum types or forms
Online, you will see people selling various Philodendron gloriosum types or forms, i.e., the pink, dark, round, and Zebra. From our observation, there isn't much distinction between the original and regular plants. Yes, there may be slight variations, but they are normal even in nature.
Here are how vendors describe the various forms
Philodendron gloriosum zebra – The only distinction is the more prominent primary vein, which becomes more noticeable as the leaves mature.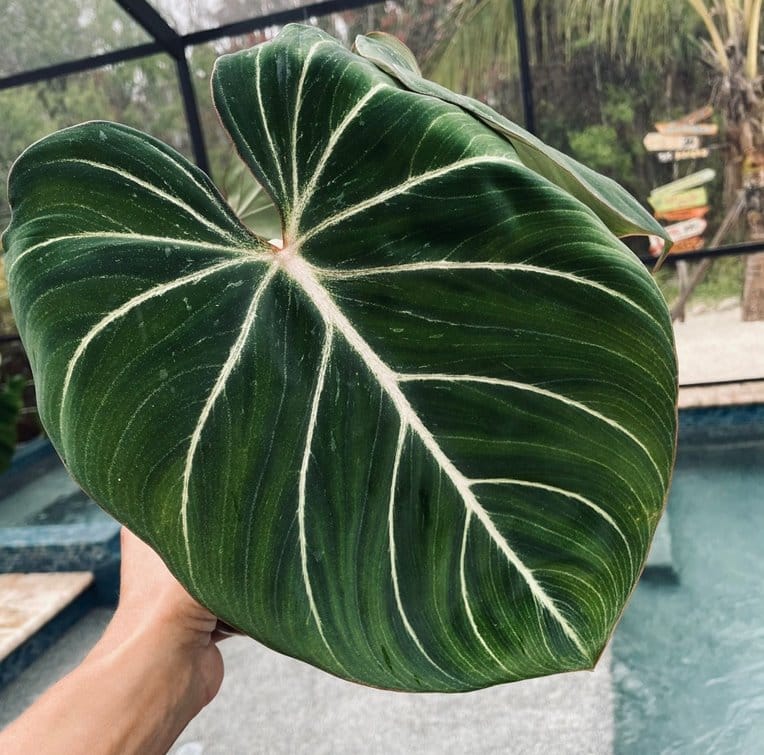 Philodendron gloriosum dark form – This form has darker leaves with D-shaped petioles. New leaves will have a pink to a reddish hue, and their posterior lobes seem shaped differently.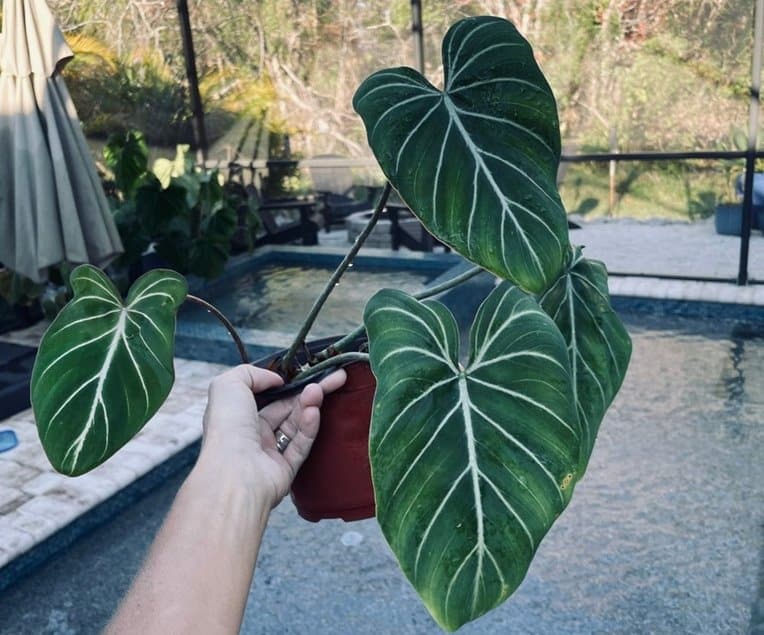 Philodendron gloriosum pink form: The leaf underside, petiole, and margin are pink. Also, the prominent veins on the upper surface are pinkish.
Philodendron gloriosum round form – Leaves are larger, rounder, and not heart-shaped like the original plant.
Variegated Philodendron gloriosum (Kaylee Ellen)
Yes, we have seen the variegated Philodendron gloriosum shared by NSETropicals. It has green leaves have golden to yellow sectors, including some plants with half-moon variegation. As the leaf matures, it turns paler, i.e., cream.
It looks like sectorial chimeral variegation that results in areas without chlorophyll. So, you expect it to be unstable and may revert. Some people are claiming it may be a result of tissue culture.
Kaylee Ellen bought this plant from an aroid show and Enid did take care of it. This only plant tried to go on auction, bids fluctuating and prices going as high as $344k. But the post was taken down before it ended.
Philodendron gloriosum hybrids
So far, there are four Philodendron gloriosum, with two yet to get a name, i.e.,
Philodendron glorious: This Philodendron gloriosum x melanochrysum is by Keith Henderson. Unlike gloriosum, which creeps, has shorter, wider and deep green colored leaves and a D-shaped petiole, glorious is a climber with darker leaves and oval petiole.
Philodendron Dean McDowell: It is a cross between P. pastazanum and P. gloriosum created by John Banta. The hybrid is also a creeping plant, but it has large, glossy leaves reaching almost 3 feet. Also, it's a vigorous grower.
Those yet to get a name are P. giganteum x P. gloriosum by Hall & Dearden and P. gloriosum x P. McColley's Finale, created by LariAnn Garner.
What is the Philodendron gloriosum price?
If you are interested in buying one, Philodendron gloriosum price ranges from $100 to $200 for an established medium plant. Larger plants may cost higher, while rooted or unrooted cuttings will cause much lower.
If you are looking for gloriosum hybrids, the prices are comparable, with some vendors selling some, such as Philodendron Glorious, a little cheaper. Some like zebra form will cost you more.
Lastly, to reduce price, some people sell Philodendron gloriosum chonk. These are nothing other than single node gloriosum cutting without a leaf. They will cost much less, anything from $15 to $30 apiece,
Where to find Philodendron gloriosum on sale?
Since it's a rare plant, you don't expect to get it in your local stores, including those that specialize in tropical plants. Even big-box stores like Walmart don't sell it.
The best place to buy Philodendron gloriosum online is Etsy.com. This marketplace has vendors from all over the world. So, people from the US, Canada, Australia, or Europe (the UK, New Zealand, Germany, etc.) will get a vendor near you or be willing to ship to your location. Also, you will find the various forms (round, variegated, Zebra, pink or dark forms) and including hybrids.
An alternative to Etsy.com is eBay. It also has a considerable inventory and uses a bidding system. So, people from all over the world can get vendors near them.
Besides Etsy and eBay, the other place to try is Facebook and Instagram. You will find many vendors selling this amazing aroid and its forms, hybrids, and variations. But only deal with people you can trust.
If you still haven't found this plant, other places to try are Steve's Leaves and Rob's Rare Plants in the US, The Rare Plant Shop (UK), Plant Bro (Canada), aroids Australia and Tropiculture (Australia), Ecuagenera (Ecuador) among many others.
Lastly, if you haven't found this charming plant, use search engines. Google 'Philodendron gloriosum for sale' and see what recommendations you get.
FAQs
Should I cover Philodendron gloriosum stems with soil?
No. What you see creeping are the stems, and they shouldn't be covered as it may result in root rot. Just ensure they have soil where their roots may grow as they do in the wild.
Is Philodendron gloriosum rare?
Yes. P. gloriosum is a lovely but very rare houseplant and also expensive, almost ten times more costly than regular plants. You won't find it in your local tropical plant stores, and even online, not many vendors have it.