Philodendron leaves curling may be a sign of underwatering, overwatering, low humidity, too much light, extreme temperatures, or repotting shock. Other possible but less likely causes include pests, nutritional deficiency, rootbound, repotting, and overfeeding.
Most of these causes will show other signs of leaves drooping, wilting, yellowing, or falling off, like leaf burn, stunted growth, etc. And they will mainly make leaves curl upwards or inwards except for a few causes that make leaves curl under or downward.
Note that the various reasons cut across Philodendron species and most houseplants. So, they will apply for your Split-leaf Philodendron, P. micans, pink princess Philodendron, P. selloum, etc.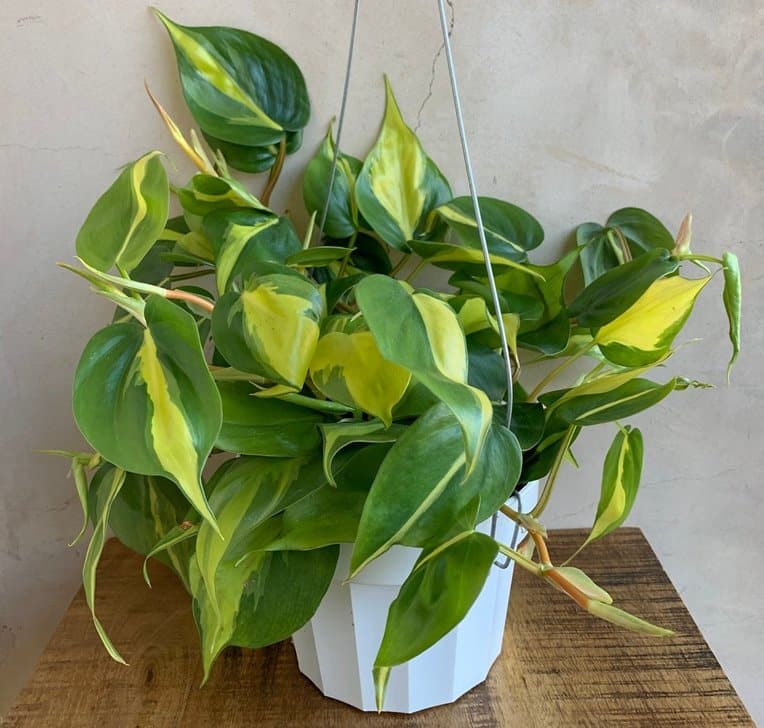 Why do plants cur leaves?
Many theories attempt to explain curling behavior, with the most accepted ones revolving around minimizing water loss and preventing leaf damage from the sun, too much light, frost, etc.
Let us look at the common reason why your Philo plant may have curled leaves.
1. Moisture issues (overwatering and underwatering)
The most common reason for philodendron leaves curling is underwatering. So, we recommend you start by feeling the soil. Is it dry past your first knuckle? Then your plant is thirsty.
To further verify it's an underwatering issue, check for signs like your plant may have: leaves drooping or wilting, turning yellow, leaf scorch (burning characterized by brown spots, margins, and tips), stunted growth, etc.
If the potting mix is soggy, it could be Philodendron overwatering, a possible but less likely cause. It cuts oxygen from roots, impairing their normal function. So, they cannot absorb nutrients or water effectively.
Other signs to expect if you overwater these aroids are lower leaves turning yellow, brown, or black splotches, leaves drooping but not crispy, a moldy potting mix, etc.
What to do
If the potting mix was dry and pulled from the pot walls, immediately give your plant a drink. You can also confirm that your plant is thirsty by feeling the potting mix. It will feel dry past your the first knuckle of your finger. I prefer using a solil moisture meter or hygrometer like XLUX.
Once you are certain it is an underwatering problem, slowly saturate the soil until excess water flows from drainage holes. But discard any that collects on the saucer or cachepot.
Next, check if the underwatering issue is due to a potting mix that doesn't hold water. Go for a well-draining potting mix with more peat moss or coco coir as it helps hold water.
On the other hand, if overwatering is the problem, hold the watering and ensure optimum conditions. Also, your pot must have drainage holes and avoid too large ones.
Nex, check if your potting mix drains. If not, add some perlite or switch to a Miracle-Gro Indoor Potting Mix or any good aroid mix.
Lastly, start watering your Philodendron when the top 1-2 inches of the soil feel dry. Don't follow a schedule. Also, if you forget, set alerts or reminders after studying how consecutive long sessions take. But again, first, feel the potting mix.
2. Low humidity
It is a fact that Philodendrons love high humidity, at least 60% but can tolerate 40% or more. So, if your home has very low relative humidity, leaves curling, turning yellow, and looking dull, brown tips and edges, etc., it is a sign they need more. Also, your plant will have increased water needs.
Since the dry air, including winter, will strip water from the leaves quickly. So, your plant will respond by curling leaves to reduce the loss.
What to do
Start by misting your plant, having a pebble tray, moving plants to more humid rooms like the kitchen or bathroom, or grouping all your plants. If it doesn't solve the issue, you need a humidifier.
3. Extreme temperatures
Extremely high temperatures and heat stress may cause Philodendron leaves curling, drooping, wilting, yellowing or even leaf scorching.
The plant will try curling to minimize the area exposed to heat and reduce water loss via transpiration. Remember, plants keep cool by transpiration just as we sweat, and it involves water loss from leaves.
On the other hand, cold drafts, especially in winter, and freezing conditions may also make leaves curl. But it's less likely. Reasons for curling are an adaptation to prevent leaves from the chilly conditions and quick thawing in case (will damage leaves).
Signs of cold drafts include leaves turning whitish, brown, or black, wilting, drooping, and so on.
What to do
Firstly, maintain the temperature between 65 to 85 degrees Fahrenheit (18 to 29°C), avoiding those below 55°F (10°C).
 It would help if you considered having a thermometer. One with a memory like and a Smart APP alert notification like Govee Hygrometer Thermometer H5075 will be ideal. It will help you know temperature trends. 
Secondly, remove any plants near radiators, room heating vents, tinted windows (get hot), air conditioners, drafty doorways, or open windows.
Lastly, avoid sudden drops and spikes of temperature. It stresses these plants and may cause the signs we have seen.
4. Too much light
Is your plant sitting in a place where it receives direct sunlight? The curling, drooping, wilting, yellowing, and brown tips or edges on leaves may be a consequence. Also, the leaves may look washed-out, bleached, or paler.
The curling protects the leaves from directly damaging sunlight or minimizing respiration. Remember, plants turn any excess light to heat energy which they then dissipate to keep cool. They lose the heat by transpiration, i.e., water absorbs the heat as it evaporates, convection, and other ways.
What to do
Only grow your plants under bright, indirect light. Outside, pick locations with filtered light or a shade. Inside your house, put your plants at a distance from the window to avoid direct sun.
5. Pests
Curly Philodendron leaves may occur in case of a heavy infestation by pests like thrip, aphids, spider mites, whiteflies, or scale insects. These bugs suck plant sap, taking water and nutrition. Some inject toxins that make leaves curly or mishappen.
Check on the leaves' underside and hidden places for tiny bumps or dots. Some may move; others don't.
Some signs are pest-specific and may include webbing, silvery stippling, honeydew, sooty mold, black, brown, or yellow spots. Besides curly leaves, a heavy infestation may make leaves fall, turn yellow or cause stunted growth
What to do
Isolate any plant with pests and use neem oil, horticultural oil sprays, or insecticidal soaps to make these bugs. Also, keep leaves clean and cut any dead or yellow leaves as they attract these pests.
I mainly use Bonide Ready to Use Neem Oil as it kills insects (eggs, larvae, and adult stages). Also, it kills mites and will help control some fungal diseases, thanks to the 3-in-1 formula with insecticide, miticide and fungicide. 
6. Lack of some nutrients
Nutritional deficiency is an uncommon cause but may result in Philodendron leaves curling downwards or upwards.
Magnesium deficiency will cause Philodendron leaves to curl downward, while magnesium and phosphorus may cause upward curling.
To ensure its nutrients, look for other signs like interveinal yellowing (chlorosis), stunted growth, holes on leaves, burnt look, etc.
What to do
To avoid deficiencies, feed your plants once a month with a balanced, liquid houseplant fertilizer at half strength. You can also use a slow-release formula. But make sure it is balanced too. Bonide BND022- Ready to Use Neem Oil is perfect.
7. Curling after repotting or transplant
Philodendron leaves curling after repotting, or a transplant is due to the shock. You may also see leaves drooping, turning yellow, having brown tips and edges, falling, etc. They happen because after transplanting, it's yet to adjust.
What to do
Here, nothing you can do. Just ensures ideal temperature, light, humidity, and moist soil. But when transplanting, reduce root damage as much as possible.
Less likely reasons for Philodendron curling leaves
Aside from the above reasons, here are some of the less likely reasons why your Philo leaves may curl.
| | | |
| --- | --- | --- |
| Cause | How it causes curling and signs | What to do |
| Overfeeding and bad fertilizers | It may cause root burn or salt buildup making it hard for your plant to absorb water. Signs include fertilizer burn leaves falling, drooping, wilting, etc. | Flush or leach the soil by pouring a lot of lukewarm water through the potting mix. Also, you can repot. Afterward, use premium fertilizers and don't overfeed. |
| Rootbound | It happens when your plant outgrows the current pot. So, it cannot get enough nutrients or water. Signs include roots growing from drainage holes, stunted growth, leaves falling, turning yellow, leaf scorch, etc. | Slide the plant out to check if for compaction or roots spiraling on the pot edges. If so, you need to repot your plant. Use a pot 2-3 inches wider in diameter than the current one. |
| Aging | Lower, older leaves that are turning yellow and brown may be curly. It's normal. | Use a sterilized pruning knife or scissors to cut brown or yellow leaves. |
Philodendron curling leaves up or inward
Most of the reasons we have looked at, like underwatering, low humidity, heat stress, too much light, etc., will make Philodendron leaves curl in or upward.
Philodendron curling leaves under or down
Philodendron leaves curling downward may be a sign of overwatering if they look droopy. The other cause is some minerals and rarely overfeeding or cold drafts. Pests and aging will cause curly leaves, i.e., they may curl upward or downward.