Philodendron majestic is a Philodendron sodiroi x verrucosum hybrid by an unknown creator. But it was named 'majestic' due to its adorable heart-shaped dark green leaves with silvery-gray mottling and a reddish-tinged underside by Neil Crafter.
Discover more on this lovely hybrid, including its appearance and how to differentiate it from its look-alike parent, Philodendron sodiroi. Many people confuse these two.
Lastly, we will also talk about care (humidity, temperature, light, soil, feeding, etc.), propagation, price, and places to find P. majestic on sale, the best being Etsy.com. You need to buy this plant that has created a sensation worldwide. It is easy to care for and air-purifying.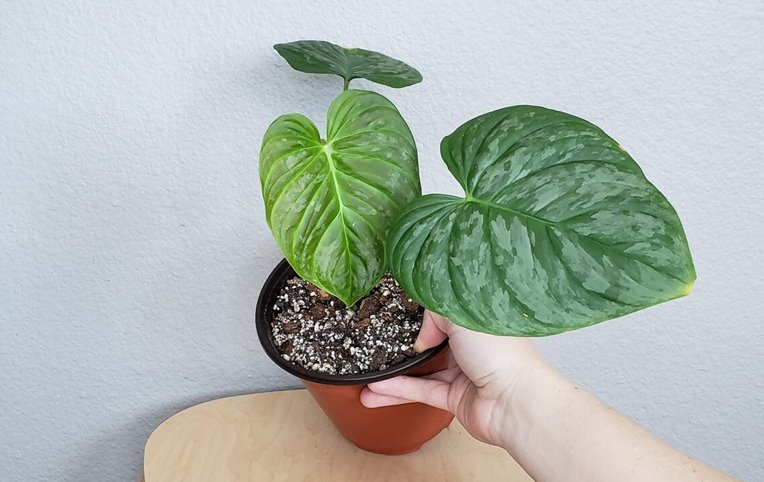 Quick overview
Name: Philodendron majestic
Type: Hybrid
Creator: Unknown but believed to be Keith Henderson
Common name: Philo majestic
Family: Araceae
Toxicity: All parts are toxic to dogs, cats, and humans because it has insoluble calcium oxalates. Ingestion will cause severe oral irritation and a burning sensation. Also, the tongue, mouth, or lips will swell, and victims will lose appetite, find it hard to swallow, drool, etc.
Care level: Easy or low maintenance
Description and appearance
Philodendron majestic looks more like P.sodiroi (dominant parent) than Philodendron verrucosum but has some traits from it.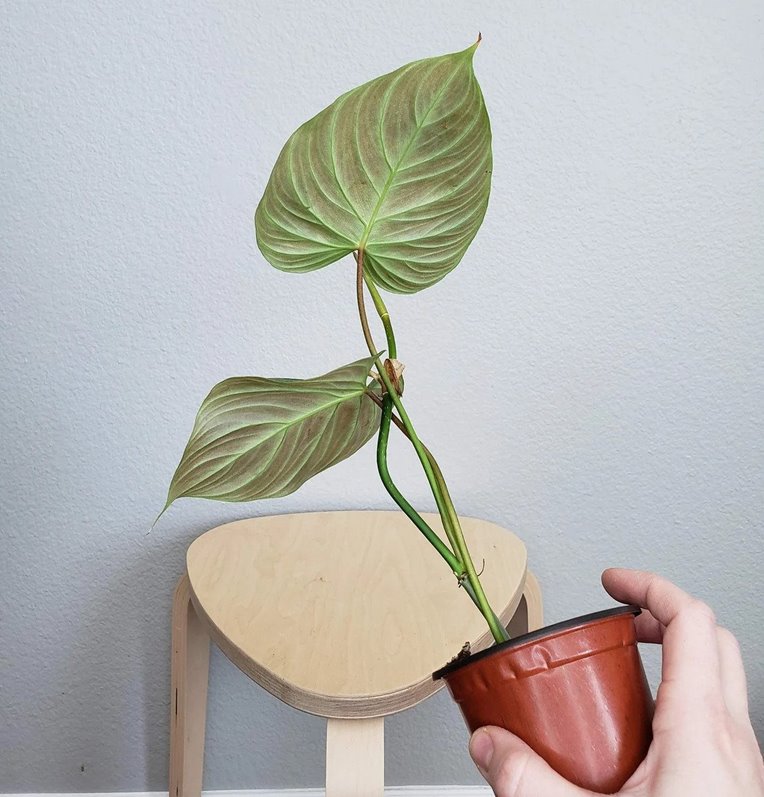 Juvenile plants stems have longer internodes, and the silvery gray mottling on the upper side is more evident, making it resemble P. sodiroi. But as it grows into adulthood, the silvery mottling fades or becomes less noticeable.
On the other hand, mature Philodendron majestic has large, glaucous, sub-velvety, glossy heart-shaped dark green leaves with a bit faded silvery-grey mottling look more like sodiroi. But their underside bears some resemblance with P. verrucosum, i.e., it has a reddish tinge.
Lastly, petioles have a rough texture (warty), and they are often reddish, and it grows as a climber, just like the parent plants.
Philodendron sodiroi vs. majestic
To tell the difference between a P. majestic and P. sodiroi, look at the underside, internodes, cataphylls, leaf blades, and newly emerging leaves.
P. majestic leaves' underside has a reddish tinge, more like the P verrucosum reddish-purple tinge, something a sodiroi doesn't have. Also, the internodes are longer, and cataphylls don't persist as fibers, i.e., are deciduous.
Lastly, new emerging leaves of P. majestic are bronze with lime green midrib and primary veins. But as they age and harden, they become dark green, together with the prominent veins.
Philodendron majestic vs. majesty
Many people confuse Philodendron majestic with Philodendron Majesty, yet these two plants are different.
P. majesty has dark purplish-green leaves, which, together with Philodendron Dark Lord and Philodendron Red Heart, are others with dark foliage.
Philodendron majestic care
Philodendron majestic needs a warm, humid area with bright, indirect light. Please give it a well-draining, airy soil rich in organic matter and water it when a few top inches feel dry.
That is not all. Prune it when necessary, feed it with a balanced liquid houseplant fertilizer once a month and give it a place to climb. Don't forget to repot it after 2-3 years.
Let us see the Philo majestic care and growth requirement in detail.
USDA hardiness zone: 10-11, not frost-hardy, and prolonged freezing will damage it.
Humidity: It prefers high humidity, 60% or more but can tolerate 50% or a bit lower. In very low humidity, mist it a few times a day, move it to humid rooms like the bathroom or have a pebble tray. But to have a better grip on humidity, buy a humidifier. An affordable and quiet brand like AquaOasis™ Cool Mist Humidifier (Amazon's best-seller) will do the job.
Temperature: They prefer a warm place, with an ideal temperature of 65 to 85 degrees Fahrenheit (18-29°C). Avoid cold drafts, sudden temperature changes, or placing them near heat sources.
Light need: Bright, indirect light but can tolerate medium indirect light. Please don't put your plants in direct sun (it will cause sunburn). Also, if your house has too little light, buy grow lights. Otherwise, your plant will grow slowly, be leggy, and have smaller, paler or yellow leaves.
Best soil: Grow P. majestic in an airy, well-drained potting mix high in organic matter. These plants can grow even in sphagnum moss alone. But we recommend buying an aroid mix from places like  Etsy.com or making one by adding perlite, peat moss, bark chips, and worm castings (or compost) to a potting mix.
Watering: Water when the top 2-3 inches of the potting mix feel dry.
Fertilizer: Feed once a month in the growing season with a balanced, liquid houseplant fertilizer such as Bonide Liquid Plant Food 10-10-10 at ½ recommended strength. But you are free to use a balanced slow-release formula so long as it's for houseplants.
Pruning: Use sterilized gardening scissors to cut dead, damaged, or diseased leaves or parts. Also, clean leaves when dusty or dirty. And during the growing months, cut back the stem if you need to control the shape or size of your plant.
Repotting: Repot your plant after 2-3 years or if rootbound. Use a pot, 2-3 inches wider in diameter.
Staking: Give and train your plant on a moss pole, trellis, totem, or any other place to climb.
Propagation
The best way to propagate Philodendron majestic is by stem cutting in water or soil. But you can also opt for air layering.
To propagate this aroid, you need a stem with a node, i.e., the knobby part where leaves attach and aerial roots grow. You can't use aerial roots, leaves with petiole, or nodeless stems.
We recommend you propagate your plant in spring or early summer to give it time to establish itself before the colder months.
Last but not least, the stems are similar to those you follow when propagating others like Philodendron micans, which we gave you in detail.
Problems or issues
Some of the possible problems you may encounter as you grow your P. majestic include the following:
1. Root rot
Root rot is the most prevalent problem for people who overwater this plant or use a heavy, compacted, poorly draining potting mix.
Signs include yellowing of leaves, dropping, or your plant having smaller paler leaves. More signs are stunted growth and a mushy stem base. The root will become mushy and brown or black.
If the whole root system hasn't decayed, immediately repot your plant, cutting any damaged bits with sterilized gardening scissors.
2. Pests
Bugs or pests, including mealybugs, aphids, spider mites, thrips, scale insects, et., are uncommon. But they may occur. Use insecticidal soaps, neem oil, or horticultural spray oils to manage these pests.
3. Diseases
While they may get leaf spots and blights, both fungal and bacterial, these diseases are also uncommon. Just make sure you isolate new plants and practice proper sanitation. Sanitation will include washing hands before touching plants, sterilizing pots, gardening tools, etc.
4. More issues
More problems your plant may have are:
Yellowing of leaves: Overwatering is the most likely culprit. But it may be too much or little light, low humidity, nutritional deficiencies, heat stress, etcetera.
Leaves are turning brown: If you see brown tips and edges, the causes are underwatering, too much light, low humidity, heat stress, or fertilizer burns. Brown spots may signify pests and diseases, brown splotches overwatering, while chilling conditions may make leaves turn brown overnight.
Leaves are curling: It happens to protect leaves or minimize moisture loss. Likely reasons include underwatering, too much light, low humidity, and heat stress. But pests, root rot, and overfeeding may be reasons.
Drooping and wilting: Water helps keep plant cells rigid, and when they don't, cells become flaccid, and plants droop. Causes are underwatering, low humidity, heat stress, too much light, root rot, overwatering, or anything that causes rapid moisture loss or hampers water absorption.
Where to find Philodendron majestic on sale?
Etsy.com and eBay are the two best places to buy this rare aroid. These marketplaces have sellers from all over the world, meaning people from not just the US but also Canada, the UK, Australia, Germany, etc., can buy from these websites.
The next place is social media, especially Instagram and Facebook. These sites have many vendors too. Also, you can try NSE Tropicals. They have it, but it is expensive.
Lastly, google "Philodendron majestic for sale" to get more suggestions to buy this plant.
Frequently asked questions (FAQs)
Is Philodendron majestic rare?
Yes, Philodendron majestic is an extremely rare or hard-to-find houseplant. Most local and online tropical plant vendors, including big box stores, don't have it.
What is the Philodendron majestic price?
The price of Philodendron majestic ranges from $70 to $200 for a cutting to an established but smaller plant. Larger plants may cost you as high as $350, making them an expensive plant.