Philodendron mexicanum is a rare evergreen climbing houseplant native to Mexico through to Colombia. It has charming, narrowly triangular arrow-shaped dark green leaves whose anterior lobe becomes longer at maturity, resembling dog ears.
Discover what P. mexicanum looks like (leaves, stems, and flowers) and how to care for it. We will also tell you how it differs from Philodendron atabapoense and more.
Lastly, if you are interested in buying this charming plant, Etsy.com has dozens of vendors from various regions (the US, the UK, Canada, Australia, etc.). Also, you can try eBay and other vendors.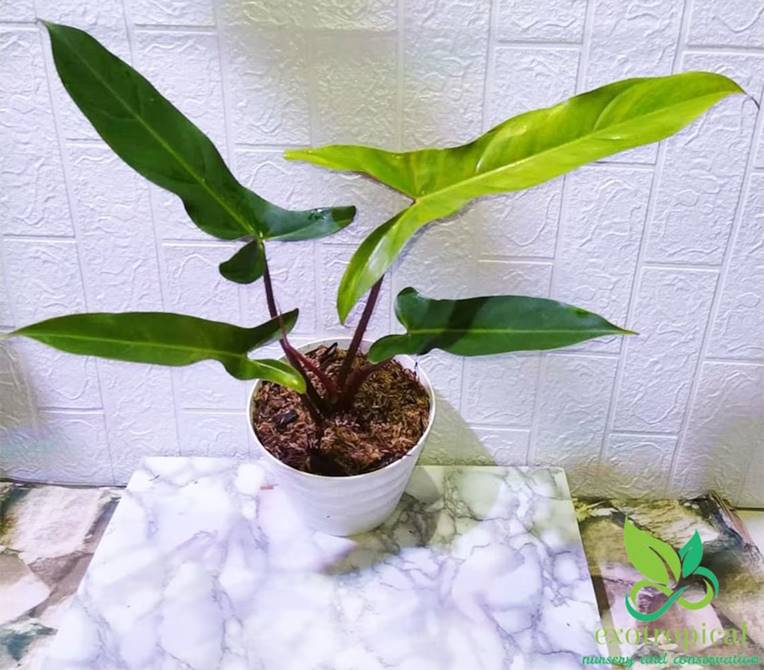 Quick overview
Scientific name: Philodendron mexicanum
Family: Araceae (aroids or arum family)
Native habitat: Mexico to Colombia
Toxicity: Toxic to cats, dogs, and humans. Why? Because it has sharp, needle-like insoluble calcium oxalate crystals.
Care level: Easy or low maintenance
Heinrich Gustav Adolf Engler described it in 1878. Its name has to do with the place it was collected first.
Description and appearance
Mature plant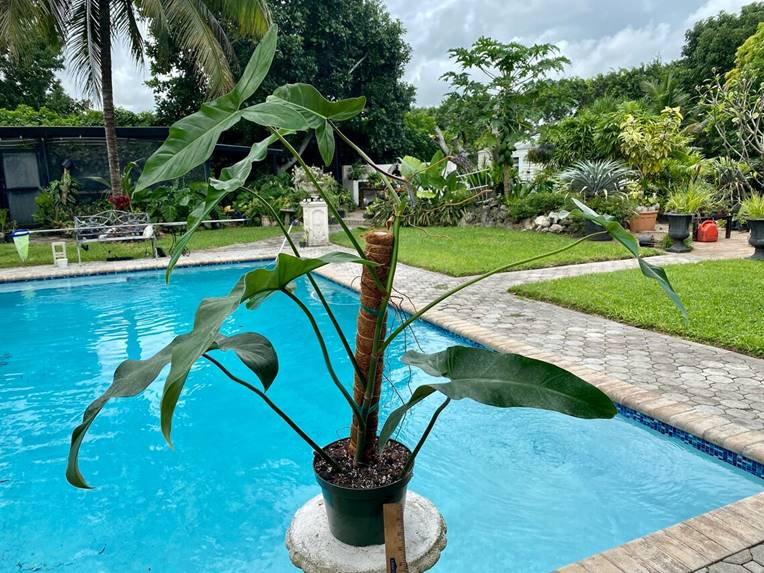 1. Growing habits
Philodendron mexicanum is a climbing, evergreen, perennial hemiepiphyte. It is native to Mexico to Colombia, including Panama, Honduras, Costa Rica, Ecuador, etc. But although widespread, it is a rare plant.
It occurs at 3700 (1200 m) altitude and is one of the most ecologically versatile philodendron species. It grows as an understory plant climbing tree trunks in humid to tropical moist to premontane wet forests.
Lastly, the juvenile and mature forms of the plants vary slightly morphologically. For instance, juvenile leaves are smaller and more arrow-shaped, while mature ones are three-lobed. Also, the coloration of the underside varies, among other features.
2. Growth rate and size
P. mexicanum is a fast-growing aroid able to grow by about 6.5-7 feet in two years. They will grow up to 7 feet tall and need a place to climb at home.
3. Leaves
Philodendron mexicanum has charming narrowly triangular arrow-shaped to triangular spearhead shaped, sub-leathery, semi-glossy dark green leaves with a paler underside. But when young, the lower leaf surface will be magenta to maroon.
As the plants mature, the anterior lobes become elongated, making the leaves appear three-lobed. The midrib is widely sunken, while the primary veins are weakly sunken, and the margins appear somewhat undulating.
How big do these leaves get? About 1 to 2 feet or more, i.e., they usually measure 10-18 long and 6-18 inches wide, making them about 1.3-2.7 longer than wide.
Lastly, these leaves have a semi-glossy, medium green, 9-25 inches long, somewhat spongy terete petiole, which is slightly flat on the upper side.
4. Stems
Philodendron mexicanum has green to gray-green climbing stems with conspicuous leaf scars and relatively long, 7-8 inches, "scurfy, glaucous to semi-glossy internodes." (1)
Aerial roots, which grow on the nodes, have branched tips, and their length may occasionally have swollen nodes.
Lastly, their fleshy, pale-green, glossy cataphylls may be unribbed or have a single blunt rib fall off (deciduous).
5. Flowers and fruits
Mature Philodendron mexicanum flowers mainly mid-dry season to early rainy season, i.e., February to May. But cultivated plants have been seen to flower twice a year, i.e., in March and October.
These aroids have a single inflorescence per axil with a spadix that bears tiny flowers and a surrounding glossy spathe with a paler and clear margin within.
The spathe blade is whitish to the greenish outside, with the inner side having pale resin canals that resemble continuous lines.
On the other hand, the spathe tube is greenish and occasionally has a pale-reddish tinge on the outside and marron to red-violet inside.
The spadix has three sections, i.e., the female bottom section that is pale green to yellowish, a middle sterile male that Is white to light graying, and a creamy white top fertile male part.
Lastly, the spadix will produce yellowish-orange aggregate fruits or what is known as infructescence.
Philodendron mexicanum vs. atabapoense
Both plants have elongated arrow-shaped dark green leaves. But P. mexicanum has longer anterior lobes that appear three-lobed (or dog ear-like), especially in mature specimens. Also, the underside is pale green (maroon to magenta in younger plants), and mid-rib or primary veins are not sunken.
On the other hand, Philodendron atabapoense leaves have a pale yellowish pink margin and pale yellowish-green midribs. Also, the underside is burgundy or maroon, the midrib is widely sunken, and the primary veins are slightly sunken.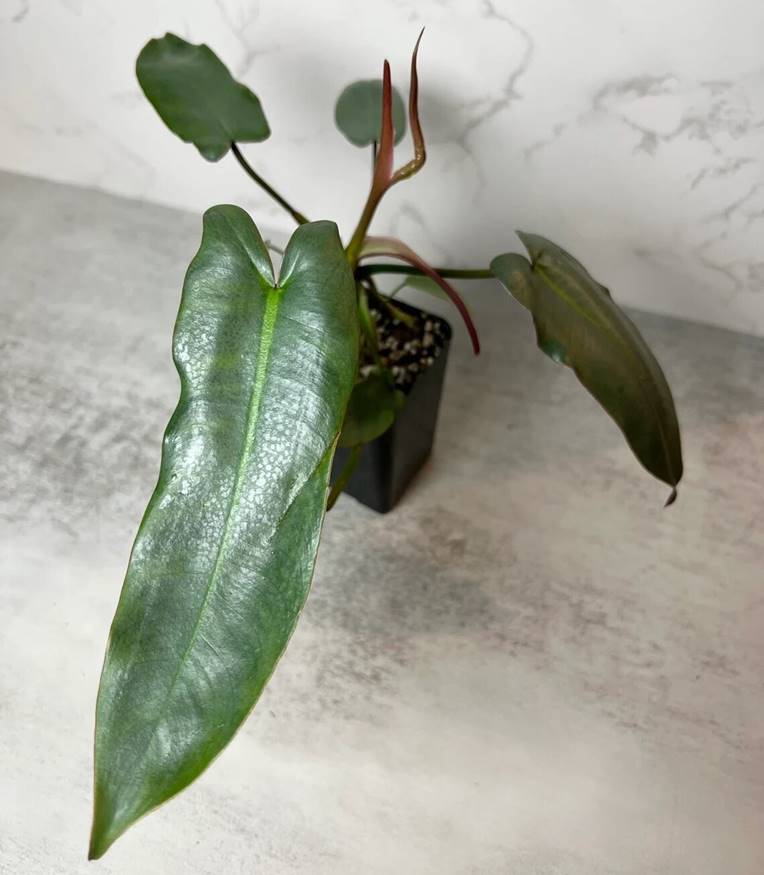 Secondly, P. mexicanum has medium green petioles that are somewhat spongy and slightly flat on the upper surface. P. atabapoense, on the other hand, has firm green petioles with burgundy spots. Also, Towards the upper side, they are rough and pinkish-wine tinged.
Lastly, P. mexicanum has pale-green cataphylls that are unribbed or have one rib, while in P. atabapoense, cataphylls are green with ivory margin and sparse reddish dots. Also, they have a double keel on the outer surface.
Philodendron mexicanum care
Philodendron mexicanum needs a warm, humid place with bright indirect light. Its soil should be airy, well-drained, and fertile, and you should water it when the top few inches feel dry.
Also, feed, prune, repot and give your plant support. Here are the care details.
USDA hardiness zone: 10-12, not frost hardy
Temperature: 65 to 85 degrees Fahrenheit (18-29°C). Don't place your plant near a heat source, and avoid cold drafts or temperatures below 55°F(12.8°C).
Humidity: keep the humidity at 50-60% or more. If yours is too low, a pebble tray, a humidifier like AquaOasis™ Cool Mist Humidifier, or move plants to humid rooms like the bathroom.
Light: It needs bright, indirect light but can still thrive in medium indirect light. Avoid direct sunlight and buy grow lights if there is too little light.
Best soil mix: P. mexicanum needs airy, well-drained soils rich in organic matter. Get an aroid mix from Etsy.com or add perlite, coco coir (or perlite), bark chips, and compost to your potting mix.
Watering: Water when top 2-3 inches of the potting mix or up to a knuckle of your finger. If you use a soil moisture meter, then water when the reading is three or less ( in the dry zone).  
Fertilizer: Feed your plant monthly during the growing season with a balanced, liquid houseplant fertilizer at ½ recommended strength. Bonide Liquid Plant Food 10-10-10 is perfect.
Pruning and grooming: Clean dirty leaves and prune dead, diseased, or damaged leaves with sterilized gardening scissors. Also, you can cut some stems back in early spring to control growth.
Repotting: Repot your plant after 2-3 years or if rootbound (roots growing from drainage holes or spiraling inside the pot). Use a pot 2-3 inches wider in diameter.  
Stake or support: Give and train your plant on a moss pole, trellis, totem, etc.
Propagation
To propagate your Philodendron mexicanum, use stem cuttings with at least a node (the knobby part where leaves attach or grow aerial roots) in water or soil.
The other way is air layering if you don't mind tying moist sphagnum moss on the node of the targeted stem while still attached to the mother plant.
When should you propagate this aroid? We recommend spring or early summer to give your plant time to establish.
Lastly, the steps to follow are the same as those of any other climbing Philodendron plant.
Problems or issues
While growing and caring for your plant, you may encounter some problems or issues. Let us briefly look at some of these issues.
1. Root rot
It is a prevalent problem for people who tend to overwater this houseplant or use a poorly draining, heavy, or compacted potting mix.
Signs include yellowing of leaves, wilting, lea scorch, stunted growth, a mushy stem base, moldy potting mix, etc.
If not all the root ball has decayed (roots brown or black and mushy), you can fix it by repotting your plant. As you repot, use sterilized gardening scissors to cut any decayed parts.
2. Pests
Pests that may attack this plant are mealybugs, scale insects, mites, aphids, and aphids. Luckily, they are uncommon. And should they occur, manage them with neem oil, horticultural spray oils, or insecticidal soaps.
3. Diseases
Several fungal and bacterial leaf spots, rusts, or blights may affect this Philodendron. Signs include brown or blackish lesions. Some may have a yellow halo, sunken center, or be water-soaked at the beginning.
To prevent diseases, isolate affected or new plants and practice proper sanitation, i.e., sterilize equipment and wash hands.
4. Leaf discoloration – yellowing and browning
P. mexicanum leaves turning yellow is often due to overwatering. But you cannot rule out causes like too much or little light, low humidity, cold drafts, heat stress, and nutritional deficiencies.
On the other hand, if leaves turn brown, you need to examine how it occurs. If you see brown tips or margins, likely reasons are underwatering, low humidity, heat stress, too much light, and fertilizer burns.
What about brown spots, patches, and splotches? The likely reason for brown spots is pests or diseases, while splotches may indicate overwatering.
Lastly, cold drafts may cause overnight leaf browning. Also, other reasons like transplanting shock may cause browning.
5. Wilting, drooping, and leaves curling
If your plant leaves are wilting or drooping, cells don't have enough water to keep them firm.
On the other hand, leaves curling is a response to prevent moisture loss or protect leaves.
The causes of these two issues are similar, with the most probable ones being underwatering, low humidity, too much light, or heat stress. More reasons include:
Root rot
Overwatering
Fertilizer burns
Repotting or replanting shock
Rootbound
Pests
Anything that causes quick moisture loss from leaves or affects water absorption.
Where to find Philodendron mexicanum on sale
Do you want to buy Philodendron mexicanum? Start with Etsy.com, then eBay. Etsy has the most vendors and offers the best prices. You will get someone in your area, i.e., the US, the UK, Canada, Australia, Germany, New Zealand, etc.
On the other hand, eBay, like Etsy.com, has vendors from all over the world. But their inventory isn't as expansive.
Next, try Facebook and Instagram. Other sites are Plantly, Jordan's Jungle, NSE Tropical, Plant Corner NYC, Brian's Botanicals, Gardeneur, and Plantivine. We didn't mention all people who sell this plant. These are but a few.
Lastly, why not google "Philodendron mexicanum on sale" to see what suggestions pop up?
Frequently asked questions (FAQs)
Is Philodendron mexicanum rare?
Yes. P. mexicanum is a rare and hard-to-find houseplant. If you need it, try online because you will not find it at your local plant stores and none of the large-scale horticultural growers or big box stores have it.
What is the price of Philodendron mexicanum?
Philodendron mexicanum price ranges from $30 to $200, with most vendors selling it for $70 to $150. But if you want a larger plant with mature leaves, you may have to spend more than $400.