Philodendron patriciae, going by the words of Dr. Thomas Croat, is "one of the most spectacular species of Philodendron that he had ever seen" (1). He named this aroid after his wife Patricia for unwavering support in his work on Araceae.
The showy and magnificent, pendent, elongated, rippled, dark green leaves make quite an impression. Also, it is easy to care for and air purifying.
Learn more about P. patriciae care and its appearance (leaves, stems, and flowers). We will also talk about problems or issues and where to buy them. Of course, Etsy.com is the best place, followed by eBay, Instagram, and Facebook. There are other places too.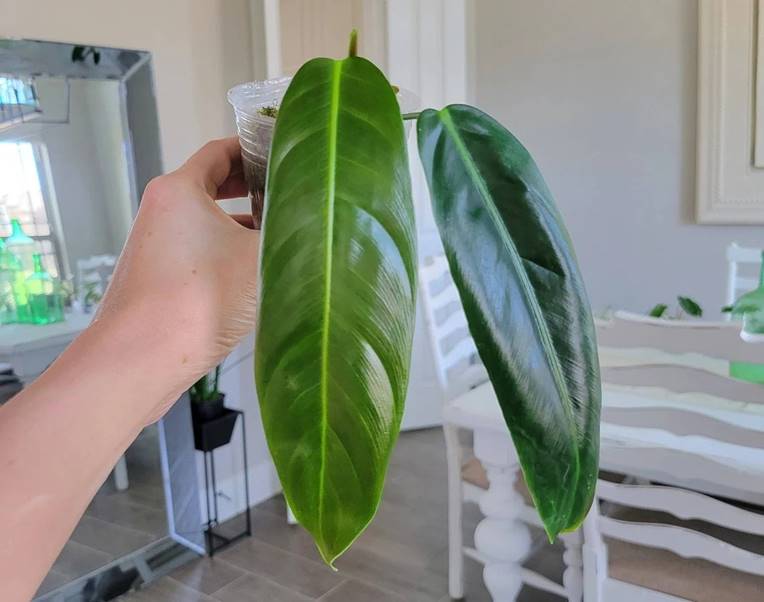 Quick overview
Scientific name: Philodendron patriciae
Subgenus: Philodendron
Section: Philodendron
Subsection: Canniphyllum
Family: Araceae or aroids
Native habitat: Colombia
Toxicity: All parts are toxic to dogs, cats, and humans. Why? Because it has insoluble calcium oxalates. If you chew it, it will cause severe oral irritation and a burning feeling. Also, patients may have a red and swollen mouth, tongue, and lips. Other signs are swallowing difficulties, lack of appetite, and drooling.
Care level: Easy or low maintenance
Dr. Thomas Croat described this plant in 2010. Initially, he informally referred to it as Philodendron splendidum. Later he decided to name it after his wife Patricia, saying it was the most spectacular Philodendron he had ever seen.
Lastly, some vendors label it as Philodendron cf patriciae Esmeraldas. The name was mainly in use before Dr. Croate described it.
Description and appearance
1. Growing habits
Philodendron patriciae is an appressed climbing evergreen hemiepiphyte. A hemiepiphyte is a plant that grows both terrestrial (on the ground) and as an epiphyte (on host trees).
It is endemic to Colombia, specifically in the Chocó Department, where it grows as an understory plant in the tropical rain forest at elevations of 295-721 (90-220) above sea level.
The juvenile and mature P. patriciae show some differences and look more or less like juvenile forms of P. scherberichii and P. heterocraspedon. But patriciae will show some pleating and sunken veins from the early stages.
Lastly, if grown under perfect conditions, it will have full-head foliage with long-lasting leaves.
2. Size and growth rate
Philodendron patriciae is a moderately fast-growing climbing plant that will grow up to 10 feet (3m) in cultivation. But at home, it may not grow as long unless in a greenhouse or given space, climbing place, and ideal growing condition. So, expect yours to be 6 to 8 feet long.
3. Leaves
Mature Philodendron patriciae have lovely oval lance-shaped to elliptic thinly leathery, rippled (quilted) dark green pendent leaves with a round or nearly-heart-shaped base. These leaves are matte above and glossy, paler below, and as they age, the sunken primary veins make the rippled or quilted appearance more apparent.
What makes them more adorable is their large, elongated appearance, i.e., they are 13-37 inches long by 2-8 inches broad but may grow up to 48 inches, making them 3.9 to 6 times longer than wide. Also, they are1.5 to 2.4 longer than their petiole.
Lastly, firm and round greenish petiole are sulcate (having parallel grooves) at the base and thinly winged towards the apex.
4. Stem
It has relatively short, thin green to brownish stems. Their internodes are about 1.2-4.3 inches and have aerial roots growing on the nodes. Also, these stems have green, unribbed cataphylls that persist for some time but will eventually turn dark brown and fall.
5. Flowers
Mature Philodendron patriciae will have 1-2 inflorescence per axil subtended by deciduous intact prophylls. These inflorescences have a short peduncle, spathe (bract) slightly or not constricted, and a spadix (bears tiny flowers).
The spathe is light green with a publish tinge towards the base on the outside. On the inside, it is dark red in the tube and gradually becomes paler towards the blade but nearly reddish-violet on the blade's middle, while the apex and upper margins are white.
Lastly, the spadix has a greenish female part (inside the tube) and a whitish male sterile (middle) and fertile male (upper).
Philodendron patriciae vs. rhodospathiphyllum vs. heterocraspedon
P. patriciae closely resembles Philodendron rhodospathiphyllum, with the difference being the latter has persistent cataphylls that are yellow-green on the inside and a rounded lamina base. Also, it can have four inflorescences per axil and shorter, spreading leaves clustered at the stem top.
On the other hand, juvenile forms of P. patriciae and Philodendron heterocraspedon look alike. But the former has pleated lamina and less visible secondary veins.
Additionally, P. heterocraspedon has spreading leaves, not pendent and the petioles have deeply grooved margins, acute on one side and the other bluntly round.
Philodendron patriciae
Philodendron patriciae require a warm, humid place with bright, indirect light and well-drained, fertile, and airy soil. Water it when a few inches of the potting mix feel dry, and feed it monthly when actively growing.
It doesn't need much pruning, and repotting is after 2-3 years. But give it a place to climb.
USDA hardiness: 10-11, not frost hardy
Temperature: maintain it at 65 to 90 degrees Fahrenheit (18-32C). Avoid cold drafts, sudden temperature changes, or near heat sources.
Humidity: 60% or more but can tolerate a bit lower (the 40s and 50s). If yours is too low, mist your plant, have a pebble tray, buy a humidifier or move it to humid rooms (kitchen, bathroom, etc.).
Light needs: Bright, indirect light but can grow in medium indirect light. Avoid direct sun or too little light.
Soil: The best soil should be well-drained, aerated, and high in organic matter. Make or buy an aroid mix from Etsy.com.
Watering: Thoroughly water your plant when the top 2-3 inches of the potting mix feels dry, i.e., when the soil feels dry up to the first finger knuckle or XLUX (best brand) soil moisture meter reads three or less. Then Discard any that collects on the saucer or cachepot.
Feeding: Feed once a month during the growing months with a balanced, liquid houseplant fertilizer at half the recommended strength. I use Miracle-Gro Indoor Plant Food (Liquid). It feeds instantly, and has never burnt any of my plant.
Pruning: It doesn't need much pruning. Just ensure you remove dead, damaged, or diseased leaves with a sterilized pruning knife. Also, clean the leaves when dirty, and in early spring, you can cut back stems to control growth.
Repotting: Repotting is after 2-3 years or when rootbound. Go for a pot 2-3 inches wider in diameter.
Support: Give and train your plant on a moss pole, trellis, totem, etc., for larger leaves.
Propagation
Philodendron patriciae propagation is by stem cutting in water or soil. And the stem cutting must have a node (a knobby place where aerial roots grow or leaves attach). However, if you don't mind, you can use air layering.
The best time to propagate this plant is in spring when it begins to grow actively. But early summer is still perfect.
Lastly, the whole process is easy. Just follow the stems of propagating any climbing Philodendron plant.
Problems and issues
Yes, it is easy to care for, but it may have some issues or problems. Let us have an overview of some to expect.
1. Pests and diseases
Pests (aphids, thrips, mealybugs, scale insects, or mites) are uncommon. But may occur. Use insecticidal soaps or neem oil. Also, horticultural oil sprays will work well.
Also, this plant isn't susceptible to any particular disease but may end up with any that affects Philodendron species. So, your plant may have bacterial or fungal leaf spots, rusts, or blights.
But these diseases are unlikely if you maintain proper sanitation and isolate any new plant. Signs include brown or black spots. Some may have a yellow halo, water-soaked at the beginning, or a sunken center.
2. Root rot
Root rot in P. patriciae is common for people who overwater their plant or with potting mixes that don't drain well. You will notice wilting, stunted growth, smaller paler leaves, leaf discoloration (yellowing or turning brown), etc.
If you check the roots, they may be mushy and black or brown. Immediately repot your plant, trimming any decayed bits if the whole ball isn't rotten.
3. Leaves turning yellow or brown
If you see yellow leaves on your P. patriciae, the most likely reason is overwatering. Nonetheless, too much or too little light, heat stress, underwatering, cold drafts, and nutritional deficiency may be a reason. It happens when the plant cannot produce chlorophyll, or there is degradation.
Browning means all color-sensitive pigments are gone, and the affected leaf or area is nearly dead.
If it is brown margin, tips, and sometimes in-between veins, it may be low humidity, underwatering, too much light, heat stress, or fertilizer burns. But other things like repotting shock, rootbound, or anything that causes rapid water loss or hampers absorption may be a cause.
What about brown blotches? The likely cause is overwatering. But if you see brown spots, think of diseases or pests.
Lastly, overnight browning can happen due to cold drafts or chilly conditions.
4. Drooping, wilting, and leaves curling
Reasons for your plant drooping, wilting, or leaves curling are similar. Drooping means cells don't have enough water, so they cannot be rigid.
On the other hand, leaf curling is a response to reducing moisture loss or protecting the leaf.
Causes of drooping, wilting, and leaf curling are underwatering, low humidity, heat stress, and too much light. Other causes include:
Overwatering
Repotting or transplant shock
Fertilizer burns
Root rot
Pests
Rootbound
Where to buy Philodendron patriciae
If you want to buy Philodendron patriciae, start with Etsy and then eBay. These marketplaces have vendors in various regions (the U.K., the US, Canada, Australia, etc.,) but Etsy has more. The other places to buy these plants are Facebook and Instagram.
If you are in the U.S., try NSE Tropicals (South Florida), Peace Love and Happiness Club (Seattle, WA), Carnivero (Austin, TX 78709), and Read Leaf Exotics (Tennessee).
Lastly, try googling Philodendron patriciae for sale. We bet you will get many other people who have this lovely aroid.
Frequently asked questions
Is Philodendron patriciae rare?
Yes. Philodendron patriciae is a rare, hard-to-find, and expensive, beautiful houseplant. You will not find it even in specialty tropical plant stores, and obviously, none of the big box stores or largescale horticultural growers have it.
What is the Philodendron patriciae price?
Philodendron Patriciae prices range from $170 to $500, with some vendors selling the adult form for as high as $1300. You don't expect to pay little for this marvelous plant.