Philodendron Tahiti, also known as Philodendron mayoi 'Tahiti' or Philodendron 'Tahiti Green' is a rare houseplant with deeply cut or lobed deep green leaves and a paler underside with slightly reddish-tinged veins. It is easy to grow, purifies the air, and will add that charming tropical backdrop to your home.
Discover more about Philodendron Tahiti care like light, humidity, temperature, soil mix, feeding, pruning, etc. We will also tell you what it looks like (appearance) and how it differs from T. xanadu and P. mayoi.
Lastly, we have places to buy it for anyone interested in this lovely plant, including Etsy.com, eBay, and prices or costs.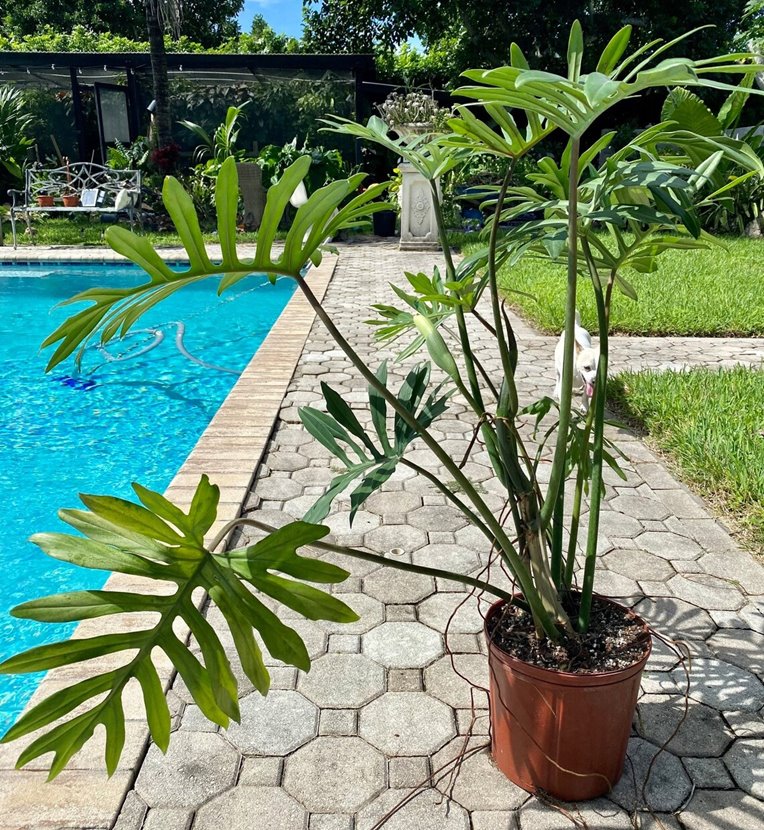 About Philodendron Tahiti
Philodendron Tahiti is a climbing houseplant whose origin remains unknown. Also, not much information is available about this aroid, as the Journal of the American Society for Horticultural Science (ASHS) notes.
It is unregistered at the International Aroid Society and is undescribed. So, it doesn't have a scientific name. But people have different opinions on its origin and identity.
One school of thought claims that Philodendron Tahiti is just a synonym of Philodendron mayoi, meaning they are the same plant. They claim it is just a marketing gimmick to sell the same plant as a different one, or some people label it unknowingly.
On the other hand, some sources, including a Forum on the University of British Columbia, say it may be Philodendron lacerum. Others claim it is a cultivar originally released in 2001 by Twyford Plant Laboratories as Philodendron 'Tahiti Green' and others by a Florida propagating house Oglasbsy(1).
Philodendron Tahiti's parentage is unknown. Some say it may be a multi-hybrid of various plants, including P. mayoi, P. radiatum, P. lacerum, or even Thaumatophyllum xanadu, which was formally known as Philodendron xanadu.
Description and identification
Like other Philodendron species, this aroid undergoes morphogenesis. So it means that baby and mature plants will look different.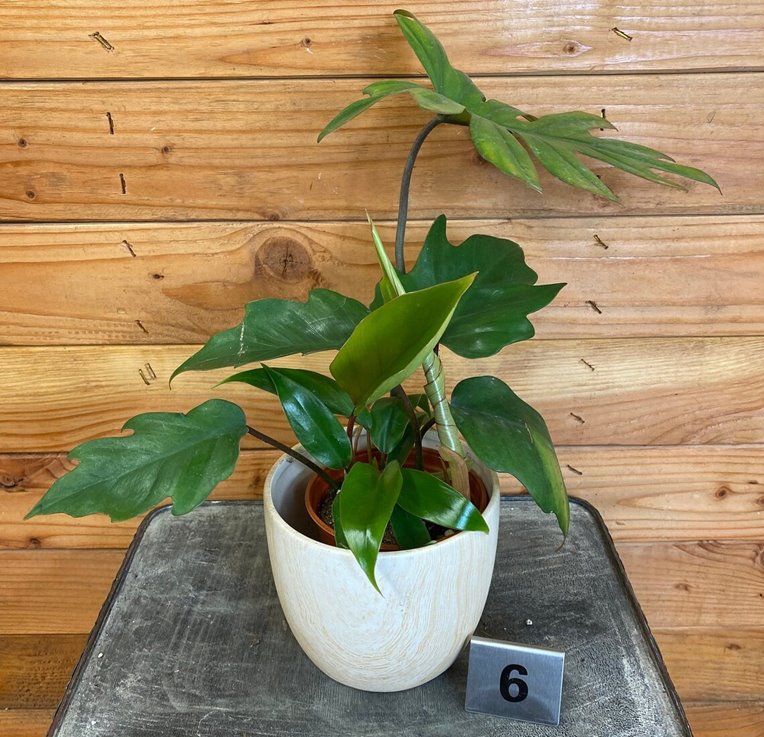 Baby or juvenile bay has smaller elongated oval leaves with an entire margin. But as it grows, new leaves will become larger and have shallow lobes.
On the other hand, mature Philodendron Tahiti has larger, deeply lobed deep green leaves, with the anterior section having several lobes and posterior 1-2 lobes that are further lobed. These leaves' underside is paler with reddish veins, and the petiole is also reddish.
Philodendron Tahiti vs. mayoi
A quick Philodendron mayoi vs. Tahiti comparison does show that both these plants have green, deeply cult, or split leaves. Also, their petiole and veins beneath the leaf have a reddish coloration.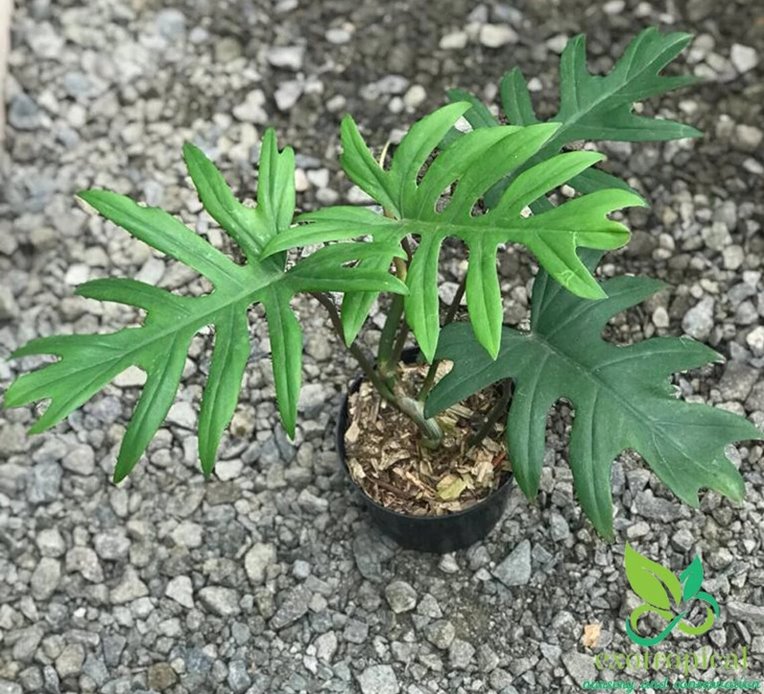 However, some sources point out some differences. For instance, The Plant Society (Toronto, Canada), a vendor, says that Philodendron Tahiti "has deep green and mounding to semi cascading habit," and Plantly adds that it is large leafed and deep green. In contrast, P. mayoi has bright, "rubbery glossy leaves resemble palm leaves, with four to six lobes on either side of the blade."
Lastly, considering that Philodendron species show some variability, there is a chance these two plants are the same. If you have some information we don't, we will be glad if you share it with us to update this pot.
Philodendron Tahiti vs. xanadu
Thaumatophyllum xanadu, initially known as Philodendron xanadu or Philodendron' Winterbourn' has leaves that resemble Tahiti. It originally belonged to the Philodendron genus but was moved in 2018 together with members of the Philodendron subg. Meconostigma to genus Thaumatophyllum, which translated to wonder leaf.
Philodendron Tahiti differs from Xanadu since it is a climbing plant with thinner stems. Also, it gets much taller if given a place to climb and doesn't have mounding growth.
On the other hand, Thaumatophyllum xanadu has a thicker stem, grows like a tree (arborescent), and has medium green sheathed petiole that is a bit brownish purplish violet towards the apex. Also, the single primary vein on each anterior lobe is off center, i.e., more towards the posterior end, it has a mounding growth habit and won't grow very tall.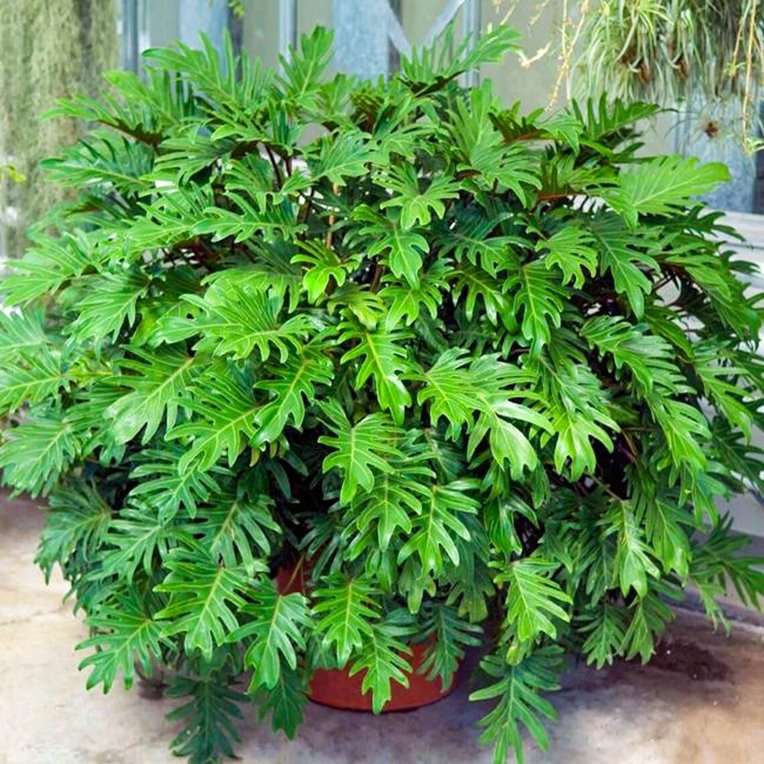 Philodendron Tahiti care
Philodendron Tahiti needs a warm (60-85°F), humid place with bright indirect light. Water it when a few top inches of the soil feel dry and grow this aroid in a chunky potting mix rich in organic matter. Also, don't forget it needs pruning, feeding, a stake (moss pole), and repotting every 2-3 years.
Here is more on Philodendron Tahiti care:
1. USDA hardiness zone
The USDA hardiness for P. Tahiti is 10 to 11. It is not frost-hardy, and it cannot tolerate freezing for long. Only grow it outdoor if you are in these zones. Otherwise, move it inside your house when temperatures go below 50°F.
2. Humidity
Philodendron Tahiti prefers high relative humidity (60% or more). But it can tolerate lower, 40-50ish, or even average household humidity. However, if your humidity is very low, including in winters, you then need ways to raise it, which include the following:
Misting your plant: It will offer a temporary solution and is good when your humidity isn't too low.
Grouping plants: You can raise humidity by grouping your plants. Doing so creates a more humid microclimate.
Moving plants to humid areas: You can move your plants to your kitchen or bathroom, or any other room with high humidity, so long as it has sufficient light.
Have a pebble tray: A pebble tray is a better and more reliable way to raise humidity. You need to stand your plant pot in a tray with stones and add water, ensuring it doesn't reach the tray. As the water evaporates, it will raise humidity.
Buy a humidifier: The surest way to raise and maintain humidity will also make you comfortable is by buying a humidifier. Any cool mist brand is fine. We use AquaOasis™ Cool Mist Humidifier. It is quiet, runs for up to a day and doesn't cost much.
3. Temperature
The ideal temperature for this aroid is 60 to 85 degrees Fahrenheit (15-29°C). Avoid low temperatures, i.e., 50°F or below, as your plant won't be growing. Also, sudden temperature changes will stress this plant, and you should avoid cold drafts or placing your plant near heat sources or vents.
4. Light
P. Tahiti requires bright, indirect light for at least 8 hours but can tolerate medium indirect light.
However, you must avoid too little light as it will stunt growth. Also, your plant will have smaller, paler, or yellow leaves and will be leggy. In such a case, invest in grow lights.
On the other hand, don't grow this plant in direct sunlight except for the early morning sun on the east-facing window. Why? Because it will cause sunburn – paler, yellowish, or bleached leaves with brown patches, tips, and edges.
We believe any window can do. Just play around the distance from the window to get a spot where your plant gets bright, indirect light.
5. Soil mix
The best soil mix for Philodendron Tahiti should be well-drained, aerated, and high in organic matter. This plant isn't so fussy, and you can grow it even in sphagnum moss alone.
We recommend buying an aroid mix (See Etsy.com). However, you can also make your aroid mix at home by adding peat moss (or coco coir, bark chips, perlite, and compost (or worm castings) to your premium potting mix.
6. Watering
They love moist, not soggy or bone dry soil. So, water Philodendron Tahiti plants when the top 1-2 inches of the potting mix or up to the 1st knuckle of your finger feel dry. And if you have a soil moisture meter like XLUX water when the reading is three or less. Don't wait until your plant looks droopy or when leaves start curling.
To avoid overwatering or underwatering, we discourage following a schedule after a few days or weeks since water requirements vary with conditions (temperature, humidity, and light), plant and pot size, potting mix, etc.
Remember overwatering is detrimental and may kill your plant. Signs include lower yellow leaves, leaves falling, brown or black splotches, mushy stem base, wilting, etc.
Lastly, slowly saturate the soil until excess flows from drainage holes to water your plant. Don't forget to discard any that may collect in a saucer.
7. Fertilizer
Besides ensuring a humus-rich potting mix, this aroid can benefit from feeding. It will boost growth and ensure lush leaves.
We recommend feeding your Tahiti plant with a balanced, all-purpose liquid houseplant fertilizer at half recommended strength once a month during the growing season.
A good brand to consider is Miracle-Gro Indoor Plant Food (Liquid). It feeds these plants immediately and will not burn your plant if you use it as recommended. However, instead of applying weekly, we apply twice a month.
Those who prefer slow-release formulas for potted or indoor houseplants ensure they have all the necessary nutrients. And when applying, follow the manufacturer's advice.
While like of nutrients may cause slow growth, chlorosis, and other issues, too much fertilizer is not good either. It can cause fertilizer burns (brown tips and margins), slow growth, brown tips, etc. So, flush the soil at least once every three months to avoid any risks of overfeeding or accumulation of salts in fertilizers.
8. Pruning
It doesn't need much pruning except for routine removal of the dead, damaged or diseased parts or leaves. Also, you can cut a bit of the stem to control growth, shape, or size in the growing months. Don't forget to use sterilized gardening shears.
9. Repotting
Repot after every 2-3 years or when rootbound, i.e., roots growing from drainage holes and spiraling inside the pot walls. More signs include yellowing leaves, stunted growth, and a listless or unhealthy plant.
When repotting this aroid, use a pot 2-3 inches wider in diameter with large enough drainage holes. If it doesn't, drill some.
10. Staking or support
Give your Philodendron Tahiti a moss pole, trellis, totem, or other vertical surfaces to grow tall and have large leaves. Remember, this plant is a climber.
Philodendron Tahiti propagation
You can propagate Philodendron Tahiti by stem cutting (in water or soil) or air layering. We haven't seen seeds, meaning they must be very rare.
Stem cutting requires a stem with at least a node. You cannot use aerial roots, a leaf with a petiole, or a nodeless one. Steps are similar to those of propagating any climbing Philodendron.
On the other hand, air layering entails wrapping moist sphagnum moss on a stem node while still attached to its mother plant. Keep the wrapped sphagnum moss moist and aerated.
After some time, roots will start growing. When they are long enough, cut the stem from the mother plant and grow it in its pot.
Issues and problems
There are no problems specific to this plant except those that affect other Philodendron species. These issues include pests like thrips, mealybugs, spider mites, scale insects, and diseases like bacterial and fungal leaf spots. Luckily they are uncommon.
The other issue is root rot, common when you overwater this plant or your potting mix doesn't drain.
Lastly, improper care and wrong growing conditions may cause the plant to droop, its leaves to curl or turn brown, yellow, or even black, including spots, tips, edges, and splotches. Some of the care and growth issues include:
Too much or too little light
Underwatering or overwatering
Heat stress and cold drafts
Nutritional deficiency or overfeeding
Transplant or repotting shock
Rootbound plants
Root rot
Pests and diseases
Where to find Philodendron Tahiti on sale?
The best place to buy Philodendron Tahiti is Etsy.com. This online marketplace has vendors from the US and Canada and the UK, Australia, New Zealand, etc. Also, try eBay, Facebook, and Instagram, as they have vendors worldwide or those who ship to various countries.
If you haven't found this plant, here are more US, Canada, and Australia locations and their respective prices.
Tonkadale Greenhouse (Minnetonka, MN) - $99.99
Plant Society (Toronto, Canada): $60.00
Portland Market (Toronto, Canada) - $89.00
1800houseplants (New York, NY) $12.00 – $26.00
Uprooted (Queensland, Australia) - $15.00
The Houseplant Shop (NSW, Australia) – $25
Jordan's Jungle (Pawtucket, RI) – $ 69.99 Sold out
Spokane Plant Farm (Spokane Valley, WA) – $69.99 (sold out)
Sunnyside Gardens (MINNEAPOLIS, MN) - $24.99 (sold out)
Queens Fruit market and Plants (Toronto, Canada) – $49.99
Also, google Philodendron Tahiti for more locations that we have not mentioned, including those near you.
Note: When looking for Philodendron Tahiti on sale, bear in mind that some sellers may label it as Philodendron mayoi 'Tahiti" or Philodendron 'Tahiti Green'. It is the same plant.
Frequently asked questions (FAQs)
Is Philodendron Tahiti rare?
Yes. Philodendron Tahiti is a rare or uncommon houseplant with few plant collectors or sellers. You are unlikely to find it in your local tropical plant store, and none of the big box stores or large-scale horticultural growers have it.
What is the price of Philodendron Tahiti?
Philodendron Tahiti's price ranges from $35 to $100 depending on where you buy it and its size. For instance, Larger plants with mature leaves may cost as much as $500, while some people sell this plant for less than $35. Also, this aroid is cheaper in Australia than in the US or Canada, meaning location matters.