Philodendron tenue is a rare climbing houseplant native to Central America to Ecuador and Venezuela. It is easy to grow, and you will love the large, gorgeous glossy heart-shaped, oval to oval-triangular dark green to grayish-green leaves with ridges or pleats.
This post has information on the appearance (leaves, stems, and flower), growing habits, and care (light, soil, humidity, watering, fertilizer, etc.). We will also discuss problems that you may encounter as you grow this houseplant
Lastly, since they look alike and are often confused, we have a Philodendron tenue vs. sharoniae. Also will even talk about its hybrid (Philodendron plowmanii x tenue), and should you want to buy it, we have where to find it on sale, including Etsy.com.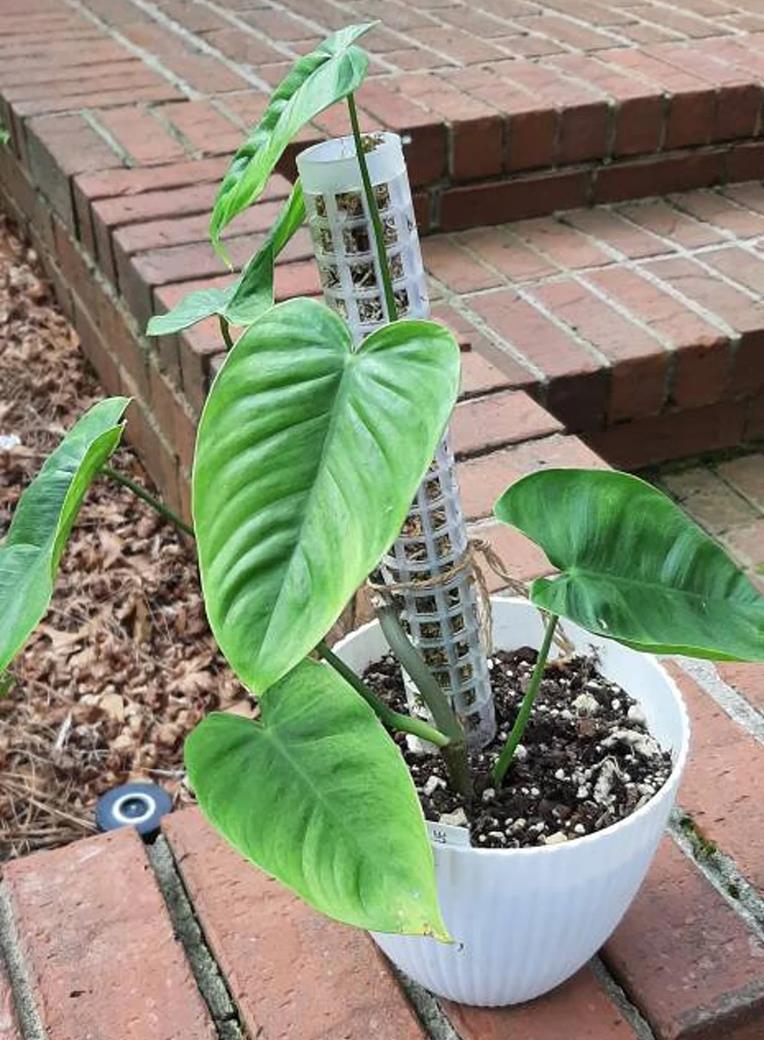 Quick overview
Scientific name: Philodendron tenue
Synonyms: Philodendron gracile, P. ecuadorense, or P. sodiroanum
Section: Philodendron
Subsection: Philodendron ser. Fibrosa
Family: Araceae (aroids or arum family)
Native habitat: Colombia, Ecuador, Costa Rica, Honduras, Panamá, Nicaragua, and Venezuela
Toxicity: All plant parts are toxic to dogs, cats, and humans because they contain insoluble calcium oxalates crystals.
Care level: Easy or low maintenance
Karl Heinrich Koch and Augustin descriped Philodendron tenue in 1854. It closely resembles Philodendron sharoniae, and many people confuse these two plants
Description and appearance
1. Growing habits
Philodendron tenue is an appressed climbing evergreen plant that grows mainly as a hemiepiphyte. A hemiepiphyte grows both as a terrestrial plant and as an epiphyte (on host trees). It hardly grows entirely as a terrestrial or epiphyte.
This evergreen flowering plant is native to Central America through Venezuela and Ecuador and occurs at 16 to 7545 feet (5-2300 m) above sea level.
You will find it growing in varying habitats. For instance, it grows mainly in premontane wet rainforests in central America and rarely in tropical moist forests.
On the other hand, in South America, it occurs tropical and premontane thorn woodlands and tropical moist forests. Also, you will find it in premontane wet forests and tropical dry forests.
Lastly, like most Philodendron plants, it morphs, i.e., it looks different in its juvenile and mature form.
2. Growth rate and size
Philodendron tenue is a moderately fast-growing aroid that grows up to or more than 13 feet (4m) long and spreads about 3 feet (1m). But at home, it will be about 4 to 6 feet long and will need a climbing place.
3. Leaves
Tenue's leaf shape or morphology depends on the form. These plants have a narrow (narrowly oval) or wide form (broadly oval).
Juvenile leaves are usually smaller, oval to heart-shaped, and green in color. But as they emerge, their coloration may slightly be different.
On the other hand, mature Philodendron tenue has enormous, i.e., 12.2-30.7 inches (31-78 cm) long by 6.3-20.5 inches (16-52 cm) wide, oval to oval-triangular papery to less than leathery, glossy, dark green to grayish-green leaves.
Their base is heart-shaped with a more prominent posterior lobe than the two anterior lobes. Also, their primary ribs, usually 8 to 14 per side but can be 6 to 20, are narrow to prominently sunken, making the leaf surface appear quilted, ridged, or pleated. But the flat to sunken midrib is a little paler, and the leaf margin undulates weakly.
Lastly, petioles are olive-green to dark green, much or less terete but at times flatted with a low, middle rib on the upper surface. They are about 11.4-42.1 inches (29-107 cm) long and have faintly light-green striate and fine tiny ridges. Also, they have a scurfy geniculum that is thicker and paler than petiole.
4. Stems
P. tenue has olive-green to dark green, thick, short, appressed climbing stems with inconspicuous leaf scars. The striated internodes are almost as wide as long, and nodes grow few long roots.
These stems usually have unribbed, membrane-like green, reddish, or purplish-green cataphylls with whitish striate. But they may have blunted to sharp one rib or sharp two ribs.
Last but not least, these cataphylls persist and remain intact but will form fibrous remnants.
5. Flowers and fruits
Mature Philodendron tenue plants will flower during the dry to the early rainy season, i.e., January to August, but mainly in April to May. You will notice immature fruits from April to November.
They produce up to 4 inflorescences per axil with spathe (bract), spadix, and a pale green, heavily white lineate peduncle.
The spathe is leathery, short-lineate, and moderately constricted at the middle (separates the lower tube and upper blade). Tenue blade is white to pale-green on the inside and greenish-white and occasionally heavily red-tinged on the outside.
On the other hand, the spathe tube is medium to dark green and is usually is red-tinged outside. But it may occasionally be dark violet. Also, its front may have white striate and clear margins, and the backside has pale-green short lineate. The tube's inner side is whitish to pale green and sometimes has sparse whitish spots and is reddish at the base.
The spadix has the pale green female part encased by the tube, a middle pale brown sterile potion, and a top white fertile male section.
Lastly, Philodendron tenue will have berry-like, purplish aggregated fruits (infructescence).
Philodendron tenue round and standard form
As noted in the description, this plant may have broad to narrowly oval leaves with a heart-shaped base. Those with broad heart-shaped leaves are what vendors call round form, while the standard form has elongated, narrower leaves.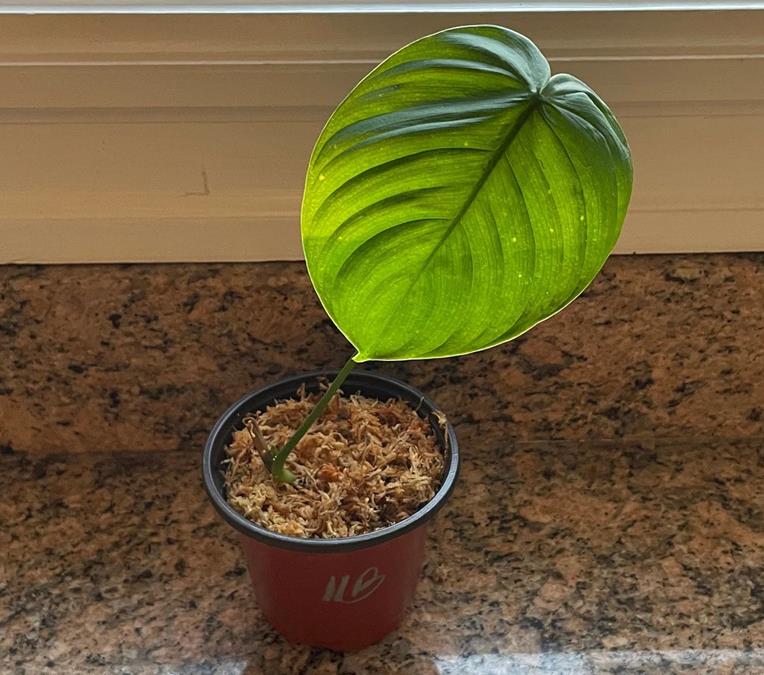 Philodendron plowmanii x tenue
P. plowmanii x tenue hybrid is a lovely plant with pleated, heart-shaped green leaves longer than plowmanii but shorter than a tenue.
Philodendron Tenue vs. sharoniae
Vendors mislabel, and some people confuse Philodendron tenue and Philodendron sharoniae. But they are entirely different species.
Philodendron sharoniae is native to Ecuador to Colombia, and both these two plants are climbers. To tell the difference, look at the leaf shape and length.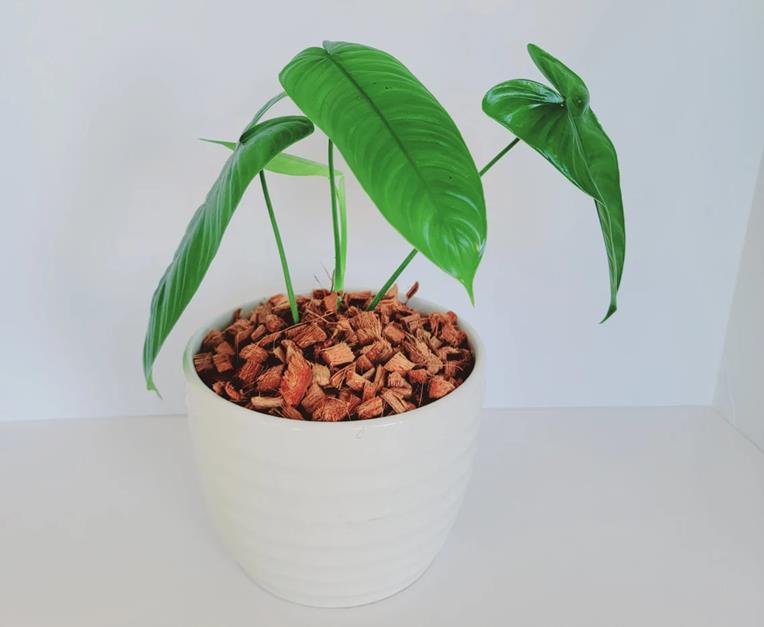 P. tenue has shorter, wide oval to oval-triangular leaves with a heart-shaped base, while sharoniae leaves are longer and their shape is elongated sagittate-hastate, or elongated arrow-shaped.
Philodendron tenue care
Philodendron tenue requires a warm (65-85°F) humid (50% or more) area with a bright indirect light. Grow it in an airy, well-drained potting mix rich in organic matter and water it when the top few inches feel dry.
That is not all. You need to feed your plant once a month with a balanced liquid fertilizer, repot after 2-3 years, and give it a moss pole or totem to climb. Don't forget to prune it as necessary.
Here is more on Philodendron tenue care:
| | |
| --- | --- |
| USDA hardiness zone | 10-11, not frost-hardy, and prolonged freezing will damage your plant. |
| Humidity | It prefers high humidity 50% but can tolerate slightly lower. Use a humidifier, pebble tray, or mist your plants to raise humidity. You can also move them to the bathroom or other humid rooms. |
| Temperature | This aroid grows best at 65 to 85 degrees Fahrenheit (18-29°C). Avoid cold drafts, sudden temperature changes, or placing your plant near heat sources or vents. |
| Light | It grows best in bright, indirect light but won't mind moderate, indirect light. Avoid too little light or direct sun (which causes sunburn). |
| Soil | The best soil mix for Philodendron tenue should be well-drained, aerated, and high in organic matter. Buy an aroid mix from Etsy.com or add perlite, coco coir, bark chips, and compost to your potting mix. |
| Watering | Thoroughly water when the top 2-3 inches of the potting mix feels dry, i.e., up to the first knuckle of your finger or when your soil moisture meter reads dry. We use XLUX Soil Moisture Meter. It is accurate and responds fast. |
| Feeding | Feed monthly with a balanced, liquid houseplant fertilizer like Miracle-Gro Indoor Plant Food (Liquid) at half strength in growing months only. |
| Pruning and grooming | Prune dead, diseased, or damaged parts or leaves with sterilized gardening scissors. Also, clean leaves when dirty or dusty. And to control the size or growth, cut it back in spring or summer. |
| Repotting | Report after 2-3 years or when rootbound. Use a pot 2-3 inches wider in diameter. |
| Stake or support | Provide and train your plant on a trellis, moss pole, totem, or other climbing places. |
Philodendron tenue propagation
The best way to propagate P. tenue is by stem cutting in water or potting mix. But you can also go for air layering. Seeds are hard to find.
Wait until spring but summer is ok. Why? Because the propagation success rate is higher during the growing months.
You require a stem cutting with at least a node to propagate this plant. A node is where leaves attach, or aerial roots grow. It appears knobby.
The steps to follow are similar to those of propagation of any other climbing hemiepiphyte. So, what we gave you when looking at Philodendron micans will work.
Problems
Some issues that this plant may have are:
Pests: When grown indoors, pests like aphids, thrips, scale insects, mealybugs, or scale insects are uncommon. But they may occur. So, always check for the presence of these bugs or their signs. If you see any, use insecticidal soaps, horticultural spray oil, or neem oil to manage them.
Diseases: Like pests, fungal or bacterial leaf spots or blights are also uncommon. But when they occur, they will cause brown or black lesions. Some may have a yellow halo. Others start as a water-soaked lesion. To prevent these diseases, isolate new plants and practice proper sanitation (wash hands, sterilize your equipment, etc.).
Root rot: It's a common problem if you overwater your tenue or the potting mix doesn't drain well. Signs include wilting, stunted growth, leaf discoloration, mushy stem base, etc. Repot your plant cutting off any decayed roots.
Leaves are turning yellow: Overwatering is the most likely cause. Others are too little or much light, underwatering, low humidity, heat stress, and nutritional deficiencies.
Leaves curling: Causes include underwatering, low humidity, heat stress, lack of nutrients, pests, and too much light. Also, anything that results in water loss from leaves or makes roots not absorb water. These things include root rot and overfeeding, repotting shock, etc.
Drooping or wilting: Occurs because cells don't have enough water to remain rigid. Reasons are similar to those of leaves curling.
Leaves are turning brown: If you see brown tips and edges, the most likely causes are underwatering, low humidity, heat stress, or too much light. Brown spots may indicate pests or disease, while splotches occur due to overwatering. The other cause is freeze damage.
Where to find Philodendron tenue on sale
Etsy.com should be your first stop if you want to buy P. tenue. It more than a dozen vendors, and you will find some near your location or country, i.e., the US, the UK, Australia, Canada, etc. Next, try eBay, Facebook, and Instagram.
If you still haven't found this plant, google "Philodendron tenue for sale" to get more recommendations.
Frequently asked questions (FAQs)
Is Philodendron tenue rare?
Yes. Philodendron tenue is a rare or uncommon hard-to-find houseplant. You are unlikely to find it even in your tropical specialty plant stores, and none of the large horticultural growers or big box stores have it. Only a handful of people sell it online.
What is the price of Philodendron tenue?
Philodendron tenue price ranges from $25 to $100 depending on whether you buy a rooted cutting or an established plant. Larger specimens may cost you up to $200.