Would you like to learn more on mini Monstera or Rhaphidophora tetrasperma care, including the best soil mix, light needs, watering, feeding, pruning, repotting, and so on? We have all that and a lot more.
We will also discuss common problems like your Rhaphidophora tetrasperma having yellow leaves, black spots, brown tips, pests, diseases including root rot, etc. This part will help you quickly know why these problems happen and what to do where applicable.
Quick overview
| | |
| --- | --- |
| Care level | Low or easy |
| USDA hardiness zone | 11-12 |
| Humidity | 40-50% but will appreciate higher |
| Temperature | 55-85 degrees Fahrenheit but grows best at 70-80°F |
| Light | Bright, indirect light. Avoid low light or direct sun. |
| Soil | Airy or chunky, well-drained potting mix high in organic matter |
| Watering | Water when the top 1-2 inches of the soil feel dry. |
| Fertilizer | Feed every 2-4 weeks in the growing season with an all-purpose, balanced, liquid house plant fertilizer. |
| Pruning | Routinely cut dead, damaged, or diseased leaves with sterilized pruning shears. You can cut back the plant to control growth, size, or shape in spring or summer. |
| Repotting | Repot yearly or when rootbound |
| Support/stake | Use a moss pole, totem, trellis, and train your plant. |
| Problems | Pests, disease, leaf discoloration (turning yellow, black or brown), drooping or curling |
About Rhaphidophora tetrasperma or mini Monstera
Rhaphidophora tetrasperma is a slender liana loved for its glossy, deeply split leaves with occasional rhombic holes that sit adjacent to the midrib. This house plant is native to Malaysia and Thailand and belongs to the Araceae family arum (aroids).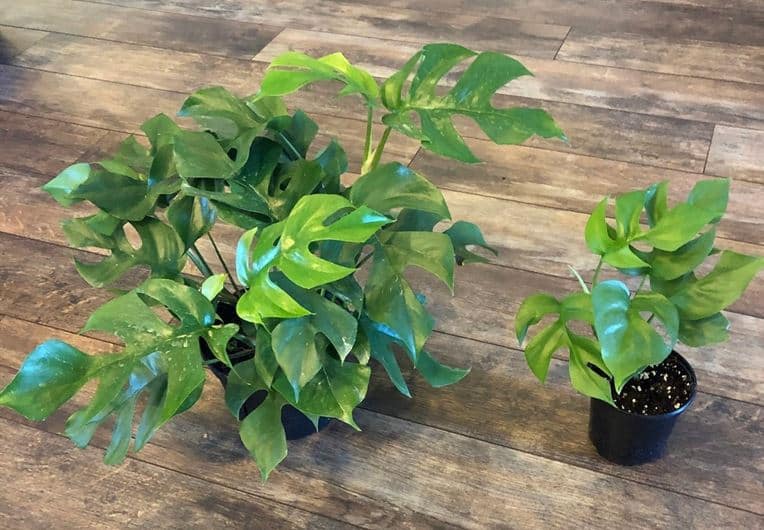 In its juvenile form, it shingles and resembles Rhaphidophora korthalsii, but the adult form doesn't shingle.
Rhaphidophora tetrasperma common names include Mini Monstera, Philodendron Ginny, Philodendron minima, Monstera minima, Monstera Ginny, Philodendron Piccolo, etc. Please note that this plant isn't a philodendron or Monstera. See more on Rhaphidophora tetrasperma vs. Monstera deliciosa.
You will find the typical green forms and variegated Rhaphidophora tetrasperma (Albo, aurea, and mint variegata), which will cost you a fortune. Also, there are tissue culture Rhaphidophora tetrasperma, which bear some slight differences.
Mini Monstera or Rhaphidophora tetrasperma care
Caring for your Philodendron ginny or Mini Monstera eas easy, i.e., these plants are low maintenance. You need to ensure they have a warm, humid, and well-lit area and water them appropriately.
Other needs include pruning, repotting, staking, and feeding. Don't forget to get the right soil mix, i.e., airy, well-drained, and nutrient-rich.
Here are Rhaphidophora tetrasperma care needs or growth requirements:
1. USDA hardiness zone
Rhaphidophora tetrasperma USDA hardiness zone is 11-12. These tropical plants aren't frost-hardy. Also, freezing temperatures will damage or even kill your plants.
Only people in the above zones can grow this plant outdoor all year. The rest must move it indoors when temperatures fall below 50 degrees Fahrenheit (10°C).
2. Mini Monstera humidity
As tropical plants, Rhaphidophora tetrasperma love humidity but can tolerate the average household relative humidity range, i.e., 40 to 50%, but the ideal will be 50-60% or more. So, if you want lush and larger leaves, increase the humidity by misting your plants or using a pebble tray
More ways to increase humidity include moving them to more humid rooms like the kitchen or bathroom if they have enough light or grouping your plants to create a microclimate.
However, people with very low humidity should buy a humidifier. LEVOIT Humidifiers Top Fill, 6 Liter, Cool Mist is the best pick for very large rooms. It runs for up to 60 hours with a coverage of 505 ft²
For smaller rooms, buy AquaOasis™ Cool Mist Humidifier, amazon's best seller. It runs for up to 24 hours and has many amazing features. 
Last but not least, when humidity is low, leaves may have brown tips and edges, curl, droop or wilt, etc., with the variegated Rhaphidophora tetrasperma more vulnerable.
3. Temperature
Mini Monstera can grow in a temperature range of 55 to 85-degree Fahrenheit (12.8-29°C) but will grow optimally at 70-80°F (21-27°C).
Avoid temperatures below 50°F as they won't be growing. Also, ensure no cold drafts, sudden temperature changes, or heat stress.
Last but not least, please don't place your plant on the air conditioning or room heating vents, near radiators, furnace place, etc.
4. Rhaphidophora tetrasperma light needs
Rhaphidophora tetrasperma needs bright indirect light for about 12 hours a day. They don't seem to thrive well in low to medium light. Instead, your plants will have smaller foliage and look leggy. Too little light may make leaves turn yellow or even drop.
On the other hand, avoid direct sunlight as it will cause sunburn, i.e., pale, bleached, or washed out leaves with brown tips, edges, and patches. Also, other things like leaf curling, drooping, etc., may occur. So If grown outdoors, have them in a greenhouse or under a shade.
People living in houses that don't get enough light should buy grow lights with 10,000 to 20,000 lux. A good pick is Relassy 15000Lux Sunlike Full Spectrum Grow Lamp. This brand lasts up to 50,000 hours, has a gooseneck clampable stand and is affordable.
If you struggle with deciding which window, the south-facing has the most light. But ensure you place your plant at a distance where they don't get direct sunlight.
The west and east-facing windows are ok, and you can allow a bit of early morning sun as it won't cause much harm if you opt for the east-facing one. For the west, ensure no hot afternoon sun hits your plants.
The north window doesn't get direct sun and may not have enough light in winter. Your plant will still survive but may grow slowly.
Lastly, to determine if your plant gets enough light, buy an illuminance meter. Dr. meter LX1330B Digital Illuminance Light Meter is our favorite brand.
5. Rhaphidophora tetrasperma soil mix
The best soil mix for Rhaphidophora tetrasperma should be airy, well-draining, and rich in organic matter. A slightly acidic pH 6.1 to 6.5 works best, but this plant can still grow well in neutral soils, pH 6.5 to 7.3.
An aroid mix like the soil mix you use on Monstera, Philodendron, Scindapsus, or alocasia will work well. You can buy one or make yours. Etsy.com has the best aroid soil mix that won't let you down.
To make yours, start with a premium potting mix and add one or two a handful of coco husks (or bark chips), peat moss, and perlite. You can then add a handful of charcoal and compost (increases organic matter). Some people also add sphagnum moss. It is ok.
Perlite, bark chips, and coco-husks will help improve drainage, while peat moss or coco coir will help it retain water. What about charcoal? It will benefit soil microbes and help the soil hold on to nutrients.
6. Rhaphidophora tetrasperma watering
Before we tell you how to water this aroid, you need to know that it prefers moist, not soggy, or dry soil.
We recommend that you water your Rhaphidophora tetrasperma when the top 1-2 inches of the soil feels dry. For some people, it may be after 3-7 days in spring and summer and 12-14 days in the non-growing season.
The exact frequency of watering this houseplant depends on your conditions (humidity, temperature, or light), plant size, pot type or size, etc.
So, only water when the potting mix feels dry up to the first knuckle of your finger. A better way is to use a soil moisture meter. We use XLUX Soil Moisture Meter and water when the reading is three or less. This brand is accurate and responds fast. You can go for one with a long or short probe. 
When watering, saturate the soil until excess water flows from drainage holes. If you have a cachepot or saucer, pour away any water collected after 15 minutes.
Since watering is one of the critical Rhaphidophora tetrasperma care needs where you don't want to go wrong, let us look at overwatered and underwatered signs.
a. Overwatered mini Monstera
Overwatering is a serious problem that will cut oxygen from roots and favor the growth of soilborne pathogens that cause root rot. Remember, roots cannot work well or grow without oxygen.
Indicators include a constantly wet potting mix, lower leaves turning yellow, and dropping leaves that don't improve with watering. More signs are brown or black splotches, moldy potting mix, mushy stem base, stunted growth, etc.
Hold the watering, check for signs of root rot, and amend the soil if it doesn't drain well. Also, provide optimum conditions (temperature, humidity, and light), avoid oversized pots, and ensure they have drainage holes.
b. Underwatered Monstera minima
Neglecting plants, small pot, low humidity, improper watering, or potting mix that dries too quickly may result in a thirsty plant. How do you tell your plant is thirsty? Look at the signs.
Signs of underwatered R. tetrasperma include soil pulled from a pot, leaves curling, drooping, turning yellow, having brown tips and edges, and stunted growth. Also, your plant may drop leaves, wither and die.
Give your water a proper drink and be watering whenever the soil feels dry, not following a schedule. Also, have a reminder, or go for a self-watering.
7. Fertilizer
Feed your Monstera maxima monthly (or after 2-3 weeks) during the growing season with an all-purpose, balanced, liquid houseplant fertilizer at half recommended strength. In the non-growing season, don't feed.
An NKP 20-20-20 or 10-10-10 is ok. We use Bonide 10-10-10 Liquid Plant Food once a month. We add ¼ a teaspoon per quart of water use use the solution to water our plant.
We have friends who use Miracle-Gro Indoor Plant Food (Liquid) biweekly, and their plants are super lush.
Also, you are free to go for even the slow-release formula. But start applying in early spring and follow instructions.
8. Pruning and grooming
These plants require regular cutting of dead, diseased, or damaged leaves with sterilized gardening shears. Also, you should wipe or clean their leaves if they are dusty.
In early spring, you can cut back the plant a bit to control growth, shape, or size. However, don't cut more than 25% of the branches at one go.
Last but not least, don't overfeed your plant least fertilizers burn this plant's fragile roots.
9. Repotting
Mini Monstera repotting should be yearly or when rootbound. They are fast growers and will require repotting more often. But once they reach the size you want, repot them after about two years or if rootbound.
We recommend repotting in spring or early summer unless it is vital. And when repotting, use a pot 2-3 inches wider in diameter.
10. Staking or support
As a slender liana, you need to provide and train your mini Monstera on a totem, moss pole, trellis, etc. You can even let it climb on the walls arbor (outdoor).
If honesty is anything to go by, we don't find this the kind of plant that looks best on a hanging basket, but some people love it that way.
Common problems and issues
As you care for your mini Monstera, it may have issues or problems such as pests, diseases, or leaf discoloration. Leaves curling or the plant drooping may also happen.
Let us look at each of these likely problems and give you causes, signs, or fixes whenever applicable. Most of them have to do with the Rhaphidophora tetrasperma care and growth conditions.
1. Pests
For indoor-grown plants, pests are rare. Also, if you often check your plants beneath the leaves, you will notice these bugs early enough before considerable damage.
Spider mites, scale insects, and thrips are the most likely. But your plant may also have whiteflies, aphids, and mealybugs. These bugs will appear as bumps, dots, spots that may move—some fly, and they will suck sap from leaves.
Signs depend on the bug present. Check for honeydew, sooty mold, webbing, silvery stippling or white, black, brown, or yellow spots. A heavy infestation will cause curly or distorted leaves, yellowing, or dropping.
Use insecticidal soaps, neem oil, or horticultural oil spray to deal with these bugs. Bonide Ready to Use Neem Oil will help you treat all these pests.
2. Disease
If you practice proper sanitation (cleaning hands, sterilizing gardening tools, etc.), water, and give your good care, diseases are uncommon. Nevertheless, they can happen, with the common one being root rot. But fungal and bacterial leaf spots, including rusts and blights, are possible.
Fungal and bacterial leaf spots will cause brown to black lesions that may have a yellow halo. If water-soaked, it is likely bacterial.
Discard plants with bacterial infection and use fungicide for fungal diseases.
On the other hand, Rhaphidophora tetrasperma root rot often occurs if you overwater your plant, your pot doesn't have a drainage hole, or soils down drain well. Signs include leaf discoloration (yellowing or browning), wilting, stunted growth, leaves falling off, moldy potting mix, a mushy stem base, etc.
Immediately repot your plant cutting any brown or black roots. Then get a well-draining potting mix, and don't overwater your plants. But if the whole root ball has decayed, discard the plant.
3. Rhaphidophora tetrasperma yellow leaves
Rhaphidophora tetrasperma yellow leaves likely indicate overwatering if it affects lower leaves. However, please don't confuse it with normal aging.
Other causes include too little light, low humidity, too much light, pests, diseases, overfeeding, heat stress, and nutritional deficiencies.
Check any possible causes of mini Monstera leaves turning yellow until you can pinpoint the exact cause.
4. Brown leaves, spots, edges, or tips
Rhaphidophora tetrasperma brown tips, edges, and patches or leaf scorch occur mainly due to underwatering, low humidity, heat stress, too much light. But if you see brown spots, likely causes include pests or diseases, and if brown splotches, it may be overwatering.
Other less likely causes include fertilizer burns (causes brown tips and edges), while cold drafts may make leaves brown overnight.
5. Black spots or leaves turning black
Rhaphidophora tetrasperma black spots are likely an indication of pests or diseases. But it may be an overwatering issue if you see splotches, including brown ones. Other less likely causes include frostbite or cold drafts and physical damage.
6. Leaves curling
Leaves curling is a response to either conserve moisture or protect the plant. The most frequent causes are underwatering, low humidity, heat stress. But it can occur in case of root rot (plants unable to absorb water), too much light, overfeeding (if it burns roots), or overwatering.
Rootbound plants, transplant shock after repotting, and heavy pest infestation may also make leaves curl.
7. Drooping
Plants droop when their cells don't have enough moisture to help keep them rigid or turgid.
If your mini Monstera leaves are drooping, the most likely cause is lack or plant losing moisture faster than it absorbs. The other one is the inability to intake water.
The most likely drooping leaves causes are underwatering, low humidity, heat stress, or too much light. Less likely ones include overwatering, root rot, pests, overfeeding (burns roots or add salts to the soil, making it hard to absorb water), and rootbound.
Last but not least, it may be plant shock if the drooping occurs after repotting, transplanting, or relocating your plant.