Zamioculcas zamiifolia or ZZ plant yellow leaves likely causes are overwatering, underwatering, too much light or little light, heat stress, and cold drafts. But less likely reasons like low humidity, pests, diseases, repotting, rootbound, nutritional deficiencies, etc., may cause this yellowing.
It shouldn't be challenging to identify why ZZ plant leaves turn yellow because it rarely happens alone. So, we will also give you common signs that come with each cause, like leaf scorch (crispy brown tips and margin), wilting, drooping, curling, stunted growth, l curling, etc.
Last but not least, note that there are variegated ZZ plants that have yellowish, cream, or whitish marbling, streak, and sectors. It is normal.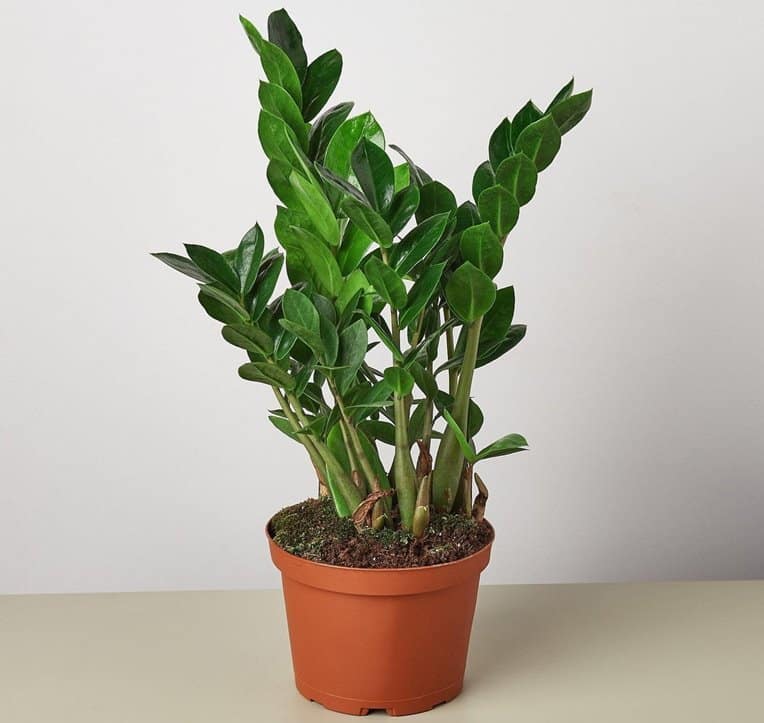 Why are ZZ plant leaves turning yellow?
Is your ZZ plant turning yellow? It means something is degrading chlorophyll (the green pigment) or care, and other environmental factors prevent usual synthesis.
Factors that may influence chlorophyll manufacture or degradation include light, temperature, water, minerals, aging, parasites, and disease. Also, water quality and some herbicides may have an impact.
ZZ plant yellow leaves cause
You know the factors that may influence the production or degradation of chlorophyll, consequently causing yellowing or chlorosis. Let us now look at the various causes.
1. Moisture issues
Overwatering, underwatering and inconstant watering (alternating between dry and wet potting mix) can be reasons for ZZ plant leaves turning yellow.
Overwatering
If you notice lower ZZ plant leaves turning yellow, start by feeling the potting mix with your finger. Is it soggy? If so, overwatering may be the reason. Also, your plant may have black or brown blotches, wilt or droop, lose leaves, or have a moldy potting mix. ZZ plant root rot is also possible.
The yellowing occurs because waterlogged soil cuts oxygen from roots. Consequently, they cannot function or absorb water and food as usual. Also, they become vulnerable to root rot.
Underwatering
While testing, the potting mix feels bone dry past the second knuckle, then the yellow leaves may be a sign of an underwatered ZZ plant. Other signs are leaves curling, drooping or wilting, or having crispy brown edges and tips (leaf scorch), stunted growth, etc.
Your plant cannot absorb the nutrients necessary for chlorophyll synthesis without water. Also, lack of water promotes faster chlorophyll degradation
Poorly timed watering
Alternating between completely dry and wet soil will stress your plant, making leaves tu turn yellow and other symptoms.
What to do
Water your ZZ plant when the potting mix is almost completely dry. i.e., they love the soil to dry out a bit between watering. And when watering, soak the soil thoroughly until excess water flows from drainage holes. Discard whatever collects on the saucer.
If underwatering is the problem, ensure the potting mix holds moisture and your plant isn't rootbound. Also, set a reminder after you determine the in-between waterings duration. But first, feel the soil before watering.
For overwatering, hold the watering. Then check if the potting mix drains and the pot's drainage holes are open and provide optimum conditions.
2. Improper light may cause ZZ yellow leaves
Too much or too little light is another reason ZZ plants yellowing leaves. All flowering plants, including your Zamioculcas zamiifolia, need light to make chlorophyll. But too much will cause damage.
Too much light
If your plant receives direct sunlight, especially midday and afternoon, the pale, bleached, washed out, or yellowish leaves are due to too much light. Other signs are leaf scorch, wilting or drooping, and curling.
Too little light
ZZ plants grown in areas that receive insufficient light may have smaller, paler, or yellow leaves. Also, your plant will grow slowly, and the soil will take longer to dry.
What to do
ZZ plants thrive best in bright, indirect light. So, if your plant is at a spot where it doesn't get enough light, move it to a place with bright indirect light or buy grow lights.
A brand like Briignite LED Grow Light Bulb (Amazon's best-seller) should work well. It has a long lifespan (about 50,000 hours), and fits any standard E26 sockets. Also, it uses only 11 watts.
To be sure you have enough light, buy Dr. meter LX1330B Digital Illuminance Light Meter. Ideal light should be between 10,000 lux and 20,000 lux. 
On the other hand, move this plant away from the direct sun. Outdoors, please take it to a shade or grow it in a greenhouse. Inside your home, put it at a distance where the direct sun doesn't hit it. The south-facing and west-facing will likely allow the direct sun to hit your plant in the northern hemisphere.
3. Nutritional deficiencies
If you haven't repotted your ZZ plants for a long time, your soil mix is low nutrients, and you don't feed this plant, yellowing leaves may signify a lack of vital nutrients. Also, being alkaline may affect the availability of some minerals like iron.
Nutrients play many vital roles, including chlorophyll synthesis, and a deficiency of some may result in chlorosis. For instance, minerals like magnesium and nitrogen are components, and others like iron, zinc, manganese, molybdenum, etc., participate in one or the other.
It, therefore, goes without a say that a deficiency of these nutrients will result in yellowing. Iron and manganese will cause interveinal chlorosis that affects upper leaves first, while nitrogen, zinc, and magnesium will affect lower leaves first. Other minerals like molybdenum, sulfur, etc., will also cause chlorosis.
What to do
ZZ plants can thrive in various soils but must be nutrient-rich, slightly acidic, and well-drained. Also, feed these plants with balanced, like 10-10-10 or 20-20-20 liquid, houseplant fertilizer monthly at half strength in growing months.
To help them get enough nutrients, start by repotting your plant to a well-drained potting mix with added organic matter like compost or worm castings. It should be slightly acidic, pH 6.0 to 7.0. Then, feed your plant and use premium fertilizers.
4. Extreme temperatures
When at high temperature or heat stress and cold drafts or chilly conditions, your ZZ plant leaves may turn yellow. Why? Because these extreme temperatures negatively impact chlorophyll formation and may cause destruction or degradation.
Heat stress or high temperature
It is easy to assume heat stress or high temperature isn't a cause because you don't feel the heat. But your plant may be near a radiator, room heating vent, furnace place, or appliances that emit heat.
Other signs you may notice are leaf burn, curling, drop, wilting or drooping, stunted growth, etc.
Cold drafts
During winter, plants in drafty places may have black, brown, whitish, yellow leaves. Also, expect a burnt look, mushy leaves, etc. The yellowing is due to low temperature, which negatively affects chlorophyll formation and may degrade.
Sudden temperature changes
Sudden temperature change, drop or rise may cause browning or yellowing, wilting, drooping, etcetera. The discoloration and other symptoms occur because the change stresses your plant.
What to do
Don't put your plant near heat-emitting sources (heat vents, radiators, space heaters, fireplace, or appliances like oven, stove, fridge, etc., that emit heat).
During winter, move your plants from drafty areas like doorways, windows, air conditioning units, etc.
5. Pests
Although not common indoors, your plant may end up with pests like spider mites, scale insects, aphids, mealybugs, fungus gnats, and so on.
Except for fungus gnats, the rest will suck plant juices. Also, some may inject poison into leaves. Some of the signs of heavy infestation are leaves dropping, mishappened, curly, yellow, etc.
Other signs include webbing, honeydew, sooty mold, black, brown, yellow spots, etc. The exact ones will depend on the pest present.
Lastly, fungus gnats larvae form feeds on roots and will cause sudden wilting, leaves falling, turning yellow, and may kill your plant. Signs include the presence of harmless adult flying critters.
What to do
Since they are tiny, we recommend a 10X magnifying glass to observe leaves, mainly the underside, to see if they have any bugs.
If you see any bugs, use insecticidal soaps, horticultural oils, or neem oil to treat the sap-sucking. For fungus gnats, pour a 20% hydrogen peroxide solution to the root area (1 part of hydrogen peroxide to 4 of water)
6. Diseases
Diseases, just like pests, don't present a significant challenge for Zamioculcas zamiifolia houseplants. But if you overwater them, they may get root rot.
ZZ plant root rot signs include yellow leaves, wilting, stunted growth, mushy stems, etc. Roots will also be mushy, black, or brown and may have lesions or slough easily.
What do to
Slide your plant from its pot and check if the roots are mushy, black, or brown. If so, you need to repot your plant immediately. As you do so, cut any decayed bits with sterilized pruning scissors.
Then, reduce the watering frequency, amend the potting mix if it doesn't drain, and ensure your pot has drainage holes.
7. Aging causes ZZ plant yellow leaves
Aging is an expected cause of yellow leaves, i.e., as plants edge, there will be chlorophyll and other pigment degradation. As a result, you will see leaves turning yellow, then brown before dying and falling off the plant.
What to do
Aging will only a few 1 or 2 of the lower and older leaves at a time. There is nothing much to do to prevent it from happening. We recommend you cut off any yellow or brown leaves because they still depend on the plant yet do not benefit it. Also, such leaves may be a haven for pests.
Less common ZZ plant leaves yellowing
Low humidity - ZZ plants can thrive well in average household humidity, i.e., they don't need extra humidity. So, it is a less likely reason for the yellowing of leaves. But if yours is too little, signs include leaf scorch, curling, yellowing, slow growth, wilting, drooping, etc. Mist it, have a pebble tray, or buy a humidifier. Also, you can move it to a more humid room (kitchen or toilet) or group your plants to create a microclimate.
Water quality: Water high in fluoride, chlorine, salts, or heavy metals may contribute to the yellow leaves on ZZ plants or browning. So, if you use tap water, switch to filtered or rainwater. If only chlorine is the problem, let your tap water stand in an open container overnight. It helps dissipate some of the chlorine.
Rootbound: If it outgrows the pot (rootbound), your plant cannot get enough water or nutrients, and one sign will be the yellowing of leaves. Other signs are roots growing from drainage holes or spiraling around the pot, stunted growth, leaf scorch, leaves falling off, wilting, drooping, etc. Repot your ZZ plant to a larger pot, i.e., 2-3 inches wider in diameter.
ZZ plant leaves yellow after repotting or transplant: The yellowing, browning, leaf scorch, curling, drooping, wilting, leaf drop, etc., occurs due to plant shock. Provide optimum growth conditions, keep the soil moist and minimize root damage when repotting.
Overfeeding: Too much fertilizer may cause root burn and accumulation of salts in the soil. Both these two actions will affect water and nutrient absorption. Signs include fertilizer burns, yellowing of leaves, stunted growth, leaves falling, etc. Leach or repot your plant and only feed it a month with a balanced, liquid houseplant fertilizer at half-strength.
ZZ plant leaves turning yellow and brown
Most of the causes of yellow leaves on ZZ plants will also cause brown tips, edges, spots, or brown leaves. If you see yellow leaves and brown tips or margins, the most likely causes are underwatering, too much light, heat stress, and low humidity.
On the other hand, yellowing and brown spots will signify pests or diseases, while brown blotches may be a sign of cold drafts or overwatering.
Should I cut yellow ZZ plant leaves?
Yes. It would help to cut ZZ plant yellow leaves with sterilized gardening scissors. Why? Because the yellow leaves still depend on the plant but don't contribute. Also, they may attract pests and are vulnerable to diseases.
How to go about it depends on the area affected and the cause. If only a tiny spot on the tip or margin is yellow, remove it but if the whole leaf is affected, cut it as close to the stem as possible. Also, remove any leaf or part if the cause is a disease.