The reasons for calathea leaves curling up are underwatering, low humidity, overwatering, extreme temperatures, and too much fertilizer or light. But nutritional deficiencies and pests can also make the leaves curl downward or upward.
Learn more on these reasons, other signs to expect, and fixes. We also have Calathea care and growth requirements to help you pinpoint where you are going wrong.
Last but not least, the reasons why Calatheas curl leaves apply to species like Calathea Ornata (pinstripe calathea), Calathea medallion, Calathea lancifolia (rattlesnake plant), Calathea roseopicta (rose painted calathea), etc.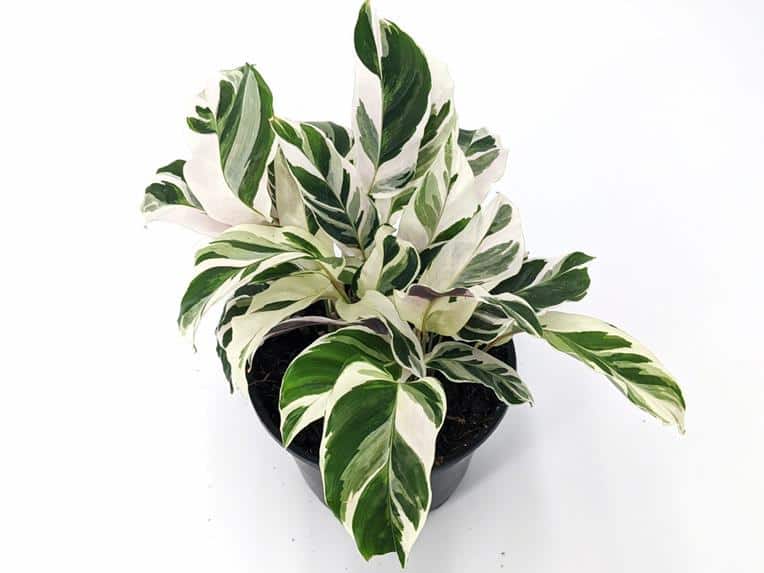 Calathea care and growth requirements
Most of the reasons your calathea leaves are curling are from environmental stress. This means some growing conditions are unmet. Let us briefly see care needs. They will help you identify if you are making some mistakes.
| | |
| --- | --- |
| Care level | Easy or low maintenance |
| USDA hardiness zone | 11 to 12 |
| Temperature | The ideal temperature is 65°F to 80°F (about 18°C to 27°C). Avoid temperatures or cold drafts below 55°F (12.8°C). |
| Humidity | Average to above average. Give them at least 50% or more |
| Light requirement | Bright, indirect light |
| Best soil | Well-draining, nutrient-rich, and aerated slightly acidic soil with pH around 6.5. |
| Watering | Medium. All the top 25% or 2 inches of your potting mix is dry. This may be about once a week. But this depends on your temperature, humidity, season, light, plant size, pot type, pot size, and so on. |
| Fertilizer | Feed them with a balanced (10-10-10 or 20-20-20) fertilizer for houseplants once a month in growing months (summer and spring) only. |
| Pruning and grooming | Routinely remove any damaged, diseased or dying leaves with a sterilized gardening scissor. Also, clean any dusty leaves with a soft damp piece of cloth. You can cut a few stems in the growing season to encourage fuller growth (branching) and control plant shape and size. |
| Repotting | Calathea require repotting every 2 to 3 years, or if rootbound |
| Propagation | Division in spring or summer |
| Toxicity | It is safe, i.e., Not toxic, humans, cats, dogs, and other pets |
1. Watering and water quality issues
Overwatering, underwatering, and water quality are possible reasons for calathea leaves curling.
a. Underwatering
is your potting mix so dry and pulled from pot edges, and your calathea leaves are curling up or inward? Your plant is probably thirsty, and this is the most common cause of curling. When they cannot get enough water, these plants will cup or roll to minimize water loss.
Besides dry soil, the leaves may also droop, have crispy brown edges and tips, or turn yellow. Also, your plant will grow slowly, drop leaves, wither or die if you do nothing.
b. Overwatering
Overwatering calatheas may be a reason why the leaves curl. Check for signs such as an always wet potting mix and lower leaves turning yellow. Other signs are wilting drooping leaves that are not dry or crispy, leaf edema, brown or black splotches on leaves, and so on.
If root rot has set in, the potting mix may be moldy and mushy stem base. You need to act quickly, or else your plant will die. It will require repotting.
Why do leaves curl? The reason is simple. Both root rot and overwatering make it hard for roots to absorb water. Thus, your plant will not get enough water, and curling is a mechanism to help conserve water.
c. Water quality
If you use tap water, salts, minerals, chlorine, and fluoride may accumulate in the soil over time. These will cause scorched leaves, yellowing, browning, and leaf curling.
d. Fix- How to water your calathea plant
Only water your calathea when the top 25% of the potting mix is dry. This may be about once a week, but it depends on environmental conditions and other factors. Never follow a watering schedule.
Instead, feel the potting mix. Your plant needs a drink if it feels dry up to the first knuckle. Also, you can use a good soil moisture meter like XLUX Soil Moisture Meter. Water when the reading is three or less. 
If your plant is thirsty, give it a good soaking or drink, i.e., water it until excess water flows from drainage holes and pour any that collects on the saucer. You can also opt for a bottom or reverse watering. Also, check if your soil dries too quickly or you have a tiny pot (soil to dry fast)
On the other hand, if overwatering is the issue, hold on to watering until the top ¼ of the soil feels dry. Then check if drainage holes are open and if your potting mix drains well. Also, ensure you don't have an oversized pot. These things may cause overwatering.
Last but not least, if you are using tap water, switch to rainwater (the best because it is slightly acidic) or filtered water. It should resolve any curling leaves due to water quality issues.
2. Low humidity and calathea leaves curling
A home with low humidity can make calathea leaves curl. Why? The dry air will increase water loss. In response, the leaves will curl to prevent much loss.
Your potting mix may not be as dry but will dry quickly. Also, your plant will look dull. Other signs are like those of a thirsty calathea.
Fix
We suggest you get a hygrometer. This way, you will be sure if it is an issue of dry air.
If you have low humidity, mist your plants a couple of times a week or have a pebble tray. For very low humidity, buy a humidifier. We love LEVOIT Humidifiers Top Fill, 6 Liter, Cool Mist since our plants are in a large room. It runs for up to 60 hours, isn't noisy, and has Vesync APP. So, you can connect it to third-party voice assistants. 
Last but not least, you can move your plant to more humid rooms like the bathroom or kitchen or group them.
3. Extreme temperature
Both very high temperatures and coldness, including cold drafts, are reasons for calathea leaves curling.
a. Low temperature and cold drafts
Is your plant in a drafty area during winter, or are temperatures too low or chilling? These could be a reason for your calathea leaves curling. The plant is curling up to protect itself and maybe a means to prevent freezing damage, i.e., prevents fast thawing.
Other telltale signs are wilting or drooping, leaf discoloration (turning brown, whitish, yellow, or black with some leaves turning brown overnight), and a burnt look.
b. Heat stress
High temperature and heat stress will make your plant lose water fast. Thus, they will curl their leaves to save on lost water. Also, they may do it to protect themselves from the heat. It reduces leaves' surface area.
Signs to expect are leaves with crispy brown edges and tips, and the potting mix may dry fast. Also, the leaves will droop, curl, turn yellow, and the plant will grow slowly.
c). Fix
Always maintain an ideal temperature of 65°F to 80°F and ensure the nighttime temp. doesn't go below 50°F. You will need a thermometer such as Govee Hygrometer Thermometer H5075. It has an app that will alert you when temperatures go beyond set points. Also, you can control it remotely, and it is affordable.
During winter, move plants from outside, open doorways, and windows or close them. If the house temperature goes too low, you need to turn on your heating systems.
That is not all. Please don't place your plant on heat system vents, fireplace, furnace, or other appliance that radiates heat. Also, in case of a heatwave, move your plants to a shade or cooler place.
Lastly, ensure no sudden dips or spikes in temperatures. This sudden change will stress your plant.
4. Too much light and calathea leaves curling
Do you place your calathea under direct sunlight? It may be a reason why its leaves curl. It does so to help reduce water loss and perhaps protect itself from much light. Plants usually convert excess light energy to heat and use transpiration to keep cool.
Besides curling, the leaves will look pale, yellow, bleached, or washed out. Also, the leaf tips and margins may turn brown, or they may droop or wilt.
Fix
Provide your plants with bright, indirect light. Avoid direct sunlight by placing them away from the window or having a shade cloth, greenhouse, or a shade if outdoor. A little early morning and evening sun is ok.
5. Overfeeding and nutritional deficiencies
Both too much fertilizer and nutritional deficiencies will cause calathea leaves to curl downward or upward. How?
a. Too much fertilizer
Too much fertilizer and using wrong fertilizers will result in root burn, soil pH change, and excessive salt deposits in the soil. These will affect nutrient and water absorption. If your plants cannot get water, your calathea leaves will curl up to reduce water loss.
When overfed, you will see fertilizer deposits on the soil. Also, the leaves may turn yellow (lower ones), wilt, drop, or your plant may end up with fertilizer burn – yellow or brown withered leaf tips and margins.
b. Nutritional deficiencies
Nutritional deficiencies may be a reason for calathea leaves curling downward or upward. The signs will depend on which nutrient your plant lacks. Below are a few:
Phosphorus: it will cause dark-green or bluish shiny leaves that may have brown or bronze splotches. The leaves may also curl downward.
Calcium: Calcium deficiency affects younger leaves more. They will grow slowly, and leaves will curl downward and will have brown tips and edges.
Magnesium: Leaves will have interveinal yellowing, and the leaf margins will curl upwards.
c. Fix
Feed your plants once a month with a balanced, like 10-10-10 or 20-20-20, preferably liquid or water soluble houseplant fertilizer in spring and summer. Don't fertilize them in winter or when they are not growing. However, slow release formula are also ok.
Our favorite is Jacks Classic No.1.5 20-20-20 All Purpose Fertilizer by J R Peters Inc. Besides sodium, potassium, and phosphorus, it also has boron, iron, zinc, copper, molybdenum, and manganese. Add ½ a teaspoon to a gallon of water and use this solution to feed your plant. 
If overfertilized, flush the soil or repot the plant. If you opt to flush it, pour a lot of water at room temperature through the potting mix. This water will wash the excess fertilizer.
6. Can pests cause calathea leaves curling
If your calathea sap-sucking pests like mealybugs, spider mites, thrip, aphids, or scale insects, they may cause not just curled but ruffled and deformed leaves. Here, the leaves can curl in any direction, i.e., upward or down.
Leaves curl because these bugs drink plant juices, making them thirsty. They will respond by curling leaves to help save further loss by transpiration. Also, some inject toxins that cause the leaves to be curly and deformed.
Fix
Hose your plant to knock some of these bugs off your plant. Also, use cotton buds dipped in rubbing alcohol to wipe them off. If you have a heavy infestation, go for insecticidal soaps, neem oil, or horticultural spray oils.
If you haven't purchased any of these products, here is our recommendation:
Bonide BND022- Ready to Use Neem Oil - This highly-rated brand works against various insects and mites. Also, it may protect against some fungal diseases. 
Garden Safe Brand Insecticidal Soap Insect Killer - It will kill whiteflies, spider mites, aphids, mealybugs, scale insects, etc., by contact. 
BonideAll Seasons Horticultural and Dormant Spray Oil, Insecticide - It is suitable for mites and insects and may help control some diseases like powdery mild, rust, botrytis, greasy spots, etc. 
7. Being rootbound
If you see roots growing from drainage holes and your calathea leaves curling, it may indicate your plant is rootbound. It means that your plant has outgrown the pot, and it cannot get enough water or nutrients. It curls to conserve water, just like when it is thirsty.
Fix
If this happens in spring or summer, you need to repot the plant. Otherwise, leaves will turn yellow or look burnt. Also, your plant will grow slowly, drop leaves, and so on.
Normal reasons for calathea leaves curling
Not every case of curling calathea leaves means something is wrong. Some instances are usual.
1. Nyctinasty behavior
Calatheas are prayer plants. At night they will raise or slightly cup or curl up their leaves as if they are praying. This movement happens in response to darkness.
2. New leaves emerging
New leaves emerge curled inward. If your plant has optimum growing conditions, give it time, they will unfurl after some time.
3. Transplant shock - repotting or relocation
After transplanting or repotting your calathea leaves may curl. Also, you will see some yellowing or browning, leaf burn, leaf drop, and so on. Your plant is still adjusting, and it cannot effectively absorb water and nutrients. So the curling is to conserve moisture.
About Calatheas
Calathea is a genus of about 60 flowering plant species Arrowroot family Marantaceae. Plants in the Marantaceae are known as 'prayer plants,' but actual prayer plants are those in the genus Maranta.
These evergreen perennials native to tropical America, especially Brazil, make lovely pot plant. People treasure them for their broad, colorful foliage, i.e., they have bright colors such as orange, white, pink, red, etc., variegations. Some species also have colorful or attractive inflorescence flowers, i.e., the C. crocata
The most popular species are Calathea Ornata (pinstripe calathea), Calathea veitchiana (Calathea medallion), Calathea lancifolia (rattlesnake plant), and Calathea roseopicta (rose painted calathea).
But there are others equally popular that include:
C. warscewiczii Calathea Jungle Velvet
C. concinna (Calathea Freddie)
Calathea makoyana (Peacock plant)
C musaica (Network)
C. rufibarba (Furry feather or velvet calathea)
Calathea. ornata var. sanderiana (Calathea sanderiana)
C. zebrina (zebra plant)
C. vittata
Calathea lietzei (Calathea white fusion)
C. crocata
C. orbifolia
Calathea rotundifolia
Last but not least, note that Calathea triostar isn't in the Calathea. Instead, it belongs to the genus Stromanthe and is known as Stromanthe sanguinea