Common reasons for Maranta leuconeura or prayer plant yellow leaves are overwatering, underwatering, low light, too much light, low humidity, nutrient deficiency, and too much fertilizer. But it can be pests, disease, being rootbound. Some yellowing due to aging is normal.
The yellowing may occur on the entire leaf, in-between veins, or around leaf margins. Also, your prayer plant may have yellow spots.
We have reasons for prayer plant leaves turning yellow, signs to expect, and what to do. These reasons will apply to the various varieties or cultivars like Kim, Lime, Marisela, Black, Green, or red prayer plant. Also, they will be the same reasons other Maranta or Stromanthe, Calathea, Ctenanthe which also have varieties or species called 'prayer plant.'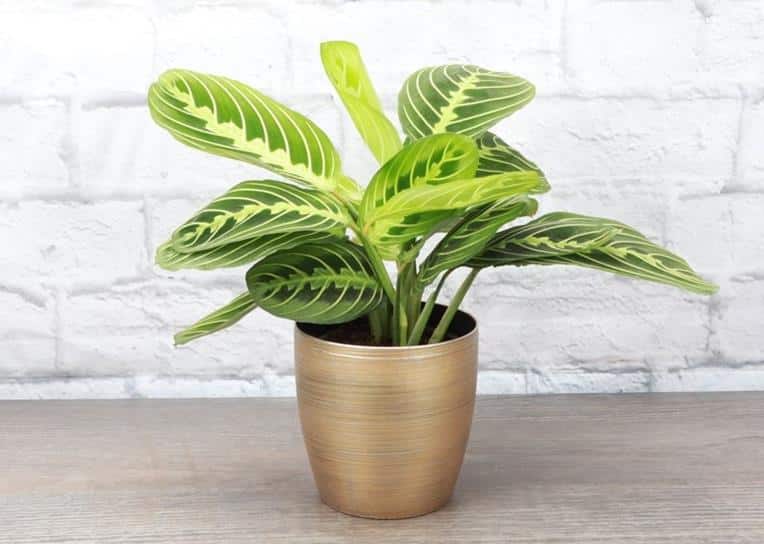 Prayer plant care and growth requirement
Most things that make Maranta leuconeura end up with yellow leaves or chlorosis have to do with the care and growth requirement. We felt it good to give you the care needs. This way, you may quickly know where you are doing it wrong.
| | |
| --- | --- |
| Care level | Low maintenance or easy |
| USDA hardiness zone | 11 to 12 |
| Temperature | The ideal temperature is 65°F to 85°F (about 18°C to 30°C). Avoid temperatures below 55°F (12.8°C). |
| Humidity | Prayer plants love above average to high humidity, 60% or more. |
| Light requirement | Bright, indirect light |
| Best soil | Well-drained, aerated, and nutrient-rich potting mix or soil. Let it be slightly acidic, pH 5.5 to 6.0 |
| Watering | Medium. What when the top 25% of the soil is dry. This may be about once or twice a week, depending on your environmental conditions and other factors. |
| Fertilizer | Feed them once a month in spring and summer with a liquid houseplant fertilizer. |
| Pruning and grooming | Cut off any damaged, dead, or dry leaves with sterilized gardening scissors and clean dusty leaves with a soft damp piece of cloth. In the growing months, you can chop off a few stems to encourage branching and control growth. Do these 2 to 3 times a year. |
| Repotting | It needs repotting after every 2-3 years or if rootbound |
| Propagation | Stem cutting in water or soil |
| Toxicity | Not toxic, i.e., it is safe to humans, cats, dogs, and other pets |
Reasons for prayer plant leaves turning yellow and fixes
Yellowing of prayer plant leaves happens when plants cannot make enough chlorophyll or environmental factors degrade it.
Factors that influence chlorophyll synthesis include light, minerals, water, and temperature. Anything that affects any of these may result in chlorosis or yellowing.
1. Watering issues
Overwatering, underwatering, and water quality are causes of Maranta leuconeura plant leaves. Water influences chlorophyll manufacture both as a medium where reactions occur and by helping transport nutrients to leaves.
a). Overwatering
Surprisingly, overwatering is the most common cause of prayer plant yellow leaves. These plants are sensitive to overwatering and don't like wet feet.
When overwatered, the soggy soil pushes oxygen out. The roots become suffocated, weak, and will fail to absorb water and minerals well.
If you don't rectify the issue, your plant will soon get root rot. This happens because the wet conditions favor the multiplication of soil fungus and bacteria. They will then attack the weakened roots. Boom, your plant has root rot.
Signs
Some of the signs of an overwatered prayer plant include wet soil even after not watering for a few days and lower leaves turning yellow and later brown. Your plant will also be limp, but leaves will not be dry or crispy as in the case of a thirsty plant.
That is not all. Leaves may have black or brown splotches or curl, and the base of the stem will be mushy. Also, your plant may drop leaves, and the potting mix may be moldy or have a foul smell.
b). Underwatering
The other reason for Maranta leuconeura yellow leaves is underwatering. Dry soil means that your plant cannot absorb water or minerals. Also, less water favors the breakdown of chlorophyll. (1) These are the two why your plant's leaves will turn yellow.
Signs
The most common signs are dry soil pulled from pot sides and your prayer plant leaves curling. Others are wilting or drooping. Also, the leaves may turn yellow or have brittle, brown edges or margins.
If you don't fix the issue, your plant will start growing slowly, drop leaves, wither and die.
c). Water quality
What is high in chlorine, fluorine, mineral salts, and heavy metals may affect Maranta leuconeura.
Signs
Too much fluoride can cause margin or tip necrosis. This will make the leaves turn yellow or brown and die.
Excessive salts will affect water and mineral absorption. If your plant cannot absorb these two, leaves will turn yellow.
Heavy metals – Some are toxic and may cause slow growth, chlorosis and inhibit photosynthesis.
Excess chlorine will cause more scorched or burnt leaves and not yellow. Either way, it is harmful.
d). How to water your prayer plant?
Proper watering is one of the very parts of caring for your prayer plant. They need medium water, and you should water these plants when the top 25% of the soil feels dry.
To know it is watering time, please fill the potting mix with your finger. It is time to water your plant if it feels dry up to the first knuckle. Otherwise, wait for a few more days.
We don't prefer feeling the potting mix. Instead, we utilize XLUX Soil Moisture Meter and water only when the reading is three or less. 
Please don't follow a watering schedule because environmental conditions, seasons, plant size, and pot size or type can influence how often.
Next, check if the soil drains well (if not, switch to Miracle-Gro Indoor Potting Mix to any good well-draining potting mix), holds moisture, and if your pot is the right size (too large causes overwatering, and a small one will make the soil dry fast).
If you are overwatering your plant, use a chopstick or pencil to make holes in the soil. This will boost aeration. But if there is root rot, you will need to repot it.  
For those that forget to water your plant, get a rough number of days it takes for another session and set a reminder. But before watering, feel the soil.
Last but not least, on water, rainwater is the best as it is slightly acidic. But you can use filtered water or even tap water. If it is high in chloramines, leave it in an open container overnight to dissipate some chlorine.
2. Light problems and yellow leaves on prayer plant
Light is essential in the synthesis of chlorophyll in all flowering plants. But too much is harmful. Thus, too much or too little light is a reason for prayer plant leaves turning yellow.
a). Too little light
In dark or poorly lit places, your plants cannot make chlorophyll or even food. So, your prayer plant leaves will begin turning yellow.
Signs
Leaves will turn pale, whitish, or yellow. Also, they will be smaller and sparsely distributed. The other thing is stunted growth and a leggy plant that grows towards the light. If you do nothing, it will start dropping leaves.
b). Too much light
Too much direct sunlight will damage chlorophyll, making leaves turn yellow or have yellow patches. Also, it will increase water loss from leaves.
Signs
Leaves will look faded, bleached, or washed out. They have yellow or brown patches and a burnt look- crispy brown margins and tips. Also, they will curl, droop but won't drop quickly.
c). What to do
Place your prayer plant where they get bright, indirect light. Avoid placing them too close to the south-facing window as the hot afternoon sun will scorch these leaves. Outdoors, have a shade cloth, greenhouse, or grow them under a shade.
If you have a dark house, get grow lights. GE Grow Light LED Flood Light Bulb is an effective, and well-rated brand to consider. You can couple it with a Dr. meter LX1330B Digital Illuminance Light Meter to ensure you plants get between 10,000 lux and 20,000 lux. This is the same as bright, indirect light. 
3. Extreme temperatures
Extreme temperatures will result in a decrease in the net chlorophyll content. This will make leaves turn yellow.
a). Low temperature and cold drafts
Cold drafts and low temperatures affect plant function, especially enzymes, minerals, and water absorption. This will reduce or inhibit chlorophyll synthesis. Also, it may damage plant cells water freezes inside plants.
Signs
Leaves will drop or turn yellow, white, black, or brown. In some cases, browning can happen overnight. Also, they will look burnt.
b). Heat stress
If your temperature goes beyond optimum levels, the excessive heat will affect normal plant function. These functions include chlorophyll synthesis and mineral and water absorption. Also, it may denature protein complexes that hold chlorophyll.
The net effect will be a reduction of chlorophyll. This is what makes your prayer plant leaves turn yellow.
Signs
High temperatures will cause leaf burn (crispy leaves with brown tips and edges), curling, and drooping. Other signs are stunted growth and a limp plant.
c). What to do?
Maintain optimum temperatures of 65°F to 85°F (18-29°C). Let night temperatures not go below 50°F(10°C) or hot summer day go beyond 90°F (30°C).
You can buy a thermometer like Govee Hygrometer Thermometer H5075 to help you monitor temperature and humidity. It even has an app that will provide notification alerts when temperatures exceed chosen temperature ranges. Also, it can store data for up to two years. 
Next, move plants from cold, drafty areas in winter, such as doorways or windows, to less drafty warmer places. Also, don't put your plants near heating system vents, furnace, fireplace, radiators, or any other gadget that emit heat.
4. Too much fertilizer and nutritional deficiencies
If you overfeed your prayer plant or don't feed them at allow, expect chlorosis. Here is how each of these two causes the yellowing of leaves.
a). Too much fertilizer
Excessive feeding may cause root burn or salt buildup in the soil. These two will hinder minerals and water absorption needed for chlorophyll formation. Also, some fertilizers may change soil pH, affecting the availability of some vital minerals like iron.
All these three effects will contribute towards prayer plant leaves turning yellow or chlorosis.
Signs
You may see fertilizer crusts on the soil. Also, there will be yellowing of lower leaves, drooping, brown tips, and margins (leaf burn), stunted growth, etc.
b). Nutritional deficiencies
A deficiency of iron, manganese, zinc, magnesium, or nitrogen will result in chlorosis. These minerals are part of chlorophyll or participate in the synthesis.
That is not all. Most of the other essential minerals play a role in absorbing, moving, or utilizing and functioning the above minerals. So, their deficiency may also be a reason for prayer plant yellow leaves.
Signs
Generalized symptoms include yellowing of leaves, scorched look, slow growth, and small leaves. Specific symptoms are as follows.
Nitrogen deficiency: Yellowing starting with oldest leaves, starting from leaf margin and spreading inward
Iron deficiency: Interveinal yellowing starting with younger, top leaves and branch tips.
Magnesium: Interveinal chlorosis starting with older leaves. The yellowing starts from the leaf center and moves outwards.
Zinc: Chlorosis between veins starting with the base of the leaf, near the stem.
c). What to do?
Feed your prayer plant once a month using a fertilizer for houseplants in the growing season. In winter or fall, please don't feed them. Also, ensure you add some organic matter like compost or worm castings to your potting mix.
We use Jacks Classic 20-20-20 All Purpose Fertilizer. This balanced formula has boron, iron, manganese, zinc, and copper. So, it will help avoid any deficiencies. 
When picking fertilizers, go for high quality brands. Why? Because high zinc, manganese, phosphorous, and calcium concentration may affect iron availability.
If your soil has too much fertilizer, leach it, i.e., pour a lot of water through it to help leach some salts and fertilizer deposits. Also, you can repot the plant.
Lastly, if your plant has iron deficiency, consider a small dose of liquid iron fertilizer such as LawnStar Chelated Liquid Iron may help. Also, ensure you keep a pH of about 6.0.
5. Low humidity
Low humidity will cause faster water loss from your potting mix and leaves. If leaves lose water faster than roots absorb, leaves may turn yellow.
Signs
The common signs closely resemble those of a thirsty Maranta leuconeura, like leaves curling upward, leaves turning yellow, crispy brown tips and edges, drooping, etc.
What to do
You need a hygrometer to test your humidity. Reading below 30% may suggest that the yellowing is due to low humidity. Here is what to do.
Mist your plants a few times a week
Buy a humidifier. There are many good brands of humidifiers. Our favorite is AquaOasis™ Cool Mist Humidifier. It runs for up to 24 hours, doesn't make much noise, and has many other great features. 
Have a pebble tray
Group your plant
Take them to the kitchen, bathroom, and other areas with high humidity.
6. Pests
Pest infestation is a possible reason for prayer plant yellow spots. Sap sucking bugs like spider mites, mealybugs, thrips, aphids, etc., will drink plant juice and water.
As they suck the sap, they take away water, nutrients, and damage plant cells. Some will even inject toxins into leaves. All these things will reduce chlorophyll reduction, hence the yellowing of leaves.
Signs
Check for any sign of small black, brown, red, gray, reddish, or white bumps or dots that may move or not. Also, the leaves will be distorted, have yellow, brown, or black spots, webbing, silvery stippling, or be curly and ruffled. The exact ones will depend on the bug present.
What to do
Start by hosing your houseplant to knock some of the pests off the leaves. Next, use rubbing alcohol and cotton swabs to wipe these bugs off.
If you have many bugs, go for neem oil, insecticidal soap, or horticultural spray oils. Also, isolate infested or new plants.
We use Bonide Ready to Use Neem Oil, a 3-in-1 formula that acts on insects (eggs, larvae, and adults) and mites and may protect against some fungal diseases.
If you prefer insecticidal soaps, we have an excellent experience with Garden Safe Brand Insecticidal Soap Insect Killer.
7. Rootbound or compacted roots
When rootbound, this plant has overgrown the pot. It has no soil to grow into, and the roots may get compacted. These two will reduce water and mineral absorption and hence the yellowing.
Signs
The obvious sign is roots growing from drainage holes. Also, leaves will turn yellow or brown starting from the lower one, and they may wilt or drop. If not corrected, your plant will become leggy and grow slowly.
What to do
Does your plant have spiraling roots too? Repot your plant if it is during the growing season, repot your plant. Otherwise, increase water and wait till early spring.
8. Diseases and prayer plant yellow leaves
Fungal, bacterial, and viral diseases can cause yellow prayer plant leaves, especially yellow spots, splotches, or patches. These microorganisms will parasitically feed on this plant, inducing cell damage and reducing chlorophyll.
Signs will largely depend on the exact disease that this houseplant has. Let us look at two common ones.
a). Helminthosporium leaf spot
This fungal disease will cause yellow spots that will become brown and tan, retaining a yellow hallo. Use a fungicide to treat this disease.
b). Cucumber mosaic virus
This disease will cause a mosaic light or dark green or yellow and green pattern on the leaves. Also, there will be yellow spots or streaks, stunted growth, and malformed leaves. If your plant has this disease, safely discard it as it doesn't have any treatment.
Normal reasons for prayer plant yellow leaves
Not all reasons for the yellowing of leaves indicate a problem. Some cases are usual or bound to happen.
1. Aging
As the leaves age, they will start turning yellow due to chlorophyll degradation. Later, they turn brown and die. This is a natural process known as senescence, and it should occur in older, lower leaves. Just use sterilized gardening scissors to prune off the yellowing leaves.
2. Plant shock
Transplanting a plant may cause some shock, especially those propagated in water. This may leave to curl, turn yellow, have dry brown tips and edges, or even lose leaves. Also, your plant will droop or even die.
The same symptoms may happen to a newly bought plant or if you relocate it to another place. It occurs because the plant is still adjusting.
Last but not least, your prayer plant leaves may turn yellow repotting. Other symptoms will be similar to what we have seen above.
About prayer plant (Maranta leuconeura)
The prayer plant (Maranta leuconeura) is a lovely houseplant in the arrowroot family Marantaceae native to Brazil.
It gets its name 'prayer plant' from its nyctinasty behavior, where the leaves lie flat during the day. But at night, it will raise or erect its leaves to a prayer position just as people raise hands when praying.
We bet you will love the charming wide oval to elliptical leaves with marking on the upper side and a gray-green or purple-green underside. But the exact coloration or variegation depends on the variety of cultivars. Common ones include Kim, Lime, Green, Black, Marisela, or red prayer plant.
Finally, the word prayer plant is not exclusive to Maranta leuconeura. It may also refer to some species or varieties in the genus Maranta, Stromanthe, Ctenanthe, or Calathea that raise their leaves at night.