We have Indoor and outdoor Chinese fan palm tree (Livistona chinensis) care, including watering, propagation, repotting, pruning, fertilizer, growing zone, and much more.
However, before that, we cover Livistona chinensis appearance, where we will talk about its size and height, growth rate, fruits, leaves, roots, trunks, and much more for easier identification.
Finally, we will tell you if this fan palms its safety to pets (dogs and cats) and humans, some disease and conditions, and common pests such as spider mites and scale.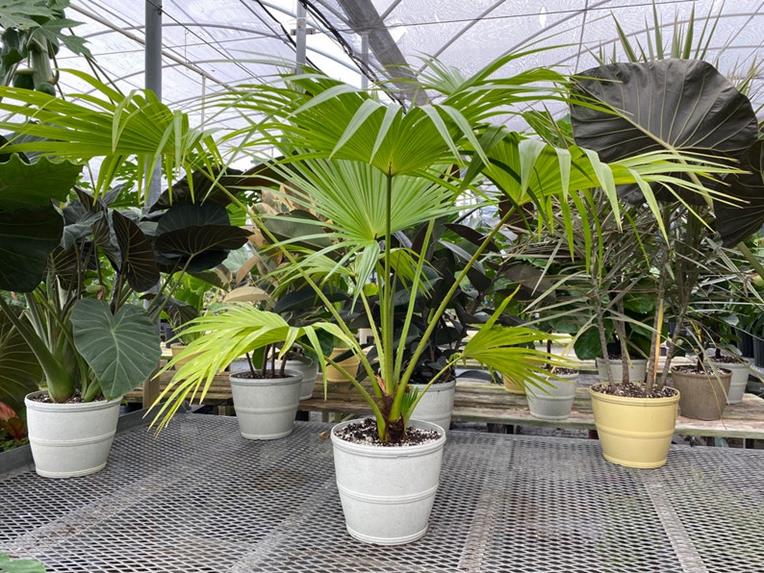 Overview
Chinese fan palm (Livistona chinensis), also known as the fountain palm, is a tropical East Asian fan palm tree native to Japan, Taiwan, Southern China, Ryukyu Island, and Hainan.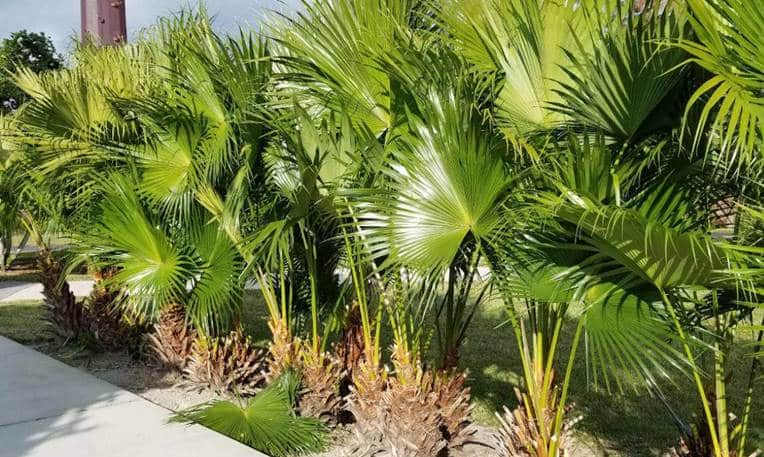 However, it has been naturalized in many parts of the world, including Java, Hawaii, Bermuda, Florida, Puerto Rico, Réunion, Andaman Islands, Micronesia, Mauritius, Dominican Republic New Caledonia.
Besides a famous outdoor or garden palm tree, these fairly hardy and drought-resistant plants make it easy to maintain charming indoor houseplants requiring partial to full sunlight.
However, it is considered an invasive weed in Florida wetlands, Bermuda and Caribbean Island, Hawaii ecosystems.
Classification
Scientific name: Livistona chinensis
Genus: Livistona
Family: Arecaceae or Palmae (the palms), which also has coconut, oil palm, European fan palm, areca palm, among others.
Identification and appearance
Livistona chinensis is an evergreen palm tree with a lifespan of about 40 years. It has a single trunk, large dense costapalmate leaves, cream-yellow flowers, and olive/berry-like fruits.
Let us talk about its growth rate and appearance (leaves, stems, roots, fruits, seeds, and flowers).
1. Size and height
The average Chinese fan palm height is about 25 to 30 feet (6.6 to meters) tall and spans about 10 to 12 feet wide (3 to 3.6 meters), i.e., its size is 20-30 meters high and 10-12 feet wide.
However, in its natural habitat, it can grow up to 50 feet tall.
2. Growth-rate
Livistona chinensis is a slow-growing palm tree in indoor and outdoor environments with an average growth rate of about 6 to 8 inches a year. Therefore, this means you can pot it for the first up to 10 years indoors before growing it outside.
However, while they are slow-growing, they may grow slightly faster if you water them well, have full sun, and feed them with fertilizer.
When young, they tend to have a busy appearance. However, after the palms are about 10+ years, you will see their trunks.
3. Leaves or fronds
Chinese fan palm gets its name from its green fan-shaped costapalmate leaves (have a midrib or costa and radially arranged long tapering leaflets). Similarly, Livistona chinensis gets its 'fountain palm' name due to its dropping and curled tips that look like a fountain.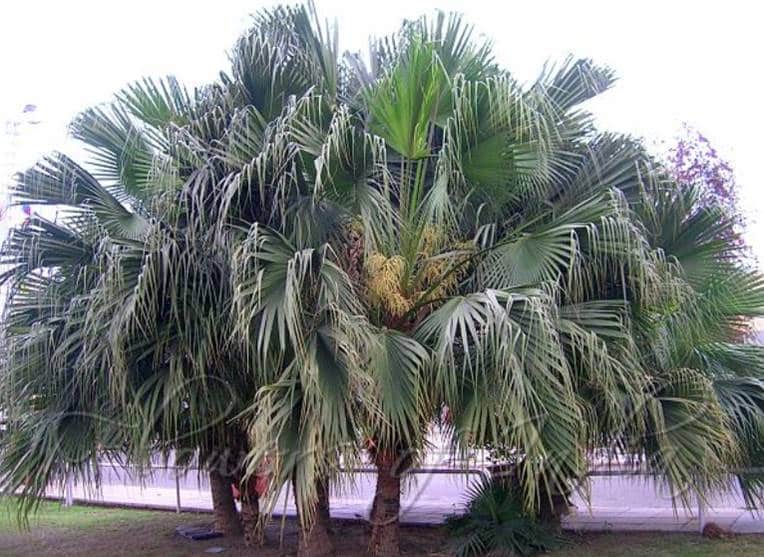 A typical Chinese fan palm leaf is about 6 feet long, and it spread 3 to 4 feet across and has many leaflets.
While still young, the leaf stalks (petioles) have spines (thorn-like), but as it grows to adulthood, the petioles will have few or no spines at all.
4. Stems or trunk
Usually, they have a single round, greyish-brown trunk with rings and old leaf scars. The stems are straight or nearly straight, measure 20-30 centimeters in diameter. However, the trunk base is somewhat thicker and swollen, i.e., measures 43-48 inches in diameter.
At the top of the stem is dense costapalmate leaves that make a lovely canopy or crown.
5. Roots
Like other monocotyledons, the Chinese fan palm tree has an adventitious root system, i.e., the roots are fibrous and grow from the stem tissue. They grow shallowly or near the surface and thrive in areas where they don't spread their roots.
6. Flowers
Chinese fan palms have inconspicuous and less showy yellow-cream bisexual inflorescences (with male and female parts) flowers. These palms produce flowers in large sprays from within the crown. They are shorter than leaves, therefore, hidden.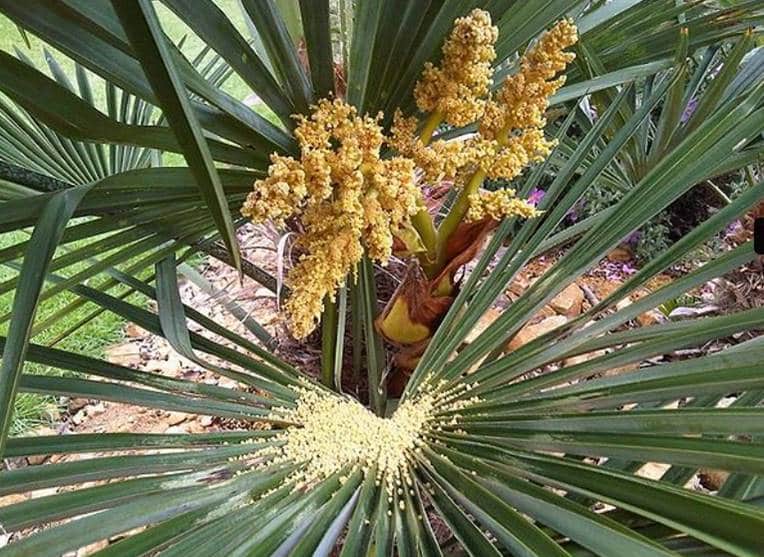 However, the large flower sprays or fruits may sometimes slightly push down the lower leaves, making the palm appear to have two tired canopies.
Finally, their blooming time is in spring, and their fruits will be ripe by early winter.
7. Livistona chinensis fruits and seeds
Livistona chinensis has small, olive or berry-like greenish fruits that turn blue-black, usually dark-blue or blue-gray once they ripen.
These oval/round fruits are about 0.5 to 1-inch in diameter. However, they are not berries but drupes or stone fruits, i.e., they have a fleshy part surrounding the seed or stone.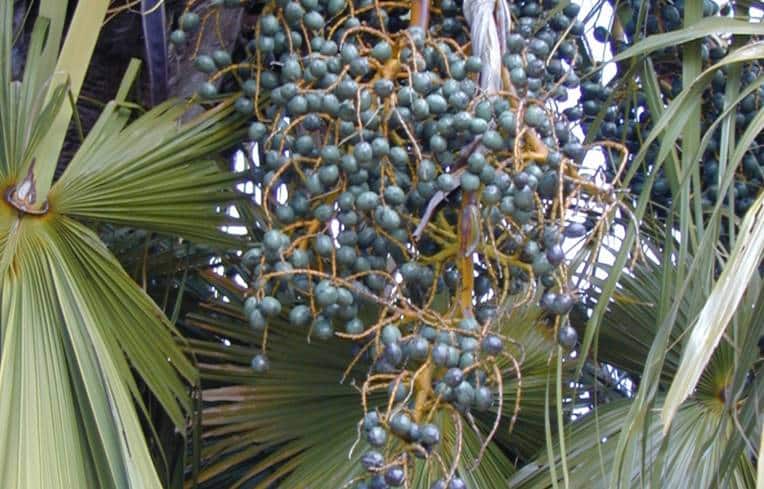 Are Chinese fan palm fruit edible? Usually, no. They have other medicinal uses in China and Japan. However, there are other fan palms, such as the Mexican fan palms whose fruits (the fleshy parts) you can eat raw, cook, or make wine and seeds roasted and ground to flour.
The fruits are less conspicuous (not showy) and don't attract wildlife. However, they may cause much littering in your garden.
Finally, each fruit has a single oval seed. These Chinese fan palm seeds are available in various marketplace for sale.
Growing and Chinese fan palm care
What conditions (temperature, humidity, and sunlight), soil type, and care does Livistona chinensis require? Let us now look at the hardiness zone, growing, care, propagation, potting, and indoor and outdoor care.
| | Description |
| --- | --- |
| Chinese fan palm growing zone USDA hardiness | 9A–11. |
| Temperature and humidity | They grow best in humid and warm conditions such as the ones in their native tropical habitat. However, they are cold-hardy (resist frost and coldness) and can withstand up to 20 degrees Fahrenheit, notes the IFAS Extension, University of California. Below these temperatures, expect foliage damage. |
| Soil requirement and soil pH | They do best in well-drained, moist loamy soil with acidic to neutral pH. However, they can tolerate or adapt to various types of well-drained soils such as clay, sandy, including alkaline. |
| Light and sun requirement | They need full sun to partial shade (they are tropical palms). Therefore, ensure your Chinese palm fans get at least four to six hours of bright direct or direct sun. Place indoor plants near windows with bright indirect sun. However, for young palms, protect from the scorching afternoon sun. |
| Spacing and pot size | In your garden, grow them at least five feet away from your house. Typical spacing should be about 4 feet apart if you need total privacy. Those growing them in pots start with at least a seven-gallon and repot as they grow. |
| Where to grow them | Indoors (potted), hedge, landscape, parking lots, tree lawns, near decks and patios, narrow lanes, sidewalks, and residential streets |
| Best suited for | They are ideal for beginners since they don't need much care and can withstand varying conditions. |
Warning!
Since they have small spines or thorns on their leaf stalks or petiole, I prick you as you handle them. Therefore, as you move, unbox or repot them, take precautions.
1. Watering
Since they are relatively resistant to drought, fountain palms require moderate watering. How soon you water them depends on humidity, air conditioning, heating, or sunlight (influences growth).
Also, you will have to water it more during the growing seasons (spring, summer, and fall) and reduce during winter (non-growing season)
On when to water, we recommend that you water your Chinese fan palms when the topsoil is about 50% to 75% dry or lightly moist not soggy. Sogginess will result in root rot and other diseases.
A better way is to water when a few top inches of the soil feel dry or if you have a soil moisture meter like XLUX (best rated at Amazon), water when the reading is three or less (in the dry zone).
Typically, you will water your plant under usual house living humidity and temperature two or three times a week during growing seasons and lesser times in winter. If you live in a drier play, besides watering your palm, mist it a few times a week to prevent leaves from drying.
People growing their Chinese fan palm outdoors need to water during prolonged dry spells or if it is too hot, especially for younger plants.
2. Fertilizer feeding
These palms require fertilizer to get the various nutrients for lushness and vibrancy. However, since they are slow-growing, they don't need a lot of fertilizer.
Kindly feed your fountain palms with fertilizers from late winter to spring, summer, and fall, i.e., during their growing season and not in winter when they are dormant. However, please don't overdo it.
We use Miracle-Gro® Shake 'n Feed® Palm Plant Food with NPK 8-2-12. It has magnesium, iron, and calcium. We apply 1 tablespoon per square foot of palm canopy and work it into the soil, about 1-3 inches deep. Feed once after every three months.
If you prefer something organic, Jobe's Organics 09126 Palm Tree Granular Plant Food (NPK 4-2-4) is without a double an excellent alternative.
3. Chinese fan palm pruning and trimming
The beauty of the Chinese fan palms is that they don't require much pruning, i.e., they will keep their neat cascading shape without any pruning. However, you can occasionally remove any dead leaves and their crown's bottom once a year or as necessary, which will help improve aesthetic appeal.
While pruning your fountain palms, use a sharp pruner to cut off the dead leaves. Don't pull them off from the trunk. Also, you can trim off any diseased or damaged leaves.
However, we don't recommend cutting off any fronds or leaves before they entirely become brownish as they still have nutrients that feed the plant. Also, please don't cut off the terminal tips to help slow growth as it will kill the stem.
4. Potting and repotting your Livistona chinensis
When potting the fountain palm, you need to start with a 7-gallon (25 liters) pot or container to allow it to grow for a few years before repotting it. We recommend unglazed pots to allow moisture to escape via the drainage holes and the porous walls.
Once you have the right pot, use well-drained potting soil and ensure your planter has drainage holes to prevent the soil from being soggy or overwatered. You need loose, porous soil such as peat moss mixed with shredded bark or leaf molds.
What about repotting? Since they are slow-growing, Livistona chinensis don't require repotting them often. However, it is necessary if the roots outgrow the current pot or planter.
Typically, you will repot Chinese fan palm every 2 to 3 years or when the roots outgrow the current pot.
Before repotting, check if you can see any roots at the drainage opening or gently slide the plant out to see any signs that it is root-bound, i.e., it has curled roots at the pot's bottom with no space for growth. If so, it is time to repot your palm.
When repotting Livistona chinensis, go for a pot at least 3 inches wider and deep enough to accommodate the current root length and allow more space for growth. Looking at the root's size will help you decide the depth of the pot you require.
Afterward, put some fresh potting mix in the container, gently lift the plant from the old pot. Slightly tap it to remove as much soil as possible without damaging the roots. Afterward, place it in the middle, and pack more of this growing medium to the same depth it was.
Placing your palm deeply into the soil will cause stem rot. Also, don't disturb or try to spread the roots as they are very fragile and may easily break.
Finally, thoroughly water the plant around its roots to help spur growth and continue with the usual care routine.
5. Livistona chinensis propagation
Chinese fan palm propagation is usually by sowing seeds. You cannot propagate it by cutting. Unlike other palms, such as areca, it doesn't grow in with multiple stems or trunks.
However, it is possible to find a Chinese fan palm with multiple trunks, which you can divide to propagate them.
If you opt for seeds, you need to shallowly sow them in a moist seed starting mix in spring and maintain a temperature of about 75 to 80 degrees Fahrenheit 24 to 27 degrees Celsius using a seedling heat mat. They will germinate after about two months. Ensure you keep them moist during this time to spur germination.
Finally, since they take so long to grow, it will be a wise idea if you bought one from your local nursery. Ensure it looks vibrant, and doesn't have brown leaves or any spots.
6. Growing Chinese fan palm indoors as a houseplant
Growing Chinese fan palm indoors doesn't need any special conditions. These palms will thrive well in the usual living conditions, with temperatures of about 65 to 85 degrees Fahrenheit and usual home relative humidity of 30 to 50%.
However, the plants will be happier if you mist them a few times a week, place them near a humidifier or have a pebble tray boost humidity. They thrive best in a humid and warm environment.
Ensure your pot has drainage holes and well-drained soil and follow the watering and fertilizer feeding routine we have seen. They can withstand a wide range of soils and stand to benefit much from organic fertilizer or mulch.
Also, place them to have bright indirect sunlight, especially near the south-facing windows for those in the Northern Hemisphere, i.e., the US, Canada, or Europe, as they will have longer hours of sunshine exposure.
Since these plants will grow towards the sun, rotate them monthly for a more even balanced canopy.
Finally, avoid placing them near air conditions or heat vents, or direct drafts.
7. Growing Chinese fan palms outdoor
You can also grow your Chinese palms outdoors. They make excellent plants along drives or walkways, around patio, garden, near pools, and so on.
However, you need to ensure that the outdoor temperatures don't fall below 20 degrees Fahrenheit (-1 degrees Celsius). Yes, they are cold, hardy frost-resistant, but the extreme winters damage the plant.
Also, while still very young, have these palms in a partially shaded area, i.e., protect them from the very hot midday suns.
While outdoor, their fertilizer feeding and pruning needs are the same as what we have seen.
Finally, although they resist drought very well, water them during prolonged dry seasons or when it is hot and dry (helps lower humidity) to keep them looking vibrant.
Safety to dogs and cats
Are they poisonous to dogs or cats? Fortunately, no. Chinese fan palms are not toxic to cats or dogs. All true palms, i.e., in the family Arecaceae, are safe for dogs and cats.
Therefore, Areca palms (Dypsis Lutescens), Kentia palms (Howea forsteriana), Parlor (Chamaedorea elegans), pygmy date palm, ponytail palm (Beaucarnea recurvata), bamboo palms (Chamaedorea seifrizii), among others, are safe for cats and dogs.
However, note that Sago palms that belong to the family Cycadaceae, (not true palms) are toxic to dogs and cats.
Safety to kids and humans
Chinese fan palms are safe for kids and humans, i.e., not toxic or poisonous. However, since they have spines, they may present a risk of sprinkling your children as they try to handle or touch them.
Disease and conditions
Livistona chinensis are not susceptible to many diseases or conditions. Some common conditions or issues they may have included the following:
1. Leaves turning brown and dying
This condition is characterized by the leaves of your Chinese fan palms turning brown and dying, especially at their tips tip.
However, please don't confuse it with lethal yellowing that affects various landscaping palms, including Livistona chinensis in some parts of Florida.
Causes
Possible causes include overwatering, excessive fertilizers that result in chemical burns or root rot occasioned by excessive watering or poor drainage, including pots without drainage holes.
Also, low humidity may be the other cause, i.e., excessive dryness may cause the browning of leaves.
Solutions
Depending on the cause, you can either repot them (if too much fertilizer), mist them 2-3 times a week (for low humidity), and reduce the amount of water to prevent root rot.
2. False smut or Graphiola leaf spot
False smut is the yellowish, black, or brown spots that resemble warts growing from the surface of the feal. Also, you may notice small filament on very young leaves.
Causes
False smut is a fungal infection caused by several Graphiola species, which requires examination of the affected tissue for diagnosis.
Solutions
Promote air circulation to lower humidity, don't wet the leaves, remove any badly damaged leaves, and treat them with fungicide during spring.
Pests
Besides disease and conditions, another problem may be infestation by the scale and spider mites. If ignored, they will not only damage the plant but also kill it.
Fortunately, you can easily control these pests using neem oil spray or and insecticidal soap.
More on fan palms
Fan palms refer to several Arecaceae family plants, which have palmately lobed leaves from various genera. Common one includes Chinese, European, California, Indian ocean, and Real fan palms.
Also, some fan palms may refer to non-palm plants such as traveler's palms, New Guinea fan palm, white bird of paradise (Strelitzia nicolai), or Phenakospermum.