Cissus Amazonica, commonly known as the Amazon jungle vine, is a perennial, evergreen climbing plant native to the Brazilian rainforest jungles. It belongs to the grape family Vitaceae.
This flowering plant makes a charming houseplant, thanks to the lovely olive-green leaves with silvery white or silvery gray markings along the prominent veins and a reddish underside.
Many people confuse C. amazonica with grape ivy, botanically known as Cissus alata, syn. Cissus rhombifolia. Yes, they have the same genus but are different species. Their other cousin is Cissus discolor or rex begonia vine, an adorable tricolored leaved plant.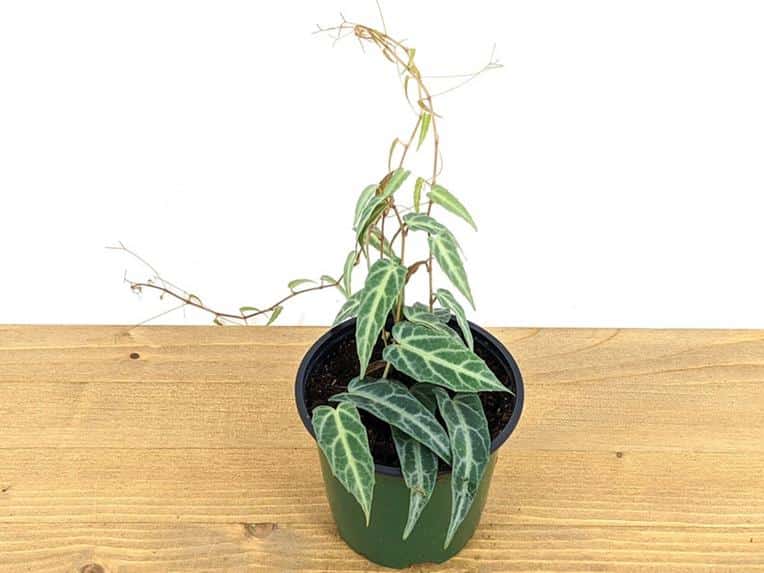 Quick overview
| | |
| --- | --- |
| Scientific name | Cissus amazonica |
| Family | Vitaceae (grape family) |
| Common names | Amazon jungle vine |
| Native habitat | Brazil rainforests jungles |
| Type | Evergreen. perennial flowering liana |
| Size | 10 to 15 inches tall or more and ½ to ¾ foot wide. |
| Leaves | Olive green 2-4 inches narrow leaves with silvery-greyish markings and a burgundy underside |
| Stems | Pale reddish to greenish vines |
| Light requirement | Medium to bright indirect light |
| USDA hardiness zone | 11 or above |
| Temperature | 60°F to 85°F, with winter temperatures not dipping below 50°F |
| Humidity | Moderate to high, typically 50-60 and above |
| Growth rate | Fast-growing under ideal conditions, especially humidity |
| Soil | Well-drained, nutrient-rich, slightly acid potting mix or loamy soils |
| Watering | Moderate, letting the top potting mix to dry slightly. |
| Propagation | Stem cutting |
| Toxicity | Nontoxic to humans and pets |
| Care level | Moderate. Suitable for people with pets and houseplant hobbyists |
Where plant Cissus amazonica?
This plant is perfect for climbing or trailing houseplants. You can have them in a vivarium, hanging baskets or pots, letting them climb up a trellis or poles.
Also, people with tropical reptiles or amphibians will find the Amazon jungle vine a perfect terrarium plant as it loves high humidity and is not toxic.
Finally, you can also grow them outdoors if you have a shaded place and temperatures don't fall below 50 degrees Fahrenheit.
Appearance and identification
Before looking at care and growth requirements, let us look at the Amazon jungle vine's appearance, i.e., its size, leaves, and vines.
1. Size and growth habits
C. amazonica grows to about 10 to 15 ft long and about ½ to ¾ feet in the jungle wide. However, at home, it may not grow that long.
Also, it is a relatively fast-growing liana or climbing rainforest understory plant, primarily when grown under ideal conditions. As it grows, it will hold on to anything with its tendrils.
However, if you recently bought it, give it a little time to adjust to the new environment.
2. Leaves
It has elongated, heart-shaped leaves about 2 to 4 inches long and ½ to ¾ inches wide. Their shape is what I can describe as lance-shaped leaves with a heart-shaped base.
These leaves are olive green with a silvery or grayish coloration along the primary veins and a reddish or burgundy underside. This underside coloration may be pinkish or reddish.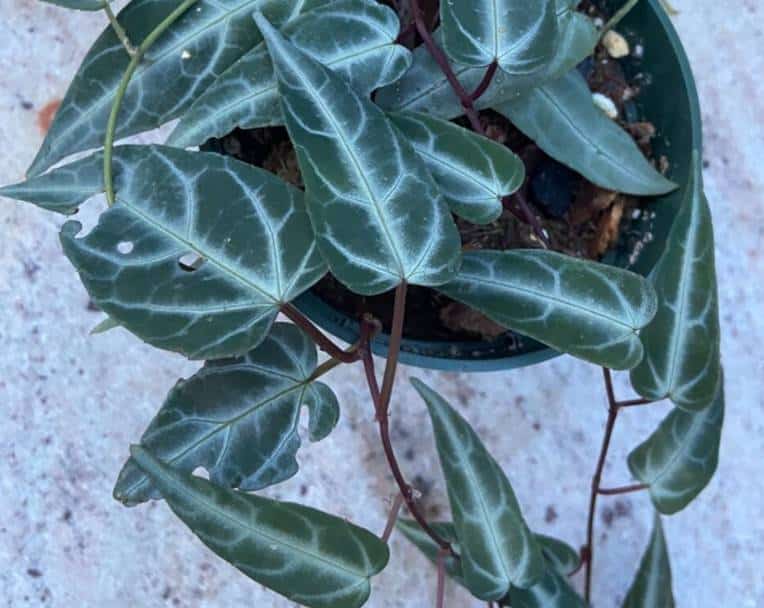 Nevertheless, unlike Cissus discolor, the leaves are not velvety. However, they too produce cystoliths.
For those new to this term, cystoliths are nothing other than tiny, opaque bumps or dots that resemble pests, often on the lower side of the leaves. Fortunately, they are not harmful and shouldn't worry you.
3. Stems
These plants have pale reddish-green stems with alternative arranged leaves. These stems have tendrils for attachment or climbing.
Cissus amazonica care and growing requirement
Many people consider Amazon jungle vine care as challenging, stating that the plant is very fussy. However, this isn't true at all.
Let us look at the various growing requirement and care tips to be a judge yourself.
1. USDA hardiness zone
Cissus amazonica grows in USDA zone 11 or above, especially USDA zone 11b with a minimum average temperature of 50 °F (10 °C). They are not cold-hardy.
People in these zones can grow this plant outdoors. Nevertheless, they must ensure it is not under direct sunlight.
2. Temperature
Like the warm Brazilian rainforest jungles, Cissus amazonica prefers higher temperatures, typically ranging from 60 to 85 degrees Fahrenheit (15.6 to 29.4°C) but won't mind temperatures as high as 95°F (35°C).
Therefore, you can grow them under standard household temperatures (it is within the above range), ensuring at least 50 degrees Fahrenheit at night.
3. Humidity
Cissus amazonica grows in a warm and humid Brazilian Amazonian jungle. Therefore, this plant prefers high humidity and a warm place. However, it can thrive at a moderate relative humidity of at least 50%, but it would love a higher one, ideally 60-80%.
This plant will grow well under average living humidity if it doesn't go below 50%. But, if you want it to grow faster, offer it more humidity by:
Buy a humidifier. The most popular brand is the 2.2 liter AquaOasis™ Cool Mist Humidifier. It runs for 24 hours, has a nozzle that you can rotate 360 degrees and is quiet, making it good for even your bedroom.
Misting it a few times a week
Pebble tray
3. Light
Yes, the Amazon jungle vine grows in a tropical place with lots of sunlight. However, it grows as an understory plant (beneath taller trees), receiving only filtered light.
Similarly, at home, Cissus amazonica needs medium to bright indirect light. Kindly avoid direct sunlight or poorly lit places.
It doesn't matter whether you have a south, east, or west-facing window. Just place it where it doesn't get direct sunlight.
Exposure to direct sunlight will cause leaf burn (crispy leaves with brownish tip and edge) and discoloration (slightly yellowish color).
People growing Cissus amazonica outdoors need a shaded place or shade cloths. Just buy those about 30 to 40%.
On the other hand, too little light will make your plant leggy. Also, it will have smaller, paler, new leaves. Use grow lights. Any brand with 15,000 lux to 20,000 lux is perfect. A good example is Relassy 15000Lux Sunlike Full Spectrum Grow Lamp.
5. Cissus amazonica soil
These plants are not so fussy when it comes to soil and will grow on anything so long as it is well-drained and high in organic matter.
Thus, grow Cissus amazonica in well-drained, nutrient-rich potting mixes or soil with slightly acidic to neutral pH (6.0 to 7.3).
Usually, I will take an organic potting mix like Espoma and use it as it is. Or, I may add 10% perlite or pumice to improve drainage and some moss peat (increase organic matter).
6. Watering
Cissus amazonica requires moderate watering, letting the topsoil slightly dry before watering them again. They love moisty potting mixes, not so dry or soggy.
Secondly, you will water them more during spring and summer (growing season) and cut water in the non-growing seasons (winter and fall).
On frequency, this depends on humidity, temperature, and air circulation. Usually, it will be once after every 4 to 7 days in the growing season. In winter or fall, it will take longer.
However, to properly water this plant, we recommend you feel the soil. If it feels dry up to the first knuckle of the finger, water it. If not wait a little longer.
A more sure way is buying a soil moisture meter. The best brand is XLUX. It is highly accurate, responds fast and doesn't use batteries. Water your Cissus amazonica when the reading is three or less.
a). Overwatering
Overwatering is a widespread problem that happens mainly due to too much watering. Also, having pot without drainage holes, an oversized one, or using a poorly draining potting mix may contribute.
Signs you have overwatered it include the following:
Always wet or soggy potting mix
Yellowing of leaves
Dropping of old and new leaves
Mushy stem base (a root rot sign)
Black spots surrounded by a yellowish border
b). Underwatering
While overwatering isn't good, these plants don't like soil without moisture and show the following signs.
Dry soil that pulls away
Crispy leaf edges and tips
Yellowing followed by the browning of leaves
Leaves curling
Stunted growth
Wilting
7. Fertilizer
For optimum growth, feed Cissus amazonica with an all-purpose indoor houseplant fertilizer at half recommended strenght in spring and summer. However, don't fertilize these houseplants during winter or fall as they are not actively growing.
Our favorite liquid houseplant fertilizer, not just for this but for all our houseplants, is Miracle-Gro Indoor Plant Food (Liquid). We add two pumps to a quart of water and use them on a small pot. For large ones, more than 6 inches, use four pumps. You can apply it directly to the potting mix without mixing it with water. It feeds plants instantly.
We love Osmocote Smart-Release Plant Food Plus Outdoor & Indoor for slow-release formula. You will only have to feed your plants once in two months. Just sprinkle ¾ tablespoon (2.25 teaspoons) on an area about one-foot square and work it 1-3 inches into the potting mix. 
Lastly, Espoma Ounce Concentrated Organic Indoor Plant Food is perfect for those who prefer organic fertilizers. Mix ½ a cap to a quart of water and apply once every four weeks.
8. Pruning
Usually, the Amazon jungle vine plant doesn't require much pruning. However, you can cut off old, damaged, or dead leaves using sterilized pruning scissors or shears.
However, if you want to control its size and shape, prune some branches during late fall or early spring. Pruning will also help encourage fuller plant growth.
9. Potting
Repot your Cissus amazonica every 2 to 3 years or when it is root-bound during spring or summer. This jungle vine has thin, threadlike roots, meaning it won't outgrow your current pot.
When repotting it, use a pot that is 2-3 inches larger in diameter. No oversized ones as they will encourage overwatering.
Propagation
Cissus amazonica propagation is by stem cutting either in a potting mix or water during spring or summer. We recommend using potting mix since the plant will continue growing after transplanting it.
If you propagate it in water, expect some shock when you finally take it to its growing pot.
Let us see how to propagate Cissus amazonica in soil. There isn't much difference if you opt for the water method.
a). What you need
Stick or pencil
Rooting hormone (optional). We recommend HydroDynamics Clonex Rooting Gel. It has rooting hormones to spur growth and trace elements for nourishment.
Potting mix in a small pot
Sterilized pruning scissor
b). Steps to follow
Find a mature and cut stem or branch with several leaves. Please don't go for the vine tip or young ones as they tend to die during the propagation process.
Divide the branch into smaller pieces, each having at least 2 to 3 leaves, and remove the lower leaves.
Dip the lower end of the stem cuttings into your rooting hormone. Although optional, it will speed up rooting and prevent rot.
Make a small hole into your potting mix using a pencil or stick and plant your stem cuttings.
Thoroughly water your plant and take it to a place with bright indirect light. Ensure the potting mix remains moist but don't so wet or soggy to avoid rotting.
Your cutting will begin growing roots and a bud after about 1 to 1-½ months. Transplant it when you think it is large enough.
If you opt to grow your cutting in water, change the water after a few days or when it starts to look cloudy.
Safety to pets?
Cissus amazonica, like grape ivy and Cissus discolor, is not toxic or poisonous to dogs, cats, or other pets. Also, it is safe for humans, making it ideal for pet owners or people with kids.
Nevertheless, pet parents should see a vet if your dog or cat overeats of this plant or any other you have in the house. It could be an indication that something is amiss.
Pests
When grown indoors, this plant is unlikely to have any pests. However, it is possible, and you need to watch for whiteflies mainly. Besides the whiteflies, mealybugs and red spider mites may also attack your Amazon jungle vine.
Disease and conditions
Powdery mildew or leaf spot are two likely diseases these plants may have, primarily if grown outdoors. But they may also affect your indoor plants if you use contaminated or unsterilized pruning scissors.
Additionally, your plant may have these conditions:
a). Leaves dropping
It usually happens due to over or underwatering. However, low humidity, little light, diseases, pests, or nutritional deficiency are causes too.
b). Yellow leaves
If your Amazon jungle vine has yellow leaves, the most probable cause is overwatering. However, these issues may also cause this foliage discoloration:
Underwatering
Too much fertilizer
Nutritional deficiencies
Pests
Diseases
Wrong light conditions or humidity
Root rot
Overwatering, pots without drainage holes, poorly drained soils, or oversized pots are common root rot triggers. Signs to expect include:
Signs of overwatering
Wilting
Stunted growth
Molds on the potting mix surface
FAQs
Is Cissus amazonica rare?
Yes. Cissus amazonica is relatively a rare houseplant, partly because of the lots of misinformation that label it a very fussy plant or because many people haven't discovered it.
 Where do I get Cissus amazonica on sale?
You will find these plants at Etsy.com and Stevesleves.com. However, you can try other houseplants stores. Typical Cissus amazonica prices range from $20 to $35.