Ficus lyrata or fiddle-leaf fig leaves drooping is a likely indication of moisture issues (underwatering and overwatering), too much light, extreme temperatures (heat stress and cold drafts), or low humidity. But it can happen due to repotting shock, pests, disease, overfeeding, etc.
We've all the reasons for fiddle-leaf fig leaves drooping, including top and bottom leaves. We will mention a few other signs to help you pinpoint your cause as we give you these reasons.
Understanding why plants droop or wilt
Water has many roles in plants, including photosynthesis, medium for nutrient transport and biochemical processes, cooling plants, etc. One such critical role is in keeping cells turgid or rigid.
If plants don't get enough water or lose faster than what roots absorb, cells will lose rigidity, and your plant leaves will droop or wilt.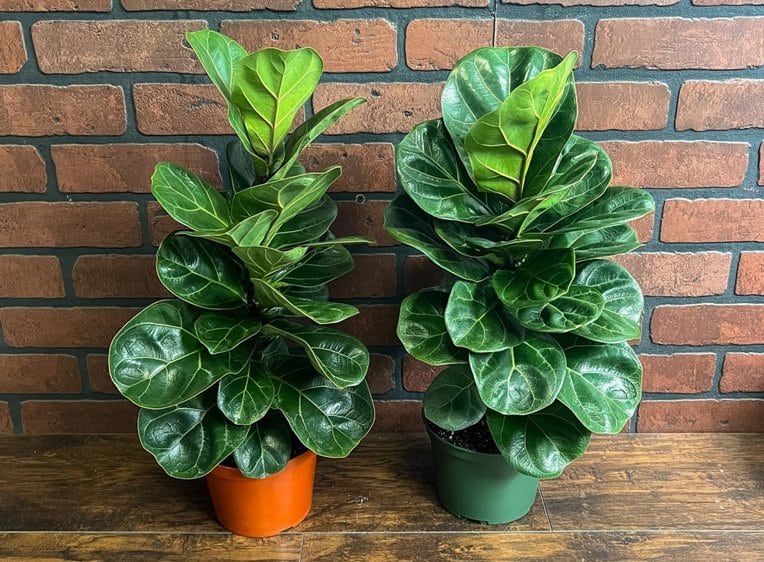 Reason fiddle-leaf fig leaves drooping and fixes
You understand why drooping and wilting occur. It is time to look at the various reasons responsible.
1. Is it underwatering or overwatering
Moisture issues, underwatering or overwatering, should be the first thing to consider if you see your plant drooping leaves.
If underwatered, these plants cannot get enough water. So, their cells will lose rigidity, and leaves will start drooping and wilting. But if you water them, the wilting and drooping will disappear.
Other indicators that your plant is thirsty include crispy brown tips and edges, leaves turning yellow, dry potting mix pulled from the pot, stunted growth, etc. Feel the soil to confirm.
On the other hand, as surprising as it may seem, overwatering may make Ficus lyrata leaves droop and wilt, which doesn't improve by watering. A soggy or wet potting mix will suffocate your plant, i.e., prevent oxygen from reaching roots. It will also increase the chances of root rot.
When they cannot get oxygen, roots cannot function well or grow. So, your plant won't absorb water or nutrients. So, leaves will start turning yellow, starting with lower ones. Additional signs include brown splotches, leaf drooping, mushy stem base, moldy potting mix, etc.
Water your plant when the top about 2 inches of the potting mix feels dry or up to the first knuckle of your finger. Alternatively, you can use a soil moisture meter like XLUX by IAGTEK. Water when the reading is in the dry zone.
Please, don't blindly follow a watering schedule since water needs to change with conditions and other factors.
If you often forget, we recommend you set a reminder after determining approximately how many days it takes to another watering session. Even with a reminder, don't forget to feel the soil.
Stop watering, check if drainage pots are open, and ensure your potting mix drains for an overwatered fiddle-leaf fig plant. Next, maintain optimum conditions (temperature, light, and humidity) and wait until the first 2-3 inches dry before watering again.
If you have heavy and compacted soil, you may change it or add perlite. But if it dries too quickly (causes the underwatering problem), add some peat moss or coco coir.
2. Low humidity
Fiddle-leaf fig plants can grow perfectly well in average household humidity, i.e., 30% to 65%, with 40% recommended. But if you live in areas with very low humidity, it may be a reason for fiddle-leaf fig plant leaves drooping.
Low humidity means more water loss from leaves, and in response, plants may curl leaves. If roots cannot replace what leaves lose, wilting and drooping will happen. Other signs include leaf scorch, slow growth, a dull-looking plant, leaves turning yellows, etc.
People with very low humidity should mist their plants, move them to more humid rooms like bathrooms or kitchens or use a pebble tray. The other ways to raise humidity are grouping all your plants or buying a humidifier.
We love LEVOIT Humidifiers Top Fill, 6 Liter, Cool Mist is it has a large coverage of up to 505 ft² and runs for 60 hours. Also, you can connect it to voice assistants like Alexa and Google Assistant.
3. Extreme temperature
If you have placed your plant near a heat-emitting source like a radiator or near a room heating vent, the excess heat may be the reason why its leaves are curling.
High temperature and heat stress increase the rate of transpiration. If the lost water isn't supplemented, leaves will start drooping and wilting. Other signs to expect are leaf scorch, curling, yellowing, falling off, and stunted growth.
On the other hand, cold drafts and freezing temperatures are also possible for drooping and wilting. The low temperature will affect water absorption. Also, water may crystalize inside the plants if too cold, resulting in tissue damage. As water crystalizes, plant cells lose their turgidity, making leaves appear droopy.
The ideal temperature range for fiddle-leaf fig plants is 55 - 85°F (12.8 - 29°C). Avoid heat-emitting appliances or vents. Also, hot summer days and heatwaves may cause heat stress. So, take your plants to a cooler place, such as a shade.
Last but not least, avoid temperatures below 55°F and drafty open windows or doorways in winter. Also, these plants don't like sudden temperature changes. It stresses them and may cause issues like leaf discoloration.
4. Can too much light cause fiddle leaf fig leaves drooping
Yes. Direct sun will burn the Ficus lyrata leaves, making them appear washed-out or faded, pale or yellowish, and have crispy brown tips and edges. Additionally, it can make your leaves droop or curl.
When under too much light, plants will convert excess light energy to heat energy and dissipate it in many ways. One means is transpiration, where some water will absorb heat energy as they evaporate, keeping leaves cool.
If the transpiration rate exceeds the number of water roots bring in, leaves will droop. Also, they will curl to prevent further loss.
To prevent this from occurring, provide your fiddle leaf fig with bright, filtered light. If grown outdoor, pick a shaded spot, and indoors, place it at a distance from the window where no direct sunlight will hit it.
Lastly, since more light means more transpiration, increase the water you give your plants. It may help minimize the drooping problem.
5. Could it be overfeeding
Overfeeding isn't a common reason for fiddle leaf fig leaves drooping. But a possible one if it causes root burn or results in salt deposits in a potting mix. The other reason is using wrong fertilizers such as those with urea.
Both root burn and salts deposits will make it hard for the plant to absorb water or nutrients. So, your plant will lack enough moisture and nutrients to make leaves droop, turn yellow, and grow slowly. But fertilizer burns (leaves having brown tips and edges) is the most obvious sign to expect.
Besides the above, other signs are stunted growth, leaves drooping, and the presence of fertilizer crusts on the soil.
To solve the issue, start by leaching or flushing the potting mix. This process will involve the slow pouring of lukewarm water, about four times the size of the pot through the potting mix.
Lastly, only feed your fiddle leaf fig once a month during growing months to avoid overfeeding. A fertilizer with an NPK ratio of 3-1-2 does best.
We add a teaspoon of Fiddle Leaf Fig Tree Plant Food for Ficus Lyrata (and Ficus Audrey) to two cups of water and use the solution to feed our plant twice a month. This fertilizer has all the nutrients your plant needs and will not cause burns.
6. Does your plant have pests?
Some of the pests that may attack your fiddle leaf fig plant are spider mites, mealybugs, whiteflies, scale insects, and aphids. But they are rare and don't cause a serious problem except for scale insects.
These bugs suck plant juices and may cause distorted, curly, yellow, or drooping leaves under heavy infestation.
If you suspect any bugs, use a 10X magnifying glass to observe the leaf underside or hidden areas. These bugs will appear as tiny stationery or crawly critters. Some have wings and others waxy bodies.
Signs will vary depending on the exact pest present. Some include webbing, holes, honeydew, sooty mold, yellow, whitish, brown, or black spots. If these bugs are the issue, manage them using insecticidal soap, horticultural oil sprays, or neem oil.
I use mainly neem oil to control pests, and to be specific Bonide Ready to Use Neem Oil. It is safe and will kill most pests on your plant.
Lastly, fungal gnats can cause drooping, wilting, and yellowing leaves. Its larvae feed on roots. To control these bugs, mix one part of the hydrogen peroxide solution and four parts of water. Then pour the mixture into the potting mix, focusing on areas around roots.
7. Is it diseases including root rot
Fungal and bacterial leaf spots from Xanthomonas, Pseudomonas, Myrothecium, Corynespora, or even anthracnose will mainly cause brown lesions, some with a yellow border and other signs. The whole is unlikely to be droopy.
But in the case of fiddle leaf fig root rot, some of which also affect stems and leaves, your plant leaves may droop, wilt, fall off or turn yellow. Other signs are stunted growth, mushy stem base, etc.
Phytophthora, Pythium, and Rhizoctonia root rot are the most notorious. But your plant may also have southern blight that affects both foliage and roots.
To manage this disease, cut affected parts and use fungicide for fungal leaf spots with sterilized pruning scissors. For bacterial, there are no bactericides proven effective. But those containing copper compounds do help prevent the spread of infections.
For root rot, your plant needs repotting. As you do so, cut any decayed sections with sterilized gardening shears. Then ensure your potting mix drains well and don't overwater your plants.
Lastly, to help control diseases, practice good sanitation (wash hands and sterilize gardening tools). Also, isolate new plants and don't put your plants on the ground (soil).
8. Fiddle leaf fig leaves drooping after repotting
After transplanting, repotting, or relocating, your plant may experience some shock. Some signs include leaves drooping or wilting, curling, falling off, or discoloration.
To mitigate the effects, provide ideal growing conditions, ensure the potting mix remains moist, and minimize root damage when repotting or transplanting.
Less common fiddle-leaf fig leaves drooping
Besides the above reasons for Ficus lyrata leaves drooping, here are less likely but still possible causes:
Rootbound: If you haven't repotted your fiddle-leaf fig for a long time, leaves drooping may be a sign your plant is rootbound. You will see some roots growing from drainage holes, and your plant will have a compact root ball with roots growing around the pot. Other signs include yellowing leaves, starting with lower ones, brown tips and edges, leaves dropping, slow growth, etc. Repot your plant to a larger pot, 2-3 wider in diameter.
Stem or root damage: Any damage to the roots or stem may make this plant have drooping leaves if it disrupts usual water transport to leaves.
Top leaves of fiddle-leaf fig drooping
Top leaves, being younger, are more vulnerable to drooping and wilting than the bottom, more mature leaves.
Some of the main reasons your fiddle-leaf fig is drooping top leaves include underwatering, low humidity, too much light, and extreme temperature. Also, people using grow lights may notice the upper leaves drooping if it's too close.
Besides the above reasons, any other reason we discussed in this post may be a reason for the drooping of top leaves.
Fiddle leaf-fig bottom leaves drooping
Fiddle-leaf fig drooping bottom leaves rarely happen. But it may occur. For instance, a few lower leaves drooping and wilting may be normal aging. Such leaves have finished their lifecycle and are dying. Also, they may turn yellowish then brown before falling. Remove these leaves when they turn yellow with sterilized pruning scissors.
The other reason for the bottom leaves wilting is if that specific area is exposed to the various causative agents like cold drafts and heat stress. For instance, they may droop if the lower leaves are on a drafty spot or near a room heating vent.
Lastly, borrowing from the University of Florida, "Southern magnolia droop in a dramatic fashion as the new set of leaves emerges; this is normal, and nothing needs to be done." Perhaps it may be a similar reason for Ficus lyrata.