Fiddle-leaf fig root rot is a common problem associated with mainly overwatering but may have other causes.
Learn how overwatering results in decay, what the root rot looks like, and the signs to look to expect.
You will also learn how to fix root rot in fiddle leaf fig (repotting or treatment to save your plant) and the recovery process. And there is a section on preventing this problem from happening again.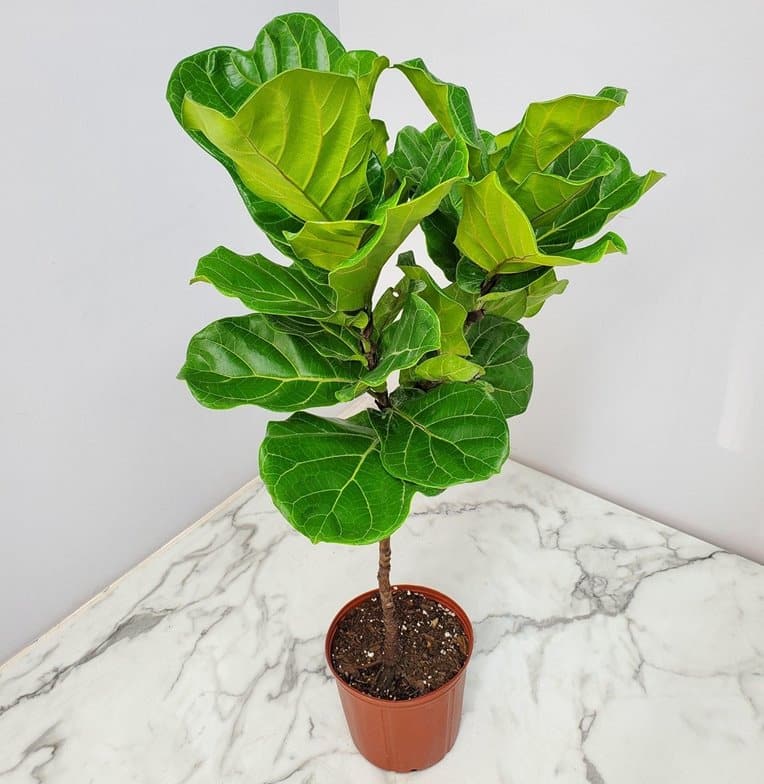 Causes of root rot in fiddle-leaf fig
Overwatering is the leading cause of fiddle-leaf fig root rot. But other things like poor sanitation, contaminated soil or water, placing pots on the ground (earth surface), buying sick plants, etc., may be responsible.
Let us talk about the various things that cause root rot in Ficus lyrata. Once you understand them, it will be easier to avoid this problem.
1. Overwatering and waterlogged soils
Overwatering makes the soils waterlogged, which will cut oxygen from reaching roots. When they cannot get oxygen, they will not function well or grow. Also, the root may die back.
Besides weakening and dying back, overwatering may also favor the multiplication of opportunistic soilborne pathogens, some naturally existing in the soil. These pathogens will then attack the roots, causing decay. If your plant root is healthy, the pathogens won't cause the rot.
Some of the leading causes of fiddle-leaf fig overwatering include the following
Watering too often: If you don't let a few top inches of the potting mix dry before another watering session, you may end up overwatering these plants.
Following a watering schedule: Since water needs changes with environmental conditions (temperature, humidity, and light), season, plant size, pot size, pot type, etc., following a watering schedule predisposes plants to the overwatering problem.
Poorly drained soils – Heavy, compacted, or poorly drained soils will trap water, i.e., they don't allow water to flow through them, making it soggy.
Having an oversized pot – Oversized pots, especially non-porous (glazed or plastic), may result in overwatering. Why? Because it will take your plant longer to use the water, meaning there is an increased risk of soils being wet for long.
Low temperatures: Slows water loss by evaporation and reduces plant growth rate. So, they will not use much of the water.
Poor air circulation or ventilation: It lowers the evaporation rate, especially when humidity is very high, meaning the potting mix will be wet for a long. Crowding plants together causes poor air circulation too.
Not emptying saucer or cachepots: Some water may collect in the cachepot or saucer after watering. If you don't discard it, your plant may absorb it back into the potting mix, making it soggy.
Blocked or absence of drainage holes: Pots without drainage holes are likely to cause soggy soil and consequently overwatering problem.
2. Poor sanitation
The second possible cause of root decay is poor sanitation. It includes using contaminated gardening equipment, tools, or pots, which may transfer the various soilborne pathogens that cause root rot to your plant.
3. Contaminated potting mix or plant material
Sometimes, root rot may occur due to using unsterilized soil, or your plant may come with this disease. Also, contaminated water may cause this problem.
4. Placing pots on the soil surface
If you place your pots on the soil surface, especially those that grow their Ficus lyrata outdoors, some of the naturally occurring soilborne pathogens may spread to your planters.
Not just the pots but also putting your perlite, pumice, bark chips, etc., on the soil may also result in contamination.
5. Stressed plants
The other reason your plant ends up with root decay may be stress. It may be due to improper care and growing conditions like extreme or sudden changes in temperature, too little light, lack of nutrients, etc.
Stress weakens plants making them susceptible to attack by pathogens present that would otherwise not have affected your plant.
Pathogens involved
We have given you the causes. It's time to let you know the pathogens involved in fiddle fig root rot. Various pathogens are responsible, primarily fungal and rarely bacterial.
According to the University of Florida, the common pathogens and signs are:
| | |
| --- | --- |
| Disease | Signs |
| Phytophthora root rot (Phytophthora sp.) | It affects roots, stems, and foliage. Signs include yellowing leaves, wilting, black to brown lesions on leaves if wet. Roots will be dark brown to black and will easily slough. |
| Pythium root and stem rot (Pythium sp.) | Signs resemble those of Phytophthora. They include stunted growth, yellowing of leaves, wilting, water-soaked lesions on leaves (in wet conditions), and roots that slough leaving the vascular cylinders. |
| Rhizoctonia (Rhizoctonia solani) | Signs to expect girdling of younger tenders stems, slow growth, wilting, leaves turning yellow, mushy, dark brown roots that slough with ease. Also, you may notice tightly woven mycelial mats (sclerotia). |
| Southern blight (Sclerotium rolfsii) | It affects both foliage and roots. Symptoms include feathery white strands on soil, brownish or black lesions on the soil line, girded stems, wilting, leaf discoloration, collapse, and sudden death. |
What does root rot in looks like fiddle leaf fig
If you suspect your Ficus lyrata has root rot, you need to look at the various signs. But it is only by examining the roots that you can 100% confirm it is this problem and not any other. Remember, conditions like overwatering, underwatering, etc., may produce some symptoms.
1. Healthy vs. decayed roots
Healthy roots will appear long, white, or tan with tips. They will be thick, succulent, and firm if you touch them. Also, their smell will be that of your potting mix.
On the other hand, decayed roots will be brown or black, have visible cankers or lesions, and if you touch them, they will be soft, mushy, and limp. Also, they will easily slough and will have a sulfur-like or rooting matter smell.
2. Other fiddle-leaf fig root rot signs
Besides the appearance, feel, and smell of roots, other telltale signs include the following:
Yellow leaves, especially starting with lower ones
Brown spots and lesions on leaves and stems if they affect foliage
Leaf scorch (brown tips and margins
Slow or stunted growth
Leaves fall off prematurely, especially after discoloration or wilting.
Moldy and smelly potting mix
Mushy stem base
Crown and root rot
Presence of sclerotia or feathery strands on the soil
How to fix fiddle-leaf fig root rot or save your plant
You don't want your plant to die. Depending on the extent of the decay, it is possible to save or treat your plant. We will look at mild, moderate, and severe cases.
1. Mild case: Use hydrogen peroxide treatment
If your fiddle-leaf fig root rot is mild, i.e., affected only a few roots, you can easily manage it using hydrogen peroxide and changing your watering habits. But if the potting mix is heavy and compacted, you will have to amend it.
Buy a 3% hydrogen peroxide at your local store or Amazon.com. Then mix a tablespoon (15ml) into a cup (240ml of water) and pour it evenly into the soil. Ensure you saturate the whole potting mix with this solution, and don't forget to focus on the root area.
2. Moderate to severe: Repot and treat
If the decay affects only a portion of the root mass, repotting is the only way to save your plant. Here is how to repot a fiddle leaf fig with root rot.
What you need
A fresh potting mix
Fungicide like Bonide Revitalize® Bio Fungicide Concentrate.
A disinfected or new pot. If using the current once, you need to disinfect it using a 10% bleach solution. For porous pots, you need to soak them in this solution for several hours and when rinsing, again do the same but clean water.
Pruning scissor
70-90% rubbing alcohol for sterilizing scissors
Steps to follow
Slide your plant from the old pot, gently work with your fingers to loosen the rootball. While doing soil so, try to get rid of as much soil as possible. Afterward, put the roots under running water to remove the old potting mix.
Use sterilized pruning to cut any decayed (mushy brown or black parts or lesions) roots. Cut just above the decayed area.
Sterilize your pruning scissors and cut some ⅓ to ½ of the leaves. How much to prune depends on the size of roots you remove. Otherwise, the remaining ones may not support the full foliage.
Dip the roots in a fungicide or sprinkle it, ensuring proper coverage. It will help prevent reinfection.
Repot your plant to a new pot and potting mix just as you usually do. Start by adding some soil about ⅓ way, plant your Ficus lyrata, and add more soil, reaching the level before.
Thoroughly water your plant and take it to a warm, humid area with bright indirect light.
3. Extremely severe decay: Discard the plant
If your plant has severe decay affecting the whole root ball, you need to discard the plant. Attempts to save it at this stage may prove difficult with only meager survival chances.
Fiddle leaf fig root rot recovery
If you have a mild case and go for hydrogen peroxide, recovery will be faster. Also, your plant is unlikely to suffer from much shock.
On the other hand, recovery will take some time if you have a moderate to a severe case that needs repotting. During the recovery period, you may notice these issues:
Some leaves turn yellow or have brown tips and edges
Leaves curling
Drooping and wilting
Leaves fall off, especially those that have already turned yellow or brownish.
Plant death
There is nothing much to do besides ensuring optimum conditions – bright indirect light, humidity above 40%, and temperatures of 65 - 85°F (18 - 29°C). Also, ensure the potting mix is moist but never soggy.
How to prevent fiddle-leaf fig root rot
After successfully saving or treating your plant from root decay, you don't want it ever to happen again. Here are ways to prevent it.
Fix watering issues: Water your plant when the top 2-3 inches of the potting mix feels dry, and always test the soil with your finger or soil moisture meter like XLUX before watering. Also, ensure your potting mix drains (add some perlite, pumice, orchid bark), the pot has drainage holes and proper air circulation. Don't forget to drain cachepots and maintain optimum growth conditions (temperature, light, and humidity).
Practice proper sanitation: Wash your hands before handling your plants and sterilize your gardening equipment with 70-99% rubbing alcohol like Solimo 99% Isopropyl Alcohol For Technical Use. Also, sterilize pots or planters.
Buy and store potting mix: Buy commercial potting mix since most are treated or sterilized. Don't use dirt from your garden. Also, ensure you properly keep the potting mix in a dry place and never directly on the ground (outdoors).
Use raised surfaces and don't have them on top of each other: When outdoors, don't place your plants on the ground since they may end up with some of the root rot pathogens that occur naturally in the soil. Also, don't hang plants on top of others to avoid the upper contaminating the lower ones. Spread may occur if upper plants get infected.
Don't mist plants in the evening: Avoid wetting leaves in the evenings as they may not dry. Prolonged wetness may increase susceptibility to some root rot that also affects foliage. Also, it may increase instances of leaf spot diseases.