What a perfect way to create a tropical backdrop in your home than with a Monstera lechleriana. This adorable tropical plant has lovely oval to lanced-shaped glossy green leaves that become fenestrated as it grows bigger. You can even go for the rarer form with adorable cream-whitish variegations.
Caring for this plant is a breeze for any Monstera plant owner. You can even let it climb tree trunks or an arbor outdoors if you are in milder climates.
Just remember to avoid no direct sun (it prefers dappled light) and keep its soil moisturized, never soggy. Also, keep relative humidity above 40% and ensure the soil mix is airy and rich in organic matter.
Lastly, don't forget to give it a place to climb if you want those large, fenestrated leaves. Also, it prefers a temperature range of 55°F to 80°F and cannot tolerate frost.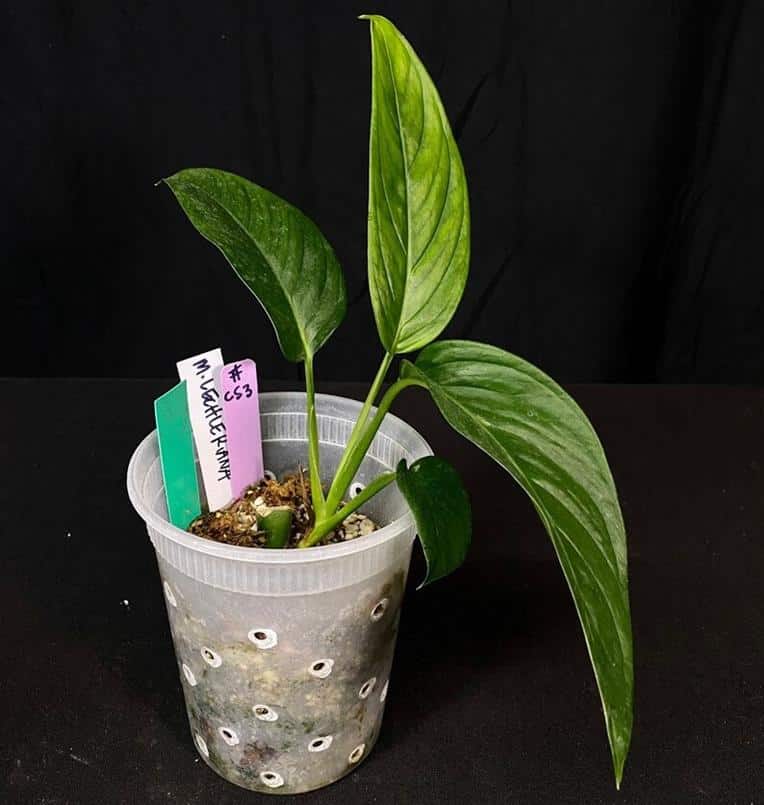 Quick overview
| | |
| --- | --- |
| Scientific name | Monstera lechleriana. Synonyms: Monstera maxima or Monstera henry-pittieri |
| Family | Arum family, Araceae (aroids) |
| Common names | - |
| Native habitat | Bolivia, Ecuador, Colombia, Panamá, Peru, and Venezuela |
| Type | Evergreen climbing hemiepiphytes |
| Size | 23 feet (7m) in native habitat, 4 to 6 feet or more as a houseplant |
| Leaves | It has green, leathery, glossy leaves with a paler underside. Juvenile leaves are oval to lanceolate, erect, and borne on a tight head. Adult leaves are more prominent, oval with elliptical perforations near either side of the midrib. |
| Stems | Round to terete green vine-like stems |
| Flowers | Solitary, cream to pale yellow inflorescence flowers borne on a spadix. The flowers are surrounded by a thick, leathery, white to pale yellow spadix |
| Blooming time | All year once the plant matures |
| Light requirement | Bright, indirect light |
| USDA hardiness zone | 11b to 12 |
| Temperature | 55°F to 80°F (12.7 to 26.7 ºC), not frost hardy |
| Humidity | Average to above average, i.e., 50%+, typically 50% to 80% |
| Growth rate | Medium |
| Soil | Well-drained, slightly acidic to neutral organic-rich potting mix or soil |
| Watering | Medium, allowing a few top 1 to 2 inches to first dry |
| Fertilizer | Medium. Feed once a month with an all-purpose liquid houseplant fertilizer or food |
| Propagation | Stem cutting |
| Toxicity | Harmful to humans and pets |
| Care level | Low or easy |
How do you identify a Monstera lechleriana?
Monstera lechleriana resembles Monstera adansonii and Monstera acacoyaguensis. Some people may confuse or mislabel these two. Here is a description.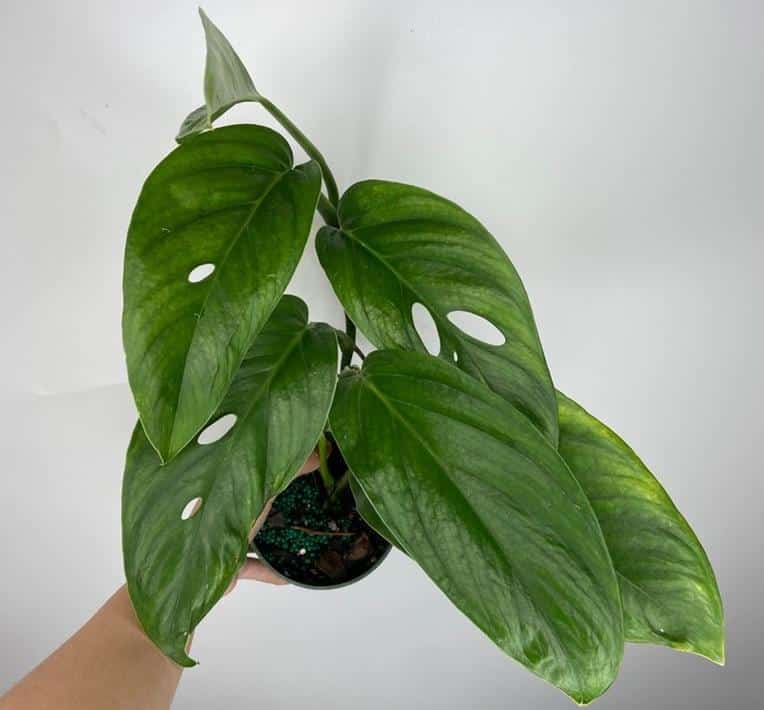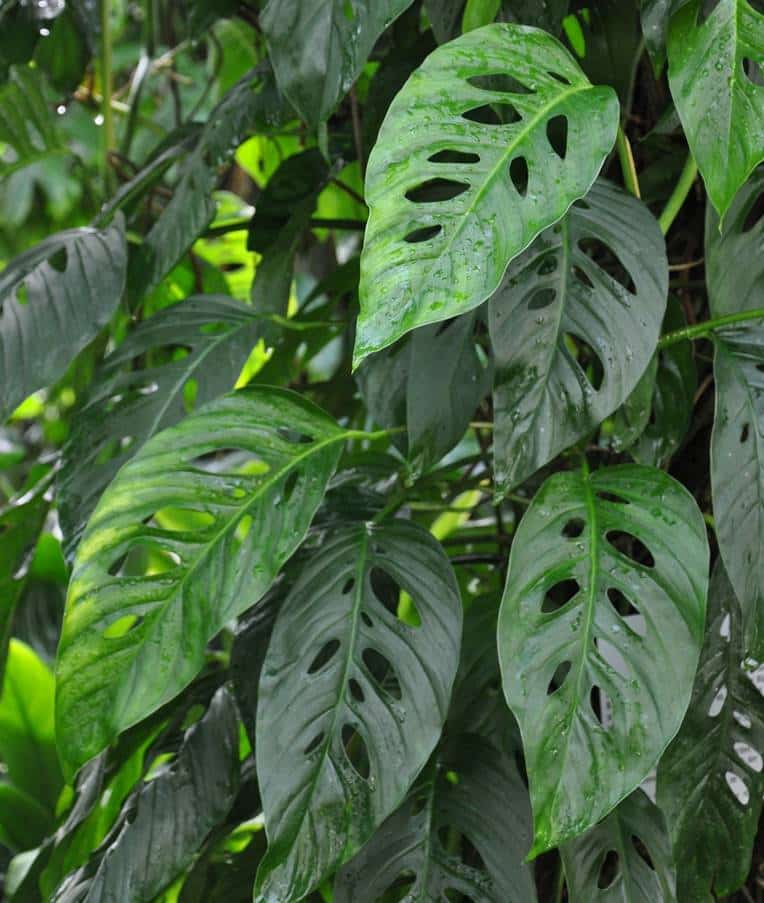 Growing habits
Monstera lechleriana is an evergreen tropical climbing hemiepiphyte native to Central American rainforest, i.e., warm, and humid tropical climates at 820 to 6561 feet (250 to 2100 meters) above sea level.
It has a moderate or medium growth rate and grows as a low tree trunk understory climber receiving dappled light.
2. Size
Monstera lechleriana grows up to about 23 feet (7m) long. And as a houseplant, it may grow up to 4 to 6 feet high or more while outside, it can grow tall. Just give it a growing place and maintain ideal conditions.
3. Leaves
This lovely monstera has leathery, glossy green leaves with a pale underside and a vaginated (have a sheathing) petiole with persistent wings.
Juvenile leaves are erect, oval to lance-shaped, and borne on a tight head of 10-15 leaves at the top of the stems with overlapping bases.
On the other hand, mature lechleriana leaves are larger (30-47 inches long by 14 to 28 inches wide) and may have a single series of elliptical fenestrations. These holes are closer to the midrib and, at times, may be lacking.
Lastly, petioles are shorter or nearly equal to lamina length in mature leaves.
4. Stems
Young stems are greenish, thinner, and vine-like with internodes about 0.4 to 2.4 inches long, while mature will be a bit thicker (1.7 to 2.4 inches) subterete with longer nodes (1.6 to 2.4 inches). These stems will have aerial roots for anchoring and nourishment at epiphytic stages.
5. Flowers and fruits
Monstera lechleriana will flower after 6-8 years in its natural habit. So, it will hardly flower under cultivations. Its solitary inflorescence has cream to pale yellow tiny flowers, borne on a spadix and surrounded by a white or pale-yellow spathe.
The flat flower stalk is a greenish stalk with a whitish base longer than the spadix, i.e., about 7.8 to 15.7 inches long vs. 5.9 to 7.9 inches.
Finally, the fruiting spadix is cream to medium yellow. It has berries-like clustered fruits with mostly one brown, oblong seed.
Where to grow Monstera lechleriana
It makes a good houseplant for any room (kitchen, conservatories, bathroom, living room, bedroom, etc.) in temperate climates. Grow it, preferably a pot and let it have a moss pole or trellis. However, you can let it cascade from a hanging basket (cascade downwards) or train horizontal surfaces – desks, cabinets, shelves, etc.
People in the tropics and subtropics can grow a lechleriana outdoors. Let it wrap around trees, climb fences or harbors. But if conditions don't favor you, consider having a greenhouse.
How do you care for your Monstera lechleriana
The care and growth requirements of this tropical aroid are typical of any other Monstera. We rate them as easy to care for or low-maintenance plants.
Usually, these plants require warm and humid conditions. Also, they need bright indirect light, and well-drained, fertile soils. That is not all, you also need to know how to properly water them. Remember, they tend to be sensitive to overwatering.
Below are care and growth requirements:
1. USDA hardiness zone
The USDA hardiness zone for Monstera lechleriana is 10b to 12. Like other Monsteras, this tropical plant cannot withstand frost or freezing temperatures. People in these zones can grow their Monsteras outdoors, all year.
2. Does it have a temperature preferance?
Monstera lechleriana grows in a wide range of temperatures, usually 55 to 80 degrees Fahrenheit (12.7 to 26.7°C). Therefore, they will grow just fine in average household temperatures.
Also, they can withstand slightly higher temperatures. However, if you keep on the lower temperature side, expect them to grow slowly.
Furthermore, if grown outdoors, move them indoors when temperatures fall up to 10 degrees Fahrenheit (10°C) or below. Otherwise, they will stop growing.
Finally, these plants don't like cold drafts as they can cause foliage yellowing. Similarly, don't place them near heating or cooling vents. They don't like sudden temperature swings.
3. What humidity is perfect and how to you keep it?
These aroids love warm and humid conditions, just as it is in their tropical rainforest habitat. Consequently, your M. lechleriana will need average to above average humidity, 50% or more.
Fortunately, they won't mind average household humidity. The average household relative humidity is about 40 to 50%. But will love extra, especially if your household humidity is on the lower side.
Therefore, mist them a few times a week. Also, you can have a humidifier or pebble tray.
Another place you can have them is in your bathroom. Alternatively or place them together with other plants. These places have high humidity.
Otherwise, they may wilt, or their leaves turn yellow. Also, the leave may have brown edges and be crispy if in very low humidity.
4. Give, bright, indirect light
In their natural habitat, they receive filtered light from the tall rainforest trees canopies. They hardly get direct sunlight. This, therefore, tells you that Monstera lechleriana needs bright indirect light. But they can tolerate medium, indirect light.
Avoid low lights as it will stunt their growth. Also, it will make leaves turn yellow. If you don't have a bright spot, have artificial grow lights.
Similarly, avoid direct sunlight as it will burn their leaves and make them pale. Usually, the leaves will have crispy brown edges and tips or look bleached. Consequently, if grown outdoors, have a greenhouse. Alternatively have a 20 to 40% shade cloth. Still, you can grow them under a shade.
Finally, while the north-facing window will guarantee indirect bright light, a window shouldn't be a limiting factor. For instance, placing them some distance from your east, west, or south-facing window will work. Also, you can have blinds. Just ensure no direct sunlight.
5. Select a well-draining soil rich in organic matter
Like other Monsteras, these plants love fertile (nutrient-rich), moist soils. Therefore, the best Monstera lechleriana soil should be well-drained, aerated, and high in organic matter. A slightly acid to neutral potting mix works best.
Lechleriana is not fussy and will grow in soil or even soilless potting mix. An excellent one to start with is coco coir or peat moss-based potting mix with added perlite, pumice, or bark chips.
Alternatively buy an aroid mix from Etsy.com. Even top brands like Noot Organic Indoor Plant Soilless Potting Mix Coconut Coir Perlite Pre-Hydrated Root Stimulant Mycorrhizae Fertilizer should work well.
Please stay away from heavy or poorly drained potting mixes. Such soils will increase the likelihood of root rot. Also, ensure your pot has drainage holes.
6. How do you properly water your Monstera lechleriana?
How often should you water this Monstera? I know this is one question everyone asks.
Firstly, Monstera lechleriana requires medium watering – they want moist, not too wet, or dry potting mix. Therefore, you should water them when the top 1 to 2 inches of the soil dries.
Since underwatering will also affect your plant, you must know when to water. To do so, you need to feel the soil with your finger and water it when it is dry up to the first knuckle.
Alternatively, you can buy a soil moisture sensor like XLUX. It is accurate, reliable, and less messy. Who wants to touch the soil every other time?
On how often, you will water these plants after about a few days to a week during the growing - spring and summer. However, the exact duration will vary. The duration will depend on light, humidity, temperature, plant size, and so on. Therefore, we encourage that you test the potting mix.
During winter or fall, cut the watering. Water them biweekly or when the whole soil feels almost dry. Please don't leave it to dry completely.
When watering, slowly saturate the soil with water till excess comes from the drainage hole. If any collects on a saucer, pour it away.
Finally, always look at how your plant behaves to watering. Is the potting mix always dry or wet? We recommend allowing some in-between topsoil drying.
i. Overwatered Monstera lechleriana
Soggy or always wet soil and yellowing of leaves are the two common signs of overwatered M. lechleriana. It can happen due to watering too frequently. Also, it can occur if your pot not having drainage holes. Also, poorly drained soil may be a reason.
Other signs include brown or black splotches on leaves. Moreover, the leaves dropping. Furthermore, your plant may wilt, have a mushy stem base, or a moldy potting mix.
ii. underwatered
When underwatered it will have curly leaves and dry soil. Also, the leaves will droop, turn yellow or fall. And your plant will grow slowly or even wilt.
7. Feed with a balanced fertilizer, once a month
Fertilizers will ensure your plant gets all nutrients. Feeding these plants will promote growth and lushness.
This aroid needs medium fertilizer feed. Use an all-purpose indoor plant liquid fertilizers or slow release formula for houseplant.
Miracle-Gro Water-Soluble All-Purpose Plant Food is our Favourite fertilizer. Also, it is Amazon's best seller. This fertilizer has other minerals like boron, manganese, molybdenum, zinc, copper, and iron that your plants need. Start with ¼ a teaspoon (half-strength) per gallon of water and feed twice a month.
For people who prefer slow-release formula, we have tried Osmocote Smart-Release Plant Food Plus Outdoor & Indoor, which is a sure bet. It will feed your plants for up to 4 months.
Finally, don't feed these plants during fall or winter. At this time, they are not growing. Therefore, they will not use it. When not used, it will end up as salt deposits in the soil.
8. Do these plants require and grooming
When pruning your lechleriana, use a sterilized pruning knife or shears. Regularly cut off dead, damaged, or diseased leaves. It will give space for new growth.
Also doing so will make the plant healthy and stop them from attracting pests. Why have these leaves which depend on the plant without contributing anything?
In addition, during spring or summer, you can cut off long branches to control growth. This pruning will also promote more branching and a fuller plant.
9. How often should you reppot your lechleriana?
First, this Monstera doesn't grow fast and has a relatively small root. Therefore, repot Monstera lechleriana after every 2 to 3 years.
Also, repotting is necessary if they are root-bound. Roots growing from drainage holes. Moreover, they will have stunted growth. Other signs are dropping, curling, or yellowing of leaves, etc.
Secondly, spring is the best repotting time. These aroids need ample time to reestablish themselves. However, summer can also do.
Lastly, pick a pot that is about 2 to 3 inches wider in diameter. Also, ensure it has drainage holes and deep enough to accommodate the roots.
How do you propagate your Monstera lechleriana
Monstera lechleriana plant propagation is by stem cutting. You have the liberty of propagating them in water or a potting mix.
Furthermore, layering and division are possible ways of propagation. However, you can only divide plants with suckers.
If you want to propagate this plant, wait until early spring. It will take some time before the roots grow, and spring will give ample time.
i. What you need
Pot or propagating container
Sterilized pruning shears
Rooting hormone (optional) like HydroDynamics Clonex Rooting Gel, Safe Garden Brand or Hormex
Potting mix. An equal blend of perlite and peat moss or peat moss alone will work.
ii. Propagation steps to follow:
Prepare your potting mix. To do so, place it in your propagating mix and saturate it with water until excess comes from drainage holes. Pour any water that collects in the saucer.
Select a healthy, mature stem with at least two nodes and cut it using your pruning sheer. Please cut it just below the lower node. Afterward, remove any lower leaves, leaving a few upper ones.
Apply some rooting hormone onto the part you will bury or plant. While not necessary, it will promote faster rooting. Also a rooting hormone will increase the success rate.
Then, make a small hole on your potting mix, plant your stem cutting. When planting cover at least two nodes. Afterward, tamp the soil with your fingers. This is to ensuring the cutting stays upright.
Mist the cutting with some water. Then place it in a place with bright, indirect light. Average root temperatures are ok.
From time to time, mist your plant. Also, ensure the potting mix remains moist. If possible, you can place it in a greenhouse cabinet. Cuttings will grow faster under high humidity.
Monstera lechleriana will begin rooting after four weeks. By two months, it will unfurl one or two leaves. How soon this happens depends on the prevailing conditions. When grown enough, transplant it to a growing pot.
If you live in areas with low humidity, we recommend covering your cutting with a transparent plastic bag. However, you should leave a small hole for breathing. Also, remove the bag for a few hours after every few days. Removing the plastic bag will give your plant a chance to breathe.
iii. Is water propagation ok?
Some people prefer propagation in water. From our experience, it takes slightly longer. And your plant will get some transplanting shock. Nonetheless, you will see roots grow.
To propagate Monstera lechleriana in water, place your cutting after step 3 in a jar full of water. Ensure you don't submerge leaves.
Afterward, you will put it in bright, indirect light. You don't need a plastic bag as the water will keep humidity high.
Lastly, remember to change the water after 3 to 4 days. Alternatively, change the water when it starts looking a little cloudy.
Are lechleriana plants toxic to pets and humans?
Monstera lechleriana is harmful, toxic, or poisonous to humans and pets. This means that it is dangerous to dogs, cats, rabbits, hamsters, guinea pigs, bearded dragons, and other pets. Keep it off your kids and pets.
The toxicity principle is insoluble calcium oxalates or raphides. Eating the plant will cause severe irritation, a burning sensation. Also, expect some redness, and swelling of the mouth, lips, or tongue.
Other signs are drooling, mouth pawing (pets), difficulties in swallowing, and anorexia. GI irritation and breathing issues are rare.
Does this plant have pest issues?
We haven't had any problems with any pests. However, a few people have reported spider mites, mealy bugs, aphids, scale, and thrip. These cases are common in plants grown outdoors.
Generalized signs of pest infestation include the presence of the bug. Also, you may notice some honeydew, and black sooty molds, and webbing.
More pests indicators are spots (brown, silvery, or brown), distortion, and yellowing of leaves. Moreover, there may be holes on leaves, stunted growth, leaves dropping, etc.
Usually, the exact symptoms are specific to the pest present, so is treatment. Some of the remedies and treatments include horticultural oil sprays and insecticidal soap.
Also, you can manually hose your plant to dislodge these pests. Others are neem oil, wiping with rubbing alcohol, or use of systemic, indoor place insecticides.
Disease and conditions to expect?
Mosaic virus, powdery mildew, rust, leaf spot, anthracnose, etc., are uncommon. Common diseases, conditions or problems, or issues include the following.
1. Root rot
Fungal or bacterial root rot is the most prevalent problem. It happens due to overwatering. However, poorly aerated or drained soils can contribute.
Signs include yellow leaves, wilting, stems looking mushy at the base. Other signs are black spots on leaves or dropping.
The only remedy is repotting. Usually, it works if the rot is mild. However, if the issue is severe, your plant will die.
When repotting, ensure you discard the previous potting mix. Moreover, cut any brown or black roots with a sterilized pruning knife.
2. Why your lechleriana leaves may be going yellow?
In the case of Monstera lechleriana yellow leaves, the most probable reason is overwatering. Still little or too much light and underwatering can be to blame. Other causes are cold drafts, lack of nutrients.
Furthermore, these plants will have yellow leaves when infested with pests or diseased. But some yellowing of older leaves is expected.
3. Are leaves curling leaves
The most likely reason for curling leaves is too little water. Also, any issue that affects water absorption or promotes quick evaporation may be a cause. Such include low humidity and root rot. Additionally, heat stress, pests, disease, and other things may cause the curling.
Is there a variegated Monstera lechleriana?
If you are looking for something rare and fancier, Monstera lechleriana variegated is our best bet. This extremely rare, variegated version with green leaves with cream/whitish variegation.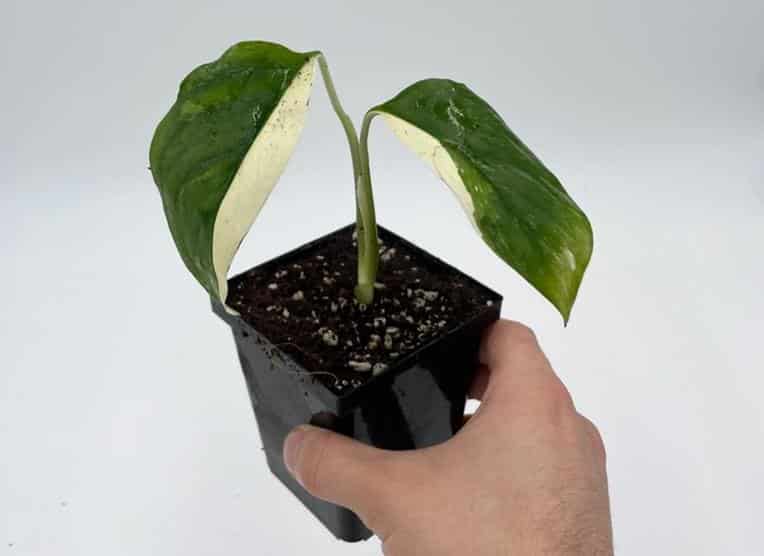 The variegations occur due to genetic mutations. This mutation is seen in only one plant out of 100,000 plants.
Being rare, you expect to spend more. At eBay, it goes for $1700. Bcraretropicalplants.ca in Canada sells it for $1,500, and Tropicalrareplants.com at $800.00. Other places are Rarehomeplants.com for $1400 and Esty.com for $360+
Monstera lechleriana vs acacoyaguensis
These two plants resemble each other. But Monstera lechleriana has a thicker spadix than Monstera acacoyaguensis. Also, it forms a tight-head at the end of the stem and will have fever perforations closer to the midrib.
Monstera lechleriana vs. Adansonii: The differences
M. Lechleriana and the more popular M. Adansonii bear some resemblance. Also, they share the same family Araceae and genus Monstera. However, they are different, recognized Monstera species.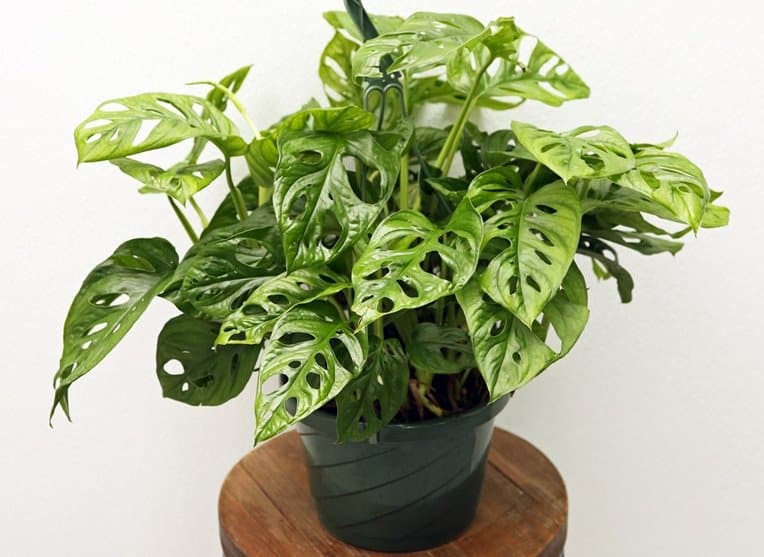 If you have trouble distinguishing these two species, we will help you. Here are a few things that can help you identify them:
| | | |
| --- | --- | --- |
| | M. Lechleriana | Monstera Adansonii |
| Juvenile leaves | Borne on a tight head at stem top and overlap on the bases | Leaves are not on clustered head top of the stem. |
| Adult leaves | They have more but smaller perforations. Also, they occur in a series, close to the midrib on either side of the leaf blade. Finally, these fenestrations occur later | They have missing or fewer but larger perforations. Additionally, these fenestrations start forming early. |
| Size | Slightly larger with larger leaves | Smaller and somewhat smaller leaves |
| Ecological zones | It occurs at higher altitudes | It grows at lower altitudes |
Frequently Asked Questions FAQS
Are Monstera lechleriana rare?
Yes. M. lechleriana is uncommon or somewhat rare. You are unlikely to find it at most local nurseries. Also, major horticultural growers like Costa Farms don't this plant. Nevertheless, it is the Monstera lechleriana variegated that is very rare and expensive.
What is Monstera lechleriana price?
Monstera lechleriana's price ranges from $40 to $60 for a rooted cutting with a few leaves. However, a larger plant will cost you anything between $60 and $100.
Where do I buy Monstera lechleriana?
M. lechleriana is not so easy to find. However, you can start by looking for them at your local specialty nursery or plant store. We bet you are unlikely to get them.
If you haven't found them, go to Etsy.com or eBay.com. These two places have several vendors offering incredible prices. Other places are canopyplantco.com ($90) and ecuageneraus.com ($45). Also, try plantproper.com ($40) and ecuagenera.com ($35).
Moreover, look for Facebook plant groups or google "Monstera lechleriana for sale."You will get several online vendors.
Besides eBay and Etsy, people in the UK should try Easterntropicals.uk (£37.99). In Canada get it at millionplants.com ($149) or and houseofmonstera.com ($61.25) is where to go.
Finally, in Australia, this Monstera is readily available and cheaper. Go to gardenworld.com.au (AUD35) or verdantdwellings.com.au (AUD15). Another affordable place is nursery2u.com.au (AUD12), etc.