Monstera pinnatipartita is a rare, evergreen tropical climbing garden and houseplant native to Colombia, Ecuador, and Peru. Botanically, it belongs to the arum family, Araceae, or the aroids.
People treasure this monster for the beautiful foliage. We bet you will love bicolored entire juvenile leaves and the dark green fenestrated mature leaves. What better way to bring a tropical backdrop to your home than having this adorable, air-purifying aroid?
Monstera pinnatipartita common name Philodendron Silver Queen. Some people call it Philodendron pinnatipartita. However, contrary to what the name may suggest, it is not a Philodendron.
Furthermore, Monstera pinnatipartita closely resembles Monstera spruceana and Monstera Karstenianum or Monstera spp. Peru (when juvenile).
Finally, many people mislabel or sell it as Monstera dobsoniana (invalid name), Monstera siltepecana, or Monstera karstenianum (Monstera sp. 'Peru'). However, this is a mistake as this is an accepted aroid species.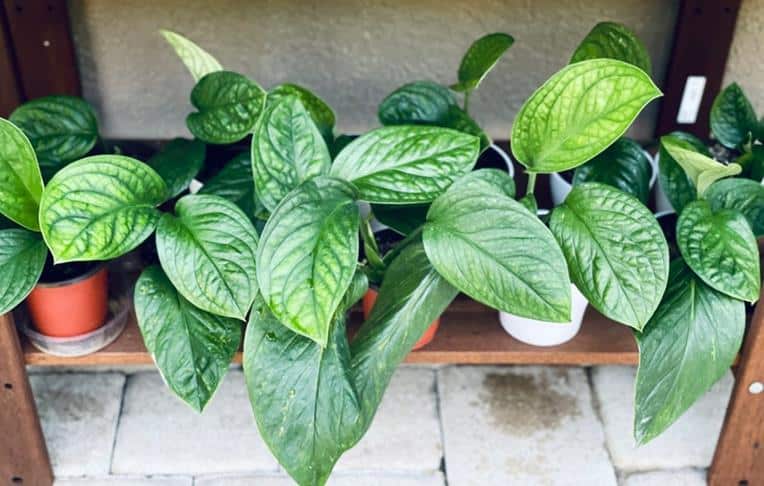 Quick Overview
| | |
| --- | --- |
| Scientific name | Monstera pinnatipartita |
| Family | Arum family, Araceae (aroids) |
| Common names | Philodendron Silver Queen |
| Native habitat | Mainly Colombia, Peru, and Ecuador. Other areas are Costa Rica, El Salvador, Bolivia, Venezuela and Panama |
| Type | Evergreen climbing hemiepiphytes |
| Size | 33 to 66 feet (10-20 m) in native habitat, 4 to 6 feet as a houseplant |
| Leaves | Juvenile leaves: Bi-colored, oval/elliptical slightly bullate leaves with green and light green variegation. Adult leaves: Large pinnatifid, dark green leaves. |
| Stems | Vine-like greenish stems with short nodes |
| Flowers | Small cream to greenish inflorescence flowers borne on the spadix, surrounded by a whitish-cream spathe |
| Blooming time | All year once the plant matures |
| Light requirement | Bright, indirect light |
| USDA hardiness zone | 11b to 12 |
| Temperature | 65°F to 80°F (18 to 27 ºC), not frost hardy |
| Humidity | High (60% or more) but tolerant to lower humidity, typical of most households. If too low, mist, use a pebble tray or humidifier. |
| Growth rate | Medium |
| Soil | Well-drained, organic-rich soils or potting mix |
| Watering | Medium, letting a few top inches to first dry |
| Propagation | Stem cutting |
| Toxicity | Toxic to humans and pets |
| Care level | Low or easy |
Identification – appearance, and description
You deserve to know more about this charming plant. Let us look at its appearance and growing habits.
1. Growing habits
Firstly, Monstera pinnatipartita is a tropical, evergreen climbing hemiepiphyte. Therefore, it has a part of its lifecycle as an epiphyte growing on hosts and as a terrestrial plant, growing roots in the ground).
Secondly, while in its natural habit, this monstera grows in humid, wet, and moist tropical evergreen and semideciduous forest. Usually, while juvenile, it grows as an understory plant. Afterward, it will begin climbing on tree trunks, rocks, or any other support with the help of its aerial roots.
Thirdly, this flowering aroid has complete bicolored oval/elliptical leaves. However, as it matures, the leaves become deeply fenestrated or pinnatifid
Finally, like other Monsteras, Monstera pinnatipartita is a medium-growing plant. How fast it grows depends on conditions (light, humidity, temperature, watering, soil, etc.) and having a place to climb.
2. Size
While in the wild, Monstera pinnatipartita grows up to 33 to 66 (10-20 m) feet long, and it takes up to 10 years or more to reach these heights.
However, as a houseplant, it grows up to 4 to 6 feet. Also, as a climber, you ought to provide it with a place to climb. Otherwise, it will grow slowly.
3. Monstera pinnatipartita Juvenile and mature leaves
It has entire, oval to elliptic, glossy, leathery juvenile leaves with green and light green variegation. Their texture is rough or slightly bullate with slightly sunken green veins.
Usually, juvenile leaves resemble those of Monstera karstenianum (Monstera 'Peru'). However, they are not as dark green as M. karstenianum.
When this monstera matures, the leaves dramatically become larger. Also, they lose their bi-coloration and are deeply fenestrated or pinnatifid (split to almost their midrib), and the pinnae are about 0.4 to 1.2 inches wide. They rarely have perforations but may.
Usually, mature Monstera pinnatipartita leaves are dark green on the upper side and medium green on the underside. Furthermore, they are leathery, glossy, and smooth (don't have bullate) and somewhat resemble those of mature Monstera spruceana or Epipremnum pinnatum,
Finally, this monstera has smooth, grooved medium green to green petiole (leaf stalks). They are green to dark green, more prominent in adult leaves.
4. Stems
These plants have vine-like greenish stems with aerial roots (grow to the ground or anchor to vertical support). Leaves grow from nodes, and these stems are slightly thicker than those of Monstera sp. Peru.
5. Flowers and fruits
When grown under cultivation, Monstera pinnatipartita will hardly flower. Usually, they have tiny male and female inflorescence flowers borne on a spadix and surrounded by a spathe.
The spadix is cream to greenish while the spathe is whitish to cream. Upon fertilization, the spadix will have greenish-white clustered berries-like fruits or infructescence. Each berry has 1 to 2 seeds.
Finally, these plants will flower when they are about 8 feet (2.5m) high from the ground. However, this isn't always the case.
Where to grow them?
Monstera pinnatipartita makes an ideal garden or houseplant. Indoors, you can have them in any room, including the bathroom, living room, bedroom, or conservatory. Just ensure you provide optimum conditions.
However, since they are climbers, please provide them with climbing support such as a moss pole, trellis, or anything.
Outdoors, grow these plants in a place with filtered light (greenhouse or under tree shades) in your garden or patios. You can let them trail tree trunks, walls, wooden fences, and so on.
Monstera pinnatipartita care and growth requirement
If you have any other Monsteras, you will find caring for this plant a breeze. Let us focus on the various care needs.
1. USDA hardiness zone
Monstera pinnatipartita USDA hardiness zone is 10b to 12. People in these areas can grow it outdoors, all year. These aroids are not frost-hardy. Therefore, frost and freezing temperatures will damage it.
2. Temperature
The ideal temperature to grow your Monstera pinnatipartita is 65-80 degrees Fahrenheit (18-27ºC). Therefore, this monstera will do well in standard household temperature.
Usually, temperatures below 60 degrees Fahrenheit (15.6ºC) will slow growth, and the plant will stop growing below 50 degrees Fahrenheit (10 ºC).
If you are growing your Pinnatipartitaoutdoors, return it inside when temperatures go below 50 degrees Fahrenheit. Also, avoid areas with cold drafts or place the plant near room heating vents. These plants don't like drastic temperature changes.
3. Humidity
Monstera pinnatipartita loves high humidity, 60% or above, ideally 60-80%. Remember, these are tropical plants that thrive in warm and humid areas. Nevertheless, they can tolerate lower household humidity.
If you grow them in places with humidity below 50%, these aroids will love misting a few times a week to raise humidity or have them in your bathroom. Very low humidity may cause yellowing of leaves, wilting, dry and crispy leaves with brown edges, and so on.
Also, you can consider a humidifier like AquaOasis™ Cool Mist Humidifier, pebble tray, or grouping them with other plants. Some people grow them in greenhouse cabinets or terrariums to help keep ideal humidity.
4. Light
Monstera pinnatipartita requires bright, indirect light. Still, they can grow in medium to low light. However, they will grow slowly, with sparse leaves under low light, and inadequate light may cause discoloration or yellowing of leaves. Use grows lights if you are in poorly lit areas.
On the other hand, direct sunlight will fade or burn the leaves of your plant. When scorched, the leaves will have crispy brown edges and tips.
Therefore, if indoors, place them where direct sunlight cannot reach them. If you grow them outside, ensure they receive filtered light only. You can grow them in greenhouses, under 20 to 40% shade clothes, or under shades.
Finally, consider rotating your plant routinely for more balanced growth since they tend to grow towards the light.
5. Monstera pinnatipartita soil
The ideal soil for Monstera pinnatipartita should be well-drained, slightly acidic to neutral (5-7.5pH), and rich in organic matter. These aroids don't mind potting mix or any chunky, well-drained soils.
You can go for aroid mix, an equal mix of peat-based potting mix and perlite, or any other rich in organic manure.
We use sphagnum moss and potting mix with some pumice or perlite. However, you can still buy a good aroid mix at Etsy.com. We also have a very good experience with Miracle-Gro Indoor Potting Mix,
Nonetheless, you need to ensure it is well-drained as these plants don't like soggy, heavy soils. They may cause root rot.
6. Watering
Monstera pinnatipartita has a medium water requirement (moist soil, not soggy or too dry). Water them when the top few inches of the soil is dry, usually 2 to 3 inches.
To know it is watering time, I usually insert my XLUX moisture meter into the soil to know it is watering time and see the reading. If it reads three or less, I know it's time to water your plant.
Alternatively, you can fill with your finger. Water only when up to the first knuckle of your finger feels dry.
On how often, you should water your M. pinnatipartita once a week during spring and summer (growing season). Cut the watering to fall and winter to once after two weeks.
However, the duration will depend on humidity, temperature, lighting, and other factors. Typically, you will water more in places with higher temperatures, light, or low humidity.
Lastly, when watering, soak water until excess flows from drainage holes. Get rid of any that collects in the saucer.
i. Overwatered Monstera pinnatipartita
Heavy soils, lack of drainage holes, oversized pots, or watering too often are the causes of overwatered pinnatipartita. It is one of the most common issues.
Usually, when overwatered, the soil will be soggy and wet, and leaves will start yellowing. Other indicators are a moldy potting mix, mushy stem base, wilting, leaves dropping, yellow boarded brown spots, and so on. Most of these signs show when root rot sets in.
ii. Underwatered
When underwatered, leaves will begin curling, and the soil will be dry. Also, the plant may droop, lose leaves, wilt, and grow slowly (stunted growth).
7. Fertilizer
This monstera requires medium fertilizer feeding using balanced plant food such as the 20-20-20 or 10-10-10. However, even non-balanced formula are ok. Just make sure they are for indoor plants.
One pump of Miracle-Gro Indoor Plant Food (Liquid) is enough per two weeks. This balanced formula feeds plants immediately. We don't feed our plants during non-growing months.
Alternatively, you can use Osmocote Smart-Release Plant Food Plus Outdoor & Indoor for the slow-release formula. It feeds your plant for up to 4 months. Sprinkle 1 teaspoon on an area of 64 inches and work it into the soil, about 1-3 inches deep. 
8. Pruning and grooming
First, pruning pinnatipartita will mainly involve cutting off the dry, dead, or diseased leaves to give room for new growth, boost health, deter pests and make the plant look neat. Also, you can prune a few branches to control the plant size or shape.
Secondly, the best time to prune is during the growing seasons. Also, use a sterilized pruning shear or knife.
Finally, you can wipe the leaves with a damp cloth to eliminate dust or dirt that looks unsightly or attracts pests.
9. Potting and repotting
Monstera pinnatipartita requires repotting after about two years or when pot or root-bound. We recommend repotting during the growing season.
Besides roots growing from drainage holes, pot-bound plants will have curly leaves and stunted growth. Other indications are being leggy, and dropping or discoloration of leaves (yellowing or browning).
Lastly, go for pots that are 2 to 3 inches wider in diameter. Also, they must be deep enough to accommodate the root, leaving room for more growth.
Monstera pinnatipartita propagation
Usually, Monstera pinnatipartita propagation is by stem cutting, either in a potting mix or water. However, you can also propagate this houseplant by air layering or division (if it has suckers). We will look at propagation by stem cutting.
Secondly, the best time to propagate this houseplant is in spring. Your plant will have more time to grow roots. However, summer is also ok.
i. What you need
A well-drained potting mix or soil (something like 50% peat moss and 50% perlite is ok)
Sterilized pruning shear or knife
Pot
Sealable transparent plastic bag (optional)
Rooting hormone (optional). Our favorite brand is HydroDynamics Clonex Rooting Gel. Besides rooting hormone, it also as trace elements and nutrients to nourish your cutting.
ii. How to propagate Monstera pinnatipartita
Put your potting mix in the pot and thoroughly water it until excess water flows through drainage holes. Discard any that collects on the saucer.
Select a healthy, and cut a mature stem, about 4 to 6 inches with at least two nodes. Afterward, remove the lower leaves, leaving the upper one or two leaves.
Apply your rooting hormone
Poke your potting mix with your finger or stick and plant your Monstera pinnatipartita stem cutting. Ensure you cover at least two nodes and lightly tamp the soil to ensure the plant is upright.
Lightly mist your plant and cover it with your plastic bag and seal it, leaving a small opening to allow your plant to breathe. Alternatively, you can poke some holes.
Please place it in a place with bright with average root temperature or preferably 70 to 75 degrees Fahrenheit (21-24°C).
Routinely remove the plastic bag to allow your plant to breathe for a few hours. Also, mist it to keep the soil moist.
Since the love humidity, the plastic bag cover will help retain it. If you have a terrarium, you don't have to cover it.
Roots will start growing after four weeks and the first leaf or bud after about eight weeks. Transplant it when you feel it has one or two new leaves.
iii. Propagation in water
There isn't much difference between these two ways of propagation. Instead of potting mix, place your cutting in a water jar. However, don't submerge the leaves.
Also, change the water after 3 to 4 days or if it begins to look cloudy. The remaining stems are more or less the same.
Toxic to pets and humans
Monstera pinnatipartita is toxic or harmful to humans and pets (dogs, cats, rabbits, horses, and other animals). Its toxicity is due to microscopic, sharp, needle-like insoluble calcium oxalates, the so-called raphides.
If you, your children, or pets chew this aroid, the raphides will embed on the mouth lining, causing severe pain and a burning sensation. Also, expect to swell the mouth, lips, and tongue.
Other symptoms are difficulties in swallowing, refusal to eat, mouth pawing (in pets), among others. Also, it can cause minor skin irritation and burning sensation.
Therefore, limit access to these plants to your children and pets. When handling it, wear your gardening or pruning gloves.
Pests
Pinnatipartita is not pest prone when grown indoors. However, it is possible to end up with some bugs. Common ones include mealybugs, scale, aphids, spider mites, and at times fungus gnats.
Generalized symptoms are yellowing of leaves with spots, honeydew, webbing, powdery substance, holes, and so on. However, the exact symptoms are bug-specific.
In the case of pets, remedies will include neem oil and horticultural sprays. Furthermore, you can use insecticidal soaps or manual removal (hosing or using rubbing alcohol and a cotton pad). The exact method will depend on the pests present.
Diseases and conditions
This Monstera is susceptible to root rot, leaf spot, anthracnose, powdery mildew, southern blight, and southern blight, typical of most Monstera ssp.
Nevertheless, these diseases are not common in this species, except for root rot. Furthermore, you should prevent these diseases, use sterilized pruning knives/shears, and clean your hands before handling a plant.
Let us look at root rot and other common conditions that your plants may have.
1. Root rot
Monstera pinnatipartita may suffer from bacterial or fungal root rot. Overwatering, poorly drained soils, oxygen-starved roots, and other factors make these plants susceptible to root rot.
Telltale signs that your plant has root rot include stunted growth, browning or yellowing leaves, wilting, and a mushy stem base. Also, the roots will look brown or black.
2. Yellowing of leaves
Monstera pinnatipartita yellow leaves a likely sign of overwatering. Nevertheless, underwatering, low light, lack of nutrients, pests, and disease may cause this discoloration.
Besides the above, cold drafts, transportation stress, and aging may be the other possible reasons your plant is getting yellow leaves.
3. Curling leaves
The main reason why your pinnatipartita may have curly leaves is underwatering. Also, overwatering, very high temperature, light issues, pets, and disease may cause this problem.
4. Leaves dropping
Pinnatipartita dropping of new and old leaves results from poor growing conditions or improper care. Overwatering, underwatering, and low humidity are common causes.
Also, lack of nutrients (fertilizer), environmental change (taking plants indoors, outside, or to other regions), low temperatures, insects, and disease may cause this issue. However, it is normal for older leaves to drop.
Monstera pinnatipartita vs Monstera Peru
Monstera Peru or Monstera Karstenianum is not an officially accepted Monstera species thought to be a cultivar of M. pinnatipartita. Both have bi-colored leaves and oval/elliptical. However, below are differences.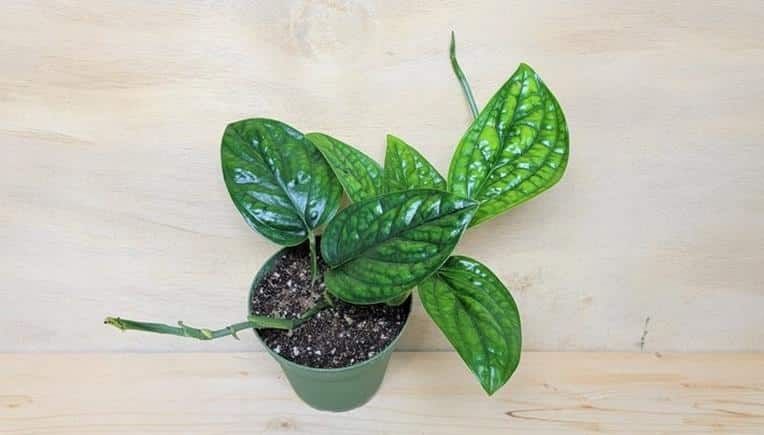 | | |
| --- | --- |
| M. pinnatipartita | Monstera Peru |
| Green/light green variegation with veins green | Green/dark green variegation with veins dark green |
| Slightly rough or bullate leaves | More bullate leaves |
| Mature leaves get fenestrated or pinnatifid | Adult leaves don't get fenestrated |
| Thicker stems | Thinner stems |
Monstera pinnatipartita vs deliciosa
Monstera deliciosa (Swiss cheese plant, a name shared with Monstera adansonii) is one of the most popular Monstera species with heart-shaped, smooth dark-green juvenile leaves.
On the other hand, Monstera pinnatipartita has slightly rough, oval to elliptical bicolored leaves, as already seen.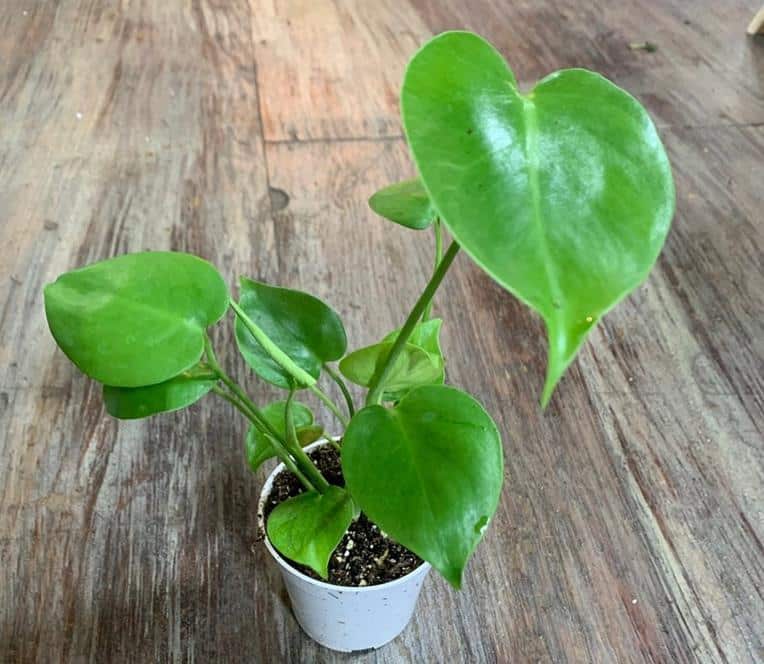 Upon maturing, both plants have fenestrated dark green leaves. However, there are some visible differences between these two, which are as follows:
Monstera deliciosa are heart-shaped and unique fenestrations. The splits don't go almost to the rib, and the leaves have perforations or holes (fenestrations). Also, they are vibrant deep green.
On the other hand, M. pinnatipartita has elongated or oval, pinnatifid, dark green leaves without holes or perforations. The splits go almost to the midrib, making them resemble palm leaves.
Monstera pinnatipartita vs siam
We believe that Siam Monstera, sometimes labeled as Monstera Siam Spiderman, is the same as Monstera pinnatipartita or its cultivar, and it is only a mislabeling issue. Some people even list it as a kind of Amydrium.
Frequently Asked Questions (FAQs)
Are Monstera pinnatipartita rare?
Yes. M. pinnatipartita are very rare houseplants that many people don't know of yet. You are unlikely to find them in most local nurseries or major outlets like Costa Farms, Walmart, Home Depot, The Sill, and so on.
What is the Monstera pinnatipartita price?
Typical Monstera pinnatipartita price ranges from $40 to $100. However, you will find vendors selling as low as $30 and some above $200. These plants are expensive because they are still rare, i.e., not readily available.
Where do I buy Monstera pinnatipartita?
Start with your specialty local plant stores or nurseries if you are looking for pinnatipartita on sale or Etsy.com. Next, try eBay.com, and Facebook plant groups, especially the rare or monstera groups. Also, google for "Monstera pinnatipartita for sale" to get suggestions.
Other places to find these plants are canopyplantco.com ($65), Botanicabhm.com ($84), ecuagenera.com ($30 in Ecuador),  
In the UK, you will find these pinnatipartita at plantsforallseasons.co.uk (£44.9), papayaplants.co.uk (£35), while in Australia, try at Thehouseplantshop.com.au (ASD280).
Finally, people in Canada should find it at to Sagegarden.ca ($100) while those in Germany will find it at Plantcircle.co (€16,00 – €35,00) and bens-jungle.com (€39,90)