Monstera standleyana is a popular houseplant with lovely oval to elliptical glossy deep green juvenile leaves that become larger and rarely fenestrate when it matures. It also has the variegated forms, Monstera standleyana albo (white variegated) and Monstera standleyana aurea (yellow variegated), which are relatively affordable.
Learn more on Monstera standleyana, including appearance and growing habitat, care needs (light, soil, watering, humidity, pruning, staking, etc.), propagation, pest, diseases, and a lot more.
About Monstera standleyana
Monstera Standleyana is one of the Monstera species first described by G.S. Bunting in 1967. It is native to Colombia, Honduras, Costa Rica, Nicaragua, and Panamá.
Botanically, it is a member of the arum family Araceae, also known as aroids. Aroids make lovely gardens and indoor plants.
The original plant has deep green glossy leaves. Sellers refer to it as the Green Form or non-variegated. But there are more adorable and rarer Variegated Monstera standleyana varieties, i.e., albo (white variegated) and aurea (yellow). Whichever you buy, they will add charm, beauty and help clean your indoor air.
What distinguishes this species from other Monsteras is the mature leaves without holes. Also, these leaves look different, and stems have shorter stem internodes.
Last but not least, the other names for this plant are Philodendron Cobra, five holes plant, or Philodendron standleyana. Take Philodendron as them as mislabeling. Why because it is a species in the Monstera genus.
Quick Overview
| | |
| --- | --- |
| Scientific name | Monstera standleyana |
| Family | Araceae |
| Common names | Philodendron standleyana, Monstera standleyana, Philodendron Cobra, Monstera standleyana cobra, or five holes plant. |
| Native habitat | Colombia, Honduras, Costa Rica, Nicaragua, and Panamá |
| Type | Evergreen, tropical hemiepiphyte. |
| Size | 26 ft (8m) in native habitat, and about 4 to 6 feet inside the house |
| Leaves | It has oval to elliptical deep green, glossy leaves. Smaller in juvenile and larger mature plants. Mature leaves don't have holes. |
| Stems | Greenish stems that have short internodes |
| Flowers | They have small, yellowish to white inflorescence flowers borne on a spadix and surrounded by a spathe. |
| Blooming time | All year once this plant matures |
| Light requirement | Bright, indirect light |
| USDA hardiness zone | 11b to 12 |
| Temperature | 65°F to 85°F (18 to 29 ºC) |
| Humidity | It prefers high humidity (60% to 80%) can it tolerate lower 50%+ |
| Growth rate | Medium |
| Soil | Well-drained and aerated soils that are high in organic matter |
| Watering | Medium, letting the top 2 to 3 inches of the soil first dry |
| Propagation | Stem cutting |
| Toxicity | Toxic to humans and pets |
| Care level | Low or easy |
Identification – appearance and description
Before we look at care, let us give you more about this Monstera. You need to know more about its growing habits and appearance. We will tell you more about its size, leaves, flowers, and stems.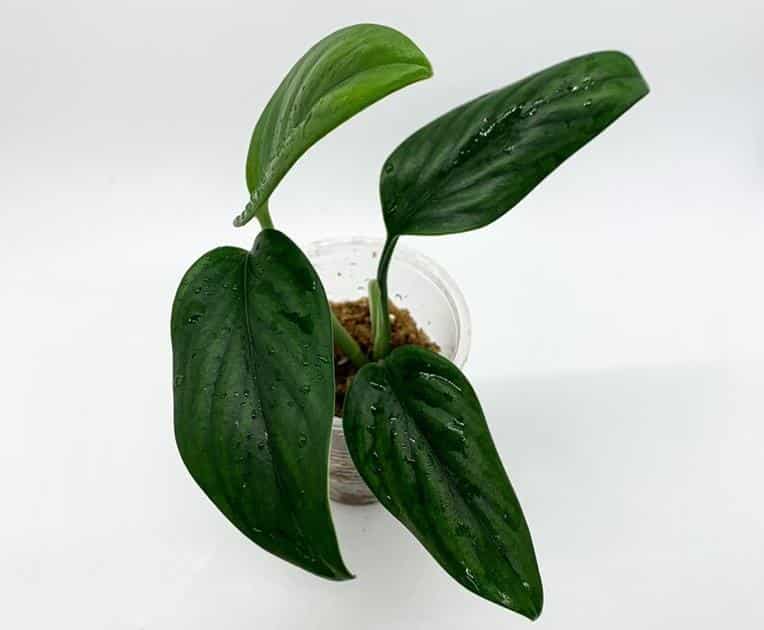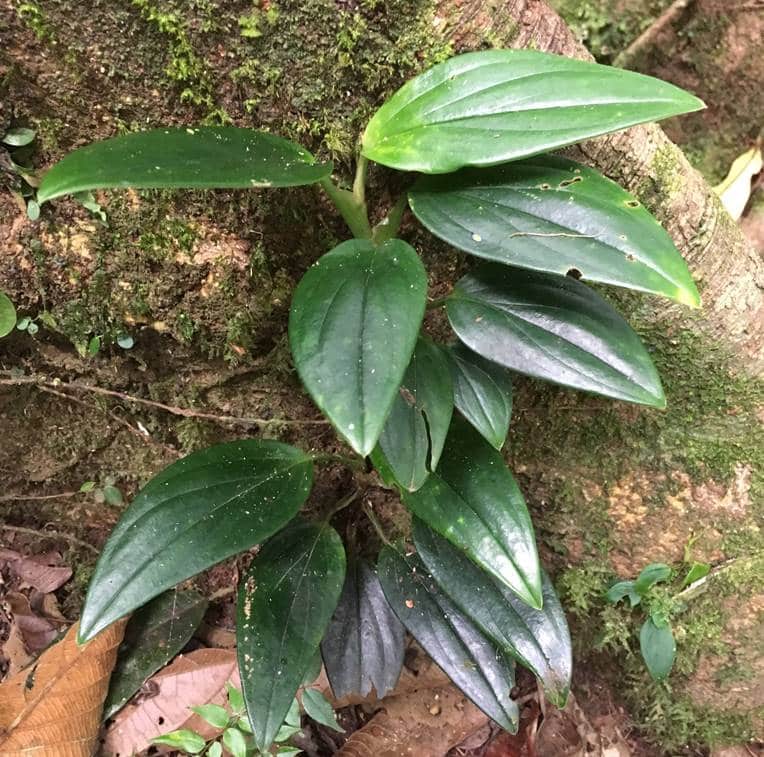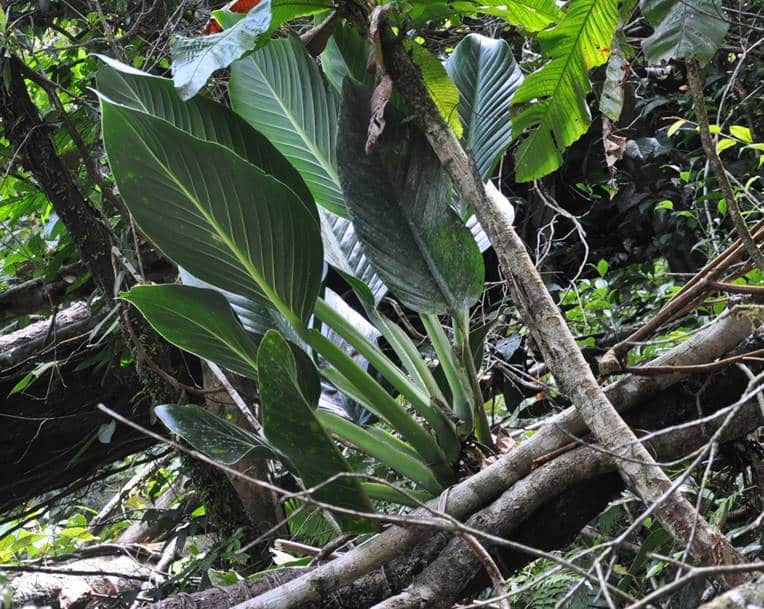 1. Growing habits
M. standleyana are tropical rainforest climbing hemiepiphyte. This means they grow both on the ground and host trees. In their native habitat, you will find them as understory plants or climbing taller tree trunks and occur at 0 to 3773 feet (0 to 1150m) altitudes.
These perennials mature when they are at least 6 to 26 feet from the ground. While young, they are more ground creepers. However, they will begin climbing in their juvenile stage with the help of their aerial roots if they get vertical support (tree trunks, rocks, etc.).
Also, these Monsteras have a medium growth rate. But if you give them ideal conditions, they will grow much faster.
2. Size
In the wild, M. standleyana will grow up to about 26 feet (8m) long. Inside your homes, they will hardly grow to about 4 to 6 feet. Nonetheless, if grown outdoor and have favorable conditions, they can grow much longer.
3. Leaves
Monstera standleyana has a bit leathery, glossy, deep green leaves and sheathed petioles whose wings persist.
Juvenile leaves are oval to elliptical and smaller (5 to 6 inches and 4 inches wide) and they are not very symmetrical.
When this plant matures, leaves enlarge and have longer petioles (11 to 20 inches long). They measure about 10 to 31 inches long and 4 to 16 inches wide. However, they don't get fenestrated (perforated). But a few may have holes. Nevertheless, this is rare.
4. Stems
The stems are slightly thicker, greenish, have short internodes and aerial roots. These stems have leaves arranged in an alternating manner.
5. Flowers
Like others, this Monstera has a spadix that bears small yellowish to white inflorescence bisexual flowers. These flowers are surrounded by a creamy whitish spathe.
Where to grow it
Monstera standleyana is a perfect indoor or outside plant for areas with mild conditions.
Inside your home, you can grow it as a pot or hanging basket plant. Also, you can have it in any room, from your bathroom to your living room to your bedroom.
But if you want to see those beautiful large leaves, give it a place to climb. Anything, including a burlap wrapped or moss pole or trellis, will do.
Some people prefer leaving it to cascade downwards or on their desktops, cabinets, shelves, etc. But, expect it to grow longer vines with smaller and fever vines. Still, it will be a beauty.
Finally, outside, let this fantastic plant wrap tree trunks. Also, you can grow it on an arbor or let it be a ground cover.
Monstera standleyana care – Green, Aurea, and Albo Variegata
This Monstera doesn't need much care. Even beginners will find it easy. Also, it is so forgiving and can thrive under a bit of neglect. This care applies to the green form (original) and varieties (Aurea and Albo Variegata)
Here is how you can care for this charming beauty:
1. USDA hardiness zone
Monstera standleyana USDA hardiness zone is 10b to 12. Like the rest of the Monsteras, this plant cannot withstand frost. People living in the above zone can grow it outside, all year. Others must move it inside when freezing starts.
2. Temperature
The optimum temperature for Monstera standleyana ranges from 65 to 85 degrees Fahrenheit (18.3 to 29°C). But they can tolerate up to 55 °F (12.8 °C ) on the lower side and up to 90°F (32°C) on the higher side.
They will grow faster in warmer conditions and slower when it gets colder. But when the temperature goes below 50 degrees Fahrenheit ( 10°C), move your plant inside the house. At this point, they won't be growing.
Finally, this plant doesn't like sudden drops or spikes in temperature. It will stress them. Therefore, don't place them on cold drafts, near air conditioning or room heating vents.
3. Humidity
Monstera standleyana is a tropical wet, and warm forest plant. It prefers higher humidity, 60% to 80% or more. Luckily, it won't mind an average to slightly below lower humidity. The 40 and 50ish are ok, but they will love more.
If your home has very low humidity, increase it. You can do this by misting your plants a few times a week. Also, buy a humidifier or have a pebble tray. Other ways are placing houseplants together or having a cabinet greenhouse.
4. Light
Monstera standleyana favors bright, indirect light, but it can still tolerate medium indirect light. However, if the light is too low, they will grow slowly or have yellow leaves. Also, they will have longer vines with nor or tiny leaves.
So, people with poorly lit homes need supplementary grow lights. Relassy 15000Lux Sunlike Full Spectrum Grow Lamp is a good brand of grow lights. It will last up to 50,000 hours, illuminates a large area, and has a clamp and a gooseneck for easy use. Also, the GE light is good. 
However, to be sure that your plant is getting enough light, consider investing in a Dr. meter LX1330B Digital Illuminance Light Meter. It is the best rated, easy to read, and accurate. 
On the other hand, don't put these adorable plants in direct sunlight. It will burn or bleach their leaves. You don't want a plant with those scorched or washed-out leaves. When burnt, leaves will be crispy and have brown edges and tips.
What about the outdoors? If you happen to be growing this Monstera outside, put them in a partial shade. Also, you can place them in a greenhouse or buy a shade cloth. A 20% to 40% shade cloth will suffice.
Lastly, it doesn't matter the window you have. Just ensure no direct light reaches your plant. For example, you can move it away from the window if it is south-facing. Also, you can install blinds.
5. Soil
The ideal soil for Monstera standleyana needs to be well-drained and rich in organic matter or fertile. Also, pick one that is slightly acidic (pH 5 to 7.5).
This aroid is not so picky. It will readily accept even soilless potting mixes. To make it happy, go for chunky, nutrient-rich soil that can hold moisture without being wet or drying so quickly.
For instance, you can take a potting mix based on peat moss and add some perlite. Perlite will help improve drainage. If you don't have perlite, bark chips or pumice will also work. Some people opt for an aroid mix. It is also acceptable and Etsy.com has the best mixes.
One thing, though, we must warn you about heavy, compacted, or poorly drained mixes. Such will increase the chances of root rot. Why? Because they hold water for too long.
6. Watering
Monstera standleyana requires moderate watering. Also, it would be best if you allowed the soil to dry slightly in-between sessions. These plants love moist soil, not so dry or wet.
When watering them, slowly saturate the soil until some water flows from drainage holes. Discard any that collects on your saucer. Then, let the top 1 to 2 inches of the soil dry before you water them again.
An easy way to tell if your plant is thirsty is to stick your finger into the potting mix to feel dry or moist.
However, not everyone prefers using their finger to test if the potting mix is moist or dry. If you are one of these people, you are not alone. We also don't. Instead, we use a soil moisture meter like XLUX, Gouevn, or Sonkir. 
How often should I water these Monsteras? This is a common question we get. It all depends on prevailing conditions. Also, your soil and plant size have an effect. For us, it is after 4 to 7 days. Yours may be different.
i. Overwatering
Like other aroids, these plants are sensitive to overwatering. It can cause root rot. Early signs to expect to include yellow leaves and a very wet potting mix. Also, there will be black splotches on leaves, a mushy stem base, molded soil, or the leaves will drop.
If you ignore the issue for a long time, your plant will soon begin wilting or even die.
ii. underwatering
The earliest sign that Monstera standleyana is thirsty or underwatered will be drooping or curling of leaves. Also, the soil will be dry. Later, leaves may turn yellow or drop, your plant will grow slowly and it may wilt or die.
7. Fertilizer
Fertilizers are essential to this Monstera. They will provide the needed nutrients for a healthy plant with lush foliage.
These aroids are medium feeders. We use one pump or two of Miracle-Gro Indoor Plant Food (Liquid) biweekly for small or large pots. This balanced brand (NPK 1-1-1) feeds your plant instantly, is affordable, and you can also mix it with water.
If you want to feed less often, we have good results with Osmocote Smart-Release Plant. Feed once after every four months. 
Don't be limited to our two picks. You can use any other good all-purpose houseplant food or fertilizer. We have used Neptune's Harvest Organic Hydrolized Fish & Seaweed Fertilizer, Bonide 10-10-10, and many others. We must admit they are equally good.
Finally, don't fertilize your plants during fall and winter. Why? Because, at this time, they are not actively growing and will not use these fertilizers. Thus, you risk having fertilizer salt deposits in your soil. This can harm your aroids.
8. Pruning and grooming
Monstera standleyana doesn't require a lot of pruning. But it would be best if you pruned dead, damaged, or sicked leaves whenever you see them. These leaves don't contribute anything but still depend on the plant. Plus, they may attract pests and make your plant unsightly.
Also, you can trim some of the very long stems to control your plant's shape. Prune them in early spring or in summer. This will also encourage more branches or a fuller plant.
Lastly, use sterilized pruning shears to prevent the spread of diseases. Also, be sure to wash your hands.
9. Potting and repotting
This Monstera has a small root system and will need repotting every 2 to 3 years. However, if they become root-bound, repot them. Also, repotting is necessary in the case of root rot.
Telltale signs that they are root-bout include roots growing from drainage holes. Also, they will have stunted growth, and their leaves may curl, drop or turn yellow.
Finally, spring is the best time. Still, summer is also ok. When repotting, pick a pot 2 to 3 inches wider in diameter.
Monstera standleyana propagation
Monstera standleyana propagation is by stem cutting. You can use either a potting mix or water. Both methods will succeed. But the former will give faster and more reliable results.
Alternatively, if your plant has suckers, you can divide it. Another method is air layering. We will only look at stem propagation.
Finally, it would be a great idea if you waited until spring to propagate this adorable plant. Summer will still work. However, your plant will not have enough time to properly root.
i. What you need
Potting mix (LECA, sphagnum moss, coco coir, etc.)
Pot or container
Sterilized pruning scissors
Rooting hormone (optional)
Sealable transparent plastic bag (optional)
ii. How to propagate Monstera standleyana
Start by filling your pot with a potting mix. Next, thoroughly water it until excess flows from drainage holes. Don't forget to pour any that collects on the saucer.
Select a mature, healthy stem with a few nodes and just it just below the lowest node. We advise you to pick one with visible aerial roots as it will begin rooting sooner.
Next, remove any lower leaves, leaving the upper one or two. You need a few inches of the stem with at least two nodes.
Apply your rooting hormone. It will help fasten the new root growth.
Poke a hole in your potting mix and plant your stem cutting. Bury at least two nodes and lightly tamp the soil to help keep it upright.
Spritz the cutting with some water and cover it with your plastic bag. Be sure to leave a small opening to allow some air circulation. The plastic bag will help maintain high humidity, hence more success.
Take your plant to a warm area with bright indirect light.
From time to time, check the plant to ensure the soil remains moist. Also, be opening it for a few hours to give it time to breathe.
Your cutting will begin rooting after about four weeks. However, this duration will depend on the conditions you provide. After up to two months, a leaf will unfurl. Please, wait until secondary roots grow before transplanting to a new growing pot.
iii. Water propagation
There isn't much difference between soil and water propagation. Instead of planting it in your potting mix, you will dip it in a jar with water.
Nevertheless, you don't need a plastic bag to help keep high humidity as water will help keep humidity high. Also, you need to change the water after 3 to 4 days.
Toxic to pets and humans
Monstera standleyana is harmful or toxic to not only humans but also pets. This means that it will harm your kids, dogs, cats, rabbits, and other pets.
Why is it toxic? The reason is straightforward. It has sharp, needle-like calcium oxalates crystals. If your pet or kid chews it, they will have the following symptoms:
Severe irritation and burning feeling
Swollen and red lips, mouth or tongue
Hypersalivation
Refusal to eat or loss of appetite
Mouth pawing (pets)
Swallowing difficulties
Because they are harmful, make sure your kids or pets don't access or eat this plant. Also, the sap may cause some skin irritation.
Pests
We haven't had any issues with pests. Nevertheless, this Monstera isn't immune to any bugs. It may sometimes end up with spider mites, thrip, scale, fungus gnat, or mealybugs.
You will know there are pests if you spot them or see things like honeydew, webbing, or black sooty molds. Also, there will be spots (black, brown, yellow), holes, or discolored leaves. In severe cases, your plant will grow slowly, lose, or have deformed leaves.
Remedies you opt for will depend on which pest you have. Some of the choices you have include insecticidal soaps, horticultural oil sprays, manual removal, etc.
Diseases and conditions
These plants can end up with any of the diseases that affect Monsteras. However, the notable one is root rot. Also, there are a few other conditions too. Let us look at these conditions.
1. Root rot
Overwatering is the leading cause of root rot. Nevertheless, heavy and poorly aerated soils may contribute.
Signs to expect are yellowing, drooping, or black spots on leaves. Others include mushy stem base, moldy potting mix, and wilting. Also, if you slide the plant out, its roots will look brown or black.
2. Yellowing of leaves
Monstera standleyana yellow leaves are a sign of overwatering. Still, it may be cold drafts, low humidity, lack of nutrients, and too much or too little light.
If none of the above is causing the yellowing of leaves, it may be diseases or pests. Also, aging may be a reason and is normal.
3. Curling leaves
The curling of leaves indicates your plant is thirsty. Also, low humidity, root rot, pests, heat stress, and disease can cause this problem. Carefully look at each of these possible causes to help know the actual reason.
Monstera standleyana Albo variegata or white variegated
If you don't prefer the non-variegated original version, you can go for this more popular variety, the Monstera standleyana Albo Variegata or white variegation.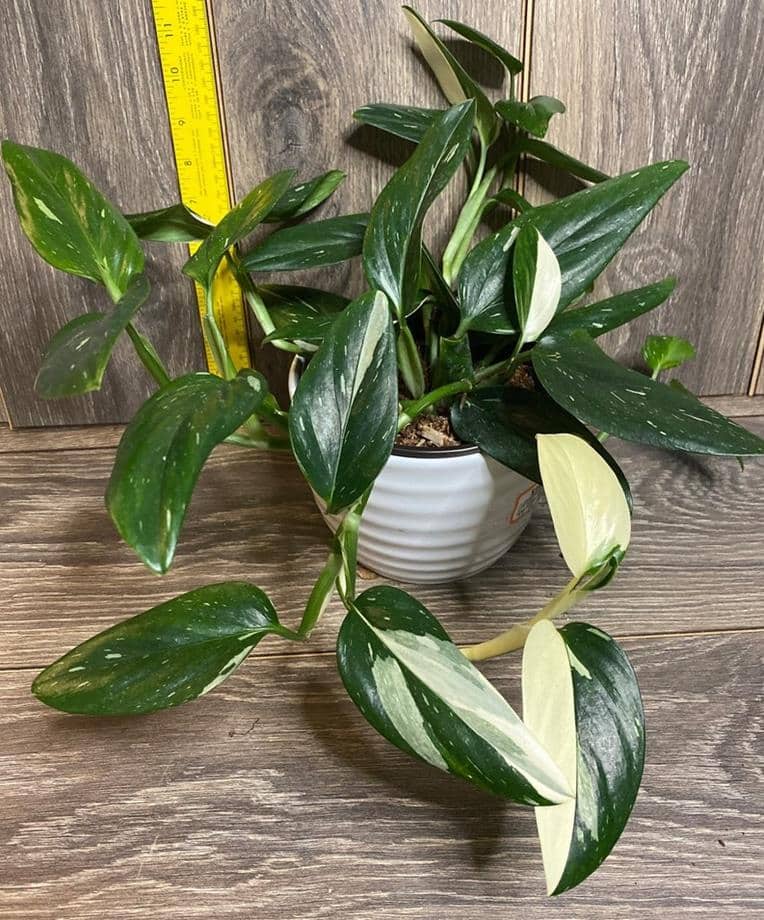 Unlike the original plant, the adorable, elongated, deep green leaves have cream to white specks, splashes, or bands. These leaves are about 6 inches long. Also, they are thick, leathery, and glossy.
That is not all. Did you know that the stems also have some speckles or variegation? Also, you don't need any special care besides what we have.
Yes, it is a rare exotic plant. But you can still get it at reasonable prices. Did you know that you can have this plant for as little as $40 to $100? Now you know.
Are you still waiting? Why not grab this charming plant and add it to your rare plant collections?
Lastly, it is normal for these plants not to have substantial white splashes on their leaves. This behavior makes it, unlike any other variegated plant you own. We bet you will love it.
Monstera standleyana Aurea or yellow variegated
Monstera standleyana Aurea or yellow variegated is an even rarer variation plant to get in the market. It resembles the Albo. But it has yellowish or goldish variegation.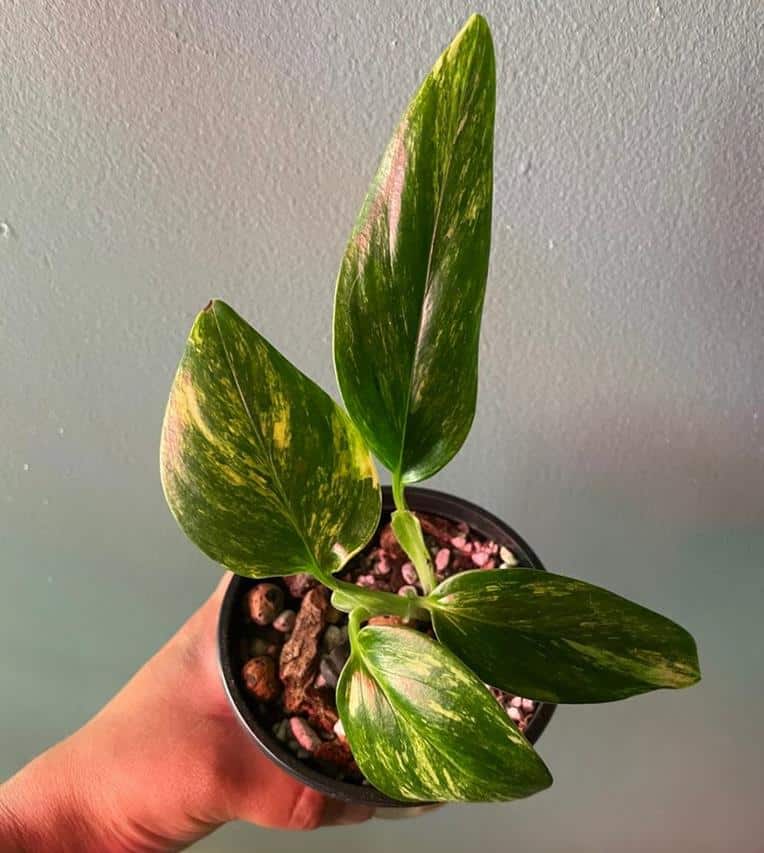 When you see it, you will remember S. aureus, especially the coloration. Perhaps this is where it draws its name. I assure you; it is lovely.
Is it hard to care for this plant? No. It requires the same care as the original plant and nothing more or special at all.
Nevertheless, we recommend you ensure proper light. From experience, we have realized that light impacts how well the coloration appears.
Finally, being a little rare, you may not find it in most places. They quickly sell.
Frequently asked questions (FAQS)
Is
Monstera standleyana a rare plant?
Yes. Monstera standleyana, especially the Albo Variegata (white) and Aurea (yellow), are rare exotic plants. You will not find it in most plant shops, greenhouses, or nurseries.
Also, significant distributors like Costa Farms don't have it. The last time I checked, I didn't see this plat at Walmart, Home Depot, and other major outlets.
What is the Monstera standleyana price?
The Monstera standleyana Albo Variegata price ranges from $40 to $150, depending on the size. However, you will find vendors offer much higher prices or lower prices.
If you want the Monstera standleyana Aurea variegation, since it is rarer, you will have to pay between $90 and $200. Again, these costs will vary depending on many factors.
Finally, if you want the original Monstera standleyana, usually labeled as the Green Form, it goes for $10 to $25. Kindly please note that these prices tend to vary.
Where do I buy
Monstera standleyana?
If you are looking at any of these adorable Monstera standleyana Green Form, Aurea, or Albo Variegata, our first recommendation is Etsy.com. This marketplace has many vendors offering unbeatable prices.
Secondly, try Facebook plant groups near you and eBay.com. Other places to buy online and their prices are Steve's Leaves ($79.99), Canopyplantco.com ($95), Gardengoodsdirect.com ($149). More locations include Amazon.com ($85) and Plantcircle.co in Germany (€25,00 – €39,00)
Finally, you can also try at your local specialty nurseries. However, we are unlikely to find any of these rare plants there.
Where can I buy Monstera standleyana in the UK, Canada, or Australia?
In the UK, there are many places. Besides eBay and Etsy, try Thegingerjungle.com (£35.00), Root-houseplants.com (£25.00), or Papayaplants.co.uk (£30.00). Here, this plant seems a little cheaper.
For Canada, besides eBay Canada, try Planthaventoronto.com ($119 to $129). There are many other places. However, most don't have stocks.
What about in Australia? There are many places too. Some of the places include Thebrunswicknursery.com.au (AUD 125.00), Greenmyspace.com.au (AUD 45), Thejunglecollective.com.au (AUD 160), or Itplantae.com.au (AUD 249).