Orchid leaves turning brown is a sign of underwatering, too much light (sunburn), diseases, fertilizer burns (or salt damage), and low humidity. Other less likely causes are pests, cold injury, water quality, and nutritional deficiencies.
To know the cause in your case, look at other symptoms like leaves yellowing or curling, the presence of lesions (some water-soaked), stunted growth, and how the browning occurs. Is it spots, patches, on the margins, or at the tip?
Learn more on the above causes of brown leaves on orchids, and other likely signs to expect for each cause. We will also tell you what to do or fixes.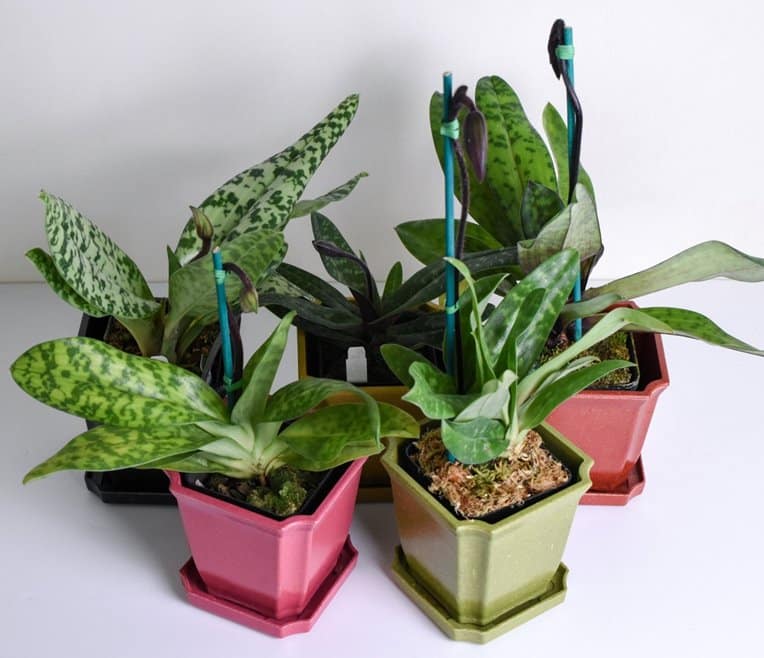 Note:
The reasons for orchid leaves turning brown are the same for the various types, including Cattleya, Phalaenopsis (moth), Vandas, Dendrobiums, Paphiopedilum (slipper), Oncidiums, Miltonia, etc. Also, the browning can happen even to your ground orchid (Spathoglottis plicata)
Why do orchid leaves turn brown
Leaves turn brown when chlorophyll and other light-sensitive pigments degrade leaving behind tannins. At this point the leaf or affected part is almost dead.
Many things can cause this browning, including brown spots, tips, and margins. Some of these causes include:
1. Underwatered orchids
The most common reason for orchid leaves turning brown, especially brown tips and edges, is underwatering or a thirst plant. To make matters worse, if your plant doesn't get enough water, it won't absorb nutrients, and cells will lose rigidity.
While they will vary from one genus to another, some of the indicators of a thirsty orchid (underwatered) include the following:
Bone dry growth media or potting mix
Brown crispy tips and edges
Leaves turning yellow
A droopy, wilted, limp, scrawny, and slow-growing plant
Wrinkly leaves
Roots will appear grayish and shriveled
Leaves curling
Dry aerial roots
What to do
Start by giving your plant a proper drink, i.e., slowly saturate its growth media until excess water flows from drainage holes.
Then water them when the growth media starts to dry out. The exact frequency of watering may vary from one genus to another.
For instance, Oncidiums (dancing-lady orchid) and cattleyas can completely dry since they have water storage organs. But for Paphiopedilums and Phalaenopsis, you need to water them before the potting mix completely dries out. Why? They don't have water storage organs.
Besides species, the other factor that may affect water needs is growing conditions (light, temperature, and humidity), air circulation, potting media you are using, plant size, among other factors. So, you need to adjust your watering accordingly.
2. Too much sunlight or sunburn
The other reason orchid leaves turn brown or yellowish is excessive sunlight. Too much light will degrade chlorophyll (hence the yellowing) and cause a sunburn.
Flowers are the most vulnerable, with most turning brown and wrinkling before they wither. Leaves on the other hand will have white patches with a dark ring. Also, they may appear reddish-purple or turn black.
Other signs include margins and tips becoming yellowish before turning brown, brown spots, bolting, and a paler, bleached, or washed-out appearance.
What to do
Orchids need bright indirect light for at least 12-16 hours, depending on the season. They shouldn't get direct sunlight for over 1-2 hours a day and preferably only the early morning or late evening. Avoid direct hot midday and afternoon sunlight.
For instance, you can allow a bit of morning sun on an east-facing window in the northern hemisphere. It will not harm these plants. For west-facing and south-facing windows, make sure no hot sun reaches your plant. To do this, play around with your placement distance.
3. Disease
Diseases, especially bacterial and fungal, are a common reason for orchid leaves turning brown. Let us look at some of the common ones and tell you what to do.
| | | |
| --- | --- | --- |
| Disease | Symptoms | What to do |
| Bacterial soft and brown rot (Erwinia spp.) | This bacterial disease affects leaves, pseudobulbs, and roots. It starts as small water-soaked spots with a yellow halo. Later, the site may look sunken, turn brown or black depending on your orchid genus. | Start by cutting and discarding affected parts. Then, avoid splashing water overhead since these pathogens prefer moist and hot conditions. Also, to prevent the disease, periodically spray your plants with bactericides that have copper compounds. |
| Brown Spot Pseudomonas (syn. Acidovorax) | Initially, you will see dirty green small, soft water-soaked lesions or blisters that will enlarge and join. Then, they will turn brown or black and appear sunken as they dry up. | Remove infected parts and treat your plant with copper compounds or Physan (bactericide). Also, avoid misting their foliage and try to lower temperature or humidity if possible. |
| Black Rot (Pythium and Phytophthora spp.) | These fungal infections cause root rot but may also affect your orchid leaves. Symptoms include small, water-soaked, irregular brown spots that turn purplish-black or brown and may have a yellow halo. | Since it's highly contagious, discard the plant. Otherwise, you can isolate it, remove infected parts and use a fungicide to treat it. And as a preventive measure, consider spraying your plants with appropriate fungicides. |
| Anthracnose (Colletotrichum ssp. and Glomerella spp.) | It makes leaves turn brown, starting with the leaf tips, moving down to the base. Also, you may notice light gray or dark brown patches (bands of concentric rings). | Use a systemic fungicide like Cleary's 3336 or protectant fungicide like Bonide Mancozeb to treat this fungal disease. Also, ensure proper air circulation and proper sanitation. |
| Cercospora Leaf Spot (Cercospora spp.) | At inception, it causes yellow spots on the lower leaf surface, then yellow-green on the upper. These spots will then enlarge in an irregular or circular manner, and as they age, they become sunken and purple-black or purple-brown. | Immediately cut any sick parts with sterilized gardening shears. Then, treat your plant with a systemic fungicide like Cleary's 3336. And to prevent it from recurring, routinely spray plants with a fungicide, don't make leaves wet, and promote air circulation. |
| Phyllosticta Leaf Spot (Guignardia spp. and Phyllosticta spp) | This blight may start on the pseudobulb or leaf, and you will see tiny, sunken yellow lesions that enlarge to be oval or round. They will then become dark brown or tan and have a reddish to purple-black raised margin as they age. Later the centers of the spots will grow spores. | Cut off the affected part with sterilized pruning shears and spray your plant with a systemic fungicide like Cleary's 3336 (thiophanate methyl). To prevent this disease, avoid wetting leaves, ensure proper air circulation and spray plants with fungicide monthly to prevent it from recurring. |
| Septoria leaf spot | It begins as tiny sunken spots on the upper or lower side of the lamina that will enlarge and turn brown to black. These lesions are irregular or circular. | Prune off the affected part and spray your plant with a systemic fungicide like Cleary's 3336. Also, maintain proper sanitation, don't wet leaves and allow air circulation. |
4. Fertilizer burns and salt damage
The other reason for brown tips on orchid leaves and sometimes margin is salt build-up. It occurs due to overfeeding or a wrong choice of fertilizers. As the salt accumulates, it may be impossible for your plant to absorb water, and these salts may burn roots.
Different orchid genera have varying tolerance to salt accumulation, with susceptible ones like Bulbophyllum, Phragmipedium, Paphiopedilum, and Pleurothallid first affected. Others will also follow suit with time.
Signs of fertilizer burns and salt accumulation include brown tips and margins and brown or whitish fertilizer crusts on the soil. Others are, stunted growth, leaves falling off, leaves turning yellow, etc.
If you don't rectify the problem, fertilizer burns will eventually kill your plant.
What to do
Start by flushing or leaching the growth media by pouring fresh water through it. The water will dissolve most of the salts and wash them away. Do this once a month or after two months.
Afterward, feed your orchid plants using balanced, houseplant fertilizers with all required trace elements at half or a quarter of recommended strength weekly or biweekly. But some like the Venda need more fertilizer since they are heavy feeders.
Last but not least, if your plant doesn't get enough water, you need to use even more dilute fertilizers. Otherwise, the risk of root burn will remain high.
5. Low humidity
Since they can grow in average household humidity, low humidity isn't a common cause of orchid leaves turning brown. Nonetheless, it may cause if it's too low.
Flowers will take the most damage in low humidity, with some of them turning brown and wilting after a short while. Also, expect a bud blast.
Besides flowers, leaves may also become wrinkly and turn yellowish or brown when humidity level are low. The other thing you will notice is increased water needs.
What to do
Orchids can thrive in average household humidity if it doesn't go below 30%. But for lush growth, keep the humidity at 50% or more.
Ways to raise humidity include misting your plant, having a pebble tray, or grouping them. Also, you can move them to a more humid room like your kitchen or toilet if it has enough light.
But a surer way to control humidity is buying a humidifier. A brand like LEVOIT Humidifiers Top Fill, 6 Liter, Cool Mist is ok. It is quiet, and runs for up to 60 hours. Also, it has a large coverage area and it comes with Vesync APP connectable to Alexa and Google Assistant.
6. Pests
Orchids may end up with pests like aphids, scale insects, whiteflies, mealybugs, thrips, etc. These bugs can cause considerable damage in a heavy infestation, including brown spots.
For instance aphids may cause deformed leaves and flowers.
On the other hands, expect some brown spots if your plant has mites. As notes the American Orchid Society notes pertaining mites, "from the top, the leaf often has many tiny yellow spots that turn brown over time."
Mites are small oval, pale or reddish-brown bugs. To the naked eyes, they will appear as moving dots, especially on the underside of leaves. But you can only see them more clearly with the help of a 10X magnifying glass.
What to do
You can use insecticidal soaps, horticultural spray oils, or neem oil like Bonide Ready to Use Neem Oil to control most of these sap-sucking pests. If you have mites and the infestation is not severe, use rubbing alcohol to wipe them off the leaves.
7. Nutritional deficiencies
If you don't feed your orchids with balanced fertilizers with all necessary micronutrients, the browning of leaves or brown spots may be a sign of nutritional deficiencies.
Luckily, when nutrients are to blame, there are more evident signs you are likely to notice, like yellowing between veins (interveinal chlorosis), yellow spots, stunted growth, mishappen leaves, etc.
Going to specific examples, a potassium deficiency may cause margin and tip necrosis (cell death), making these areas dry, brown, or dark black. Also, plants may have scattered dark brown or black spots.
On the other hand, magnesium will cause interveinal chlorosis starting with lower leaves, and leaves may also have a red-brownish tint. Also, Everyday Orchids notes that "inadequate magnesium levels can cause an orchid's leaf tips to start to turn brown and die off. You may also notice brown streaks in the middle of the leaf."
Last but not least, other nutritional deficiencies may also cause leaf discoloration. For instance, a reddish-brown coloration may indicate your plant doesn't get enough phosphate.
What to do
To prevent nutritional deficiencies, go for balanced fertilizers such as NPK 20-20-20 or any other balanced formula like Miracle-Gro Ready-To-Use Orchid Plant Food Mist NPK 0.2-0.2-0.2.
However, a better option, though not balanced is Miracle-Gro Water Soluble Orchid Food, Plant Fertilizer (NPK 30-10-10). It has zinc, copper, boron, manganese, iron and molybdenum. Start with an ¼ a teaspoon per gallon of water and feed twice a month.
with necessary micronutrients. Use them weekly or after two weeks, starting with a dilute concentration, about ¼ what the manufacturer recommends.
If the deficiency is calcium or magnesium, you can go for Cal-Mag fertilizer or Epsom. Your plant should recover after a short while.
8. Cold damage
The other unusual cause of brown leaves on orchids is chilling or cold damage. It will cause result in water-soaked areas that will soon wilt and turn brown. Other signs are stunted growth, and your plant will be susceptible to bacterial or fungal infection.
What to do
To be on the safe side, maintain a temperature of at least 75°F or higher during the day and don't let nighttime temperatures fall below 65°F. But the exact level will depend on the specific genus. Those listed as cool can withstand a temperature range of 50°F to 80°F, intermediate 55-85°F, and warm 60-90°F.
9. Water quality
Water high in chlorine, fluoride, or salts (like well water) may be the other reason orchid leaves turn brown. Salt accumulation in the soil will affect your plant just as excessive fertilizer does. We already talked about it.
On the other hand, chlorine and fluoride may accumulate in your plant's causing margins or tips to turn brown. Also, necrosis, especially when fluoride is the problem, may happen.
What to do
Use filtered or rainwater. And if only chlorine is the issue, let the water stay in an open container overnight to help dissipate some.
FAQs
Why are my orchid leaves turning yellow and brown?
The various causes of brown orchid leaves may cause yellowing, especially underwatering, disease, sunburn, fertilizer damage, and low humidity.
Should I cut brown orchid leaves?
The answer isn't a yes or no, but it depends. If only tips are brown and the cause isn't a disease, you can trim it off. But if the whole leaf is affected or the reason is an infection, prune it off with sterilized gardening scissors.
Remember, once they turn brown, leaves will not revert back to green and may attract pests.