Peperomia frost, scientifically known as Peperomia caperata 'Frost', is a beautiful compact house plant with lovely rippled, heart-shaped silver frosted green foliage.
Discover everything about Peperomia frost, also known as peperomia silver frost, among other names. We will talk about care requirements where we will look at the soil, watering, fertilizer, light, pruning, and humidity.
We will also teach you how to propagate it, repot, and common diseases and conditions.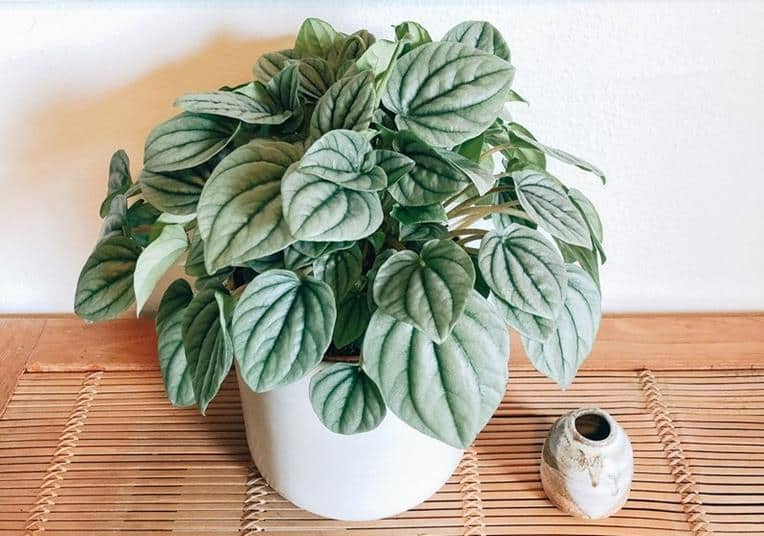 Classification
Peperomia frost or Peperomia caperata 'Frost' is a Peperomia caperata or emerald ripple peperomia cultivars with very adorable rippled, heart-shaped, silver-tinted green leaves with conspicuous dark green markings along the veins.
It belongs to the family Piperaceae, the pepper family (which also has black pepper), and is native to Central and South America, especially the Brazilian rainforests.
P. caperata Frost is an evergreen, perennial flowering epiphyte (a non-parasitic plant that grows on the surface of other plants, deriving nutrients from air or moisture and debris around it).
Finally, while it has leaves that appear fleshy, peperomia frost is not succulent. Also, it needs need higher humidity than true succulents.
Quick overview
| | |
| --- | --- |
| Scientific name | Peperomia frost scientific name is Peperomia caperata 'Frost' |
| Family | Piperaceae (pepper family) |
| Common names | Peperomia frost, silver frost peperomia, frost peperomia, silver peperomia, ripple frost peperomia, peperomia silver frost |
| Native habitat | They are native to Central and South America (Brazilian rainforest) |
| Type | It is an evergreen flowering perennial epiphyte |
| Growth rate | Slow |
| Size | It is a compact mounding plant that measures 6-12 inches tall and 6-12 inches wide |
| Leaves | They have ripple, heart-shaped silvery frosted green leaves with dark green veins and pale pink petiole |
| Flowers | Inconspicuous, small greenish-brown flowers with spiky stalks |
| Stems | Fleshy, short stems at the base |
| Blooming time | June to august |
| Light requirement | Indirect bright light but indirect medium light is ok |
| USDA Hardiness Zone | 10 to 12 |
| Temperature | 65°F to 75°F |
| Humidity | Moderate to high |
| Soil | Well-drained, slightly acid with pH of 6.0 – 6.6 potting mix but can tolerate neutral to slightly alkaline soils. |
| Watering | Moderate, infrequent, allowing top 50-75% of the soil to first dry |
| Propagation | Leaf-cutting |
| Toxicity | It is not toxic to dogs, cats, or humans |
Where to use peperomia silver frost
Peperomia silver frost plant makes a good fairy garden plant. Also, it is a great terrarium, standalone potted compact houseplant for your home or office. It will brighten your home or office, thanks to the attractive colorful foliage
If you didn't know, you can also grow it outdoors or put it out during summer. Just ensure you shield it from direct sunlight, i.e., provide filtered or indirect light.
Finally, besides the colorful foliage, this houseplant is low-maintenance for even gardening beginners will ha
Peperomia frost plant appearance
Before we look at peperomia frost care, let us look at how it looks like for easy identification.
1. Size
Peperomia frost grows a small compact plant measuring about 6-12 inches high and 6-12 inches wide. It has a mounding habit, i.e., it expands both horizontally and vertically. Thus, it will have a rounded, mound-like appearance.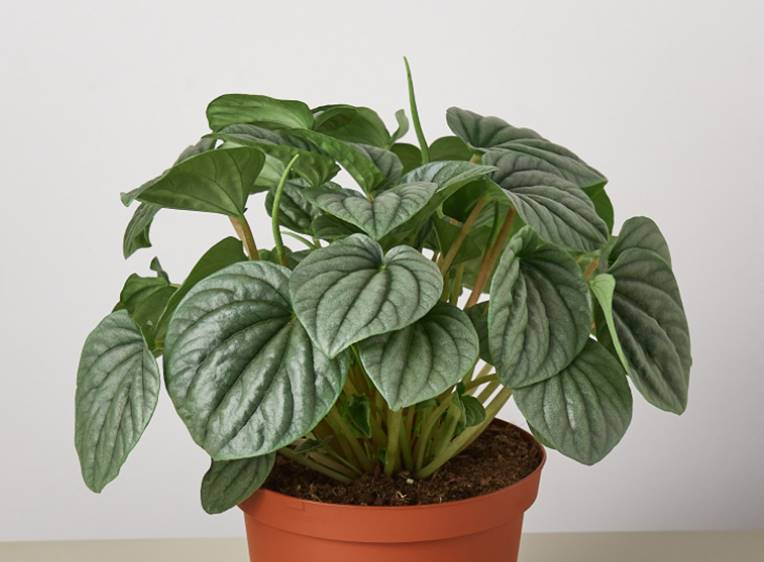 2. Leaves
Peperomia frost plants have nearly heart-shaped, rippled textured green leaves with a silver frost cast or tint and dark green veins. They resemble the watermelon peperomia in some ways.
These leaves have a long pale pinkish fleshy petiole (leaf stalk) that attaches to the stems at the base of the plant.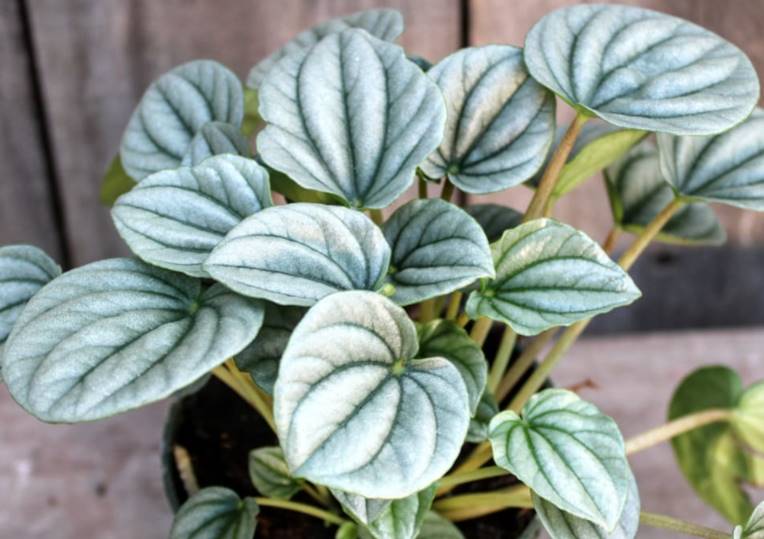 However, unlike the original P. caperata, the leaves are not wrinkled. And the stems don't have the vivid reddish petiole. This makes these two plants a little different.
Lastly, people don't have this cultivar for its flowers, but the frosty silver foliage, mounding habit, and compact growth
3. Peperomia frost flowers
Do they flower? Yes. Peperomia frost has spiky, tiny, non-showy inflorescent flowers. The flowers grow on long stalks (about 5 to 8 centimeters), are greenish to brown, don't resemble most ordinary flowers, and have no scent.
While it may bloom throughout the growing seasons, the flowers appear primarily from June to August in the Northern Hemisphere, i.e., in summer.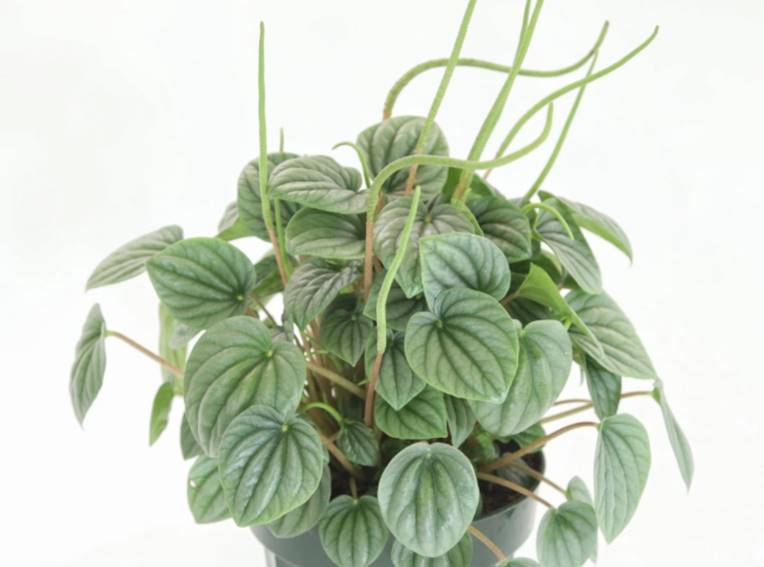 Peperomia frost care and growing conditions
Peperomia frost plants are easy to care for, making them perfect for beginners. Just ensure the right temperature, lighting, soil, and humidity and feed them with fertilizer when growing.
Also, these slow-growing plants are easy to propagate, and don't need much pruning. Just ensure you repot these plants when necessary.
1. USDA Hardiness zone
The USDA hardiness zone for peperomia is 10 to 12, meaning if you live in these zones, you can have them outdoor throughout the year. However, don't forget the other care routines, including avoiding direct sunlight, watering, etcetera.
2. Lighting requirements
Peperomia frost requires bright indirect lighting but can adapt to lower lighting. But if grown in low lighting conditions, this ornamental plant will grow slowly and have smaller, duller leaves.
To grow optimally, place them on the east or west-facing window. They will have a chance to enjoy the morning or evening sunlight and indirect light when the sun is high in the sky. The south-facing will allow a higher intensity of the sun throughout the day.
Kindly void growing these plants in direct sunlight as the hot afternoon sun may scorch its leaves and is harmful to this beautiful plant, making them have drooping or burnt leaves.
People growing Peperomia frost outdoors require filtered or partial sunlight. Grow them under taller trees or have a 40% shade cloth.
If your plant cannot get enough light, go for artificial grow lights and ensure they have at least 12 hours of illumination.
We love Relassy 15000Lux Sunlike Full Spectrum Grow Lamp. Why? Because it has ideal light (between 10, 000 and 20,000 lux for bright, indirect light), can last up to 50,000 hours and it has a gooseneck and a stand you can clamp anywhere.
However, you can go for other brands like GE Grow Light (also very good) and Barrina. To ensure your plants get enough light, invest in a light meter like Dr. meter. It is accurate, easy to read, and has a long-lasting battery.
3. Soil requirement
Peperomia silver frost requires well-drained, well-aerated, moderately moist, slightly acidic soil with a pH of 6 to 6.6. However, they can tolerate neutral to slightly alkaline different soil types so long as they are well-draining.
While in their natural habitat, these epiphytes don't have access to the ground soil. They will derive nutrients from rotting leaf or bark debris, rock crevices, and so on. Consequently, they don't have much need for soil, and a soil-less mixture is ideal.
We use Miracle-Gro Indoor Potting Mix which has no bark to prevent gnats and will feed your plant for up to 6 months. Also, this potting mix has coco coir that helps retain moisture without being soggy.
If you prefer making your own, a typical potting mix of equal amounts of peat moss and perlite will suffice.
Also, you may have one part of perlite or sand to two parts of peat. To promote aeration, add some fine gravel since their roots have a high oxygen requirement for optimum growth.
Avoid soils that retain water for a long time as they may encourage root rot. Also, the potting mix shouldn't be compactable as this will prevent aeration and slow drainage.
4. Temperature
Your peperomia frost will thrive best in temperatures ranging from 65 to 75 degrees Fahrenheit (18.3°C to 23.8°C), i.e., the average room temperature.
However, they will still grow well in temperatures ranging from 60 to 80 degrees Fahrenheit (15.6°C to 26.7°C). Please, don't let them go below 55 degrees Fahrenheit (12.8°C) to be on the safer side.
As tropical plants that grow in moderately warm areas, they are not winter or cold hardy. Frost will kill these houseplants. Also, they cannot tolerate temperatures below 50 degrees Fahrenheit (10°C).
Please avoid very high temperatures as it tends to dry their fleshy or succulent leaves and may require more watering.
People living in USDA zone 10 all through to UDSA zone 12 can grow peperomia frost outdoor as they can withstand these conditions all year if they meet other growth conditions.
On the other hand, those in cold winters should move them indoors or to heated greenhouses.
Finally, don't place these plants in places with cold drafts or those with temperature fluctuations, such as near air conditioning or heater vent since temperature fluctuations. They will get stressed.
5. Humidity
As tropical plants, Peperomia caperata 'Frost' requires higher humidity, i.e., warm and humid places. But since they have thick and fleshy leaves, they will still tolerate average household humidity very well.
Still, these plants stand to benefit from added humidity. Therefore, during warmer summers, consider misting them a few times a week. You can also have a humidifier, have a pebble tray (shouldn't wet pot mix), or a plant terrarium.
To help raise the humidity, I use LEVOIT Humidifiers Top Fill, 6 Liter, Cool Mist. It has a large tank that runs for up to 60 hours and covers an area of about 500 sq. ft. Also, it is quiet, has Vesync APP for easy control and you connect it to other third-party voice assistants like Alexa and Google.
Lastly, while trying to provide higher humidity, ensure there is adequate air circulation to keep their foliage dry. Otherwise, these plants may get diseased.
6. Watering
These peperomias require moderate moisture amounts. They need more water during growing seasons (summer and spring) and little during winter.
Also, note that overwatering will often be an issue compared to underwatering since the succulent leaves can tolerate some soil dying between watering, i.e., the leaves can retain water for some time.
Nevertheless, both overwatering and underwatering are a concern and may detrimentally affect your plant. Let us focus on how often and how to properly water peperomia frost.
a). How often to water these plants
To answer the when and how often, you should water Peperomia Frost when the top 50 to 75% of the soil or potting mix dries or when the top few inches of the topsoil dries.
The issue of how often will depend on other environmental conditions. Expect more watering if outdoor or in warmer areas with lower humidity. Typical durations are 8-10 days, depending on the exact environment.
Finally, reduce the amount of watering during winter and only water them when leaves start looking droopy.
b). How to do the watering
Peperomia frost requires infrequent deep watering letting the potting mix slightly dry in-between each round. Therefore, on how to water your Peperomia caperata Frost, our recommendation is to saturate or wet the soil slowly until excess water begins flowing from drainage holes.
During the watering, make sure they don't grow in soggy or sit in excess water. This sogginess is common if you have poorly draining soil or your growing pot doesn't have drainage holes.
c). Overwatered or underwatered peperomia frost
Overwatering may result in root rot, which will eventually kill your plant. Therefore, always check the soil and look at the leaves.
Wet soil, and stiff and very plump leaves are an indication that these plants have an excess amount of water.
On the other hand, softer, droopy, easy to fold leaves with parched soil is an indication that your plant needs water.
7. Fertilizer
Like most houseplants, peperomias will benefit from some fertilizer, i.e., get the various nutrients they need for optimum growth. However, they need moderate feeding.
Therefore, feed your peperomia frost with all-purpose houseplant fertilizer or any general houseplant fertilizer diluted to half recommended strength, once a month or as recommended, during the summer and spring seasons (growing seasons) only.
For instance, If the standard dilution ratio is 10ml per gallon of water, go for 5ml per one gallon and pick easy to dilute fertilizer.
Our favorite brand is Miracle-Gro Indoor Plant Food (Liquid),.It has a balanced formula (NPK-1-1-1) and feeds these plants instantly. We use a single pump weekly for pots less than 6 inches and two for a larger ones.
If you prefer a slow-release formula, we have tried Osmocote Smart-Release Plant Food Plus Outdoor & Indoor . It also works incredibly well. You will apply it once every 4 months during the growing season only. Application rate is 1 teaspoon per 64 square inches. Then work the granules into the soil, about 1-3 inches deep.
Calculate the area of your pot to know how much you need. For instance, a 6 inch pot has an area of 28.27 square inches. So, you need about ⅜ teaspoon of fertilizer.
Please don't feed them during winter as the plant isn't growing and doesn't need any fertilizers. Also, too much food may harm your plant.
Finally, these plants can thrive in rich organic manure added to the potting mix instead of chemical fertilizers.
8. Pruning
Peperomia caperata frost plants don't require much pruning. All you need to do is remove any dry, withered, or yellow leaves using a pair of pruning scissors.
Also, after blooming, you can eliminate the floral spikes by cutting them close to the base as they tend to look unsightly. This will give the plant a chance to bloom again and focus its energy elsewhere.
Lastly, while it is a compact plant, you can decide to prune it to help keep the shape you want. Please use sharp pruning shears or scissors and remove any unwanted branches.
9. Repotting
Like many other epiphytes, this has little soil requirement and a small root system. Did you know that in their natural habitat they grow on leaf or bark debris, crevices, and so on? Now you know. Also, they are compact and grow slowly.
Therefore, these plants don't require repotting unless they have a tiny pot and are root-bound, something that rarely happens.
However, replacing your potting mix every 2 to 3 years is good, especially if you see the plant becoming dull and growing dull.
Always repot peperomia frost plant during spring (growing season), and if not root-bound, use the same pot. Just use fresh potting mix.
Also, handle this delicate place carefully as you slide it out when repotting. Its leaves tend to break.
Finally, if root-bound, go for a slightly larger pot, about 2-3 inches larger in diameter. It should be deep enough to accommodate roots and allow space for growth.
How to propagate peperomia frost
Peperomia frost propagation is primarily by leaf cuttings. However, you can also divide the mother plant if it has a pup, or if you have a mature plant, it is possible to propagate it using stem cutting. Stem cutting isn't a popular method, even though it guarantees more success.
Secondly, the ideal propagation time is spring. During winter, don't propagate these plants as it is not a growing season, and they will not grow roots.
Lastly, you can propagate peperomia frost in either soil medium or water, so long as you place the right conditions to promote rooting.
a). Leaf propagation
It involves the use of the leaf. Propagation takes a little longer for the stems to grow, and the success rate is slightly lower than stem cuttings.
Here are the basic steps to follow:
Cut healthy leaf with the petiole using sterilized sharp scissors.
Let the leaf callus for a day to help heal the cut spot. This step will prevent rotting or bacterial infection. However, not everyone does it.
Plant the cut leaf petiole in a potting peat/moss mixture, ensuring it is firmly held by the soil, and thoroughly water it.
Place your growing pot or tray in indirect bright light and maintain a temperature of 70 to 75 degrees Fahrenheit (21 to 24°C).
Ensure the potting mix remain moist but not too wet. Also, mist your leaf a few times a week. Alternatively, you can cover it with a transparent polythene bag to help keep humidity and temperature.
Please wait until it begins growing roots and a bud before you can transfer it to its pot or planter. It will take about 4 to 8 weeks for the bud to start growing.
b). Stem cutting propagation
Stem cutting is a much faster and more reliable way to propagate your frost or silver peperomia, and the new plant will grow faster.
Here is how to go about stem cutting propagation:
Look for a healthy stem with a few leaves and cut it at about 3-4 inches from the last leaf.
Give it a day to callus
Plant it in your potting mix and thoroughly water it.
Please place it in indirect bright right at room temperature and ensure the potting mix remains moist but not too went to prevent rotting.
Wait for roots to grow before repotting them individually. It will take about 3 to 6 weeks.
Are peperomia frost toxic
No. All peperomia species, including peperomia frost, are safe for cats, dogs, and humans, i.e., they are not toxic or poisonous. Isn't this another reason you need to have these lovely, compact houseplants?
People with pet rabbits shouldn't worry either as the plant is safe too. However, we don't think you want your plants nibbled by your bunnies.
Therefore, don't worry if your dog or cat nibbles leaves. However, if they are chewing these plants excessively, it could indicate another health issue, including nutritional deficiencies. Talk to your vet for diagnosis.
Pests
When indoor, your silver peperomia may not have pests. However, it may occur. The common ones that these houseplants may have include:
| | | |
| --- | --- | --- |
| Pest | Symptoms | Remedy |
| Spider mites | Small yellow or whitish spots on leaves and silky webs around leaves | Hose your plant under a sink and neem oil or insecticidal soap. |
| Mealybugs | Leaf axils having white, cottony masses, honeydew, sooty molds, followed by wilting, leaf falling, stunted growth, or death | Physical removal, use a spray made a few drops of dish-water and rubbing alcohol, use neem oil |
| Scale | Light to dark brown small bumps, honeydew, poor growth | Try horticultural oil spray or insecticidal soap |
| Fungus gnats | Small black flies with bead-like antennae and their larvae (black-headed, clear body, and legless worms). They cause yellowing, wilting, foliage loss, and poor growth. | Reduce water and promote air circulation |
Besides the above, other possible pests include thrips, shoe flies, slugs, and so on.
Diseases and conditions
Peperomia frost plants are not susceptible to many diseases as opposed to watermelon peperomia or P. obtusifolia. Nevertheless, they may get some diseases such as sclerotium stem rot or Cercospora leaf spot
Additionally, here are some problems or conditions you may notice with your silver frost plants:
| | | |
| --- | --- | --- |
| Condition | Possible causes | Remedy |
| Brown spots on leaves | Fungal infection (excessive wetting or very high humidity | Cut off the affected leaf and isolate the infected plant. |
| Yellowing of leaves | Inadequate nutrients, improper watering, excessive direct sunlight, or very low humidity | Confirm what the cause is and use a corrective measure such as proper light, watering, and food (fertilizer) |
| Drooping leaves | Underwatering, overwatering, or too much direct sunlight | If wilting, it may be water. However, check for any signs of root rot too, and ensure bright, indirect light |
| Dull leaves | Low light, nutrient deficiency, wrong moisture | Confirm which of these are likely and fix it accordingly |
| Leaf drop | Pests, diseases, incorrect light, moisture, too little fertilizer, freezing, and very low humidity | Check which among these many possible causes is likely responsible and manage it accordingly. |
| Leaf burn | Hot direct sun, excessive fertilizers, or water with chemical salts. Also, check for white crusty deposits (indicates chemical salt buildup) | Remove plants from direct sunlight, use reverse osmosis water and follow the feeding instructions we provided. For chemical salt buildup, drench the soil by pouring a lot of water at room temperature. |
| Black stems | Fungal infection or overwatering. In the case of root rot, you will see mushy black roots. | Let at least the top 50% soil dry before watering again. Repot the plant immediately. But, note that some cases of root rot may not be saved. |
| Curling leaves | Water, humidity, temperature issues, too much fertilizer, bugs, or nutrient deficiency | Keep optimum conditions, water your plants well, check for any bugs and ensure you feed your plant during the growing season |
Peperomia silver ripple vs. frost
A few people suggest that peperomia silver ripple and peperomia frost are different plants. We believe this is just mislabeling as they are the same plant.
The term ripple only suggests the way the leaves look, i.e., Peperomia caperata frost has ripple leaves.