Peperomia ginny, scientifically known as Peperomia clusiifolia Ginny, is one of the Peperomia clusiifolia cultivars or varieties. It has thick stems and large, succulent green, cream-white, and pink variegated leaves.
This evergreen flowering epiphyte is native to Venezuela and West Indies (South America and the Caribbean). It is one of the radiator plants (genus Peperomia) in Piperaceae, the pepper family.
Other popular P. clusiifolia varieties or cultivars include P. clusiifolia Isabella and P. Clusiifolia Red Margin (Red Edge).
Finally, P clusiifolia Ginny has other common names. Common ones are peperomia ginny, jelly, or tricolor. Others are rainbow peperomia and baby rubber plants. However, the baby rubber plant name isn't specific to this cultivar.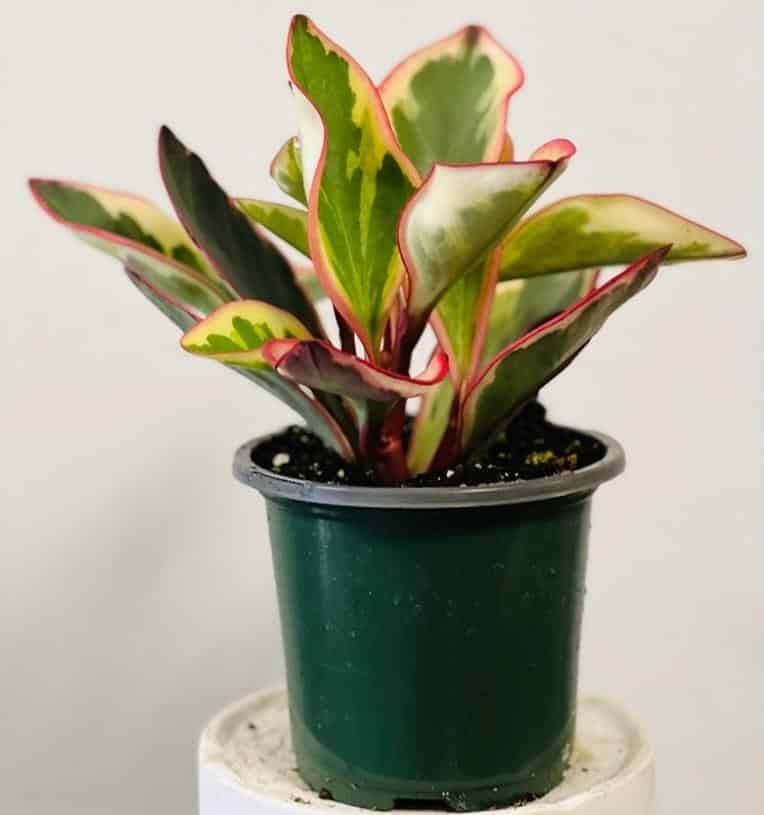 Quick overview
| | |
| --- | --- |
| Scientific name | Peperomia clusiifolia Ginny, synonyms are P. clusiifolia cv. Jellie or P. clusiifolia Jelly, P. clusiifolia var tricolor |
| Family | Piperaceae (pepper family) |
| Common names | Peperomia ginny, peperomia jelly, variegated red edge peperomia, rainbow peperomia, peperomia tricolor, baby rubber plant, variegated red-edged radiator plant |
| Native habitat | It is native to Venezuela and West Indies |
| Type | The plant is an evergreen flowering perennial epiphyte |
| Growth rate | Slow |
| Size | Compact 6-12 inches tall and 6-10 inches wide |
| Leaves | Elliptical, medium to large, green, cream-white, and pink variegated leaves |
| Flowers | Inconspicuous, small greenish flowers with thin spiky stalks |
| Stems | Fleshy, pinkish-red stem with short nodes |
| Blooming time | Throughout after maturity |
| Light requirement | Indirect bright light but can withstand indirect medium light |
| USDA hardiness zone | 10 to 12 |
| Temperature | from 60°F to 80°F, not cold hardy |
| Humidity | Moderate but will love misting |
| Soil | Well-drained, slightly acid with pH 6.0 – 6, but can tolerate neutral to alkaline up to 7.8. |
| Watering | Moderate, infrequent watering, allowing top 50-75% of the soil to dry before another round |
| Propagation | Leaf-cutting (also, stem cutting and division) |
| Toxicity | Not toxic or poisonous to humans, cats, dogs, and other pets |
| Care level | Easy |
Where to use peperomia tricolors
These houseplants are suited for people with pets and beginners. Why? Because they are nontoxic, tolerant, and low maintenance. We bet you will love the showy foliate, a reason why everyone values them.
They make perfect hanging or as pot houseplants. Moreover, you can place them almost anywhere from your home or office.
Whether it is your conversation area, living room, bathroom, bookshelves, windowsills, or anywhere you have them, they will look alluring.
Appearance
To know how P. clusiifolia ginny looks like, below are a brief description. We will look at their size, leaves, stems, and flowers.
1. Peperomia ginny size
Peperomia ginny is about 6 to 12 inches tall (15 to 30 cm) and spreads about 6 to 10 inches (15 to 24 inches). These small, compact plants take a long time before attaining maturity or optimum growth.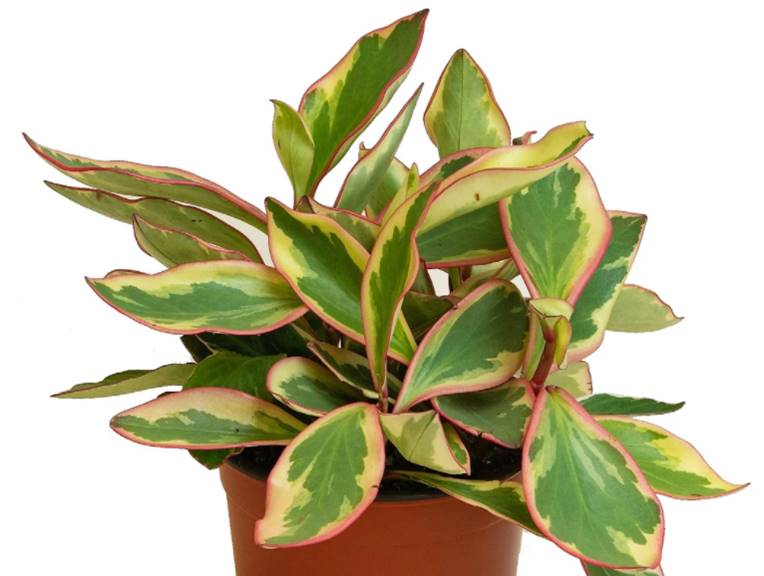 2. Leaves
Peperomia ginny have showy, elliptical, and slightly concave leaves. These leaves are green and cream-white variegated leaves with a pink or rose-pink margin.
Here is how the leaves appear. The innermost leaf part is green-edged by a yellowish or cream-white color and a blushed pink margin. This unique coloration is why they are they are at times known as tricolor or rainbow peperomia.
The leaves are medium to large, i.e., between 2 to 6 inches long. Their width is almost half the length. Also, the leaves have short pink-red petiole or leaf stalks.
Finally, these leaves grow in the opposite, alternating manner.
3. Stems
It has pink-red, thick stems. These stems have short nodes, i.e., where the leaves grow or branches when it plant matures.
4. Flowers
Usually, P. clusiifolia Ginny only flowers when they are mature. These plants have many small, inconspicuous pale green flowers and the flower's stalk is thin and spiky.
These stalks may grow from a leaf joint or at the tip of the stems.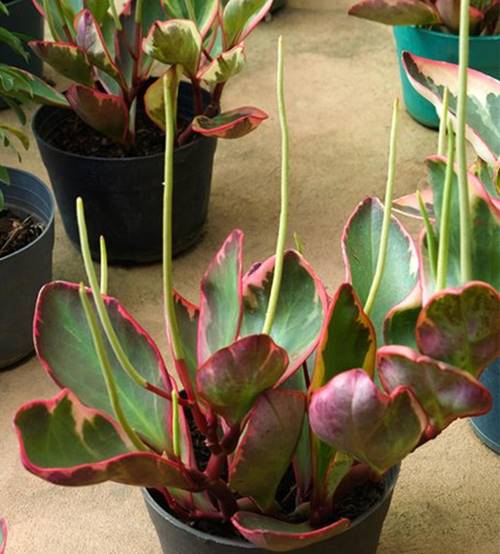 Lastly, flowering occurs throughout the year but more often during the growing season.
Peperomia ginny care and growing conditions
These plants are easy to care for since their succulent leaves allow them to retain water. Also, they can tolerate even in places with lower lighting while maintaining their lovely colorful leaves.
Let us now look at how to care for your peperomia ginny. We will look at the USDA hardiness zone, temperature, light, soil, humidity, and watering. Also, we will also cover propagation, pruning, repotting, and a lot more.
1. USDA hardiness zone
The USDA hardiness zone for peperomia ginny is 10 to 12. People living in these zones can grow these houseplants outdoors throughout the year.
They can tolerate temperatures as low as 30 to 40 degrees Fahrenheit. However, are not frost-hardy. Therefore, you should move them indoors if you experience a harsh winter.
2. Temperature
Peperomia ginny plants prefer warmer conditions. Ideal temperatures should range from 60 to 80 degrees Fahrenheit (15.6°C to 26.7°C) to grow optimally. Also, ensure the nighttime temperature doesn't fall below 55 degrees Fahrenheit (12.8°C). Otherwise, they will not grow optimally.
That is not all. As tropical plants, they are not cold-hardy. So, ensure indoor temperatures don't fall below 50 degrees Fahrenheit (10°C) even during winter.
When deciding where to place them, avoid cold drafts, including during winter. Again, don't place these ornamentals near air conditioning or heating system vents.
Finally, people living in USDA hardiness zone 10 to 12 can grow these plants outdoors throughout the year. However, they need to ensure partial sunlight.
3. Humidity
Peperomia ginny thrives in average to high humidity and will grow well under normal household humidity. Also, they can adapt to slightly lower humidity levels.
However, since they are not true succulents, they require a little bit of humidity. Even in their native tropical south and central America habitat, they thrive under high humidity.
Therefore, these plants will benefit from misting to help boost humidity. Do this a few times a week.
Besides misting, if you live in a drier place with lower humidity, we recommend having a pebble tray or a humidifier.
For a humidifier, buy any good cool mist brand. We use the 2.2 Liter AquaOasis™ Cool Mist Humidifier. It runs for a day without a refill, is quiet, and is Amazon's best seller. Also, it has functions like auto-shut and a 360 rotating nozzle among other features.
4. Light
Peperomia ginny favors bright, indirect light. But it can still adapt and grow in low to medium light. In very light, it may not have very vibrant colors and will grow slowly.
Please, never place your peperomia tricolor in direct sunlight, especially the hot midday sun. It will cause leaf burn, i.e., the leaves will start turning brown and look scorched. This browning happens because too much sun promotes faster water loss and hence the burn.
Indoors, opt for the west-facing or east-facing windows. Even the north-facing window will be ok as it allows indirect light. If you have a south-facing window, place it away for the window to avoid the midday sun. You can also have blinds.
People who have poorly lit rooms can go for grow lights like GE Lighting LED Grow Light. It is affordable and will serve you for up to 25,000. Also, ensure the plants have about 12 hours of lighting.
Finally, if you grow your peperomia ginny outdoors, go for a place with filtered light or shade. Alternatively, you can buy 40% shade clothes (see prices) or have a greenhouse.
5. Peperomia ginny soil
These plants are is an epiphyte, i.e., it grows on other plants deriving nutrients from dead leaves, bark, or debris. These plants have no access to ground soil and are not so picky as long as they are well-drained and nutrient-rich.
Usually, peperomia ginny needs to be slightly acidic (pH 6.0 to 6.6), well-drained, nutrient-rich soil, or a potting mix rich in organic matter, including soil-less. However, they can thrive in neutral to slightly alkaline soils (pH up to 7.8).
A typical soil for this peperomia should have a generous amount of sphagnum peat moss and perlite.
Instead of moss peat, you can work with organic manure, sterile garden mulch, cacti mix, etc., and perlite to improve drainage. Even loamy soil mixed with some sand will suffice.
However, avoid soil with clay, including topsoil and garden soils, as they don't promote proper drainage and cause root rot.
What do we use for our Peperomia? Miracle-Gro Indoor Potting Mix. Why? It feeds for up to six months and has coco coir (ensures it holds moisture without being soggy). Also, with this potting mix, we haven't had any instances of gnats
6. Watering
Unlike most tropical plants, peperomia tricolor has a low water requirement, and it is drought resistant, thanks to the succulent stems and leaves that retain water for a long time.
Usually, peperomia ginny requires infrequent, deep watering. Typically, under normal household living conditions, you should water them once every 1 to 2 weeks. However, we don't prefer to give you a schedule since your conditions may not be the same as ours.
Instead, we recommend watering your Peperomia ginny when the top 50%-75% of the potting mix dries. Just fill with your finger and water if it feels dry beyond the first knuckle.
Alternatively and our preferred method is using a soil moisture meter. XLUX is a favorite. It is accurate and responds very fast. Also, it's the highest rated in most marketplaces. If you have one, water your plant when the reading is in the dry zone (usually three or less).
a). How to water them
When watering your peperomias, soak water slowly into your pot and let it flow until the excess amount comes out from the drainage holes. Pour any water that collects on the saucer below the planter. Don't overwater or underwater.
b). Overwatering
Peperomia ginny plants are more sensitive to overwatering than underwatering. Poorly draining soil or a pot without drainage holes will contribute to the overwatering problem.
Some of the signs that these houseplants are overwatered include soggy or very wet soil and wilting, yellowing leaves, and mushy potting mix.
In severe cases, your plant may end up with root rot that will cause wilting, foliage and shoots dying, stunted growth, and black roots.
c). Underwatering
While they are drought resistant, signs of thirsty or underwatered peperomia tricolor include dry soil, curling leaves, wilting, dry leaf tips, and stunted growth, among others.
7. Fertilizer
These peperomias have a low requirement for fertilizer, and they can grow well without any feeding, especially if their potting mix has some organic matter.
However, for optimum growth, feed your this plant with a liquid fertilizer for indoor plants about once a month in growing season (summer and winter).
Miracle-Gro Indoor Plant Food (Liquid) is an excellent balanced (NPK 1-1-1) fertilizer we love. Our pot is large, over 6 inches, so apply two pumps biweekly. Our plant looks fantastic.
Alternatively, you can go for slow-release spikes or granular fertilizer. We have good experience with Osmocote Smart-Release Plant Food Plus Outdoor & Indoor. Just sprinkle a teaspoon per 64 square inches and work it into the soil, about 1-3 inches deep. Appl once in every four months during growing months only. 
Finally, remember, too much fertilizer may be detrimental to these plants. So, don't overdo it.
8. Pruning
As slow-growing and relatively small plants, peperomia ginny don't require frequent pruning. However, you can use sterilized sharp shearing or pruning scissors to cut off any unruly or older, brown, or yellow leaves at any time of the year.
Pruning will help keep the plant looking neat and may help encourage new growth.
9. Potting and repotting
These epiphytes don't naturally grow a small root system and grow slowly, meaning they don't require frequent repotting.
Therefore, don't repot your peperomia tricolor unnecessarily. A loss of foliage vibrancy may not necessarily mean this houseplant requires repotting unless root-bound. It could be nutrients, watering, diseases, conditions, or other problems.
However, if your peperomia ginny is root-bound, consider repotting it to a larger pot, at least 3 inches in diameter. When root bound, your plant will have roots growing out from the container or being so curly with no room to grow when you look at them.
Also, you can repot this plant once every 2 to 3 years if you want to change a potting mix. In this case, don't go for a larger pot.
How to propagate peperomia ginny
The best way to propagate peperomia ginny is by leaf cutting. It is the easiest and best method.
However, you can also propagate this plant using stem cutting or division (if your plant has multiple stems or a pup).
We recommend that you propagate peperomia jelly during spring, a time they have come out of dormancy and are ready to grow. However, you can also do this early summer.
Also, you can grow your leaf cutting in a potting mix or water. Both methods will work just fine so long as you maintain the correct conditions to spur the rooting and growth of a new bud.
i. What you need
Before we go to steps, you need a sharp, sterilized scissor, a pot with a well-drained potting mix such as the one you grow your peperomia or a jar with water, and a rooting hormone (optional)
ii. Steps to follow
Here are steps to follow when propagating your rainbow peperomia by leaf-cutting:
Using a sharp, sterilized scissor, cut a healthy leaf with the petiole near where it attaches to the stem.
Let the leaf stay for a day, to callus it. This step will minimize rotting and bacterial infection. However, you can skip it. Also, you can dip it in a rooting hormone to promote root growth.
Plant your leaf cutting in your potting mix, ensuring it stands upright, and thoroughly water it without making it soggy. Ensure the stalk remains firmly held by your potting mix.
Cover your plant with a clear plastic bag to create a humid environment and prevent drying. However, after every few days, remove the bag to allow fresh air.
Place your pot on indirect bright light and always check to ensure the soil remains moist and you maintain the correct temperature (about 70 degrees Fahrenheit.
The leaf cuttings will start growing roots before buds. This process will take about a month or two. Once you are satisfied with the growth, transplant it to an individual growing pot.
If you opt to grow your peperomia tricolor in water, the steps are much or less the same. The only difference is using a jar with water instead of potting mix.
Is peperomia ginny toxic or safe?
Peperomia ginny is safe for dogs, cats, and humans, i.e., it is not toxic or poisonous. It is also safe for rabbits and other pets. Therefore, don't worry if you have pets or young children, as this houseplant is safe.
However, since they are not herbivores, dogs and cats may have digestive issues if they overeat this plant. Additionally, while a little is safe, too much chewing of greenery may indicate something wrong with your dogs or cats.
Therefore, let your veterinarian know if they excessively devour this or any other houseplant, even if it is safe.
Finally, always keep your house plants from your children, even if they are not poisonous or toxic.
Is peperomia ginny a succulent?
While it shares some succulent features, including fleshy leaves, and some people may call it semi-succulent, peperomia ginny is not succulent.
Yes, it does have waxy, thick leaves that store water. However, unlike succulents, it prefers high humidity. Also, they require slightly more water.
Disease and conditions
Peperomia tricolor is not susceptible to many diseases or conditions when compared to species such as P. obtusifolia. However, they may have Cercospora leaf spot, Sclerotium stem rot, and Phytophthora & Pythium stem & root rot.
However, these diseases are unlikely to your houseplants so long as you use a pathogen-free potting medium.
Some of the common issues that this houseplant may have:
| | | |
| --- | --- | --- |
| Issue | Causes and symptoms | Solution |
| Salt accumulation or salination | Excessive salinity may cause roots to die, and your plant will appear as if it is thirsty. Your plant's leaves will begin falling off, starting with the older ones followed by younger ones. Also, you will notice whitish deposits in the soil. | Avoid excessive fertilizers. Flush your potting mix twice a year using water at room temperature. To flush it, pour water and let it drain out. Repeat the process twice. |
| Nutritional deficiencies | Yellowing of leaves. However, many other things can cause leaf yellowing. | Feed your peperomia with the correct fertilizers. However, please don't overdo it. |
| Low root oxygen level | Waterlogged soils may cause low oxygen in the root. In such a case, your plant will look wilted. Also, it may cause root rot. | Use the right potting mix that allows drainage. Avoid soils with lots of clay as it doesn't promote drainage. |
| Dropping leaves | Peperomia ginny droopy leaves may result in overwatering, underwatering, and excessive direct sunlight. | Examine each of these possible causes and determine which one is the cause. Look at the soil to see if it's too wet and soggy or too dry. |
| Yellowing leaves | Yellowing of peperomia tricolor leaves may result from nutritional deficiencies, overwatering, underwatering, or wrong lighting. Also, very low humidity, sudden color changes, diseases, and pests may cause yellowing or even browning. | Assess each of these possible causes and determine the cause. Solutions will require you to correct any potential causes. If you follow the peperomia ginny care guidelines above, these issues are unlikely to happen. |
| Leaf drop | Pests, diseases, nutritional deficiencies, frost, very low humidity, wrong lighting, salt accumulation | Do an investigation to determine which among these are causes and fix them. |
| Wilting | Underwatering is the main suspect. However, it could be wrong temperature, overwatering, pests, disease, and low humidity, among other causes. | Begin by examining the soil to see if it is too dry. If so, water your plant. Also, check for other possible causes we have listed. |
Raibow peperomia pests
Unless you plant them outside or you neglect your peperomias, pets are an unlikely occurrence. Nevertheless, should it occur, probable suspects are:
Fungus gnats
Mealybugs
Mites
Scales
Thrips
Scale
Solutions will depend on the exact pests your plant has, and it may include removing infested leaves, using insecticidal soap, neem oil, hosing or cleaning the plant, among other ways
More Peperomia clusiifolia cultivars or varieties
Besides P. clusiifolia ginny or jelly, other P. clusiifolia cultivars include the following
1. Peperomia red margin
Peperomia clusiifolia Red Margin or Red Edge is a P. clusiifolia characterized by waxy, fleshy, green leaves with a red margin, hence the name peperomia red margin or red-edged radiator plant.
This easy to care for, evergreen perennial houseplant has inconspicuous green-white flowers with spiky stalks and makes an excellent desk, cabinet, bookshelf top potted, or hanging plant for virtually any room.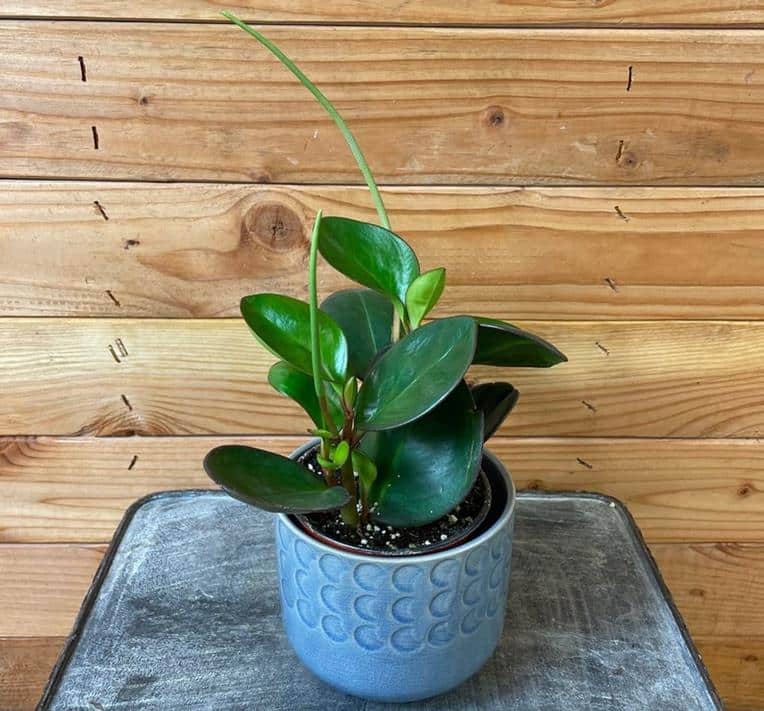 2. Peperomia Isabella
P. clusiifolia Isabella is a rare vine-like cultivar with small showy, yellowish-green succulent round leaves. Its spreading bushy growth and trailing vines make it an excellent potted, hanging basket plant or a ground cover.
Finally, a tropical reptile and amphibian terrarium will be an excellent choice to have your Peperomia Isabella as it can withstand even very high humidity.