Philodendron brandtianum (Philodendron Brandi or silver leaf Philodendron) is a rare, lovely houseplant with heart-shaped, olive-green leaves covered with silvery mottling. It is easy to grow and has a bushy growth, just as the heartleaf Philodendron.
We have details on its appearance (juvenile and mature P. brandtianum) and growing habits. Also, you will get insight into care (light, humidity, watering, soil, fertilizer, etc.), propagation, and issues or problems.
Lastly, since they look alike, there is something on Philodendron brandtianum vs. sodiroi and variifolium. Afterward, we will tell you where to find brandtianum on sale in the US, UK, Canada, or Australia, including Etsy.com and eBay.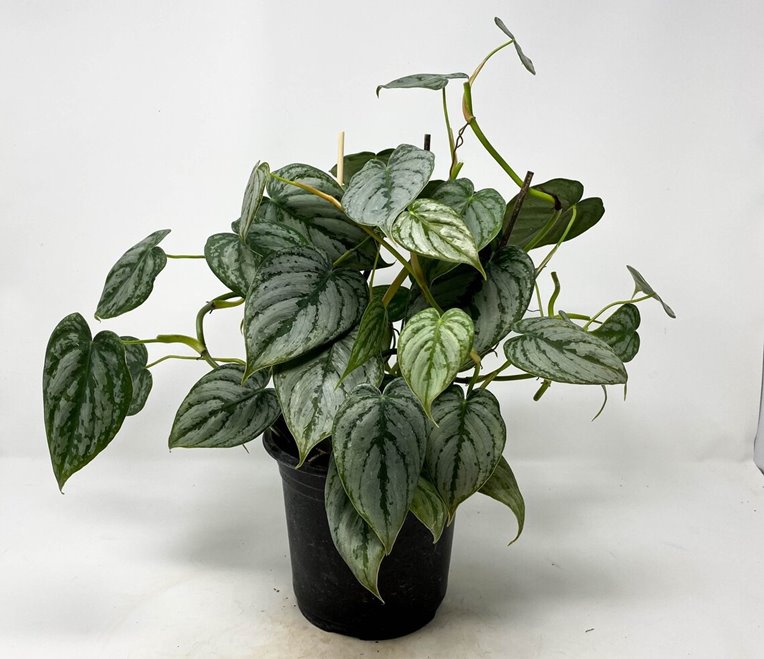 Quick overview
Scientific name: Philodendron brandtianum
Common names: Brandi Philodendron, Silver leaf Philodendron, Philodendron brandi, Philo Brandi
Family: Araceae (arum family or aroids)
Native habitat: Bolivia, Colombia, Ecuador, Brazil, and Peru
Toxicity: All parts of the Philodendron brandtianum plant are toxic to humans, cats, dogs, and other pets since it has sharp, needle-like insoluble calcium oxalates. If ingested, it will cause severe oral irritation and a burning sensation. Also, mouth, lips, and tongue will swell, and patients will drool, lack appetite, and find it difficult to swallow.
Care level: Low or easy
Description and appearance
Before we look at care, propagation, and where to buy it, we feel it best we go through appearance and growing habits. They will help you quickly identify the plant or avoid confusing it with other similar plants.
1. Growing habits
Philodendron brandtianum is a medium to large, appressed climbing plant native to Bolivia, Colombia, Brazil, Ecuador, and Peru. In Colombia, it occurs at 656-1968 feet (200–600 m) above the sea level at Amazonia and Andean tropical rainforests.
This evergreen flowering plant grows as an epiphyte (on host plant), sprawl on the ground (terrestrial), or as a hemiepiphyte. A hemiepiphyte has terrestrial and epiphytic phases.
Contrary to what many horticultural growers assume, it does undergo morphogenesis. So, the juvenile and mature plants look different. But this only occurs at certain heights, i.e., at about 30 feet (10m) from the ground. Even the famous heartleaf Philodendron (P. hederaceum) does have a mature form not seen in cultivation.
2. Growth rate and size
P. brandtianum is a fast-growing climbing plant that can grow over 30 feet (10 meters) tall. But at home, it will reach about 4-8 feet high. And to achieve these heights, you need to give it a place to climb. Otherwise, it won't grow as tall and will have smaller leaves.
3. Juvenile and Philodendron brandtianum mature leaves
Philodendron brandtianum has heart-shaped, olive-green juvenile leaves with grey or silvery mottling. But as they emerge, they are yellowish or orange but quickly change to olive-green with silvery markings.
On the other hand, mature Philodendron brandtianum leaves are much larger, heart-shaped, or oval-oblong with an arrow-shaped base. Also, they lose their silvery markings and become dark green. These leaves are sub-leathery and semi-glossy on the upper surface. The underside is also semi-glossy but paler.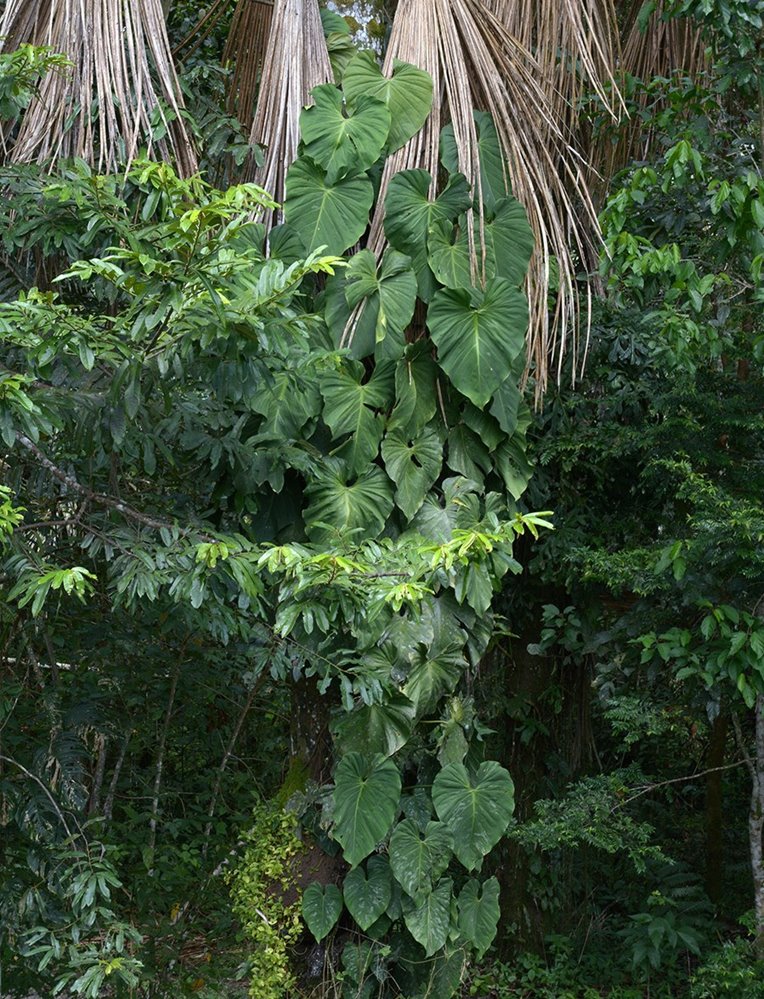 Lastly, juvenile plants have a short petiole, while petioles in mature plants are long and narrowly sheathed at the base. These leaf stalks are nearly round on the upper side and reduce thickness upward from the bottom.
5. Stems
Philodendron brandtianum scandent stems are greenish but may turn greenish-brown in older plants. They have moderately long internodes and nodes with aerial roots. Also, the stems produce single ribbed medium green deciduous cataphylls.
6. Flowers
Flowers are uncommon in cultivation. Why? Because this plant must climb about 30 ft (10m), grow into host tree branches, and be pendent for about 10 feet (3m) before flowering.
It produces one inflorescence per axil with a short round dark green peduncle (flower stalk), a spathe (bract), and a spadix.
The spathe has a constriction at nearly the middle, separating the upper blade and lower tube. This spathe is green outside and white to pale purplish as you move towards its base.
Lastly, the spadix is briefly stipitate and has a lower female, middle male sterile, and upper fertile male and it is shorter than the spathe.
Philodendron variifolium vs brandtianum
Many people mislabel or confuse Philodendron brandtianum with Philodendron variifolium. But these are two different plant species. The latter is a 3-lobed species, and its spathe is yellowish and not green with a white or pale purplish inner side.
That is not all. P. Variifolium leaves shape varies from heart-shaped oblong to arrow-shaped oblong to spear-shaped oblong. Also, It is exclusive to Peru, with only one collection made in Bolivia.
Philodendron brandtianum vs. sodiroi
Both Philodendron brandtianum and sodiroi have juvenile leaves with silvery mottling, and some people may have trouble differentiating these two plants. If you happen to be one of them, here is how to quickly tell which is a brandtianum and which one is a sodiroi.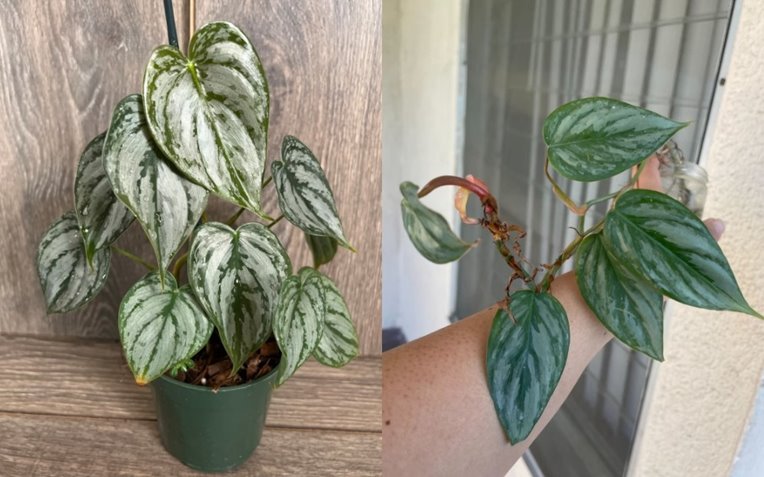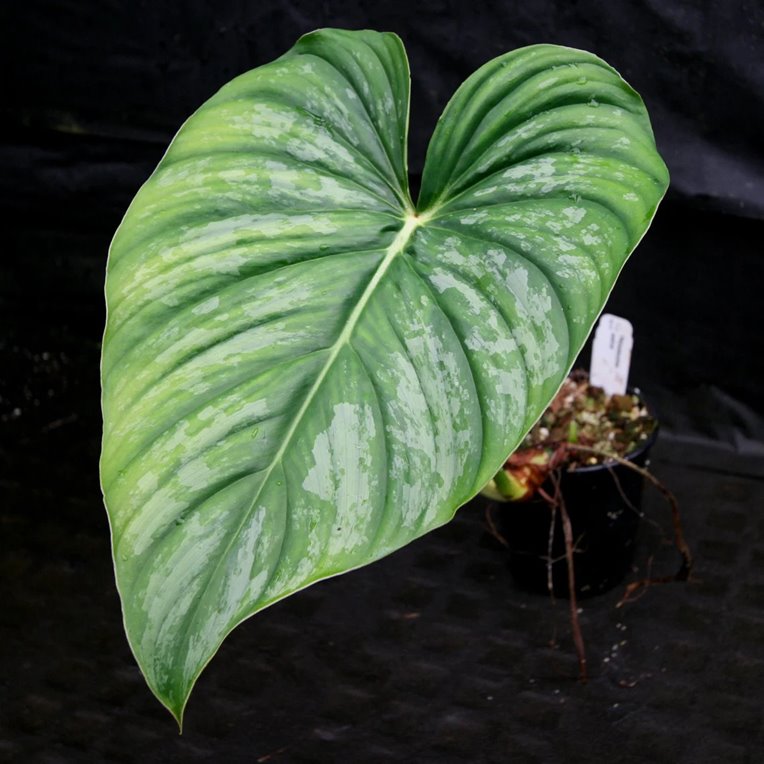 Philodendron brandtianum has heart-shaped olive-green leaves with more conspicuous silvery or graying mottling. These plants are bushier, and the leaves remain so in cultivation. But in the wild and at the right height, the leaves also become larger and lose the silvery mottling. Also, their shape changes.
On the other hand, Philodendron sodiroi (name unresolved) has oval green leaves with silvery grayish mottling or markings but is a bit dull. Also, when given a place to climb, the leaves will become larger, up to 18-20 inches long, glossier, and the silvery mottling will become less conspicuous. Also, the primary veins and midrib will be paler.
The second and more obvious way to tell the difference between these two plants is by looking at the petiole. In P. sodiroi, they are warty and green to reddish-pink to the apex or on new leaves. But for the brandtianum, the petioles are not warty and are narrowly sheathed at their base.
Philodendron brandtianum care
Caring for P. brandtianum is easy. You need to ensure a warm, humid spot with bright, indirect light. Water it when the top 2-3 inches of the potting mix feel dry and feed it once monthly with a balanced, liquid fertilizer for houseplants during growing months.
Don't forget to prune it regularly, give it a place to climb, and repotting it after every 2-3 years.
Here are the care and growth requirements.
| | |
| --- | --- |
| USDA hardiness zone | 10-11, not frost-hardy, and freezing temperatures will cause damage. Only grow it outdoor in these zones. |
| Humidity | Philodendron brandtianum prefers high humidity, at least 50% or more but can tolerate a bit lower. If your humidity is too low, use a humidifier, pebble tray or move it to more humid rooms like the bathroom or kitchen. |
| Temperature | 55 to 90 degrees Fahrenheit (12.8-32°C). Avoid temperatures below 50 °F (10°C), sudden temperature change, and cold drafts, and don't place it near air conditioning vents, room heating vents, or heat-emitting gadgets. |
| Light | Bright, indirect light but can tolerate moderate indirect light. In too little light, leaves will become smaller and paler and your plant will grow slowly and be leggy. In such a case, use grows lights with about 10,000 to 20,000 lux (1000-2000 footcandles) like Relassy 15000Lux Sunlike Full Spectrum Grow Lamp. Also, avoid direct sun. It will cause sunburn (brown tips, edges, patches, and a bleached appearance). |
| Best soil | They need moist, well-drained, aerated soil high in organic matter, with ph 6.1 to 7.3 (slightly acidic to neutral). You can grow this aroid in sphagnum moss alone, buy an aroid mix from Etsy.com or make yours. To make your mix, add some perlite, peat moss, and bark chips to your potting mix. Also, a handful of horticultural charcoal and warm castings will make the mixture even better. |
| Watering | Water your Philodendron brandtianum when the top few inches of the potting mix feel a bit dry, i.e., when up to your 1st knuckle feels dry or a soil moisture meter like XLUX reading is in the dry zone. Please, don't follow a routine as water needs vary and when watering, saturate the soil until excess flows from drainage holes. Don't forget to discard what collects in the saucer after 20 minutes. |
| Feeding | Feed these plants once a month with a balanced, liquid fertilizer for houseplants at half the recommended strength during growing months. An N-P-K 20-20-20 or 10-10-10 fertilizer will work like Bonide Liquid Plant Food 10-10-10. But you can still use a slow-release fertilizer for potted plants. Start applying in early spring and follow instructions. |
| Pruning | Routinely cut any damaged, dead (brown or yellow), diseased leaves or parts with your sterilized gardening scissors. You can also cut back some of the stems during spring or summer to control size growth and shape. But don't cut more than 25% at one go. |
| Repotting | Repotting is after 2-3 years or when rootbound (roots growing from drainage holes or spiraling around the pot). Use a pot 2-3 inches wider and do it in the growing months. |
| Staking or support | Provide and train your brandtianum on a moss pole, trellis, totem, or climbing place. |
Philodendron brandtianum propagation
The best way to propagate Philodendron brandtianum is by stem cutting in water or soil. But you can also go for air layering.
Contrary to what many assume, you can propagate your plant at any time, but we recommend spring or early summer when they are actively growing. It will happen faster and with a higher success rate.
1. Brandi Philodendron Soil propagation
We will look at soil propagation and mention water propagation and air layering.
What you need
Gardening scissors
Nursery pot
Potting mix or sphagnum moss
70-90% rubbing alcohol for sterilizing your gardening scissors
Rooting hormone. It is not mandatory but will speed rooting and reduce the chances of rot. Go for a top brand like Clonex Rooting Gel.
Plastic bag to help lock humidity if you don't have a greenhouse cabinet and your humidity is low.
Steps to follow
Fill your nursery pot with your potting mix. If using sphagnum alone, you will have first to soak it for 15-20 minutes. Then, wring it before putting it in your nursery pot, and after planting, don't water the plant. Only mist it when it begins to dry.
Select a mature, healthy stem with at least two nodes (the knobby area where leaves or aerial roots grow) and cut about ¼ an inch from the lower node with your sterilized gardening scissors. If it has more than two leaves, pluck off the lower ones.
Apply your rooting hormone on the cut end, covering the node(s) you will plant into the soil.
Poke a hole with a stick or finger into your potting mix and plant your Philodendron brandtianum cutting, covering at least a node. Squeeze some soil against the cutting to ensure it remains upright.
Thoroughly water the cutting until excess water flows from the drainage holes. Then cover it with your plastic bag leaving a breathing hole. But ensure it doesn't touch any foliage. Also, don't forget to discard any water collected on the saucer.
Place your cutting in a warm place with bright, indirect light.
Routinely remove the plastic bag to let your plant breathe. Also, mist the potting mix if it begins to dry. It should remain moist but not soggy.
You should notice new growth by the end of the 4th to the 6th week, and your plant may have rooted and be ready for transplant. But how soon this happens depends on the growing conditions (light, temperature, and humidity).
2. Philodendron brandi water propagation
Water P. brandtianum propagation will allow you to see the roots grow. But it takes longer, and your plant will suffer much transplant shock.
After step 3 above, dip the plant inside a jar with water, ensuring at least a node inside the water. But don't immerse leaves as they will rot. Afterward, change the water when the level goes down or after 3-4 days.
Transplant it after the roots are 2 to 3 inches long and when you see new growth. It may take about 5 to 6 weeks.
3. Air layering
It involves wrapping moist sphagnum moss on a selected stem (which you will cut later) while still attached to the mother plant with a plastic bag. Then poke holes in the plastic bag to allow for aeration and mist the sphagnum moss to ensure it doesn't dry.
The node will root, and once the roots are long enough, cut and plant it in its growth pot.
Philodendron brandtianum problems
While growing your Philodendron brandtianum, you may have some issues or problems. Let us look at these problems.
1. Root rot
Root rot is prevalent in overwatered Philodendron brandtianum or those grown in heavy or compacted soils that don't allow water to drain.
Signs include leaves wilting or drooping, yellowing, browning, or being smaller and paler. Others are leaves falling off, stunted growth, mushy stem base, etc.
To confirm is root rot, check for the presence of brown or black mushy roots.
If your plant has root rot, you can only save it if it still has some healthy roots. Just cut the decayed ones with a sterilized scissor and repot it. But it would help if you springled a fungicide before repotting to prevent a recurrence.
2. Pests
Indoor brandtianum are not vulnerable to pests, including aphids, thrips, scale insects, spider mites, or mealybugs. But routinely check for any bugs, especially on the underside with your 10X magnifying glass. Also, check for their signs.
Signs depend on the bug present. They include honeydew, sooty mold, webbing, silvery stippling, brown, whitish, yellow spots, etc.
Use insecticidal soaps, horticultural oils, or neem oil like Bonide Ready to Use Neem Oil.
3. Diseases
Like other Philodendron plants, brandtianum are susceptible to bacterial and fungal leaf spots or blights like Phytophthora, Pseudomonas Xanthomonas, Dactylaria, Southern blight, or Erwinia spp.
Signs include black to brown lesions. Some may have a yellow halo, others water soaked or sunken.
Luckily Diseases are uncommon unless you buy a sick plant or don't practice sanitation (wash hands, sterilize gardening tools, etc.).
Isolate new plants and trim affected parts with a sterilized scissor. Then use fungicide for fungal diseases. If bacterial, there is no chemical cure. But copper compounds containing bactericides will prevent spread.
4. More problems
Leaf discoloration, curling, or your plant drooping or wilting are the other common issues. If you haven't repotted your plant and it is not rootbound, here are the other likely causes.
Philodendron brandtianum yellow leaves: Overwatering is the most common cause. But other things can cause it too, like underwatering, too little or much light, low humidity, cold drafts, heat stress, and nutrient deficiency. Don't forget that overfeeding, pests, and disease may also be a reason.
Brown tips, edges, spots, or browning leaves: Brown tips and edges are a likely sign of underwatering, low humidity, heat stress, or too much light and fertilizer burns. If you see brown splotches or spots, it may be diseases, pests, or overwatering, while cold drafts will cause leaves to turn brown suddenly.
Black spots or leaves turning black: Diseases and pests are the most likely cause. But cold damage, overwatering (brown splotches), and water quality are possible reasons.
Leaves curling: Leaves curl to prevent moisture loss or damage. The most likely reasons are underwatering, low humidity, too much light, and heat stress.
Plant drooping or wilting: It indicates plant cells don't have water to keep them rigid. Most probable reasons range from overwatering to low humidity to heat stress or anything that makes roots unable to absorb or plants lose more water than it absorbs. Pests, diseases, root rot, fertilizer burns, root bound, etc., can all be reasons.
Where to buy Philodendron brandtianum
Do you need this adorable houseplant? Start with Etsy.com for the best price offers and then eBay. These two marketplaces have vendors from various regions, not just the US. People in the UK, Canada, Australia, etc., will find vendors near them or willing to ship.
Secondly, try Facebook and Instagram. These social media have vendors from all over the world too. But only pick vendors with lots of positive feedback.
More places to buy include Walmart, Logee's, Steve's Leaves, Han's House of Plants, Ed's Plant Shop, all in the US. Those outside the USA should try Plantegy.com (Canada), Rootd Plants (Australia), Green MY Space (Australia), Root Houseplants (UK), and the Ginger Jungle (UK).
Still haven't gotten this plant? Then google either "Philodendron brandtianum for sale" or Philodendron Brandi for sale" to see anyone near you with this plant.
Frequently asked questions (FAQs)
Is Philodendron brandtianum rare?
Yes. Philodendron brandtianum is a rare and sought-after plant, thanks to the adorable silvery mottling or markings on heart-shaped, green leaves. Luckily, more and more people are starting to sell it, making it not so expensive. Even Walmart has it.
What is Philodendron brandtianum price?
Philodendron brandtianum price ranges from $20 to $50 for a rooted cutting to an established plant. Unrooted cutting will cost you less than $20, some going for as little as $7.