Philodendron Florida Ghost is a charming cultivar of Philodendron Florida with white, cream, milky green, or light green multi-lobed leaves as they emerge. But as the leaves mature and harden, they will transition to lime green or yellow-green before turning to solid green or dark green.
You can imagine the beauty of having whitish, lime, and dark green leaves on the plant simultaneously. What is more, these colors are stable. But since they are not variegation, they won't remain.
Discover more on Philodendron Florida Ghost care (light, humidity, temperature, watering, soil, etc.), propagation, and problems you may encounter while growing it.
We will also have Philodendron Florida Ghost vs. Florida beauty, Philodendron Pedatum, P. squamiferum, etc., which will reveal the differences between these closely related, often mislabeled, and confused houseplants.
Lastly, there is something on Philodendron Florida Ghost Mint. And if you would wish to buy this plant, we have places to buy it in the US, Canada, Australia, the UK, etc., including Etsy.com and eBay.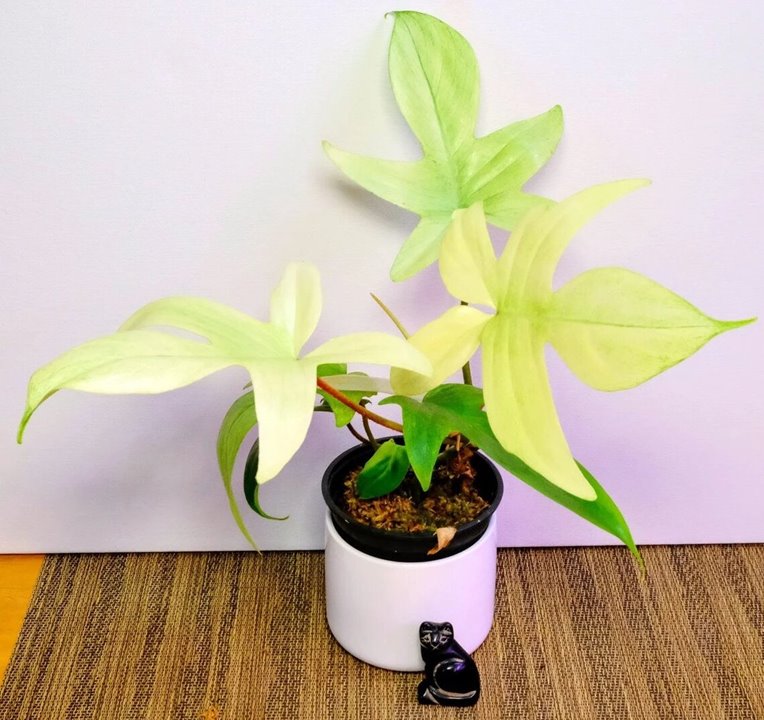 Quick overview
Scientific or cultivar name: Philodendron 'Florida Ghost'
Common names: Philodendron White Ghost, Florida Ghost Philodendron
Family: Araceae
Toxicity: All plant parts are toxic to dogs, cats, and humans since their sap has insoluble calcium oxalates.
Care level: Low maintenance
Philodendron Florida Ghost origin isn't so clear. But botanists believe it is one of the cultivars of Philodendron Florida, a hybrid of Philodendron pedatum x P. squamiferum created by Robert McColley in 1956.
It gets its name 'Ghost' because the whitish emerging leaves appear like little ghosts floating on the plant. But since it eventually turns to solid dark green, it is not a variegated plant.
Description and identification
Philodendron Florida Ghost is a climbing tropical hemiepiphyte. But it can grow as little as a semi self-heading plant. A hemiepiphyte is a plant with two growth phases, i.e., on host trees (epiphytic) and terrestrially (on the ground).
It is a fast and vigorous grower, i.e., it has a faster growth rate when compared to both parents. It can grow up to 6 to 8 feet or more inside your home.
Like other Philodendron plants, it morphs, i.e., baby, young or juvenile plants will show morphological differences with mature plants. For instance, baby plants will have elongated oval leaves which gradually change into multi-lobed as it grows towards adulthood or as it matures.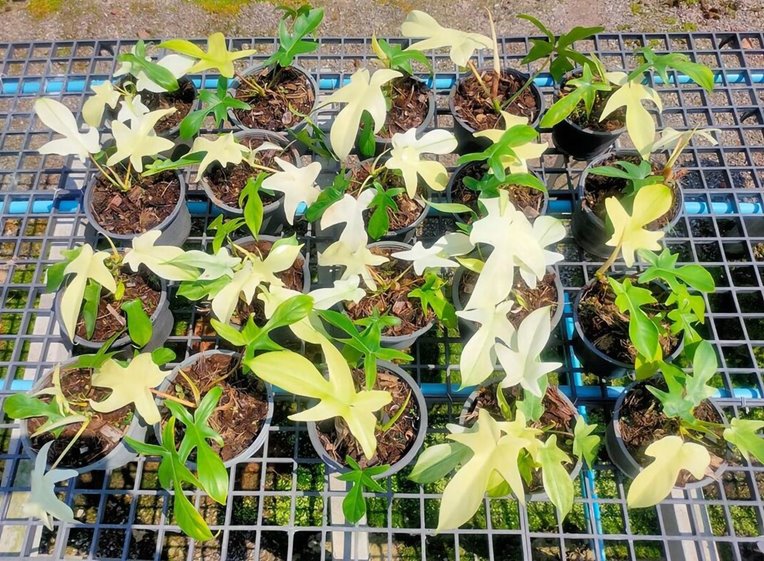 Its mature multi-lobed leaves look more like Philodendron pedatum. But as already mentioned, newly emerged leaves are whitish, cream, pale or milky green. However, as they age, they will turn to lime, yellow-green, or have various hues and densities of green before turning solid dark green.
Unlike P. pedatum, which has smooth (a bit striate) green to dark green petioles with a reddish tinge, Philodendron Florida Ghost has reddish petioles with warty-like bumps. But they are not bristle-like or fuzzy as in the case of one of its parents, the P. squamiferum.
Lastly, you may find terms such as Philodendron Florida Ghost albo, aurea, all green, etc. They are just mislabeling and shouldn't confuse you. Also, note that a leaf could have some color variation, which some people confuse with variegations.
Does a Philodendron Florida Ghost Mint exist
There are controversies surrounding the existence of Philodendron Florida Ghost Mint, whose leaves emerge as mint or vibrant pale green and not white. Afterward, it will turn green and eventually dark green. Also, some of the plants may have a green leaf with mint variegation when it emerges. Then as it ages, it will turn to solid green.
Some people and sources consider it a type of P. Florida Ghost (TC) tissue culture clone or the NEW HYBRID. Not much information is available.
However, we consider mint coloration results of probably light and other growing conditions. Why? Because at the end of it all, the leaves will turn dark green by the time they mature.
The labeling may be done unknowingly or knowingly. It is possible that some vendors use the labeling marketing gimmick meant to boost sales, i.e., purport to have a different plant yet sell the same thing.
More scientific research needs to be done on the impact of light and other growing conditions on coloration. But we are not ruling out the existence of such a place, especially if it is a tissue culture clone.
The price of Philodendron Florida Ghost Mint ranges from $90 to $200. Some of the vendors who have it include the following:
Peace Love and Happiness Club (Seattle, WA) - $98.00
Spokane Plant Farm (Spokane Valley, WA) - $129.99
Plant Corner (New York, NY) - $140
Plantly (Cary, NC) - $189.95 (sold by Acorns Greenhouse, Sunrise, FL)
Plant Buys (East Java, Indonesia) - $25
BOTGarden - Nonthaburi, Thailand - $88
Philodendron Florida Beauty vs. Florida Ghost: Differences
Both these two plants are cultivars of Philodendron 'Florida'. So, they resemble each other in many ways, including their petioles and the multi-lobed leaves. However, it shouldn't be hard to tell them apart. So, what is the difference between Florida Ghost and Florida Beauty?
Philodendron Florida Beauty leaves have whitish, cream, pale green, or lime green variegation on their dark green leaves. These variegations don't change as the leaves harden and age.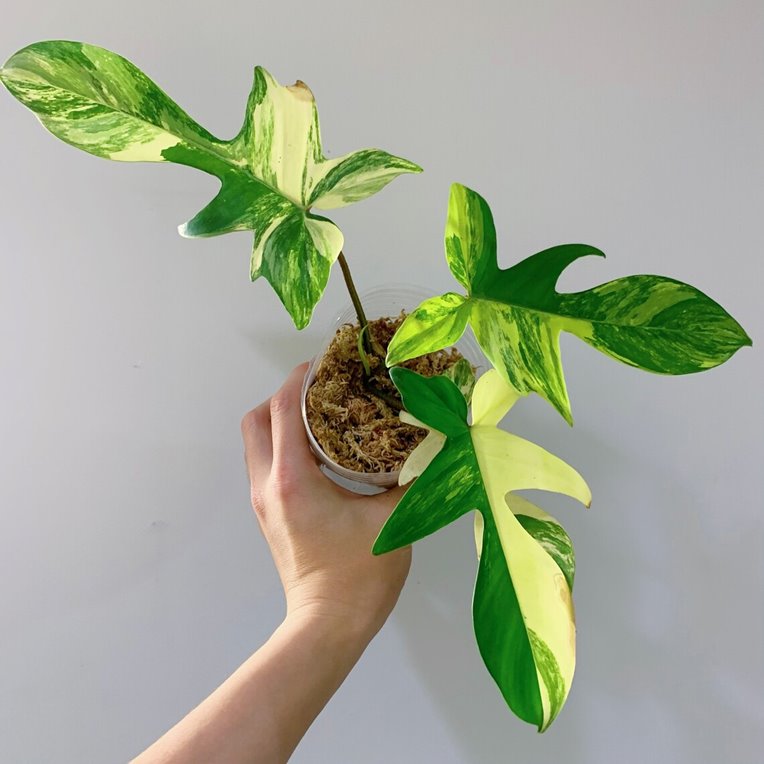 On the other hand, Philodendron Florida Ghost will have whitish, cream, milky, or light green newly emerging leaves which turn lime green or yellow-green as they age before eventually turning dark green. These leaves are not variegated and will become solid green when they age and harden.
We hope you know the difference between Florida Ghost and Florida Beauty, and the two will no longer cause any confusion.
Philodendron pedatum vs. Florida Ghost
To quickly tell these two apart, consider leaf coloration and their petioles since they have multi-lobed leaves.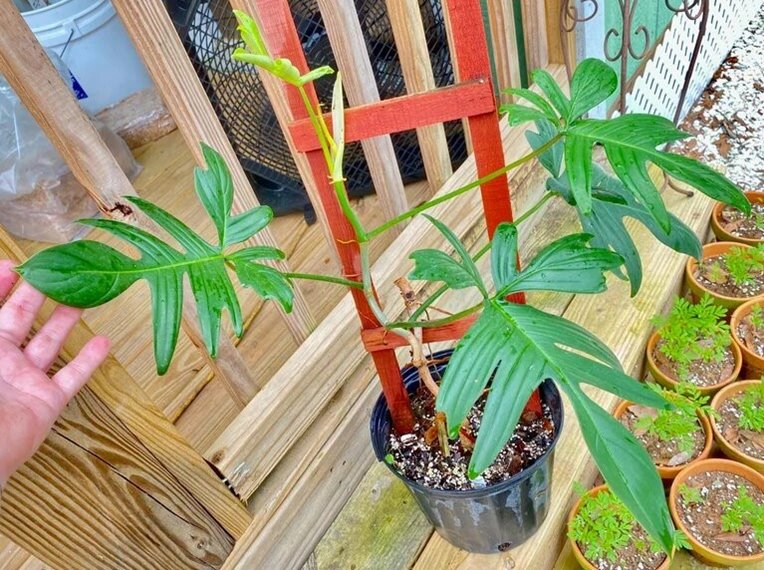 Philodendron pedatum has green leaves with smooth, mainly medium to dark green petioles but may be brownish or reddish tinged. In contrast, Florida Ghost has whitish, cream, or pale green newly emerging leaves that turn to various hues of green before settling for dark green as they get older. Also, the petiole is reddish and has small wart-like growth.
Florida Ghost vs. squamiferum
It is not hard to tell the difference between these two houseplants if you consider leaves and petiole.
Philodendron Squamiferum has a reddish petiole with bristle-like scales (squamules) and five-lobed, dark green leaves.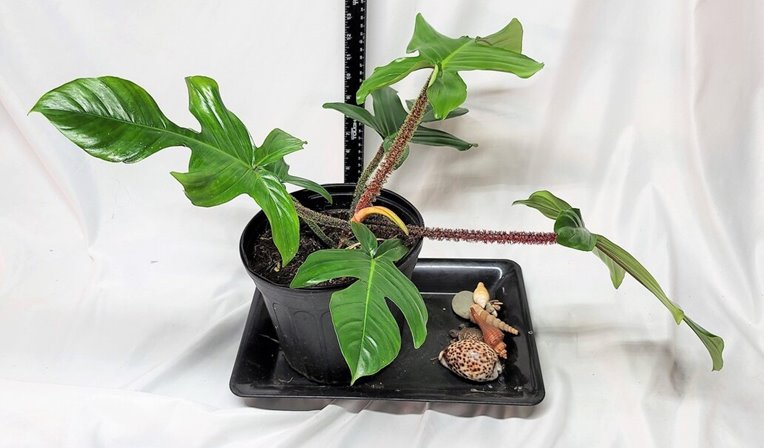 On the other hand, Florida Ghost has multi-lobed leaves with a dark reddish petiole. Also, leaves change color as they age, starting with whitish or pale green and eventually becoming dark green.
Florida Ghost vs. Florida Green
The main difference between these two is that Florida Ghost will have the white or pale green new leaves that turn to light green then dark green as they age.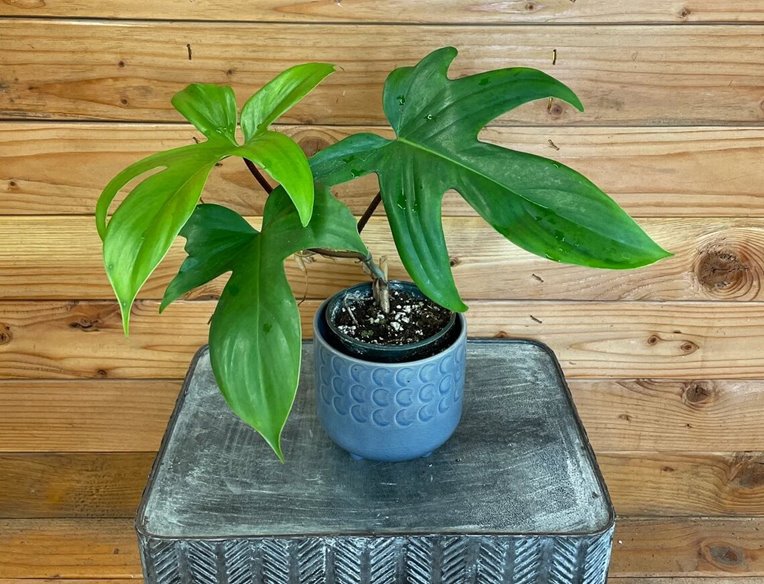 On the other hand, Florida Green new leaves are green, only a little paler than hardened ones.
Tissue culture (TC) plants
Philodendron Florida Ghost tissue culture plants are cloned using a small plant tissue, few or even a single cell. The process occurs in sterile conditions with growth hormones and nutrients.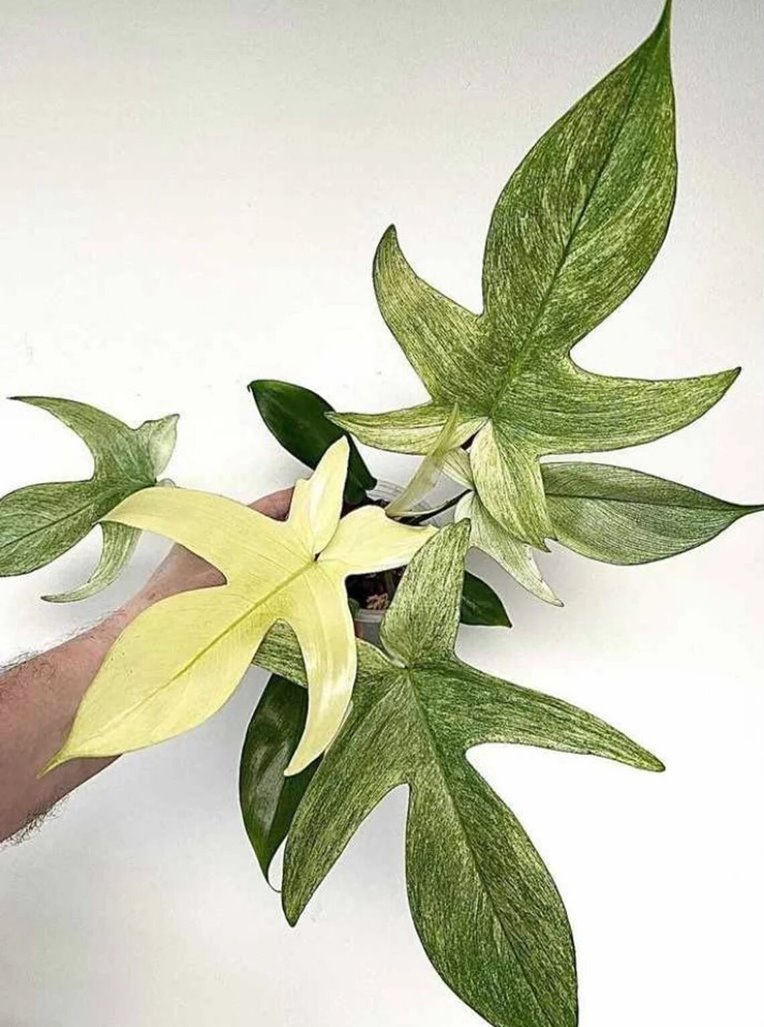 The process can produce a large volume of plants, and you can pick plants with desired traits. Also, they are free of diseases. But it needs high initial investment and trained personnel.
Also, resultant plants have less genetic variability, and picking a defective plant will result in clones with the same defects. For instance, some TC plants may not have off-white new leaves even when grown under ideal lighting.
We don't have an issue with tissue culture plants. But some people don't like them. If you are one of them, you can quickly identify Florida Ghost TC plants if they appear as seedlings.
Also, some vendors may label these plants while others don't. If necessary, ask sellers if their plants are TC or not.
Philodendron Florida Ghost care
Philodendron Florida Ghost plants need a warm (65-85°F), humid area with bright, indirect light. Water them once the top few inches feel dry and ensure their soil is well-draining, airy, and high in organic matter.
Also, they need regular pruning, and you should repot them after 2-3 years or if rootbound. Don't forget to give them a place to climb and feed with a balanced fertilizer.
Let us see more on Philodendron Florida Ghost plant care:
1. USDA hardiness zone
The USDA hardiness for the P. Florida Ghost plant is 10-12. It is not frost-hardy and cannot tolerate freezing temperatures for long. Only people in these zones can grow it outdoors all year.
2. Temperature
Maintain a 65 to 85 degrees Fahrenheit (18-29°C) temperature for optimum growth. Lower temperatures will slow growth, and by 50°F, your plant won't be growing.
Also, avoid sudden temperature changes or cold drafts, and don't place your plant near heat or cold emitting vents or sources.
3. Humidity
They love high humidity but can tolerate 40-50%. If yours is too low, mist your plant, have a pebble tray, or move it to more humid rooms like your bathroom or kitchen. Also, you can group your plants or buy a humidifier such as AquaOasis™ Cool Mist Humidifier (Amazon's best seller) if you want more humidity control.
Low humidity may cause brown tips and edges, leaves curling, or making your plant droop. Also, the leaves won't look as lush, and your plant will grow slowly.
4. Light requirements
Philodendron Florida Ghost needs bright, indirect light if you want new growth to be whiter and take longer to turn green. A little early morning sun on the east-facing window is ok.
When grown in medium to low light, new leaves will be milky-green, mint, or pale green, i.e., not as white. Also, your plant will be leggy and less bushy.
If your house is poorly lit, buy a grow light. Once they get enough light, you will start seeing new white leaves after a few weeks. GE Grow Light LED Flood Light Bulb is an affordable, excellent quality grow light to consider.
Lastly, avoid the hot, direct sun as it will cause a sunburn, i.e., leaves will look bleached or washed out and may have brown tips, margins, and patches.
5. Best soil mix
Philodendron Florida Ghost soil mix should be well-drained, aerated, and high in organic matter. A slightly acid to neutral pH of 6.1-7.3 does best.
These plants are not so fussy and can grow even in sphagnum moss alone. Some people have successfully grown Florida Ghost plants in LECHUZA-PON or LECA.
We recommend you go for an aroid mix (see Etsy.com) or make yours. Add some perlite, bark chips, peat moss (or coco coir), and compost to your potting mix. Your objective is to make the potting mix chunky, well-draining, and rich in organic matter. But it must hold moisture without being soggy.  
6. How to water Florida Ghost
These plants love moist, not soggy or bone-dry soils. So, we recommend watering after the top 1-2 inches or up to the 1st finger knuckle feels dry. It may be after a few days to a week in growing months or biweekly in spring and winter. But don't follow a routine as water needs vary with conditions and other factors.
Alternatively, if you have a soil moisture meter like XLUX, please water when the reading is three or less. Don't wait until the plant starts drooping.
When watering, slowly saturate the soil until excess water flows from drainage holes. Then after 20 minutes, discard any that collects in the saucer if you have one.
7. Fertilizer
As a vigorous and fast grower, this plant will benefit from fertilizers in addition to a potting mix rich in organic matter. Therefore, feed it at least once a month in growing months with a balanced, liquid fertilizer for houseplants.
Miracle-Gro Indoor Plant Food (Liquid) should be your first pick. It has a balanced formulation NPK 1-1-1, won't burn your plants and feeds them instantly. Also, you can add it directly to the soil or mix it with water. 
If you prefer a slow-release formula, then go for Osmocote Smart-Release. It will feed your plant for up to 4 months.
8. Pruning
Always cut dead, damaged, or diseased leaves or parts using sterilized gardening scissors. Also, clean the leaves when dirty or dusty.
During growing months, especially early spring, you can prune a bit of the stem to control size and growth.
9. Repotting
Repotting is after 2-3 years or when rootbound (roots growing from drainage holes or spiraling inside the planter walls). Use a pot 2-3 inches wider in diameter.
10. Moss pole or support
Although it is a bit like a self-heading plant, your Florida Ghost still needs a moss pole, trellis, totem, or any other climbing place to continue growing vertically. Don't forget to train on these stakes.
Philodendron Florida Ghost propagation
Philodendron Florida Ghost propagation is by stem cutting in water or soil. But you can also opt for air layering. Seeds are scarce, and being a cultivar is not the best option since you cannot guarantee that the offspring will have the same traits.
To propagate this plant, you need a stem with a node, i.e., you cannot use aerial roots or leaf with the petiole. But a leafless node (wet stick or chonks) will work well.
We will look at the stem cutting propagation in water and mention something small on soil and air layering propagation.
1. Water propagation
Rooting your stem cutting in water is less messy and will allow you to see roots growing. But your plant will suffer more shock when you finally transplant it and will not benefit from nutrients in the soil.
a). What you need
b). Steps to follow
Select a healthy stem with at least a node or two and cut just below the lower node with your sterilized gardening shears. If it has more than two leaves, remove the lower ones.
Apply your rooting hormone on the cut end, covering the nodes that will go into the water. While not mandatory, it will help speed rooting and prevent rot.
Fill your jar with water and dip the plant, ensuring a node is inside the water. However, don't immerse leaves in water as they will root.
Take your plant to a warm place with bright, indirect light.
Change the water after about 4 to 5 days or when it starts appearing cloudy. If the level goes down, add more water.
By the end of the 5th to the 6th week, your plant will have rooted and grown new growth. But the exact time depends on the prevailing growth conditions, and when the roots are long enough, at least 2-3 inches long, transplant the cutting.
2. Soil propagation
This method promotes faster rooting, offers nutrients from the soil, and your plant will suffer less shock when you finally transplant it. But it's a bit messy.
Instead of dipping the cutting into the water to use this method, plant it in your potting mix. Then thoroughly water it and place it in a warm place with bright indirect light.
Afterward, keep the potting mix moist (don't let it dry), and if your humidity is low, cover it with a transparent plastic bag, leaving a tiny breathing hole. But it shouldn't touch leaves, and remove it after every few days for a few hours to let your plant breathe.
3. Air layering
This method involves wrapping moist sphagnum moss on a stem node you intend to use while still attached to the mother plant.
Keep the sphagnum moss moist and well aerated. After some time, the node will root. And once the roots are long enough, you can cut the stem from the mother plant and grow it in its growth.
Lastly, while this method will guarantee a higher success rare not some people find the wrapped sphagnum moss unsightly.
Issues or problems
These aroids are not vulnerable to disease or pests except those that affect Philodendron plants and root rot. However, some growing conditions may cause leaf discolorations, curling, or drooping.
Here is a quick overview:
1. Pests, disease, and root rot
This plant is unlikely to get pests, except for mites (which may occur in rare cases). Use insecticidal soaps, horticultural oil sprays, or neem oil in case of any bugs.
Similarly, diseases, particularly fungal and bacterial leaf spots and blights, are rare if you practice proper sanitation and isolate new plants.
But root rot due to overwatering or heavy soils may occur. If it happens, immediately repot your plant, cutting off the decayed bits with sterilized gardening shears. Don't forget to amend the potting mix.
2. Leaf yellowing or turning brown
Leaves turning yellow often happens due to overwatering. Nonetheless, it may be too little or much light, underwatering, cold drafts, nutritional deficiencies, and other growing conditions.
If you see brown tips and edges, moisture cannot reach these points. The causes are underwatering, low humidity, heat stress, too much light, or any factor that speeds up water loss or prevents water absorption, including root rot and transplant shock.
Brown or yellow spots often indicate pests and disease, while overnight browning is due to cold drafts. Should you see brown splotches, you may be overwatering your plant.
3. Leaves curling or your plant drooping
Curling is a response to minimize moisture loss or protect the plant while plants droop when cells don't have enough water.
Causes have to do with the underwatering, quick loss of moisture, or roots being unable to absorb water. They include underwatering, low humidity, too much light, heat stress, root rot, fertilizer burns, etc.
Where to find Philodendron Florida Ghost
If you are looking for Philodendron Florida Ghost on sale, start with online marketplaces like Etsy.com or eBay and Social Media platforms like Facebook and Instagram. These sites have online vendors in most locations, not just in the US. You will find vendors in the UK, Canada, NZ, Australia, India, etc., or those willing to ship to your location.
Besides the above marketplaces and social media networks, more places to buy Florida Ghost plant, and prices are as follows:
In the USA
Canopy Plant Co. (New Orleans, LA) - $89.99
NSE Tropicals (Plantation, FL) -$149.00
BWH Plant Co. (Edgewater Dr. Orlando, FL) - $120
Peace Love and Happiness Club (Seattle, WA) - $288 (large plant)
Rooted Hues (Los Angeles, CA) - $140
New World Exotics (Boynton Beach, FL) - $170
Botanica (Birmingham, AL) - $136.00
In the UK
Root Houseplants (Liverpool, UK) - £45.00
Cowell's Garden Centre (Newcastle upon Tyne, UK) - £149.99
Perfect Plants (East Sussex, UK) £179.99
Australia
Green MY Space (Victoria, Australia) – $220.00 (AUD), non-TC
Wish List Plants (Sunshine Coast, Australia) -$34.95
Canada
Very Plants (Quebec Canada) - C$110.00
Plants for Soul (Toronto, Canada) - $45.00
Plant Bro (Ontario, Canada)- $100
More location is EU
Plant Circle (Berlin, Germany) - 168,22 €
Orchid Shops (Nederweert-Eind, Netherlands) - €179.95
Jungle Boogie (Wrocław, Poland) - 590,00 zł
Botanic Bubble (Naaldwijk, Netherlands) - €119.95
The Node (Lyttelton 8082, NZ) - $89.00
Asia
Aroid Sale (East Java, Indonesia) - $25
Aroid Market (Bandung, Indonesia) - $25
Labijo (Indonesia)- $39
Soiled (India) ₹1799
Please note these locations are not conclusive. If you know more places, let us know.
Lastly, try googling "Philodendron Florida Ghost' to see what suggestions you get. We bet you will find a few more places we didn't mention.
Frequently asked questions (FAQs)
Is Philodendron Florida Ghost rare?
Yes. Philodendron Florida Ghost is a rare, costly, and hard-to-find houseplant. You are unlikely to get them at your local stores. Also, the big box stores or large-scale growers don't have them.
Why is my Philodendron Florida Ghost not white?
If your Florida Ghost doesn't produce new white leaves, you can make or get it white again by moving it to a location where it gets bright, indirect light or buying grow lights if the room doesn't get enough natural light.
What is the Philodendron Florida Ghost Price?
P. Florida Ghost price ranges from $60 to $200 for rooted to established plants. Huge plants may cost more than $20, while a chonk or wet stick (no leaves, unrooted) may cost less than $60. But these prices depend on where you buy your plant.
Why is my Florida Ghost sticky?
The clear sticky substance on Florida Ghost is extrafloral nectaries. These sugar-rich sticky substances have to attract insects, especially certain ants that will build nests. The ants will protect the plant (from other animals and pests), and these plants will benefit by deriving nutrients from the nests, making their relationship symbiotic.  
How fast does Florida Ghost grow?
Florida Ghost is a fast-growing plant that can grow by more than two feet per growing season. It is a faster grower than both the parents.
Is there a variegated Philodendron Florida Ghost?
No. There is no variegated Philodendron Florida Ghost, not even the mint variegated one. The variegated plant, including mint, is instead a Philodendron Florida Beauty.
Can Florida Ghost revert?
No. Since it is not variegation, Florida Ghost cannot revert. But under low light, it may not produce new white leaves. This doesn't mean it has reverted.