Philodendron gigas is a rare, evergreen climbing houseplant that has lovely velvety dark green leaves with light green veins. It is native to Panama and was described in 1997. Did you know that this tropical plant purifies the air and is easy to care for and grow?
Learn more on P. gigas, including appearance (leaves, stems, flowers, etc.). We will also give you a Philodendron gigas vs. melanochrysum comparison to help you tell the difference between these two.
Afterward, you will learn about Philodendron gigas care (light, humidity, temperature, feeding, watering, etc.) and problems. Also, there is something on its price and where to buy it, including Etsy.com, eBay, Facebook plant groups, and Instagram.
Overview
Scientific name: Philodendron gigas
Family: Araceae (arum family or aroids)
Native habitat: Panama
Toxicity: All plant parts are toxic to humans, dogs, cats, and other pets since it contains sharp, needle-like insoluble oxalates. Chewing it will cause severe oral irritation and a burning feeling. Also, the lips, mouth, and tongue will turn red, and patients may have difficulties swallowing, reduced appetite, hypersalivation, etc. Your pets will paw their mouth.
Care level: Low maintenance or easy
Description and appearance
What do P. gigas plants look like (leaves, stems, and flowers)? What are its growth rate, size, and growth habits?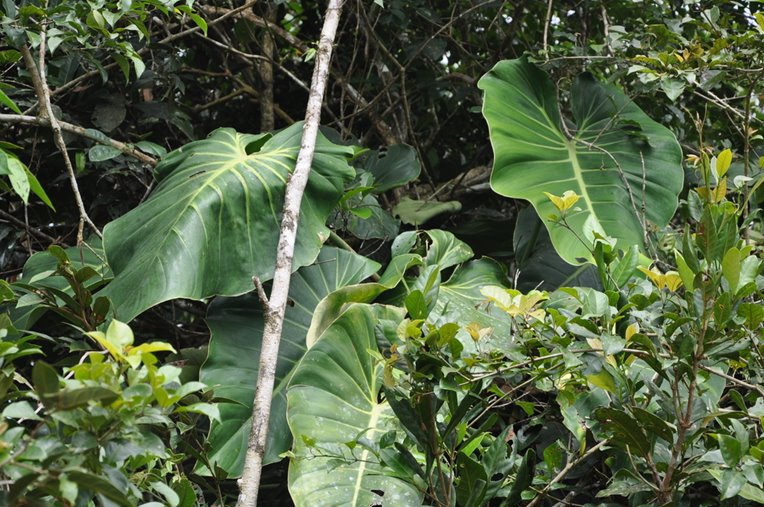 1. Growing habits
Philodendron gigas is a medium to large appressed hemiepiphyte climber native to Panama. It grows on premontane (950 to 1200 feet or 300-375m elevation) tropical wet forests and wet forests in Canal Area, specifically along El Llano-Cartí Road in Guna Yala (Comarca de San Blas) and Panamá Province.
In this native habitat, you will find this flowering, evergreen aroid climbing or growing on tree trunks receiving dappled light from the taller tree canopies.
Lastly, it is good to mention that as it grows, it morphs. So, the juvenile and adult plants look different. For instance, the leaf size, shape, appearance and internodes length, etc., differ.
2. Size and growth rate
Philodendron gigas grow very large in their natural habitat, i.e., about 49 to 65 feet (15-20 m) long. But at home, they will grow to about 6-8 feet and need a climbing place to reach this size or have large adult leaves.
Their growth rate is fast (can double in size within a year), especially if you provide ideal growing conditions.
3. Leaves
Philodendron gigas plants have lovely large, velvety dark green leaves with light green, yellowish-green to silvery-white prominent veins, and a translucent margin. But as they emerge, these leaves are copper or reddish-tinged.
Preadult or juvenile plants have smaller, oval to narrowly oval leaves with less visible light green midrib and prominent veins.
On the other hand, mature P. gigas leaves are gigantic, i.e., they can reach about 3-4 feet long, oval to elongated to triangular, and are slightly longer than broad, i.e., 1.4 to 1.7 times. The leaf base is heart-shaped to arrow-shaped, and their incurved lobes may overlap, closing the sinus. And their shape is oval to triangular.
Also, these mature leaves have a paler matte to a semi-glossy underside that may have a reddish tinge in-between the veins.
Lastly, the leaf stalk or petiole is subterete or D-shaped, with the upper side flat and may be slightly shorter or longer than the lamina. Also, the petiole surface is medium to dark green and has dense, faintly striate to a dense finely short-lineate.
4. Stems
The glaucous dark green to olive stems have coarse white striates, especially towards the apex, reddish-brown patches, and ridges. As they age, they turn brown, ridged, or scurfy.
These stems have short internodes (less than an inch) but longer (about 5.9 inches) in pre-adult plants and are moderately thick, 1.2 to 3.9 inches (3-10cm). Also, they have aerial roots, conspicuous leaf scars, and semi-intact cataphylls that persist.
These large, reddish to greenish-white cataphylls may be sharply 2-ribbed or unribbed. And they turn reddish-brown on drying and eventually form fibers.
5. Flowers and fruits
In the wild, Philodendron gigas flowers in July, during the rainy season that starts in July, and goes on for a few months, with immature fruits noted in March.
It produces seven inflorescences per axil with a spadix and spathe. The green peduncle with white-striate, especially towards the upper end, is comparable to the spathe but shorter than subtending prophylls.
Like most other Philodendron species, the spathe has a lower tube, moderately constricted middle section, and a blade. The spathe blade is dark red on the inside and white with a reddish tinge outside.
On the other hand, the spathe tube is purplish violet outside and dark violate purple inside, with either side having short white streaks.
The spadix has three sections, i.e., a greenish female portion (inside the tube), the slightly broader sterile middle male portion, and the upper fertile male part.
Lastly, the fruit will bear berry-like (infructescence) with greenish-white aggregated berries.
Philodendron gigas vs. melanochrysum: What is the difference?
Philodendron gigas plants have similarities with Philodendron melanochrysum, also known as Black gold philodendron or Philodendron andreanum.
They have dark green velvety leaves with paler or light green prominent margins. But there are evident differences both in juvenile and mature plants.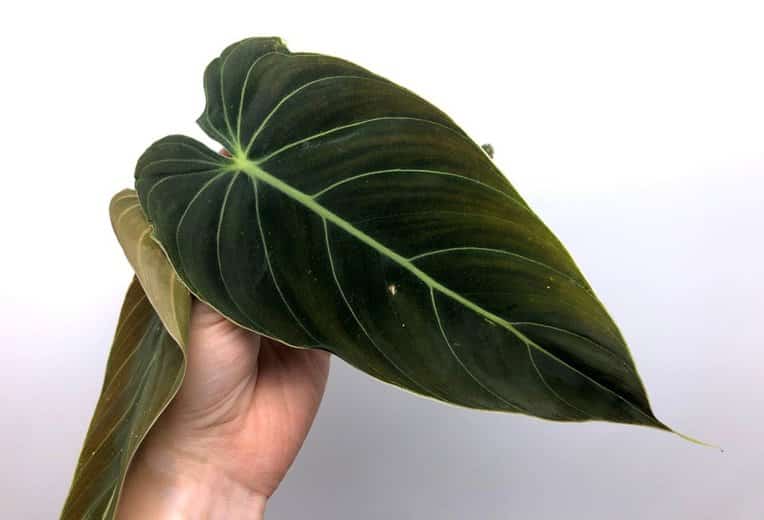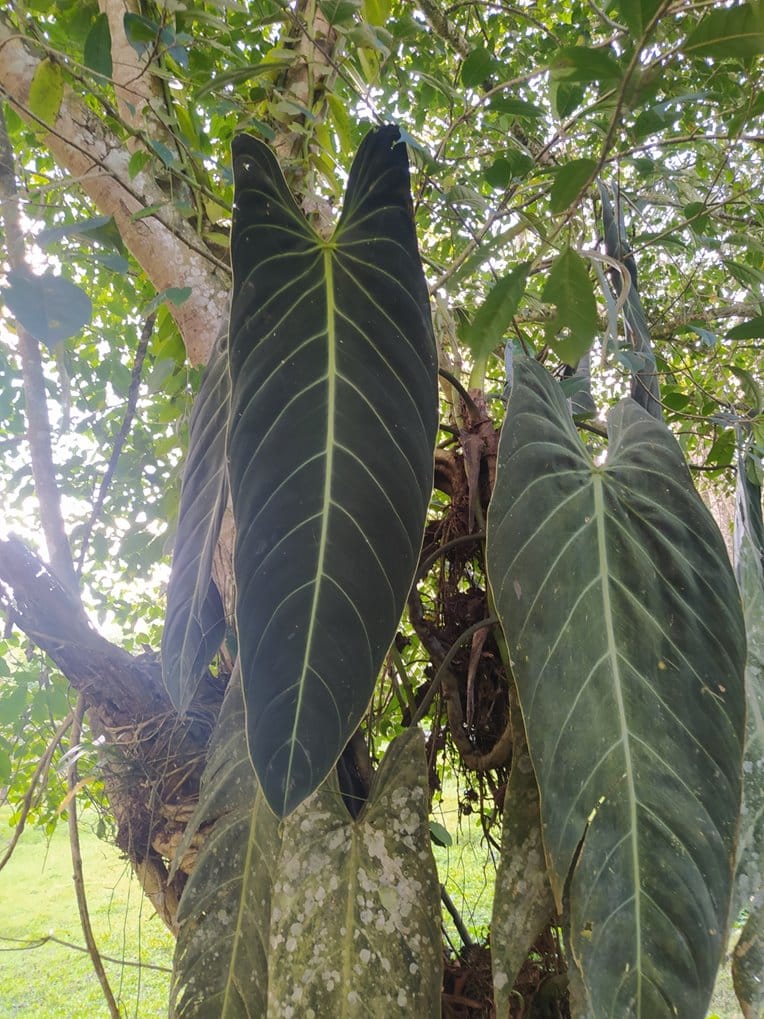 The first way to tell the difference between Philodendron gigas and melanochrysum is by looking at the juvenile leaves. Gigas has oval to narrowly oval leaves that are copper as they emerge.
On the other hand, P. melanochrysum juvenile leaves are heart-shaped and appear bronze and sometimes copper-red or orange-red as they emerge. Also, they are broader than gigas and not as elongated.
Secondly, look at the mature plants. Yes, both have a heart-shaped base. But P. melanochrysum leaves are more elongated, may appear almost black, and have golden specks when viewed in the sunlight.
On the other hand, gigas have broader leaves that may look triangular, and their margin is translucent.
Lastly, the easy way to tell the difference is by looking at petiole. Gigas has a D-shaped petiole with faint striate and short-lineate, while black gold philodendron's petiole is terete and has parrel grooves to the upper side.
Philodendron gigas care
These plants need a humid, warm area with bright, indirect light. Also, you need to feed and water them correctly.
Here are Philodendron gigas care needs:
USDA hardiness zone: 10-11, not frost hardy, and freezing temperatures will kill damage or kill these plants. Only in these zones can you grow them outdoor all year.
Humidity: Philodendron gigas require an average to above-average humidity, 50% or more, but can still survive in houses with lower humidity. If too low, mist them, have a pebble tray, move them to a humid room like a bathroom, or buy a humidifier. AquaOasis™ Cool Mist Humidifier is an excellent pick. It runs for up to a day, doesn't make much noise and is affordable.
Temperature: They grow best at 65 to 85 °F (18 to 29°C). Avoid temperatures below 55°F (12.8°C), sudden temperature changes, and cold drafts. Also, don't place them near heat sources, heat-emitting appliances or vents, and air conditioning vents.
Light: P. gigas need bright, indirect light. But these plants can grow under moderately bright, indirect light. Use grow lights if your light is too little, and avoid direct sunlight as it will cause sunburn.
Best soil mix: The best Philodendron gigas should be slightly acid, well-drained, aerated, and high in organic matter. Use an aroid mix see Etsy.com or make yours at home. A potting mix with peat moss or coco coir, perlite, bark chips, and worm castings should work. Did you know that these aroids can grow even in sphagnum moss alone?
Watering: Water when the potting mix's top 2-3 inches feels dry, i.e., don't follow a watering schedule. You can test with your finger – water if dry to the first knuckle or use a soil moisture meter and water when the reading is in the dry zone. You don't have one? XLUX Soil Moisture Meter is one of the best brands.
Fertilizer: For healthy growth and large lush leaves, feed your plants between twice to once a month during growing months with a balanced, liquid houseplant fertilizer such as Miracle-Gro Indoor Plant Food (Liquid). You can also use the slow-release formula for potted or houseplants.
Pruning and grooming: Use a sterilized pruning scissor to remove dead, damaged, or diseased leaves or parts. You can cut back the plant to control its size, growth, or shape in spring or summer. Also, don't forget to wipe leaves when dusty.
Repotting: Repot your plant every 2-3 years or when rootbound (roots growing from drainage hole or spiraling around pot surface). Use a pot 2-3 inches wider in diameter and do it preferably in growing moths.
Moss pole or trellis: Philodendron gigas is a climber. So, if you want it to grow those large leaves, provide and train it on a moss pole, trellis, or any other vertical support.
Philodendron gigas propagation
Philodendron gigas propagation is by stem cutting or air layering and the best time is spring or early summer. For stem cutting, you are free to use water or soil.
Soil stem cutting propagation
Soil is our favorite way of propagation since plants don't get much shock when you finally transplant them. Also, rooting occurs faster.
What you need
Steps
Put your potting mix into the pot. If using sphagnum moss alone, first soak it in water for 20-30 minutes, wring it, and don't water it again after planting your cutting.
Select a healthy, mature stem with at least two nodes and cut below the lower node, like ½ an inch away from the node. If it has more than two leaves, remove the lower ones.
Apply your rooting hormone on the cut end.
Poke a hole into your potting mix and plant your Philodendron gigas cutting. Press soil onto the stem cutting to ensure it remains upright
Thoroughly water until excess water flows from drainage holes.
Cover it with your plastic bag leaving a small hole and ensuring leaves don't touch it.
Take your cutting to a warm place with bright indirect light.
After a few days, Routinely remove the plastic bag to allow your plant to breathe. Also, mist the soil if it begins drying.
3. Water propagation
If you prefer water propagation, dip your cutting after applying your rooting home in a jar with water. Ensure you immerse at least one node but not the leaves.
Then take it to a warm place with bright, indirect light. You don't have to cover it with a plastic bag since water will help maintain high humidity as it evaporates.
Lastly, remember to change the water after every 3 to 4 days. Once the roots are about 2-3 inches, you can transplant rooted cutting.
3. Air layering
Air layering is a much more straightforward propagation method. Just wrap moist sphagnum moss on the node on the stem you intend to use for propagation with a polythene bag. Then poke some holes for aeration and keep misting the sphagnum moss.
Once roots grow long enough, use a sterilized scissor to cut just below the node wrapped with sphagnum moss, remove the wrap and plant it.
Problems
As you grow your plant, you may have some problems like pests, disease, leaf discoloration, etc. Here are the common issues.
1. Pests
Pests that may attack your plants are spider mites, mealybugs, aphids, thrips, and scale insects. But they are uncommon for indoor plants. Use neem oil, insecticidal soaps, or horticultural oils if you notice them or their signs. A 10X magnifying glass should help you see these tiny sap-sucking pests.
2. Diseases
Like pests, diseases are uncommon. But your plant can get bacterial and fungal leaf spots, blights, or rusts. They will appear as dry or water-soaked lesions that may turn black or brown.
Prune the affected part with a sterilized scissor. Then use fungicides for fungal infections. If bacterial, bactericides containing copper may help prevent spread.
Lastly, to prevent these diseases, practice proper sanitation (washing hands, sterilizing gardening tools, etc.) and isolate new plants.
3. Root rot
Root rot is a prevalent issue for those who overwater their Philodendron gigas or with heavy or potting mix that doesn't drain.
Signs of root rot include wilting or drooping, leaves turning yellow, leaf scorch, moldy potting mix, mushy stem base, stunted growth, etc.
If the entire root ball hasn't rotten, immediately repot your plant, trimming off the decayed areas and discarding the old potting mix. Afterward, avoid overwatering this houseplant and ensure you have the right potting mix.
4. Other issues
The other issues you will have are drooping or wilting, leaves curling, and discoloration. Let us talk about them a little bit more.
Philodendron gigas leaves turning yellow: Most likely reason is overwatering. Others are low humidity, too much or too little light, nutritional deficiencies, overfeeding, diseases, pests, and cold stress.
Brown tips and edges: Underwatering or anything that makes roots not absorb water like overwatering, fertilizer burns, rootbound, transplant shock, etc., or leaves to lose much water like low humidity, direct sun, heat stress, etc. the reasons.
Brown spots and or leaves: If you see brown spots without brown tips or edges, they likely indicate pests or diseases. Splotches will indicate overwatering, while leaves turning brown overnight signify cold stress.
Leaves curling, wilting or drooping: All these signs indicate a moisture problem (underwatering), too much light, low humidity, or heat stress. Other things like transplant shock, root rot, cold drafts, etc., may also be causes.
Where to find Philodendron gigas on Sale
If you are looking for Philodendron gigas on Sale, start with Etsy.com. Here you will find a dozen of vendors. One good thing about Etsy is that you can get a vendor near you or ship to your location, be it the US, the UK, Canada, New Zealand, Australia, etc.
The other excellent places to find this plant are eBay, Facebook, and Instagram. Also, there are a few websites that have listed this plant, such as Verdantdwellings.com.au (Australia), Growjungle.nl (New Zealand), Cynthsplants.co.uk (UK), Million Plants (Canada), Plant Circle (Germany), etc.
If you still haven't found it, try googling "Philodendron gigas for sale" and see if there are any vendors near you selling it online or listing their shops.
Lastly, consider his credibility (reviews and rating) if you find a potential online seller. Also, make sure you see the actual plant and not the mother plant.
Frequently asked questions (FAQs)
Is Philodendron gigas rare?
Yes, Philodendron gigas is a rare or uncommon tropical houseplant. You are unlikely to find it at your local plant stores, and none of the large horticultural growers or big box companies have it. Only a handful of vendors has it.
What is the Philodendron gigas price?
Philodendron gigas price ranges from $30 to $150 for a cutting to rooted or established plant. This cost is on the higher side compared to the standard price for houseplants.
Why is Philodendron gigas so expensive?
Philodendron gigas is expensive because it is rare and hard to find. Also, it is in high demand, i.e., many people would wish to have it, but only a few people have it on sale.