Philodendron squamicaule is a rare houseplant native to Southeast Nicaragua to Ecuador. It has adorable oval-triangular leaves with sagittate to heart-shaped base and purple to dark brown hairy (scaly) petioles. Also, it is an easy to grow plant that also purifies the air.
Discover more about its care needs (light, humidity, temperature, soil, watering, feeding, etc.) and some problems you may incur while growing it, like pests, disease, leaf discoloration, curling, or your plant drooping.
That is not all. We will also talk about its appearance and cover a Philodendron squamicaule vs. serpens since they closely resemble each other. Afterward, you will know where to buy it, Etsy.com being the favorite, its price, and much more.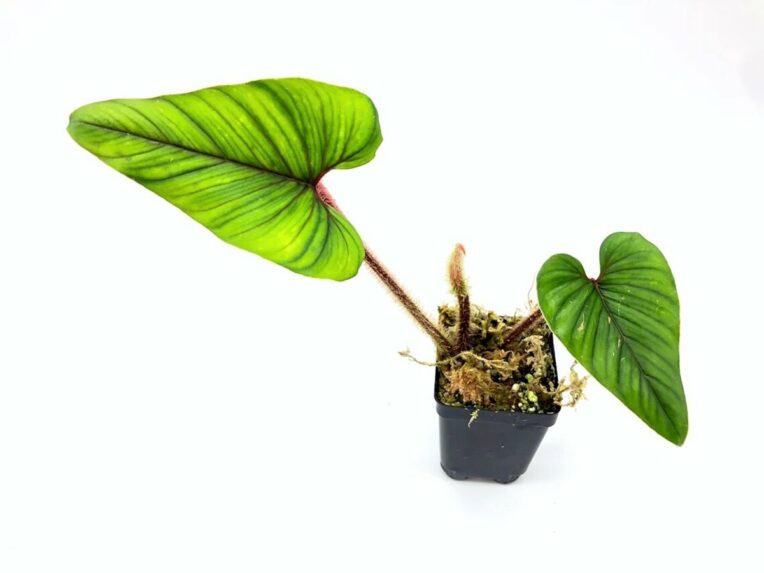 Quick overview
Scientific name: Philodendron squamicaule
Family: Araceae (aroids or arum family)
Native habitat: Costa Rica, Colombia, Nicaragua, Ecuador, Panamá
Toxicity: All plant parts are toxic to dogs, cats, and humans because of the prescience of needle-like insoluble calcium oxalates.
Care level: Easy or low maintenance
Philodendron squamicaule (Croat & Grayum) belongs to the P. sect. Philodendron and its subsect. is Achyropodium. Some people confuse it with Philodendron serpens, a close relative.
The name squamicaule is Latin and loosely translates into 'scaly stem,' referring to the scaly (hairy) stems and petioles.
Lastly, Ecuagenera has Philodendron squamicaule blushing with no information regarding it. We cannot confirm if it's a variety or type.
Description and appearance
We guess you would like to know more about this plant's appearance and growing habits. Here we go.
1. Growing habits
Philodendron squamicaule is an appressed climbing hemiepiphyte (has a growth phase on the ground and in trees). Juvenile plants will grow as terrestrial before they start climbing. Afterward, it may break the linking stem, retaining its aerial roots. Also, it may begin as a seed on trees and send roots to the grounds.
This lovely plant is native to Southeast Nicaragua through to Ecuador. It grows in rainforests (Pluvial Forest), specifically the premontane rainforests and premontane wet forests. Typical elevations are 328-4,595 feet (100–1400 m) above sea level in the Andean and Pacific biogeographical regions. But there are no collections so far below 1804 feet (550m) in Central America.
Lastly, this plant looks different in the juvenile, preadult, and adult stages, a growing habit typical of plants in this genus.
2. Size and growth rate
Philodendron squamicaule is a moderate-growing plant that can reach 6.5 to 10 feet. But to get to these lengths, you need to give it a place to climb.
3. Philodendron squamicaule leaves
Philodendron squamicaule has a large (10.2-20.8 inches long by 6.9-15.7 inches wide) oval-triangular semi-glossy (sometimes matte) medium to dark green leaves with an arrowhead-shaped to heart-shaped base, a paler, green to silvery-green to green, semi-glossy to a glossy underside and a translucent margin.
In juvenile plants, the underside is purplish violet. Also, new growth will have a light salmon pink tinge, but as its hardness, it turns to medium or dark green.
These thinly erect-spreading, leathery to somewhat leathery leaves are broadest at the point of attachment to the. Also, the surface may have sparse white raphides cells
In a young specimen, the sinus is horseshoe to parabolic, while in the mature one, it is miter-shaped. Also, the anterior lobe is weakly concave, while the posterior lobes are broadly rounded.
Consider the venation to help positively identify this specimen and tell the difference between resembling plants like Philodendron serpens. In most plants, the veins are the same color on the upper side as the leaf, while on the lower side, they may be paler, the same color as the underside and or reddish-brown.
To be more specific:
Midrib: It is flat to sunken to deeply sunken on the upper side while the lower side is the same color as the underside, paler or light-reddish.
Lateral veins: 5-9 per side, arising at a 30–45-degree angle except at the base, where the angle is about 55 degrees. These veins are deeply sunken, nearly straight to the margin, and the same color as the leaf on top, while on the underside, they are round-raised, brownish to reddish, and covered with hairs.
Basal veins: 5-12 per side with the third or higher jointed for some distance.
Posterior ribs: Poster ribs are densely hairy on the naked part on the lower and upper edges.
Lastly, it has 11-24 inches long round to nearly round dark brown to purple densely hairy (scaly) erect petioles with underlying sparse warty-like growths and sheaths at or near the base. These petioles have two scales, i.e., the short, nearly triangular purplish interspaced with the longer, spreading light-green needle-like scales.
4. Stems
Philodendron squamicaule has semi-glossy dark green stems that will turn gray-green ten brownish with time, usually hidden totally by old cataphyll.
Internodes are short but more elongated than broad and have dense scales (hairs), including some forked and shorter ones. On drying, the scales become reddish-brown. But in juvenile to preadult plants, the internodes may be longer.
Nodes have few slender aerial roots, and the fleshy cataphylls are yellow-green, reddish-brown, pink, or reddish any may be unribbed or bluntly double-ribbed with margins folded inward to form a groove. These cataphylls are also densely scaly (hairy), overlaying sparse warty-like bumps, and as they age, will remain as pale fibers or parchment before falling.
5. Flowers
Philodendron squamicaule flowering happens from May to August during the early rain seasons, with mature fruits seen in early December.
It will produce up to 5 per axil with an olive green hairy (scaly especially towards the apex), a spathe (bract), and spadix. Like the spathe outer surface, the peduncle has long, needle-like and shorter, broader scales, but it is 2-4.8 times shorter.
The spathe is greenish, with sparse to dense scales on the outside, and a moderate constriction separates the upper blade and lower tube. However, the spathe blade may be greenish-white outside and light green with a reddish tinge on the base inside.
The tube is green with a reddish tinge. Also, it has greenish scales on the outside save for the margin and unfolded edge. But on the inside, it is reddish-violet except for the area towards the tip where it is greenish.
What about the spadix? Like other Philodendron plants, it has three sections, the lower (inside the tube) female part that is pale to dirty white, the middle sterile male, and the upper fertile male.
Lastly, this plant will have white infructescence (aggregated berries) about 1mm long, up to 18 seeds in a locule (ovary chamber).
Philodendron squamicaule vs. serpens
Philodendron squamicaule and Philodendron serpens are among the most similar Philodendron plant species. Many people will find it a challenge to tell the difference.
Their leaf shapes and appearance are similar. Also, they both have hairy petioles, and their growth habits are the same, i.e., they are appressed climbers. How do you tell one from the other?
P. squamicaule has fuzzies (hairs) on the nude part of the posterior rib, petioles are dark brown to red, and spathe or peduncles have hairs or scales. Also, the lateral veins are nearly straight to the margin, and their underside doesn't have fine hairs.
On the other hand, P. serpens doesn't have fuzzies on the nude part of the posterior rib, petioles are primarily green (but can be reddish), and peduncle or spathes don't have hairs. Additionally, lateral veins curve towards the margin, and they don't have fine hairs on the underside.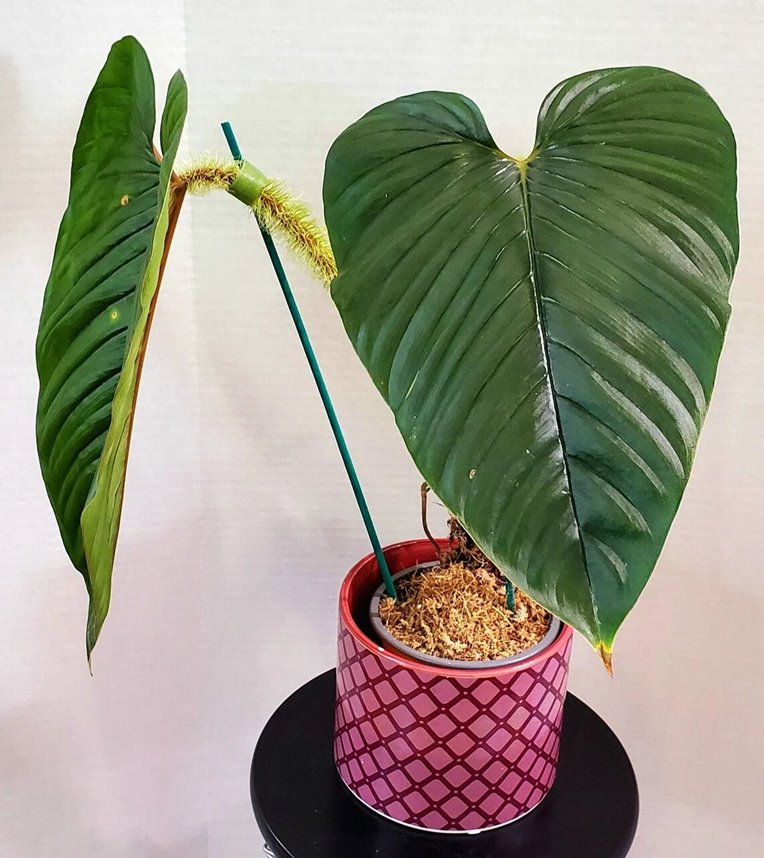 | | | |
| --- | --- | --- |
| Plant species | P. squamicaule | P. serpens |
| The naked part of the posterior rib | It is densely fuzzy or hairy (scaly) on both edges of the posterior rib | It usually doesn't have hairs but may have a few shorter ones. |
| Lateral veins | They are relatively straight up to the margin. Also, the underside has fine hairs, i.e., puberulent. | They tend to curve slightly towards the margin, and they aren't puberulent on the underside. |
| Basal veins | It has about 5-12 basal veins | It has fewer basal veins, usually 4-5 |
| Petioles | More vividly dark brown to purple petioles whose color overshadows the light green long fuzzies. | The petiole is usually green (but can be pale reddish or pinkish) with more visible green hairs. |
| Flowers | The spathes and peduncles are fuzzy on the outside | They don't have any hairs on their spathe or peduncles |
| Leaf color | If grown under the same lighting conditions, P. serpens will have a bright green leaf. | Their leaves are medium green to dark green if you grow these two in similar lighting situations. |
| Prices | It costs less and is a bit easier to find | It costs more and is hard to find |
Even though they have a striking resemblance, the P. serpens has overshadowed P. squamicaule making it more expensive, more challenging to find, and much sought after by most people. Reasons, we don't know.
Philodendron squamicaule vs. verrucosum
These two plants are related and share similarities, including the scaly (hairy) petiole. But you can quickly tell their difference if you consider their leaves.
Philodendron verrucosum has heart-shaped, velvety dark green or dark emerald leaves with lighter (light green, silvery or golden) midrib and primary veins. Also, their underside is pale-green with reddish-tinged in-between veins.
On the other hand, Philodendron squamicaule has oval-triangular medium to dark green leaves with a sagittate-heart-shaped base. So, they are not velvety and not reddish-tinged in-between veins. But they may have a reddish-brown tinge on the entire underside.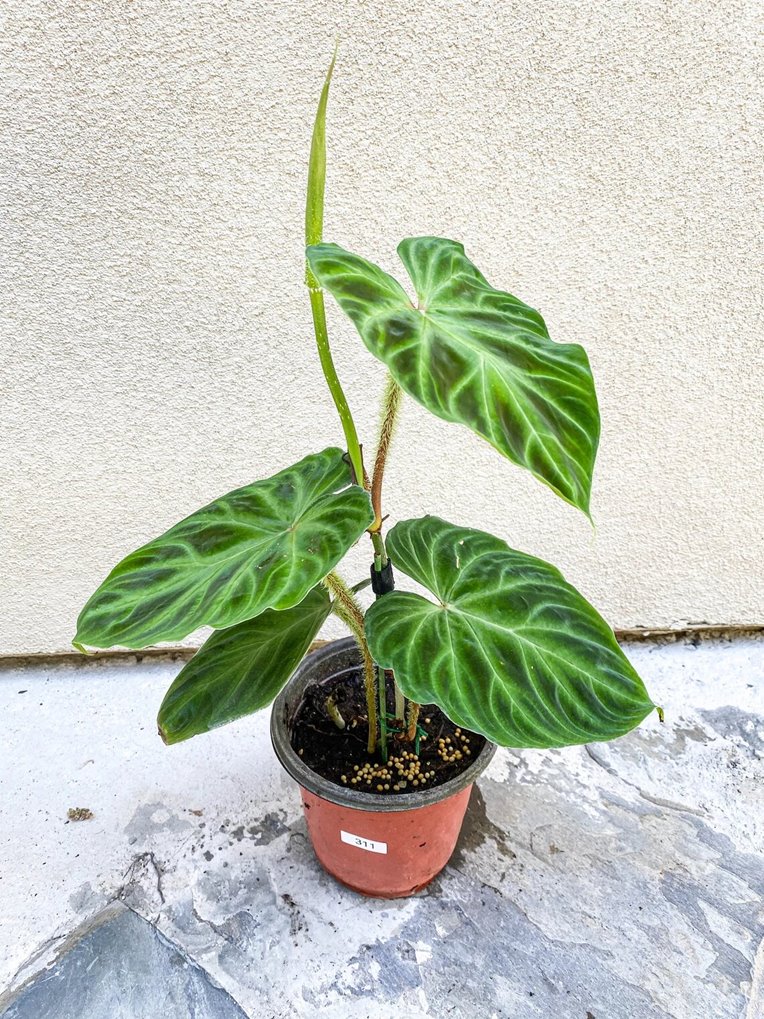 The other difference is that the Philodendron verrucosum posterior rids are not naked and are not scaly.
Philodendron squamicaule vs. squamiferum
Many people often confuse these two plants, especially their names. Yes, they do have similar growing habits and a scaly petiole. But you can easily separate these two even by looking at leaves alone.
P. squamicaule has oval-triangular leaves with sagittate to heart-shaped base, while Philodendron squamiferum has five-lobed leaves, i.e., two base lobes, two middle and one anterior lobe.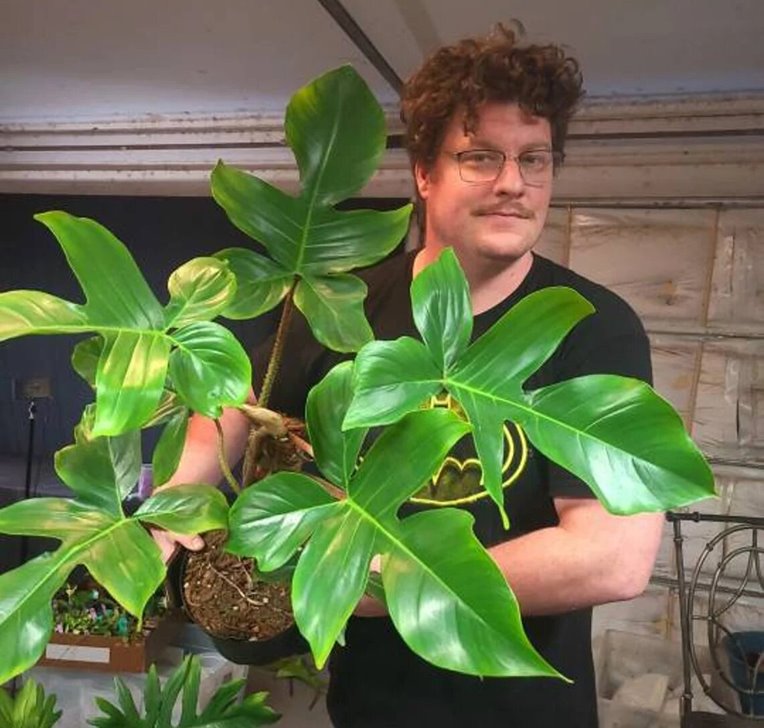 Philodendron squamicaule care
Philodendron squamicaule grows in a warm, 65-85 ᵒF and humid place with bright indirect light. Water it when the top 1-2 inches of the potting mix feels dry and ensures its soil drains well, is high in organic matter, and is well-aerated.
Let us see Philodendron squamicaule care, including feeding, repotting, staking, and pruning.
USDA hardiness zone: 10-12, not frost hardy, and cannot tolerate freezing temperatures.
Humidity: Loves high humidity, 60% or more but can tolerate a bit lower. If yours is too low, mist your plant, have a pebble tray, move them to humid rooms or buy a humidifier.
Temperature: 65-85ᵒF (18-29ᵒC). Avoid temperature below 55ᵒF, sudden temperature changes, cold drafts, or spots near heat sources.  
Light: It prefers bright, indirect light but can tolerate moderate. Avoid direct sun except for early morning on the east window. If your light is too little, invest in grow lights.
Soil: The best soil for P. squamicaule should be well-drained, aerated, and high in organic matter. Buy an aroid mix see Etsy.com or make yours.
Watering: Thoroughly water your plants when the top few inches feel dry or up to 1st knuckle of your finger. If you have a soil moisture meter like XLUX , water when the reading is three or less
Feeding: Feed once a month with a balanced, liquid fertilizer for houseplants at half recommended strengths during growing months only. Use Bonide Liquid Plant Food 10-10-10. Mix ⅛ of a teaspoon per quart of water and use the mixture to water your plant.
Pruning: With sterilized gardening shears, cut any dead, damaged, or diseased leaves whenever you spot them. In early spring, you can cut back stems to control size.
Repotting: After 2-3 years or if rootbound. Graduate to a pot 2-3 inches wider in diameter.
Staking: Since it's a climber, give and train your plant on a moss pole, trellis, totem, etc.
Philodendron squamicaule propagation
To propagate Philodendron squamicaule, you can opt for stem cutting or air layering. Seeds are also a possible method, but they are scarce.
In stem cutting propagation, you must have at least one node, i.e., the knobby part where aerial roots grow and leaves attach. And you are free to use water or soil (potting medium).
If you prefer air layering, it involves tying moist sphagnum moss on nodes of selected stems while still attached to the parent plant. Keep sphagnum moss moist and when roots are long enough, cut it from the mother plant and grow it in its pot.
Issues and problems
Yes, this aroid is easy to grow, but it doesn't mean you may not have a few issues. Common ones include the following:
1. Pests and disease
Expect root rot, pests and disease are not a significant problem for these plants if grown indoors. Nonetheless, they may occur.
Let us look at each and tell you the signs and what to do.
Pests: It may have aphids, spider mites, mealybugs, scale insects, and thrips. Use a 10X magnifying glass to see them well. Signs to expect signs depend on the bug present and may include honeydew, webbing, silvery stippling, sooty mold, holes, spots (black, yellow, or whitish), etc. If you notice any of these pests, neem oil, horticultural oil, or insecticidal soaps will easily manage these bugs.
Diseases: Some leaf spots and blights, both bacterial and fungal, that affect Philodendron plants are possible but uncommon. Signs to expect are black or brown spots (can be sunken, have a yellow halo, or be water-soaked at first). Isolate new plants, and practice proper sanitation. Also, don't keep leaves wet for long.
Root rot: Root rot is the most widespread issue amongst people who over-water their plants. But poorly draining soil may be an issue too. Signs include yellowing of leaves, wilting, mushy stem bases, stunted growth, and mushy black or brown roots. Repot your plants. And when doing so, cut any decayed roots.
2. Leaves discoloration
Leaf discoloration (turning yellow, brown, or having brown tips and edges) often indicates a care issue, pests, or diseases, except for normal aging that affects a few (1 or 2) lower leaves.
Philodendron squamicaule leaves turning yellow likely indicate you are overwatering this plant. But it may be too little or too much light, low humidity, underwatering, and heat stress. The other possible reason for chlorosis is nutritional deficiencies.
If you see brown tips and edges, your humidity is low, and the plant is thirsty. Other causes are too much heat or light. Other possible causes are fertilizer, repotting shock, etc.
What about brown spots? The most probable causes are diseases and pests, while it may be overwatering if you see brown splotches.
Lastly, cold damage or cold drafts may cause the overnight browning of leaves.
3. Wilting, drooping, and leaves curling
Wilting and drooping signify that plant cells don't have enough water to keep them rigid, i.e., cells are flaccid, while curling is a response to prevent moisture loss from leaves or for protection.
The causes of these two issues are similar, most likely being underwatering, low humidity, too much light, or extremely high temperatures.
Also, anything that causes more moisture loss from leaves or prevents roots from absorbing water may be a reason. For instance, fertilizer burns, root rot, repotting shock, rootbound, etc., may be a cause.
Where to buy Philodendron squamicaule
If you are looking for Philodendron squamicaule on sale, start with Etsy.com, followed by eBay. These two marketplaces have vendors or shops in various locations, not just the US, i.e., the UK, Canada, Australia, Singapore, New Zealand, etc.
The second place to check is social media platforms, specifically Instagram and Facebook. They, too, have many vendors from various parts of the world.
More places you are likely to find this plant and their prices include the following:
Carnivero (Austin TX) - $200
TR Plants Co. (Vancouver, Canada) - CA$275.00
Foliage Dreams (Frankfurt, Germany) - €99,90
Foliage Factory (Germany) - €150.00
TropicalPlants.com (Tixan-Chiquintad-Cuenca, Ecuador) - $45
Best Buds (Gent Ghent, Belgian) - €90,00
Us Amazon Plants LLC (Fountain, FL) - $150
Tropic Plant Co (Hamburg, Germany) - €115,00
Eecuageneraus.com USA (Apopka, FL)-$85
Kekjekkie (New Zealand) - €149,99
Eecuageneraus.com (Ecuador) - $55
Note that most of these sell online and ship in their respective countries. Also, some may ship internationally.
Lastly, try searching "Philodendron squamicaule for sale" on search engines for more vendors, including those near you.
Frequently asked questions (FAQs)
Is Philodendron squamicaule rare?
Yes. Philodendron squamicaule is not only a rare and hard-to-find houseplant but also costly. None of the big box stores, or large-scale horticultural growers have it. We bet you will not also find it at your local plant store.
What is the price of Philodendron squamicaule?
Philodendron squamicaule price ranges from $80 to $200 for a cutting to an established plant. But in South America, the prices are a bit lower, starting at $55.