Philodendron squamiferum is a rare houseplant with unique five-lobed (five-partite) dark green leaves and a scaly (bristly, hairy, or fuzzy) reddish petiole. It is easy to grow, will add a stunning tropical drop back to your home, and purifies the air.
Discover more about P. squamiferum appearance (leaves, stems, flowers), growing habits, and care needs like light, watering, soil, feeding, etc. We will also look at propagation and some issues you may experience while growing this lovely plant.
Also, to avoid confusion, we will talk about Philodendron squamiferum vs. P. pedatum and 'Florida Ghost' (Philodendron pedatum x squamiferum hybrid). There is even a variegated form or variegata.
Lastly, we will give you places to buy P. squamiferum like Etsy, eBay, and a few other websites and the prices you expect to pay.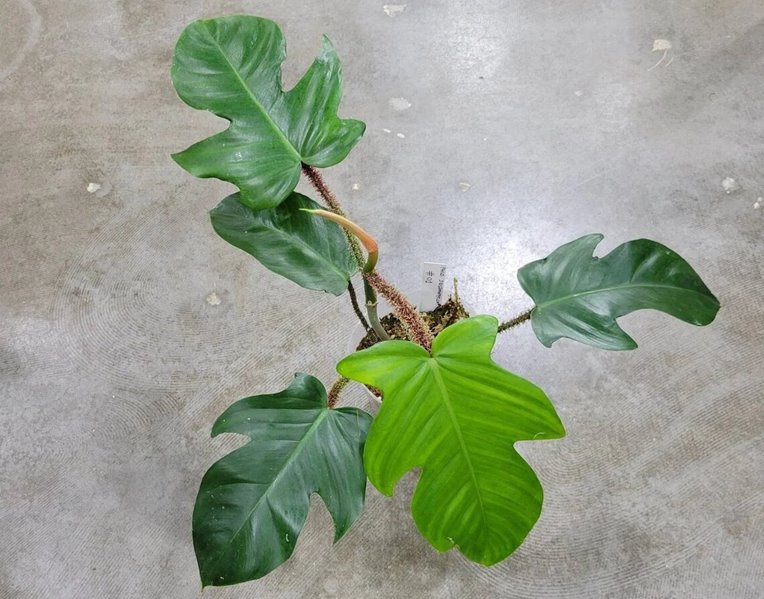 Quick overview
Scientific name: Philodendron squamiferum
Common name (other names): Hairy Philodendron, Red Bristle Philodendron, Philodendron red bristle or squamiferum Philodendron
Family: Araceae (aroids or arum family)
Native habitat: Suriname, French Guiana, and Northern Brazil's Amapà State.
Toxicity: All plant parts are toxic to cats, dogs, and even humans since the plant has insoluble calcium oxalates. Chewing it will result in severe oral irritation and a burning sensation. Lips, the tongue, or the mouth may swell and turn red. Other signs are swallowing difficulties, loss of appetite, drooling, etc. Please, keep it out of the reach of pets and kids.
Care level: Easy or low maintenance
Eduard Friedrich Poeppig, a German botanist, explorer and zoologist described Philodendron squamiferum in 1845. The name squamiferum comes from the Latin word squameus, which means scaly, referring to the scaly (soft hair-like growths or fuzzies on the reddish petioles.
People confuse it with Philodendron pedatum because of the lobbed leaves and Philodendron bipennifolium. But as you will notice later, there are evident differences.
Description and appearance
What does this plant look like (leaves, stems, and flowers), and what are its growing habits?
1. Growing habits
Philodendron squamiferum is a climbing hemiepiphyte. A hemiepiphyte is a plant with both the terrestrial and epiphytic (growing on plants) growth phases. Such a plant may start as a seed on a tree and send roots to the ground or start on the ground before it starts climbing.
It is native to the tropical rainforests in French Guiana, Suriname, and Northern Brazil, where you will find it climbing on taller tree trunks.
2. Size and growth rate
Philodendron squamiferum is a fast-growing plant that reaches impressive heights in the wild. But inside your house, it will grow up to 6 to 8 feet. And to go this high, you must provide it with a climbing place.
3. Philodendron squamiferum mature vs. juvenile
Like other Philodendron species, this plant undergoes morphogenesis, meaning young and mature plants look different.
For instance, juvenile plants have elongated oval leaves, which start undergoing morphogenesis as the plant approaches the subadult stage.
Also, the internode length and stem appearance may slightly change as it grows from seedling to the adult stage.
4. Leaves
Mature Philodendron squamiferum plants have about 10 inches long, five-lobed dark green leaves with two posterior lobes, two in the middle, and a bit larger rhomboid terminal lobe.
These parchment-like leaves are paler or rarely bluish-green on the underside, and their midrib and posterior ribs are sparsely scaly.
The reddish, terete petiole is about 3.9 to 5.9 inches long and has dense, small, bristle-like scales that may be palmatifid or entire.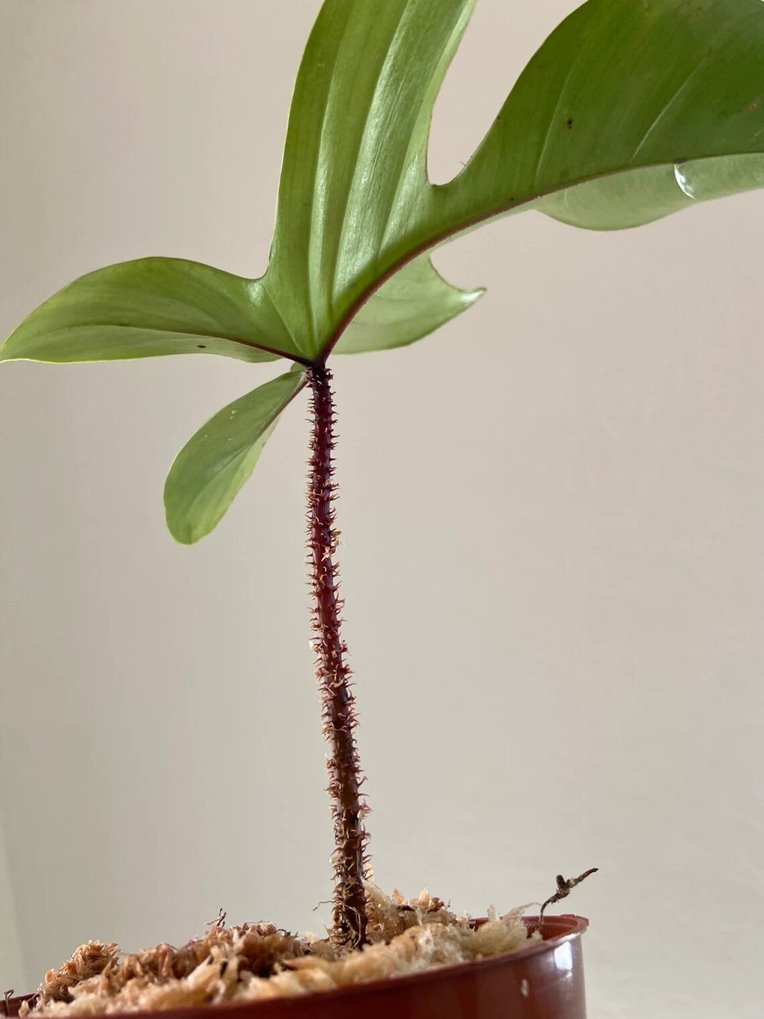 5. Stems
Philodendron squamiferum stems are long, robust, and somewhat woody, with aerial roots at nodes. These stems have fissures in their cortex with the surface covered by scales, the color of chestnuts.
6. Philodendron squamiferum flower
Mature plants bear inflorescence with a red scaly peduncle, a spathe, and spadix. Contrary to many people's assumption, the spathe isn't the actual flower but a bract. Instead, this plant has tiny flowers on the spadix.
The spathe has the upper part (blade) and a lower section (tube). The spathe tube is purplish on both sides, while the blade is yellow-green, reddish-purple or whitish outside, and pale-yellow inside.
On the other hand, the spadix has three sections: a lower female that is pale green, a middle male that is a bit swollen, and an upper fertile male.
Lastly, like other Philodendron species, this plant will have pale pink aggregated berries or infructescence with pink-purple seeds.
Philodendron squamiferum vs. pedatum
Some people may have trouble telling these two plants apart. They both have growing habits and green multi-lobed leaves. But by considering only leaves, including petioles, you can quickly tell the difference.
P. squamiferum has five-lobbed leaves with the terminal one rhomboid in shape, a reddish petiole with bristle-like hairs or scales. The petioles are shorter (3.9 to 5.9 inches long), and the lobes or pinnae are thicker.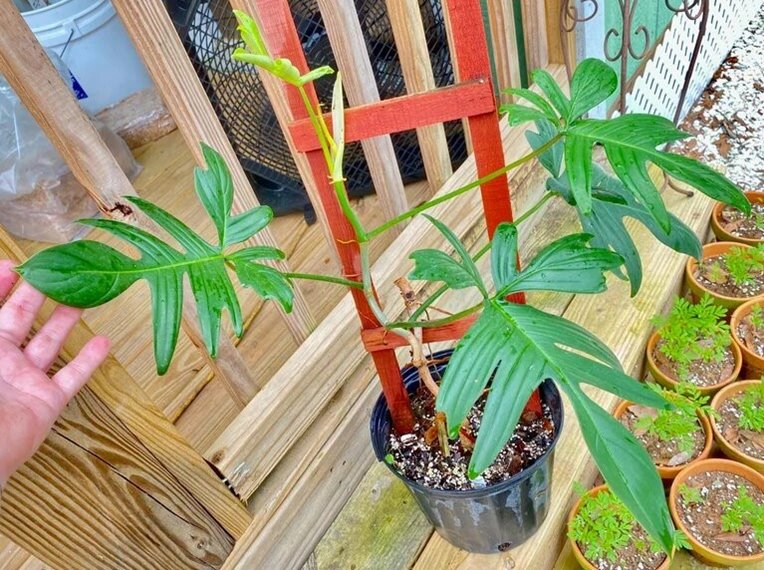 On the other hand, P. pedatum has shallowly to deeply multi-lobed leaves, some lobes nearly reaching the midrib (divided), and a medium to dark green petiole with a reddish tinge that isn't scaly or hairy. Also, the lobes are thinner, and the petioles are longer (6.7-24.8 inches long).
Philodendron squamiferum variegata
It is possible to have a variegated Philodendron squamiferum, and we have seen one on sale by EJ Botanicals (Ockelbo, Sweden) going for a whopping $10,110.00 (USD).
This plant has whitish to cream variegations. We cannot confirm the authenticity of the plant, but we can say it is sectorial chimeral variegation which, as you know, is unpredictable, unstable, and may revert.
Lastly, most of what some people mislabel as Philodendron squamiferum variegated forms are instead Philodendron 'Florida Beauty' plants. So, be careful.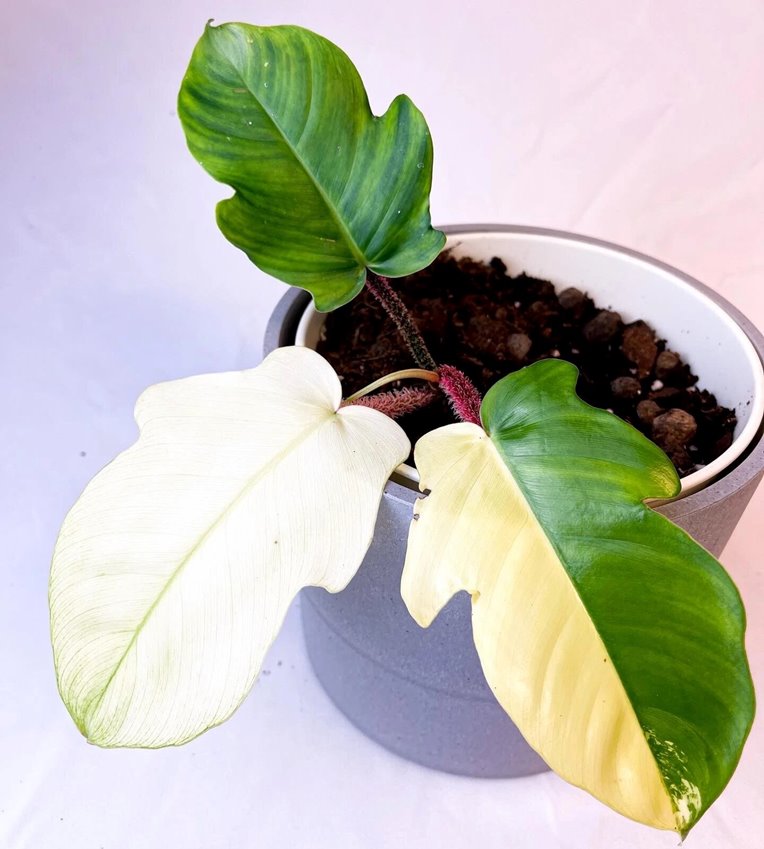 Philodendron squamiferum vs. 'Florida Ghost'
Philodendron 'Florida Ghost' is one of Philodendron 'Florida' cultivars, a Philodendron pedatum x P. squamiferum hybrid with green multi-lobed green leaves. The other one is 'Florida Beauty', which is variegated. Some people refer to it as Florida 'Magic Mask'.
You can easily distinguish these two plants by considering their leaves and growing habits.
Philodendron 'Florida Ghost' has multi-lobed leaves that are white to cream when they emerge, then turn minty or lime with several hues before turning to deep green as they age. Petioles are red-tinged and have warty growth besides the extrafloral nectaries. Also, they are faster and more aggressive growers.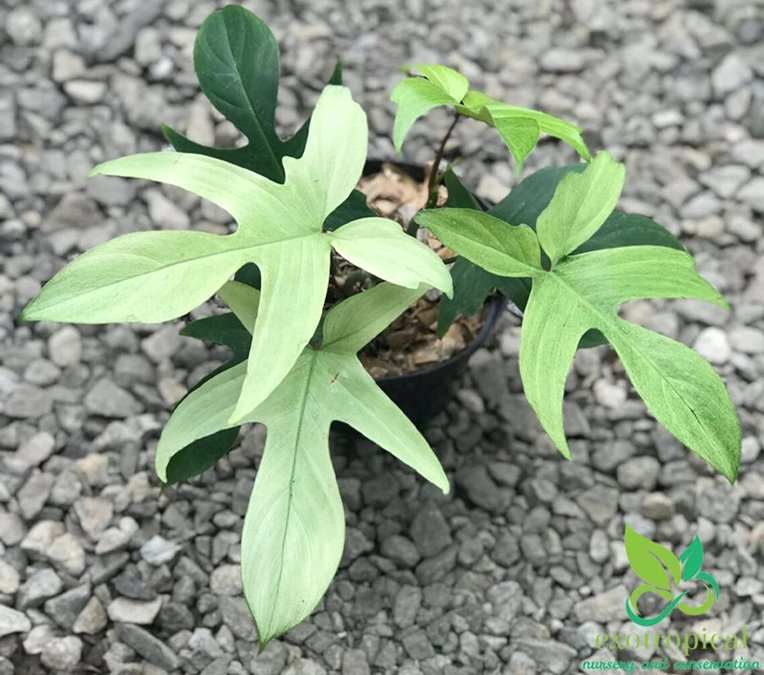 On the other hand, as already seen, P. squamiferum has medium to dark green five-lobed leaves and very hairy (scaly) red petioles. Also, they grow slowly.
Philodendron squamiferum care
Philodendron squamiferum needs a warm (65-85°F, humid (50% or more relative humidity) place with bright, indirect light. These plants should grow in a well-draining, airy, and rich in organic matter, and you should water them when the top few inches feel dry.
Other care needs include feeding, pruning, and repotting. Also, don't forget to give it a climbing moss pole, trellis, etc.
Here are Philodendron squamiferum care needs and growth requirements:
1. USDA hardiness zone:
The USDA hardiness zone for P. squamiferum is 10 to 12. It isn't frost-hardy, and prolonged freezing will damage it. Only grow it outdoors if you live in this zones and perhaps a 9B that doesn't experience frost.
2. Humidity
These plants love humidity and will grow best in high humidity, 60% or more. However, they can still tolerate 40% to 50%.
If yours is too low, leaves may have brown tips and edges and curl, and your plant may look droopy.
To help raise the humidity, mist your plant (offers a temporary solution), move them to humid rooms, or have a pebble tray. Also, grouping plants together will help raise humidity (by creating a microclimate).
However, the surest way to guarantee enough humidity is using a humidifier. I have used both LEVOIT and Aquaoasis. They are both perfect.
3. Temperature
The ideal temperature range should be 65 to 85 degrees Fahrenheit (18-29°C). Avoid temperatures below 55°F, sudden changes, and cold drafts. Also, don't place your plant near a cold or heat source or vent.
4. Light
Philodendron squamiferum needs bright, indirect light for about 12 to 14 hours a day. A few hours of the morning sun on the east window is ok, and the plant can tolerate medium, indirect light.
Direct hot sunlight will cause leaf scorch (brown tips and edges) and make leaves look washed out or bleached.
On the other hand, too little light will result in smaller, paler new leaves, stunted growth, and a leggy plant. Find grow lights with 10000 to 20000 lux (1000 to 2000 footcandles). Relassy 15000Lux Sunlike Full Spectrum Grow Lamp is such good example.
5. Best soil
The best soil mix for P. squamiferum should be well-drained, aerated, and high in organic matter. It should be slightly acidic to neutral (pH5.5-7.5).
You can buy an aroid mix (See Etsy.com) or make yours. Take 50% potting soil and 20% perlite, 20% peat moss or coco coir, and 10% bark chips to make an aroid mix. You can then add a handful of horticultural charcoal and compost or worm castings.
6. Watering
These plants love moist, not soggy or too dry soil. Also, it would help if you let the potting mix slightly dry in-between waterings. Therefore, we recommend watering after the top 1-2 inches of the potting mix or up to your first knuckle feels dry. Don't wait until your plant starts to droop.
People with a soil moisture meter should water when the reading is in the dry or red zone. Good brands to buy include XLUX, Sonkir or Gouevn.
Lastly, slowly saturate the potting mix with water until excess flows from drainage holes when watering.
7. Fertilizer
Feed your P. squamiferum once a month during the growing season with an all-purpose, balanced (like N-P-K 10-10-10 or 20-20-20) liquid houseplant fertilizer at half recommended strength. A brand like Miracle-Gro Indoor Plant Food (Liquid) (NPK 1-1-1) is ok, but you may have to feed a bit more often since it isn't so much concentrate.
Alternatively, select a balanced one for potted houseplants if you prefer a slow-release formula. Both spikes and granular formulation are good. To use it, follow what the manufacturer recommends.
Lastly, while we recommend a balanced plant food, it isn't always a must. Just ensure a decent amount of nitrogen to support the large green leaves.
8. Pruning and grooming
Routinely cut any damaged, diseased or dead leaves or parts with sterilized gardening shears. Also, clean dirty or dusty leaves, and in early spring, cut back stems to control size and growth.
9. Repotting
Repotting is after 2 to 3 years or if your plant is rootbound (roots growing from drainage holes or spiraling inside the planter). Go for a pot 2-3 inches wider in diameter.
10. Staking
Since it is a climbing plant, provide and train you P. squamiferum on a moss pole, trellis, totem, or any other vertical climbing surface.
How to propagate Philodendron squamiferum
Philodendron squamiferum propagation is by stem cutting in water or soil, seeds, and air layering. But seeds are not easy to find.
To use stem cutting propagation, you need a stem cutting with at least a node (the knobby part where aerial roots grow and leaf petioles attach). You cannot use nodeless stems, aerial roots, or leaves with the petiole.
1. Stem cutting propagation in water
The philodendron squamiferum cutting method is less messy and will allow you to see the roots growing. But it takes a bit longer, the growing cutting won't get nutrients present in the soil, and it will suffer more transplant shock.
What you need
A jar
Gardening scissors or knife
70-90% rubbing alcohol for sterilizing gardening scissors
Rooting hormone (optional). I use Clonex Rooting Gel, or Garden Safe Brand TakeRoot
Steps to follow
Select a healthy stem with at least a node and cut just below the node with your sterilized gardening scissors. If it has more than two leaves, remove the lower ones.
Apply your rooting hormone on the cut end. While it is not a must, it will help speed rooting and prevent rot.
Fill your jar with water and dip the stem cutting, ensuring at least a node remains inside water but never leaves.
Place your plant in a warm area with bright, indirect light.
Change the water after 3 to 4 days or when levels go down.
By the end of the 5th to 6th week, your plant will have rooted and be ready for transplant. But how long it takes depends on the growing conditions.
2. Soil propagation
Rooting happens faster. Also, your plant gets nutrients from the soil and suffers less shock. But you cannot see the root growth progress, and some people find it messy.
Instead of dipping your plant in a jar with water, you will plant it in a potting mix and thoroughly water it. Then, you will ensure the potting mix remains moist, and humidity is high.
Pro tip: If your humidity is low, you can cover the cutting with a plastic bag, leaving a small opening.
2. Air layering
The air layering method will guarantee a higher success rate. But some people find it unsightly. It involves wrapping moist sphagnum moss on nodes of selected branches while still attached to the mother plant.
Keep the sphagnum moss moist and aerated. Roots will grow after some time. Cut it from the mother plant and grow it in its pot once the roots are long enough.
Problems and issues
This species has no unique issues except those that affect other Philodendron plants. Here is an overview.
1. Pests and diseases
While they may have pests like aphids, thrips, mealybugs, scale insects, and mites, these bugs are uncommon. But if you notice any, use neem oil, horticultural oil spray, or insecticidal soaps.
Similarly, fungal and leaf spots and blights are also uncommon. To minimize the chances of these diseases, isolate new plants, don't keep leaves wet for long, and practice good hygiene (wash hands before touching plants and sterilize gardening tools).
2. Root rot
Root rot is the most predominant issue for people who use heavy and compacted soils that don't drain or are fond of overwatering their plants.
Signs include significant yellowing or drooping of leaves, stunted growth, unusually smaller leaves, and mushy black or brown roots.
If positively identified, the solution will be repotting your plant if not all the root ball has decayed. But as you do so, cut any rotten bits.
3. Wilting, drooping, or leaves curling
Is your plant drooping or wilting? It means cells don't have enough water to remain rigid.
On the other hand, leaves curling is a means to reduce moisture loss or protect the plant.
Surprisingly, the reasons are similar, i.e., underwatering, too much light (direct sunlight), low humidity, and extremely high temperature (heat stress).
Also, anything that makes these plants not absorb water or lose more water can cause. Such include fertilizer burns, root rot, transplant shock, and rootbound plants.
4. Leaf discoloration
The last issue is leaf discoloration, i.e., yellowing or browning, including brown tips and edges. What causes each of these issues?
i. Leaves turning yellow
If you see leaves yellowing more than usual, especially the lower ones, it is likely that you are overwatering your plant. Nonetheless, it may be other reasons, including underwatering, cold drafts, too much or too little light. Also, lack of nutrients may be a reason for yellowing or, to be specific, chlorosis.
ii. Brown tips and edges
Brown tips and edges indicate that water cannot reach these places. Causes include low humidity, underwatering, heat stress, too much sunlight, and fertilizer burns.
iii. Brown spots, splotches, or entire leaf browning
Brown spots are a likely indication of pests or diseases, while splotches may be due to overwatering. But if the entire leaf is browning, causes could be any that cause brown tips or edges or cold drafts (if browning occurs overnight).
Where to find Philodendron squamiferum on sale
To get Philodendron squamiferum on sale, go to Etsy or eBay and then Facebook or Instagram. These marketplace and social media platforms have sellers from all over the world and not just in the US. People in the UK, Canada, Australia, Singapore, etc., will find vendors near them or willing to ship to these locations.
Besides the above, more places to buy Philodendron squamiferum, and the prices are as follows:
Peace Love and Happiness Club (Seattle, WA) - $68.00
Pistils Nursery (Portland, OR) - $48.00
NSE Tropicals (Plantation, FL) - $95.00
Canopy Plant Co, (New Orleans, LA) - $36.00
Asean Plant Export (Bangkok, Thailand) - $22.43
Groovy Plants Ranch (Marengo, OH) - $80.00
Plant Circle (Berlin, Germany) 5,61 € – 14,95
Bloom box club (London, the UK) - £54.99
Jungle Leaves (Herten Germany) €7,99 – €39,99
Lastly, google "Philodendron squamiferum on sale" for more suggestions. You can't miss getting one or two locations we didn't mention.
Frequently asked questions (FAQs)
Is Philodendron squamiferum rare?
Yes. Philodendron squamiferum is a rare houseplant that only a handful of vendors have. We doubt if you will find it at your local tropical plant stores, and we can assure you that none of the large-scale horticultural growers or big box stores like Lowes, Walmart, Home Depot, etc., have it.
What is the Philodendron squamiferum price?
Philodendron squamiferum price ranges from $25 to $150. Unrooted cuttings will cost you $25 to $40, while rooted to establish plants will cost you about $40 or more. Some vendors sell this plant as high as $160 to $250.