Philodendron verrucosum is a showy climbing houseplant with velvety dark green leaves, paler veins, a reddish-tinged underside, and hairy petioles. But since it is highly variable, exact coloration, leaf size, and appearance may vary depending on your type. So, you will find types like Mini (Dwarf) Rojo, Sunset, Red Back, etc.
Explore more about the P. verrucosum, including its appearance (leaves, stems, and flowers) and growing habits. Also, we will look at care (temperature, humidity, light, soil, watering, fertilizer, etc.) and propagation.
That is not all. While growing it, you may encounter some problems like yellowing of leaves, browning, pests, diseases, etc. We also have something on the issues. And if you want to buy it, we will mention places to find it in the UK, the US, Canada, and Australia, including Etsy.com and eBay.
Note: We will not talk about hybrids, i.e., Philodendron Splendid (Philodendron Verrucosum x Melanochrysum) and Philodendron majestic (Philodendron Verrucosum x Sodiroi), as we have separate posts on each. There is also a less popular P. verrucosum x giganteum.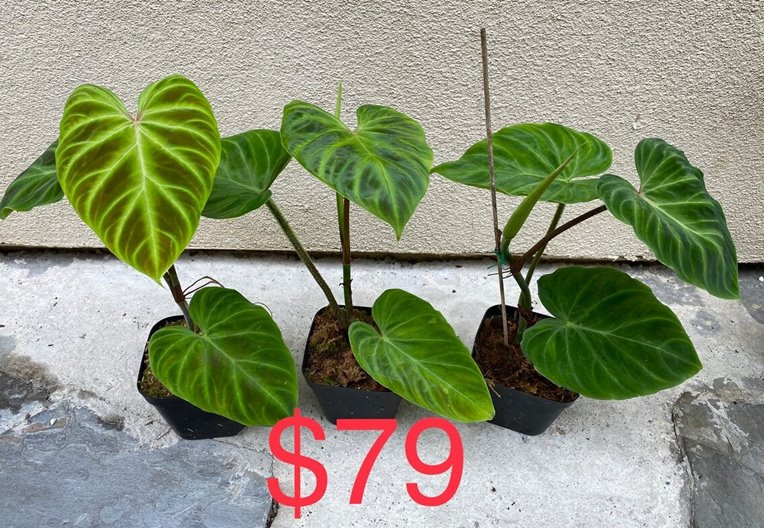 Quick overview
Scientific name: Philodendron verrucosum
Synonyms: Philodendron discolor K. Krause and Philodendron lindenii Engl.
Common names: Philodendron Ecuadorian
Family: Araceae
Native habitat: Colombia, Ecuador, Costa Rica, Peru, and Panamá
Toxicity: All plant parts are toxic to dogs, cats, and humans since it has insoluble calcium oxalate crystals.
Care level: Low to moderate, depending on the variety
Don't confuse Philodendron Ecuadorian, the common name, with Philodendron Ecuadorian Canoe Leaf, which is a different plant with a canoe-shaped leaf that looks like the old Ecuadorian canoe
Description and appearance
1. Growing habits
Philodendron verrucosum is a highly variable, evergreen, appressed climbing hemiepiphyte. We hope you are not lost. Hemiepiphyte means a plant that may start on a tree as a seed and then send roots to the soil or begin as a terrestrial plant, climbing a tree and breaking the linking stem, leaving roots in the ground. It rarely grows as a terrestrial or epiphyte.
This lovely aroid is native to Costa Rica to Peru. It grows on tropical montane, lower tropical montane, and tropical rain forests at 656 to 6550 feet (200-2000 m), mostly above 1640 feet (500m) above sea level.
In juvenile form, verrucosum will have smaller leaves and crawl on the forest floor. But when it gets to a climbing place, it will start growing larger leaves.
2. Growth rate and size
Philodendron verrucosum is a fast-growing, lower to middle tree trunk climbing aroid that can grow 12 feet or beyond in the wild. But at home, it will grow about 4 to 8 feet, and you need to provide and train it on climbing support.
3 Leaves
Philodendron verrucosum has broadly oval heart-shaped, thinly leathery, velvety dark green (or dark emerald) leaves with paler (light green to golden to silvery) midrib and primary lateral veins, bronze-green or blackish-green in new leaves. The lower surface is pale-green with a reddish-purple tinge between veins and purple-violet on emerging leaves.
These large leaves, 11-29.5 inches (nearly up to 2.5 feet), 7.4-23.5 inches (almost 2 feet) wide, and about 1-1.7 long as broad, may also look matte on the upper surface. Their midrib may be slightly sunken or flat on the upper surface, while primary veins, 3-6 per side, are sunken. These veins are darker lower surface.
Lastly, these leaves spread long to 3 feet have a subterete brownish to purplish violet erect petiole, hairy at least on one side of the entire length.
3. Stems
Philodendron verrucosum has scaly, bristly (setose), and hairy (pubescent) green to greenish-white stems. Juvenile plants have longer (about 7.8 inches) but internodes, while mature plants have shorter (1.1-3.9 inches) but thicker (about 2.4 inches) up to and nearly as broader. Also, the adult internodes are smooth, with scale-like surfaces (scurfy) and tiny wrinkles.
These plants will grow brownish to gray, have fairly numerous roots, most of which are short, and have fine root hairs on one side.
Lastly, the unribbed to occasionally bluntly single-ribbed reddish to green, heavily scale, or setose cataphylls are persistent. But they turn fibrous as they age.
5. Flowers
In Central America, Philodendron verrucosum flowers from April to June and perhaps September and November. In Colombia (South America), the post-anthesis collection suggests that flowering occurs in the drier Month of February.
It produces 1-4 inflorescence per axil, each with a spathe (surrounding modified bract) and a spadix that has tiny male (at the top), sterile (middle), and female flowers (bottom or inside the tube).
The peduncle (inflorescence stalk) is purplish to medium green, while the bristly or densely scaly spathe has the upper section (blade) and the lower section (tube). The spathe blade is whitish, medium green, or reddish-green on the outside and pinkish to white on the inner side.
On the other hand, the spathe tube is medium green, reddish-green or dull purplish violet on the outside and reddish or pale reddish on the inside. But after anthesis, it will be dark green.
Lastly, ripe aggregated fruits (INFRUCTESCENCE) are whitish.
Philodendron verrucosum types
These are varieties, clones, or cultivars of Philodendron verrucosum, which show some difference in size and appearance from the original plants. Some of these plants include the following:
The list is long. Below are some of the pictures, courtesy of the International Aroid Society.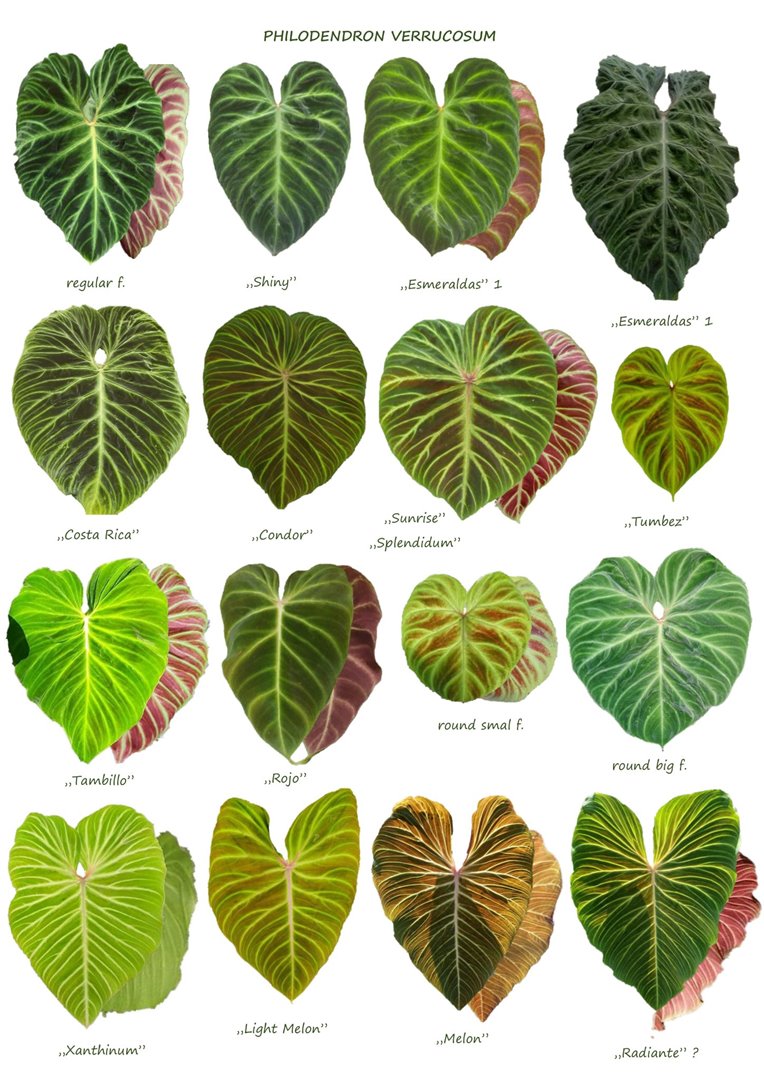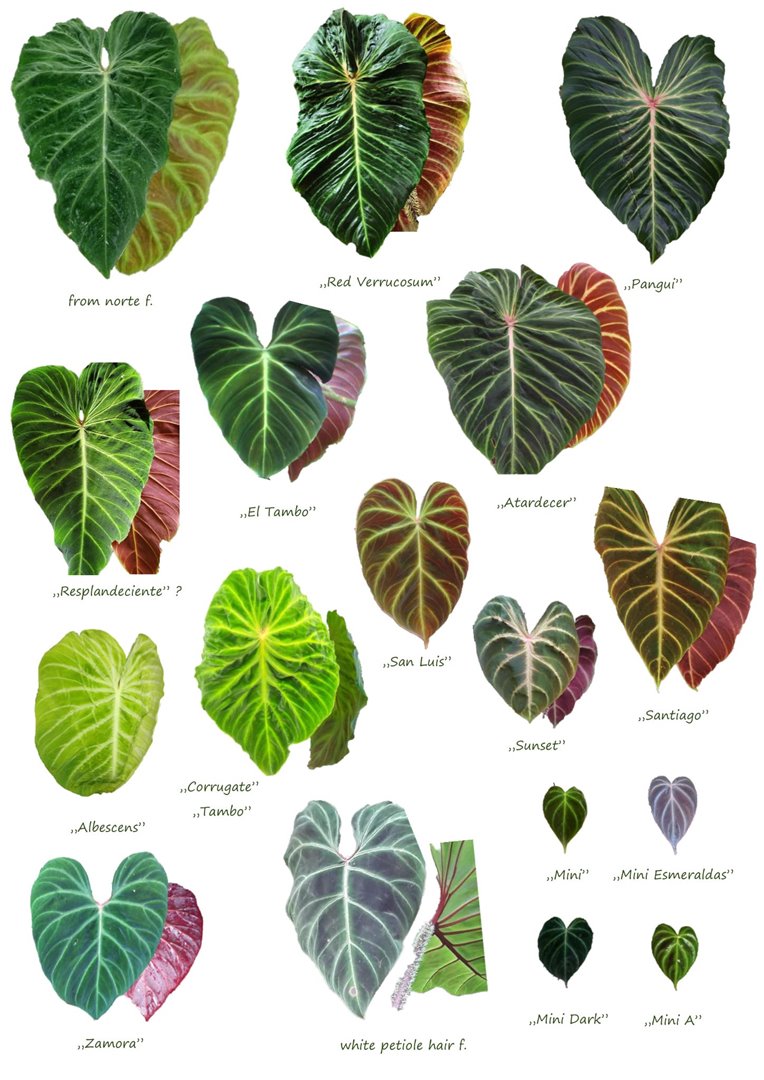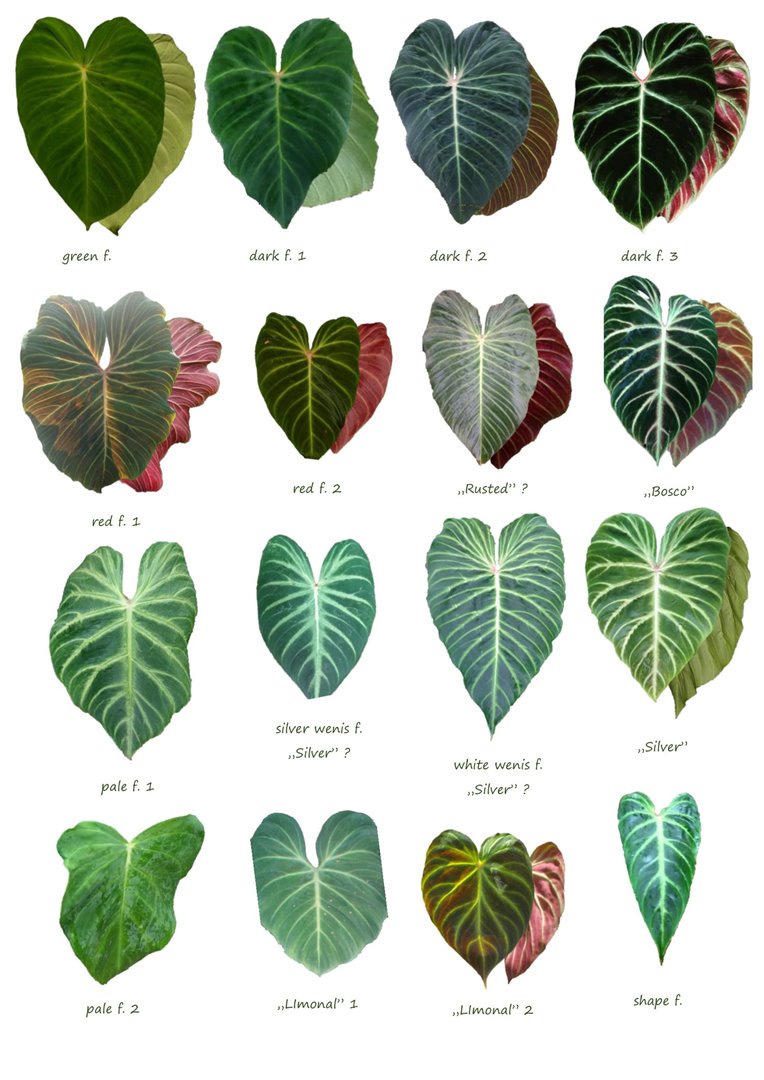 | | |
| --- | --- |
| Name | Description |
| Philodendron verrucosum "red back" | It has large dark green with bright veins with a dark red backside. |
| Philodendron verrucosum Amazon Sunset or scarlet: | This lovely variety has a deep red underside resembling Philodendron Choco Red. Also, the leaves are delicate like those of Philodendron luxurians. Some people label it as Rojo. |
| Philodendron verrucosum Rojo | It slightly differs from the standard plant, with the underside redder and the less hairy petioles. |
| Philodendron verrucosum "mini" or "dwarf" | Native to Ecuador, this dwarf variety has dark green leaves with bright venation and a red underside. Its leaves are about 4-5 inches and tend to curve downwards. Also, it grows slowly, and some people may label it as Norte form or Ecuadorian mini form. |
| P. verrucosum 'Dark Dwarf' or Mini Dark | It is a dwarf version with purplish-black tinged leaves instead of the usual dark green. |
| Philodendron verrucosum 'Esmeralda' 1 and 2 | There are two varieties, i.e., 1 and 2, native to Esmeraldas in Ecuador. Esmeralda 1 has broad, dark green leaves with light green veins and a yellow-green hairy petiole, while 2 has ruffled dark green leaves with less visible venation. |
| P.verrucosum "purple" | This variety or clone is another slow-growing dwarf version (doesn't exceed 2-3 feet) with leaves about 4-5 inches from Ecuador. Newly emerging leaves have reddish-orange markings but become dark green, tending towards dark-bluish as they mature. |
| Philodendron verrucosum "Micro" | This slow-growing variety is one of the smallest, with leaves of about 3 inches and a red underside. Its stems are thinner, and it loves high humidity. So if you buy it, be ready to grow it in a terrarium. |
| P. verrucosum "Broad" | It has large, broad leaves with brighter and more intense veins. As new leaves emerge are golden, and their underside is whitish. But as they mature, it becomes reddish. Also, the midrib has a pinkish tinge near the base. |
| Philodendron verrucosum "Verde" | This variety has one of the darkest leaves with an underside that isn't as red as the standard plant. The veins are paler but not as conspicuous, and this plant requires high humidity. It cant survive under normal household levels. |
| P. verrucosum "Dark" | This variety has large darker leaves than a standard type with a red backside. Also, the veins are brighter, more prominent, and stems grow a bit thicker. However, it is not as dark as Verde. |
| Philodendron verrucosum "Carmine" | It has nearly heart-shaped leaves but is more triangular or pointed. Also, the veins appear more vivid. |
| Philodendron verrucosum "Tambillo" | As the name may suggest, it came from Tambillo in Ecuador. Unlike the standard version, leaves are more oblong with iridescent paler, bright or whitish primary veins, and the midrib |
| Philodendron verrucosum "El Valle" | This slow-growing dwarf variety is from near Valle in Ecuador. Its leaves hardly go beyond four inches, and new leaves are coppery in color and their underside. You deserve to know it loves high humidity, making it a perfect terrarium plant. |
The list of P. verrucosum varieties or clones is endless. Other common ones include the following:
Philodendron verrucosum El Choco Red (don't confuse this plant with Philodendron rubrijuvenilum, whose petiole isn't hairy and the veins are less conspicuous)
Cobra
Fantasy
Panther
Bosco
Incensi
Costa Rica
Albescens
Condor
Atardecer
El Tambo or Corrugate
Costa Rica
LImonal 1 and LImonal 2
Melon
Light Melon
Mini A
Gualaquiza
Mini Esmeraldas
Pangui
Pincho
Sunrise or Splendidum
Santiago
The list goes on. If you want any of these varieties, just go to Etsy.com, which has the most varieties, and search for them.
Philodendron verrucosum care
Philodendron verrucosum an is easy to care for houseplant. It needs a warm (65-85°F), humid (50% or more relative humidity) area with bright indirect light. The potting mix should be airy, well-drained, and rich in organic matter.
Remember to water this plant when the top few inches of the potting mix feel dry, and feed it once a month with a balanced liquid houseplant fertilizer. Also, you should repot it every 2-3 years, and don't forget to give it a climbing totem or moss pole.
Here are the Philodendron verrucosum care needs and requirements.
1. USDA hardiness zone
The USDA hardiness zone for P. verrucosum is 10-11. It is not frost-hardy, and freezing temperatures will damage it. So, only in these zones can grow it outdoors all year.
2. Temperature
It grows optimally at 60 to 85 degrees Fahrenheit (15.5-29°C) temperature. Avoid temperatures below 55°F (12.8°C), and if outdoor, move it inside your house.
Also, heat stress, sudden dips or temperature spikes, and cold drafts will stress this aroid. So, no placing it near open windows in winter, air conditioners, heat emitting sources, or vents.
3. Philodendron verrucosum humidity
In nature, it grows in warm, humid tropical rainforests. Similarly, at home, provide it with average to above-average humidity, at least 50% or more. But it can tolerate a bit lower.
Very low humidity will cause leaf scorch, curling, and your plant may droop. Also, leaves may fall, among other things. Therefore, if your humidity is low, raise it by:
Misting your plant (offers temporary relief)
Grouping plants (creates a microclimate)
Having a pebble tray
Moving your plant to humid rooms (the bathroom or kitchen)
Buying a humidifier. Any good cool mist brand is fine. We use AquaOasis™ Cool Mist Humidifier since our room is medium. If you have a larger room, you will have to consider a brand with a larger coverage.
Lastly, humidifiers are not so expensive, and they will also benefit you.
4. Light needs
Grow it in a spot that receives bright, indirect light. The window you have doesn't matter. Just ensure no direct sun hits it, except the early morning sun on the east window. Otherwise, direct sun will cause sunburn.
On the other hand, people in poorly lit homes need to buy grow lights. Buy those rated about 10,000 to 20,000 lux (1000 to 2000 footcandles). We use Relassy 15000Lux Sunlike Full Spectrum Grow Lamp. It has a gooseneck clampable stand and a lifespan of 50,000 hours.
5. Soil mix
The best potting mix for Philodendron verrucosum should be well-drained, aerated, and high in organic matter. Its pH should be slightly acidic to neutral.
These plants are not fussy. A good aroid mix will suffice. Alternatively, you can make yours by adding perlite, peat moss (or coco coir), bark chips, and compost (or worm castings) to your potting mix.
Your objective is to have a well-draining mix that is airy and rich in organic matter. Forget about specific ratios some sources give.
6. Watering
These plants want a moist potting mix, not too soggy or bone dry. Also, allow the soil to dry slightly in-between watering sessions.
We recommend that you water your P. verrucosum when the potting mix's top 2-3 inches feel dry, i.e., when it feels dry up to the first knuckle of your finger.
Alternatively, water your plant when the soil moisture meter reading is three or less, i.e., in the red or dry zone. A good brand to consider is XLUX.
Lastly, when watering, slowly pour water evenly on the potting mix until excess flows from drainage holes. Discard any that collects in the cachepot or saucer.
7. Feeding
They need feeding once a month during their growing months. Use a balanced, liquid houseplant fertilizer at half recommended strength. An N-N-K 20-20-20, 10-10-10 should work. You can feed more often if you use less concentrated ones like Miracle-Gro Indoor Plant Food (Liquid) with N-P-K 1-1-1.
Alternatively, go for a slow-release fertilizer for houseplants. Start applying at the beginning of spring and follow what the manufacturer recommends.
8. Pruning and grooming
Routinely cut damaged, dead, or diseased leaves with sterilized gardening shears. Also, clean dirty or dusty leaves. And in early spring, you can cut back the stem (no more than 25%) to control the shape, size, and growth.
9. Repotting
This aroid needs repotting after 2-3 years or if rootbound, i.e., roots growing from drainage holes or spiraling inside the pot.
Use a pot 2-3 inches wider in diameter. Also, ensure it has enough drainage holes, or you should drill some.
10. Stake or support
This plant is an appressed climber. So, it will thrive best if trained on a totem, trellis, moss pole, etc.
Propagating Philodendron verrucosum
Propagating Philodendron verrucosum isn't hard. You need a stem cutting with a node (the knobby part where petioles attach or adventitious roots grow), and you can root it in water or soil.
Alternatively, you can opt for air layering. It entails wrapping moist sphagnum on a node and keeping it moist while still attached to the mother plant. Roots will start growing, and when they are long enough, you can cut the stem from the mother plant and grow it in its pot.
While seeds are a viable option, they are rare or hard to find. Also, they would take much longer.
1. Soil to propagation
When propagated in a potting mix, the cutting will root faster, get nutrients, and suffer less shock when you transplant it.
i. What you need
Potting mix
Nursery pot
Gardening scissors
Disinfectant or at least 70% isopropyl alcohol (rubbing alcohol)
A rooting hormone. Not a must, but it will speed rooting and reduce rot chances. A good rooting hormone is HydroDynamics Clonex Rooting Gel. Why? Because it also has mineral nutrients and some trace elements to feed the young growing roots. 
A transparent plastic bag to help lock moisture. It is crucial if your household humidity is low and you don't have a cabinet greenhouse.
ii. Steps to follow
Put some potting mix into your nursery pot.
Select a healthy, mature stem with at least two nodes and cut it ¼ an inch below the lower node with your sterilized gardening scissors. If it has more than two leaves, remove the lower ones.
Apply your rooting hormone on the cut end (on the nodes you will plant into the soil).
Poke a hole in your potting mix and plant your cutting, covering at least a node. Then press some potting mix around it to ensure it remains upright.
Thoroughly water the cutting until excess water flows from drainage holes. Discard any that collects on a saucer or cachepot.
Cover the cutting with your plastic bag, leaving a tiny breathing hole. But ensure it doesn't touch the foliage. A small chopstick or small totem should help.
Place your plant in a warm area with bright, indirect light.
After every few days, remove the plastic bag to let your cutting breathe. Also, mist the potting mix if it starts drying.
Under ideal conditions, your plant will put on some new growth and root after four to six weeks. You can proceed to transplant it.
Note: If you use sphagnum moss alone, begin by soaking it in water for about 20 minutes. Then thoroughly wring to get rid of excess water before putting it in your nursery pot. Afterward, don't water again. Instead, mist it if it begins to dry.
2. Water propagation
If you want to see rooting happening, go for water propagation. After step 3 above, dip the cutting in a jar with water. Ensure the node is inside the water but not leaves. Afterward, change the water after a few days.
Problems or issues
While growing this adorable plant, you may have some issues or problems. Let us look at them briefly.
1. Pests and diseases
This aroid may have aphids, thrips, scale insects, mealybugs, or mites. Luckily, they are uncommon. And you can quickly control them with neem oil, horticultural soaps, or insecticidal soaps.
On the other hand, your P. verrucosum may get fungal and bacterial leaf spots and blight that affect Philodendron plants. We are talking about those caused by Xanthomonas, Erwinia, Phytophthora, Pseudomonas species or and southern blight. Again, they are uncommon. But you must maintain proper sanitation and isolate new plants.
2. Root rot
Root rot is a more prevalent issue caused by overwatering or potting mixes that don't drain. Signs include leaves turning yellow, smaller paler leaves, stunted growth, leaf falling, wilting, etc.
To be sure, check roots. Are they mushy brown or black? Then, its root rot. If not all of them have decayed, repot your plant and cut off decayed sections with sterilized gardening scissors.
3. Leaves yellowing or turning brown
If many, not just one or two lower leaves, turn to yellow, the most likely reason is overwatering. The potting mix will be soggy even after not watering for a while.
If not overwatering, P. verrucosum leaves turning yellow may be due to too much or little light, heat stress, underwatering, low humidity, or lack of nutrients.
The other problem is leaves turning brown or having brown tips and edges, splotches, or spots.
Most likely reasons for leaf scorch, i.e., brown margins, tip, or patches in-between veins, is underwatering, low humidity, too much light, and heat stress.
Less likely reasons include fertilizer burns or your plant being rootbound, root rot, or anything that makes it not absorb water.
If you see brown spots, they may be pests or diseases, while splotches are a sign of overwatering.
Lastly, leaves turning brown overnight may indicate freezing conditions or cold drafts, especially during cold winters.
4. Leaves curling and your plant drooping or wilting
Curling is a response to protect leaves or minimize moisture loss, while drooping occurs if cells don't have enough water to keep them firm.
The causes are the same. They include low humidity, extremely high temperatures, and too much light underwatering. Also, fertilizer burns, root rot, and pests may cause it too.
Lastly, anything that affects water absorption, including overwatering, repotting shock, rootbound, etc., may also be a cause.
Where to buy Philodendron verrucosum
To get Philodendron verrucosum on sale, start with Etsy.com and then eBay. Both these marketplaces have vendors from around the globe. People in Australia, Canada, the UK, the US, or anywhere else will find vendors.
Also, you can buy this plant from social media sellers, especially on Instagram and Facebook. They, too, have sellers almost in every country. More places you will find this aroid include
Glass Box Tropicals (Lansing, Michigan),
Plant Circle (Berlin, Germany),
Conservatory Archives (the UK)
Logee's (Danielson, CT)
Root Houseplants (the UK)
Frogs Direct (Gurnee, IL)
Saurian (Overland Park, KS)
Green My Space (Victoria, Australia)
Ecuagenera.com (Ecuador)
Lastly, if you haven't found this lovely plant, don't despair. Why not try googling "Philodendron verrucosum for sale"? We bet you will get suggestions
Frequently asked questions (FAQs)
Is Philodendron verrucosum rare?
Yes. Philodendron verrucosum is a rare or hard-to-find houseplant. Logee's is the only renowned retailer greenhouse with this plant. We bet you will not find it in your local plant stores and none of the large-scale horticultural growers have it.
What is the Philodendron verrucosum price?
The Philodendron verrucosum price ranges from $25 to $100, with the fancy varieties fetching up to $150. The amount you will pay will depend on the size, where you buy it, and the clone or variety.
Is there a Philodendron verrucosum variegated plant?
No. None we know about at the moment. Most people consider variegation the few light green splotches that some plants have. It looks like a virus issue.