The most common reasons for pilea leaves curling upward or inward are underwatering, low humidity, cold drafts, too much light, or your plant being rootbound.
On the other hand, pilea or Chinese money plant leaves curling downward, under, or outward may indicate you are overwatering your plants. Other possible are pests, disease, nutritional deficiencies, and too much feeding.
Last but not least, some of the reasons for pilea peperomioides leaves curling may cause both upward or downward curling. This will commonly occur if your plants end up with ruffled, deformed, or distorted leaves. These reasons include diseases, pests, nutritional deficiencies, and too much feeding.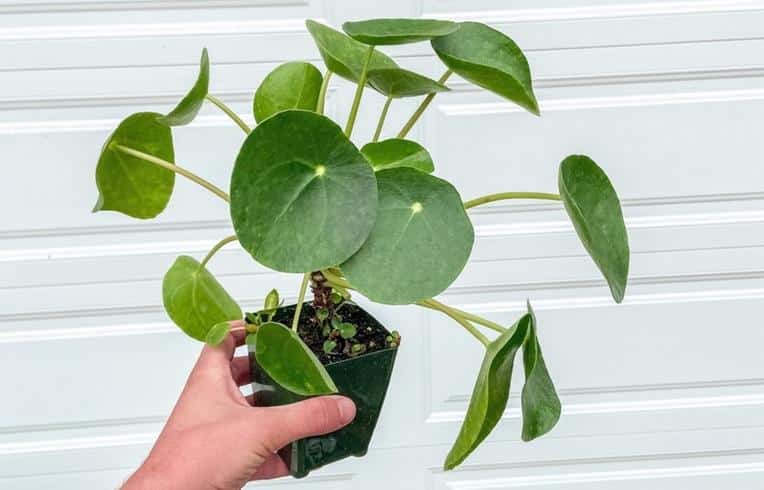 About Pilea peperomioides
Pilea peperomioides, or just pilea (short form), is an evergreen perennial plant native to the Southern China provinces of Sichuan and Yunnan. It belongs to the family Urticaceae or nettles.
Pilea's common names are Chinese Money plant, Pancake Plant, UFO Plant, coin plant, missionary plant. Other not-so-common names are Pass it on plant, lefse plant, Mirror grass Plant, or Bender Plant.
Why is it called the missionary plant? Because it was brought to Europe by a Swedish missionary.
This erect plant can grow up to 12 (one foot) inches tall. It has rounded flat, pancake, or coin-shaped shiny bright green leaves that measure up to 4 inches in diameter.
Many people treasure it for the lovely foliage. Also, Also, it is easy to care for, can tolerate lower light and relatively dry areas. But if you are in New Zealand, it is not legal. Why, because of the new organism law.
Last but not least, the Chinese money plant is associated with money, good luck, and prosperity to its owner.
Pilea Peperomioides care and growing needs
It is good to look at pilea care and growth needs before giving you the various reasons for curling pilea leaves. Why? Because as you will notice, most of the causes often result from a care issue.
Here is a summary of Chinese money plant care and growing needs:
| | |
| --- | --- |
| Care level | Low or easy |
| USDA hardiness zone | 10 to 12 |
| Temperature | Pilea will be happiest at 65 to 75 degrees Fahrenheit (18 to 24 °C) but can tolerate a temperature rate of 55 to 86 °F (13 to 30 °C). |
| Humidity | At least 50% or above with ideal relative humidity being y 50-75%. |
| Light requirement | Bright, indirect light |
| Best soil | Slightly acid, pH 5.0 to 6.0, well-drained, rich potting mix. Go for high quality organic potting soil with some added peat moss or coco coir and some perlite (pumice or orchid bark) |
| Watering | Medium. Water after top 2 to 3 inches the soil is dry. This will be about after 1 to 2 weeks depending on your environmental conditions, plant size, and potting mix |
| Fertilizer | Feed them once a month with a balanced, like 10-10-10, all-purpose, indoor liquid houseplants food during the growing season. If you opt for a 20-20-20, use half strength. |
| Pruning and grooming | Prune off dead, dry, or damaged leaves using sterilized pruning scissors. You can cut a few branches to control growth, shape, and encourage branching if you need a fuller plant at the start of the growing season. |
| Repotting | Repot your Chinese money plant to new soil after every two years in spring or early summer |
| Propagation | Plantlets (offshoots) and stem cutting |
| Toxicity | Non-toxic to humans, cats, dogs, and other pets |
Reasons for Money plant leaves curling
There are many reasons for pilea leaves curling upward or inward and at times downward or outwards. Let us now look at each of these possible causes. As we do so, we will also give you some signs to expect. These signs will help you identify the cause more quickly. Also, we will provide you with fixes or what to do.
1. Underwatering and pilea leaves curling
Underwatering is the most common cause for pilea leaves curling up or inward. When these plants don't get enough water, they will curl or roll in to help reduce further water loss. Thus, curling is an adaptation behavior.
Signs
The most common sign is dry soil pulling away from the pot sides. Also, the leaves will curl inward or upward, your plant will droop or look limp, and its leaves will have crispy edges and tips. More signs include yellowing of leaves, stunted growth, papery dry leaves, withering, and death.
Fix
You need to feel the soil to be sure it is a water issue. If the potting mix's top 2-3 inches is dry, give your money plant a good drink. You can test the soil with your finger. Your plant needs a drink if it is dry up to your first knuckle.
Alternatively, our preferred method is using a soil moisture meter. We use XLUX Soil Moisture Meter. It is accurate, best rated, and responds fast. Water when the reading is three or less.
Then adjust your watering routine. Why? Because their water needs change with a change in growing conditions.
Last but not least, if you often forget to water them, sturdy how often you water them. Then set a reminder on your phone. But don't water following a routine. Instead, always feel the soil.
2. Overwatering and root rot
When overwatered, pilea leaves may curl downwards or appear dome-shaped before you see other signs. But if prolonged and root rot strikes in, your plant's leaves will cup in as roots can no longer absorb water well.
Waterlogged soil suffocates these plants making it hard to absorb nutrients and water well. Also, this condition will promote the growth of soil fungus and bacteria. If things go on for a long time, your plant will have root rot.
Signs
Common signs of an overwatered pilea or Chinese money plant are a soggy or wet potting mix even after not watering for a few days, leaves curling downwards, and yellowing, starting with lower ones. Also, the leaves will droop or wilt, drop or have brown or black splotches.
If there is root rot, expect signs such as a moldy potting mix with a foul smell and a mushy stem base. Your plants will stop growing and may die.
Fixes
Check if thedrainge holes are open, then don't water your plant for a while. Also, you can use a chopstick to poke holes into the mix to boost aeration.
Sometimes the overwatering may be an issue with potting mix. Check if drains. If not, buy a potting mix like Miracle-Gro Indoor Potting Mix.
If you have a watering schedule, abandon it. Instead, test the soil with your finger and water when the top 2-3 inches feel dry. Also, improve air circulation, provide enough light and optimum temperatures.
Lastly, if root rot has set in, repot the plant, cutting any brown or black roots with a sterilized pruning knife. Also, ensure you get rid of much of the old soil as you repot.
3. Is low humidity a reason for pilea leaves curling?
Pilea peperomioides enjoy moderate to high humidity. But if it goes so down, the dry air will increase water loss by transpiration. Also, there will be more loss from the soil.
Should the loss exceed what roots absorb, your pilea will have curled leaves. Why? The curling is to conserve water, just as in the case of an underwatered pilea.
Signs
Besides the pilea curled leaves, margins and tips will be dry and have brown edges. Also, the leaves may turn yellow, droop, or drop if you do nothing. Other signs are slow growth and increased water needs.
Fix
Start by reading or checking your humidity. This needs a hygrometer. If you don't have one and your humidity is low, do the following:
Mist your plant a few times a week
Buy a humidifier. There are many brands to consider. For large rooms, a brand like LEVOIT Humidifiers Top Fill, 6 Liter, Cool Mist is great. It will run for 60 hours. if your room is small, go for AquaOasis™ Cool Mist Humidifier.
Have a pebble tray
Group plants to create a micro-climate
Move plants to the bathroom, kitchen, or other rooms with higher humidity.
4. Chilling temperature and cold drafts
Dry cold air blasts in winter will strip away moisture from your plants and make leaves curl, just as in the case of low humidity. Also, the curling may be to protect from damage by the wind.
On the other hand, low temperature will interfere with normal water movement to leaves. Water may freeze and can no longer move as usual. This will result in them curling upward.
Last but not least, curling in cold temperatures may be an adaptation to prevent rapid thawing after freezing.
Signs
Your plants will droop or wilt and leaves discolored, i.e., turn whitish, yellow, brown, or black). The other signs are the whole leaf turning brown overnight and leaf burning.
Fix
Move your plants from drafty areas, especially those on entrances (porch or patio door), open windows, or any other drafty area) to warmer, less drafty places. Also, use cold frames and don't fertilize or prune your plants at this time.
5. Does too much light cause curling
Pilea needs bright direct light. But too much direct sunlight, leaves will begin curling up. The curling happens because too much light will increase water loss and use. If this water loss rate exceeds what roots absorb, our plant will be thirsty.
Also, the plant may be protecting itself from much light. Curling reduces the leave's surface area.
Signs
Burnt leaves with curled up edges and margin, i.e., they will have brown patches, tips, margin edges. Also, the plant will look washed out, bleached, pale, or yellowish. Other signs are drooping and bleached buds.
Fix
Move your plant away from direct sunlight. This may include moving it away from the windowsills. If outdoor, consider having a shade cloth, greenhouse, or placing them under a shade. Next, raise the humidity, and ensure you adequately water your plants.
6. Heat stress
Too much heat will increase water loss from leaves. If it goes too high, it will hamper normal plant physiology, including water movement from roots. These two will make leaves curl upward.
The rolling as cupping is to help conserve moisture and will happen when roots cannot replace what leaves losses.
Signs
Besides the pilea curled leaves, other signs to expect are leaf burn, discoloration (turning brown or yellowish) drop. Also, your plant will grow slowly, wilt or droop.
Fix
Provide a shade for outdoor Chinese money plants. If indoor, move them away from room heating appliance vents, radiators, fireplace, stoves, or anything else that emits heat.
6. Will being rootbound cause pilea leaves curling?
Yes. Being rootbound is a possible reason for pilea plant curling leaves. When rootbound, the plant has outgrown the pot and has no new soil to grow into and get nutrients or water. Thus, it will starve and lack water, making leaves curl just as in the cause of underwatering.
Signs
The obvious sign will be roots growing from the drainage holes. Your plant will grow slowly, be leggy, and have smaller leaves. That is not all. Your plant will droop, and the leaves will yellow leaves (starting with lower ones) and drop.
Fixes
If you see roots spiraling in the pot after sliding your plant out, repot it if it is during the growing season.
7. Does your plant have pests?
Pests like aphids, spider mites, mealybugs, and scale insects will suck juices from your plant. This will deprive them of water; hence they will curl. Also, some will inject toxins that make leaves bend. Pests can cause pilea leaves to curl downward, upwards, or get puckered, thick, distorted and ruffled.
Signs
They depend on the bug your plants have but will include small bumps or dots that move or not (the bugs), webbing, spots (white, brown, or black), silvery stippling, honeydew, and sooty mold, etc.
Fix
Hose your plants in a sink to dislodge some pests. Use cotton balls dipped in rubbing alcohol to clean the leaves. In case of a heavy infestation, use neem oil, horticultural oil, or insecticidal soap.
I use neem oil and Bonide Ready to Use Neem Oil for pests. Its 3-in-1 formulation will help deal with insects, mites, and mildew (fungal disease).
We have good experience with Garden Safe Brand Insecticidal Soap Insect Killer for insecticidal soaps. It will deal with mealybugs, mites, scale insects, thrips, etc.
Lastly, you can also use horticultural spray oils. It will help deal with insects, mites, and diseases like grease spots, rust, powdery mildew, etc. A good brand is Bonide - All Seasons Horticultural and Dormant Spray Oil, Insecticide. Monterey is also good. 
8. Nutritional deficiencies and overfeeding
The other possible causes for pilea leaves curling downward or upward are nutritional deficiency and too much fertilizer.
Nutritional deficiency
Deficiencies in calcium or phosphorus will make Chinese money plant leaves curl downwards. On the other hand, a lack of calcium will make leaves curl upwards on the margins.
When they cannot get enough nutrients, signs to expect include yellowing of leaves, stunted growth, abnormal coloration, etc.
Too much fertilizer
Curled and mishappen leaves are a common cause of overfeeding your plants. For instance, too much nitrogen will make leaf tips curl downwards.
Common signs include fertilizer crusts on potting mix surfaces, yellowing of lower leaves. Also, these leaves may drop or have brows leaf tips and margins, and your plants will grow slowly.
Fix
The solution is to feed your plant with a good fertilizer for indoor or potted plants. Follow the manufacturer's recommendations but start with half recommended strength. Also, you need to ensure your potting mix is rich in organic matter.
You can choose a balanced formula like J R Peters Jacks Classic No.1.5 20-20-20 All Purpose Fertilizer. It also has boron, manganese, iron, zinc, copper, and molybdenum.
For a slow-release formula, we recommend Miracle-Gro Indoor Plant Food Spikes. It is also good.
Lastly, don't fertilize your plant during the non-growing season to avoid overfeeding. Also, flush or leach the soil once every four months.
9. Diseases
Pilea may suffer from various diseases, including powdery mildew, leaf spot, stem or root rot, botrytis, etc. Some of these fungal, bacterial, or viral diseases may cause leaves to curl downward or upward. For instance, powdery mildew may cause leaf twisting, curling and discoloration.
Signs and fix
Symptoms to expect and treatments are specific to the disease that your pilea has. We will not go deeper into this because curling because you will see other signs that will guide you.
Normal reasons for pilea leaves curling
Not every reason for Chinese money plant leaves curling means there is a problem. Some causes are usual. Here they are:
1. Aging
As pilea plant leaves age, they will start turning yellow them browning. This aging process may make some parts of the plant can be curly. As long as the rest of the plant is healthy, prune these leaves with a sterilized pruning knife.
2. Transplant shock
If you recently transplanted, repotted, or relocated, it is normal for leaves to curl upward. This curling happens because the plant is yet to adjust. Also, the plant may wilt, leaves turn brown, yellow or look burnt, or fall.
Just ensure during transplant or repotting, you don't damage roots. Also, keep the soil moist, and don't prune or fertilize your pilea.
3. Unfurling new leaves
When new leaves are unfurling, they may remain curled for some time. Don't worry so long as the rest of the leaves are ok and your plant looks healthy.