Rhaphidophora decursiva is a lovely robust, giant, evergreen climbing plant native to China, the Indian subcontinent, and Indochina (Vietnam, Cambodia, and Laos).
It makes awesome houseplants, thanks to the lovely foliage, i.e., it has smaller oval green juvenile leaves and huge, deeply split, or pinnate glossy adult leaves. Also, it is easy to care for and purifies the air.
When grown as a houseplant, decursiva may not have the adult split or pinnate leaves unless given the right growing conditions, space, and somewhere to climb. Still, it will create that charming tropical backdrop.
Discover more about R. decursiva care (light, humidity, soil, watering, temperature, feeding, etc.), propagation, and common issues or problems. We will also describe its appearance, and tell you how it differs from E. pinnatum and where to buy it like Etsy.com and eBay.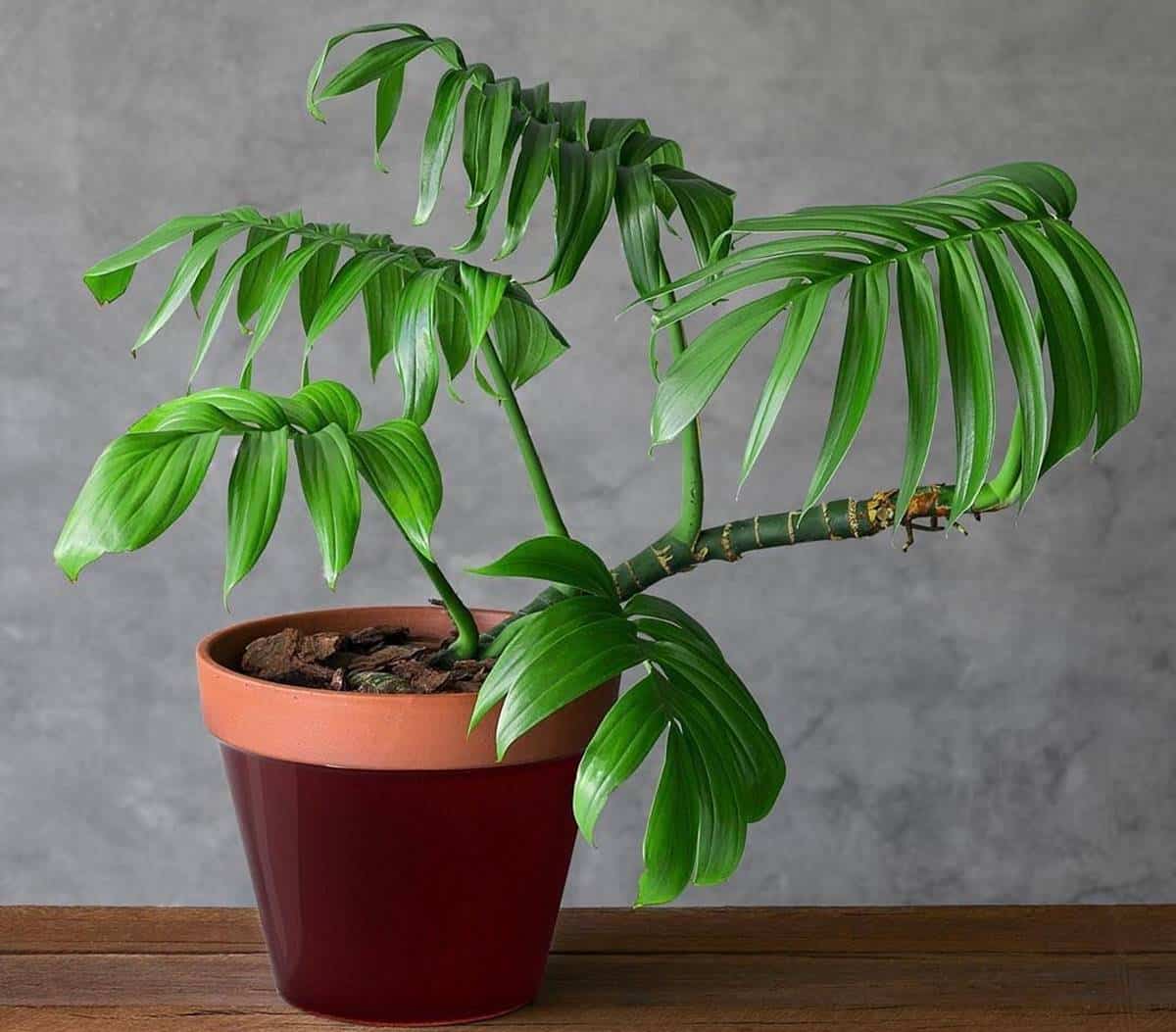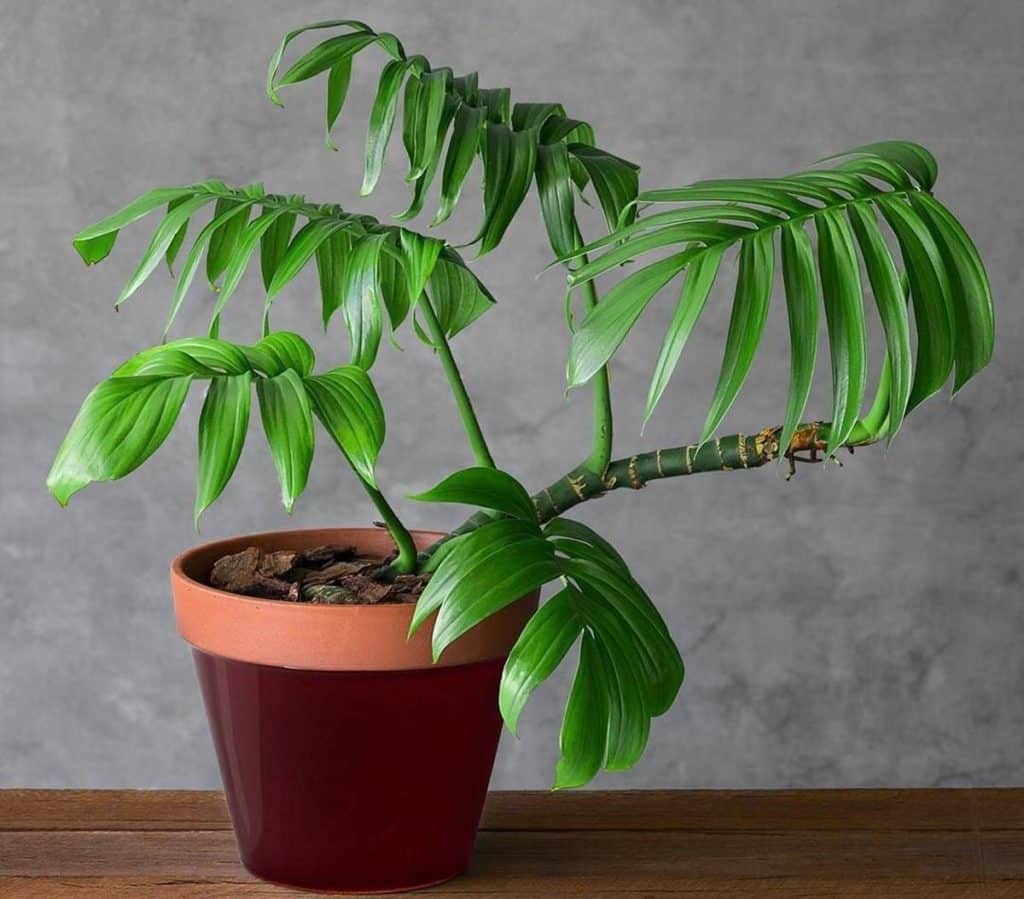 Quick overview
| | |
| --- | --- |
| Scientific name | Rhaphidophora decursiva |
| Family | Araceae (arum family or aroids) |
| Common names | Philodendron Rhaphidophora decursiva, pothos decursiva, and creeping philodendron. Others are philodendron decursiva, palm leaf Monstera, and Pothos decursiva. However, these names are not accurate. |
| Native habitat | China, the Indian subcontinent, and Indochina (Vietnam, Cambodia, and Laos) |
| Type | Evergreen, perennial climbing hemiepiphytes |
| Size | 50 to 60 feet long in their natural habitat and about 5-8 feet high at home |
| Leaves | Small oval disc-shaped juvenile leaves and large, 20 to 40 inch long, deeply pinnated or split leaves |
| Stems | Greenish vines |
| Light requirement | Bright indirect light but can tolerate medium to lower light |
| USDA hardiness zone | 10-12 |
| Temperature | 60°F to 80°F with temperatures not going below 50°F |
| Humidity | High humidity, 60% or more but can tolerate lower household |
| Growth rate | Fast-growing |
| Soil | Well-drained, slightly acid (5.6 to 6.5 pH), high organic matter potting mix or soil |
| Watering | Moderate, allowing the top 2 to 3 inches of soil first dry |
| Propagation | Stem cutting |
| Toxicity | Toxic to humans, cats, dogs, bearded dragons, rabbits, and other pets |
| Care level | Low |
Identification - appearance, and description
Let us see how to identify this plant positively. We will talk about its size and growing habits, leaves, stems, and flowers.
1. Size and growing habits
Rhaphidophora decursiva is a fast-growing, evergreen, large climbing tropical liana or epiphyte.
This tropical plant grows as an understory plant in tropical monsoon and bread-leaves evergreen valley forests. It receives dappled or filtered light and may creep on the ground, grow over rocks or climb on trees.
Lastly, this plant morphs. So, you expect juvenile plants to look different from mature ones. Or, you may find a plant with distinctive-looking leaves, i.e., young and adult.
2. Growth rate and size
Rhaphidophora decursiva is a fast liana that can grow up to 66 feet (20m) or more in the wild. However, as a houseplant, it will grow to about 5-8 feet long, and you need to give them a climbing place.
3. Leaves
Juvenile plants have smaller (up to 6 inches), oval, disc-shaped green leaves with an entire margin. But as the plant matures, it starts growing huge oval-oblong pinnately divided glossy green leaves that measure up to 40 inches long and 20 inches wide (3.3 feet long by 1.7 feet wide).
These mature Rhaphidophora decursiva leaves have an oval-oblong to oval outline with a nearly heart-shaped base, and the asymmetrical lobes or pinnae make them look like palm fronds or a dragon's tail. Each leaf blade has 9-15 lobes per side. Also, since they are split, many confuse them with Monstera species with lobed leaves.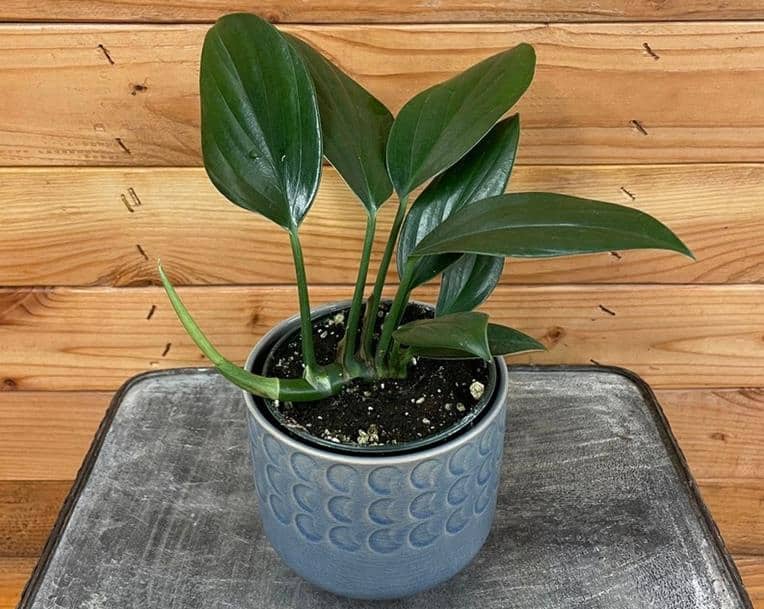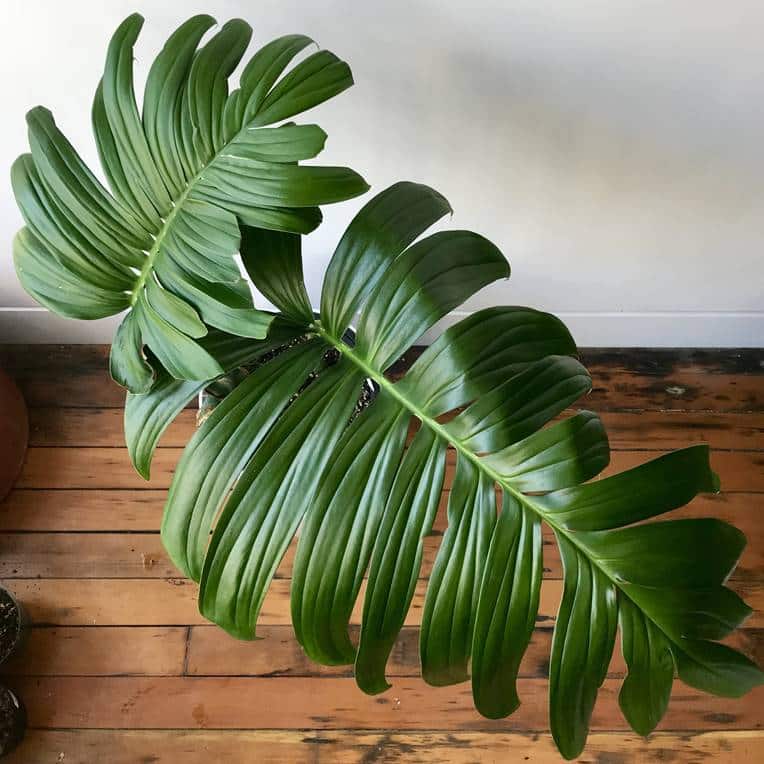 Last but not least, these leaves have a green cylindrical petiole, about 7.9 to 15.7 inches long. They are usually up to 7 cataphyll bearing nodes apart and have petiolar sheat ⅔ of their length.
4. Stems and aerial roots
Young or juvenile plants will have slender greenish stems. But as they mature, they thicken to about 1.1 to 2 inches (3 to 5 cm).
Leaves are scattered on the stems, with up to seven cataphyll bearing nodes between two consecutive leaves. Each of these nodes will grow aerial roots for anchorage and absorbing water or nutrients and can get very long and thick. You will find these plants hugging tree trunks with their aerial roots.
Lastly, branches only grow where leaves meet stems, i.e., on the axil and not on the nodes that have cataphylls only.
Pro tip: Always guide your stems when they are still young. If you let them grow in a particular direction or manner, it will not be easy to modify them later.
5. Flowers
Given a chance to grow to maturity, these plants usually bloom during spring or summer. Nevertheless, at home, as houseplants, they are unlikely to flower.
R. decursiva will have bisexual, inconspicuous, tiny yellowish-white flowers borne on an erect corn-like spadix. The spadix is surrounded by a yellowish curved or boat-shaped leafy-like bract (spathe).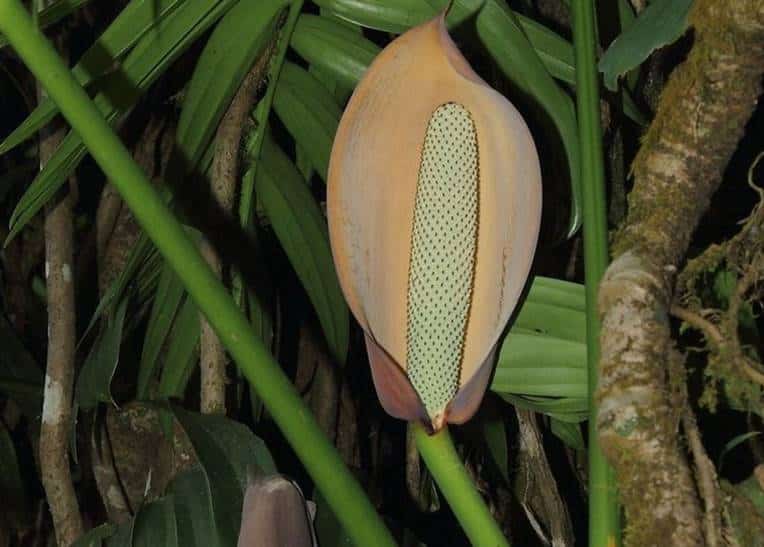 To clarify more on the spadix, you should know that it is an inflorescence with a fleshy stem that bears tiny flowers and it is typical of many plants in the arum family.
6. Berries or fruits
It has aggregate, berry-like fruits that grow on the spadix. Such fruits are known as Infructescence. Once ripe, they are pulpy and sticky, and their color varies from yellow to orange to dark green to greenish cream. Please don't eat them.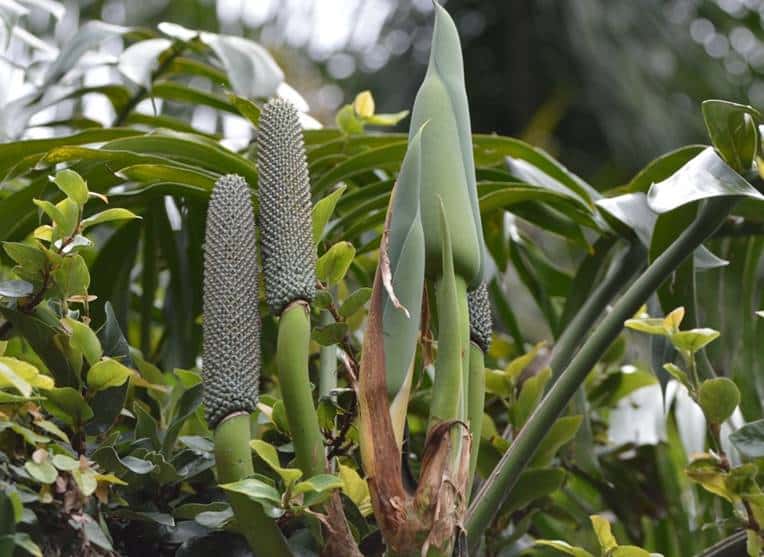 Epipremnum pinnatum vs. decursiva
Epipremnum pinnatum is also known as dragon Tail Plant and Centipede Tongavine. It is widespread in North Australia, Malaysia, Taiwan, Japan, Southern China, and other places in that region.
Many people may confuse a pinnatum with a decursiva. Yes. They are both climbing plants in the family Araceae. Also, they bear little resemblance, i.e., entire juvenile and mature split or cut leaves.
However, these are different plants from a separate genus, i.e., Eippremnum vs. Rhaphidophora, and they are from distinct geographical regions. Also, E. pinnatum has elliptical to arrow-shaped juvenile leaves (depending on the cultivar), while R. decursiva leaves are oval, disc-like, and a bit thicker.
More differences are as follow:
| | | |
| --- | --- | --- |
| Species | E. pinnatum | R. decursiva |
| Stems | Slender up to 1.6 inches stems bearing leaf on each node with leaves clustered towards the top. | Thicker up to 1.9 inches stems bearing up to seven leafless cataphylls between scattered leaves. |
| Leaves | It has arrowhead-shaped juvenile leaves and oval to oval to oblong-elliptic split or cut leaves with small holes adjacent to the midrib and a single primary vein per lobe. | Juvenile leaves are oval and disc-shaped, while mature are oblong-oval with asymmetrical pinnae thinner towards the base. Also, they don't have holes adjacent to the midrib |
| Petiole | The petiolar sheath goes up to ⅔ on the length. | Petiolar sheath only goes up to ½ the length |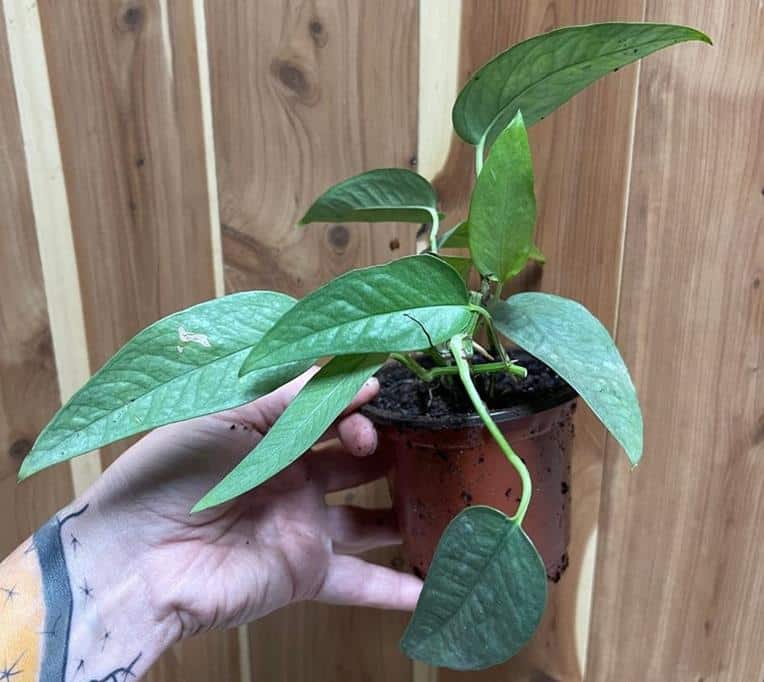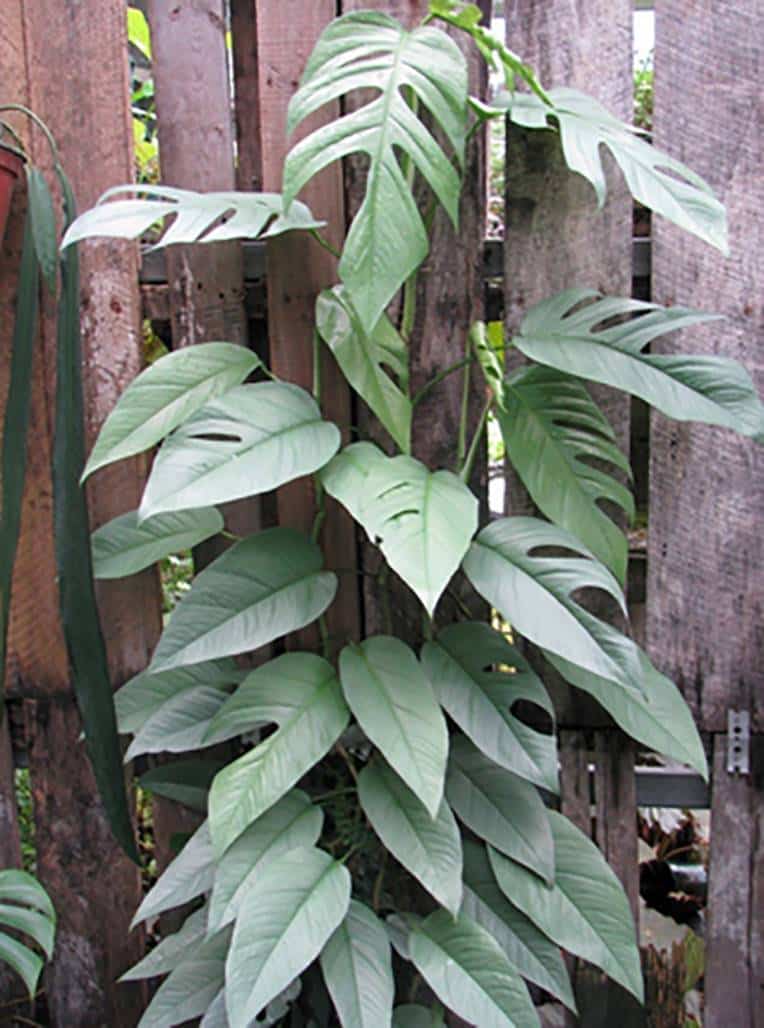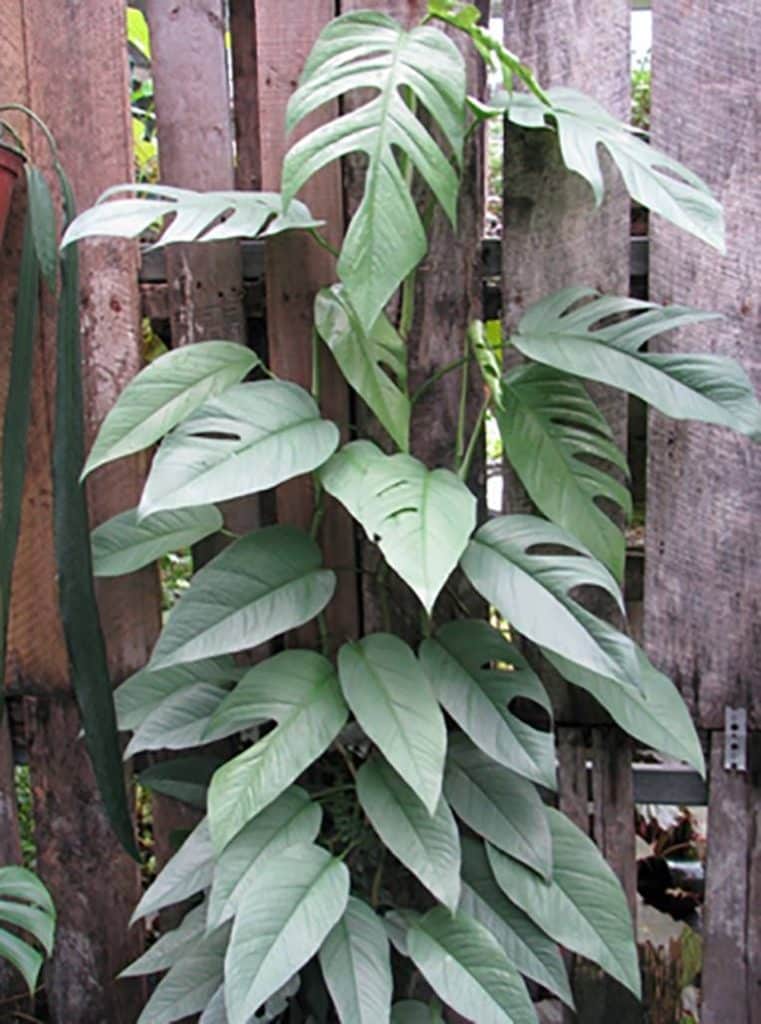 Philodendron decursiva vs tetrasperma
Philodendron tetrasperma (Ginny or Mini Monstera, Philodendron minima) is the most popular Rhaphidophora plant species. The mature form somewhat resembles decursiva. However, there are differences.
Firstly, P. tetrasperma grows much smaller (up to 16 feet vs. 50-66 feet) and has smaller leaves (16.5 inches vs. 40 inches) than decursiva. Also, it has fewer lobes or pinnae.
Secondly, tetrasperma juvenile form shingles, i.e., grows with leaves appressed on the climbing surface like a P. hayi or korthalsii, and decursiva doesn't shingle.
Lastly, P. tetrasperma has thinner stems without scale leaves and petiole sheaths, while R. decursiva has petiole up to ⅔ the petiole length and thicker stems.
Variegated Rhaphidophora decursiva
If you don't like the green form, you can buy variegated Rhaphidophora decursiva. But we must warn you that these plants are so rare and costly, selling for between $800 to $1200.
So far, we have only seen two vendors with variegated forms. One is at Etsy.com, whose plant has mint variegated leaves, i.e., glossy green leaves with mint streaks and marbling. The other one is in Australia (Rootd Plants) and claims it is an aurea. However, it is indeed a mint variegated too.
If you love variegated Rhaphidophora plants, consider variegated R. tetrasperma as they are more readily available.
Where to grow it
It is perfect for indoor and outdoor plants. Just make sure you give it somewhere to climb if you want to see their mature leaves. However, you can let them spread horizontally on your shelf, veranda, walls, etcetera.
If you have a shaded area outdoors and your conditions are ideal, you can grow this aroid outdoors too.
Rhaphidophora decursiva care and growing requirements
Rhaphidophora decursiva requires a warm 60 to 80°F, humid (60% or more) place with bright, indirect light. Water these plants, when the top 2-3 inches of the potting mix feel dry and ensure their soil is airy, well-drained, and high in organic matter.
They also need pruning, feeding, and repotting every 2-3 years. Don't forget a moss pole, trellis, or totem for support.
Here are details of Rhaphidohora decursiva care needs:
1. USDA hardiness zone
This aroid's USDA hardiness zone is 10 to 12, with minimum temperatures of 40 to 50°F. These tropical plants are not frost-hardy. Also, prolonged freezing will damage them. Therefore, only people in these zones can grow them outdoor all year.
2. Temperature
The ideal temperature range for Rhaphidophora decursiva is 60 to 80 degrees Fahrenheit (15.6 to 26.7 °C). However, they can still tolerate slightly lower and higher temperatures. Values low as 55 degrees Fahrenheit (12.8 °C) are as high as 85 degrees Fahrenheit (29.4°C), but you ensure proper hydration for such high temperatures.
Inside your house, average household temperatures are fine. However, if outdoor, move them inside when temperatures go below 50 degrees Fahrenheit (10°C). At this temperature, they are not growing.
Avoid cold drafts or air conditioning vents. It will cause yellowing, browning, or fading of leaves, a scorched look, drooping and wilting. Also, your plant may slowly die or leaves turn brown overnight.
Lastly, avoid sudden temperature changes. It causes shock that will stress your plant. Also, places with high temperatures like near a furnace or room heating vents are a big no.
3. Humidity
Like most tropical rainforest plants, R. decursiva will appreciate high humidity. Ordinarily, they love 60% or more. Nonetheless, they can thrive in the standard household range.
At home, consider misting, having a pebble tray, and, if possible, a humidifier if your humidity goes too low. Also, you can group your plants to create a micro-climate.
LEVOIT Humidifiers Top Fill, 6 Liter, Cool Mist is an excellent brand. It runs for up to 60 hours, comes with Vesync APP, and you can connect it to 3rd party voice assistants, including Amazon's Alexa. Also, it is easy to fill, has a nozzle that rotates 360 degrees, and covers a large area of up to 505 sq. ft.
4. Rhaphidophora decursiva light requirement
This plant grows as an understory in the monsoon rainforest, where they get filtered light. So, it means they don't get direct sunlight.
Similarly, provide Dragon's tail Philodendron plants with bright, indirect light at home for about 10-14 hours a day. While they can tolerate medium to lower light, they will grow slowly. Very low will stunt growth, make your plant leggy and have smaller, paler, new leaves. Also, it will grow towards the light. So, consider buying a grow light.
Avoid direct sunlight. Why? It will cause burns, i.e., crispy, brown leaf edges and tips. Also, your plant will look washed out and may have yellowish or pale patches.
When grown outdoor, select a shaded spot or where there is filtered light. Also, a greenhouse or 30 to 40% shade cloth should do well.
Last but not least, the window you pick doesn't matter much. You must ensure that your plant gets plentiful, bright, indirect light with no direct sunlight except for early morning on the east-facing window. Select a distance with no direct sun reaching your plant to get a perfect spot.
5. Soil mix
The best Rhaphidophora decursiva soil mix should be well-drained, moderate to slightly acidic (pH 5.6 to 6.5), and rich in organic matter (nutrients).
Well-drained loamy soils are ok. Also, you can make buy from Etsy.com or make an aroid mix. It shouldn't be hard. Add perlite, bark chips, compost, and peat moss (which has organic matter and will help lower pH). A little horticultural charcoal will make things even better.
Bark chips and perlite will boost aeration and drainage while peat moss will lower pH and ensure the mix holds moisture for a long time.
If you are a DIYer, a homemade mix like one with 50% all-purpose potting mix, add 30% orchid bark, 10% peat moss, and 10% perlite. It will do just fine.
6. Watering
These aroids require moist soil but not so wet or soggy. Also, they don't like their roots standing in water (which causes root rot) or letting their soil completely dry.
Water your Rhaphidophora decursiva when the top few inches of soil feel dry or up to the first knuckle of your finger. Alternatively, test the soil with a soil moisture meter. We use XLUX. It is precise, responds fast and doesn't use batteries. Water when the reading is in the red (dry zone).
How often should you water your decursiva? Ordinarily, this will be once or twice a week, depending on humidity, amount of light, and the temperature during growing seasons.
Kindly, don't follow a watering schedule. Why? You may wonder. The answer is simple. Water needs depend on:
The prevailing conditions (humidity, temperature, and light). More light, higher temperature, and low humidity will mean more water and vice versa.
Season (more in growing, less in non-growing)
Potting mix, pot size, and type
Plant size
When watering this plant, saturate them with water until excess starts to flow from the drainage holes. Discard any that collects on the saucer.
Some folks prefer the bottom watering method. If you are one of them, all you need is to immerse or sit your pot in water at ½ way height for 15 minutes. Afterward, let the excess water drain. However, you must ensure the soil is wet to nearly the top.
If you grow your Rhapidohpora decursiva outdoors on the ground, you need to saturate the soil to depths of about 6 to 8 inches. Water in the early morning or late afternoons, allowing the topsoil to dry between the watering session. Mulching, drip irrigation, or xeriscaping may help moisturize your plants and minimize moisture loss.
a). Overwatered Rhaphidophora decursiva
Overwatering is a problem that may cause root rot that will consequently kill this houseplant. It may not necessarily be due to too much water but also other factors. For instance, poorly drained soil, pots without drainage holes, or oversized pots may cause this problem.
Signs are soils or potting mixes that are very wet or soggy and yellowing leaves. Other indications to expect, especially in the case of root rot, include:
Wilting
Moldy topsoil
Mushy stem bases
Leaves dropping (defoliation)
b). Underwatered
Besides dry soil or potting mix, thirsty or underwatered Rhaphidophora decursiva may have upward curled leaves, slow growth, crispy, brown leaf edges & tips, and yellowing of leaves, among other symptoms.
7. Fertilizer
Fertilizer once or twice a month using half recommended strength, balanced liquid houseplant fertilizer during spring and summer (growing seasons). Don't feed these plants during the non-growing months like winter (dormant months).
Balanced water-soluble or liquid houseplant fertilizers such as the N-P-K 20-20-20 or 10-10-10 are perfect. And people who prefer organic versions, they are often dilute. Brands with NPK 2-2-2 or 1-1-1 will work well.
One of the best liquid fertilizers you can go for is Miracle-Gro Indoor Plant Food (Liquid). Feed this balanced fertilizer every two weeks. We use one pump for a small pot and two for a large one. You can also mix it with water, i.e., four pumps per quart of water.
If you prefer a slow-release formula, go for Osmocote Smart-Release Plant Food Plus Outdoor & Indoor. It has never let us down. Feed once every four months. Sprinkle ¾ tablespoon per 1 sq. ft area and work it into the soil, up to 3 inches deep. 
8. Pruning and grooming
It doesn't need much pruning. So, you should only remove damaged, dead or yellow leaves to promote their health, and they may attract pests.
However, to control their size and shape, you may consider cutting a few long stems, especially in early spring. Doing so will encourage branches and hence a fuller growth.
When pruning these tropical plants, always use sterilized pruning shears, knives, or scissors to prevent cross-infection.
Finally, you can wipe dusty leaves with a damp cloth for glossy and beautiful-looking leaves.
9. Potting and repotting
These are fast-growing and robust climbers with an elaborate, deeper root system, especially when grown in ideal conditions. Therefore, repot your Dragon's tail Philodendron yearly or as soon as they are root-bound. Some people do it after a year or two.
When root-bound, you will notice some roots growing from drainage holes or spiraling inside the pot. Slide your plant out to confirm it. If rootbound, repot it immediately. Otherwise, it may revert to growing juvenile leaves.
Other signs your plant has outgrown the pot are slow growth, wilting, yellowing of leaves, etc. These are indicators that your plants are thirsty and don't get enough nutrients.
We recommend repotting them in spring to give it adequate time for new roots to grow into the potting mix. Summer isn't bad. But if very necessary, you can do it anytime.
Lastly, when repotting these aroids, always go for a pot 2 to 3 inches wider in diameter. It should be deep enough to support their root structure. Remember, they grow rather deep roots.
10. Moss pole
This aroid is a climbing plant and will appreciate a moss pole, trellis, totem, or any other place to climb. Otherwise, it will not have those large, split leaves
Rhaphidophora decursiva propagation
Rhaphidophora decursiva propagation is by stem cutting both in water or potting mix/soil. However, some people opt for air layering. Seeds are very rare but also a viable option.
We will cover propagation by stem cutting in a potting mix and comment on water propagation and air layering.
a). What you need
Pruning knife, shears, or scissors
Rooting hormone (optional). It helps speed up rooting and reduce chances of rot. We use HydroDynamics Clonex Rooting Gel. Besides the hormone, it does have vital trace elements and minerals that plants need at this delicate stage.
Potting mix
Small pot
Transparent plastic bag (optional)
70-90% rubbing alcohol for sterilization purposes
b). How to propagate Rhaphidophora Decursiva
Select a mature, healthy stem with at least a node (the knobby part where leaves attach) and cut it just below the lower node (¼ an inch away) with your sterilized gardening shears. One with aerial roots will boost faster rooting. If it has more than two leaves, snip off the lower ones.
Apply your rooting hormone (powder or get) on the cut end. It will help boost quick rooting. Also, the chances of rot will be minimal.
Poke a hole into your potting mix, deep enough to accommodate any aerial root. Then plant your Rhaphidophora decursiva cutting and lightly press the soil towards the cutting to ensure it remains in a vertical orientation.
Thoroughly water your potting mix until excess water flows from drainage holes.
Place it in an area with indirect bright light with optimum temperatures of 70 to 75 degrees Fahrenheit (21-24°C) for optimum growth.
If your humidity is low or you don't have a humidifier, cover your cutting with a transparent plastic bag, leaving a small opening for air circulation. But remember to remove it after a few days for some time to allow your plant to breathe.
Mistake the potting mix once a week or when it appears slightly dry. Stem cuttings require moist soil to root effectively. However, avoid soggy or wet potting mix as it will promote rot.
After several weeks to a month, you will notice roots growing, i.e., a bud or a leaf may unfurl. Also, roots will grow. Once they are 2-3 inches long, you can transplant your cutting to its growing pots.
c) Propagating in water
You will use water in a jar instead of a potting mix if you opt to propagate this plant in water. However, change the water a few times a week or when it looks cloudy.
d) Air layering
it involves wrapping a node with wet moss while the stem is still attached to the mother plants. Keep the moss moist and aerated. When it roots, cut it from the mother plant and take it to its growing pot.
Toxic to pets and humans
Rhaphidophora decursiva is poisonous or toxic to humans, dogs, cats, and other pets. All part of this plant is deadly (leaves, roots, flowers, and stems).
Their reason for toxicity is the presence of needle-like insoluble calcium oxalates. These crystals are known as raphides. When ingested or chewed, it will cause the following symptoms:
Severe oral irritation and a burning sensation
Swelling of tongue, lips, or mouth
Drooling
Swallowing difficulties.
Pawing in pets
Refusal to eat
Therefore, don't let your rabbits, bearded dragons, children, dogs, cats, and other pets have access to this plant.
Also, while some sources claim that the fruits are safe, avoid them. Also, we disregard the information that "the stems and leaves are used medicinally for treating traumatic injuries, fractures, swellings, colds, lumbago, snake bites, coughs, and bronchitis." (1).
Problems and issues
These plants are easy to care for, as already seen. But for some reason, you may have a few issues. Common ones include:
1. Pests
When grown indoors, this plant resists pets very well. You are unlikely to see the mealybugs, thrip, scale, whiteflies, and other pests. However, we cannot completely rule them out.
Should you see any of these bugs, don't worry. You can easily control them with insecticidal soaps, horticultural oil sprays, or neem oil. It is not rocket science.
2. Diseases
Rhaphidophora decursiva may suffer from any disease that affects plants in the Rhaphidophora genus. These include bacterial and fungal leaf spots and blights which will cause brown to black lesions on leaves. Some of these lesions may have a yellowish halo, look sunken or be water-soaked at inception.
Additionally, this plant may suffer from mosaic virus disease. Some signs of this disease include the following:
Stunted growth
Distorted leaves or growing points
Yellow spots or lesions
Veins yellowing
Light and dark green patterns on leaves or, at times, yellow and green patterns
Like other viral diseases, the mosaic virus doesn't have a cure. Always prevent infection and isolate and destroy any infected houseplant.
Always practice good sanitation and isolate new plants to prevent the above diseases. Proper sanitation includes sterilizing your gardening equipment. Also, it would help if you washed your hand before and after handling any plant. Use warm, soapy water.
3. Root Rot
Root rot in this plant is a widespread problem for people who over-water their plants. Also, poorly draining potting mix, oversize pots, poor air circulation, etc., may increase the chances.
Signs that your R. decursiva has root rot include the following: :
Black, mushy roots
Soft mushy stems
Stunted growth
Wilting
Leave discoloration
Foliage, shoots, and plant death
What should you do? Check if your plant still has some healthy roots (white or tan). If so, you can easily save it by repotting to a fresh potting mix. As you repot your plant, don't forget to cut any decayed parts using sterilized gardening scissors.
4. Yellowing of leaves
The most common cause of yellow leaves in Rhaphidophora decursiva is overwatering. Other possible causes include the following:
Low light
Low humidity
Cold drafts
Normal aging
Nutritional deficiencies
Pests and diseases
5. Plant reverts to juvenile leaves
If your plant was growing adult leaves and suddenly reverts to juvenile, the possible cause includes the following:
Wrong growing conditions like temperature, humidity, or light
Improper care (watering and feeding)
Your plant is rootbound
It has no place to continue climbing
6. Brown tips, edges, spots, or leaves
Brown tips and edges often indicate a care issue, especially underwatering, low humidity, direct sun (too much light), or heat stress. Also, overfeeding may be to blame.
Check if your plant has any diseases or pests if you see spots. However, larger brown or black splotches may indicate an overwatering problem. Lastly, cold drafts may cause overnight browning.
7. Leaves curling
Reasons for P. decursiva leaves curling are underwatering, low humidity, heat stress, too much light, or anything that will increase moisture loss from leaves. The curling helps prevent further water loss. But it can also be a means to protect the leaves.
Where to find Rhaphidophora decursiva on sale?
If you need to buy Rhaphidophora decursiva plant, start hunting it in your local commercial and small-scale tropical specialty growers or nurseries. You may be lucky to find a few near you. Remember, while rare, this plant is increasingly becoming more readily available.
Next, try Etsy.com (our favorite place), eBay, Facebook, and Instagram. In these marketplaces and social media platforms, you will find many sellers from all over the world, not just in the US.
That is not all. You can still find the Dragon's tail Philodendron in many other individual vendors, greenhouses, stores, or companies, including in the US, Canada, Australia, and the UK. Here are some of the places to consider.
1. The US
The US has many nurseries and greenhouses that sell this adorable plant. Most ships within the US and others ship internationally too. Popular ones and respective prices include:
Gabriella Plants (Oviedo, Florida) $14.99
Garden Goods Direct (Bowie, MD) - $34.99
Pistil Nursery (Portland, OR) - $ 14.00
Steve's Leaves (Lewisville, TX) - $19.99
Canopy Plant Co. (New Orleans, LA) - $14.00
Planterina (Mount Dora, FL) - $98.00
Hirt's (Medina, Ohio) -$19.99
Gulley Greenhouse (Fort Collins, CO) - $16.99
Peace Love and Happiness Club (Seattle, WA) - $ 16.00
Jordan's Jungle (Pawtucket, RI) - $39.99
Lively Roots ( San Diego, CA) - $67.00
2. Canada
Most locations in Canada are around Toronto and Quebec and ship nationwide, some shipping to the US. Some of these places are:
The Painted Leaf (Montréal, QC) -C$34.00
Tails and Scales (Toronto, Ontario) Regular price -U$59.99
Jomo Studio (Toronto, Ontario) - C$35
Fleur & Co (Toronto, Ontario) - CS$27.99
Studio Foliage (Pointe-Claire, QC) - CS$35.00
3. The UK
The UK has many places. So, getting a Rhaphidophora decursiva plant at competitive prices shouldn't be daunting. Some of the places to buy it include:
The Ginger Jungle (Stanwell Moor, London) - £24.00
Grow Urban (Grove St, Edinburgh) - £22.50
Papaya Plants (Beckenham, London) - £18.00
Spiralis (Falmouth, United Kingdom) - £38.00
Root Houseplants (Liverpool, UK), - £24.00
4. Australia
Lastly, if you are in Australia, Queensland and Victoria have many nurseries and greenhouses that sell this aroid, with most shipping within the Country. Some places to give a try include:
Plants Direct (Birregurra, VIC)- A$14.95
Verdant Dwelling (Dromana, Victoria) - A$15.0.
Plants in a Box (Currumbin Valley, Queensland) –A$ 79.95 for eight plants
Plant Smith (Preston, VIC) -A$26.00
Lastly, if you still haven't gotten this plant or we didn't give any places near you, google "Rhaphidophora decursiva on sale" or "Dragon's tail Philodendron for sale" to get more locations.
Frequently asked questions FAQs
Is Rhaphidophora decursiva rare?
Yes. Rhaphidophora Decursiva is a rare tropical garden and houseplant. Many people don't still have it, and you may not find it in any local nurseries and plant stores. However, in recent times, it is increasingly becoming popular and readily available almost everywhere.
Is Rhaphidophora decursiva a Monstera?
No. Rhaphidophora decursiva is not a Monstera, i.e., it belongs to the genus Rhaphidophora, not Monstera. However, they both belong to the arum family Araceae and share the same tribe Monstereae.
While they share some similarities, including growing habits and appearance, they have evident differences that place them in a different genus
What is R. Decursiva price?
The price range for Rhaphidophora decursiva is $15 to $100, with some people selling well over $100 and others as low as $5. It all depends on your location and other factors. Nevertheless, expect to pay a slightly higher price than common houseplants.