Rhaphidophora hayi, also known as shingle plant or shingle vine, is a rare, beautiful tropical shingling houseplant that has seen a surge in popularity since it became part of Costa Farm's Trending Tropicals Collection.
By shingling we mean that the stems grow tightly to the climbing surface with leaves lying flat on this surface, hence resembling green roofing shingles. Other adorable shingling plants are Rhaphidophora cryptantha, Rhaphidophora korthalsii, Rhaphidophora pachyphylla, or Monstera dubia.
We bet you will love its oval dark-green leaves and the shingling growing habits of this Rhaphidophora plant. Also, it will bring that beautiful tropical backdrop to your house or garden. Did you know that this plant is also air purifying?
Discover more about R. hayi, including description (appearance and growing habits) and care (light, soil, watering, fertilizer, humidity, temperature, etc.). We will also teach you how to mount it, how it differs from Philodendron Korthalsii, and much more.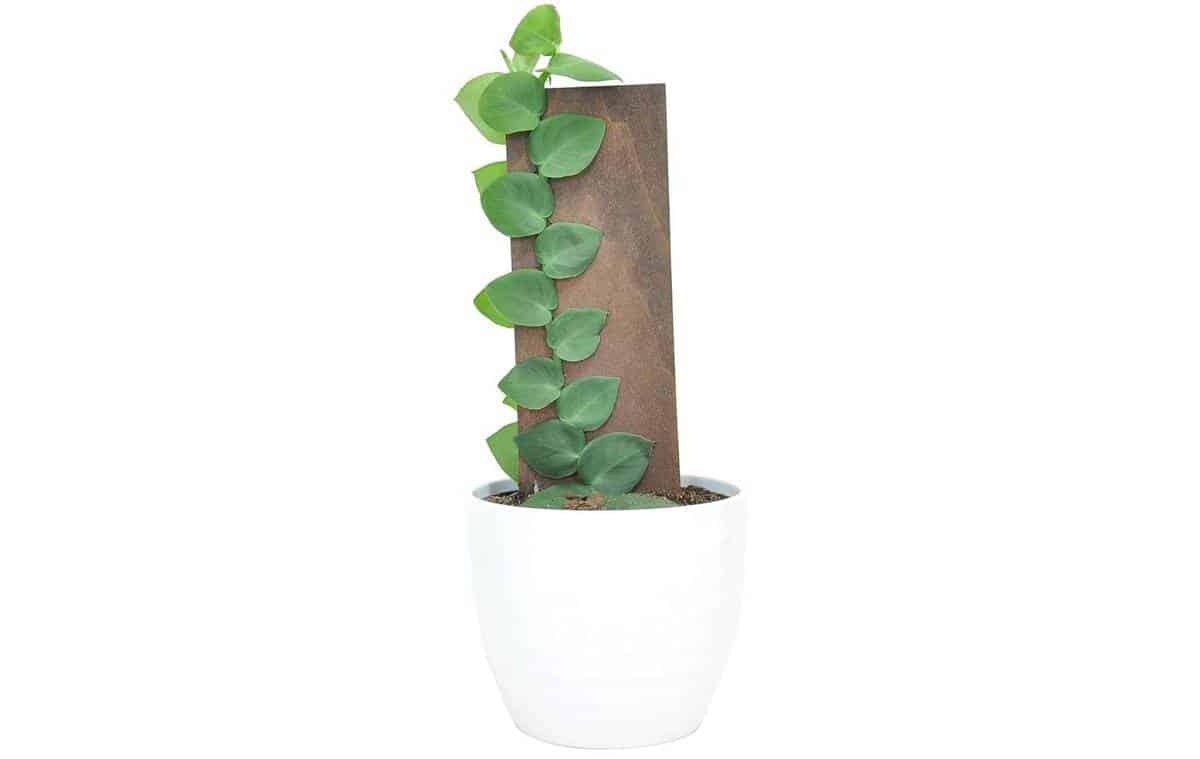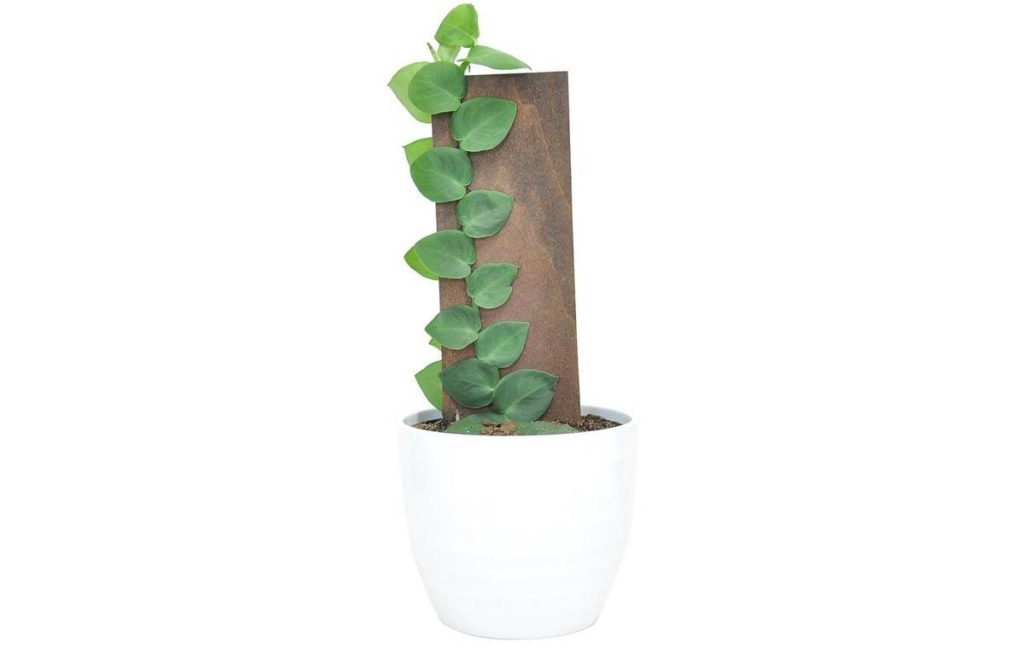 Quick Overview
| | |
| --- | --- |
| Scientific name | Rhaphidophora hayi |
| Family | Arum family, Araceae (aroids), Other popular aroids are aglaonemas, monsteras, philodendrons, pothos, ZZ plants, etc. |
| Common names | Shingle plant |
| Native habitat | Queensland, New Guinea, Solomon Islands, and the Bismarck Archipelago. |
| Type | Tropical, evergreen, perennial, flowering, shingling hemiepiphytes |
| Size | In their native habitat, it grows up to 32 feet (10m) or more. At home, it will hardly reach 5ft |
| Leaves | Shingling, 1 to 6 inches oval dark green leaves |
| Stems | Green, rectangular to terete vines with short nodes |
| Light requirement | Bright, indirect light but can tolerate lower |
| USDA hardiness zone | 11 to 12 |
| Temperature | 60°F to 80°F, not frost hardy |
| Humidity | High (60% or more) but tolerate to lower household humidity. However, it will appreciate misting, pebble trays, or humidifiers |
| Growth rate | Medium |
| Soil | Well-drained, high organic matter soil or potting mix |
| Watering | Medium, letting top 2 to 3 inches of soil feels dry |
| Propagation | Stem cutting |
| Toxicity | Toxic to humans and pets |
| Care level | Low or easy |
Identification – appearance, and description
Before we look at care needs, let us begin by giving you this shingle plant's appearance, size, and growing habits.
1. Natural habitat and growing conditions
Rhaphidophora hayi is a wet, tropical lowland coralline limestone and basalt rainforest aroid. It is widespread in Papua New Guinea, Indonesian Papua, Queensland, and Australia. In Papua New Guinea, you will find it in Bougainville, New Ireland, Muyua (Woodlark Island), New Britain, etc.
This aroid is an evergreen, perennial, climbing hemiepiphytes. Therefore, it spends part of its life as an epiphyte (grows on other plants) and terrestrial plant or liana (has roots in the ground).
Usually, you will find it shingling on tree trunks, rocks, or any other support. The stem grows closely or tightly to the vertical support, and leaves lie flat against this support – creating a lush, dark green shingle effect.
Finally, Rhaphidophora hayi growth rate is medium, and growing conditions greatly influence it. When in a bright, warm, humid environment with moist soil, it grows relatively faster.
2. Size
While in their natural habitat, R. hayi can grow up to 32 feet long (about 10 meters) or more. It has no limit. Nevertheless, in your garden or as a houseplant, it may not grow that long. Expect it to be a few feet long, something like up to 5 feet.
3. shingle plang leaves
Firstly, Rhaphidophora hayi has small to medium (1 to 5 inches) oval, dark green leaves. Usually, while still young, the leaves will be smaller. Nevertheless, as these aroids get vertical support to shingle on, the leaves become larger.
Secondly, the leaves have a short petiole, grow upwards, and mostly overlap, especially as they grow larger. While smaller, they are less densely arranged.
Another critical aspect of this shingle plant is that leaves don't change morphologically between juvenile and adulthood. No fenestrations or splitting typical is some aroids. Still, they do become larger.
Finally, the leaves usually lie flat, pressed against the support, and don't fan outwards like most climbing vines.
4. Stems
This shingle plant has rectangular to terete, smooth, green stems or vines with short internode spaces.
These stems have alternatively growing leaves (distichous) and clasping aerial roots between the internodes that appear as black dots when young.
5. Flowers
Like other aroids, Rhaphidophora hayi has spadix-borne inflorescence flowers. The spadix is stout and cigar-shaped, and it has a yellow, boat-shaped spathe.
Where to grow Rhaphidophora hayi
Rhaphidophora hayi make perfect indoor houseplants as well as gardens, patios, parks, or ground-covering plants.
Indoors, you can grow them as pot plants, on hanging baskets, or in terrariums (allows for best control of humidity and other conditions). They are perfect for any room, i.e., the dining, kitchen, office, bedroom, bathroom, or living room.
But, if you want them to shingle and grow taller with larger leaves, provide and train them to climb on some support.
Usually, burlap-wrapped, coco coir or sphagnum moss totem/pole, and flat board are best (porous and supports growing roots while flat will give best shingling results).
However, you can still have an untreated softwood, branch, trellis, iron-bark totem, or anything to climb on.
Finally, if outdoor, ensure they don't get direct sunlight. You can shingle on the wall, tree trunks, wooden fences, and so on.
Rhaphidophora hayi care and growth requirement
Contrary to what you may have heard, Rhaphidophora hayi is an easy to care for, low maintenance garden and houseplant.
All you need to know is as a lowland, wet rainforest plant, they love humidity, growing in moist soil and humid conditions. Also, their soil must be rich, well-drained, and aerated.
Here are the details.
1. USDA hardiness zone
Rhaphidophora hayi USDA hardiness zone is10 to 12. Their minimum cold hardiness is 40 °F to 50 °F (+4.4 °C to +7.2 °C). People in these zones can grow this aroid outdoors all year. However, they must meet other growth requirements.
2. Temperature
Rhaphidophora hayi love warm places and will thrive best in temperature ranges of 55 to 80 degrees Fahrenheit (13 to 27°C). Average household temperatures are ok.
Secondly, note that these tropical aroids are not frost-hardy and cannot withstand freezing temperatures.
Therefore, if you live in places with cold winter, bring them indoors when temperatures dip below 50 degrees Fahrenheit (10°C). Otherwise, expect foliage damage and stunted growth.
Finally, avoid placing on areas with a cold draft or places with sudden temperature changes.
3. Rhaphidophora hayi humidity
The ideal humidity for Rhaphidophora hayi is above average, typically 60% to 70% or more. Even in their natural habitat, they thrive in humid areas.
While they seem to grow well in areas with slightly below-average humidity, i.e., 40% and above, they will benefit from extra. Therefore, If your humidity is low, consider investing in a good humidifier. We love the quiet AquaOasis™ Cool Mist Humidifier for average room size. It is affordable, runs 24 hours and has many functions, including auto shut.
Other ways to raise humidity are misting or grouping your plants and havina, a pebble tray. Also, you can have these plants in your bathroom, greenhouse cabinet, or terrarium, where you can easily control humidity and other conditions.
Remember, when kept under very low humidity, the leaves may turn yellow or get discolored. Also, they may curl in arid conditions.
4. Light
Rhaphidophora hayi prefers bright indirect light, but it can still grow in medium to low light.
However, they will grow slowly or leggy under poorly lit areas, and the leaves may be yellow in extreme cases. Dark places need the use of grow lights. These plants don't mind artificial lights.
Nonetheless, don't put your shingle plant in direct sunlight. The hot sunlight may bleach or scorch the leaves, i.e., make their edges and tips crispy and brownish.
Therefore, when deciding where to place your plants, ensure they get adequate bright indirect light without allowing any direct sunlight.
If you grow Rhaphidophora hayi outdoors, have a shaded place (filtered light) or a 30% to 40% shade cloth. Amazon has plenty.
5. Rhaphidophora hayi soil
Rhaphidophora hayi soil should be well-drained, slightly acidic (pH 6.0–6.5), high organic matter, or nutrient-rich. These plants are not so fussy, and you can use well-drained loamy soil or potting mixes, including soilless.
All you need to ensure is that your potting mix is well-drained, aerated, and is nutrient-rich.
Consequently, you can go for aroid mixes, sphagnum moss, coco peat, LECA, or prepare your own. For instance, you can use equal parts of potting mix, perlite/pumice, and peat moss. Peat moss will raise pH and provide humus, while perlite will improve drainage.
6. Watering
Rhaphidophora hayi has medium water needs. They love moist soil, but not so wet or soggy as it may cause root rot. Also, not so dry as it will stunt growth and curl leaves.
Water these shingle plants when the top 2 to 3 inches of soil or potting feels dry.
Typically, this will be after about a week during growing seasons (spring and summer). However, the exact time will depend on your indoor conditions – humidity, temperature, light, and so on.
During non-growing seasons, cut the watering to once every two weeks. You can wait until the whole soil is nearly dry. This won't cause much damage.
However, don't blindly follow the above schedule. Instead, use a soil moisture meter or sensor to know its watering time. We use XLUX. It is accurate, responds fast and doesn't cost much. Gouevn and Sonkir are also good.
Alternatively, feel the soil with your finger. If it is dry up to your first knuckle, it is time to water. If not, wait a little longer.
When watering, soak water on your plant until excess comes out from the drainage holes. If any collects on a saucer, discard it.
Finally, if you have a sphagnum moss pole, you need to mist it regularly.
a). Overwatered Rhaphidophora hayi
Having an oversized pot, poorly draining soil, or watering too often may result in overwatering. If not managed early enough, it will cause root rot and kill your plant.
Signs of overwatered Rhaphidophora hayi or shingle vines include yellowing leaves and the soil feeling wet and soggy.
Other signs to watch for include mushy stem base, moldy potting mix, wilting and leaves fallings.
b). Underwatered
When underwatered, R. hayi leaves will curl turn yellow or have crispy, brown tips or edges. Also, the soil will be dry, and your plant will grow slowly.
7. Fertilizer
Fertilizer and plant food will boost growth and ensure this shingle plant is lush-looking. Therefore, fertilize your Rhaphidophora hayi bi-weekly during the growing season using all-purpose houseplant fertilizer.
If you want a balanced formulation, we recommend Miracle-Gro Indoor Plant Food (Liquid) with NPK 1-1-1, Bonide (10-10-10) and Espoma (organic with NPK 2-2-2). Start with a half-recommended strength. Follow instruction.
Alternatively, you can use the slow-release formula (spikes or granules). We love Osmocote Smart-Release Plant Food Plus Outdoor & Indoor. You only apply once in four months. Sprinkle a teaspoon per 64 inch square area and work it 1-3 inches into the soil. 
Lastly, during winter or fall (non-growing seasons), don't fertilize your plant. Also, don't use excessive fertilizers to cause stunted growth, dry and burned leaf margins, wilting, or even death.
8. Pruning and grooming
Usually, shingling plants don't need pruning, except for removing the dead, diseased, infested, or yellow leaves. Doing so will invigorate growth as you allow light to reach more leaves.
Also, you may prune this plant to help maintain a particular size or shape. However, don't cut over 30% of the plant at any given time. Otherwise, you will weaken it.
When pruning, use a sterilized pruning knife, scissors, or shears to prevent the spread of disease.
Finally, besides pruning, it is wise to wipe the leaves to help them look beautiful and discourage pests.
9. Potting and repotting
These plants don't have big root balls and don't require regular repotting. Therefore, repot your Rhaphidophora hayi after every 2 to 3 years or when they are root-bound.
Repot in spring and go for a pot with diameters 2-3 inches larger than the previous one and deep enough.
Rhaphidophora hayi propagation
Rhaphidophora hayi propagation is by stem cutting either in a potting mix/soil or water. However, seed propagation is also possible but rare.
We recommend potting mix or soil propagation as it has a higher success rate. Also, as with other plants, propagate this shingle plant during spring.
a. Soil propagation
For soil propagation, you need the following:
Sterilized pruning knife, shears, or knife
Plastic bag (optional). However, it will help maintain humidity, moist soil and bolster quicker rooting and growth.
Rooting hormone (optional)
Well-drained and aerated potting mix – sphagnum, coco coir, soil, aroid mix, etcetera
Small pot
Stems to follow
Put your potting mix in your growing pot and thoroughly moisturize it.
Using your pruning knife, select and cut about 4-6 inches of the healthy stem with at least two nodes.
Remove the lower leaves, leaving the upper one or two.
Dip the cut end in a rooting hormone. We use HydroDynamics Clonex Rooting Gel. However, Garden Safe Brand TakeRoot Rooting Hormone is also good. This step is optional but will ensure quicker rooting.
Make a hole in your soil and plant the stem cutting. Ensure the potting mix covers at least two nodes.
Lightly mist the cutting and cover it with a transparent plastic bag, allowing some opening for breathing. Don't let the paper bag touch your cutting foliage.
Place your cutting in a place with bright, indirect light, preferably at temperatures of 70 to 75 degrees Fahrenheit (21 to 24 °C).
Ensure the soil remains moist and mist it when necessary. Also, routinely remove the plastic paper bag for a few hours to let your plant breathe.
Roots will begin growing after two weeks, and you may notice a new growth after about amount. Nevertheless, the exact time depends on the conditions you provide.
If you have a greenhouse cabinet, you don't need a plastic paper bag. Gardman has a lovely compact indoor greenhouse that won't take much of your space. Also, you can try IKEA.
Once the cutting is strong enough, you can transplant it to a growing pot. Afterward, begin caring as usual.
b. propagation in water
Instead of planting Rhaphidophora hayi in water, you will dip it in a jar with water. However, ensure you change the water after a few days.
How to mount Rhaphidophora hayi
If this is your first shingle plant, mounting may seem frightening. However, it is straightforward.
If previously mounted, and it has overgrown the mount, or for one or the other reason you want to change the mounting pole, begin by unmounting it. When unmounting, carefully pull the plant from the mount, ensuring you don't rip off any aerial roots.
Afterward, gently shimmy or shake the pole if in the pot and remove it. Ensure you don't damage your plant's roots.
Next, check the aerial roots for any organic matter. If present, loosen and remove adhering organic matter by hosing them with water. Your plant won't attach to the new mount easily if it leaves any organic matter.
Next, install the new pole and gently lay the plant ensuring the stem is close to it. Use floral tape or soft string to tie the stem to your mount. You can later remove it once the place attaches.
Remember only to tie the stem and not leaves to avoid rot as you mist your plant. Also, ensure you don't tighten the string or tape too much. It will choke the stem.
Finally, if you used a sphagnum moss board or pole, mist it before mounting and routinely. Keeping the sphagnum moist will encourage faster root growth and attachment.
Toxic to pets and humans
Rhaphidophora hayi is toxic or poisonous to humans, dogs, cats, and other pets because it has insoluble calcium oxalates known as raphides.
If you or your pet chews this plant, these insoluble sharp needle-like raphides will embed on the oral gastrointestinal mucous membrane. Symptoms to expect include.
Extreme oral irritation and burning
Swelling and redness of lips, mouth, and tongue
Pawing
Drooling
Unwillingness to eat
Also, this plant may cause contact dermatitis if it touches a sensitive skin part. Therefore, ensure your children or pets don't access this lovely shingling plant.
Pests
When grown indoors with proper care, this plant is unlikely to have any pests. However, your shingle plant can end up with mealybugs, aphids, spider mites, or scale.
Use insecticidal soaps, isolate the plant, cut off heavily infested leaves or hose the plant to eliminate these pests. The treatment or remedy will depend on which bugs your plant has.
Diseases and conditions
When grown indoors, your shingle plant may have root rot (fungal or bacterial) caused by overwatering or contaminated potting mix. Always buy premium brands.
Other diseases typical to Rhaphidophora species are mosaic virus, southern blight, botrytis, or red leaf spot. Always wash your hands before and handling your houseplant, and use sterilized pruning knives.
Besides the diseases, two common conditions noted in these plants include the following:
1. Yellowing of leaves
Yellow leaves in Rhaphidophora hayi is a sign you are overwatering your plant. Also, it can be due to the following:
Underwatering
Low light
Direct sunlight (look bleached with burnt edges and the tip)
Dry air or low humidity
Disease and pests
Too little or too much fertilizer
2. Curling leaves
Curling leaves are often a sign you have underwatered your shingle plant. However, it could happen due to very low humidity, cold drafts, pests, or diseases.
Rhaphidophora hayi variegated
Besides the regular plant, you can also go for the very rare and expensive Variegated Rhaphidophora with adorable dark green leaves with mint variegation. However, you will part close to $200 or more. Wildpretii.com has it.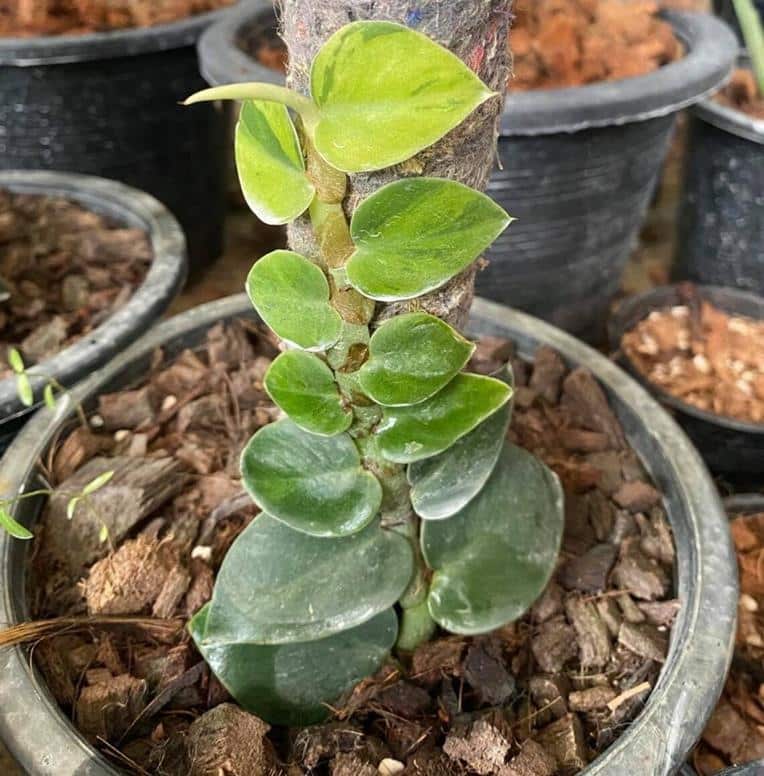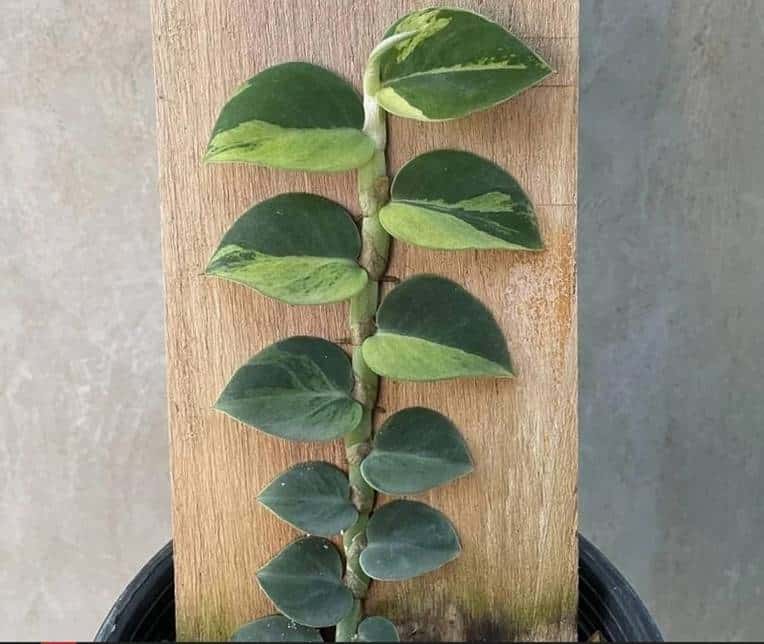 Rhaphidophora hayi vs. korthalsii
Rhaphidophora hayi and Rhaphidophora korthalsii are different species of shingling aroids sharing the same genus. They bear a close resemblance.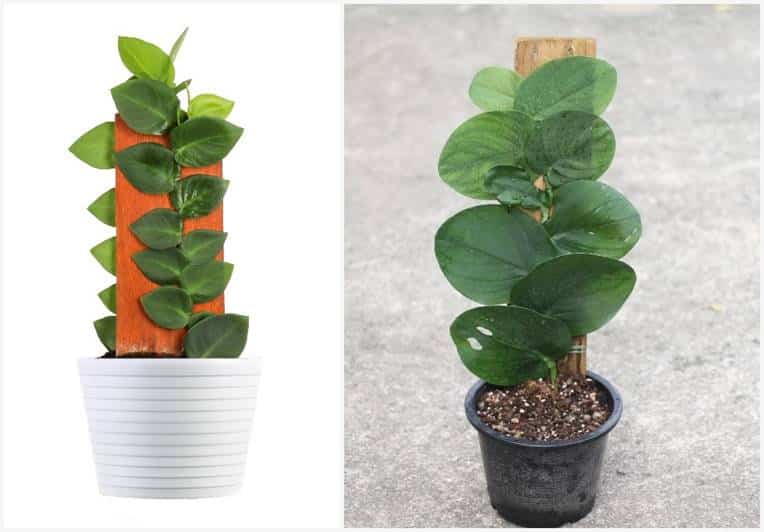 However, R. hayi has dark green oval leaves, while Rhaphidophora korthalsii leaves are green to bluish-green and heart-shaped or oval.
Also, while R. hayi retains juvenile leaves appearance, R. korthalsii adult leaves morphologically look different. The leaves become big and fenestrated.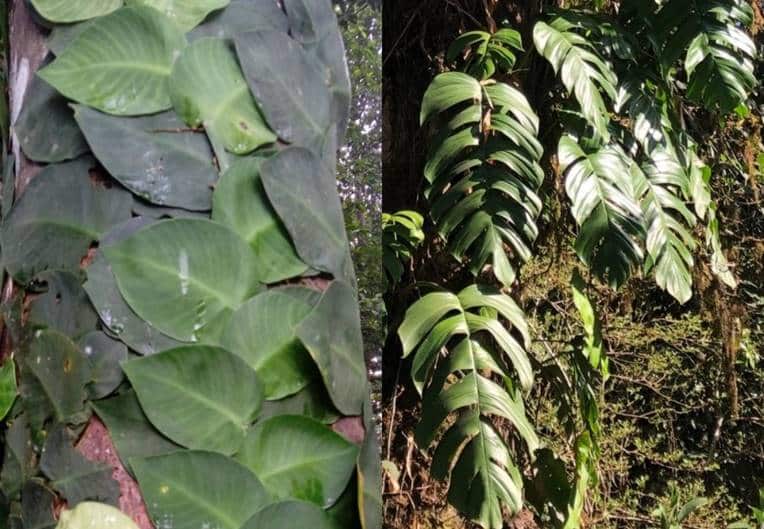 Frequently asked questions
Is Rhaphidophora hayi rare?
Yes. Rhaphidophora hayi is a rare houseplant, and many people are yet to have it. However, since it became part of Costa Farm's Trending Tropicals Collection, it is increasingly becoming available, and many people are buying it.
Where do I get Rhaphidophora hayi on sale?
The first place to buy Rhaphidophora hayi is Etsy.com and Costa Farms and in any of Costa Farms outlets, including Amazon Costco, Ikea, Sam's Club, Sprouts, Lowe's, and Walmart. Also, try Home Depot, Lowes, etc.  
Secondly, check at your local specialty nurseries or Facebook Groups. It is also available at Etsy.com, tropical-botanical.com, pistilsnursery.com, and plantcircle. co (Berlin German).
Finally, check Root-houseplants.com or picclick.co.uk in the UK, foliahaus.ca in Canada or Sagegarden.ca in Canada, and Greenmyspace.com.au in Australia, among others.
What is the Rhaphidophora hayi price?
Rhaphidophora hayi price is $10 to $50. However, some vendors sell it higher and others slightly lower than $10. However, the mint variegated is very expensive, fetching as high as $500.