Monstera dubia is a rare tropical, evergreen climbing plant native to central and south America. It belongs to the arum family Araceae (aroids).
While not as popular as Monstera deliciosa or Monstera adansonii, this perennial flowering plant will make a perfect houseplant or even for your garden. We bet you will love its adorable shingling, heart-shaped, dark green juvenile leaves with silvery variegations.
However, when mature, leaves dramatically become very big, fenestrated, and start hanging. Some people don't find them appealing. Luckily, as a houseplant, it rarely grows to its adult stage.
Besides Monstera dubia, the other popular shingling houseplants are Monstera acuminata and Rhaphidophora cryptantha. Also, there are Rhaphidophora korthalsii, Rhaphidophora hayi(popular), and Rhaphidophora pachyphylla.
Finally, here is a fun fact. Did you know that the word dubia comes from a Latin word dubious? This aroid got the name because authors were unsure if the juvenile form was a Marcgravia. Marcgravia dubia is a synonym and the plant at first known as a Marcgravia.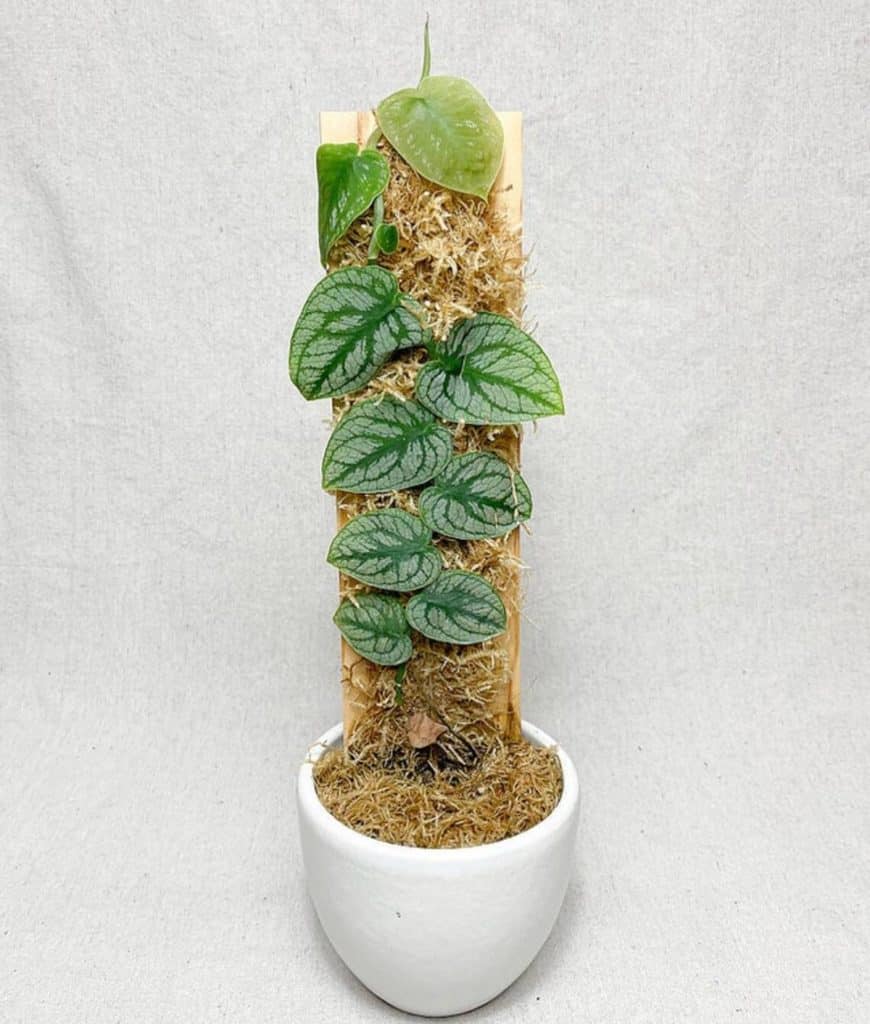 Quick Overview
| | |
| --- | --- |
| Scientific name | Monstera dubia synonym Marcgravia dubia, Monstera irritans, and Monstera acreana |
| Family | Arum family, Araceae (aroids) |
| Common names | Shingle plant |
| Native habitat | Central and South America. It is widespread in Bolivia, Peru, Colombia, Costa Rica, Honduras, Nicaragua, Ecuador, Trinidad-Tobago, and Venezuela. Other native areas include Honduras, French Guiana, Belize, Panama, Mexico Southeast, and northern Brazil. |
| Type | Tropical, evergreen, hemiepiphyte |
| Size | They grow to about 82 feet (25m) long in their natural habitat and 3 to 5 feet long as a houseplant. |
| Leaves | Shingling, 2-3 inches long heart-shaped dark green juvenile leaves with silvery veins. Elongated, pinnatifid, and perforated hanging adult leaves measuring 8 to 40 inches long and 5 to 20 inches wide |
| Stems | Greenish thin elliptical vines with short nodes |
| Flower | White inflorescence flowers on a spadix |
| Blooming time | All year, on only mature plants |
| Light requirement | Bright, indirect light |
| USDA hardiness zone | 10B to 12 |
| Temperature | 60°F to 80°F, not frost hardy and can't stand freezing temperatures |
| Humidity | High (60%+). Will tolerate average household humidity. But will be happier if you mist, give them a pebble tray or have a humidifier |
| Growth rate | Medium |
| Soil | Well-drained, organic-rich, slightly acidic to neutral soil or potting mix |
| Watering | Medium. Water when the top 1-2 inches of soil is dry |
| Propagation | Stem cutting |
| Toxicity | Toxic |
| Care level | Low or easy |
Identification – appearance, and description
What does a Monstera dubia look like, or what are its growing habits. Here is a brief description, including foliage and flowers.
1. Monstera dubia growing habits
M. dubia is an evergreen, perennial, stout climbing hemiepiphyte (have part of its life cycle is on other plants). You will find it climbing on trees, rocks, or any vertical support and grow under tropical forest canopies with the help of its aerial roots.
Like other species in this genera, it has distinctive juvenile and adult morphological appearances.
The juvenile plants have shingling smaller, heart-shaped green leaves with silvery markings.
On the other hand, when adults, the leaves become bigger, pinnatifid (split), perforated, and hang, i.e., don't shingle.
Also, at the juvenile stage, Monstera dubia shingles, the stems grow close to whatever they are climbing on with their slightly overlapping leaves lying flat on the support. Nonetheless, when adults their leaves hang.
Furthermore, as they climb, when they reach the top of what they are climbing, they will turn 180 degrees and start growing downwards. As they do so, they will still grow full-sized leaves but not pinnatifid ones.
Finally, the Monstera dubia growth rate is medium, i.e., they grow by about 12 to 24 inches per year. Nevertheless, the growth rate depends on conditions such as light, humidity, and other factors.
2. Size
While in their natural tropical forests, Monstera dubia can grow up to 82 ft (25 m) long. Nonetheless, when grown as houseplants, they will grow up to 3 to 6 feet long.
4. Monstera dubia leaves - juvenile vs mature
Juvenile Monstera dubia has entire, smaller (1 to 3 inches), heart-shaped, leathery, dark green leaves with silvery variegation and a pale green underside. The foliage resembles lush dark green shingles with silvery flecks. Additionally, have a short green petiole.
When they have a vertical climbing surface, juvenile leaves will slightly overlap and lie flat to the surface, creating a charming shingle effect.
When they start maturing, the mature Monstera dubia leaves turn dull dark green with a pale underside, becoming bigger, i.e., 8 to 40 inches long and 5 to 20 inches wide and elongated. Afterward, they will start developing splits and fenestrated, i.e., they become pinnatifid with elliptical holes.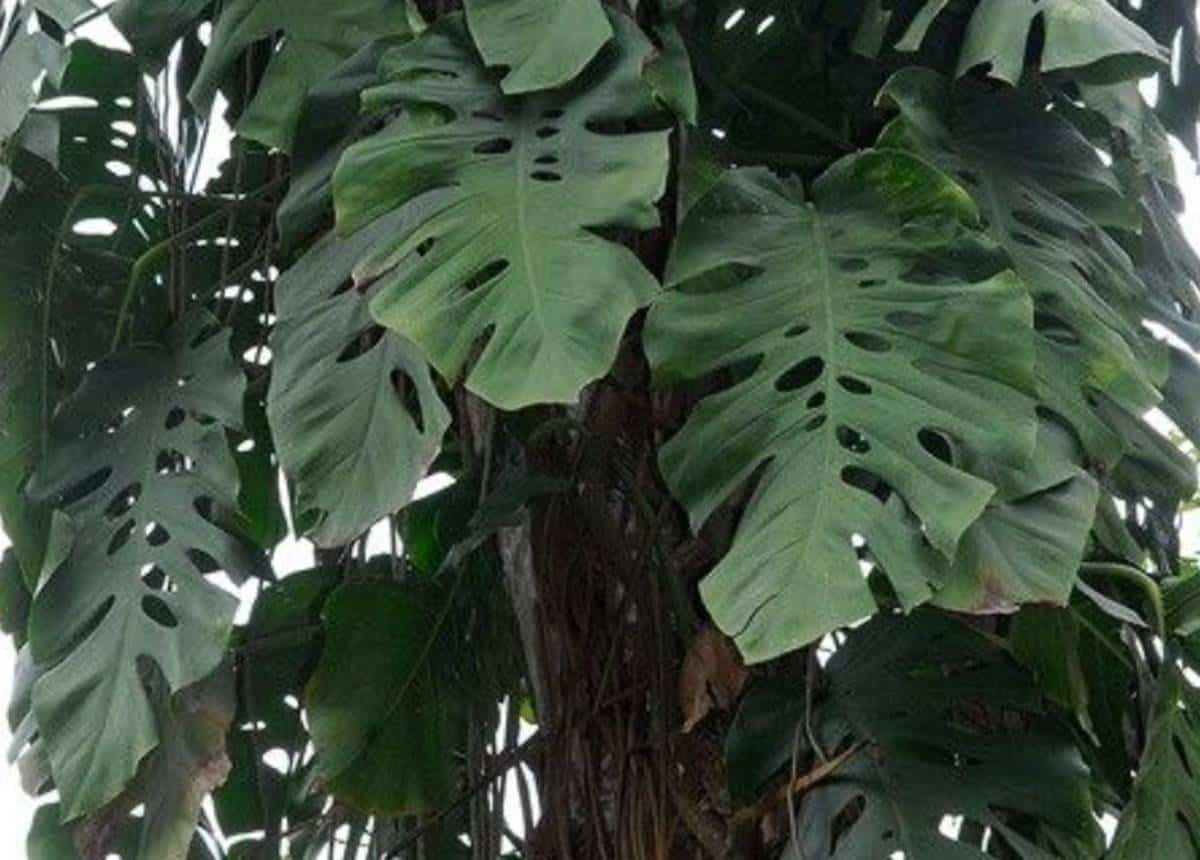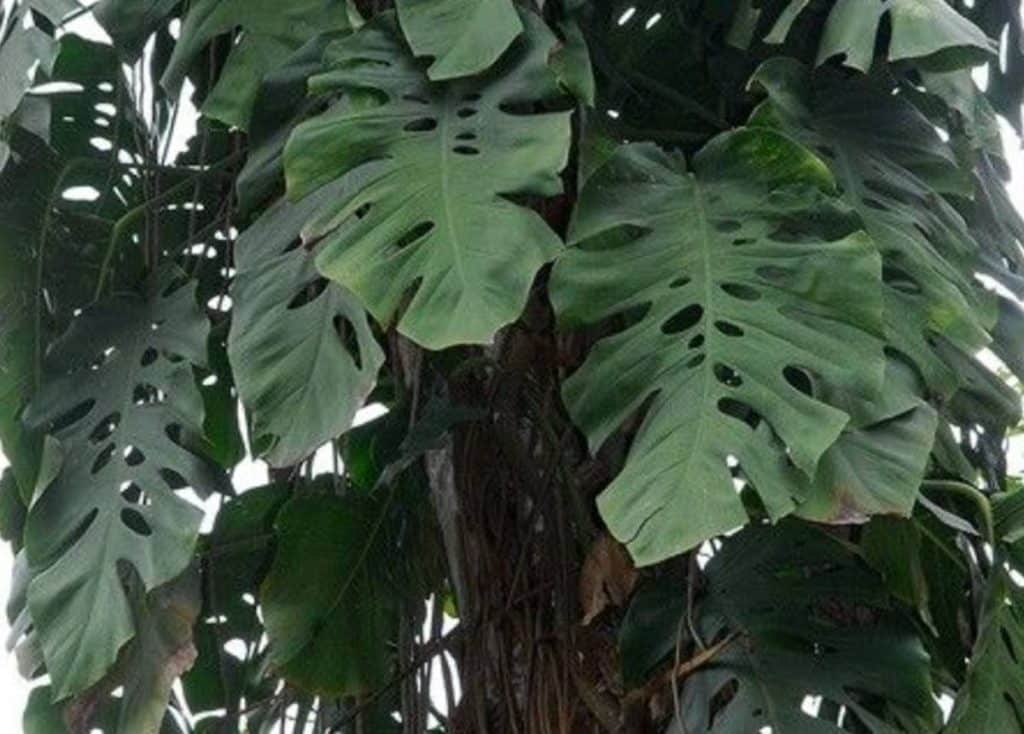 Unlike in juvenile, adult leaves hang or droop (don't shingle), have a longer petiole (8 to 22 inches) with a warty base. However, when hanging without support, the leaves won't fenestrate and will become smaller.
Finally, the adult leaves resemble Monstera punctulata and Monstera deliciosa and to some extent. However, Monstera deliciosa leaves are not as elongated.
Stems
At its juvenile stage, this plant has green vine-like stems. The stems will have shorter internodes and almost slightly overlapping leaves if allowed to climb. Therefore, you will hardly notice them.
However, if they don't have where to climb or outgrow their climbing support and begin hanging, the stems will start to have longer internodes.
Adult stems have an elliptical cross-section, are roughly warty, and often dark green to tan in color with thick cuticles. Additionally, their internodes are longer.
Flowers, fruits, and seeds
Monstera dubia only flower when they mature. They have white inflorescence flower borne from a spadix and surrounded by a spadix. The spadices are about 2 to 4 inches long and 0.6 to 1 inch thick.
Furthermore, the flowers have spathe, rose to salmon on the outer side & white from the inner side, and terete stalk, measuring 2 to 3.5 inches long.
After flowering, expect clustered thick, pale yellowish fruits with gray pulp and oblong seeds.
Where to grow Monstera dubia
Monstera dubia makes good indoor and outdoor plants. Indoors, you can grow them in pots or hanging baskets.
Additionally, you can have these aroids in your greenhouse cabinet or terrarium. These two will give you more control of humidity and other conditions
However, if you need them to shingle, consider having a softwood board, moss pole, or trellis. A flat or wide one will give the best shingling effect.
Outdoors, you can let them grow around tree trunks, on brick walls, wooden fences, greenhouses, and so on. Nevertheless, ensure you have a shaded place.
Monstera dubia care and growth requirement
Care and growth requirements for Monstera dubia are more or less similar to other popular Monsteras. You can easily care for this plant if you have the irks of Monstera deliciosa and Monstera adansonii.
Remember this warm and humid tropical forest plant that grows beneath tree canopies (under sheltered light).
Here are the care requirements:
1. USDA hardiness zone
Monstera dubia hardiness zone is 10b to 12 with minimum average temperatures of 35 degrees Fahrenheit or F (+1.7 °C). People in this zone can grow them outdoor all year.
Monsteras are not cold-hardy. Frost and freezing temperatures can kill them. As the University of Florida's Institute of Food and Agricultural Sciences (UF/IFAS) notes, "Monstera is not tolerant of freezing temperatures. Leaves are damaged or killed at 30 to 32°F (-1.0 to 0°C), and stems at 26 to 28°F (-2 to -3°C)."
If grown outdoors, patio 4a to 11 is ok. Take your plants indoors during winter or cold temperatures.
2. Temperature
As tropical plants, Monstera dubia prefers warm conditions, temperatures with ideal ranges of 60 to 80 degrees Fahrenheit (15.6 to 26.7 °C). Your standard household temperature is ok.
Furthermore, they can tolerate a temperature range of 55 to 85 degrees Fahrenheit(12.8 to 29.4 °C). However, ensure the temperature doesn't fall below 50 degrees Fahrenheit (10 °C). If you keep these aroids outdoor, return them indoors.
Finally, avoid areas with sudden temperature changes, including near cold drafts or near vents for heating or cooling your house.
3. Monstera dubia humidity
Monstera dubia plants love high humidity, 60% or more. However, they can tolerate lower values, about 50%, including the average household but will be happier if it is higher.
If you live in drier areas, consider misting your Monstera a few times a week or having a pebble tray.
If you find misting or a pebble tray not the best idea, then a humidifier is what you need. Settle for top brands like LEVOIT Humidifiers Top Fill, 6 Liter, Cool Mist, Pure Enrichment, Aquaoasis or many others. Just ensure it is a cool mist.
4. Light
Provide your Monstera dubia with bright, indirect light, but medium indirect light is ok. However, avoid low ow lights as it will stunt growth. Also, it may cause yellowing of leaves. In
On the other hand, please don't put your plants in direct sunlight to make leaves look washed out (bleached). Additionally, they may get scorched, i.e., have crispy, brown tips and edges.
Therefore, if grown outdoor, ensure you pick a place that receives filtered light. Go for a shaded area, or a greenhouse, or buy a 20 to 40% shade cloth.
Finally, consider growing lights if you live in poorly lit areas.
5. Soil
Monstera dubia plants require moist, well-drained potting or soil rich in organic matter. If possible, go for slightly acid (pH5.5 to 6.5). But neutral ones are still ok.
These aroids are not fussy and will thrive in fertile loamy soil, potting mixes, including aroid mixes. However, it should retain moisture without being soggy or wet and well aerated.
An equal mixture of coco coir or peat moss, perlite, and orchid bark will work. Also, you can take the usual potting mix and add some perlite and peat moss. Peat moss will help retain moisture, provide organic matter and raise the pH of your mixture.
6. Watering
Water your Monstera dubia when the top 2 to 3 inches of the soil is dry. These plants require medium watering and can tolerate some neglect. However, they don't like standing in soggy or very wet soil. It will cause root rot.
The next question you have is on how often to water M. dubia. We will recommend after every 5 to 7 days during the growing season (spring and summer). During the non-growing season, water these aroids biweekly.
However, the exact frequency for your case may vary as it depends on humidity, temperature, light, and other factors.
Therefore to accurately know when to water, feel the soil and only water if up to the first knuckle of your finger feels dry.
Lastly, touching the soil to feel if it is still moist seems messy to some people. If you are one of them, invest in a soil moisture meter. We have tried Gouevn and XLUX, and they are both reliable. 
i. Overwatered Monstera dubia
A poorly drained potting mix, oversized pot, lack of drainage holes, or too frequent watering are possible reasons you may overwater this houseplant.
A constantly soggy or wet potting mix and yellowing of leaves are the two most common signs of overwatered Monstera dubia. Others are leaves dropping, mushy stem base, brown spots on leaves encircled by a yellow hallo, moldy potting mix, wilting, and so on.
ii. Underwatered
When underwatered, Monstera dubia leaves will begin curling, and the soil will be completely dehydrated. Also, the plants will grow slowly, and wilt. Suffer from foliage loss and discoloration, have crispy edges and tips of leaves, and so on
7. Fertilizer
For a healthy and lush-looking plant, feed your Monstera dubia with an all-purpose houseplant fertilizer once a month during the growing season only.
For a balanced liquid or water-soluble fertilizer, we use J R Peters 52024 Jacks Classic 20-20-20. It will provide extra nutrients as it has boron, manganese, iron, zinc, copper, and molybdenum. Just feed using ½ a teaspoon (half strength) per gallon of water once biweekly. Miracle-Gro, Joyful Dirt or Espoma are good too.
On the other hand, Miracle-Gro Indoor Plant Food Spikes is an excellent pick if you prefer a slow-release formula. These spikes will last a month in the growing season and two months in non-growing. An excellent alternative that my friend uses is Jobe's® Houseplant Food Spikes.
8. Pruning and grooming
Prune any damaged, diseased, yellow, or dead foliage to give room for new growths. Also, it will deter pests and boost overall health.
Also, you may cut a few branches to control your plant's growth, shape, and appearance when necessary. Use a sterilized pruning knife or shears and do it during the growing season.
9. Potting and repotting
Monstera dubia requires repotting after every 2 to 3 years or when root-bound. These plants are relatively slow-growers and don't grow a massive root ball.
When repotting, go for a pot that is 2 to 3 inches wider in diameter. Moreover, it should be deep enough to accommodate the new plant. After repotting, hold fertilizer for at least four months.
Finally, spring is the best repotting time as your plants will have adequate time to grow and establish a new rooting system.
Monstera dubia propagation
The best way to propagate Monstera dubia is by stem cutting. And you do it in water or potting mix. We prefer potting mix as it is faster and more effective. Nonetheless, propagation in water will also yield the results you want.
Besides stem cutting, it is possible to propagate this aroid using seeds. The seeds will germinate after a few weeks. However, this method isn't popular because it takes longer, and the seeds are rare.
We noticed some people suggesting the propagation of this shingle plant division. Yes, it is a sure way but only practical if your plant has suckers. Otherwise, if it has just one stem, the method isn't realistic.
Usually, the best time to propagate this aroid is in spring. This season will give your plant enough time to grow before the non-growing season comes.
Let us look at how to propagate Monstera dubia stem cutting.
i. What you need
A sterilized, sharp pruning knife or scissors
Potting mix, sphagnum moss, or coco coir
A small pot with drainage holes
Rooting hormone (optional) like Garden Safe Brand TakeRoot Rooting Hormone or HydroDynamics Clonex rooting gel.
Transparent sealable plastic bag (optional)
ii. How to propagate Monstera dubia stem cutting
Put your potting mix into your pot and thoroughly water it until excess water flows from the drainage holes.
Select a healthy stem or branch, a cut about 4-6 inches, ensuring it has at least a few leaves and a node or two. Remove any lower leaves, leaving the upper one or two.
Apply your rooting hormone. It will encourage faster rooting and increase the chances of your success.
Make a hole in your potting mix and plant your cutting. Ensure the soil covers one or two nodes and slightly tamp it to keep the plant upright.
Slightly mist it with water and cover it with your plastic bag leaving a small opening or perforating it with a toothpick. Ensure the bag doesn't touch the leaves.
Place the cutting in a place with bright, indirect light preferably at temperatures of 70 to 75 degrees Fahrenheit (21 to 24°C) for faster growth.
Routinely check the soil to ensure it remains moist but not soggy or so wet. Mist if it begins to dry. Also, remove the plastic bag to allow your cutting to breathe for about an hour a few times a week.
Typically, your cutting will start growing roots after about four weeks and new bud or foliage after around eight weeks. When you are satisfied with the growth, consider transplanting to a growing pot.
iii. Propagation in water
Albeit slower, water propagation will allow you to see roots grow. You need to ensure that you don't submerge any leaves in water and change the water after a few days. The rest of the steps are similar.
Mounting
A common question we get is how to mount a Monstera dubia. The process is straightforward. Nothing strange.
Firstly, if previously mounted and you need to change the mount, start by unmounting it without ripping off the roots. Afterward, gently rock the pole and remove it from the pot.
Next, hose the plant to loosen and remove any organic matter attached to the aerial root. Otherwise, the aerial roots will not easily attach to the new mount.
Install the new mount and judiciously lay the plant on it. Next, tie the stems, not leaves (they will rot when misting), onto your support with floral tape or a soft string. Ensure it's not so tight to the extent of choking your stem.
Finally, mist mount (if you are using a moss pole) to encourage root growth. When the plant's roots attach themselves, you can remove the string or floral tape.
Toxic to pets and humans
Beware, Monstera dubia is toxic to humans and pets. Therefore, don't let your children, dogs, cats, rabbits, and other pets eat it.
It is toxic because it has sharp, needle-like insoluble calcium oxalates known as raphides. We chewed, expect severe oral pain and irritation, swallowing difficulties, and drooling.
Also, the mouth, tongue, or lips will swell and become red, and your pets will paw their mouth.
Pests
Indoor Monstera dubia plants are not as prone to pests or bugs as outdoor ones. Still, they can end up with spider mites, whiteflies, aphids, mealybugs, scale insects.
Depending on which ones, you can use neem oil, rubbing alcohol, horticultural oils, or insecticidal soaps to kill them. Some may require hosing or manual removal.
Diseases and conditions
Monsteras may suffer from anthracnose, leaf spot, powdery mildew, southern blight, botrytis, rust. However, the often-noted disease, conditions, and problems this plant may have included the following:
1. Root rot
Root rot is the most common issue houseplant Monstera dubia and happens due to overwatering, a wet potting mix, or the absence of drainage holes in your pot.
Symptoms include yellowing leaves, stunted growth, a mushy stem base, and black or brown roots. Also, you may notice leaves turning black.
Consider repotting your plant. During the process, use a sterilized scissor to cut affected roots and toss the original soil. Also, don't forget to disinfect the pot.
2. Yellowing of leaves
Monstera dubia yellow leaves will indicate you are overwatering your plant or it doesn't get enough nutrients. Other possible reasons are improper light (direct sunlight or low light), low humidity (dry areas), pests, and disease.
Check each of these possible causes to determine which one. Start with watering, lighting, humidity before considering pests or diseases.
3. Drooping leaves
Underwatering/dry soil is the most apparent cause of Monstera dubia dropping leaves. However, it may occur due to light issues, overwatering, wrong temperatures, and transplanting stress.
Furthermore, pests and plant food issues may be the reason for the dropping leaves.
4. Black spots with yellow halo margin
Many times, black spots with a yellow halo margin are an indication of fungal infection. Keeping your plant leaves so wet or poor air circulation. Remove damaged leaves, and keep leaves dry and improve air circulation.
Rhaphidophora cryptantha vs. Monstera dubia
R. cryptantha and M. dubia are two shingle plants that resemble each other. Furthermore, they share the same arum family, and their juvenile heart-shaped leaves closely resemble one another.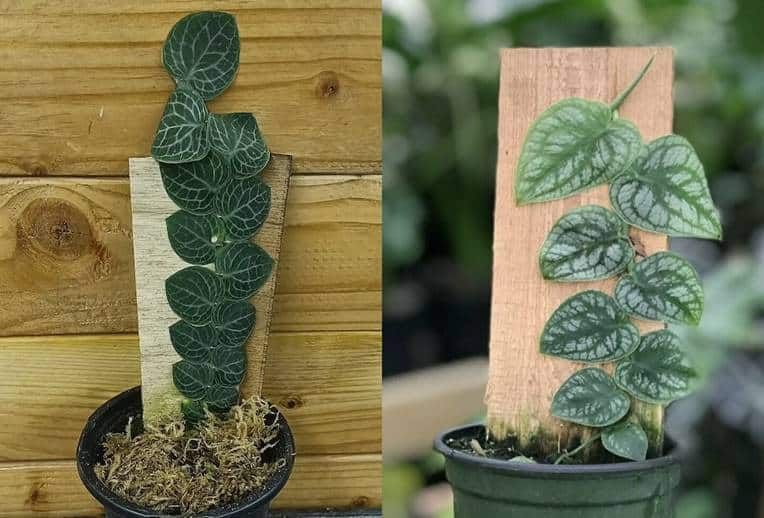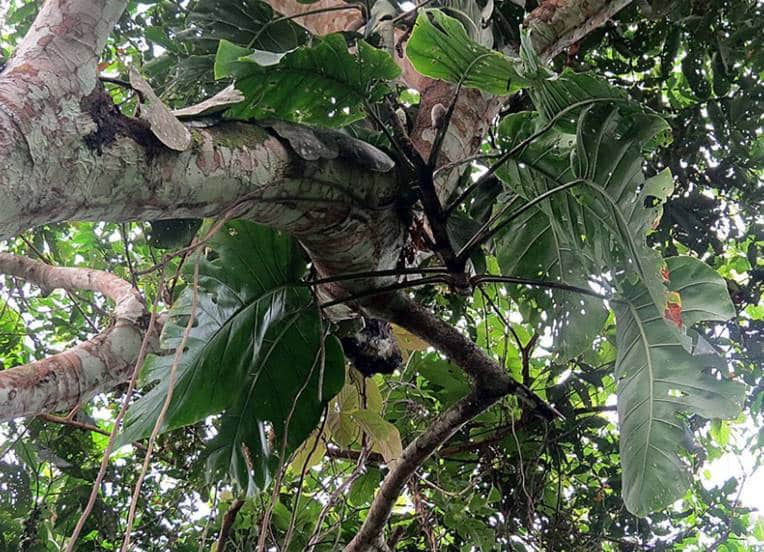 If you find these two houseplants confusing you, here is their leaf difference
| | |
| --- | --- |
| R. cryptantha | M. dubia |
| Velvety green to greenish leaves with silvery-grey or whitish veins | Green leaves with silvery green shimmer on the surface, except along prominent veins |
| Grow upwards | Grow downwards |
| Keep their juvenile appearance | Become dark green and fenestrated |
Monstera punctulata vs. dubia
Adult Monstera dubia resembles the Monstera punctulata. However, the latter has flowers with a larger white spathe. Also, the Monstera punctulata fruits are dark green to golden green.
Another distinction is the petiole. Monstera punctulata feature white flecks, while one for the dubia is solid green.
Finally, Monstera punctulata leaves are bright are bright green with a soft texture and not leathery or dull dark green as the M. dubia
Frequently asked questions
Is Monstera dubia rare?  
Yes. Monstera dubia is a rare shingling tropical houseplant. You are unlikely to find it in your local nurseries or garden center. Also, not many people know this beautiful shingling plant.
What is Monstera dubia price?
M. dubia price ranges from $40 to $150, depending on where you get it. It is a rare plant that not many people sell, a reason for the high price. In some stores, it can go for as high as $300 or more.
Why is Monstera dubia expensive?
Monstera dubia is expensive because it is rare, i.e., not many people sell it, yet there is a high demand for it. Local nurseries or popular outlets like Costco, Lowes, Costa Farm, etc., don't sell it.
Also, as a relatively slower growing plant, propagation takes longer, and there isn't much information or awareness about this adorable shingling plant.
Where do buy Monstera dubia?  
Try specialty plant nurseries or online because most local nurseries and plant shops. Online, we recommend Etsy.com, eBay or Kensphilodendrons.com in the USA, or Facebook plant groups in your area. Also, google "Monstera dubia for sale" and see what sites you get.  
In the UK, you will find it at eBay.co.uk (£29), cowellsgc.co.uk (£ 199), and bugsmarket.co.uk, while in Canada, try alpinetropicalplants.com ($22), and Barefootplantlady.com ($26)
Finally, in Australia, you will find M. dubia at Greenmyspace.com.au (AUD 180) and Greenmyspace.com.au (AUD 400).