Rhaphidophora cryptantha is a rare, evergreen, tropical, shingling climber native to Papua New Guinea. Lae Botanic Garden first cultivated it, and it isn't clear if this is the actual native habitat. Some sources place the native habitat as Southeast Asia and African tropics.
This plant is in high demand, and many plant collectors value its shingling growing habits and lovely foliage - it has beautiful, heart-shaped velvety green or dark green leaves with silvery green markings along the veins.
When growing, the leaves press or lie flat on the climbing surface, resembling roofing shingles instead of fanning or growing outwards like most climbers.
Botanically, Rhaphidophora cryptantha belongs to the arum family, Araceae (aroids). It is one of the shingling plants, hence the common name shingle plant. Other shingle plants are"
We will be looking at R. cryptantha care (light, humidity, temperature, watering, fertilizer, soil, pruning, etc.), propagation, and common issue. We will also tell you its prices, where to buy it, how it differs from Monstera dubia, and much more.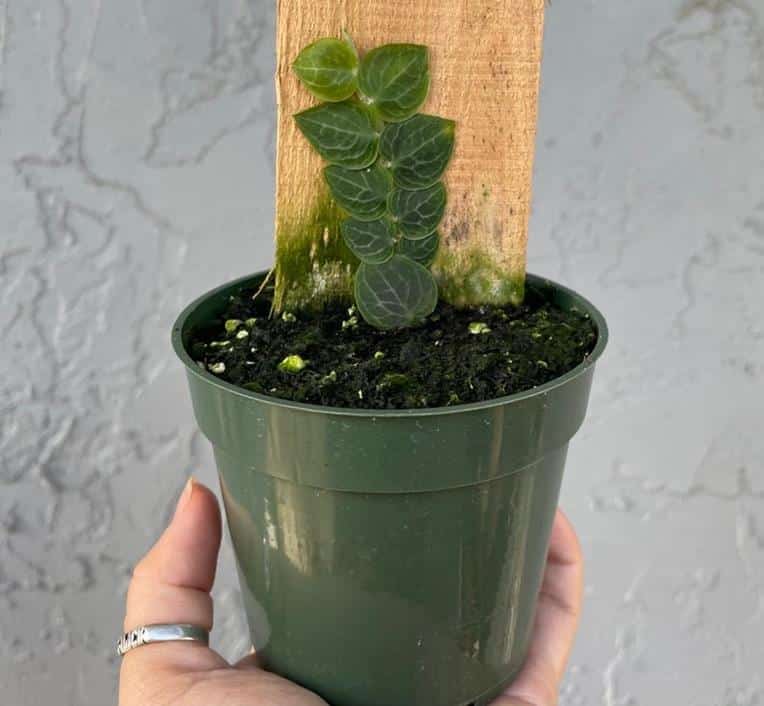 Quick overview
| | |
| --- | --- |
| Scientific name | Rhaphidophora cryptantha |
| Family | Araceae (arum family or aroids) |
| Common names | Shingle plant |
| Native habitat | Papua New Guinea |
| Type | Tropical, evergreen, perennial flowering liana that meanders and shingles |
| Size | Up to 10 feet (3m) in natural habitat, hardly goes beyond 3-4 feet indoors |
| Leaves | Slightly overlapping, shingling, heart-shaped green leaves with grey-silvery markings on veins. Juvenile leaves are about 1 inch in size, while adults are about 2 inches or more. |
| Stems | Green, thin rectangular vines with short nodes |
| Light requirement | Bright, indirect light but can tolerate lower |
| USDA hardiness zone | 10 to 12 |
| Temperature | 60°F to 80°F, not frost hardy |
| Humidity | High (60% or more) but tolerate to lower household humidity. |
| Growth rate | The growth rate depends on conditions provided (temperature, humidity, light, climbing pole, etc. |
| Soil | Well-drained, slightly acid (6.1 to 6.5 pH), high organic matter, potting mix, loamy soil, or aroid mix |
| Watering | Moderate, allowing the top 2-3 inches of soil to first dry |
| Propagation | Stem cutting |
| Toxicity | Toxic to humans and pets |
| Care level | Low or easy |
Identification – appearance, and description
Before giving you the various care needs and growth conditions, let us examine this aroid's growth habits, size, and appearance.
1. Growing habits
Rhaphidophora cryptantha is a tropical, evergreen, climbing plant that clings, meanders, and shingles on anything vertical, including tree trunks, rocks, etc. However, if they don't have a vertical surface, they grow horizontally, making an excellent ground cover.
When not given a place to climb or left to hang in the air, internodes will be longer, and they will have less dense leaves.
Lastly, unlike other plants in this species, it doesn't morph or change as it grows from juvenile to adulthood, only that the leaves may be larger.
2. Growth rate and size
R. cryptantha is a relatively slower-growing plant. However, its growth rate depends on the conditions given and whether it has a place to climb or not. For instance, when provided with ideal conditions (light, temperature, humidity, soil, climbing place, etc., it grows at an impressive rate.
While in the wild, it can grow up to 10 feet long if it gets a place to climb. However, it will be 4 to 6 feet tall when grown indoors at home. But you must give it a place to climb.
3. Leaves
It has heart-shaped, green to dark-green to velvety green leaves with gray to silvery-white veins. These leaves have short, slightly grooved petioles and tend to overlap.
Cryptantha juvenile leaves are smaller (about an inch), not closely packed on the stem, and overlap like in mature plants. So, if you want to see closely overlapped, larger (2 inches or more) overlapping leaves, give your plant a place to climb.
Lastly, as already hinted, it doesn't morph, i.e., it shows neoteny, which is something uncommon in other Rhaphidophora plant species.
4. Stems
These aroids have smooth, thin rectangular-shaped (the longest side weakly convex), dark-green stems with short internodes, and dense alternating arranged leaves.
These stems don't branch much and grow clasping roots from the internodes, which hardly span beyond leaves. Also, because leaves overlap, they will often cover the vines, especially in the adult stage.
Lastly, the cataphylls and prophylls are deciduous and flowering stems that arise from the axil remain hidden by the leaves.
5. Flowers
R. cryptantha has hidden, inconspicuous inflorescences with cream-whitish flowers on a spadix. The spadix will grow the axil (angle formed between the leaf petiole and stem).
These flowers have a yellowish spathe (bract), and you are unlikely to notice them because the closely packed, shingling leaves hide them.
Finally, these flowers mature into tiny berry-like fruits borne on the spadix with seeds.
Where to grow this aroid?
These plants make good indoor and outdoor plants. For those who opt to grow these plants indoors, you grow R. cryptantha in pots, as interior scaping plants, or in hanging baskets. However, if you want beautiful shingled adult leaves, train or mount them to grow vertically. Otherwise, the plant won't have the charming larger, shingled leaves. Also, the plant will remain small.
You can mount this plant on:
Flat coconut coir board (excellent shingling effect)
Sphagnum moss totem
Untreated softwood
ironbark totem
burlap-wrapped pole
Palm tree trunk
Plant terrarium – best if you need to control humidity and light
If outdoors, grow them in a shaded place with mild winters, especially the sub-tropical. Don't plant them in areas that experience frost or freezing temperatures.
Lastly, these beautiful, rare aroids will make a ground cover or let it trail your walls, wooden fence, other tree trunks (as a tree wrap), or even in terrestrial pots. It will look perfect in your arbor, garden, and park.
Rhaphidophora cryptantha care and growth requirements
Cryptantha care is easy. This shingle plant needs a warm, humid place with bright, indirect light. Grow it in a well-drained, aerated soil mix rich in organic matter, and water it if a few top inches start drying. Also, it needs regular feeding, and you must train or mount it on a climbing surface.
Here is more on how to care for your shingling plant:
1. USDA hardiness zone
Its USDA hardiness zone is 10 to 11, with minimum cold hardiness of 30 °F (-1.1 °C) to 35 °F (+1.7 °C) or higher. As you can see, it is not frost hardy. Also, prolonged freezing will be detrimental.
Only individuals living in these zones or a 9B that doesn't experience frost can grow it outdoors all year. The rest most move their plant indoors during the winter months.
2. Temperature
Grow it in a warm area with an ideal temperature range of 60 to 80 degrees Fahrenheit (15.6 to 26.7°C). Your average household temperature is ok.
As the temperature drop, your plant will grow slowly at about 50°F; it will stop growing. But you still don't need an HVAC or heating system; if you are still comfortable, your plant will survive.
For people who opt to have this plant outdoors, move it indoors once the temperature plunges below 50°F (10°C) or have a greenhouse or hothouse.
Lastly, avoid cold drafts and sudden temperature changes. Also, don't place it near heat or cold-emitting sources like heating and air conditioning vents, furnaces, fireplaces, etc.
3. Humidity
R. cryptantha prefers high humidity, i.e., 60% to 80%. Fortunately, it is humidity tolerant and can grow in lower levels, such as your household standard humidity, 40ish %.
If yor humidity is low, your plant will appreciate misting a few days a week or having a pebble tray. You can also have it in your bathroom.
However, a sure solution is investing in a humidifier. LEVOIT Humidifiers Top Fill, 6 Liter, Cool Mist by Vesync Co., Ltd is an excellent plant and home humidifier. It runs for up to 60 hours, covers a large area, and comes with Vesync APP to control it. Did you know it works with Google Assistant and Amazon's Alexa?
4. Light
Rhaphidophora cryptantha needs bright, indirect light for 10 to 14 hours daily. Luckily, the light shouldn't worry you, as this plant can withstand low to medium indirect light. But if too low, they may not grow as lush and fast. We recommend you buy grow lights and illuminate them for at least 12 hours.
On the other hand, avoid direct sunlight as it will scorch their leaves. You will notice leaves crispy, brown tips or edges, and yellowish discoloration.
At home, strategically place them to ensure they get 70% to 85% bright indirect light. Play around with them from the window, depending on whether it is a south, west, or east-facing window.
Lastly, for those growing Rhaphidophora cryptantha outdoors, you need a partially shaded area (with filtered light), a greenhouse, and about 30-40% shade cloth.
5. Rhaphidophora cryptantha soil
The best soil for this shingle plant should be well-drained, aerated, and rich in organic matter or humus. Ideal soil pH should be 6.1 to 6.5 but up to 7.3 (neutral is ok).
These plants are not so fussy. Did you know it even grow in sphagnum moss, aroid mix, well-drained, fertile loamy soil, Leca pellets, etc.? However, avoid poorly draining soils, including clay or those that don't remain moist like sand.
We either buy aroid mix from Etsy.com or Miracle-Gro Indoor Potting Mix. But to the latter, I will add a little more perlite or bark chips. It helps improve drainage.
Lastly, if necessary, you can make your mix with potting mix. Do so by adding perlite (pumice), bark chips, and peat moss to a standard potting soil. Perlite and bark chips will improve drainage, while peat moss will make it acidic and moist.
6. Watering
This aroid loves moist soil that isn't so soggy or wet (causes root rot) or bone dry (stunt growth). Therefore, water your Rhaphidophora cryptantha when the top 2-3 inches of soil feels dry or up to the first knuckle of your finger.
Another way to know if your plant needs watering, is by inserting your XLUX Soil Moisture Meter into the soil. If the reading is in the red zone (dry) or less than three, it's time to water.
A burning question we receive is, how often should you water this shingle plant. The answer is it depends. Remember, the watering frequency depends on light, temperature, humidity, pot size or time, season, plant size, etc. For instance, plants in brighter, drier, warmer places require more watering.
To hint, you need to water this plant after 4 to 7 days in the growing months (spring or summer). When fall and winter come, cut the watering frequency to once after two to three weeks. Again, this will depend on the growing conditions. However, you must first feel the soil or use your soil moisture sensor.
The other thing not to forget for those who grow them outdoor is to water them if rainfall isn't enough. Check the soil. Don't let it dry excessively. However, please don't overdo it.
Last but not least, when watering, soak your pot until excess water flows from drainage holes. Then, pour any that collects on your saucer.
a). Overwatered Rhaphidophora cryptantha
Overwatering is a common problem that often results in root rot and plant death unless checked in time. Also, a huge pot of poorly drained soil may contribute to overwatering.
If your soil is constantly wet or soggy, the leaves begin turning yellow, and the potting mix starts molding, are chances you overwater your plant. Brown spots, mushy stem bases, and leaves dropping may also indicate overwatered.
b). Underwatered
While trying to avoid overwatering, don't end up with an underwatered R.cryptantha. Signs are dry soil, discoloration or dropping leaves, wilting, stunted growth, and foliage with crispy and brown tips or edges.
7. Fertilizer
Plant food is essential for lush and healthy plants; this aroid is no exception. Therefore, feed these aroids monthly using an all-purpose houseplant liquid fertilizer during the growing season (spring and summer) only at half recommended strength.
There are many good brands out there. We use the Miracle-Gro Water-Soluble All-Purpose Plant Food with an NPK of 24-8-16. Unlike other brands, it also has boron, iron, manganese, zinc, copper, and molybdenum. We mix a ¼ a teaspoon per gallon (half recommended strength) of water and feed twice a week.
For slow-release brands, put the fertilizer a few inches from the stem or plant base. Also, ensure you go for plants that don't form salt deposits requiring flushing or damaging your plant.
We have also tried slow-release brands like Osmocote Smart-Release Plant Food Plus Outdoor & Indoor. It works well, too, and you feed only once in four months. We sprinkle ¾ of a tablespoon per square foot and work it into the soil, 1-3 inches deep.
Lastly, anything with urea is also a big no. Similarly, excessive fertilizer isn't good either. It will cause fertilizer burns.
8. Pruning and grooming
This plant doesn't need much pruning. However, you should routinely remove dead, damaged, or old leaves using a sterilized pruning knife, shears, or scissors to boost growth and appearance.
Also, whereas these plants don't branch a lot, i.e., most grow as independent vines, pruning some branches may help retain the shape you want or grow branches.
Lastly, consider planting several cuttings in one container if you need a fuller plant. Why? Because pruning may not help much if you desire a fuller plant.
9. Potting and repotting
Since they don't grow big root balls, these plants don't need much frequent repotting. So, repot this shingle plant every two to three years or when root-bound.
If root-bound, the plant will be smaller and grow slowly. Other signs are leaf dropping or discoloration (yellowing or browning), wilting, and so on.
Repotting can be done any time, but the best is early spring, when the plant starts to grow actively. Summer is also ok.
When repotting, pick a large and deep pot to accommodate your plant, new climbing pole, or board, and give some space for further growth. It should be at least 3 inches larger in diameter than the previous pot you had.
You don't need the at least 10 inches deep and 10 to 20-inch pot diameter recommended by many people unless your plant is already huge.
Besides repotting, you may need to replace their climbing pole or board when they outgrow it. When they outgrow it, they start hanging and revert to their smaller, juvenile leaves.
Let us look at repotting and mounting this aroid.
a). Unmounting
Repotting this plant is much or less like you do to any other plant. It is nothing complicated. However, avoid damaging the aerial roots as you unmount them.
Here are easy stems to follow:
Carefully slide the plant out of the pot while still attached to the mounting pole. While doing so, support its base and board with your hand.
Place it on a horizontal surface and carefully unmount it without ripping any roots.
Hose the plant to remove any organic matter attached to the aerial roots. This process will make it easy to adhere to the new mount.
Your plant is not ready for repotting and mounting. We will see the details next.
Note
If you want to unmount and mount the plant to a longer pole without repotting, you don't have to slide the plant out. Instead, you will carefully unmount it and hose the aerial roots to remove any attached organic matter.
b). How to mount Rhaphidophora cryptantha
Mounting your cryptantha is more or less the same as you do with your other shingling plants. The exact steps will depend on what you are trying to achieve.
For instance, some people will create pockets using a mesh to hold the plant roots close to the mounting pole. On the other hand, others with do the repotting, as usual. Afterward, they will then install a totem and mount the plant.
Here are the basic steps to mount it successfully on a moss pole or board.
Unmount your plant following the stems above.
Thoroughly mist your moss pole and carefully plant it into the pot, ensuring you don't harm the roots. You can spray it with Bonide Systemic House Plant Insect Control to eliminate any pests.
Lay the plant on your moss board or pole, and secure its stem (not leaves as they may rot as you mist the plant) with floral tape. We use Royal Imports Floral Tape Green. However, any soft string or twine is ok.
Continue misting the pole to encourage quicker aerial attachment.
Allow it some time for the new roots to firmly attach to the new mount before removing the securing floral tape.
Rhaphidophora cryptantha propagation
Rhaphidophora cryptantha propagation is mainly by stem cutting and preferably propagating it in a potting mix or soil, including coconut coir or sphagnum moss. However, stem cutting propagation in water (takes longer and has lesser success chances).
The other way is by the use of seeds, but they are rare. Also, you can use air layering, where you tie moist sphagnum moss on a selected node while the stem is still linked to the mother plant. Then you will keep it moist and aerated until it roots. Once it roots, cut it off from the mother plant.
Spring is the best time to propagate these plants as they will have ample time to root. But there is nothing wrong with doing it in summer.
We will look at soil propagation and mention something about water propagation.
a). What you need
Potting mix
Gardening shears
Transparent plastic bag (optional)
Rooting hormone (optional). If you dont have one, HydroDynamics Clonex Rooting Gel is good. Also, Safe Brands have a good one too.
Nursery pot
70-90% rubbing alcohol for sterilization
b). Steps to follow
Identify a healthy, mature stem with at least two nodes and cut just below the lower node using sterilized gardening shears. If it has more than two removes, remove the lower ones.
Apply your rooting hormone on the cut end or node that will go into the soil. This step isn't mandatory but will help prevent decay and speed rooting.
Put your potting mix inside your nursery pot.
Make a small hole with a stick or finger. Then plant your Rhaphidophora stem cutting and squeeze some soil towards the stem to ensure it remains upright.
Thoroughly water your cutting
Cover it with a transparent plastic bag if your humidity is low, leaving a small opening for breathing. But ensure the plastic doesn't touch the leaves.
Place your cutting in a warm place with bright, indirect light.
After every few days, remove the plastic bag for a few hours to give your plant a chance to breathe. Also, mist the soil if it starts to dry.
Depending on the prevailing conditions, your plant will have rooted and be ready for transplant after one to two months.
c). Water propagation
If you need to see your plant root, this method is the ideal one for you. It involves dipping the cutting inside a jar with water after step 2 above. But you must ensure leaves don't touch the water. Afterward, change the water when it looks cloudy or after about 4-5 days.
Toxic to pets and humans
R. cryptantha is toxic to humans, dogs, cats, and other pets. All parts of the plant are poisonous and its principle of toxicity is the presence of insoluble calcium oxalates. These crystals are known as raphides and will cause:
Severe oral pain and irritation
Drooling
Mouth pawing
Difficulties to swallow
Redness or swelling of the tongue, lip, mouth
Irritation of skin or contact dermatitis
Rhaphidophora cryptantha vs. monstera dubia
These plants belong to the arum family, Araceae, i.e., they are both aroids, and their juvenile form resemble each other. They both have heart-shaped leaves with silvery-whitish markings. However, they are different and belong to different genera.
The Rhaphidophora cryptantha leaves are green to velvety green with silvery-grey or whitish markings along the veins, while M. dubia has a greenish base with a silvery-gray sheen except on veins.
Also, the leaves of R. cryptantha grow pointing upwards and not downward like M. Dubia. The way leaves grow is something you cannot miss.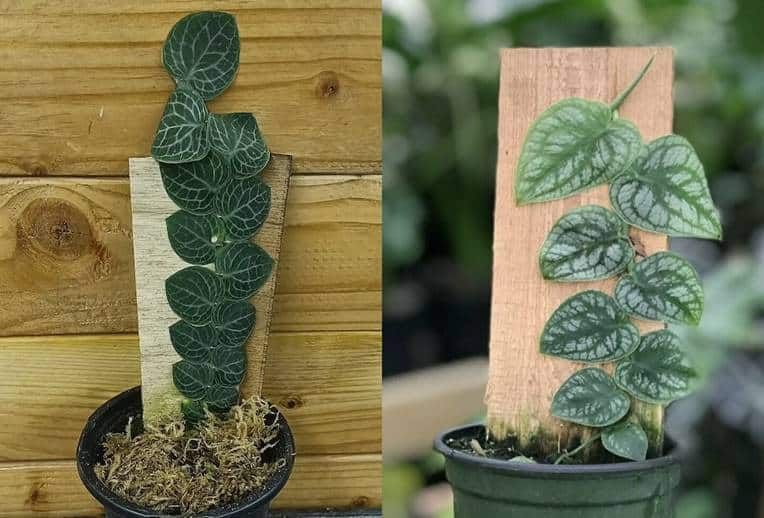 Finally, R. cryptantha retains its neonatal morphology, unlike the M. dubia which will begin growing lose their silvery markings, and get fenestrated.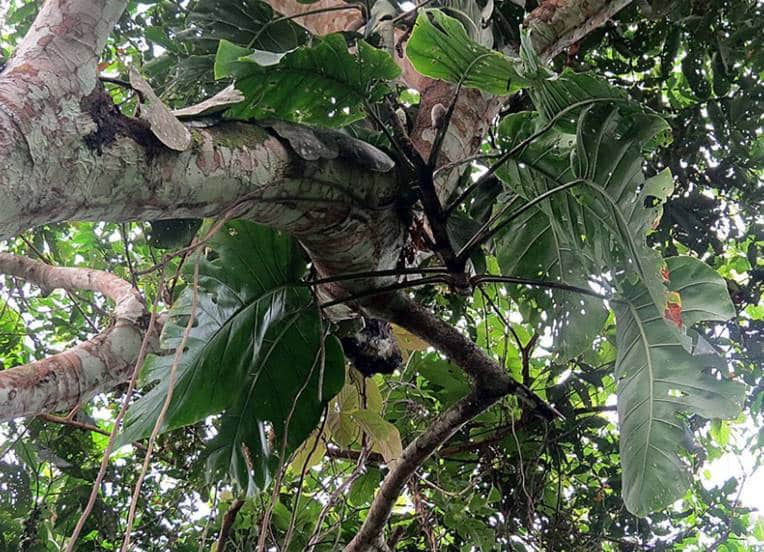 Problems and issues
1. Pests
When grown indoors, this plant isn't much susceptible to pests. However, like other plants in the genus, Rhaphidophora may suffer from spider mites, mealybugs, scale, thrip, and whitefly, primarily if grown outside.
Use insecticidal soaps or neem oil to manage pests. Also, horticultural oil sprays will help kill these bugs.
2. Root rot
It is a prevalent problem for anyone who over-waters this aroid. Also, an oversized pot, and poorly draining soil, among other things, may be responsible.
Signs include slow growth, mushy stem bases, and yellowing of leaves. Also, your plant may wilt, look droopy, etc.
If some roots are still healthy, cut the dead ones with a sterilized knife and repot your plant.
3. Disease
These aroids may suffer from mosaic virus, red leaf-spot, southern blight, or botrytis, typical of other plants in this genus. Fortunately, these diseases are not common when you grow this aroid indoors.
Nevertheless, always use sterilized pruning knives and wash hands or sterilize before handling them if you have been touching other plants. This step will reduce instances of transmission or spread of these diseases.
4. Yellowing of leaves
The most cause of yellow leaves in Rhaphidophora cryptantha is overwatering. Also, it may be due to direct sunlight (if they look yellowish, bleached, or have crispy, brown edges or tips).
More causes are low humidity, underwatering, cold drafts nutritional deficiencies, pests, and diseases are possible causes. However, some yellowing is due to normal aging if it occurs to the lower, older leaves.
2. Curling leaves
Possible causes of curling leaves include underwatering or dry soil. Remember to water when the top 75% or 1 to 2 inches of the potting mix is dry. Low humidity and cold drafts are possible reasons.
Where to buy Philodendron cryptantha
The best place to get Rhaphidophora cryptantha on sale is Etsy.com and eBay. These marketplaces have vendors from the US, Canada, Australia, the UK, NZ, etc. Also, you will find those willing to ship to your location. Also, they offer great prices.
Our second preferred place is social media platforms, i.e., Instagram and Facebook. They, too, have many sellers globally. Just make sure you get on you can trust.
More places in the US, UK, Australia, Europe, and Canada to buy this houseplant, and their prices are as follows:
Logee's (Danielson, CT, USA)– Sold Out
Pistils Nursery (Portland, OR, USA) - U$82.00
Tend Greenpoint (Brooklyn, NY, USA) - $49.50
Plant Circle (Berlin, Germany) - €41,00
Plants for Soul (Toronto, Canada)– C$39.99
Root Houseplants (Liverpool, UK) - £12.00
Nelumbo Garden (IJzendoorn, Netherlands)- € 55,60
West Lake Nursery (Rockbank, Victoria, Australia) – Sold out
SPOKANE Plant Farm (Spokane Valley, WA, USA) -$69.99
Lastly, search "Rhaphidophora cryptantha for sale" to get more locations and stores near you.
Frequently Asked Questions – FAQs
Is Rhaphidophora cryptantha rare?
Yes. Rhaphidophora cryptantha is a rare and hard-to-find shingling plant. To get it, you must dig deeper, as most of your local tropical plant stores are unlikely to have it. None of the large-scale growers like Costa Farms have it. Also, the big box stores don't sell it.
What is Rhaphidophora cryptantha price?
The price range of Rhaphidophora cryptantha is $20 to $70. However, some vendors may sell it at much higher or slightly lower prices, depending on your area's availability and other market factors.