Rhaphidophora tenuis is a rare houseplant with falcate-lanceolate shingling, ascending juvenile green leaves, and large, palm-like split, mature leaves. Until recently, botanists assumed it was a form of Rhaphidophora korthalsii. But now, it's a unique species.
Learn more on Rhaphidophora tenuis, including description and appearance (leaves, stems, and flowers), care, propagation, and much more.
But before that, here is a quick overview.
Scientific name: Rhaphidophora tenuis
Tribe: Monstereae
Family: Araceae (aroids or arum family)
Common Names: None
Natural habitat: Sarawak and Brunei in tropical Asia
Care level: Easy or low maintenance
Safety: Toxic to humans, cats, dogs and other pets.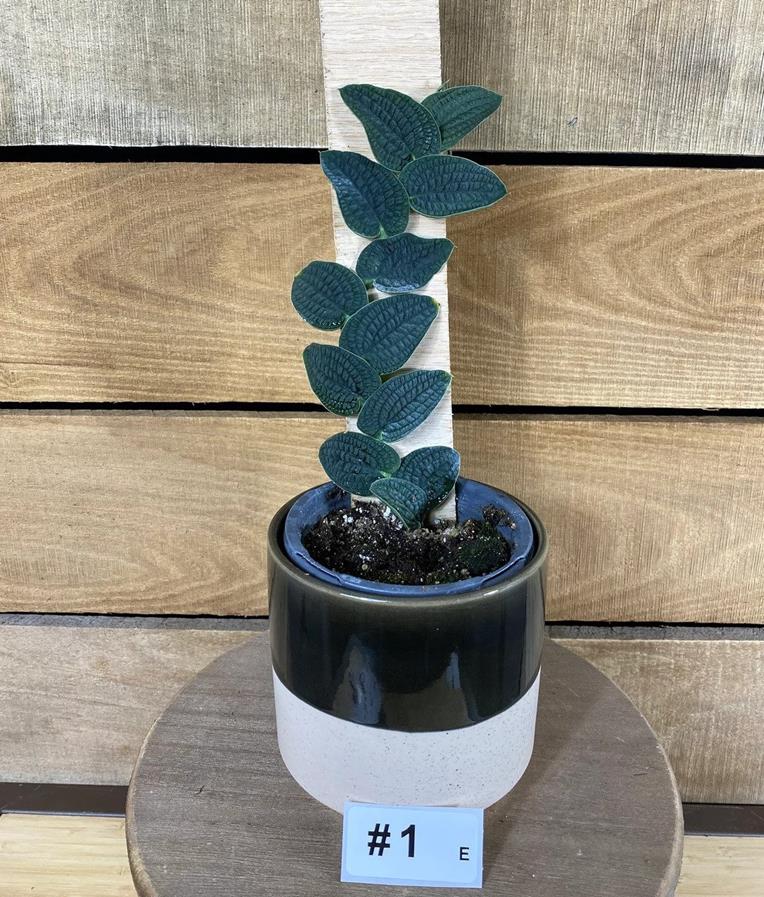 Rhaphidophora tenuis vs. Rhaphidophora korthalsii
During his initial research, Peter C. Boyce considered R. tenuis as a polymorphic (with different forms but the same genotype) form of R. korthalsii. Later, after fieldwork in Sarawak, he resurrected it as a species.
Compared to R. korthalsii, tenuis was more petite. Also, its juvenile leaves ascend, are falcate-lanceolate, not oval like korthalsii and don't overlap.
That is not all. R. tenuis also has slender, solitary inflorescence, and mature leaflets or pinnae are much slender. These are the ways to tell the differences between these two plants, which look alike.
Description and appearance?
What does Rhaphidophora tenuis look like (leaves, stems, or flowers) and its growing habits?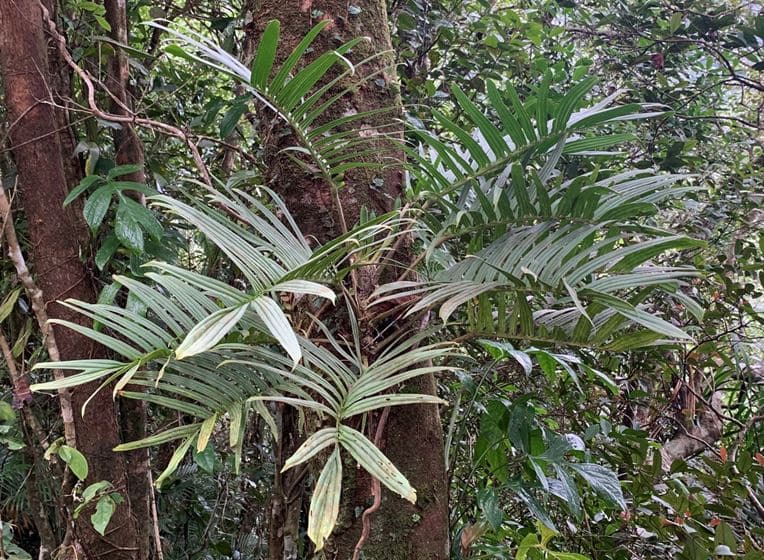 1. Growing habits
Rhaphidophora tenuis is a slender, moderately leafy tropical liana native to Brunei and Sarawak. The seedling stage grows towards the light (non-skototropic), the juvenile shingles, but the adult is free, i.e., doesn't shingle.
2. Growth rate
Like other plants in this genus, Rhaphidophora tenuis has a fast growth rate. A fast-growing plant increases by more than 24 inches or two feet in a growing season.
It can grow up to 16 feet (5m) in the wild. But at home, it will hardly grow beyond 4-6 feet. Also, you need to give it a climbing place if you want it to be larger.
3. Leaves
Rhaphidophora tenuis has green leaves with membranous prophylls and cataphylls that dry and degrade, leaving fibers that slowly fall.
Juvenile leaves are ascending, entire, falcate-lanceolate, and don't overlap like most shingling plants. So, you can easily distinguish this plant from Rhaphidophora korthalsii, cryptantha, pertusa, or hayi, which have oval shingling leaves that slightly overlap.
On the other hand, mature leaves are large (5.5-17.7 inches long by 3.9-11.8 inches wide), whole, pinnatifid to pinnatisect. They are oblong lance-shaped to broadly oblong-elliptic and slightly oblique.
These leaves look more like palm leaves with pinnae narrower than sinuses (in-between gap). The pinnae are about 0.4-0.4 inches (1-2 cm) wide and have a small hole at the base, near the midrib.
Last but not least, the adult leaves have vaginate grooved petiole with a membranous petiolar sheath that may be unequal extend close to the upper geniculum. These sheaths will soon dry and degrade, leaving a netted fiber that eventually falls, and you have a corky scar.
4. Stems
Rhaphidophora tenuis has medium green stems that become sub-woody as they get older. Their internode length is about 4.3 inches (11cm) long, and these stems have oblique leaf scar, sparse cataphyll, prophyll, and petiolar fiber.
To help anchor to the climbing surface, they grow dense clasping roots on nodes and internodes, especially as they approach adulthood. Also, they have abundant and dense feeding roots.
Lastly, leaves grow alternatingly both for juvenile and mature plants.
5. Flowers and fruits
It has dirty white inflorescence borne on a spadix and surrounded by a narrow, canoe-shaped dull yellow spathe with a stout beak. Its peduncle (flower stalk) is terete to compressed.
As it emerges, it's subtended by a prophyll and one or more cataphyll. These two will afterward degrade, leaving netted fibres. Also, the spathe quickly falls after anthesis leaving a straight scar on the spadix base.
Last but not least, like other species in Rhaphidophora, it has small, aggregated fruits (infructescence). The fruiting spadix will be green but turn orange when ripe.
Rhaphidophora tenuis care
Like most tropical plants, R.a tenuis needs a warm, humid area with bright indirect light. Also, you must water and feed it correctly.
Here are the care needs
USDA hardiness zone: 11-12, avoid freezing temperature and frost.
Humidity: Average household humidity is ok. But we recommend 50% or more. Mist it, buy a humidifier or have a pebble tray.
Temperature: Grows best at 70-80°F(21-27°C but won't mind a 55-85 (12.8-29°) range. Ensure no cold drafts, heat stress, or sudden temperature changes. Also, don't place it near AC or heat-emitting vents.
Light: Provide bright, indirect light for at least 12 hours a day. Direct sunlight will sunburn. Similarly, low light will slow growth and make it leggy.
Watering: Thoroughly water your Rhaphidophora tenuis when the top 1-2 inches of the soil feels dry. Don't follow a watering schedule. Instead, test the soil with your finger or using a soil moisture meter like XLUX
Best soil mix: Airy, well-drained, organic reach soil or potting mix. Buy an aroid mix, see Etsy.com or make yours at home.
Fertilizer: Feed at least once a month with a balanced, liquid houseplant fertilizer only in the growing season.
Pruning: Remove dead, diseased, or damaged leaves with sterilized gardening shears regularly. You can trim a few branches to control shape or size in spring or early summer.
Repotting: Repot yearly or when rootbound. Use a pot 2-3 inches wider in diameter and do it in spring or at the beginning of summer.
Staking or support: As climbing plants, provide and train your plant on a moss pole, trellis, totem, etc.
Rhaphidophora tenuis propagation
R. tenuis propagation is by stem cutting in water or soil. But you can use air layering or seeds (not easy to find).
We recommend doing your propagation in spring or early summer. Why? To give your plant enough time to establish itself before the non-growing seasons.
We will discuss soil or potting mix propagation in detail and give you a few things if you prefer water propagation.
1. What you need
Potting mix
Nursery pot
Gardening shears
70-90% rubbing alcohol for sterilizing gardening shears
Rooting hormone isn't a must. But it will help promote faster rooting and reduce rotting chances. Our favorite pick is HydroDynamics Clonex Rooting Gel.
Transparent plastic bag – optional but will help lock humidity
2. How to propagate Rhaphidophora tenuis in soil
Put your potting mix into the nursery pot and thoroughly water it until excess water flows from drainage holes. Discard whatever collects in the pot saucer.
Select a mature stem with at least two nodes and snip it with your sterilized gardening just below the lower node. If it has more than two leaves, cut off the lower ones.
Apply your rooting hormone on the part that will go into the soil, i.e., from the cut side, including the nodes you will grow into the potting mix.
Make a hole in your potting mix and plant your stem cutting, covering at least a node. Then, press the soil against the cutting to ensure it supports it upright.
Cover it with your plastic bag. It shouldn't touch the leaves. Also, leave a small breathing opening.
Place your cutting in a warm place with bright, indirect light.
Routinely mist the plant when the topsoil starts drying and open it for a few hours to allow it to breathe.
Once the roots are about 2-3 inches long, you can transplant your cutting to its growing pot. It may take 4-6 weeks for the plant to root.
3. Water propagation
It's similar to soil propagation, the difference being you use water and not soil. Just ensure the leaves don't touch the water, and you change the water after 3-4 days. Also, fill it when the level goes low.
You don't have to use a plastic bag to lock humidity as the water will raise humidity as some evaporate.
Common problems
Your plant may have problems like pests, diseases, leaf discoloration, and leaves curling or drooping.
Pests: Your plant may have sap-sucking pests like aphids, thrips, mealybugs, whiteflies, scale insects, or spider mites. But they are uncommon indoors. If you see any, use insecticidal soaps, neem oil, or horticultural oil spray.
Diseases: Not expected if you practice proper sanitation. But your plant may have fungal or bacterial leaf spots. The more common issue is root rot due to overwatering, a potting mix that doesn't drain, oversized pot, no drainage holes, etc. Report your plant if the whole root ball hasn't decayed.
Yellow leaves: The most likely cause overwatering. However, low humidity, underwatering, little light, and other things may cause the yellowing.
Brown tips, edges, spots, and leaves: Brown tips, edges, and patches signify leaf scorch. It's due to mainly too much light, underwatering, low humidity, or heat stress. If you see brown leaves, it may be overwatering (brown blotches) or cold drafts (sudden browning).
Black spots: Primary causes are pests and disease. But overwatering may cause black splotches.
Leaves curling: Your plant is losing a lot of water and curls to help reduce the loss. Common causes are underwatering, low humidity, too much light, or heat stress. But it can occur due to other reasons like root rot, rootbound, repotting shock, heavy pest infestation, etc.
Drooping: It means cells don't have water. So, they cannot be rigid. The primary cause is underwatering. Others are low humidity, heat stress, too much light, or anything that will cause moisture loss from leaves or roots not to absorb water.
Rhaphidophora tenuis prices and where to buy
Rhaphidophora tenuis prices range from $45 to $120, and as a rare plant, you will have to do some digging. Try Etsy.com, eBay, Facebook, or Instagram. Other places you will it include, Labijo.id or Carousell.sg, etc.
The other way is to google "Rhaphidophora tenuis for sale" and see what comes up. You may have a few people selling the plant near you.