Rhaphidophora pertusa is a rare, adorable tropical houseplant with irregularly split leaves with some leaves having large holes. Some people falsely assume it's a Monstera species because of the holes (fenestrations). It is not.
Learn more about R. pertusa, including care (water, soil, light, feeding, staking, etc.), propagation, and common issues like pests, diseases, leaf discoloration, etc. We also have a Rhaphidophora vs. tetrasperma to help you differentiate between these two similar-looking plants.
About Rhaphidophora pertusa
Rhaphidophora pertusa is a rare climbing plant with green pinnatifid (split) leaves that sometimes have large holes. It is native to tropical Asia and somewhat resembles the popular Monstera minima or Rhaphidophora tetrasperma.
Scientific name: Rhaphidophora pertusa
Tribe: Monstereae
Family: Araceae
Synonyms: Rhaphidophora lacera, Rhaphidophora peepla, Scindapsus pertusus, or Monstera Pertusa
Native habitat: It occurs in the Andaman Islands, Myanmar, Maldives, Bangladesh, Sri Lanka, India, and Thailand.
Safety: Toxic to humans and pets (dogs, cats, rabbits, etc.) since it has needle-like insoluble calcium oxalate that will cause oral irritation, burning feeling, swelling, redness, swallowing difficulties, drooling, etc.
Care level: Easy
Traditional medicinal uses: Antibacterial to treat Escherichia coli and Bacillus subtilis.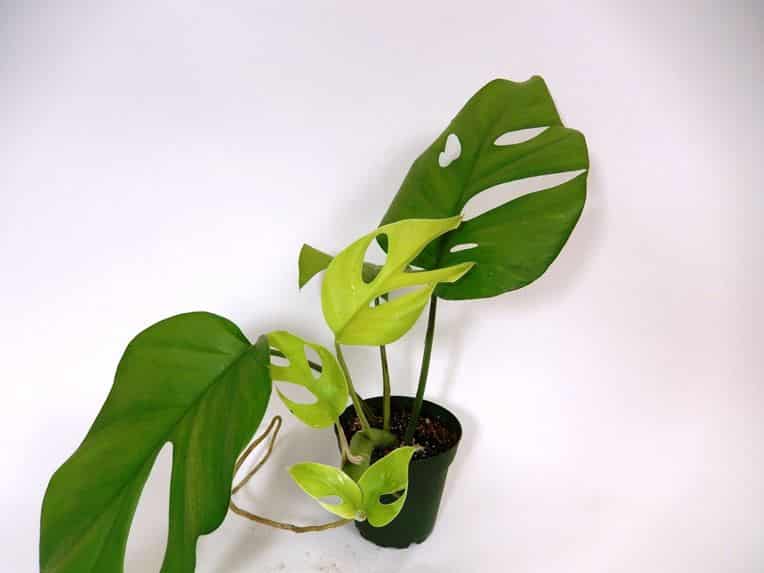 Description and appearance
Let us look at R. pertusa's description, including growing habits, growth rate, leaves, stems, and flowers.
1. Growing habits and habitat
Rhaphidophora pertusa is a robust, large, stout evergreen climber. It occurs in evergreen to mix deciduous mountainous to lowland forest in southern and northeastern India to Bangladesh, Myanmar, and Northern parts of Thailand, and rarely in Sri Lanka.
The juvenile form has entire leaves, while in mature plants, they get split and may have holes.
Last but not least, it is a hemiepiphyte, meaning it has both a terrestrial phase and an epiphytic phase (growing on other plants). It grows as a ground plant in the juvenile stage and on other plants in its mature or adult phase.
2. Size and growth rate
Like other plants in this genus, R. pertusa is a fast-growing plant and it can grow up to 49 feet (15m) in the wild or more. But inside your house, it will hardly grow beyond 6 feet and require a place to climb to reach this height.
3. Rhaphidophora pertusa leaves
Rhaphidophora pertusa has green leaves. Juvenile leaves are entire (don't have holes or splits) and are oval, oval-oblong, or oblong-elliptic shaped.
On the other hand, mature leaves are broadly oval-oblong to almost rounded-oval, 8-20 inches (20-50cm) long, and 6-10 inches (15-25 cm) wide.
These leaves are irregularly pinnatifid (shallowly split or lobed), may have large holes extending to near the leaf margin, or be rarely entire. The leaf base is round to heart-shaped, the apex taper, and the lamina may be unequal.
Lastly, the mature leaves have channeled (curved upward) petiole 8-13 inches (20-35 cm) long with deciduous (dries and falls) petiolar sheath that extends about ⅓ the length.
4. Stems
Terete, up to 1.4 inches (3.5 cm) inches stems with leaves sparsely distributed along its length but may cluster towards the top or tip. Also, these stems have aerial roots, and their internode is 2-4 inches long (5-10 cm).
5. Flowers and fruits
R. pertusa bears bisexual flowers on a solitary spadix (one per axil), and flowering occurs from August to September (1).
Like most members of the Araceae family, it has tiny pale orange inflorescence flowers borne on a spadix and surrounded by a spathe (modified leaf). The spathe is greenish when it begins emerging, turning whitish or yellowish at anthesis. Afterward, the spathe falls leaving a scar at the spadix base.
Lastly, this plant beards many-seeded berries with oblong seeds.
Rhaphidophora pertusa vs. tetrasperma
Rhaphidophora pertusa and Rhaphidophora tetrasperma resemble each other, and some people may confuse these two plants. Of course, they are in the same genus and family. But there are some apparent differences.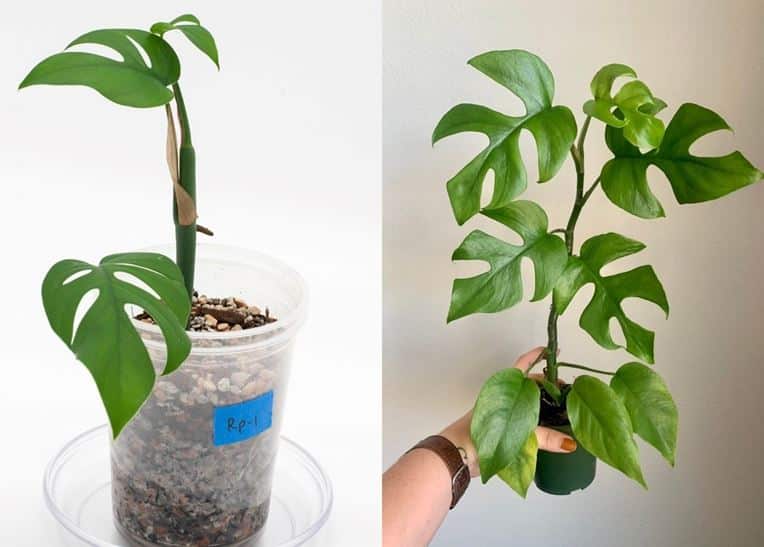 To quickly tell the differences, R. pertusa has thicker stems (1.4 inches), shorter internodes (2-4 inches), and grow much larger in the wild, i.e., up to 49 feet. Also, its leaves have irregular splits and holes that may extend to near the leaf margin.
On the other hand, R. tetrasperma has thinner stems (0.4 inches), longer internodes 5.5 inches, and grows only up to 16 feet in the wild, making it a smaller to medium liana. The leaves have mainly deep splits, with some rarely having rhombic holes near the midrib.
The other difference is that R. pertusa is leafier and has broadly oval-oblong to rounded-oval leaves compared to R. tetrasperma, which is moderately leafy and has oval to oval-lanced shaped leaves.
Lastly, consider the petiole. R. pertusa has an upward curved petiole with the petiolar sheath extending only on ⅓ the length. In contrast, in the R. tetrasperma, the petiole is slightly grooved, and the petiolar sheath extends to the apical (upper) geniculum.
Rhaphidophora pertusa care
Rhaphidophora pertusa is an easy to care for or low maintenance plant. You need to ensure a humid, warm environment with bright, indirect light. Also, water and feed them well.
Here are the details on Rhaphidophora pertusa care:
1. USDA hardiness zone
Rhaphidophora pertusa USDA zone is 11 to 12. This plant isn't frost-hardy, and freezing temperatures will kill or damage it. So, only people in this zone can grow it outside all year.
2. Humidity
This tropical plant will tolerate average household humidity, i.e., 40-50%. But if you want larger, lush leaves, increase the humidity by misting your plant or having a humidifier/pebble tray. Also, you can move it to rooms with higher humidity, like the bathroom or kitchen, if well lit.
I use AquaOasis™ Cool Mist Humidifier humidifier. It operates quietly and can run for up to 24 hours. Also, it has functions like auto-shut should it malfunction or finish the water. Did you know that it is the best-rated humidifier on Amazon?
3. Temperature
The ideal temperature range is between 70 to 80 degrees Fahrenheit (21-27 °C). But it can still grow in a temperature range of 55-85°F (12 - 29°C).
Lower temperatures will slow or cease growth. Also, cold drafts, heat stress, or sudden temperature changes stress this houseplant. So, don't place your plant in drafty areas in winter or near heat/cold emitting devices like ACs or radiators.
4. Light
Rhaphidophora pertusa needs bright indirect light for about 12 hours a day for optimum growth.
Medium to low temperature will slow growth, make leaves more petite, or your plant leggy. Use artificial grow lights if your house doesn't have enough light. Brands like GE by Savant Systems Inc, Relassy 15000Lux Sunlike Full Spectrum Grow Lamp, Barrina and VIPARSPECTRA are perfect.
A great way to measure if your plant gets enough light is investing in an illuminance meter. Good brands include Dr. meter LX1330B Digital Illuminance Light Meter and URCERI
On the other hand, avoid direct sunlight as it will burn leaves. Choose a spot with bright light but at a distance where the sunlight doesn't reach your plant.
5. Best soil mix for Rhaphidophora pertusa
Grow your Rhaphidophora pertusa in a light, well-drained, airy potting mix high in organic matter. Also, the soil mix should be slightly acidic, pH 6.1-6.5 but neutral (pH 6.6 to 7.3) is ok.
You can buy an aroid mix from Etsy.com such as the one you use for your Monstera or philodendron or make yours at home. Typical mixes include:
Use standard peat or coco coir based potting mix and add 1 to 2 handfuls of peat moss and pearlite (pumice, coco husks, or orchid bark)
Make an equal mix of potting soil, perlite, peat moss, or coco coir with some added horticultural charcoal, compost, and bark chips.
Use 40% peat moss or coco coir, 30% perlite, 20% bark chips (like orchid or pine) or coco husks, and 10% compost. You can also add some horticultural charcoal and sphagnum moss.
The exact mix doesn't matter. All you need to ensure the potting mix is well-draining, fertile, and airy.
Pearlite (pumice or bark chips) helps improve drainage and makes the soil well-aerated, while peat moss will help the mix hold moisture without being soggy and lower pH.
Last but not least, avoid heavy or compactible soil as it will become soggy, increasing the chances of root rot.
6. Watering
They love moist soil, not soggy (it will cause root rot). So, water this Rhaphidophora when the top 1-2 inches of the potting mix soil. During growing seasons, it will be after a few days to a week and about biweekly in the non-growing season.
That said, it's good to mention that the exact duration will depend on your conditions (light, soil, or humidity), potting mix, plant size, pot type or size, etc. So, don't follow a watering schedule.
Instead, water when the potting mix feels dry up to the first knuckle of your finger. Alternatively, you can buy a soil moisture meter or sensor. We bought XLUX Soil Moisture Meter from Amazon, and so far, it works perfectly well. 
Lastly, slowly soak the soil until excess water comes from drainage holes when watering. Wait for 15 minutes and discard any water that collects on the cachepot or saucer.
7. Fertilizer
Feed your Rhaphidophora pertusa after 2-3 weeks or up to a month with an all-purpose, balanced liquid houseplant fertilizer at half recommended strength during growing months only. 
Our favorite fertilizer is Miracle-Gro Indoor Plant Food (Liquid). It has a balanced formulation (NPK 1-1-1) and feeds these plants instantly. We add two pumps into a quart of water and use the solution to water our plant biweekly.
You can also use a slow-release formula for potted or houseplants, including organic. Begin feeding in early spring and follow instructions. I know Osmocote Smart-Release Plant Food Plus Outdoor & Indoor is a good brand. I have tried it on my Monstera. However, I haven't used it on my Rhaphidophora plants.
Lastly, don't overfeed these plants as excessive fertilizers may burn their delicate roots.
8. Pruning and grooming
Regularly cut dead, damaged, or diseased leaves with sterilized gardening shears and clean dusty leaves. Chop them as close to the stem as possible. Also, you can trim your plant to control size, shape, and growth during the growing season. But don't cut over 25% of the plant at any given time.
9. Repotting
As vigorous growers, Rhaphidophora pertusa may need repotting yearly or when rootbound. Use a pot 2-3 inches wider than the current one and repot in spring or early summer, unless very necessary. It will give your plant more time to establish itself before the non-growing season.
10. Staking or support
Since they are climbers, provide your Rhaphidophora pertusa with a moss pole, totem, or trellis and train them.
Use twist ties, gardening tapes like VELCRO Brand 90648 ONE-WRAP, or a soft string to attach your plant onto the stake until it attaches itself with anchoring aerial roots.
Propagation
Rhaphidophora pertusa propagation is by stem cutting either in soil or water. You can also use air layering or seeds. But seeds are not easy to find.
The best time to propagate is during the growing season, especially early spring, as it will give your plant enough time to root.
Last but not least, you need a stem cutting with at least a node. Why? Because you cannot propagate this Rhaphidophora pertusa using aerial roots, leaves including with petiole or nodeless stem.
1. What you need
Pruning shear
70-90% rubbing alcohol for sterilizing your pruning shears
Rooting hormone. It's not compulsory but will fasten rooting and ensure no rot. We use Clonex Rooting Gel since it has some nutrients besides the hormones.
Jar
2. Steps to follow
Take a healthy, mature stem with at least two nodes and cut it below the lower node with your sterilized gardening shears. One with an aerial root will grow faster. If it has more than two leaves, snip off the lower leaves.
Apply your rooting hormone on the cut end, covering the nodes that go into the water.
Fill your jar with water and dip your cutting, ensuring water doesn't touch the leaves.
Place your plant in place with bright, indirect light.
Change water after 3-4 days and add more when the level drops.
It will take about 4 to 6 weeks for your plant to root and grow new leaves. Transplant it when the roots are at least 3 to 4 inches long.
3. Soil propagation
If you opt for soil propagation, you will plant your cutting in soil instead of placing it in water. Then you can cover it with a transparent plastic bag leaving a small opening. Make sure the bag doesn't touch leaves.
Remove the plastic bag after a few days to allow your plant to breathe. Also, mist the soil to keep it moist.
Rhaphidophora pertusa pests
Pests are uncommon if grown indoors, but they may occur if you neglect your plant.
Common R. pertusa pests include mealybugs, scale, spider mites, whiteflies, and thrips. These bugs will appear as small bumps or spots or things that may move or not, and some fly.
The signs will depend on the bug present. Check for black, brown, yellow, or whitish spots on leaves, honeydew, sooty mold, silvery stippling, webbing, etc. Only heavy infestations will make these pests cause distort leaves, turn yellow or curly.
Lastly, use neem oil, horticultural oil spray, or insecticidal soaps to manage pests. For minor cases, hose your plant.
Diseases
Disease won't be an issue if you practice proper sanitation (sterilizing pruning shears, washing hands, etc.), use sterilized pots soil, and don't overwater your plants. But they may occur, including fungal or bacterial leaf spots, rusts or blights, and root rot.
Root rot is a common problem due to mainly overwatering and, at times, contaminated soil. Signs include leaf drooping, yellowing, lesions on stems or leaves, stunted growth, mushy stem base, plant collapse, moldy pot mix, black or brown mushy roots, etc.
You cannot salvage your plant if the whole root ball has decayed. If not, repot your plant and water it well.
Other common problems
| | |
| --- | --- |
| Problem | Most likely cause |
| Yellow leaves | Overwatering |
| Brown leaves, edges, tips, or spots | Underwatering, low humidity, too much light or heat stress |
| Leaves turning black or having black spots | Disease, pests, and overwatering (black splotches) |
| Leaves curling | It's due to underwatering, low humidity, or anything that results in moisture issues. |
| Leaves drooping | Most likely causes are underwatering, low humidity, too much light or heat. |
Prices and where to buy
If you are looking for Rhaphidophora pertusa on sale, we recommend you go to Etsy.com, eBay, Facebook plant groups, or Instagram because this plant is rare. Most of your local nurseries, including specialty, may not have it.
Alternatively, you can google "Rhaphidophora pertusa for sale" and see the recommendations you will get. Pick people near you or those who ship.
How much does it cost? R. pertusa price is between $35 to $120 depending on the plant size, where you buy it, and other market forces.