Monstera acuminata is an uncommon tropical climbing plant abundant in Petén Guatemala. But it is also native to Belize, Honduras, Mexico, and Nicaragua.
It belongs to the arum family Araceae. Plants in this family are known as aroids. Also, it is the only in Marcgraviopsis section of Monsteras that has an entire margin.
People love Monstera acuminata for its lovely shingling juvenile leaves. When it gets a place to climb, it will have charming large mature leaves with holes (fenestrations) and an entire margin. Did you know it is air-purifying? Now you know. Why not get one of these plants today. See the best prices.
This plant is a less popular shingle plant. More popular ones are Monstera dubia, Rhaphidophora hayi, and Rhaphidophora cryptantha. These are not the only ones. There are others too, but they are not so popular too.
Monstera acuminata does resemble Monstera adansonii. However, there are easy-to-see differences. We will talk about them later in the post.
Last but not least, the name 'acuminata' is Latin. It means sharp or pointed, and it refers to the pointed leaf apex.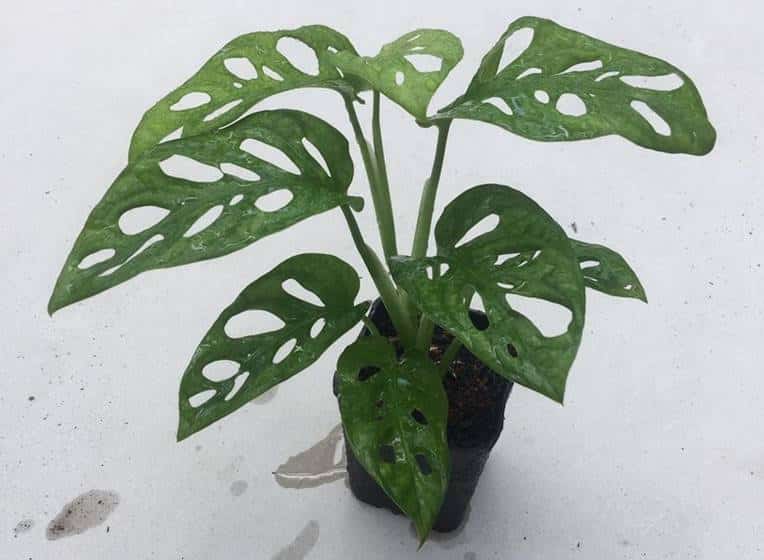 Quick overview
| | |
| --- | --- |
| Scientific name | Monstera acuminata |
| Synonyms | This plant has many synonyms that include Monstera belizensis, Monstera chiapensis, Monstera dimidiata, Monstera grandifolia, Monstera karwinskyi, and Monstera viridispatha |
| Family | Araceae |
| Common names | Shingle plant or Monstera acuminata Guatemala |
| Native habitat | Guatemala, Belize, Honduras, Mexico, and Nicaragua |
| Type | Evergreen, tropical climber |
| Size | It grows 98 feet (30m) long in the wild, about 6 to 8 when grown inside your home. |
| Leaves | They have oval, pendent shingling juvenile leaves that are asymmetrical and have an unequal base. Adult heaves are large, have holes, and their leaf base is unequal - acute to truncate. |
| Stems | Green vine-like stems |
| Flowers | These plants have small, cream to yellowish inflorescence flowers borne on a spadix. Also, they have a spathe that is greenish-white outside and cream-white on the inner side. |
| Blooming time | All year after it has matured |
| Light requirement | Bright, indirect light |
| USDA hardiness zone | 11b to 12 |
| Temperature | 65°F to 86°F (18 to 30 ºC) |
| Humidity | It prefers high humidity of 60% or more, but it withstands lower |
| Growth rate | Medium |
| Soil | Soils or potting mixes that are rich in organic matter, well-drained and aerated |
| Watering | Medium, allowing the top inches of the soil to first dry |
| Propagation | Stem cutting and air layering |
| Toxicity | Toxic to humans and pets |
| Care level | Low or easy |
Identification – appearance and description
It is time to spend a little time looking at its appearance. This will help you know how to identify it and tell differences with similar plants quickly.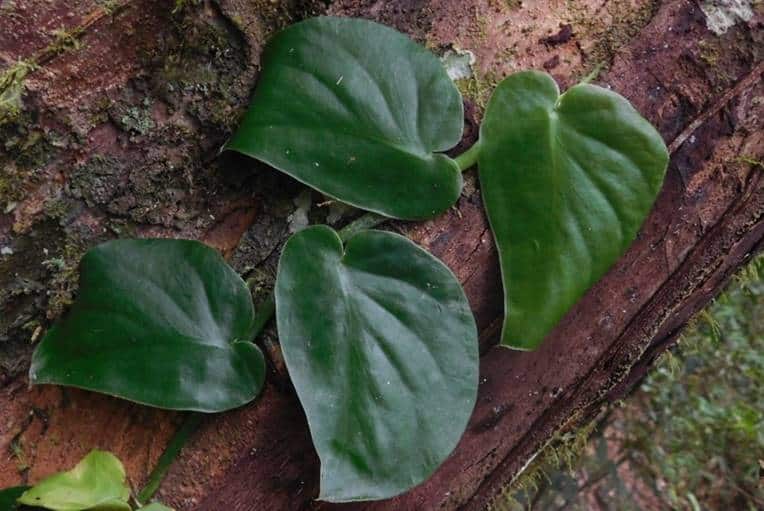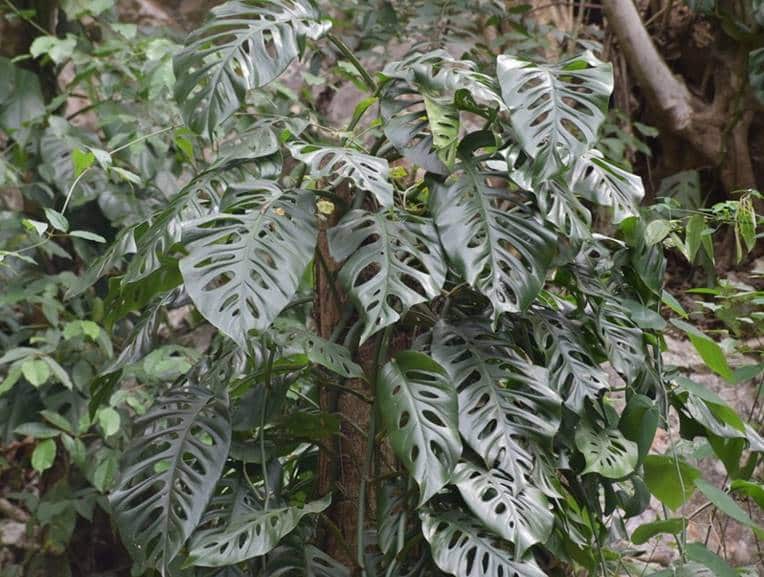 1. Growing habits
Monstera acuminata is a hemiepiphyte. It grows on the ground horizontally as a creeper looking for a place to climb in its seedling stage. At this stage, it produces thin or thread-like, quickly growing stems with longer internodes. These stems don't have leaves. Instead, they have cataphylls at the nodes.
If it gets a place to climb, it will start shingling upwards as a juvenile plant. Here, it will have shorter internodes and shingling leaves.
As it goes higher, it will turn into a mature epiphyte (grows on a host after the stem that links it to the ground dies) plant with large perforated leaves. Here it will have a large sub-canopy. If it reaches the end of the climbing trunk, stems will turn to stolon or runners with longer internodes and only cataphylls.
On reaching the ground, the runners can grow horizontally for up to 33 to 66 (10-20) meters looking for a tree to climb. This way, it establishes another plant.
The other thing you need to know is that this plant occurs in tropical rainforests at elevations of about 0 to 2000 feet (0 to 600). It grows on the trunks of some of the tallest and largest trees.
Last but not least, the Monstera acuminata has a medium growth rate. However, the seedling and runners grow a little faster.
2. Size
Monstera acuminata grows up to 98 feet long (30m) in its habit and about 4 to 8 feet inside houses. But you need to provide it with a place to climb. Outside, it may grow much longer. Together with Monstera dubia, they are the longest Monsteras.
3. Leaves
Both mature and juvenile leaves of this Monstera are pendent and have a vaginate leaf stalk whose sheath wings persist. Also, the midrib is slightly curved, their base is unequal, and they have a sharp apex.
Juvenile plants have asymmetrical and a bit leathery green pendant leaves with erect leaf stalks or petioles. The leaf blade is slightly longer than its width. Also, these leaves lie flat on the surface they are climbing and may slightly overlap. Thus, they look like lush green shingles.
On the other hand, mature Monstera acuminata leaves are large (14-26 long and 6 to 14 broad), pendent, and have holes. But their margin is entire, and their equal base may be truncate to acute. Also, mature leaves have a shorter leaf stalk (10 to 18 inches)
4. Stems
Seedlings have thin, terete stems with relatively long internodes (1.2 to 4 inches long). They can grow up to 6.5 feet long. When the plant reaches the juvenile stage, the internodes become shorter (0.4 to 2 inches), and the stems thicken slightly.
Adult plants have either papillose or smooth stems with thicker and long internodes 2.4 to 4.3 inches long.
5. Flowers
Monstera acuminata has small cream to yellowish inflorescence flowers borne on a spadix. These flowers have a spathe that is greenish-white on the outside and cream-white on the inner side.
Also, note that these plants only flower when mature and about 49 feet (15m) high. So you don't expect them to flower inside your home unless grown outside.
Lastly, the fruiting spadix turns yellow once the fruits mature. They bear clustered berries-like fruits that have an oblong seed.
Monstera acuminata vs. adansonii

Monstera acuminata indeed resembles Monstera adansonii. They both have similar care needs, are creepers in juvenile stages. Also, both their mature leaves have holes.
But these two have are some differences. Also, the differences you see will depend on if you have the narrow, normal, or wide form. Below are the differences.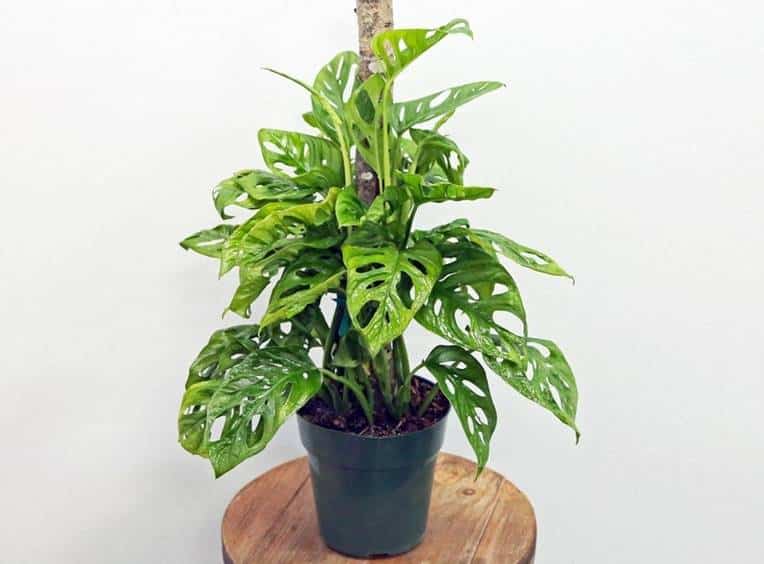 | | |
| --- | --- |
| M. acuminata | M. adansonii |
| Their juvenile leaves are asymmetrical with unequal bases. Also, their length is only slightly less than the width. | Juvenile leaves are widely oval to narrowly elliptical, and they may get perforations at a very early age. |
| Mature leaves are dark green and leathery but not glossy | They have gloss, green to light leaves with slightly darker veins. |
| Leaves are slightly smaller but have smaller holes or perforations. | Monstera adansonii leaves are somewhat larger and have fewer, larger holes. |
| Monstera acuminata leaf blade or surface is flat and appears much smoother. | Its lamina is not flat, i.e., it has a bit rugged or uneven surface. |
| These plants grow much taller if outside or in the wild, up to 98 feet. | This plant will not go beyond 20 feet, even in the wild or outside. |
Monstera acuminata vs. Esqueleto
Monstera acuminata mature leaves also look like Monstera epipremnoides Esqueleto. But again, you can easily see the differences.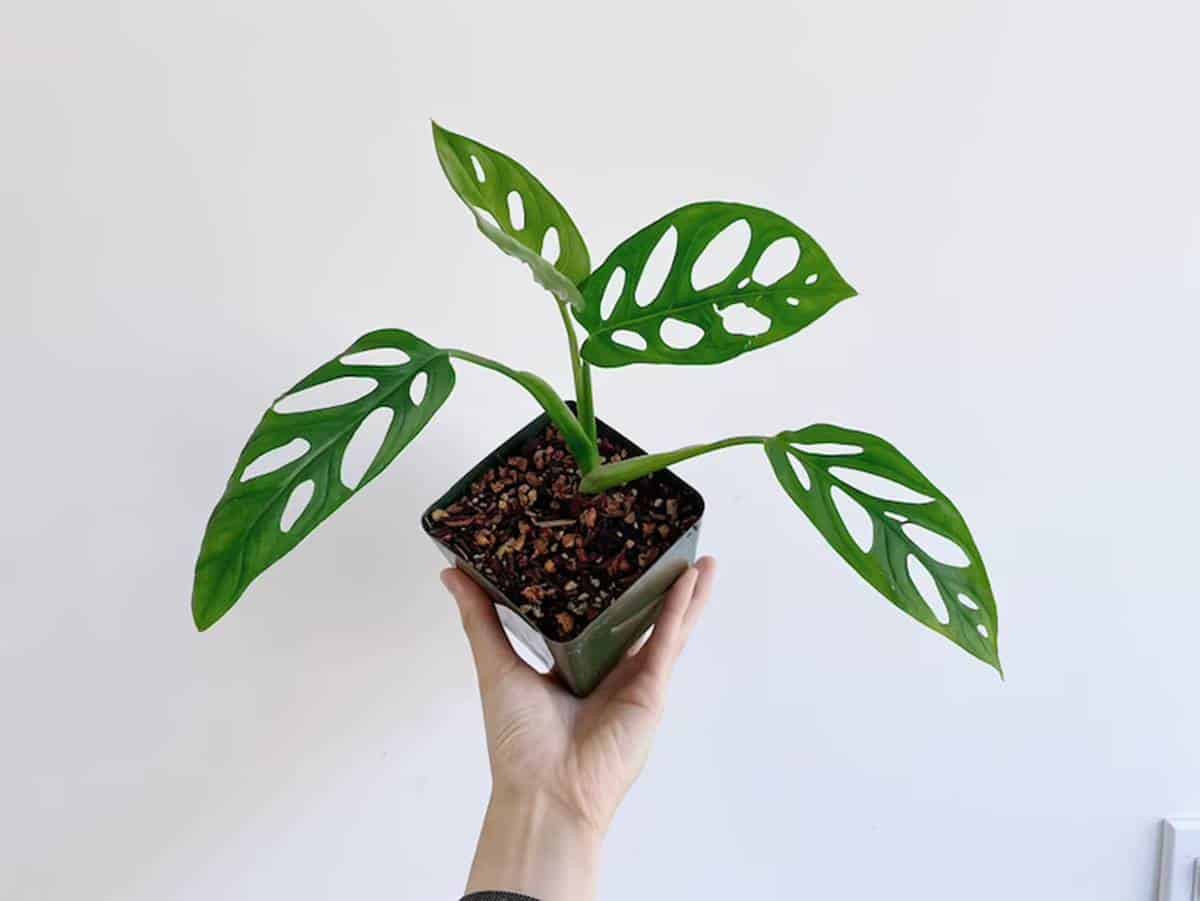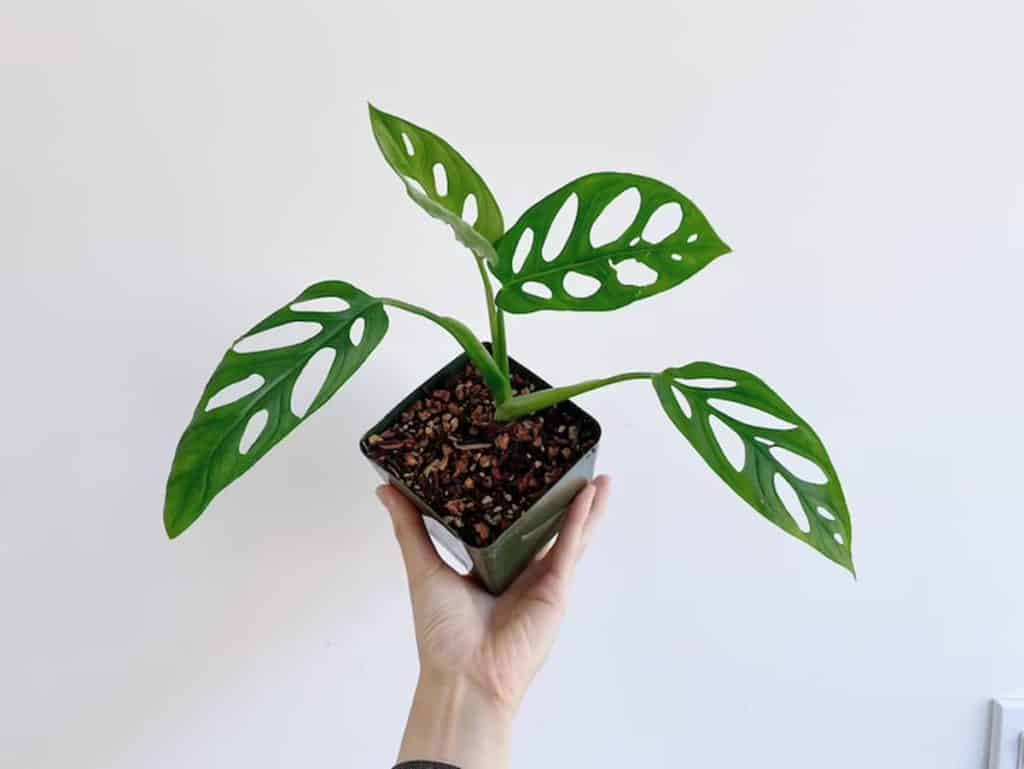 Esqueleto has larger, light green leaves with a leathery and fuzzy surface. Also, holes are much larger, and some run from the midrib to near the leaf margin. Another thing is the price. They are more expensive, going $100 $500
Where to grow Monstera acuminata
This Monstera makes an excellent indoor and outdoor plant. Indoors, you can grow it in any room – living room, bathroom, conservatory, office, and so on.
We recommend you give it a place to climb and shingle – a moss pole, trellis, burlap-wrapped pole, etc. It will have the lushest leaves if you give it a place to climb. However, you can grow let it cascade on a hanging basket or drape onto your desktop, cabinet top, shelf, etc., but it will have smaller leaves and look a little leggy.
Last but not least, those who choose outdoor grow it on an arbor, let it wrap around tree trunks, or grow as a ground cover.
Monstera acuminata care and growth requirement
Monstera acuminata is easy to care for, even for a gardening newbie. It would be best if you had a bright, warm area without indirect sunlight. But you need to know how to properly water this plant and a few more things we will discuss like soil.
Here are the care and growing needs:
1. USDA hardiness zone
Monstera acuminata USDA zone is 10b to 12. This plant cannot survive freezing or frost. Thus, only people in these zones can grow it outdoors all year.
2. Temperature
This plant originates from the tropics, which are both warm and humid. So, your Monstera acuminata will appreciate a warm place with an ideal temperature range of 65 to 86 degrees Fahrenheit (18 to 30°C). However, it can tolerate slightly lower temperatures. As low as 55°F is fine, but it will grow slower.
Please move any outdoor plants into your house when temperatures go below 50°F (10°C). Also, avoid placing this plant in cold drafts or places with sudden temperature spikes and drops. Such spots include near heating or cooling system vents or air conditioners.
3. Humidity
Monstera acuminata prefer above-average humidity, 60% or more. But it can tolerate slightly lower to average humidity of 40% to 50%. If it goes too low, it will not reward you with lush foliage, i.e., the leaves may look dry and have crispy brown tips and edges.
So, if your has house has low humidity, find ways to raise it. Begin by mist it a few times a week. Also, you can have a pebble tray, move it to rooms with higher humidity like a bathroom or group your plants.
But if your humidity is low, buy a humidifier. It will also benefit you. A brand like AquaOasis™ Cool Mist Humidifier (best seller on Amazon) will serve you well for small to medium rooms. It runs for a whole day without a refill and it is not noisy.
4. Light
Grow your Monstera acuminata under bright, indirect light. Low light will stunt growth and make its leaves yellowish. If your house is dark, consider getting artificial grow light. On the other hand, direct sunlight will burn this plant's leaves. So, avoid it.
If you grow your plant outdoors, have a shade cloth, greenhouse, or a place with filtered light or partial shade
People growing this plant inside their homes need to place it at a distance from the window, where it won't receive hot sunlight. You can also have blinds. But allowing a little morning or evening sun from the east and west-face windows respectively may not cause much harm.
5. Monstera acuminata soil
The best soi for Monstera acuminata should be well-drained, aerated, and rich in organic matter. Also, a mix that is slightly acid to neutral, with pH5.5 to 7.5.
These plants are not very fussy and will grow even in soilless potting mixes. Buy an aroid mix or prepare yours at home. Just ensure it is chunky, fertile, and drains well, but it must hold moisture well without being wet.
For instance, you can mix potting soil with sphagnum moss and perlite or orchid bark. Still, you can use pumice in place of perlite and coco coir instead of peat moss. But avoid heavy, compatible soils.
Alternatively, you can buy potting mixes like Miracle-Gro Indoor Potting Mix. It wets easily, will not have mites, and has added fertilizer to feed your plant for up to six months.
6. Watering
This is one area you have to be very careful as these plants are sensitive to too much water. Too little is harmful too. Thus, you need to ensure the soil is moist, not soggy, or completely dry.
Monstera acuminata require medium watering. In the growing season, allow the top about 2 inches to dry out before another session.
Most people will water about once a week in spring and summer and biweekly in non-growing seasons. This depends on temperature, light, humidity, etc. So we don't recommend using this method.
Instead, feel the soil with your finger. If it is dry water, if not, wait for a couple of days and test again.
Alternatively, you can use a soil moisture meter like XLUX (amazon's best-seller). It is accurate, responds fast, and is affordable. 
Lastly, when watering, slowly pour the water until excess flows out from drainage holes. Discard any that collects in your saucer.
i. Overwatered
Constantly soggy soil and yellowing of leaves are the most obvious signs of an overwatered Monstera acuminata. Please, reduce how often you water these plants and make sure you have well-draining soil. Also, make sure your pot isn't too big.
ii. Underwatered
When thirsty, besides dry soil, these plants will droop and curl leaves. Also, they will have crispy or dry leaves that may be yellowish or have brown spots, edges, and tips. Water them immediately and review your watering routine.
7. Fertilizer
What fertilizer should I use on Monstera acuminata? Use a balanced, liquid all-purpose indoor plant food and feed them once a month. Please don't overdo it. A 20-20-20 or 10-10-10 will work. Also, feed them only when they are growing - no plant food in winter or fall.
We have experimented with many fertilizers, and many brands are fantastic. Our favorite liquid-balanced formula is Miracle-Gro Indoor Plant Food (Liquid), and slow-release is Osmocote Smart-Release Plant Food Plus Outdoor & Indoor.
However, brands like Bonide 10-10-10, Espoma, Jobe's, etc., are also good. Just ensure you follow the recommended use instructions.
8. Pruning and grooming
They don't need much pruning. Just make sure you regularly cut off any dead, damaged, or diseased leaves with sterilized pruning shears. Also, wipe the leaves with a soft, damp piece of cloth.
In early spring or even summer, you can remove any leggy or long stems to control the size and shape of your plant.
9. Potting and repotting
Repotting is after every 2 to 3 years. But if your plant is root bound, i.e., roots start growing from drainage holes, you can repot it. But you should repot your plant only in summer or spring – when the plants are growing.
When repotting, pick a pot that is 2 to 3 inches wider in diameter than the previous one.
Monstera acuminata propagation
The best way to propagate Monstera acuminata is by stem cutting, either in soil or water. But you also propagate by air layering or using seeds if you are lucky to find them. They are not readily available anywhere.
If you intend to propagate this plant, wait until early spring. Summer is also ok but may not give as much time for your plant to establish itself before the colder seasons set in.
i). Stem cutting propagation in soil or potting mix
Place your potting mix (perlite and sphagnum moss or even sphagnum moss alone) or soil in your growing pot and water it well. If you are sphagnum moss alone, soak it in water and wring it.
Pick a healthy stem, about 4-6 inches, with at least two nodes (the bumps where aerial roots grow). Cut it with your sterilized pruning scissor or knife, just below the lower node. You can use rubbing alcohol or bleach and water solution to disinfect your scissor.
Remove any lower leaves, leaving one or two uppermost. Then apply your rooting hormone (which promotes faster rooting) to the part you will bury in the soil.  
Next, poke a hole in your potting mix or soil and plant your cutting covering the two nodes. Lightly tamp the soil around the cutting to ensure it keeps the stem cutting upright.
Mist your cutting, cover it with a sealable transparent plastic bag leaving a small hole for breathing. Make sure it doesn't touch the leaves. The plastic bag will help lock humidity which will favor fast rooting.
Afterward, place the cutting in a warm place with bright, indirect light.
From time to time, check to ensure the soil remains moist. Mist it if it shows starts drying. Also, after every few days, open the plastic bag for  2 to 3 hours to allow the plant to breathe.
Your plant will start rooting after 3 to 4 weeks and will take up to 2 months or more to be ready for transplanting. How quickly it occurs depends on the conditions you provide.
ii. Stem cutting water propagation
Monstera acuminata propagation in the water is straightforward. Also, this method will allow you to see how the rooting process goes on. But it will take longer, and your plant may suffer from some transplant shock.
Instead of plating your stem cutting in soil or potting mix in step 3 above, dip in a jar of water. Just make sure no leaves are in the water. You can then add a few drops of your rooting hormone and place it in a warm place with bright indirect light.
Change the water after 3 to 4 days or when it starts looking cloudy. Transplant it once the roots are large enough and it has some new growth.
iii. Air layering
Monstera acuminata propagation by air layering is another easy method to guarantee success if you don't mind your plant having sphagnum moss wrapped on its stem. But you can hide it by rearranging the leaves.
To use this method, begin by deciding on the nodes you want to use in air layering. You can apply some rooting hormones around them. Also, you can make a slight nip near the node with your sterilized pruning knife. These two steps are optional.
Next, take moisturized sphagnum moss ball, put it on the node, and wrap it with a plastic bag. Make some tiny holes with a toothpick to allow some free air circulation and be moisturizing the sphagnum moss until it the node roots enough.
When roots are about 3 to 4 inches, you can cut the stem below the node and transplant it.
Toxic to pets and humans
Monstera acuminata is toxic to humans, dogs, cats, and other pets. Please keep it away from kids and pets. It is harmful or poisonous because of the very sharp and needle-like insoluble calcium oxalates.
If you chew it, they will pierce your mouth and gut lining. This will cause a lot of pain and a burning sensation. You will also drool, find it difficult to swallow, and your mouth, tongue, and lips will swell. Your pets will also paw their mouth.
Pests
This Monstera isn't prone to any pests when grown indoors. But it is not immune to spider mites, aphids, scale, or mealybugs. You may have some, especially the spider mites.
To prevent pests, isolate new plants, keep leaves clean and check for any signs of these pests. If you see them, hose them off, use neem oil, insecticidal soap, or horticultural oil sprays.
Diseases and conditions
Diseases like powdery mildew, leaf spot, rust, botrytis, anthracnose, rust, or southern blight that affect Monsteras are unlikely if you wash your hand before and after handling this plant. Also, isolate any infected or new plants.
Nonetheless, your Monstera may have root rot and suffer from a few problems. Let us look at them briefly.
1. Root rot
Overwatering and soggy soil cut the air to roots. This weakens them, making them attacked easily by soil fungus or bacteria that cause root rot.
Root rot will cause yellow leaves, stunted growth, leaf loss, and brown splotches on leaves. A more way to identify the issue is to check if the roots are mushy and brown or black.
You can deal with this issue by repotting your plant. While doing so, tap it to remove all the soi and cut any brown or black roots with a sterilized scissor.
2. Yellow leaves
Monstera acuminata yellow leaves are a sign you are overwatering this plant. If not water, it may be your plant is thirsty, there is too little or too much light, or it lacks some nutrients. Also, it may be normal aging, pests, and disease.
3. Curling leaves
Leaves curling upwards or inwards are a sign your plant is thirsty. You may also see crispy, brown tips and edges. Please water it immediately if the soil is dry. But this issue may happen due to low humidity, too much light, and high temperatures.
4. Browning leaves
Does your Monstera have brown leaves, spots, edges, or tips? You have likely given it too much light, heat, low humidity, or it is thirsty. But, disease, conditions, cold drafts, transplanting shock, or salt buildup in the soil can cause foliage browning.
Frequently asked questions FAQs
Is Monstera acuminata rare?
Not really. We believe that Monstera acuminata is an uncommon houseplant, or most people don't know it. Indeed, large growers, local nurseries, and even specialty nurseries don't have this plant. But we cannot attribute this to rarity. It may be due to it not having much demand, considering it is not very expensive.
What is the Monstera acuminata price?
Monstera acuminata price is $10 to $40. But you may pay slightly higher if you go for a larger and well-established plant. Also, this price will depend on where you are. For instance, it costs more in the UK than in Canada, USA, or Australia.
Where do I buy Monstera acuminata?
The first place to start your search for Monstera acuminata on sale is Etsy.com. It has several vendors offering great prices. Next, try looking for it on your local plant Facebook pages or groups the Instagram. Lastly, use a search engine to get some online vendors around your location. You can't miss some.