Monstera epipremnoides is an evergreen, rare, tropical climbing plant species that originates from Costa Rica. It belongs to the arum family Araceae. Plants in this family are known as aroids.
What we are going to talk about is the Monstera epipremnoides sp. Esqueleto or just Monstera Esqueleto. Many gardeners grow it as a garden or houseplant. And they consider it as a clone, cultivar, subspecies, or variety of M. epipremnoides.
Unlike the original species, Esqueleto doesn't have pinnatifid or split leaves. Instead, it has charming, huge leaves with an entire margin. These leaves are larger and have more holes than Monstera Adansonii. But not as much as Monstera obliqua.
We bet you will love these leathery, glossy green leaves with holes. Perhaps this is why it is costly and high in demand. You are going to pay a fortune for it.
Lastly, some people call this plant the Swiss Cheese Plant. This name is mainly for Monstera adansonii and Monstera deliciosa. The name comes from the fact it has holes like Swiss cheese. We think it qualifies to have it.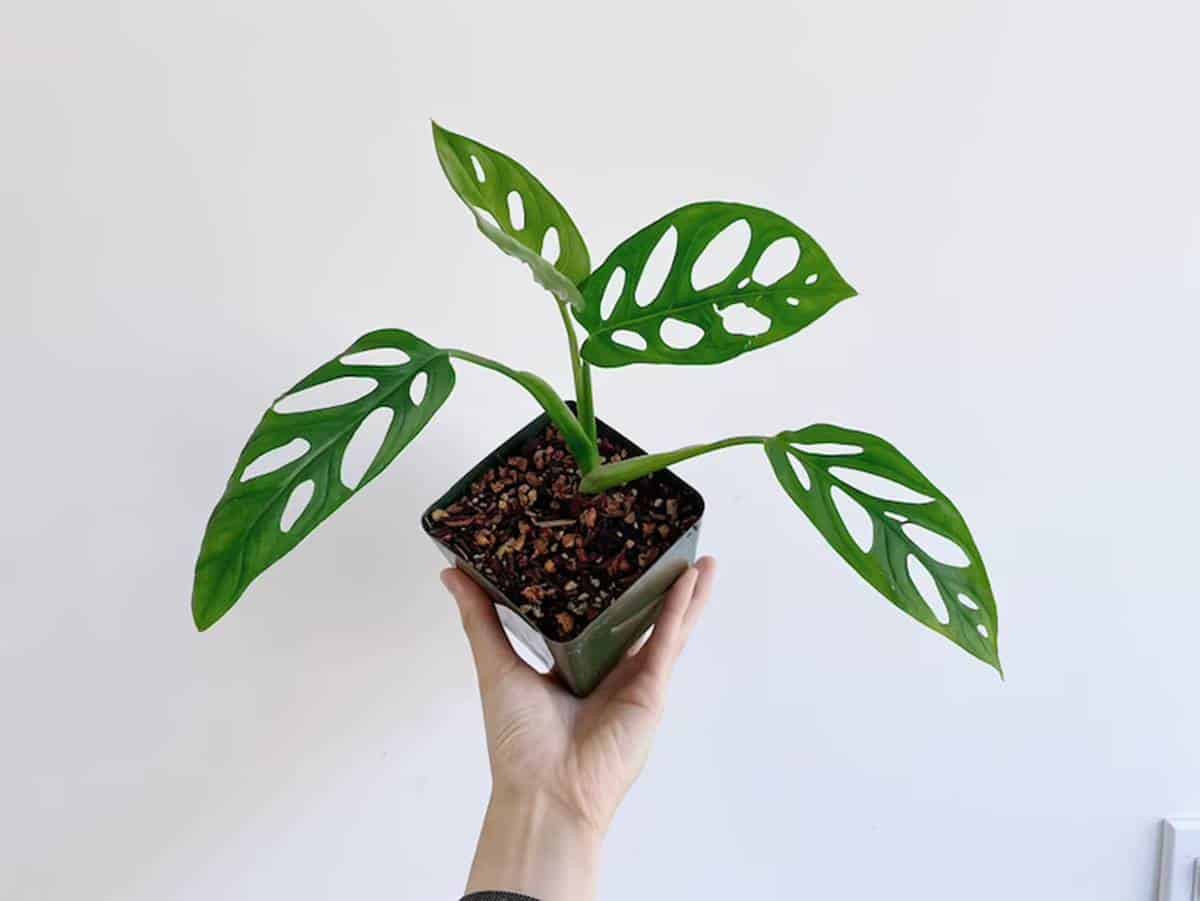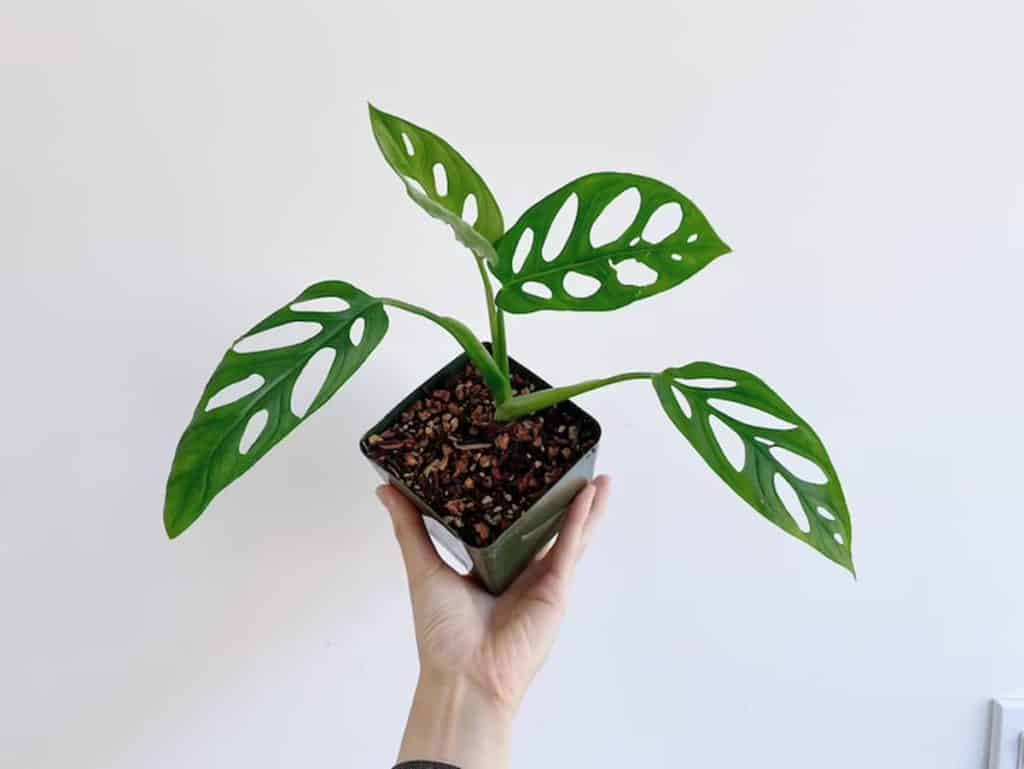 Quick overview
| | |
| --- | --- |
| Scientific name | Monstera epipremnoides |
| Family | Araceae |
| Common names | Its common names are XL monstera epipremnoides, Swiss cheese plant, Monstera Esqueleto, Philodendron epipremnoides. However, it is not a philodendron. |
| Native habitat | It exists in nature in Costa Rica |
| Type | Broadleaf, evergreen climbing plant |
| Size | 32 feet (10 m) in the wild, and about 4 to 8 feet inside the house |
| Leaves | It has green leathery, glossy green leaves. Juvenile leaves are entire, but mature leaves are pinnatifid and have small holes. |
| Stems | Green vines |
| Flowers | It has greenish-white inflorescence flowers borne on a spadix and surrounded by a spathe |
| Blooming time | All year after the plant reaches maturity |
| Light requirement | Bright, indirect light |
| USDA hardiness zone | 11b to 12 |
| Temperature | 60°F to 80°F (15 to 27 ºC) |
| Humidity | It loves high humidity (60% to 80%) can it won't mind slightly lower or average |
| Growth rate | Medium |
| Soil | Soils or potting mixes that are well-drained, aerated, and high in organic matter |
| Watering | Medium, after the top 2 to 3 inches of the soil dries |
| Propagation | Stem cutting |
| Toxicity | Toxic to humans and pets |
| Care level | Low or easy |
Identification – appearance and description
This Monstera epipremnoides description will talk about the actual species, not 'Esqueleto' seen in cultivation. But as we do so, we will help you see the differences between these two.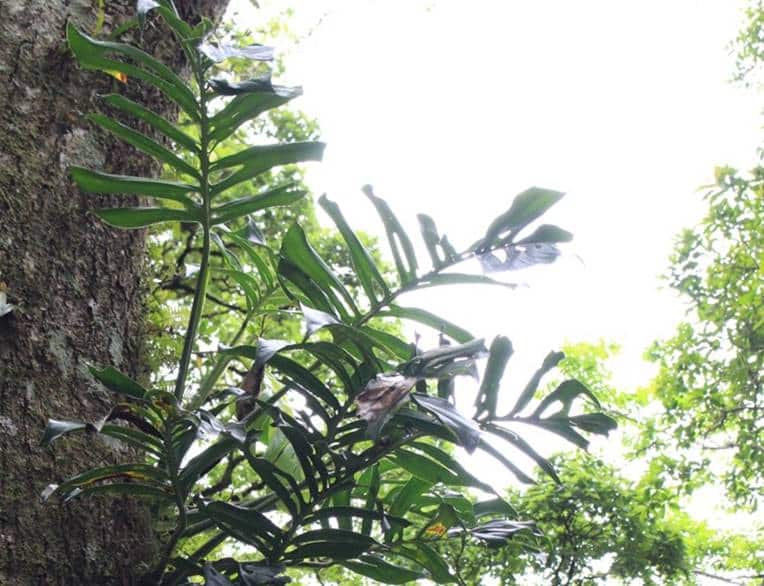 1. Growing habits
Monstera epipremnoides is a tropical, evergreen climbing plant from Costa Rica. It grows in tropical cloud forests at 4265 to 5905 feet (1300-1800 m) altitudes above sea level.
The plant is a hemiepiphyte. In its juvenile stage is a ground creeper and the adult an epiphyte. Also, it receives mainly dappled light because it grows under tall trees canopies.
Lastly, the Monstera epipremnoides growth rate is medium. But it can grow a bit
2. Size
In the wild, it can reach up to 32 feet (10m) long. However, at homes, it will be about 4 to 8 feet long. But if you grow it outside, it will be much longer.
3. Leaves
Monstera epipremnoides plant has simple, alternating, leathery, glossy green leaves. These leaves are oblong/elliptical with a heart-shaped base. Also, they have a sheathed leaf stalk with persistent sheath wings.
The juvenile leaves are small and entire (no fenestrations). But, as the plant matures, the leaves grow very large (13.7 to 21.7 inches wide and 8.7 to 13.8 inches wide. Also, the mature Monstera epipremnoides become pinnatifid with about 12 to 20 pinnae on either side of the leaf blade. Also, it may have minor oval/elliptical holes.
The mature leaves mark the main difference between true Monstera epipremnoides and Monstera epipremnoides 'Esqueleto' or Monstera Esqueleto. The latter has an entire margin and has lots of holes, some running from midrib to almost the leaf margin.
Lastly, true Monstera epipremnoides leaves resemble Monstera dissecta or Monstera tenuis. But M dissecta occurs at lower altitudes 3.28084 ft or (1000m) or less. Also, M. dissecta has broader pinnae and doesn't have holes.
4. Stems
They grow long, vine-like greenish stems with aerial roots that sprawl. In the juvenile stage, they are thin. But when it matures, they become slightly thicker and leaves scars.
5. Flowers and fruits
Under cultivation, it is not easy to see their flower. But if allowed to mature, it will have small, greenish-white inflorescence flowers borne on a spadix and surrounded by a spadix. Usually, the flower stalk or peduncle is longer than the spadix.
After that, they will have whitish, berries-like clustered fruits with a fragrant that contains seeds.
Monstera adansonii vs Monstera epipremnoides Esqueleto
If you have seen these two plants, they indeed look alike. They both have an entire margin and holes.
They belong to the same genus and family Araceae but their different species. Also, both have smaller leaves in their juvenile stage.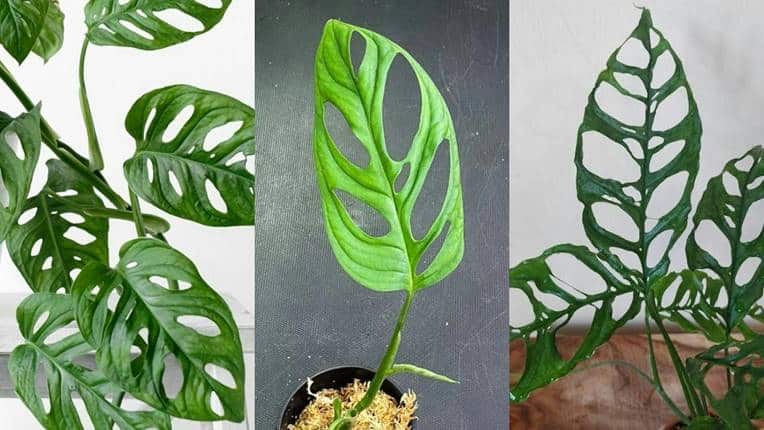 Their differences lie in mature leaves. Here are their differences:
| | | |
| --- | --- | --- |
| | Monstera Esqueleto | Monstera Adansonii |
| Leaf size | Mature leaves are larger | Smaller mature leaves |
| Color of leaves | Light green to green | Dark green |
| Leave appearance | Leathery, fuzzy leaves and thicker-looking leaves | They have smoother, thinner, and less leathery leaves |
| Holes | It has large holes that take much of the leaves. Also, the holes start from near the midrib and run to near the margin | It has smaller, random holes that are not so close to the midrib. Also, these perforations may occur in series. |
| Price | More expensive, selling at $100 to as high as $500 | Cheaper, going for $10 to $40 |
Last but not least, Esqueloto does look like Monstera obliqua, but the holes are not as extreme. Also, the leaves are not as elongated.
Monstera epipremnoides vs. laniata
Do you have trouble differentiating between epipremnoides and Monstera laniata? The latter has dark green leaves that are less elongated and have lesser holes, with some missing the holes.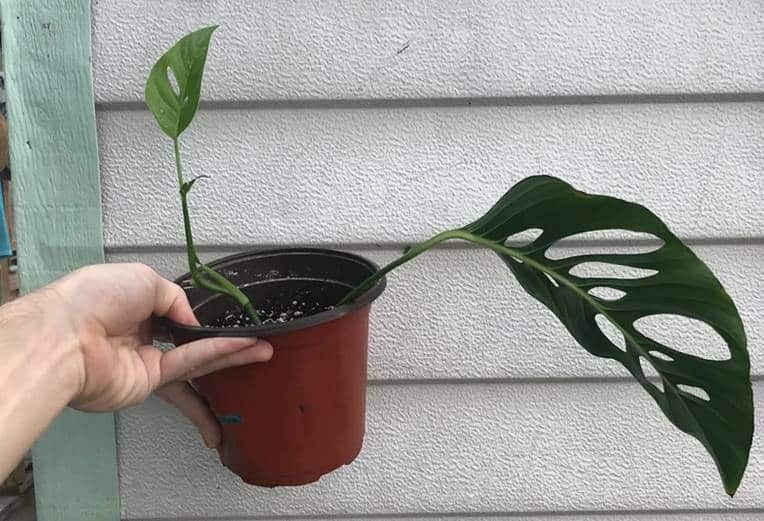 Also, the base of the laniata is uneven, with one side truncating and another acute or cuneate.
Finally, epipremnoides sheath wings persist, while for laniata, they dry and fall, i.e., they are deciduous.
Where to grow them
This Monstera makes an excellent potted or hanging basket houseplant. It will add a tropical accent to your house, be it the living room, bedroom, kitchen, bathroom, conservatory, office, and so on. Also, people in mild climates can grow it outdoors.
Inside your home, we recommend that you give it something to climb. This way, it will grow larger and lush leaves. A trellis or pole such as bamboo, moss, or burlap-wrapped will work well. But you still let it cascade downward on a hanging basket or onto your cabinet, desktop, etc.
Outdoors, let it wrap around tree trunks or grow on the arbor for those who choose to grow it outside. Also, it can grow as a ground cover.
Monstera epipremnoides care and growth requirement
Monstera epipremnoides is one of the easiest plants to care for that even first-time plant owners won't any challenge. It doesn't need much and can grow well in normal household conditions.
Just ensure it has indirect light, humidity doesn't go too low, and you know how to water it. These, and a few things we will look at, are all the care it needs.
1. USDA hardiness zone
Monstera epipremnoides USDA hardiness zone is 10b to 12. This plant cannot withstand freezing or frost.
We are aware that North Carolina State University Extension says 10a and 10b. But we don't think 10a is ok as temperatures below 32 degrees Fahrenheit (0°C) will kill this plant. So, we recommend growing this plant outdoors if you are in zone 10b to 12.
2. Temperature
This is a tropical plant that prefers a warm place. So, place your Monstera epipremnoides in a warm area with temperatures of 60 to 80 degrees Fahrenheit (15.6 to 26.7°C). But it can withstand slightly or higher lower temperatures. 55°F (12.8°C) is still safe.
Low temperature will slow its growth. If you grow it outside, take it inside the house when it falls below 50°F (10°C). Also, don't place it in places with sudden temperature drops or spikes. These places include cold drafts, near heaters, air condition or cooling vents, or fireplaces.
3. Humidity
It is not a secret that Monstera epipremnoides loves high humidity, i.e., 60% to 80% or more. Luckily, it can still tolerate slightly lower average humidity (40 to 50%). This makes it suitable for most homes.
Yes, it can stand lower humidity. But, it will have more excellent and supple leaves in higher humidity.
If your home has low humidity, find ways to raise it. Some of these ways are having a pebble tray or misting your plant a few times a week. Some people put it in the kitchen or bathroom (these rooms are more humid) or group plants together (which raises their humidity).
However, if your humidity is too low, a humidifier like AquaOasis™ Cool Mist Humidifier should help. It is quiet, runs for a day after a refill, and auto shut when water is over, or malfunctions.
4. Monstera epipremnoides light
Grow your Monstera epipremnoides under bright, indirect light. But it wouldn't mind medium. Avoid direct sunlight as it will scorch its leaves. Also, low light will make the leaves yellowish, and the plant will grow slowly.
If your home has little light, supplement it with an artificial grow light. On the other hand, those growing this plant outside need a greenhouse, a partially shaded area, or a shade cloth.
Last but not least, any window will do. Just ensure you know how to position your plant correctly. If you have an east or west-facing window, you can allow some morning or late afternoon sun. It won't do much damage. The south-facing window may need blinds, or you can put the plant some distance from the window. North-facing is perfect.
5. Monstera epipremnoides soil
The best soil for Monstera epipremnoides should be well-drained, aerated, and high in organic matter. This plant isn't fussy and wouldn't mind even a soilless potting mix.
Go for an aroid mix or any other fertile, chunky mix that holds moisture but doesn't get wet. A good potting mix with some added perlite and peat moss is perfect. You can substitute perlite with orchid bark or pumice.
Lastly, don't go for heavy, compactable, or sandy soils. Heavy ones will not drain well, while sandy won't hold moisture.
6. Watering
Water your Monstera epipremnoides when the top 2 to 3 inches of the soil is dry. Some people choose to wait until the top 50% to 75% of the soil dries. It is still ok.
We usually water our plants about once a week when they are growing and biweekly in colder months. But your case may be different because this depends on soil, light, humidity, temperature, plant size, etc.
How do you tell it is watering time? Some people feel the soil while others lift their pot to feel the weight. We prefer a moisture meter like XLUX or Gouevn. Insert the probe and water your plant if the reading is in the dry zone. 
When watering, slowly saturate the soil until excess comes from the drainage hole. Discard any that collects in a saucer.
i. Overwatered
Overwatered Monstera epipremnoides will have soil that is always wet, and leaves will begin turning yellow. Also, you will see squishy, soft stems, brown spots or black on leaves, and moldy soil that may attract pests.
ii. Underwatered
Letting the soil completely dry will make your plant thirsty. Its leaves will start curling and may look droopy. Also, the plant will grow slowly, and the leaves may turn yellow. Other signs are wilting, leaves drooping, etc.
7. Fertilizer
If you need this plant healthy and lush, feed it with good plant food in the warmer months. However, in colder ones, don't. You can go for an all-purpose houseplant fertilizer, liquid, granular, or spikes. Then follow the manufacturer's instructions. But start with half-recommended strength.
In our opinion, the best fertilizer for these houseplants is Miracle-Gro Indoor Plant Food (Liquid). We use one pump for a small port and two for a larger one. Did you know it is balanced too?
Osmocote Smart-Release Plant Food Plus Outdoor & Indoor is an excellent alternative for those who prefer slow-release formulas. You need only once in four months. 
Just sprinkle ¼ a teaspoon for a small pot and ½ for a large. Work the granules into the soil, 1-3 inches deep. 
8. Pruning and grooming
This Monstera doesn't need much pruning. But it would help if you cut any dying, brown, diseased, or damaged leaves with a sterilized pruning scissor any time you see them. Also, you can trim off some stems to control growth and keep your plant in the shape you like. Do this in spring or summer.
9. Potting and repotting
Repot Monstera epipremnoides every 2 to 3 years or if roots begin growing from drainage holes (it is root-bound). Do this in spring or summer and go for a pot 2 to 3 inches wider in diameter. Also, ensure it has drainage holes.
Monstera epipremnoides propagation
Monstera epipremnoides propagation is by stem cutting. You can propagate it in soil, potting mix, or water. Also, with any plant, do this in spring or, if very necessary, in summer.
These are not the only ways to propagate this plant. Some people go for air layering and division propagation. But will not look at these two methods today. Instead, we will examine how to propagate by stem cutting in soil or potting mix and say something small on water.
i. What you need
Sterilized pruning shears or knife
Small container
Potting mix or soil
Rooting hormone. Optional, but it will promote faster growth of roots. This will increase the success rates. The best brand to buy is HydroDynamics Clonex Rooting Gel. It has a rooting hormone, some nutrients, and trace elements to support faster rooting.
Sealable transparent plastic bag. Again, this is optional. But it will be suitable for people in places with low humidity, i.e., it locks it.
ii. Steps to follow
Start by putting the soil or potting mix into your container, then slowly saturate it until water flows from drainage holes. Pour any water that collects on its saucer.
Next, pick a mature, healthy stem with at least two nodes and cut it just below the lower node using your pruning knife. Then, remove any lower leaves, leaving one or two upper ones.
Apply your rooting hormone on the cutting. Apply on the part of the stem you will bury in the soil.
Make a hole on your soil/potting mix and plant the cutting, burying the lower two nodes. Lightly tamp your growth media to help keep the plant upright.
Mist the cutting lightly and cover it with your plastic bag. Ensure it doesn't touch the leaves, and it has a small breathing opening. Next, take the covered plant to a warm place with bright, indirect light.
From time to time, check to ensure the soil/potting mix remains moist. Mist it if it begins drying. Also, open the plant for a few hours once or twice a week to allow it to breathe.
Roots will start growing after about four weeks. By two months, they will be long enough, and you can transplant them. How soon this occurs depends on conditions like temperature and humidity.
iii. Propagation in water
Water propagation is a perfect choice if you want to see roots growing. But it will take a little longer. Instead of planting the cutting in soil, dip it in a container with water. Then add a bit of the rooting hormone.
Please place it in a warm place with bright indirect light. You don't need the transparent plastic bag as water will help maintain high humidity.
Lastly, change the water after 3 to 4 days. Otherwise, it may grow algae.
Toxic to pets and humans
All Monstera epipremnoides plant parts are harmful to humans, cats, dogs, and other pets. Why are they toxic or poisonous, and what signs do you expect?
It is toxic because it has sharp needle-like insoluble calcium oxalate. If chewed, this plant will cause severe irritation and a burning feeling. Also, the mouth, tongue, and lips will swell and become red. Other signs are difficulties in swallowing, loss of appetite, drooling, and mouth-pawing (pets).
Pests
Pests are not a common problem if you grow these plants indoors. Also, you need to isolate new plants. But they are not immune, and these plants can have spider mites, mealybugs, aphids, thrip, scale, or fungus gnats.
To remove them, hose to plants to dislodge bugs. Also, depending on the specific pest, you can clean with rubbing alcohol or use neem oil. Other solutions are insecticidal soap or horticultural oil sprays.
Diseases and conditions
We have not seen a case of any disease, except for a few cases of root rot. But we are not saying that these plants cannot get rust, mosaic virus, leaf spot, or southern blight. Others are powdery mildew and anthracnose.
We will look at root rot and a few other conditions that your Monstera is likely to have.
1. Root rot
The common cause of root rot is overwatering. However, an oversized pot or one without drainage holes a contaminated or poorly drained soil are other possible reasons.
Signs: Distorted yellow leaves, slow growth, mushy stem base, wilting, and leaves dropping. Others are brown splotches on leaves and black or brown roots.
Remedy: Repot, removing all the affected roots with sterilized scissors. Also, discard all the previous potting mix or soil.
2. Yellow leaves
Monstera epipremnoides yellow leaves are a likely sign you have overwatered this plant. Yellow or washed-out-looking leaves will mean too much sunlight. On the other hand, too little light or humidity will also cause this problem.
Other possible causes are diseases and conditions, lack of nutrients, pests, underwatering, or expected. Leaves turn yellowish as they age and die.
3. Brown leaves
Brown leaves can result from several things. If you see the tips and edges are crispy and brownish, it is either your plant is thirsty, you have low humidity, or it is a sunburn. Also, the browning that may include brown spots is salts built up in soil (caused by fertilizers), pests, or disease.
4. Curling leaves
When thirsty or under low humidity, this plant may curl and at times droop its leaves. Also, disease, pests, low humidity, and heat stress are possible reasons.
Frequently asked questions (FAQs)
Is Monstera epipremnoides rare?
Yes. Monstera epipremnoides is one of the rare tropical houseplants. It is not easy to find, and it will cost you more. Even most specialty nurseries and the big box growers don't have it. However, there are some rarer variegated Monstera.
What is the Monstera epipremnoides price?
Monstera epipremnoides price ranges from $100 to $500. A juvenile plant with a few leaves will cost you about $100, while if it is more established, you will pay $200 upwards. This is a rare plant that many people don't have. Therefore, you will have to pay more.
Where do I buy
Monstera epipremnoides?
The best place to find Monstera epipremnoides on sale is Etsy.com.Here, you will get prices ranging from as little as $60. Another place to try is eBay. Besides the USA, both eBay and Etsy sell their plants in the UK, Canada, and Australia.
The other place we saw this plant on sale is Offerup.com. Also, you can try houseplant Facebook groups in your locality or try a search on Google or other search engines. You may get some vendors near you.