Monstera laniata (Monstera adansonii subsp. laniata syn. Monstera friedrichsthalii) is an uncommon subspecies of Monstera adansonii (Swiss cheese plant or vine). These two bear some resemblance, and some people confuse it with Monstera lechleriana.
We love this adorable, easy-to-care-for tropical air-purifying houseplant. It has charming oval green to dark green leaves that may have holes (fenestrations) on either side of the midrib.
We have Monstera laniata care needs, and we will teach you how to propagate this plant in case you need more. Also, you will get a description to help you identify it quickly.
If you love this plant, head to Etsy.com or Amazon (sold by California tropical). You can also try some local online vendors.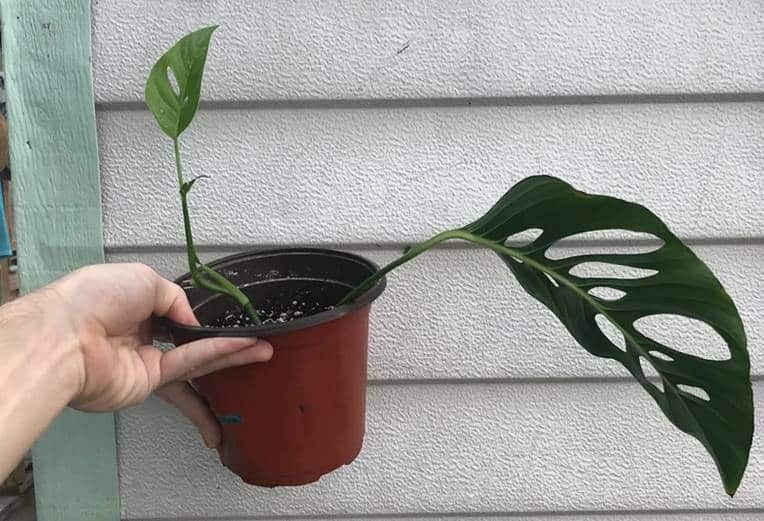 Note: Many people confuse this plant with Monstera lechleriana. However, this shouldn't be the case since they are different plant species.
Monstera laniata quick overview
| | |
| --- | --- |
| Scientific name | Monstera adansonii subsp. laniata |
| Synonyms | Monstera friedrichsthalii |
| Family | Araceae (arum or aroid family) |
| Common names | - |
| Native habitat | Nicaragua, Costa Rica, Panama, Colombia, Ecuador, Peru, Venezuela, and Brazil. Also, it occurs in Suriname, Guyana, Belize, French Guiana, Bolivia, and Honduras. |
| Type | Evergreen, tropical climber, or vine |
| Size | 10-15 feet or more in the wild or outdoors. Indoors, it will be about 4 to 8 feet long. |
| Leaves | Oval green juvenile leaves that many have a few holes and green to deep green leaves with oval to elongated fenestrations. |
| Stems | Greenish stems with short internodes |
| Flowers | Inflorescent with pale yellow flowers surrounded by a pale yellow to cream spathe |
| Blooming time | All year after this plant matures |
| Light requirement | Bright, indirect light |
| USDA hardiness zone | 11b to 12 |
| Temperature | 60°F to 80°F (15 to 27 ºC) |
| Humidity | Prefers average to above average humidity (50% to 80%), but it tolerates lower (40 to 50%) |
| Growth rate | Relatively slow growth rate. |
| Soil | Well-drained, fertile, or organic-rich soils or potting mix |
| Watering | Medium, allow the top 2 to 3 inches to first dry, then water |
| Propagation | Stem cutting |
| Toxicity | All parts of the plant are toxic to humans and pets |
| Care level | Low or easy |
Identification -What does a Monstera laniata look like?
This plant does look like a few other Monstera plants species. Here is something to help you identify it.
1. Growing habits
Lanita is a climbing evergreen plant that grows in warm and humid tropical rainforests as a hemiepiphyte – has epiphytic and terrestrial growth phases.
At its juvenile stage, it will creep on the ground. But when it gets a climbing tree trunk, rock, or any vertical object, it anchors itself with aerial roots and will be an epiphyte.
2. Size
It can reach up to 10 to 15 feet long or more in its native habitat. However, at home, it will be 4 to 8 feet long and about 1 to 3 feet wide, and you must provide ideal conditions and a place to climb.
3. Monstera adansonii spp. laniata Leaves
Juvenile plants will have oval, green leaves that are 1.5 to 2 times longer than wide. Some plants will have leaves with 1 to 4 elliptic holes on either side of the leaf blade or midrib.
On the other hand, mature Monstera laniata has larger, i.e., 8 to 22 inches long and 5.9 to 16 inches wide oval fenestrated leaves. These are somewhat leathery green to deep green leaves with a broad, unequal base, i.e., one side almost truncates, and the other is slender or acute.
Lastly, juvenile and mature petioles have a deciduous (dries and falls) sheathed petiole.
4. Stems
Laniata plants have green vine-like stems with aerial roots. Juveniles have almost round stems, while in mature plants, it is elliptical. Also, internodes are shorter in young than adults.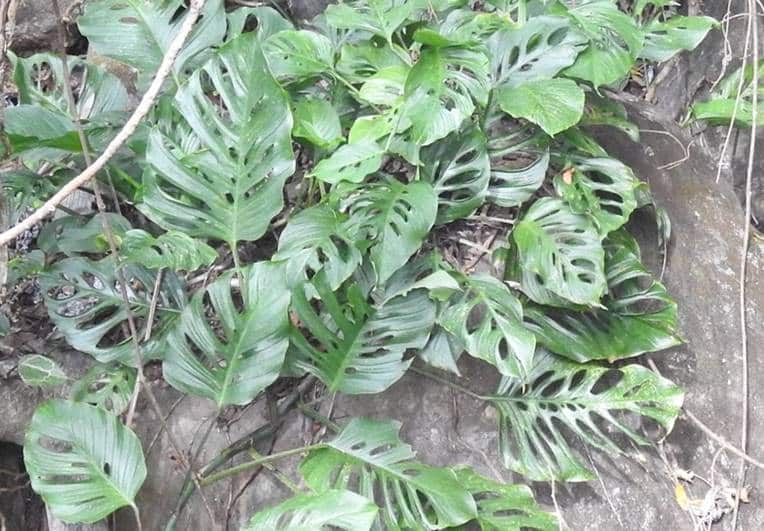 5. Flowers
Monstera laniata will only flower if they have a place to climb and have matured. As houseplants, they are unlikely to flower.
Once they mature, they will have inflorescence with pale yellow flowers borne on a spadix and surrounded by a pale yellow to cream spathe. Their fruiting spadix is pale yellow and will have berry-like inedible or toxic aggregated fruits.
How does a Monstera adansonii differ from laniata?
These plants have many similarities considering laniata is a subspecies of adansonii. Here are their differences.
| | |
| --- | --- |
| Monstera adansonii (main species) | Monstera adansonii subsp. laniata |
| They have more elongated (oval to elliptical) juvenile leaves, i.e., about 3-4 times longer than wide. | Their juvenile leaves are also oval. But shorter, i.e., length is about 1.5 to 2 times the width. |
| Mature leaves are oval 2 to 2.5 longer than wide. Also, they are less fenestrated, i.e., they have fewer but larger holes that don't start near the midrib. Also, they don't occur in several series | Mature leaves are oval leaves less than twice the width. Also, they are more fenestrated, i.e., they have many and elliptical holes that start close to the midrib or at times none. These holes occur in series. |
| Their leaf bases are almost uniform or even on either side of the midrib. | They have uneven leaf bases, i.e., one truncates while the other is cuneate or acute. |
| Petiole sheath wings persist | Petiole sheaths wings dry and fall |
Monstera laniata vs. lechleriana – How do they differ?
Both these two plants have entire, fenestrated leaves. However, it shouldn't be tough to tell the difference.
Firstly, Monstera lechleriana has oval, larger (30-47 inches long) leaves borne on a tight-head of 10-15 leaves on the top of the stems, while laniata has smaller (8 to 22 inches long) broadly oval to oval leaves are not borne on a tight-headed cluster. Also, laniata may have no, a few to several series of holes while lechleriana has only one series.
Secondly, while lechleriana's petiole sheathing or wings persist, they will dry and fall in a laniata plant. So, do a quick check on older leaves to see if they are present or not.
Lastly, if you look at the leaf bases, a laniata plant will have one side that almost truncates, and the other is acute. However, this unequal bases isn't a pronounced in lechleriana.
Monstera laniata vs. esqueleto – What is the difference?
Monstera Esqueleto is a cultivar of Monstera epipremnoides that resembles laniata. To tell the differences, consider fenestrations appearance and sheaths.
Monstera laniata has smaller and fewer holes (fenestrations), while in Esqueleto are more holes, with some running from nearly the midrib to the leaf margin but not as many as Monstera obliqua.
The other difference is petiolar sheaths. They persist in Esqueleto but dry and fall in laniata. Also, the leaf base of esqueleto is not as unequal as in laniata.
Where to grow your Monstera laniata?
Indoors as a houseplant. Let it climb moss poles, burlap-wrapped poles, bamboo poles, or trellis. They can cascade from hanging baskets or grow horizontally on cabinets or desktops. But we don't recommend it as the leaves will not be large.
In milder climates, you can grow them outside in a shaded area. Let them climb arbors, fences, tree trunks, etc.
How do you care for Monstera laniata?
Monstera adansonii subsp. laniata plants require a warm (60 to 80°F) humid (40% or more relative humidity) area with bright indirect light. Water when the top 1-2 inches feel dry and ensure the potting mix is airy and rich in organic matter. Also, these plants need regular feeding – like once a month, a place to climb. Don't forget to prune them as necessary.
Here is more on laniata care and growth requirements
1. What is the correct USDA hardiness zone for this plant?
The USDA hardiness zone is 10 to 12 or 9B without frost. They cannot tolerate freezing temperatures. Only people in this zone should grow them outdoors.
2. Grow them at an ideal temperature of 60 to 80 °F
The ideal temperature for Monstera laniata should range from 60 to 80 degrees Fahrenheit (15.6 to 26.7°C). A little higher or lower is still ok, and you should avoid cold drafts.
Very low temperatures will slow growth, and if grown outdoors, move your Monstera laniata indoors when temperatures go below 50 degrees Fahrenheit (10°C).
3. Give your laniata plants average to above humidity
Like other monstera plants, this tropical plant prefers average to high humidity (50% to 80% or more) but can withstand slightly lower levels. However, extremely low humidity may dry the leaves or make them yellow. Also, the leaves will be crispy, have brown edges, and your plant may wilt.
If your home is so dry, it would be best to mist your plants a few times or have a pebble tray. Also, place your plants in your bathroom or put them together.
However, if your humidity is low, buy a humidifier. Why? It will ensure you are also comfortable. We use Levoit, Aquaoasis, or Pure Enrichment, and we bet they are all good. What you pick depends on your room size and the features you are looking for.
4. What light is ideal for Monstera laniata?
These houseplants need bright, indirect light for the lushest leaves and fast growth. But they can still grow under medium light.
However, too little will slow growth and make leaves yellow and leggy. It would help if you had to grow lights. Also, avoid direct sunlight except for early morning on the East facing window. Otherwise, you should expect a sunburn on your Monstera. Leaves feel dry, look faded, and have crispy tips or edges.
Play around distance from the window to find a spot with bright indirect light. It shouldn't allow the direct hot sun to reach your plant. Get a shaded area, greenhouse, or a 20 to 40% shade cloth.
5. GO for well-drained, aerated soil rich in organic matter
Grow your Monstera laniata in a well-drained, aerated, and organic-rich soil or potting mix. The ideal pH is slightly acid to neutral soils (pH 5 to 7.5).
These houseplants are not very picky on the soil, but it needs to hold moisture while allowing excess water to drain. A chunky, high-organic matter mix will be perfect.
You can use an aroid potting mix (check Etsy.com) or a potting mix with added perlite and peat moss. Instead of perlite, use pumice or orchid bark. These two will equally boost drainage.
6. How to properly water your Monstera laniata?
These plants love moist soil (not dory or soggy. So, I only water my plants when the top 2-3 inches of the potting mix feels dry or when it feels up to the first knuckle of the finger. That takes about 4-7 days in growing months and once in two weeks in non-growing.
However, please don't follow my schedule. Your condition (temperature, light, or humidity), plant size, pot size, etc., are different.
A surer way is using a soil moisture meter. You cannot go wrong in telling if it is the watering time if you have an accurate and reliable moisture meter like XLUX or Goueven. They are easy to use. Just insert the probe into the soil and get a reading. Anything in the dry (red) or less than three needs immediate watering.
When watering, slowly saturate the potting mix until excess water flowers from drainage holes. Don't forget to discard any that collects on the pot saucer.
Pro tip: Don't overwater or underwater your plant
Avoid overwatering your plant. It will cause root rot. Also, leaves will turn yellow, droop, and wilt, and the soil will be moldy or smelly. Similarly, don't keep your plant thirsty. It will grow slowly, have yellow leaves, or even wilt. Other signs will be leaf tips, and edges turning brown and crispy
7. Here is how feed Monstera laniata
Like other Monstera, this plant requires moderate feeding, like once a month, with an excellent all-purpose indoor plant food during growing months only. Don't feed during non-the-growing months.
J R Peters Jacks Classic 20-20-20 All Purpose Fertilizer is an excellent, balanced formulation for these plants. It also has boron, manganese, iron, molybdenum, copper, and zinc. Start with half-strength, i.e., add ¼ a teaspoon to a gallon of water and feed twice a month.
For a slow-release formula, we use Miracle-Gro Indoor Plant Food Spikes. It will continually provide nutrients to your plant for up to eight weeks.
8. Does it need pruning and grooming
Regularly cut off old, dying, diseased leaves using a sterilized pruning knife or shears. Also, you can remove a few branches during growing seasons to control growth, or if you want, a fuller and shapely plant.
Also, use a soft, damp cloth to wipe your Monstera leaves when they are dusty. You don't want to end up with a dusty plant.
9. How often to repot?
Report your Monstera laniata after about 1 to 2 years or if root-bound. If it is root-bound, you will see some roots growing from drainage. Also, the plant will be leggy or have yellow or brown leaves. Other symptoms are slow growth, and the leaves may drop.
You can report at any time. I prefer spring and summer when the plant is actively growing. Use a pot 2-3 inches in diameter wider than the current one. It should have large enough drainage holes. Avoid oversized ones.
How do you propagate a Monstera laniata
You will propagate this plant like other monstera houseplants, i.e., via a stem cutting in water or potting mix. We have tried both methods, and they work well.
Early spring works best as it gives your cutting time to grow and establish itself. Even summer is still OK.
Let us look at soil propagation. We will then comment on water propagation as they are similar.
1. Soil propagation
a). What you need
A sharp, sterilized pruning scissor
Potting mix or sphagnum moss
Growing container
Rooting hormones. Not mandatory. But it will help promote faster root growth. This means you will have higher success, and the process will be faster. HydroDynamics Clonex Rooting Gel is an excellent and effective pick.
A sealable transparent plastic bag. Again, not a must. But it will be handy if you live in places with fluctuating humidity. This bag will help lock humidity.
b). Steps to follow
Select a healthy, mature stem with at least two nodes and cut it below the lower node using your pruning shear. For faster success, pick one with visible aerial roots.
Remove lower leaves, leaving only the upper one or two leaves.
Apply your rooting hormone onto the part that will go into the soil.
Dig a small hole in your soil and plant your cutting. Ensure you bury the two nodes. To help it stand upright, lightly tamp your potting mix.
Thoroughly water your cutting until excess water flows from the drainage hole.
Cover it with your plastic bag, leaving a small opening to give your plant a chance to breathe. But don't allow the bag to touch the leaves.
Please take it to a warm place with bright indirect light.
From time to time, check to ensure the soil remains moist. If it begins to dry, mist it. Also, remove the plastic bag a few times a week for a few hours to aerate the plant.
You expect rooting and new growth in a few weeks, and your plant will be ready for transplant by the 4th or 5th week. Afterward, transplant when the roots are 3 to 4 inches.
ii. Water propagation
After step 3 above, dip the plant in a jar with water. Next, you will place it in a warm place with bright, indirect light. Afterward, change the water after every 3 to 4 days.
Are lanita plants toxic to pets and humans?
Because of insoluble calcium oxalates, these plants are toxic and poisonous to humans and pests. Signs include mouth irritation, pain, and redness if chewed. Also, the tongue or lips may swell, or your pet may paw and refuse to eat.
Are pests a problem?
Not a big problem. However, these plants may have pests like monstera plants, mealybugs, scale, spider mites, thrip, and aphids, especially outdoors.
Always check for these bugs or their signs like honeydew, black sooty mold, and spots on leaves. Also, there may be webbing, holes, yellow, brown, or deformed leaves.
Lastly, isolate new plants and use horticultural spray oils, insecticidal soaps, or neem oil to manage any pests you notice. You can also hose some of the pests off your plants.
Other issues your Monstera laniata may have
We haven't had any disease besides one incident of root rot. But these plants are not immune. They may end up with rust, mosaic virus, leaf spot, powdery mildew, southern blight, or anthracnose.
We recommend practicing proper hygiene when handling or pruning your plants. Clean your hands and always sterilize your pruning knives. Also, isolate and treat sick ones.
Other possible issues are:
Monstera root rot: Root rot is likely if you overwater your plant or have a poorly draining potting mix. Leaves turning yellow is a common sign. Others are black splotches, mushy stem bases, molding potting mix, drooping leaves, wilting, etc. Immediately repot your plant, removing any rotten bits with sterilized scissors.
Yellow leaves: Leaves turning yellow on your laniata often indicate you are overwatering. However, it may be too much or little light, low humidity, or cold drafts. Pests, disease, and nutritional deficiencies are all possible but rare reasons.
Leaves Browning and brown spots – Brown tips and edges that feel crispy imply low humidity, sunburn, or a thirsty plant. If you see brown spots, it may be pests and diseases.
Curling leaves – It means your plants are thirsty or have low humidity. However, heat stress, pests, root rot, and disease are possible reasons.
Frequently asked questions (FAQs)
Is Monstera laniata rare?
Not really. Monstera laniata is less known or uncommon rather than rare. Yes, getting a hold of it is difficult, and most big-box vendors don't have it. But this alone doesn't qualify it as rare. It could be low demand, or many people don't know about it.
What is Monstera laniata price?
Monstera adansonii subsp. laniata's price ranges from $10 to $40 for a young cutting with a few leaves. A more established plant may cause a slightly higher than that.