Monstera obliqua is a rare tropical climbing plant native mainly to Central and Tropical America and Trinidad. Its name 'obliqua' is a Latin name meaning 'oblique', and it describes the plant's oblique leaf base.
Monstera obliqua is a complex species with several forms, types or varieties, or clones named after a collection place.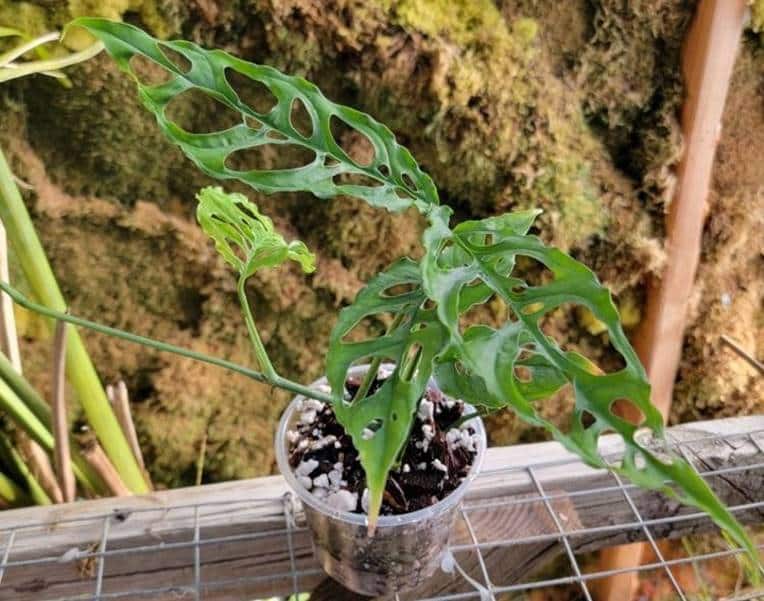 The most common and most sought or what is at times known as the 'botanist unicorn' or the 'holy grail plant' is the Monstera obliqua Peru form. But there are others like the Monstera obliqua Suriname, Bolivia, Panama, Tena, Amazonas, etc.
Each of these forms has a different leaf and morphological appearance -you will find those that don't have any holes to those whose leaves are heavily perforated. These Monsteras are known as Window-leaf Monstera and have many other common names.
With the ongoing on this Monstera, don't be surprised if someday they become species. But they may also remain as they are.
Lastly, it is an aroid, a common name for plants in the arum family Araceae. You probably know a lot of gardens or houseplants in this family.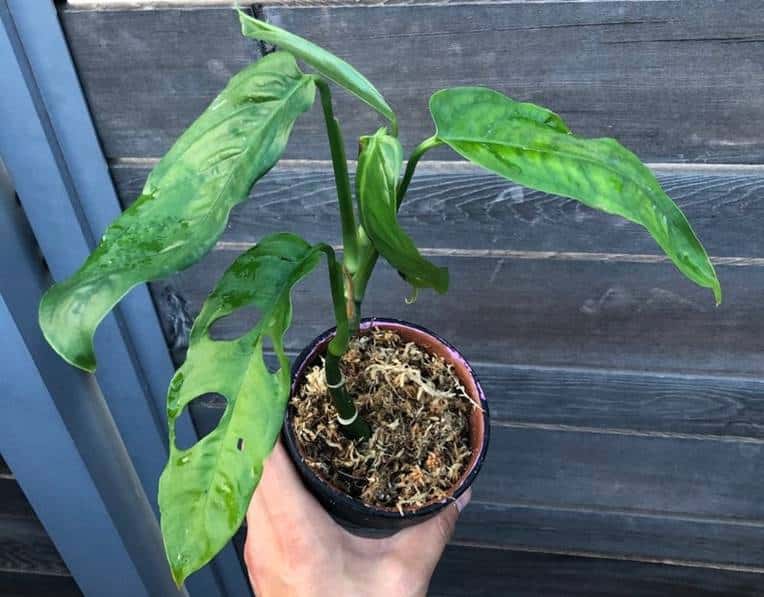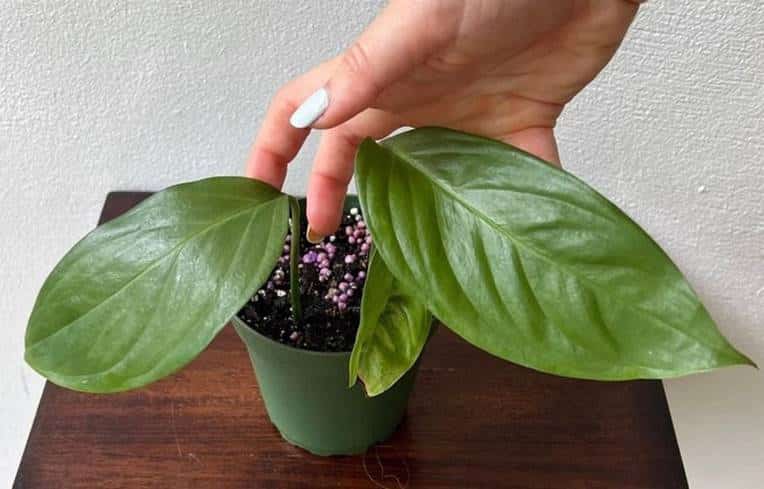 Monstera obliqua Peru
Monstera obliqua Peru is rare, very expensive, difficult to propagate, and highly coveted aroid. Also, it grows very slowly. And it will hardly go beyond 4 feet, even if you give it a place to climb. But it has eye-catchy leaves that are heavily fenestrated, leaving behind almost an empty leaf frame.
Peruvian Monstera oblique form does resemble Monstera adansonii. But we think it looks closer to the Monstera epipremnoides Esqualeto clone. See pictures below.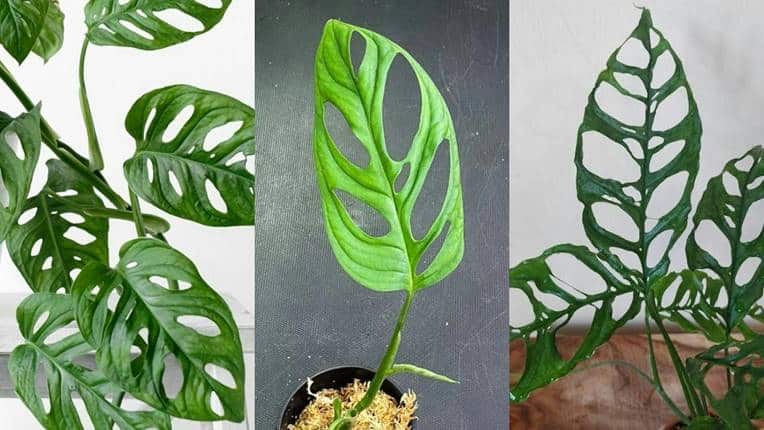 Please, don't confuse it with Monstera Peru or Monstera karstenianum. It is a different plant but still in the same genus.
If you need it, we suggest you look for a reputable and trustworthy rare plant collector. It is such a big deal. Otherwise, you may buy something else. Or worse, get scammed.
Did you know that Jakes, keepyourplantson_la on Instagram auctioned his Monstera obliqua Peru for $23,000? Mick Mittermeier, one guy with the most extensive obliqua collection, has extensively talked about this plant. Why not get it today? See Etsy.com or eBay
Lastly, this is the most cultivated form. Thus, we will be talking about Monstera obliqua Peru care (soil, watering, humidity, light, and so on). We will also cover you how to propagate (root) and what fertilizers to use. We also have an FAQ section that will tell you where to buy it, prices, and much more.
Quick overview
| | |
| --- | --- |
| Scientific name | Monstera obliqua |
| Synonyms | It has many synonyms, including Heteropsis obliqua, Monstera expilata, Monstera falcifolia, Monstera falcifolia var. latifolia, and Monstera microstachys. Others are Monstera fendleri, Monstera obliqua var. expilata, Monstera sagotiana, Monstera snethlagei, and Monstera unilateral. |
| Family | Araceae |
| Common names | Since it is perforated, some people also call it a Swiss cheese plant or vine – names commonly for Monstera adansonii and Monstera deliciosa. Others are Philodendron Monstera obliqua, Window leaf Monster or plant, Mexican bread Fruit, hurricane, and Monstera obliqua Monkey Leaf. Please note that these names are not official. |
| Native habitat | It is native to Peru, Panama, Bolivia, Brazil, Venezuela, Colombia, Costa Rica, French Guiana, Ecuador, Guyana, Trinidad, Tobago, and Suriname. You will find it widespread in the Amazonian forests. |
| Type | Evergreen, tropical climber |
| Size | It hardly reaches 4 feet |
| Leaves | It has green to dark green oval to lance-shaped membranous, entire juvenile leaves. Mature leaves may not have holes, have a few or so many, and their base may be unequal, oblique, oval, truncate, or heart-shaped. |
| Stems | Green thin stems |
| Flowers | It has small, deep yellow inflorescence flowers borne on a spadix and gree to whit spathe that turns bright yellow wat maturity. |
| Blooming time | All year once this plant matures, rarely seen in cultivation |
| Light requirement | Bright, indirect light |
| USDA hardiness zone | 11b to 12 |
| Temperature | 59°F to 77°F (15 to 25 ºC) |
| Humidity | It needs high humidity 80% to 90%) |
| Growth rate | Slow to medium |
| Soil | High organic matter, well-drained and aerated soil or potting mix |
| Watering | Medium - water again when the top 2 to 3 inches of the soil dries. |
| Propagation | Stem cutting and stolons |
| Toxicity | Toxic to humans and pets |
| Care level | Medium to difficult |
Identification – appearance, and description
Here, we will talk about Monstera obliqua in general. We will not focus on one specific form. Why? Because these plants show a lot of variation in their morphology and where they naturally grow.
What you will get in the most text describes Monstera obliqua Suriname form. This form is the holotype, i.e., the specimen on which this species' description was based. If you thought it was the Peruvian sorry, we hope we didn't break your heart.
We hope that we will help you understand this complex species well.
1. Growing habits
This Monstera is a hemiepiphyte. In the wild, it grows as a ground creeping plant in juvenile stages and as an epiphyte (growing on hosts) when it matures. To mature, it must have a climbing place. Also, the mature plant sends numerous stolons or runners to the ground to establish new growths.
That is not all. The various forms grow in varying habitats across tropical south and central America, all the way to Trinidad. Also, they grow in different altitudes, both in wet and moist tropical rainforests. Some grow around waterways margins.
Lastly, the Monstera obliqua growth rate is slow to medium. It all depends on the form. Some forms grow faster, such as Suriname, while others, like the Peruvian, grow very slowly.
2. Monstera obliqua size
This is one of the smallest Monstera, which grows up to 4 to 16 feet in the wild. But, the exact size will depend on the form you have. Some will hardly grow beyond 6 feet. Also, some will take very long to reach maturity.
2. Leaves
Monstera obliqua has membraneous green leaves. Some forms have darker or deeper green leaves, while others are emerald to light. Also, the leaves vary in thickness, length, width, and shape. These variations don't depend on the regions where they grow.
Usually, the leaves a vaginate petiole with sheath wings that dry and drop in some forms. In others, it persists.
Juvenile leaves are smaller, entire, erect, and often oval to lance-shaped. Also, their leaf base varies from one form to another.
On the other hand, mature Monstera obliqua are larger and narrow lance-shaped, to broadly oval. Some forms have no fenestration, while others have a few to very many holes, as seen in the Peru form. The perforations may extend from midrib to almost the margin, while others have a few smaller ones.
Lastly, their leaf base may truncate, oblique, ovate, or a little falcate. Also, it may be unequal, with a side almost twice the size of the other.
Stems
They have slightly thinner green stems (2-7 mm) than other Monsteras like Monstera deliciosa that may be up to 80mm. These stems have aerial roots, and they produce stolons or runners.
Monstera obliqua flower
Monstera obliqua flowers all year once they are mature. If you grow them under cultivation, it is not easy to see these plants flower.
Like other Monsteras, they have small inflorescence flowers borne on a spadix with a spathe. But they produce a group of six to eight spadices, hardly fewer and not 1 to 4 like other Monsteras.
The flowering spadix is deep yellow, and the spathe is green to white while the flower is young, and as the flower matures, it becomes bright yellow.
The fruiting spadix is green to olive-green but has an orange tinge when the fruits are immature but will eventually turn to a deep orange when the fruits mature.
Lastly, the fruits (berries) are globose or spherical-like shaped. Also, they don't pack tightly, i.e., and they are a little free. These fruits bear tiny Monstera oblique seeds.
Monstera obliqua vs. adansonii
Some unscrupulous vendors wrongly label Monstera adansonii as Monstera obliqua Peru, especially the narrower adansonii form. They may make you buy an adansonii, thinking it is an obliqua.
Both have holes, vaginate petiole with sheath wings that may persist, and the Monstera Adansonii also has narrower leaves like obliqua.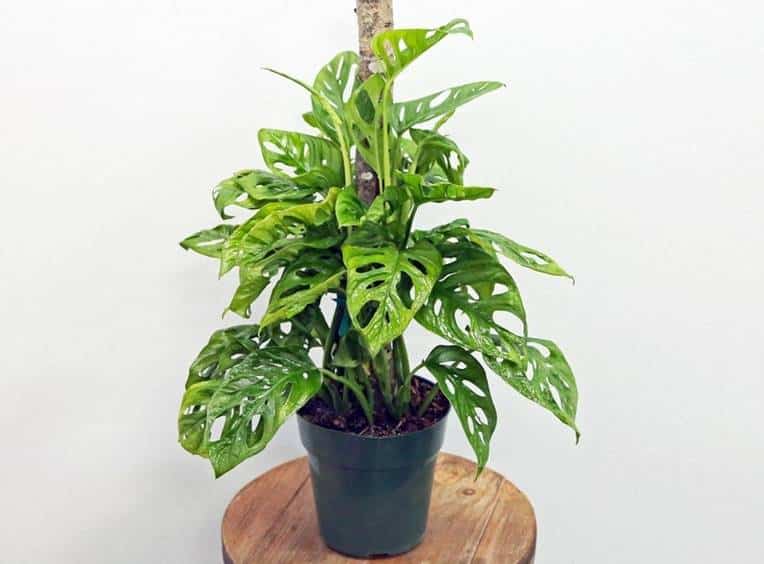 However, you can easily distinguish between these two. Here is a quick comparison between adansonii and obliqua Peru.
| | | |
| --- | --- | --- |
| Feature | Monstera obliqua Peru | Monstera adansonii |
| Leaf size | Mature leaves are smaller, about 6 to 7 inches long. | Mature leaves are often larger, up to 2 feet long. |
| Leaf thickness | The leaves are light green and much paper-like thin. You can also see the light through me. | Adansonii leaves are much greener and feel thicker, subtle, leathery, and very delicate. |
| Leaf edges | Leaf edges are a little wavy or have something like frills. | All the forms have smooth leaf margins, i.e., not wavy. |
| Perforations | It has more holes, some running from the midrib to near the edge margin. The holes are more than the leaf and are often rounder. | Adansonii has a lesser number of holes. They are much lesser than the leaf itself. These perforations tend to be slit-like. |
| Stolons or runners | Stems often grow runners or the so-called stolons | You will not see any stolon or runner in any wide, regular, or narrow adansonii forms. |
| Stems | They have thinner stems, about 2- 7mm. | Stems are thicker, about 15 to 30mm |
| Growth and size | Grows very slowly, and they will hardly reach 4 feet at maturity | It grows slightly faster and may reach 6 to 20 feet long |
| Price | Very rare and very expensive, usually you will get $700 to $5000 or more | Readily available and cheaper. It goes for $10 to $40 and hardly goes beyond $100 |
Monstera epipremnoides vs. obliqua
True Monstera epipremnoides has split adult leaves, and you cannot confuse it with an obliqua. What resembles it is the Monstera epipremnoides Esqualeto clone. Still, there are differences.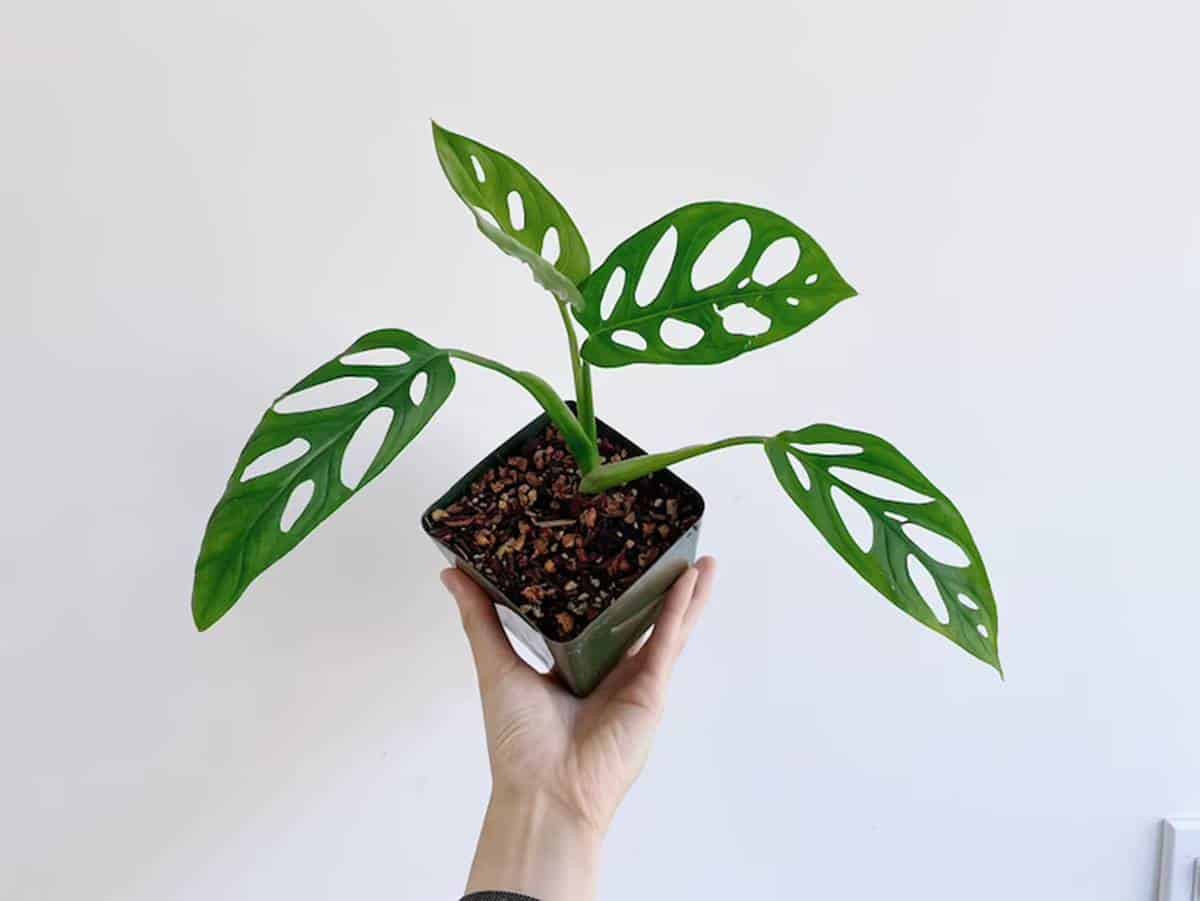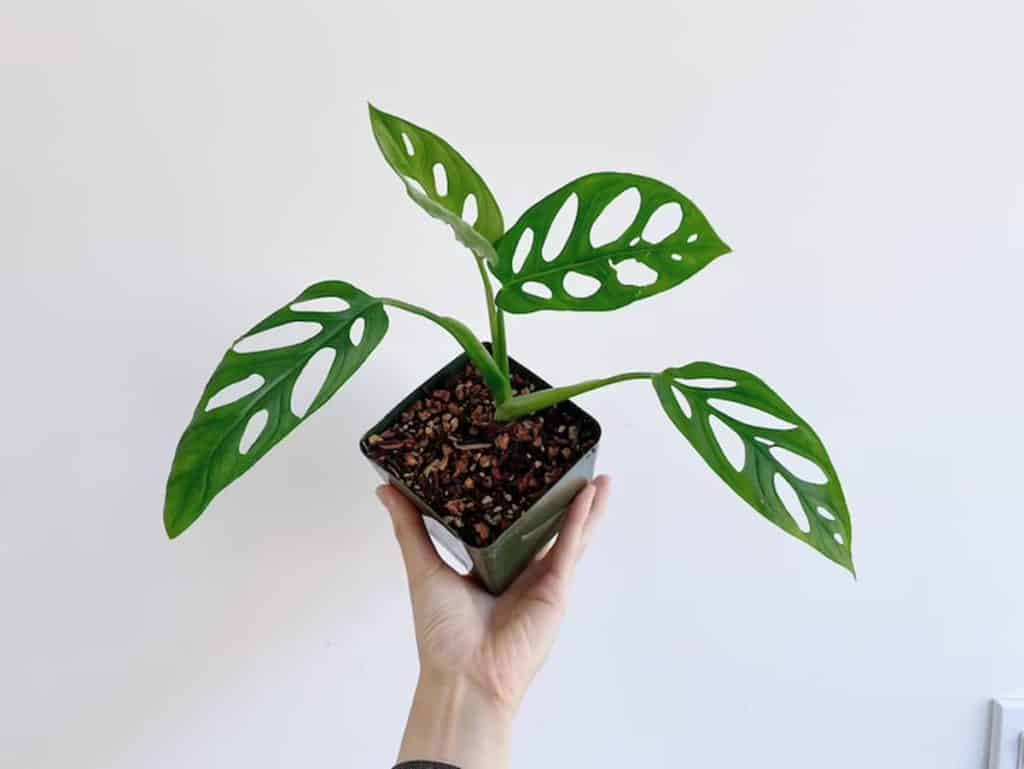 Monstera epipremnoides Esqualeto is less perforated, and it has larger fuzzy leaves. Also, it is slightly cheaper selling for $100 to as high as $500.
Where to grow them
We recommend that you grow this plant indoors and in a place that meets their particular growing needs. They need very high humidity. A cabinet terrarium or conservatory will be the best shot.
However, you can grow them anywhere so long as you have a humidifier. Also, please give these climbing plants a trellis or a pole climb (a moss, bamboo, or burlap-wrapped pole will work well).
Last but not least, obliqua is a rare and expensive plant. We don't see why you
Monstera oblique care and growth requirement
This plant is a little difficult to care for compared to other Monsteras. Why? Because it is delicate and requires higher humidity and warm areas. But it is not impossible if you are lucky to get a hold of it. You can grow it.
Here is how to care for Monstera oblique:
1. USDA hardiness zone
Monstera oblique USDA hardiness zone is 10b to 11 or 12. If you are in this zone, you can grow this plant outdoors all year. But we doubt if you want to have such a rare plant outdoors.
Like other Monsteras, it cannot tolerate freezing temperatures. Also, frost will harm it.
2. Temperature
The ideal temperature for Monstera obliqua is 59 to 77 degrees Fahrenheit (15 to 25°C). This means you can grow it inside your home if it has an average temperature. But don't let temperatures fall below 50°F (10°C). These plants love warmth, and they will stop growing in much cold.
Also, please do not put it in places with cold drafts or sudden temperature spikes or drops. So, never place it near heating or cooling vents, air conditioning or room heating coolers, fireplace, and so on.
3. Humidity
Monstera obliqua prefers high humidity ranging from 80% to 90% or more. Their thin paper-like leaves cannot withstand lower humidity. Wondering why? They will dry out. So, if you plan to get this plant, you need a way to raise humidity. The everyday household is not enough.
We recommend you grow this plant in a cabinet greenhouse. Also, you can buy a humidifier or have a pebble tray. We doubt if misting is going to be enough.
Some people opt to have the plant in their bathroom. If this is your choice, then ensure the humidity is high. We wouldn't recommend it either.
4. Light
Allow your Monstera obliqua to grow in bright, indirect light. Low light will slow growth and may make the leaves yellowish. Also, your plant will be leggy and grow towards the light.
To be sure the light is enough, invest in an illuminance meter like Dr. meter LX1330B (Digital). Values of 10,000 to 20,000 are perfect but as low as 2500 lux will still work.   
If the light is not enough, then consider buying a grow light. Many good brands in the market include GE Grow Light LED Flood Light Bulb, VIPARSPECTRA, FEIT Electric, Mars Hydro, etc. 
On the other hand, if you see crispy leaves with brown tips and edges or washed-out leaves, you probably placed the plant under direct sunlight.
Outdoors, grow it under shade cloth or greenhouse. You can also have it growing in areas with partial in milder climates. But we wouldn't think it is a clever idea to have such a gem growing outside.
5. Soil
The best soil for Monstera obliqua should be well-drained, aerated, and high in organic matter. Also, it is slightly acidic to neutral. pH 5 to 7.5 are perfect.
In the wild, they grow in rich soils or on dead-decaying plant materials as epiphytes. So, they are not fussy about what you give them. But make sure it is chunky, fertile, and doesn't get very wet or dry too quickly. Also, it has to hold some moisture.
You can go for fertile, well-drained, loamy soils or aroid mixes. Etsy.com has some of the best aroid mixes you can find.
Also, mix a premium quality with some perlite and peat moss or coco coir. In place of perlite, orchid bark, or pumice will also increase drainage. You can still enrich it further with warm castings. It will provide more organic matter. A good buy is Miracle-Gro Indoor Potting Mix.
6. Watering
These lovely plants are sensitive to overwatering. Also, they will get affected quickly by too little water than other Monsteras. Their leaves don't have a thick cuticle.
Water your Monstera obliqua when the top 2 to 3 inches of the soil feels. Allowing the top 50% to 75% of the potting mix to dry is also ok. This may be after a few days to a week in spring and summer (growing season). But it all depends on your humidity, light, temperature, and so on.
In the colder months -fall and winter - your plant isn't growing much. Cut the watering, frequency to once in a few weeks. You can even let the soil nearly dry. But don't let it dry completely.
There is no easier way to know when to water your plant than to have a moisture meter. These devices are affordable and accurate. We have tried many brands, and we loved XLUX. 
Alternatively, you can stick your finger into the mix. If it is damp or moist, wait for a couple of more days. But if it is dry, water your plant.
Which water should you use? You can use distilled water or rainwater on your Monstera obliqua. But we don't see a problem with tap water unless someone has.
Last but not least, when watering, slowly soak the soil with water until excess comes from drainage holes. Pour any water that collects on the saucer.
i. Overwatered
if your potting mix is always wet and the leaves start turning yellowish, this may be a sign you are overwatering your Monstera obliqua. Other signs may be black splotches on leaves, moldy potting mix, and a mushy stem base.
Cut the watering and check if your pot has drainage holes. And make sure it is not oversized, or you don't have a poorly drained, heavy soils/potting mix.
ii. Underwater
When thirsty, leaves will curl and drop. Also, your plant will have dry soil, slow growth, and leaves may wilt. That is not all. Leaves will start falling your plant may die if you don't fix the issue.
7. Fertilizer
This plant is a slow grower. So, it doesn't need a lot of plant food. But if you want a healthy plant with lush leaves, plant food will be necessary. A deficiency of some nutrients may cause slow growth and yellowing of leaves.
What kind of fertilizers should you Monstera obliqua, and how often? If this is your concern, we have an answer for you.
Fertilize your Monstera obliqua in spring and summer with balanced, all-purpose indoor plant food. A 20-20-20 or 10-10-10 will be perfect. However, any good brand for indoor or potted plants will do. Even a slow-release formula is ok.
In winter and fall, hold back the plant food. It may lead to a buildup in the soil and burn your plants.
Miracle-Gro Indoor Plant Food (Liquid) NPK 1-1-1, Bonide 10-10-10, and the organic brand Espoma 2-2-2. They are all excellent. Just follow instructions and start with half the recommended strength. 
On the other hand, Miracle-Gro Indoor Plant Food Spikes is one of the best for those who prefer a slow-release formula. It has an NPK of 6-12-6 and additional essential nutrients like boron, magnesium, manganese, copper, sulfur, and iron. 
8. Pruning and grooming
These plants grow very slowly. So, they don't need much pruning except for the occasional removal of dying, diseased, damaged, or dying leaves. Use sterilized pruning scissors.
The other thing you need to do is wipe its leaves if they become too dusty. Too much dusty may reduce photosynthesis and make your plant unsightly. Use a damp, soft piece of cloth.
9. Potting and repotting
Don't stress this plant with often repotting unless root-bound. The obvious sign is roots growing from drainage holes. Otherwise, repot Monstera obliqua after every 2 to 3 years.
The best time to repot is spring. But you can also do it in summer. Do it two days after watering, and handle the plant with a lot of care. You may damage its fragile leaves.
When repotting, pick a pot 2 to 3 inches wider in diameter. Next, slide your plant out, tap, and brush it slowly to remove soil. Use a brush. Also, check for any black or brown roots. If you see any, cut them off with a sterilized scissor. They may be rotting.
Fill your new pot up to ⅓, place your plant inside the pot, add more soil/potting mix reaching the level it previously was.
How to propagate Monstera obliqua
Monstera obliqua propagation is by either stem cutting or the use of stolons or runners. The best time to propagate is spring. However, summer is ok, but it may not give the plant enough time to properly root.
For cuttings, you can propagate them in water or soil. But we recommend the latter because this plant is a slow grower, and the water method will take ages.
If you prefer propagation by stolons, you need to use a potting mix. An excellent option to use is sphagnum moss.
We will look at both these ways to propagate Monstera obliqua. Below are the details.
i. Stolon propagation
This method is very straightforward. Take a runner and lay it on moist sphagnum moss while still attached to the mother plant. You can even use plastic to wrap some moss around the nodes.
Alternatively, you can cut the runners with a sterilized knife and lay them on moist sphagnum moss. It will equally grow roots, but this may take longer. And it would be best if you covered it with a plastic bag to help lock humidity.
If necessary, you can hold nodes with gardening U staples to ensure they remain in contact with your potting mix.
Last but not least, keep peat moss moist and maintain optimum temperature. Roots will start showing after about four weeks. Afterward, new growth will begin from the nodes.
ii. Stem cutting
Start by preparing the growth media. You can use well-drained soil or a mixture of peat and sphagnum moss. Even sphagnum moss alone is ok. Water it thoroughly until water flows from drainage holes. For sphagnum, soak in water and wring it.
Next, select and cut a mature, healthy stem with at least two nodes using a sterilized pruning scissor or knife. Then, remove any lower leaves and apply your rooting hormone. It is optional but will make rooting faster.
We use HydroDynamics Clonex Rooting Gel. It has nutrients and trace elements besides the rooting hormone.
Next, make a hole in your potting media and grow your plant, covering the two lower nodes. Lightly tap the soil to ensure it remains upright.
Mist it lightly, and cover it with a transparent plastic bag leaving a small opening to breathe. It will help lock moisture. If you have a terrarium, you don't need a plastic bag. Then, place your cutting in a warm place with bright, indirect light.
Check that the soil remains moist. Mist it when it begins to dry. Also, remove the plastic bag a few times a week for some hours to let the plant breathe.
Roots will begin growing after about 4 to 5 weeks. By the end of two months, you may see a new leaf unfurl. Transplant it when the roots are a few inches long.
Toxic to pets and humans
Monstera obliqua is toxic to humans, cats, dogs, and other pets. It has insoluble calcium oxalates. When chewed, it will injure the oral or GI lining.
Signs are severe irritation and a burning feeling, and a swollen and red mouth, tongue, or lips. Also, patients will have difficulties swallowing, refuse to eat, drool, and pets will paw their mouth.
Pests
Pests are not a common problem to obliqua but may occur. Common ones are mealybugs, spider mites, scale, aphids, fungus gnat, and thrip.
How to control them depends on which ones you have. You can hose your plants to dislodge them off or wipe them off with rubbing alcohol. Severe cases may need neem oil, insecticidal soap, or horticultural oil sprays.
To reduce pests, isolate infested or new plants and cut any leaves with lots of bugs or are damaged. Also, remember to prune dead leaves.
Diseases and conditions
There haven't been complaints about the various disease that affect Monsteras. But this doesn't mean these plants cannot get leaf spot, rust, southern blight, powdery mildew, anthracnose, or mosaic virus.
To reduce the spread of disease to your plants, make sure you always clean your hands when handling any plant and don't use old potting mix. Also, sterilize pruning scissors or knives, and don't forget to isolate a new plant for a while.
Let us now look at root rot and a few other problems like yellow leaves. These problems are more likely. Let us look at these problems.
1. Root rot
Overwatering or poorly drained and soggy soil are the most often cause of root rot in obliqua and other plants. They will starve your plant of oxygen, and this will make the roots start decaying. The other cause is a fungal infection.
Signs include yellow or brown leaves, stunted growth, wilting and mushy stems. Also, your plant may have distorted leaves or start falling.
To deal with root rot, start by repotting your plant. As you repot, cut away any black or brown roots with a sterilized scissor and discard the older potting mix. Also, don't overwater your plants, and make sure you have the right soil mix.
2. Monstera obliqua yellowing of leaves
If your Monstera obliqua has yellow leaves, the most likely cause is overwatering. But it can also be cold drafts or lack of light and nutrients. Other possible causes are pests, too little water, diseases, and too hot or cold temperatures.
Direct sunlight may also cause yellowing accompanied by brown, dry, crispy leaves, edges, and tips. Look at other signs to help know the cause. But don't forget it could be usual aging if it happens to lower leaves.
3. Leaves browning
Sometimes, your plant may have brown leaves – spots or on edges and tips. The most probable cause is sunburn, low humidity, and too much or too little water. When it is these causes, leaves will be crispy and have brown edges and tips.
Other causes are salts buildup in soil, too much fertilizer, pests, diseases, root damage, and so on.
Frequently asked questions (FAQs)
Is Monstera obliqua rare?
Yes. Monstera obliqua is one of the rarest and hardest plants to find, especially the Peru form. We can assure you that the big box, local nurseries, or specialty nurseries don't have it. Only a few reputed plant collectors have the actual plant, and it changes between their hands. The plant you see people cheaply selling online isn't the real obliqua – they are calling it that way just to lure buyers.
Why is Monstera obliqua Peru rare?
The Peruvian Monstera obliqua form is rare because it grows slowly and isn't easy to propagate. Also, it has very particular growing requirements compared to other Monsteras, and not many people have it.
Is there a variegated Monstera obliqua?
No. We have not seen any variegated Monstera obliqua. If you see anyone selling it online, it is likely a different Monstera, probably a Monstera adansonii or another hybrid or clone.
What is the Monstera obliqua Peru price?
The Monstera obliqua Peru price ranges from $700 to $5000 or more. A young plant with a few leaves will cost $700 to $1000, while for an established plant, be ready to spend more than $1000.
Where do I buy Monstera obliqua
The first place we would recommend to look for Monstera obliqua on sale is Etsy.com. Also, eBay has a few people auctioning this plant. Also, you can try Instagram or Facebook plant groups in your regions, be it Canada, Australia, the UK, or the US. Get a trustworthy collect and be careful not to be scammed. Not all plants labeled obliqua are the real ones.
Lastly, we have tried to get Monstera obliqua seeds to no avail. We think this plant is rare, and its seeds are not readily available.