The lovely, bright multi-colored large flowers available and glossy leaves make Chinese Hibiscus, (Hibiscus rosa-sinensis), also known as the rose of China, a great houseplant thanks to its evergreen leaves and gorgeous large flowers.
Discover more on Hibiscus rosa-sinensis classification, growing conditions, care, re-potting, pruning, propagation, safety to dogs, cats, and other pets, and problems/conditions that affect this plant.
Summary
| | |
| --- | --- |
| Botanical name | Hibiscus rosa-sinensis |
| Family | Malvaceae, the mallow family |
| Common names | Chinese hibiscus, Hawaiian hibiscus, Rose mallow, or Shoeblackplant |
| Best suited for | Indoor containers but can grow outdoor under ideal conditions. |
| Plant type | Small bushy evergreen shrub or tree |
| Growing size and height | Usually, it grows to between 1.5m and 3m (about 5-10ft) and about 1.5–3m wide but may grow up to 4.5 meters (14.7ft) tall or more. |
| Foliage | Glossy, evergreen broad leaves |
| Flower | Hibiscus rosa sinensis flowers are large, conspicuous trumpet-shaped peach, orange, white, pink, purple, yellow, and red flowers with broad petals. |
| Blooming time | March – November (early spring to late autumn/fall) |
| Hardness | 9 and 10 |
| Soil type and pH | Acid to neutral well-drained moist soil with high organic matter content |
| Native areas/habitat | Unknown but thought to be southeast Asia |
| Toxicity | Not toxic |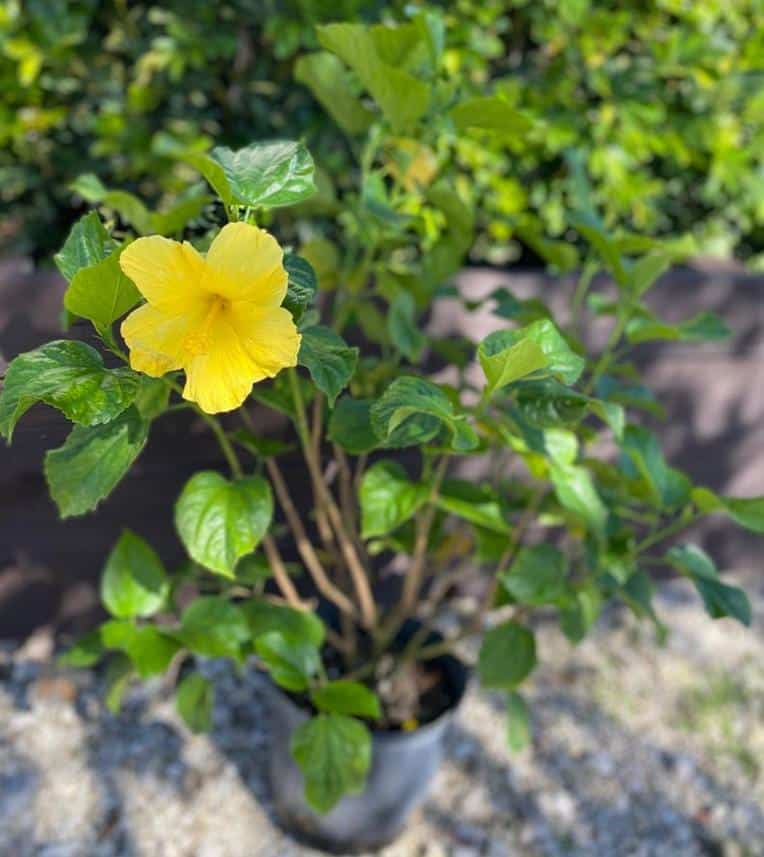 Overview
Chinese hibiscus (Hibiscus rosa-sinensis), with other common names such as Rose of China, Hawaiian hibiscus, Rose mallow, or Shoeblackplant, is a widely grown as flowering ornamental indoor pot/container or garden (tropics or subtropics) hibiscus species. It is one of the tropical hibiscus varieties.
Besides being an ornamental plant, Shoeblackplant has more uses in Bengal, India, Indonesia, and China. They include an edible salad, beauty (hair care recipes), religion, making shoe polish, etc. Did you know that it is Malaysian's national flower?
Also, there are some Hibiscus rosa sinensis health benefits a reason, for its use in Chinese medicine or herbology, as well as making herbal teas.
Some of the health benefits of Chinese hibiscus herbal tea include it lowers cholesterol, improves digestion, supports cardiovascular health, aids in weight loss, and treats depression. Also, it will boost your immunity, benefit your hair, cures fever, constipation, and colds.
However, note that this plant isn't related to true roses. If you look at Hibiscus rosa sinensis scientific classification, you will realize as it belongs to the genus Hibiscus and the family Malvaceae. In contrast, true roses belong to the rose family and genus Rosa.
Also, many people confuse China rose, or Chinese rose (Rosa chinensis) also known as Bengal Beauty, Old Blush, or Bengal Crimson) with Rose of China. The former belongs to the Rosa and the latter hibiscus.
Would you please not confuse china rose and hibiscus again? However, when used in the content of Chinese rose hibiscus, the term may mean Hibiscus rosa-sinensis.
Hibiscus rosa-sinensis tree size and flowers
The Hibiscus rosa sinensis tree is a small bushy shrub or tree with upright or erect cylindrical green stems and branches. Its evergreen glossy, serrated leaves resemble birch leaves, and it has showy trumpet-like shaped multi-colored flowers, usually orange, white, pink, purple, yellow, or red.
The Shoeblackplant or Hibiscus rosa sinensis flowers are about 4-18 cm wide, have a single set of five petals up to 10 cm wide, and have long stamens. However, there are cultivars with double petal sets.
This hermaphrodite (has male and female parts) Hibiscus rosa sinensis tree grows 1-3 meters high and about the same size wide but may grow taller (4.5m) or in their native habitat.
Finally, you will find many hybrid Hibiscus rosa sinensis varieties and cultivars, with the Cooperi having a Royal Horticultural Society's Award of Garden Merit. Another variety is Hibiscus rosa sinensis butterfly
Hibiscus rosa-sinensis care and growing conditions
Hibiscus rosa sinensis is a tropical and subtropical ornamental plant that grows in UDSA hardness 9 and 10 but cannot tolerate frost.
Most people grow them indoors as container plants, but if climatic conditions allow, you can grow them outdoor or grow them as annuals in temperate climates (cooler).
Here are the ideal Hibiscus rosa sinensis growing conditions and care these houseplants require
1. Temperature and humidity
As a tropical and subtropical plant, you expect Hibiscus rosa-sinensis to thrive best in a warm and humid areas. The ideal temperature should range from 60°F to 75°F (15°C - 24°C) with the temperature not going below 10°C as they cannot tolerate low temperatures or frost and a few hours will kill them.
Therefore, during winter, place your Chinese hibiscus under shelter. However, when summer comes in, you move outdoors.
2. Lighting
Chinese hibiscus love full-sun but tolerate shaded areas very well, making them an excellent house plant choice. Therefore, ensure you place them in well-lit places where they can get adequate light. Otherwise, they will not bloom.
However, if you are in a hot and dry place, consider growing these charming ornamental houseplants in the shade, mainly a partial or filtered shade. Window-sill is a perfect place where they can get enough light.
3. Soil
Grow Rose of China in well-drained soils with high organic matter. At the bottom of your container or planter, have clay beads or gravel to promote drainage. If drainage isn't good, they may suffer from root rot.
Typical ideal soil includes an all-purpose potting mix or an equal mixture of part heath plant and part soil mix or any other designed tropical plants.
4. Bush spacing or the container size
When growing outside, grow them 4-6 feet apart if you intend to let them be large, especially if you have ample garden space.
People growing these ornamentals in containers should start with at least a 10-inch wide (diameter) pot and keep increasing the size during every subsequent re-potting
5. Watering Chinese hibiscus
Hibiscus rosa-sinensis require adequate water to grow and bloom well and you need to ensure their soil remains moist. 1-2 inches of water weekly will work achieved by frequent shallow watering.
However, how often you water Chinese hibiscus will depend on humidity, heat, and wind conditions. Drier hot and windy areas may require daily watering as opposed to humid places. Therefore, ensure they get enough water without overwatering.
6. Fertilizer
Initially, when you re-pot your Rose of China, add a slow-release fertilizer to the potting mixture, and don't feed them with any fertilizer for a few months. Afterward, they will require fertilizer feeding every fortnight, especially during the growing season, i.e., spring or summer with a liquid fertilizer.
Alternatively, you can go for a slow-release formula and follow what the manufacturer recommends. There are many good brands including balanced formulas.
If you don't know what to use, our best advice is to go for brands made specifically for hibiscus plants like Carl Pool Hibiscus Plant Food 10-4-12. This slow-release fertilizer also has calcium, boron, copper, iron, manganese, sulfur, molybdenum, and Zinc. Its sulfur content is high to help lower soil pH. Use 1.5 teaspoons per gallon of the container and apply after 3-4 months
7. Pruning
Both indoor and outdoor Hibiscus rosa-sinensis plants require pruning. Therefore, prune them at the beginning of a growing season (early spring) and pinch these ornamentals to encourage branching for a shapely and fuller plant with more buds. Also, you can cut off some branches to allow better light penetration and boost growth.
During the growing season, you don't have to prune your Shoeblackplant unless you want to cut them down a little because of space. However, pruning at any time will only delay blooming but not stop it completely.
Finally, during autumn, you can also prune your Hibiscus rosa-sinensis if they were outdoor, and you intend to return them inside the house as winter approaches. It would be best if you had it more compact inside your home.
8. Potting and Re-potting Chinese hibiscus
Chinese hibiscus plants require repotting once after every 1-2 years. Re-pot when you notice your plant isn't growing so well, it seems stressed, and the leaves begin drooping.
Use a slightly larger container about (an inch larger in diameter) but don't go for intense ones as this will encourage more root growth and less foliage growth or blooming. Also, huge containers may present even watering challenges.
Finally, we recommend that you repot the plant when spring begins (March) but don't repot if you recently purchased it unless very necessary. You don't want to stress your ornamental plant.
9. Hibiscus rosa sinensis propagation
Hibiscus rosa-sinensis propagation mainly via cuttings as they will grow faster. However, it is also possible to opt for seeds.
To propagate them, cut the semi-hardwood cuttings, about 10 cm, especially during summer or late spring when the plant is actively growing, and plant them in a new pot.
Use a rooting hormone to encourage root growth. I use HydroDynamics Clonex Rooting Gel. It is a water-based rooting hormone with nutrients and trace elements that will nourish your cutting. Also, the incidences of rots go down.
Don't the cuttings in direct sunlight until the cutting starts growing. Also, bagging may help retain moisture and heat as the plant tries to grow roots.
On the other hand, if you prefer propagating them using seeds, plant them in a small pot with moist soil.
Cover these seeds with soil up to a depth of about 0.5m and allow them 1-3 weeks to germinate. Once they germinate, transplant the seedlings to larger individual pots after they grow 4-6 leaves
10. Growing Chinese hibiscus outdoor
If you live in a place with favorable climatic conditions, you can grow yours outdoors in your garden. However, the area shouldn't experience temperatures below 10 degrees Celcius. Also, ensure they grow in a place shielded by wind and that the sun isn't super hot or the weather very dry.
Conditions and problems
Yellowing leaves: It may occur due to inadequate water, sudden temperature change, or overwatering if the yellowing begins from the middle of the plant or downwards. However, if the yellowing of leaves occurs with distorted leaves, mushy stems, wilting and slow growth, it could be root rot due to poor drainage.
Dropping leaves: This can be due to under or overwatering and other poor growing conditions (temperature and lighting) or pests.
Buds dropping: Wrong growing conditions or lack of essential needs like water, light, temperature, or dry hair.
Black spots: Many causes are ranging from disease, pests, or poor growing conditions. Only testing can reveal what the problem could be.
Withering leaves are turning inside out – Results from very dry or hot conditions. Also, lack of water may cause withering.
They are not blooming: Pruning during the growing season, lack of light, and if other growth needs are unmet.
Hibiscus rosa-sinensis pests and disease
Pets that commonly attack Rose of China are spider mites, aphids, and thrips. Other possible pests include pink hibiscus mealybugs, scale, and whiteflies. Use insecticidal soap or horticultural oil sprays to control these pests. Also, neem oil will help. A good brand is Bonide
However, pink hibiscus mealybugs may require rubbing alcohol, while whiteflies use a powerful waterjet to knock them off the plant.
Also, bacterial and fungal diseases may affect Hibiscus rosa-sinensis, and they include resulting in stem rot, deformed leaves, black spots, dwarfing, leaf wilt, and so on.
Hibiscus rosa-sinensis toxicity dogs/cats
Chinese Hibiscus or Hibiscus rosa-sinensis isn't toxic to dogs, cats, and horses, note ASPCA. Other pets like your bearded dragon can also eat the leaves and flowers of various Hibiscus spp. Therefore, don't worry about having this plant if you have dogs, cats, and other pets.
However, there isn't a consensus on the safety of one species of hibiscus, the Rose of Sharon (Hibiscus syriacus), with the Humane Society of Charlotte noting that it causes nausea, vomiting, and diarrhea in pets.
Similarly, Wag Walking states that hibiscus is poisonous to dogs, including Rose of China and Rose of Sharon, because it has unknown chemicals and Asparagine. However, Asparagine doesn't cause toxicity to dogs.
Therefore, we can conclude that Hibiscus rosa-sinensis is safe for dogs, cats, and other pets. However, ensure your cat or dogs don't eat this plant excessively as it could cause indigestion and be an indicator of other health issues.
Safety for humans and kids
Hibiscus rosa-sinensis is safe for humans, and the Unversity of California, Davis, lists hibiscus (Hibiscus sp.) as a safe plant. Therefore, don't worry if your kid nibbles the leaf of this plant.
On Pacific island, this plant is eaten as a salad. Additionally, people drink Rose of China herbal tea, and it has many benefits like lowering blood pressure or cholesterol and aiding in weight loss.
However, ensure you don't overdo hibiscus and talk to your doctor about any possible side effects and interactions if you are lactating or pregnant. This tea is potentially harmful to pregnant or lactating mothers.
More about Hibiscus
There are over 220 different species in the genus Hibiscus with some of the common ones being Rose of Sharon (Hibiscus syriacus), Beach Hibiscus (Hibiscus canabinus L), Roselle (Hibiscus sabdariffa L) sea hibiscus (Hibiscus tiliaceus).
Others are African hibiscus (H. schizopetalus), Swamp rose mallow (Hibiscus moscheutos), Kenaf (H. cannabinus), Mahoe (H. tiliaceus), Lalberd-leaf rosemallow (Hibiscus laevis), Evening Rose Hibiscus.
Finally, note that Hibiscus moscheutos and Hibiscus rosa-sinensis both share the name Rose mallow. However, the term often refers to the former not the latter.