Scindapsus treubii 'Moonlight' or sterling silver plant is a Scindapsus treubii cultivar valued for its green leaves with a silvery sheen.
Scindapsus treubii belongs to the arum family, Araceae, or the so-called aroids. It is native to Southeast Asia, Queensland, New Guinea, and a few western Pacific Islands.
Besides treubii moonlight, other cultivars are Scindapsus treubii 'Dark Form' and 'Mint', which are very rare, especially the latter.
It is worth noting that S. treubii is related to satin pothos (Scindapsus pictus) and Scindapsus officinalis, i.e., they share the same genus. Furthermore, treubii moonlight does resemble silver satin pothos but there are differences. See the picture below.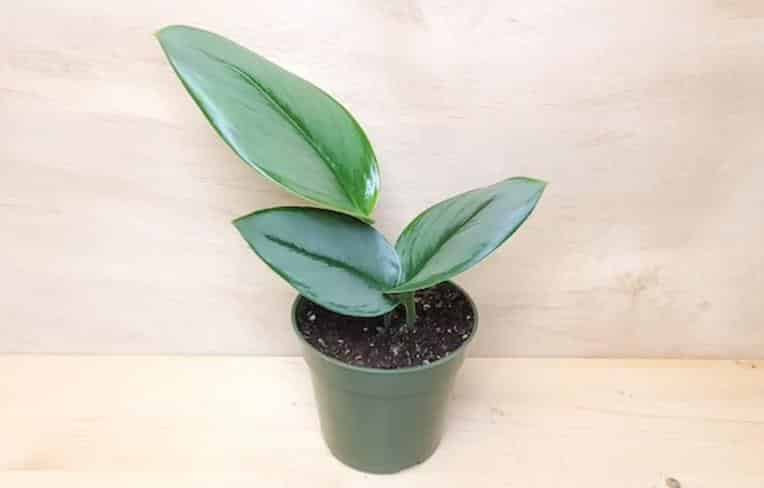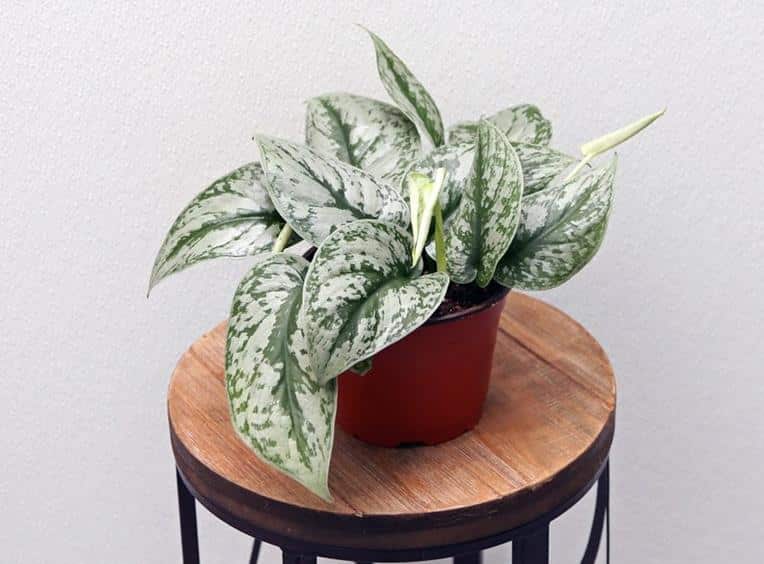 However, Scindapsus treubii isn't in the same genus as pothos (Epipremnum aureum) which has marble queen pothos, golden pothos, neon pothos, Jessenia pothos, and other cultivars.
Finally, the sterling silver plant shares the same family with philodendrons, monsteras, peace lilies, ZZ plants, and Alocasia, among others.
Note
S. treubii Moonlight has common names like philodendron treubii moonlight, pothos treubii moonlight, and pothos treubii.
Others are satin pothos moonlight and Scindapsus pictus treubii. Kindly note that these names may not be precise and may be misleading.
Quick overview
| Feature | Description |
| --- | --- |
| Scientific name | Scindapsus treubii 'Moonlight' |
| Family | Araceae (arum family, colloquially known as aroids) |
| Common names | Sterling Silver Scindapsus, Treubii Moonlight, Scindapsus Moonlight, or Moonlight Scindapsus |
| Native habitat | Southeast Asia, New Guinea, Queensland, and a few western Pacific Islands |
| Type | Evergreen, perennial climbing vine |
| Size | 6 to 8 feet long and 1.5 to 3 feet wide |
| Leaves | Oval or heart-shaped 4-20 inches green leaves with a silvery overlay (on the upper surface) |
| Stems | Greenish vines |
| Light requirement | Medium to bright indirect light |
| USDA hardiness zone | 11B with minimum temperatures of 35 °F (1.7 °C) to 40 °F (4.4 °) or above |
| Temperature | 60°F to 85°F. They are not frost-hardy. |
| Humidity | Preferably high 50-60 and above but can withstand lower humidity |
| Growth rate | Slow-growing |
| Soil | Well-drained, slightly acid potting mix |
| Watering | Moderate, allowing the top 2-3 inches of soil to first dry |
| Propagation | Stem cutting |
| Toxicity | Toxic to humans, dogs, cats, rabbits, and other pets |
| Care level | Low |
Where to use Scindapsus treubii Moonlight?
As a root climbing vine, the first option will be to give it a trellis or moss poles (totem) to climb. Also, you can let it grow on a hanging basket (cascade downwards).
Some people will let it grow horizontally on a shelf, tabletop, or anywhere. However, ensure it is out of reach of your children and pets.
Identification - Appearance and size
S. treubii moonlight is a perennial, evergreen, trailing monocotyledonous flowering plant. What is its growth habit and size? How can you identify it?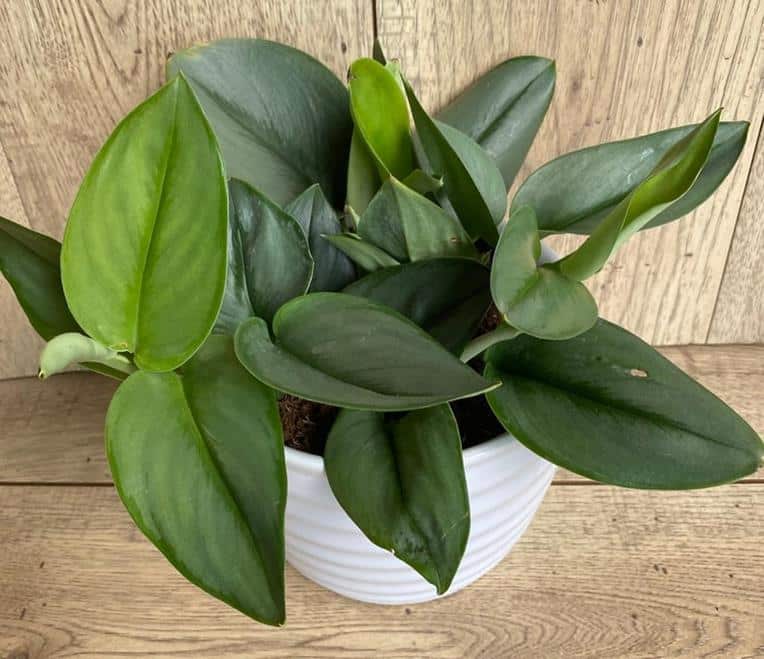 a). Size and growth habits
Scindapsus treubii moonlight is a slow-growing root climbing vine. While in the jungle, it can grow up to 6 to 8 feet long and about 1.5 to 3 feet wide.
Typically, when grown as a household plant, they hardly go beyond 3-5 feet long. However, they can grow larger or their full size if you allow them to climb and provide ideal conditions.
b). Scindapsus moonlight leaves
S. treubii moonlight has heart-shaped or oval green thick leaves with a silvery sheen or overlay. However, the middle part (area along the midrib) often lacks the elegant-looking silvery sheen.
The sterling silver plant leaves are large, measuring about 4 to 20 inches long. Usually, grow more prominent if you allow the plant to climb and provide a warm and bright environment.
These leaves have a leathery feel and look shimmery when put in sunshine, hence the name moonlight.
Newly grown leaves tend to have a lighter shade of green, and the silvery overlay isn't as pronounced.
Fun fact – The name tag Sterling Silver Scindapsus is by Coast farms to refer to the foliage color.
b). Stems
The sterling silver plant has greenish stems or vines with leaves growing in an alternating manner.
Also, they grow aerial roots on their nodes, on the opposite side of the leaf and new buds or branches sprout from the axil (the upper angle that a branch or leaf forms).
Finally, if you want more branches, consider pruning this houseplant.
c). Flowers and seeds
Like other arums, treubii moonlight has Inconspicuous flowers borne on a spadix. A spadix is an inflorescence flower type borne of a kind of fleshy stalk.
Under cultivation, the sterling silver plant will hardly flower. However, while in their Southeast Asia jungles, it is possible to see these flowers.
Their flowers have a single ovule in every ovary, a distinction from Epipremnum species that has few ovules in an ovary. Once their seeds mature, they are round to kidney-shaped.
Scindapsus treubii moonlight care and growing requirements
Scindapsus treubii moonlight is easy to care for, a low-maintenance houseplant that can withstand short droughts because of the fleshy leaves.
Also, it can withstand lower temperatures but above freezing point and requires moderate watering allowing topsoil to dry between watering.
Here are the various care and growing requirements or needs:
1. USDA hardiness zone
Scindapsus treubii moonlight USDA hardiness zone is Zone 10B with a minimum temperature of 35 °F (1.7 °C) to 40 °F (4.4 °C). Therefore, people in USDA zone 10B or above can grow this ornamental plant outdoors all year.
However, they need to meet other growing needs like humidity, light, watering, etc.
2. Scindapsus moonlight ideal temperature
Scindapsus treubii moonlight thrives best in warm areas, just as it is in the Southeast Asia tropical rainforests. We recommend temperature ranges of 60 to 85 degrees Fahrenheit (15.6 to 29.4 °C) or higher. Standard household temperatures are ok.
However, they can tolerate slightly lower but not below the freezing point, i.e., they are not frost-hardy.
As seen, treubii moonlight USDA hardiness zone is at least 10B with 35 degrees Fahrenheit (1.7 °C) or above. Consequently, if you experience winter temperatures below 35 degrees Fahrenheit, move your plant indoors.
Lastly, avoid areas with cold drafts, including your air conditioning vent or near fans.
3. Humidity
As Southeast Asia tropical rainforest plants, Scindapsus treubii moonlight favors higher humidity, i.e., above average, with 60% or above the ideal level.
Nonetheless, Sterling Silver Scindapsus is humidity tolerant. It can thrive in as low as 40% relative humidity or lower because its thick leaves with shiny cuticles reduce moisture loss. Therefore, you can grow them to flourish in your average household humidity.
However, they will appreciate higher humidity, and you help raise it by misting them regularly, having a pebble tray, or buying a humidifier. Brands like Pure Enrichment® MistAire, LEVOIT or Aquaoasis will work perfectly well.
4. Light
Firstly, Scindapsus treubii moonlight requires medium to bright indirect light for optimum growth. Nevertheless, it can also tolerate low light, but it will not grow luxuriantly and full.
Secondly, avoid direct sunlight as it will scorch its leaves, making them have crispy browning edges. Also, excessive direct sunlight will result in a bleached or washed-out appearance and stunted growth.
It doesn't matter if you have a west, east, north, or south-facing window. Just ensure it doesn't get direct sunlight. Use blinds or place your plants away from the window if it receives direct sunlight.
People growing treubii moonlight outdoors need a shaded area or a place with filtered light. You can use shade cloth or grow it in a greenhouse. Remember, this fantastic houseplant is a tropical plant understory plant. Therefore, it mainly gets filtered light.
Finally, if you have a poorly lit room, consider buying a grow light. 12 hours of illumination will be ok.
5. Scindapsus treubii Moonlight soil
The best Scindapsus treubii moonlight soil should be slightly acid (pH 6.1 to 6.5), well-drained, and nutrient-rich. These plants are not so fussy, and they will grow in most soils, even neutral ones with a pH of 6.6 to 7.3.
Use potting mixes you use on philodendrons, pothos, ZZ plants, arrowhead vines, monsteras, Alocasia, anthuriums, peace lilies, and other aroids.
Some experts recommend "30% potting soil, 20% peat, 40% bark, 10% Perlite / Shredded sphagnum moss, some handfuls of horticultural charcoal."
Usually, we premium potting mix like Miracle-Gro Indoor Potting Mix and add a bit of perlite, pumice, or orchid bark to improve drainage. Additionally, you can include some worm castings to provide organic matter.
Alternatively, you can go to Etsy.com and select an aroid mix. They have best mixes we have not seen on Amazon.com.
6. Watering
These aroids are meisic, i.e., they need substrate with a moderate amount of moisture. Usually, they are more sensitive to overwatering than underwatering, i.e., they are slightly drought resistant, thanks to the thick leaves.
Therefore, you should water your Scindapsus treubii moonlight and let the top 2 to 3 inches of the soil dry before another watering session. Feel with your finger finger and water when up to the 1st knuckle feels dry.
Another way to determine when to water is to wait until the leaves begin to curl. They will rejuvenate once you water them. Unfortunately, overwatering may also cause foliage curling. However, we don't prefer this method.
Our favorite method is using soil moisture meter. XLUX or Gouevn are both good. Water when the reading is in the dry (red zone). You don't have to touch the soil each time to know if it is watering time.
The other thing to note is that you should , you should reduce the watering frequency in fall and winter as the plant will not be actively growing.
On how often to water Sterling Silver Scindapsus, factors like humidity, temperature, and light come to play. For instance, these houseplants will need more water when humidity is low, or the temperature is high because of higher moisture loss rate. Also, when given bright light, they will grow faster, meaning they need more water.
Finally, when watering these aroids, soak them in water until excess comes through the drainage holes. Discard any water that collects in the saucer beneath your pot.
a). Overwatered Scindapsus treubii moonlight
Overwatering is a problem not just for this plant but for aroids and many other houseplants. They don't like sitting on the water.
It may happen due to frequent watering, poorly draining soils, or pots without drainage holes. Also, oversized pots may be another reason.
Common signs include the following:
The soil is always moist or soggy
Yellowing of leaves
Wilting
Leaves dropping
Root rot
Mushy stem base
Moldy topsoil
Some symptoms such as wilting and mushy stem base may indicate that root rot has set in.
b). Underwatered
While overwatering is detrimental, don't underwater Scindapsus treubii moonlight because it will result in the following symptoms.
Dry soil
Curling leaves
Dry and discolored or brown leaf tip and edge
Slow or stunted growth
Yellowing of leaves
c). Best water to use
Like most tropical plants, use distilled, aquarium, or reverse osmosis water. Tap water may result in salt deposits in the soil.
7. Fertilizer
For fuller and lush growth, fertilize your treubii moonlight once a month in the spring and summer (growing months) only. Don't apply fertilizer during the winter or fall seasons.
When fertilizing these aroids, use any good all-purpose houseplant fertilizers. Pick those with slightly a higher nitrogen percentage of nitrogen will help ensure more foliage.
We have had great success with the Joyful Dirt Premium Concentrated House Plant Food and Fertilizer (NPK 3:1:2). Also, some people say that  Miracle-Gro Water Soluble All Purpose Plant Food works well. Follow provided usage instructions or use half recommended strength.
Excessive fertilizers may cause the following:
Stunted growth
Dried or burnt leaf margins
Yellowing of leaves
Wilting
Death
8. Pruning
As a slow-growing plant, S. treubii moonlight doesn't require much pruning. However, in case of any dead, dry, or damaged leaves, you can trim them off using a sterilized pruning shear or scissors.
Moreover, if you want a fuller growth rather than one or a few long stems, consider cutting off the long stems. Doing so will encourage more branches and make your plant bushy.
Nevertheless, avoid pruning too many branches or stems at once as it will weaken your plant.
9. Potting and repotting
Scindapsus treubii moonlight ornamentals grow slowly. Therefore, they don't need frequent repotting. Repot them after every 2 to 3 years or when they are root-bound.
When root or pot-bound, your plants will some signs, which include
Roots growing from drainage holes
yellowing or browning of leaves
wilting
Stunted growth,
Other underwatered houseplant signs
Repot your treubii moonlight in spring to give the growing roots ample time to grow into the new potting substrate. However, you can still pot it in summer but not in winter or fall.
When repotting your sterling silver plant, go for a pot that is 2 to 3 inches wider. Moreover, should also be deep enough to accommodate the roots and leave room for new growth.
However, avoid the temptation of going for overly large pots as they may contribute to overwatering problems.
Scindapsus treubii Moonlight propagation
Firstly, Scindapsus treubii moonlight propagation is by stem cutting and you can use both a potting substrate or water. Both methods will work.
However, propagation in water will take a long to transition to a pot, considering these plants are slow-growing. Also, the transplanting will shock it.
Secondly, we recommend propagating this plant in spring as it will have ample time to grow new roots during spring and summer. By fall, it will have established itself.
a). What you need
sterilize pruning shears, knives, or scissors
Potting mix (a 50/50 perlite and sphagnum peat moss will work fine)
A small pot
Rooting hormone (optional) but helps speed rooting. Use Garden Safe Brand TakeRoot Rooting Hormone or Clonex. These two are the best of the many we have tried.
Transparent plastic bag
b). How to propagate Scindapsus treubii moonlight
Cut a stem with a few leaves just below a node. Picking a node with already visible aerial roots may promote quicker rooting.
Remove the lower leaves, leaving the upper one or two.
Dip the cut end in a rooting hormone.
Put your potting mix in your small pot, thoroughly water it and poke a hole with your finger, stick, or pencil and plant your cutting. Ensure your potting substrate covers the node.
Cover your cutting with a transparent paper bag, leaving an opening for air circulation. The plastic bag helps maintain humidity and moisture. Ensure the leaves don't touch your plastic bag.
Place your plant in a warm place, preferably at 70 to 75 degrees Fahrenheit (21-24 °C) with bright, indirect light. Warm conditions will promote rapid growth.
Ensure the potting mix remains moist, letting it dry only a bit before moisturizing it again. At this stage, the cuttings need moisture. However, please don't overdo it.
Also, routinely remove the plastic covering, giving your plant to enjoy the fresh air (breath). You can do it once or twice a week. Proper aeration will prevent rotting.
Unlike other houseplants, the sterling silver Scindapsus is slow-growing. Usually, it will take about 2-4 weeks to start small roots and a month or two to begin unfurling its first leaf.
Give it more time, about 2 to 4 months, to properly root before you can transplant it. When you finally transplant it, its leaves may curl due to the transplanting shock. Don't worry. It is normal, and it will spring back soon.
Finally, if you want fuller growth, we recommend having a few cuttings in your growing pot and pruning them accordingly once they are long enough.
Safe or toxic
Scindapsus treubii moonlight is toxic or poisonous to humans, dogs, cats, and other pets because they have needle-like insoluble calcium oxalates called raphides.
When chewed, nibbled, or, ingested raphides will locally injure the oral or gastrointestinal lining tissue resulting in symptoms such as:
Mouth pawing
Drooling
Oral irritation and pain
Redness and swelling of lips, tongue, and mouth
Difficulties in swallowing
All parts of the sterling silver plant, roots, leaves, and stems are toxic. Therefore, ensure your children, cats, dogs, rabbits, bearded dragons, and iguanas, among other pets.
Pests
If grown indoors, Scindapsus Treubii Moonlight isn't prone to attack by pests. However, it may end up with scale or spider mites.
1. Scale
In case of scale, symptoms to expect include
Round or oval bumps of leaves and stems, mainly the underside of leaves
Sticky, shiny sap (honeydew) that will turn black or moldy
Waxy fibers on leaves
Deformed and stunted growth
Yellowing of leaves
Leaves dropping
Scale is susceptible to insecticides. Therefore, use insecticidal soap or horticultural oil spray, including neem oil, to control it.
2. Spider mites
When infested with spider mites, these plants will have these signs:
Yellowish to small silvery dots on the leaf surface, mainly the underside.
Silky webs on stems
Yellowish bronze discoloration in case of heavy infestation
To manage spider mites, hose your plant, use neem oil, or go for insecticidal soaps for severe infections.
Diseases and conditions
The sterling silver plant isn't susceptible to viral, fungal, or bacterial infections if grown indoors. However, using unsterilized pruning scissors or sheers or handling may transmit some of these diseases.
However, your plants may have the following common conditions
1. Curling leaves
The most common cause of curling leaves in Scindapsus Treubii Moonlight is underwatering. Usually, the leaves will furl upwards, and you will notice other signs indicating this plant is thirsty.
However, other possible causes include the following:
Overwatering (curls downwards).
Pests
Diseases
Heat stress
Nutritional deficiency
Transplanting shock
2. Yellowing of leaves
If your sterling silver Scindapsus leaves start turning yellow, the most common cause is overwatering. Check if the soil is soggy and other signs we mentioned.
Nevertheless, the yellowing of leaves may be due to other issues that may include the following:
Incorrect lighting, incredibly very low light. Direct sunlight may also bleach leaves, making them look yellowish
Underwatering (happens with inward curling, drooping, and crisping leaves
Pets and diseases
Extreme temperatures
Low humidity
Nutritional deficiencies
Normal aging
Scindapsus Treubii varieties
Besides S. Treubii moonlight, some other varieties or cultivars include the following:
1. Scindapsus treubii Dark Form
Scindapsus treubii Dark Form has thick, glossy, dark green to nearly black lance-shaped leaves. This easy-to-grow plant makes a perfect choice for hanging baskets, or you can let it climb a trellis or moss pole.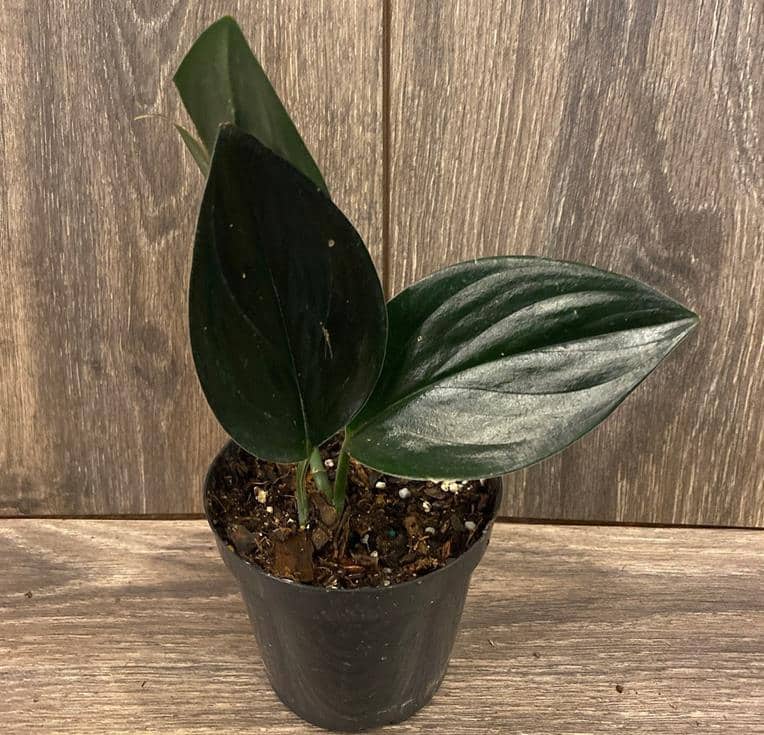 2. Scindapsus treubii Mint
Scindapsus treubii mint is a rare and costly Scindapsus treubii. It grows slowly and has marbled mint variegation. It goes for between $450 and $700.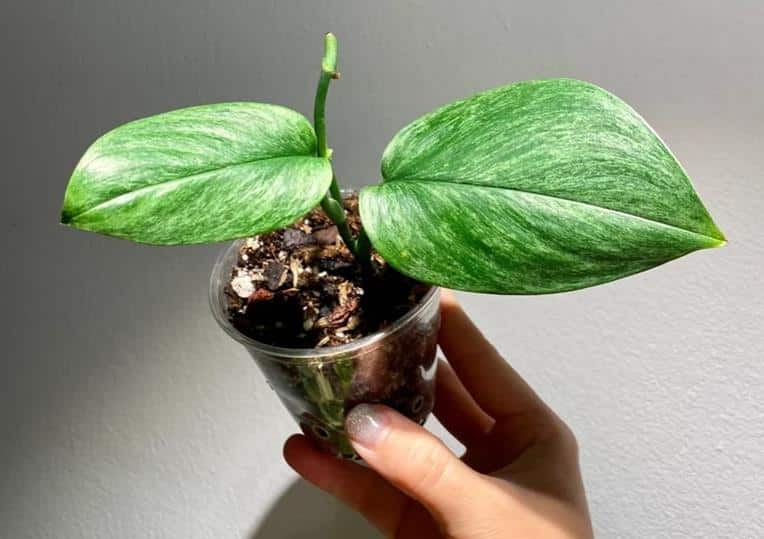 Frequently asked questions - FAQs
Is Scindapsus Treubii Moonlight a pothos?
No. Scindapsus Treubii Moonlight isn't a pothos. Yes, they are both climbing vines, have silvery variegated leaves, and share the same arum family and Monsteroideae sub-family.
However, pothos belongs to the genus Epipremnum, while sterling silver is in the Scindapsus. Also, their leaves don't resemble each other.
On the other hand, the satin pothos or silk pothos (Scindapsus pictus) is in the same family with sterling silver but a different species.
Is Scindapsus Treubii Moonlight rare?
No. Scindapsus Treubii Moonlight is no longer a rare plant. It was rare and expensive when it was first incepted in 2019 by Coast Farms as one of the Trending Tropicals.
It was rare because it grew slowly, was in the Trending Tropicals collection, had gorgeous leaves with a silvery sheen, and sold out fast.
However, it is readily available across the US and Canada. Just go to any Coast Farms, and you will find it at affordable rates.
Where can I get Scindapsus treubii moonlight for sale?
If you live in the USA or Canada, Coast Farms is the best place to buy Scindapsus treubii moonlight, usually tagged as sterling silver Scindapsus or Etsy.com.
However, you will also get it at Lowes, Walmart, eBay, gabriellaplants.com, cdidegardening.com, Facebook houseplant groups, and other small-scale specialty growers.
What is the Scindapsus Treubii Moonlight price?
When introduced in 2019, it was expensive. However, nowadays, the price has gone down. The Scindapsus Treubii Moonlight price ranges from $10 to $50, with the majority selling it for less than $30. However, you can still get it for below $10, and some vendors will sell it as high as $100.