The reasons for snake plant leaves curling are underwatering, overwatering, extreme temperature, overfeeding, plant shock, or too much light. But it may be nutritional deficiencies, pests, low humidity, or being rootbound.
We will have detail on each of these causes and what to do or solution. Nonetheless, we omitted low humidity because these plants are ok if the leaves are comfortable for you.
That is not all. Please note that the reason for Dracaena trifasciata, Sansevieria trifasciata, or snake plant leaves curling inward or upward with a moisture issue. Things like underwatering, too much light, heat stress, plant shock, too much light, and so on may cause it.
On the other hand, if your snake plant leaves curl downward or outward, possible causes are overwatering and nutritional deficiencies.
Last but not least, pests and aging may make this plant curl upward or downward, i.e., either way.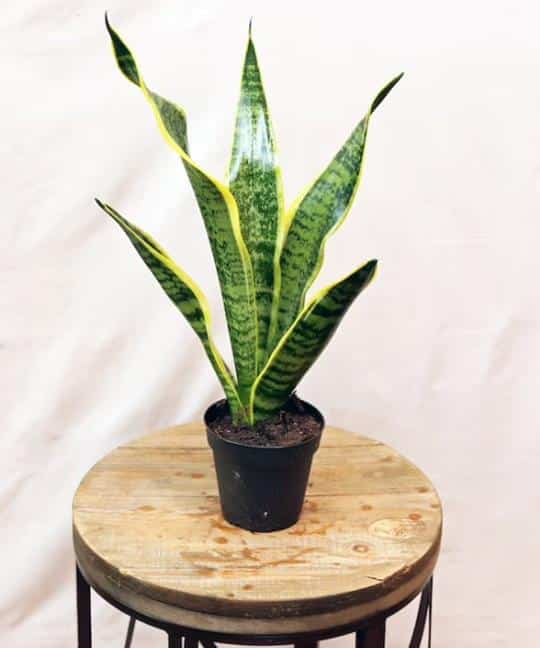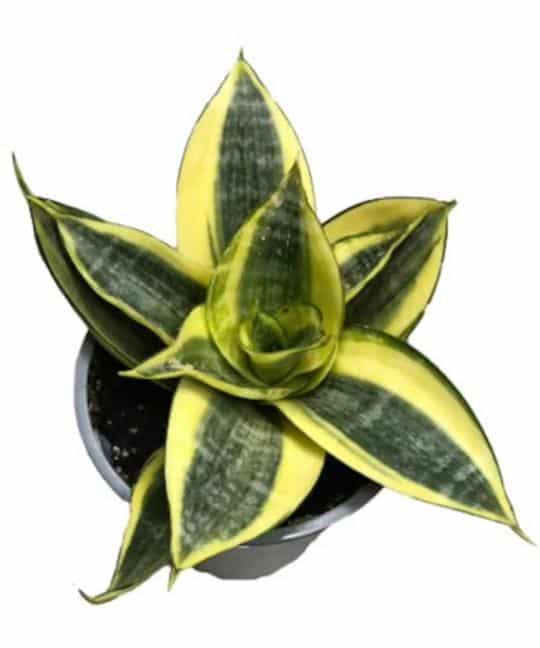 Snake plant care and growth requirements
In most cases, snake plant curling leaves happen when you don't meet the various care and growth needs. Here is a summary to help you see if you are doing it right.
| | |
| --- | --- |
| Care level | Low maintenance or easy |
| USDA hardiness zone | 10 to 12 |
| Temperature | They can thrive at temperatures of 55 to 90°F (12.8 to32°C) but will grow best at 70 to 90°F (21 to 32°C). |
| Humidity | About 45% don't need extra humidity and can tolerate lower humidity or handle what is comfortable for you. |
| Light requirement | Bright, indirect light but don't mind low light |
| Best soil | Well-drained, aerated rich soil mix that is slightly acidic to neutral with pH 5.5 to 7.5. |
| Watering | Allow the soil to completely dry in-between watering. It will be after 1-2 weeks in growing seasons and 1-2 months in spring and fall. But the exact duration will depend on your house conditions and other factors. |
| Fertilizer | They don't need much fertilizer. Feed once after six months with an all-purpose balanced plant food such as 10-10-10. If 20-20-20, use half strength. If you opt for succulent plant food, follow use instructions. |
| Pruning and grooming | Use sharp, sterilized gardening shears to cut any dead, diseased, or damaged leaves at the soil line. Also, to control shape and size, you can cut a few leaves during the growing seasons. |
| Repotting | Repot your snake plant after every 2 to 3 years, or if rootbound |
| Propagation | Leaf-cutting in soil or water or by division |
| Toxicity | Toxic to humans, cats, dogs, and other pets |
1. Watering issues
Overwatering and underwatering are possible reasons why your snake plant leaves are curling. Underwatering will make them curl inward or up and overwatering down.
a. Underwatering and snake plant leaves curling
Yes, they can tolerate drought very well. But it is a possible reason for the snake plant leaves curling inward if they go for long without water. This happens to help conserve water.
When thirsty, the soil will be dry and pulled from pot edges, and the leaves will start losing plumpness, become limp and start drooping. If you do nothing, your snake plant leaves will start turning yellow or brown, have brown tips, dry edges, begin to wrinkle and curl inward. Also, scarring may happen.
That is not all. Your leaves and roots may become brittle. Also, the leaves may fall off, and your plant may wither and die.
b. Overwatering
Overwatering isn't a common cause of snake plant curling leaves but is a possible one. These plants sensitive to overwatering and soggy soil will cut oxygen from roots. Without oxygen, they will not function well (absorb water or minerals) and will become weak.
If not corrected, soil fungi and bacteria that love wet conditions will attack the root, causing root rot. Root rot will worsen the ability to absorb water and, if it advances, will kill your Dracaena trifasciata.
Overwatered snake plants will have a wet potting mix even after not watering for a few days, and the leaf will feel mushy and soft.
Also, the leaves may droop or curl downward, starting from the stem to the tip. Other signs are leaves yellowing, falling off, brown spots, a moldy or smelly potting mix, and root rot.
c. How to water your snake plant
Allow your snake plant potting mix to dry out before another watering session. Depending on your environmental conditions, soil mix and pot size, or type, you may water this plan after about 1 to 2 weeks in spring and summer. In winter and fall, it will take much longer, about 1 to 2 months.
Next, never water your plant unless you test the soil. You can do this by feeling the soil with your finger, and it feels dry up to the first knuckle. It is time to water your plant.
Another way to know watering time is if your soil moisture meter is in the dry zone. We use XLUX Soil Moisture Meter and water when the reading is three or less.
That is not all. Make sure your pot has drainage holes, you have the right soil mix (well-drained and aerated), and the right pot size. A big pot may cause overwatering, while a small one will make the soil dry quickly
i. underwatered plants
If your plant is thirsty, thoroughly soak it. You can go for the regular top watering, where you will slowly saturate the soil until excess water comes from the drainage holes. Discard any water that collects on the cachepot or saucer.
Alternatively, for a better soak, go for bottom watering. To use this method, out water in a basin up to 3 or 4 inches high. Next, place the plant in the basic for the next 45 minutes to allow the soil to soak.
Afterward, feel if the top 2-3 inches are wet. If so, remove the plant and let the excess water drain. If not, lightly and evenly water the soil from above.
Last but not least, if you often forget to water your plant, get the approximate duration it takes and set a reminder. But always test the soil before watering.
ii. Fixing overwatered snake plant
These plants are sensitive to overwatering. So, in case it has happened, hold the watering until the soil dries out. Also, poke holes on the potting with a stick to improve aeration.
If root rot has set in, i.e., roots are brown or black, repot it. As you do so, discard the old potting mix and cut any brown or black roots with sterilized pruning scissors.
2. Pests and snake plant leaves curling
The other reason for snake plants curling leaves downward or upward or both ways is pests. Indeed, these plants are not so susceptible to bugs, mainly when grown indoors. But they may end up with spider mites, mealybugs, thrips, scale insects, or aphids.
These sap-sucking insects will feed on plant juices depriving it of water. This alone can make leaves curl. Also, some will inject toxins into plants to make the leaves curly, twisted, ruffled, or distorted.
Pests may appear as oval wax-covered bumps, tiny moving dots, elongated fringed winged insects, or bumps that may move or not.
Signs depend on the bug you have. Common ones are black, brown, or yellow spots, twisted, curled, ruffled leaves, honeydew, and sooty mold. Others are brown or yellow leaves, leaf falling off, stunted growth, silvery speckling, among others
Solution
Hose your plant in a sink to kick some of the bugs off your plant. After that, use cotton swabs dipped in rubbing alcohol to wipe them off the plant surface. In case of a heavy infestation, try neem oil, insecticidal soaps, or horticultural spray oils.
We never miss Bonide Ready to Use Neem Oil is a 3-in-1 (fungicide, miticide and insecticide) that can kill mites, insects, etc. 
If you prefer insecticidal soap, the best pick is Garden Safe Brand Insecticidal Soap Insect Killer.  
Last but least, don't forget to isolate new plants or infested ones. This will prevent the spread of bugs to other plants.
3. Too much light and solution
Direct sunlight will increase water loss by transpiration as it tries to keep cool. In response to the much water loss, your snake plant leaves will curl inward. They do this to reduce water loss.
Another possible explanation for curling when there is too much light is to reduce the amount of light the leaves absorb.
When under too much light, the leaves will look pale, bleached, or washed out. Also, they may turn yellow, have brown tips and edges, or have white or pale patches.
Solution
Dracaena trifasciata need bright, indirect light, but they can grow well even in little light. Also, they can tolerate a little bit of the early morning and late evening sun but not hot daytime sunlight.
Outside, have a shade cloth, greenhouse, or put them on a shade. Inside your house, don't place them too close to grow lights. Also, avoid putting your plant near a window that receives direct sunlight, such as the south-facing window.
4. Extreme temperature
Too high or too low are possible causes of curling snake plant leaves. How does it happen, and what signs should you expect?
a. Low temperatures and cold drafts
Cold wind blasts and chilly conditions may make Sansevieria trifasciata curl leaves. There are many theories to explain this behavior. One of them is to protect themselves from rapid thawing. The other one is that cold will affect plant physiological functions.
Signs include drooping or wilting, leaves turning whitish, brown, or black, and looking faded. Also, the leaves may look like they are burnt or turn brown overnight.
b. High temperature or heat stress
Extreme temperatures will increase the rate of water loss by transpiration. More water will evaporate to help keep them cool. To help conserve water, your snake plant may curl leaves and possibly protect itself.
c. Solution
Maintain a temperature range of between 55 to 90°F (12.8 to32°C) and move any outdoor plants indoor when it gets too cold, i.e., below 50°F (10°C).
To know temperature, you need a thermometer. One good thermometer/hygrometer is Govee Hygrometer Thermometer H5075 with a remote control app. It is accurate, has a large LCD, and has a smart app to give you alerts when temperature or humidity goes beyond or below the set range. 
Also, avoid draft areas when it is cold or during winter. Move any plant on doorways or open windows to a warmer place.
If heat stress is the issue, move your snake plant to a cooler place. It could be under a shade or an air-conditioned room. Also, avoid placing your plant near a furnace, radiator, heating system vents, fireplace, or any house appliance that emits heat.
5. Overfeeding and nutritional deficiencies
Overfeeding or lack of nutrients are reasons for snake plant leaves curling. How does each of these two cause this issue?
a. Overfeeding
Too much fertilizer will cause root burn, increase salts in the soil, and alter the pH. All these things will make it hard for your plant to absorb water and minerals. Thus, the leaves may curl.
Signs you have overfed this succulent is the presence of fertilizer deposit on the soil. Also, the plant may wilt or droop, have brown margins or tips, grow slowly, or curl.
b. Nutritional deficiencies
If your plants don't get enough fertilizer, they may have some nutritional deficiency. Here are specific cases:
Magnesium deficiency: It will cause interveinal chlorosis that occurs towards the center of the leaves. Also, the leaves may curl upward.
Calcium deficiency: If younger leaves curl downward and have brown edges and tips, it may be a sign they don't have enough calcium. Also, you may notice ruffled leaves, and the margins will look scalloped.
Phosphorous: You will see brown and bronze splotches, and the leaves will turn to dark green or bluish. Also, the affected leaves may curl down.
c. Solution
Snake plants don't require a lot of feeding. Feed them with a low concentrated fertilizer like Miracle-Gro Succulent Plant Food twice a week. Use two pumps for a small pot, four if the pot is 6 inches and above. 
Alternatively, you can buy a slow-release formula like Succulents & Cactus Plant Food - Gentle Long-Lasting Formula. This balanced NPK 1-1-1 is what we use. It feeds for up to 9 months and has sulfur, magnesium and other micronutrients. Also, it doesn't have urea. 
Those who have overfed their plants should flush the soil or change the potting mix (repot). To r leach, the potting mix, let a lot of water flow through it.
6. Rootbound
Curling leaves and roots growing from drainage holes is a sign your plant is rootbound. Its leaves may also droop, turn yellow or brown, and have a scorched look. Other indicators are leaves dropping and stunted growth.
Solution
If it is during the growing season, you need to repot your plant immediately. If not, you will have to wait till early spring.
When repotting, pick a pot large enough to accommodate your plant's root ball. But don't overdo it. Also, be gentle to avoid damaging the plant if it doesn't easily slide out.
Normal reasons for curling snake plant leaves
While undesirable, you should expect some reasons for curled snake plant leaves. We call them normal as they are bound to happen.
1. Aging
When older leaves begin to age, they will turn yellowish then brown. As this happens, these leaves may be curly. Just prune off these dying leaves.
2. Plant shock and repotting
Plant shock may make your Dracaena trifasciata leaves curl. This curling will happen after repotting. transplanting a baby plant, receiving a new plant, or moving your plant to a new environment. Other signs are leaf burn, drooping, some yellowing, and browning. Also, our plant may drop some leaves, and it may look limp.
Give your plant optimum growth conditions and give it time to adjust. It should be fine after adjusting.
About snake plant or Dracaena trifasciata
The snake plant (Dracaena trifasciata or Sansevieria trifasciata)is an evergreen flowering plant native to tropical West Africa. Initially, it was in the genus Sansevieria. But botanists reclassified it to genus Dracaena, family Asparagaceae.
Other common names for this snake plant are Saint George's sword, viper's bowstring hemp, or mother-in-law's tongue.
Many people love snake plants because of their charming, flat, stiff, sword-like upright succulent leaves with alternating green shades bands across the leaf length. But some varieties have white or yellow variegation on the outer leaf margin. Also, they are easy to care for, and they help purify the air.
Usually, their leaves grow in clusters or rosettes, and they can reach 4 feet long and about 2 to 4 inches wide with a tip that tapper to a point. But the exact size will depend on the variety you have.
The most popular cultivars or varieties are Sansevieria trifasciata Laurentii, Futura Robusta, Moonshine, Cylindrica, Golden Hahnii, Black Gold, Futura Superba, Hahnii Jade Pagoda, Black Coral, and Craigii.
Those are not the only ones. Other varieties are Sansevieria trifasciata Bantel's Sensation, Black Jack, Black Robusta, Gold Flame, Hahnii Green, Hahnii Silver Marginata, Golden Flame, and Whitney.