String of turtles plant or Peperomia prostrata is an adorable cascading radiator plant valued for its patterned leaves that resemble a miniature turtle shell.
This post has string of turtles care and growing conditions, including best soils, humidity, temperature, watering, pruning, light, repotting, and fertilizer feeding.
We will also look at how to propagate string of turtles, its appearance (size, leaves, flowers, and stems), pests, diseases, and conditions before the finish with some safety to pets and some FAQs.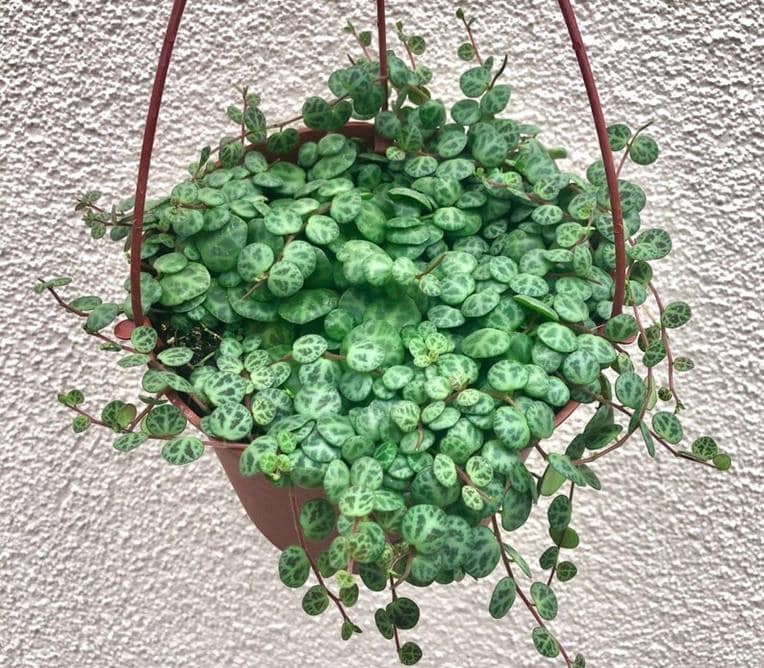 Classification
String of turtles, scientifically known as Peperomia prostrata, is an evergreen, perennial cascading, flowering plant native to the Brazilian tropical rainforest. It belongs to the family Piperaceae (the pepper family) and genus Peperomia (radiator plants).
Peperomia prostrata is a slow-growing epiphyte (grows non-parasitically on other plants) with strikingly charming small succulent leaves and light pink vines. The leaves have dark and light green patterned leaves resembling miniature turtle shells, hence the name string of turtles.
The Peperomia prostrata plant doesn't have many varieties, with the only known one being Peperomia prostrata 'Magic marmer' available at Etsy.com.
Finally, if you already have experience with string of dolphins, strings of bananas, strings of watermelons, or strings of pearls, you will love these plants.
Quick overview
| | |
| --- | --- |
| Scientific name | Peperomia prostrata |
| Family | Piperaceae (pepper family) |
| Common names | Turtle plant, string of turtles, variegated string of turtle |
| Native habitat | Brazil tropical rainforests |
| Type | Evergreen. flowering perennial epiphyte vine |
| Size | 2-4 inches high with cascading vines growing up to three feet long or more. |
| Leaves | Small, succulent, almost round leaves with dark and light green patterns resemble small turtle shells. |
| Flowers | Inconspicuous, white inflorescence flowers on a spiky stalk |
| Stems | Pinkish vine or stems |
| Blooming time | Throughout the year after it matures |
| Light requirement | Medium to bright indirect light |
| USDA hardiness zone | 10-11 |
| Temperature | from 65°F to 75°F, with winter temperatures not going below 50°F |
| Humidity | Moderate to high, ideally 50 and above |
| Growth rate | Slow growing, takes 3-5 years to mature |
| Soil | Well-drained, potting mix that is high in organic matter. |
| Watering | Infrequent, soak and dry watering |
| Propagation | Stem cutting, leaf-cutting, division |
| Toxicity | Safe for humans, dogs, cats, and other pets |
| Care level | Beginner or easy |
Identification - Appearance and size
Before buying it, you want to know more about the appearance and size of P. prostrata. Here is a brief description of its size, leaves, stems, and flowers.
1. Peperomia prostrata size
String of turtles plant is a relatively small plant that grows about 2 to 4 inches high and is about the size of your pot. Afterward, it will begin having cascading vines which may grow up to 3 feet or more.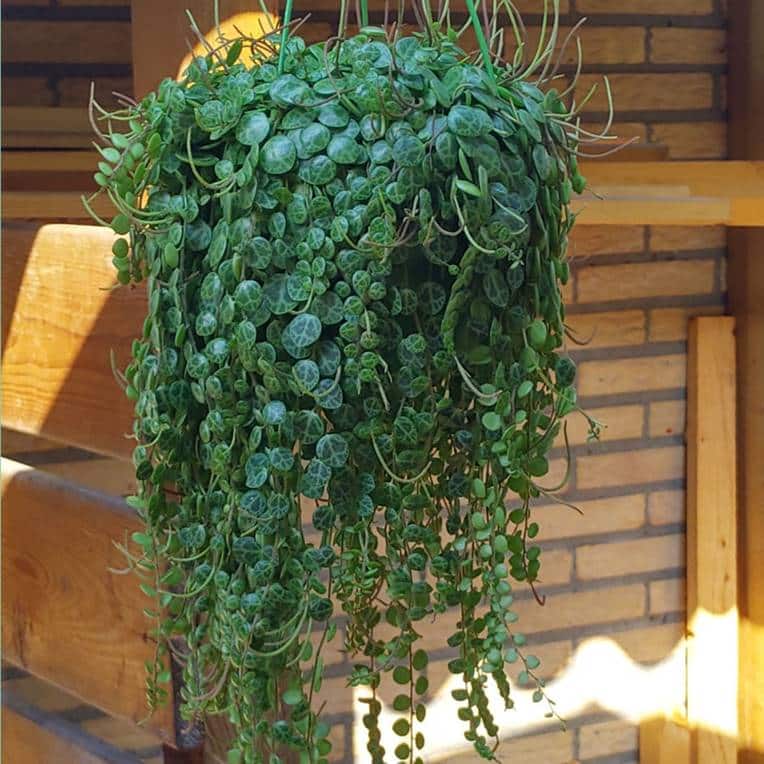 It is a relatively slow grower. On average, it takes about 3 to 5 years before mature growth. Factors such as light, nutrients, and growing conditions may impact its growth rate.
2. Leaves
String of turtles has small, succulent, almost round, glossy leaves with contrasting dark and light green patterns that look like a small turtle shell. The leaves have a short petiole (colored as the vines) and are up to half an inch (1cm) in size.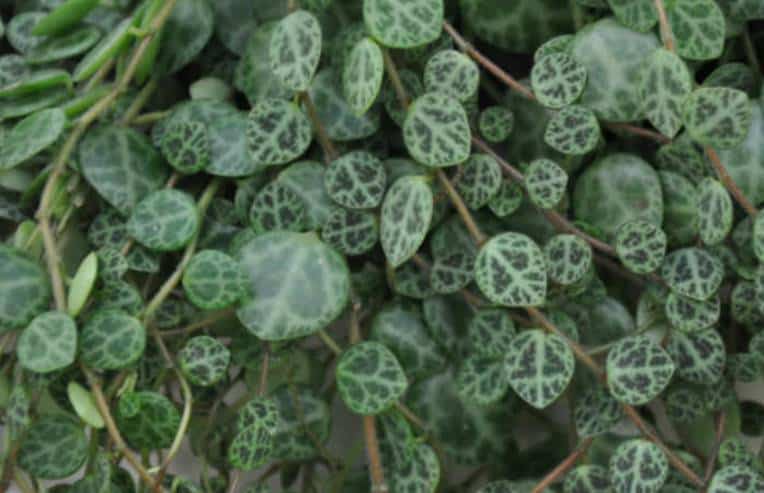 3. Stems and vines
P. prostrata has pale pinkish to nearly green thin cascading vine with oppositely arranged leaves, i.e., they grow on alternative, opposite sides along the vine.
4. Flowers
Does string of turtles have flowers? Yes. They produce cream-white, tiny, scentless inflorescence flowers on spiky brownish-red stalk.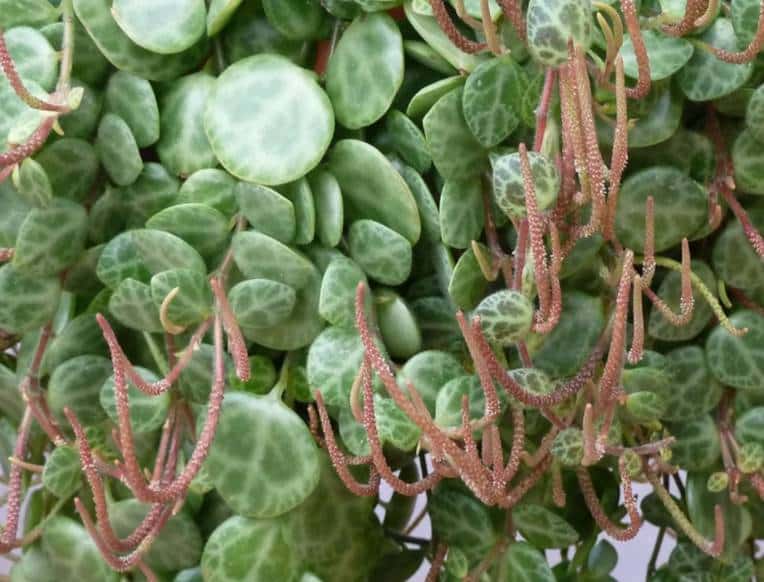 Where to use P. prostrata
Since they are small, compact, and grow slowly, most people have string of turtles indoors as hanging baskets or desktops, shelves, cabinet tops houseplants. You can have them in any room at your home or office, including your bathroom.
Also, some people have terrarium plants, garden container plants, fairy gardens, and so on.
Strings of turtle care and growing requirements
Peperomia prostrata are easy to care gardens and houseplants. However, they do require some growing conditions which you can effortlessly meet.
Here is all you need to know on how to care for string of turtles plants and growing conditions:
1. USDA hardiness zone
USDA hardiness zone for astring of turtles is zones 10–12. Therefore, they are not cold-hardy and cannot withstand frost.
2. Temperature
These peperomias are tropical and subtropical plants that grow in the warm and humid native Brazilian rainforests.
Therefore, your string of turtles will be happiest at temperatures ranging from 65 to 75 degrees Fahrenheit (18.3 to 23.9°C), which is about the standard home range.
However, they can tolerate slightly higher and lower temperatures but ensure they don't dip below 50 degrees Fahrenheit (10ºC).
Also, these plants don't like very high temperatures as true succulents that grow mainly in hotter, drier, arid conditions or sudden big temperature swings.
Therefore, don't place them near air conditioning vents or room heaters. Furthermore, People who grow Peperomia prostrata outside should take them indoors when temperatures dip below 50 degrees Fahrenheit.
3. Humidity
Besides warm conditions, string of turtles will appreciate moderate to higher humidity. However, it can still thrive in typical household humidity if it doesn't go below 40% or the air isn't so dry.
Peperomia prostrata don't like very low humidity or air that is too dry. It will cause excess moisture loss, and the potting mix will dry faster. Signs of low humidity include:
Brown edges
Crisp foliage
Wilting
Drooping
Leaves yellowing
Therefore, people in low humidity, those that use room heaters or during dry summers, your plants will benefit from misting, or a pebble tray.
Also, you can move your plants to rooms with higher humidity. But a sure way to control humidity is buying a humidifier. The top brand is AquaOasis™ Cool Mist Humidifier. It is quiet, efficient, and will run for a day.
4. Light
String of turtles prefers indirect medium to bright light for at least 6 to 8 hours every day for optimum growth and best coloration. While they may still tolerate slightly lower indirect light, they will grow slowly and not have excellent foliage colors.
Secondly, avoid direct bright sunlight, especially when the sun is high in the sky. The hot sunlight will bleach the foliage, making them look paler and yellow. Also, these houseplants may suffer from leaf burn characterized by crisp brown edges.
Thirdly, when selecting a placing spot, put your Peperomia prostrata where it receives light from the top or above for fuller growth on the top. You don't want it only to have the handing or cascading vines and very little foliage on the top. It won't look attractive.
If you want cascading vines around your planter, rotate it routinely since it tends to grow faster on the side facing light.
You can have your plant on the east or west-facing windows but ensure you place them where only the early and late direct sunlight can reach your plants. A great idea will be to put it away a few feet from the windows on a table or shelf, not on the windowsill.
For south-facing, ensure the hot midday sunlight doesn't shine on your peperomia. A north-facing window will be perfect as it doesn't get direct sunlight.
If your apartment doesn't have sufficient light, invest grow lights, they have both the tube and compact fluorescent bulbs. I have used GE Grow Light LED Flood Light Bulb, it is efficient, lasts long (up to 25 hours) and affordable. They also have tubes for large area coverage.
Finally, people growing string of turtles outdoors should ensure they receive filtered light, i.e., no full sun. Grow them under a shade, inside a greenhouse, or invest in a 40% shade cloth.
5. Best soil for string of turtles
Peperomias are epiphytes that grow on other trees getting nutrients from decaying leaves, barks, and other debris with no access to the ground. Therefore, they are not so fussy when it comes to soil.
That said, it is good to note that the best soil for string of turtles should be slightly acidic, well-drained, high in organic matter, especially soilless potting mixes. However, they can still tolerate neutral soils.
The typical potting mix for your Peperomia prostrata should be an equal mix of perlite and moss peat. Perlite will boost drainage, while moss peat is high in organic matter (nutrient-rich) and will help keep a slightly acidic pH.
However, you can still go for well-drained loamy soils with coarse sand, pumice, or perlite to improve drainage and boost aeration.
Avoid soils poorly drained soils, especially those high in clay, including your standard gardening soils. They are likely to retain moisture for long, causing root rot. And we don't we don't recommend cacti/succulent soils due to differences in organic matter and moisture that peperomias require.
For all our peperomia plants, we use Miracle-Gro Indoor Potting Mix. We haven't had issues with gnats, and you don't have to feed your plants for the first six months. Also, the coco coir holds water for a long and it re-wet quickly.
6. Watering
Watering is one essential care routine you cannot afford to go wrong since peperomias have thin roots susceptible to root rot. The more significant risk is often overwatering and not underwatering.
String of turtles needs infrequent deep watering, allowing at least 1 to 2 inches of the soil to dry before another session. Alternatively, you can water them once the top 50-75% of the potting mix is dry.
Feel with your finger to know it's time to water this plant. Suppose the potting mix is dry up to your knuckle; it's time to water your plant. If not, wait a little longer and test it again.
We prefer using a soil moisture meter, specifically, XLUX Soil Moisture Meter. Its accurate, responds quickly and is affordable. Water this plant when the reading is three or less (in the dry zone). Typically, this will be after 1 to 2 weeks, depending on humidity, light, temperature, and so on.
Also, you will water more during growing seasons (spring and summer) and less amount when the plants are dormant. Just ensure the potting mix doesn't completely dry.
During a watering session, slowly soak water to the growing mix until excess starts flowing from the drainage holes. Discard any that will collect on the sauce beneath your pot.
Also, ensure adequate air circulation to dry the leaves as they may rot if your plant has poorly ventilated areas. Poor aeration may also increase the risks of root rot as moisture won't quickly evaporate.
Some experts recommend bottom watering to prevent foliage wetting. However, it won't flash any accumulated minerals or salts.
This bottom or reverse watering will involve immersing the pot in water up to about ½ way and letting it sit for ten minutes. Afterward, allow it to drain excess water.
a). overwatered Peperomia prostrata
String of turtles overwatering may result from frequent watering, pots without drainage holes, or waterlogged soils. Some of the indications include the following.
Soils that are always wet when touched
Discoloration of leaves – yellowing or browning including brown spots or scabs on leaves on leaf edges
Wilting (occurs on the onset of root rot)
Defoliation
Mold growing in the potting mix surface
Mushy peperomia base
b). Underwatered
On the other hand, these plants are water-thirsty if you skip the watering session or in places with low humidity. Signs that these peperomias are thirsty include:
Dehydrated potting mix
Stunted growth
Droopy or flabby, thin leaves
Discoloration of leaves
7. Fertilizers
These houseplants don't require much fertilizer feeding, especially if your potting mix has high organic matter. Nevertheless, they will benefit from some plant food, i.e., it will help boost growth, vibrant foliage and prevent nutritional deficiencies.
Feed your string of turtles with an all-purpose liquid houseplant fertilizer at half recommended strength every fortnight (two weeks) during growing seasons, i.e., spring and summer.
Our favorite brand is Miracle-Gro Indoor Plant Food (Liquid). Add one pump every two weeks for a small pot and two pumps if large. Feed during growing months only.
For those who prefer to feed less often, go for Osmocote Smart-Release Plant Food Plus Outdoor & Indoor. This brand needs feeding only once in four months. Mix a teaspoon per 64 square inch area and work it into the soil, about 1-3 inches deep. 
Lack of nutrients or fertilizer may cause stunted growth, leaf discoloration, paler patterns, and so on.
On the other hand, too much will cause yellowing of leaves, brown leaf tips, leaf falling, among other issues.
8. Pruning
While still young, a string of turtles does not require much pruning. All you have to do is remove any dry, unhealthy, or dead foliage to give space for more to grow.
However, if they are too bushy, you can remove a few branches to help stimulate further growth.
As they grow and begin cascading, you will have a few overly long, unkempt, and leggy stems. In such a case, you should also prune some large vines to help retain the shape you want.
We prefer pruning in early spring and use the cuttings to propagate more Peperomia prostrata.
Yes, pruning may promote growth. However, don't prune many vines at once (more than ⅓) as it will weaken this peperomia, affecting its overall growth.
Also, if you desire a busy top, put some vines on the pot and ensure they touch the soil to make them root. Don't prune.
When pruning, always use sterilized pruning scissors or sheers. You don't want to spread diseases from one plant to another. Also, you can
9. Potting and repotting
Unlike Peperomia Ruby Cascade, these are relatively slow-growing vining peperomias. Also, like most epiphytes, they have shallow, small, and thin roots. Therefore, don't repot them often as this will stress their fragile roots and leaves.
Ordinarily, you should repot string of turtles after every two to three years and do it during spring when the plant is actively growing. Nevertheless, if it is root-bound, don't wait for two to three years. However, still do it in spring or summer.
When Peperomia prostrata is root bound, it can't get enough water or nutrients. Some signs include:
Roots growing from drainage holes
Stunted growth
Discoloration of leaves – yellowing or browning
Leaves curling and dropping
Underwatered turtle plant issues
However, some of these symptoms may happen from other conditions, including overwatering, lack of nutrients, etc.
When repotting this peperomia, go for a pot 2-3 inches wider in diameter. It should be deep enough to accommodate the roots and have some space for growth.
However, one mistake people make is overpotting, i.e., going for an oversized pot. Such may increase the risk of overwatering.
String of turtles propagation
String of turtles propagation is mainly by stem cutting or leaf cutting. It is easy, straightforward, and has a high success rate.
However, you can also root the growing vines (place them on moist soil inside the pot) or even divide the plant if you have several.
Furthermore, you can propagate Peperomia prostrata in potting media or water. We prefer the former method rooting occurs faster. Also, transplanting is easier as you scope it with some soil.
We will discuss P. prostrata leaf propagation in potting mix. Using leaf-cutting is much or less the same. Just cut it with a petiole and know that it has a lower success rate.
a). What you need
Sterilized or clean pruning scissors, shears, or knife
Well-drained potting mix – 50% perlite and 50% peat moss.
A small pot or planter
Rooting hormone (optional). A brand like Garden Safe Brand TakeRoot Rooting Hormone are perfect. They will speed rooting and prevent rot.
A stick or pencil
b). How to propagate string of turtles – steps
Using your pruning knife or scissor, cut a stem about 4-6 inches with a few leaves from the healthiest vine. I always prefer cutting it at a 45-degree angle to give surface area for roots to grow.
Remove some of the lower leaves, leaving 2 to 3 upper leaves (those towards the tip).
Let your stem cuttings callus over for a few hours. While not mandatory, this step is vital. It prevents root rot or absorption of too much water.
Apply or dip your root into some rooting hormone powder or gel. It will fasten rooting and reduce chances of rot.
Put your potting mix inside your pot and poke it using a stick or pencil. Plant your cutting in the hole, ensuring the soil covers at least one node (where you plucked leaves). The potting mix should firmly hold the stem cutting.
Thoroughly water your plant. Soak the soil until the excess runs from the drainage holes. Some people may water before planting. It doesn't make a big difference.
Place your plant in a place with indirect bright light and ensure the potting soil remains moist but not soggy. The room temperature is ok. However, for quick growth, maintain a temperature of 70 to 75 degrees Fahrenheit (21-24 °C)
If cared for properly, your string of turtles will root and a new bud after 1 to 2 months. Afterward, you can scope the plant with your gardening trowel and give it the necessary care and growing conditions.
Instead of planting the cuttings, some people prefer leaving all the leaves intact and coiling the plant on the surface of the potting mix while ensuring the stems touch the soil.
c). Propagating in water
Propagating a string of turtles stem cutting in water is also easy. The steps are more or less the same, and you will have the chance to see the roots grow.
However, you need to change the water after a few days or when it starts looking cloudy. Also, to prevent algae, always cover the jar (don't allow light).
Finally, this method will take a little longer compared to using a potting mix.
d). To cover the plant or not?
Since plastic bags will raise humidity and increase the chances of rot, we don't recommend covering your leaf or stem cutting.
However, if you must, ensure you routinely open it to allow aeration or have some holes in your transparent paper bag.
Safety to pets
String of turtles is safe for cats, dogs, rabbits, and other pets, i.e., they are not toxic or poisonous to these pets or even human beings. People with pets have a reason to love these houseplants.
While not toxic, your dogs or cats shouldn't chew too much of these or any other plant as they are not herbivores. A little nibbling is ok. Excessive may indicate another problem. Talk to your vet for further diagnosis.
Diseases and conditions
P. prostrata are not so susceptible to disease, primarily when grown indoors. However, ensure you have sterilized potting mix. Contaminated soil may cause various issues.
However, those grown outdoors or in greenhouses may have diseases like Sclerotium stem rot or Phytophthora & Pythium stem & root rot.
However, they are still not as vulnerable as P. obtusifolia, especially Cercospora leaf spot or Rhizoctonia leaf spot.
Besides disease and conditions, common conditions that your string of turtles plant may have these conditions:
a). Yellowing of string of turtles leaves
The main culprit of yellow leaves in string of turtles is overwatering. However, other possible causes include the following:
Nutritional deficiencies
Underwatering
Too much or too little light
Pets
Disease
Wrong humidity
b). Root rot
If you overwater these plants, use a pot without drainage holes or use poorly draining soils, your plant may suffer from root rot. Indicators of root rot include:
Wilting
Stunted growth
Discoloration of leaves
Mushy stems
Pests
Some of the pests that your Peperomia prostrata may have include whiteflies, mealybugs, spider mites. Also, they have scale, thrips, and fungus gnats.
Use insecticidal soap, neem oil, hose the plants, or prune heaving-infested leaves, depending on which one you have.
Frequently asked questions
We know you still have questions or concerns. Let look at a few frequently asked question or FAQs
1. Is string of turtles a succulent?
No. string of turtles is not a true succulent. Although it has succulent leaves that store water, its water and humidity requirements are higher than true succulents.
Also, it is not native to arid and semi-arid areas, i.e., it comes from tropical and subtropical regions of south and central America.
2. Is string of turtles rare?
No. It is not rare. There was a time it was. However, nowadays, turtle plants are widely available. You can buy it at Etsy.com, Walmart, Amazon, Ikea, any popular houseplant store. Etsy is a winner as it has the most expansive collection you will find online.
3. How much is a string of turtle?
Depending on where you purchase it, expect to spend as little as $8 to as much as $50 or more. The price depends on the size, where you buy it, and the size or kind of pot it has.
4. Is string of turtles hard to care for?
No. String of turtles houseplants is easy to care for as they don't require any special attention. We recommend them for even gardening beginners.
All you need ensure you don't overwater this plant as it is susceptible to root rot. They will thrive well in average household conditions.
 However, you must mist them from time to time to boost the humidity in drier areas and provide medium to bright indirect light.
5. Should I grow my string of turtles indoors or outdoors?
Ideally, we recommend growing your string of turtles indoors as you will have more control over temperature, humidity, and lighting.
However, you can also grow them outdoors if your USDA zone is favorable, i.e., 10-12. Ensure winter temperatures don't dip below 50 degrees Fahrenheit (10°C), and they don't go so high.
Also, provide filtered light. Peperomia prostrata don't like direct sunlight. Furthermore, ensure the humidity is moderate to high.