This concrete vs. asphalt driveway discussion has differences between asphalt concrete and concrete, pros and cons, installation, durability, maintenance, and appearance.
To help you decide which one suits you, we will analyze asphalt driveway cost vs. concrete to tell you which one is cheaper and give you ideal weather conditions to guide you on where to use what.
Difference between asphalt and concrete?

Concrete is a composite of fluid cement or cement paste (cement and water) and aggregate (gravel, sand, crushed stone) that will harden or cure to form a hard rock-like surface over time.
On the other hand, asphalt concrete (asphalt, blacktop, bitumen macadam, or rolled asphalt) is also a composite mixture of asphalt and aggregate. Asphalt is a thick, sticky or gooey, black semi-solid substance obtained during petroleum distillation or mined.
In UK and Netherland, asphalt concrete is known as tarmac. However, please don't confuse it with tar, whose use became obsolete.
Therefore, like cement, the role of asphalt is to bind gravel together, making these two very similar in many ways since they are both composites containing aggregate.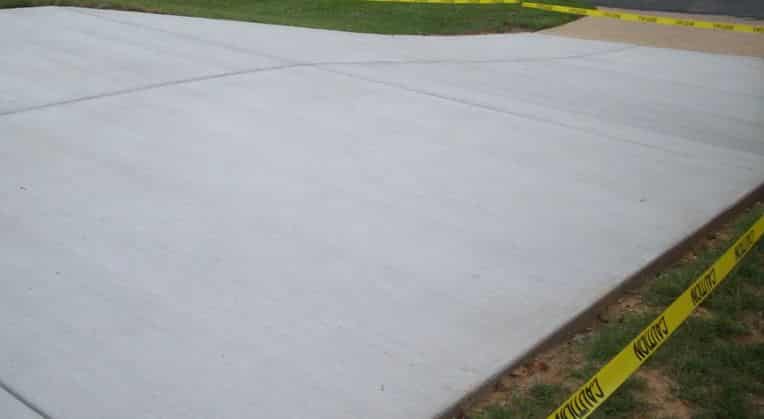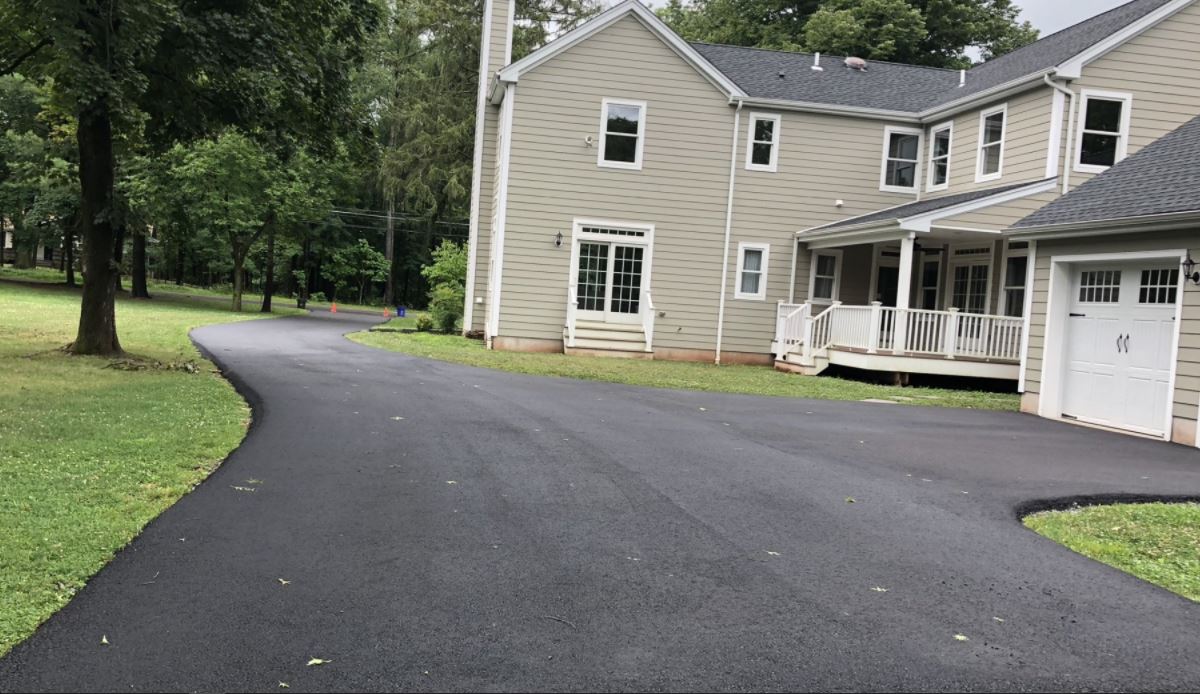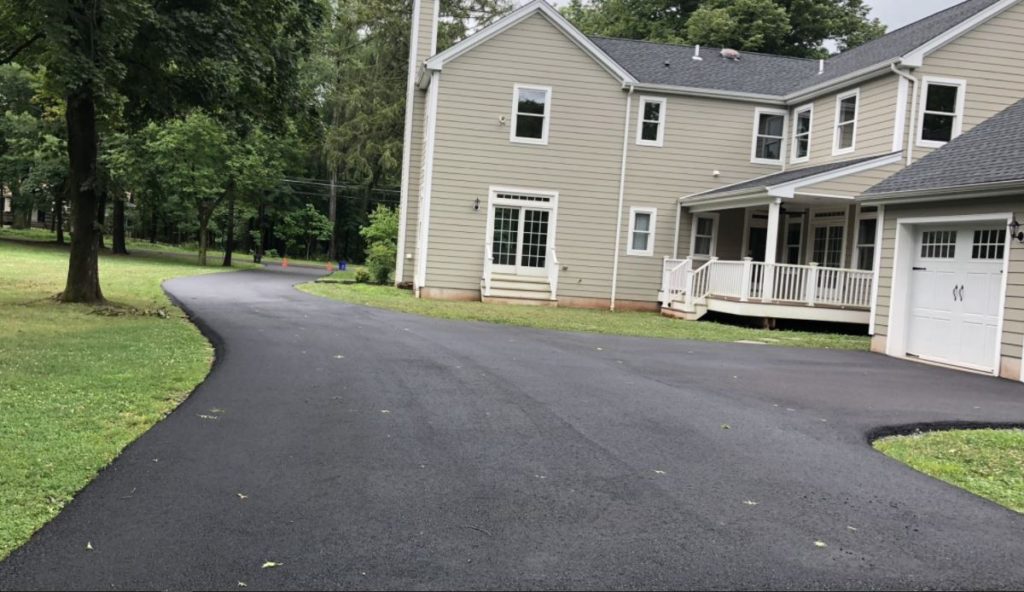 However, bituminous concrete (asphalt concrete pavement) or concrete pavement have different properties and features, and their pricing, durability, maintenance, optimal conditions, and installation duration vary.
In terms of uses, both are ideal for parking lots, driveways, walkways, streets, parking, et cetera. However, asphalt is the most popular driveways paver and the first choice by many homeowners, institutions, and governments. Also, it has its uses extend to racecourse and airport runways.
On the other hand, besides paving, including patios, concrete has uses in building construction (foundation and in mid to high rise buildings)
Installation
Before we look at the pros and cons, it is good to hint at how installation happens. Understanding asphalt and concrete installation will further clarify things when we make a comparison between the two.
Site preparation
In both cases, before installation, you need site preparation that includes removing any grass, tree, dirt, etc., to remain with raw earth and add your granular sub-base, usually gravel.
Pouring concrete
If you are installing concrete, you need to build a concrete form held by stakes around the area to pour your concrete.
Afterward, mix aggregate (sand, gravel, fine and rough crushed stones) and cement in recommended ratios and adding water, and pour it into the form. Let it cure and remove the stakes and forms.
Even the surface/edges and add any special finishes you need, such as stamping, texture, or making the surface smooth before curing begins.
Curing will take about seven days, and during this time, don't use your concrete driveway.
Asphalt concrete
Beginning with a compacted granular sub-layer, add another 2-3 inches of the aggregate layer (sand, gravel, and rocks) before pouring hot asphalt or bitumen. Immediately compress or compact the mixture with a heavy rolling machine.
The bitumen is ready for use. However, you recommend that you give it 2-3 days to dry before using it properly.
Finally, since the edges remain unfinished, you may consider having a concrete curb at the edge of your driveway.
Concrete vs. asphalt summary
| | | |
| --- | --- | --- |
| Feature | Concrete | Asphalt |
| Durability | More durable. Concrete can last up to 40-50 years. Also, it can withstand more weight. | Less durable. It lasts up to about 20-30 years. It is softer and will deteriorate faster. |
| Costs | Costs more. Concrete costs about $3 and $10 per square foot. | Costs less. Asphalt costs $2 to $5 per square foot. |
| Installation timeline | Requires up to 7 days to cure before you can use it. | Usable immediately once it cools. However, it needs 2-3 to cure fully. |
| Appearance | It is possible to make it more aesthetically appealing by staining, tinting, texturizing, or you can even go for stamped concrete options. | Limited options to modify its look, with the most frequent finish being the smooth black finish |
| Conditions | Ideal for warmer climates without constant snowing and thawing | Cold to mild temperatures as hot ones make it soft, and it may stain shoes, tires, or clothes. |
| Maintenance | It requires less maintenance except for the degreasing. | Requires more maintenance, i.e., you need to reseal after every 3-4 years. |
| Repair | it isn't easy to fix or resurface | Easy to repair and may appear seamless |
Asphalt driveway cost vs. concrete
Cost is an essential consideration for any endeavor, and we are sure you want to know which between blacktop/asphalt and concrete is cheaper to install.
Of course, blacktop is cheaper than concrete by about 40-55%, a reason why it is much popular and preferred by many people.
However, the installation costs you will incur don't include maintenance costs higher for asphalt than concrete. Don't forget resale value blacktop vs. that of concrete.
a). cost of blacktop or asphalt driveway
On average, the initial cost of installation asphalt is between $2 to $5 per square foot. This price is exclusive of the resealing required after about half a year.
Also, while limited, you can have some special finishes on your asphalt concrete driveway. For instance, you can opt for stamped asphalt that costs $12 to $17 per square foot if you want some aesthetics.
Finally, with the recent development, you can use color tints to seal your asphalt pavement or mix asphalt with coloring materials. These modifications will increase the prices.
b). Cost of concrete driveway
Concrete installation costs $3 to $10 per square foot. Again, this is for the standard gray concrete without any fancy finishes.
If you want stained, etched, engraved, or stamped concrete, the price will be $15 per square foot or even more.
c). asphalt vs. concrete driveway price analysis
You know that blacktop is cheaper than concrete. Let us do a price comparison or analysis to help you understand what to expect to give you a cost difference between concrete and asphalt driveways.
For our purpose, we will assume a typical driveway of about 600 square feet. Yours may be smaller or larger. For instance, a driveway sizes for two cars e which is usually 20 to 24 feet wide and 18 to 20 feet long. Let us assume our patio is 24 ft wide and 20 ft long.
The prices are as follows
| | | | |
| --- | --- | --- | --- |
| Material | Area (sq ft) | Unit price | Total costs |
| Concrete | 600 | $3-$10 | $1,800-$6,000 |
| Asphalt | 600 | $2-$5 | $1,200-$3,000 |
Therefore, for the 600 square feet, the lower cost for a concrete driveway is $1,800, while the upper side is $6000. On the other hand, the lower asphalt driveway price is $1,200, while on the higher side, it will cost $3,000.
As you can see, concrete is cheaper than asphalt by a margin ranging from $6,00 to $3,000 per 600 feet square driveway.
However, the average price of installation concrete and asphalt driveways depends on several factors like your location, the contractor, landscape, labor costs, etc. Do broad consultation before you commence your project.
Durability
Concrete is more durable than asphalt, i.e., on average, properly care for concrete may last for 40 years to 50 years, while asphalt will last for 20 years to 30 years. Additionally, concrete slabs can handle heavier loads or vehicles.
How long yours will last depends on factors such as the weather, maintenance, durability, and the quality of installation. We will talk about weather conditions and care shortly.
Finally, don't forget to care for your driveway well since, without proper care, both these two may fail sooner than you imagine.
Care, maintenance, and repair
Concrete driveways are easier to care for than asphalt. All you need is to degrease to remove oil, gas drips, rust, and other chemical stains. However, some homeowners may opt to seal the concrete to help preserve the finish and enhance looks.
On the other hand, asphalt driveways require more maintenance and care. You should seal them after six months and after every 3 to 5 years, something that may have an overall impact on the cost of asphalt when compared to concrete.
Also, you need to sweep and hose spray them twice a year to remove any debris that may slowly accumulate over time. Don't worry about stains as they will not be visible, thanks to the dark color.
What about repair? Here, asphalt is the clear winner since it is easier to repair. You can quickly fill any asphalt driveway cracks, potholes, and damages via a simple DIY without leaving any visible differences.
However, while it is more durable and requires fewer repairs, concrete is much harder and expensive to repair, if not impossible, especially to resurface it compared to asphalt.
Susceptibility to weather
A very critical consideration in deciding whether you go for asphalt or concrete driveway is the weather conditions.
If you live in places that experience cold winters characterized by frequent freezing and thawing, avoid concrete driveways as they will crack something that will impact their lifespan.
Also, if you live in places with road salts, avoid concrete as these salts will eat concrete surfaces, cause stains, diminish its appearance and reduce concrete's longevity.
Instead, opt for asphalt as they are flexible and less affected by the constant freezing and thawing.
However, asphalt softens in hot climates and may stick on car tires, shoes, and clothes. Also, being black, they will absorb more heat and become hot. Please don't walk on them with bare feet when it is scorching hot.
Bottom line: Concrete works best for hot and warm climates, while asphalt can tolerate colder to moderately warm temperatures but not very hot ones.
Appearance or appeal
Any homeowner values aesthetics. Who doesn't want a beautiful driveway or one that complements outdoor décor?
Concrete is a winner in aesthetic appeal since you can stain, tint, engrave, texturize, or stamp it to get the desired look. You don't have to stick with the off-white or grey hue of concrete. You can easily match it with your home décor.
On the other hand, asphalt, otherwise known as blacktop, is black, and it is not easy to change its color. Modern tints or even adding some character by stamping will only prove expensive and not change it much.
However, in a neighborhood with asphalt roads or streets, your driveway will always match them perfectly.
Resale value
Concrete driveways tend to raise the resale value of any property because they are durable, beautiful-looking, and you can modify their appearance. However, this might not always be the case as some buyers won't prefer them if you live in places with cold winters.
Concrete vs. asphalt driveway pros and cons
Let us now look at the pros and cons of concrete driveways vs. asphalt to help you decide further what suits you well.
Pros of concrete driveways
Durable – Concrete driveways are durable. They can serve you for 50+ years, depending on usage, maintenance, weather conditions, and other factors.
Appealing has a higher resale value - Higher resale value, especially in suburbs and urban areas where elegancy and aesthetics are critical compared to asphalt.
Less care and maintenance – Besides grease removal, you need to do little in terms of maintenance.
Eco-friendly – Recyclability and durability make it eco-friendly. You won't be wasting a lot of materials.
Cons of concrete
Costly – Initial concrete installation costs more. However, the lower maintenance and durability are good tradeoffs.
Difficult to repair – Repair work is expensive and challenging. Fortunately, it is durable enough and doesn't frequently require repair works.
Not ideal for snowy places or road salts – Concrete driveways will crack, their surface appearance diminishes, and they degrade under these conditions.
Poor drainage: It doesn't allow water to seep through it and becomes slippery when wet unless it has surface finishes or textures.
Curing required – Concrete requires seven days to cure.
Pros of asphalt concrete driveways
It is flexible and withstands cold and salt - Snow, and salt don't affect it (won't crank or deteriorate). Therefore, you can have it in places with cold winters or salt. Also, it shrinks and expands quickly, meaning extreme pressure, surface movement, and temperature don't affect it so much and will not crack easily.
Affordable: Costs at little as 2$ per square foot.
Porous – Allows water, including rainwater, to quickly drain since it is porous.
Eco-friendly – Asphalt is somewhat eco-friendly since it requires 20% less energy to produce it, and it is recyclable. You can reuse it with a fresh batch on a new project.
Usable immediately after installation – You can use your driveway right away after installation. However, it will fully cure after 2-3 days.
Cons of asphalt
Requires more maintenance – Asphalt maintenance is expensive since you have to reseal after three to five years to help extend their lifespan.
Not so durable – Even with proper care, it cannot last as long as concrete.
Less aesthetic – You have fewer options of modifying it, and it has a lower resale value than concrete. Also, it has unfinished edges, i.e., you cannot finish edges like concrete unless you use a concrete curb.
Not ideal in a hot climate: It heats up when it is scorching. Don't touch with your bare hand or walk with bare feet. Also, it may stick on shoes, tires, or anything that touches it at temperatures beyond 120 degrees Fahrenheit.
Is a concrete driveway better than asphalt?
The answer isn't concrete or asphalt, i.e., there is no winner since several factors will influence suitability and choice. Look at your climate, what you are trying to achieve, your budget, and many other factors.
We recommend concrete if you don't live in places prone to freezing, you want to raise your property value, you don't want to do constant maintenance, and you prefer having more options in terms of aesthetic appearance.
On the other hand, asphalt will be perfect for places prone to freezing, you on budget, don't want to wait for long before using your driveway, and don't mind some sealing after every 2-3 years.